Take a Look at Kacey Musgraves's Spectacular Nashville Home – A Peaceful Space Filled with Nude Tones designed by Lindsay Rhodes.
The Grammy-winning country singer-songwriter Kacey Musgraves, alongside the interior designer Lindsay Rhodes, crafted the 3,500-square-foot Nashville home. This refuge was bought in 2020, initially necessitated by Musgraves's belief that this was the ideal home for her new beginning that she refers to as «a big life change.»
Musgraves looked to transform the original house's color palette and aesthetic – a colorful maximalist place – into a peaceful and plant-filled retreat, with a predominant contemporary design and a few vintage details.
The 33-year-old singer personalized the propriety according to her taste, which resulted in this sleek and elegant sanctuary, boasting white and cream hues, filled with minimalist furnishings and some wood details.
"I wanted a place that felt like me," "where I could express myself without having to think about another person and what they might want.", she said. "This felt like a new beginning.".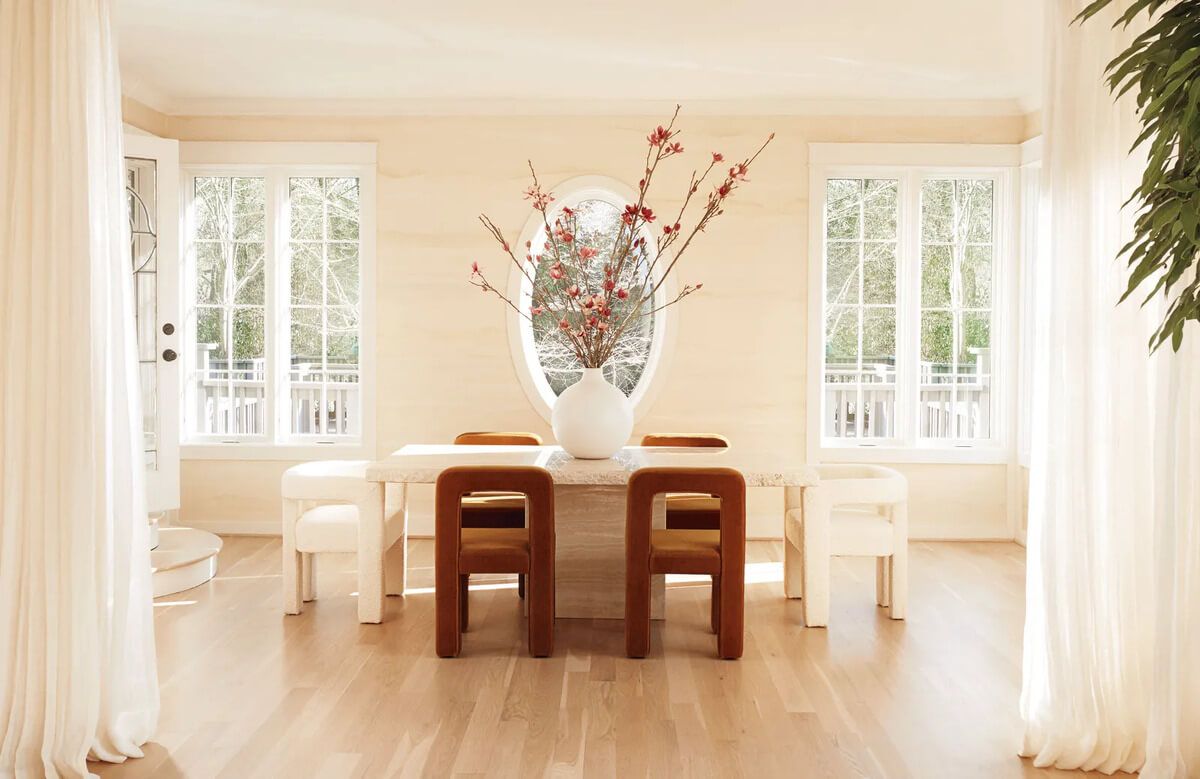 With the heavy decoration that the built-in 2012 house had before this new calm interior aesthetic, Musgraves felt the necessity to transform the space into a blank canvas to realize what she wanted for her Nashville home decoration project.
Lindsay Rhodes says "The house had a lot of subway tiles and Craftsman-style details, so we wanted to make everything feel clean. We basically blanketed the entire kitchen with plaster, even the island, to create smooth lines and give it a stonelike texture. Then we used a pale mineral paint throughout the house. It almost feels like a watercolor; instead of being flat, it gives a little dimension.".
When looking around carefully, it's possible to see that Kacey wanted to have many orbs and circles, that are a reference to the theme of "full circle-ness," which kept emerging as she was writing the tracks on "Star-Crossed." "I had some spiritual experiences that involved orbs – I had a psychedelic plant therapy session in which people from my past kept presenting themselves to me in the form of orbs," she recalled. "Without running the risk of sounding like an absolute psycho, it was really transformative for me."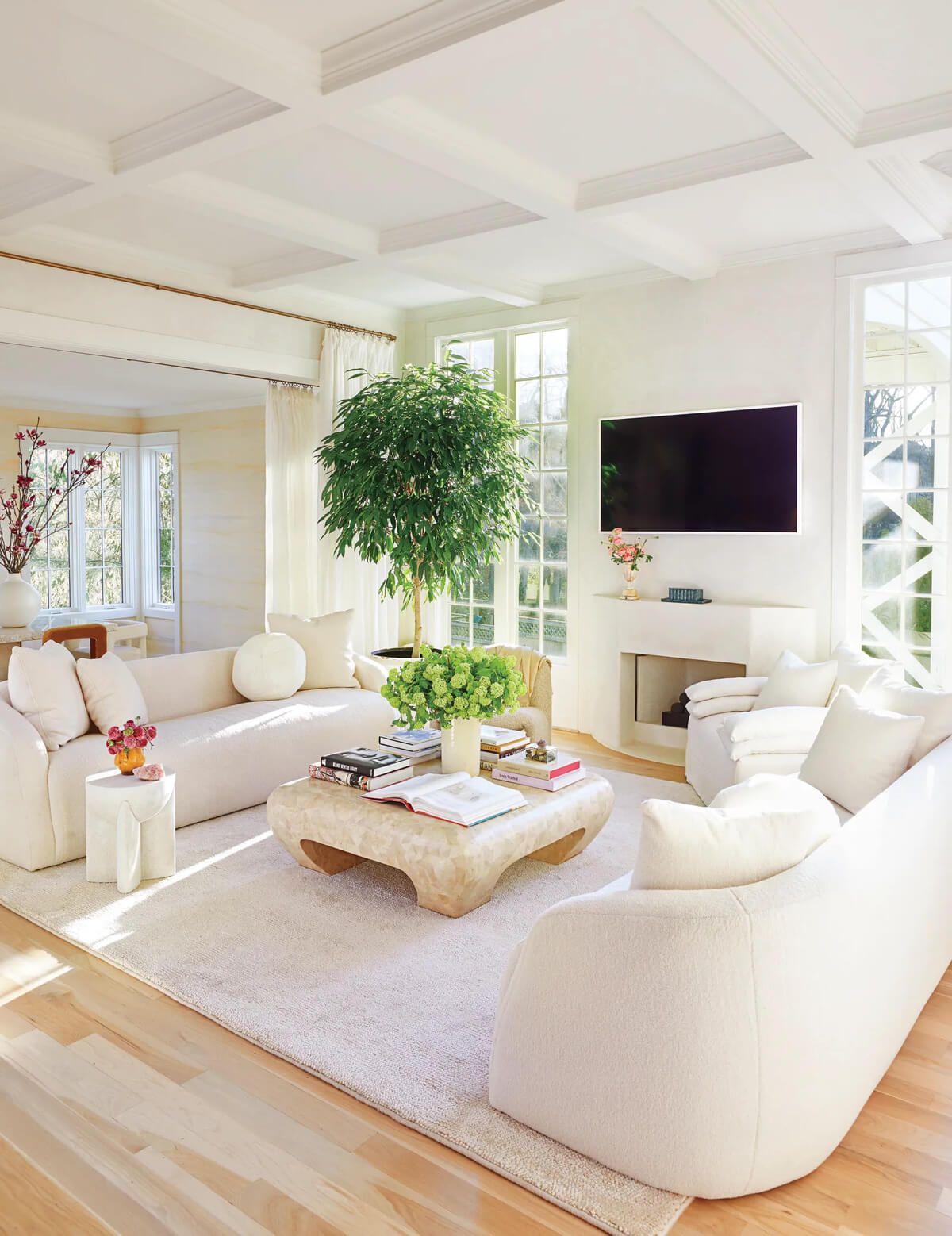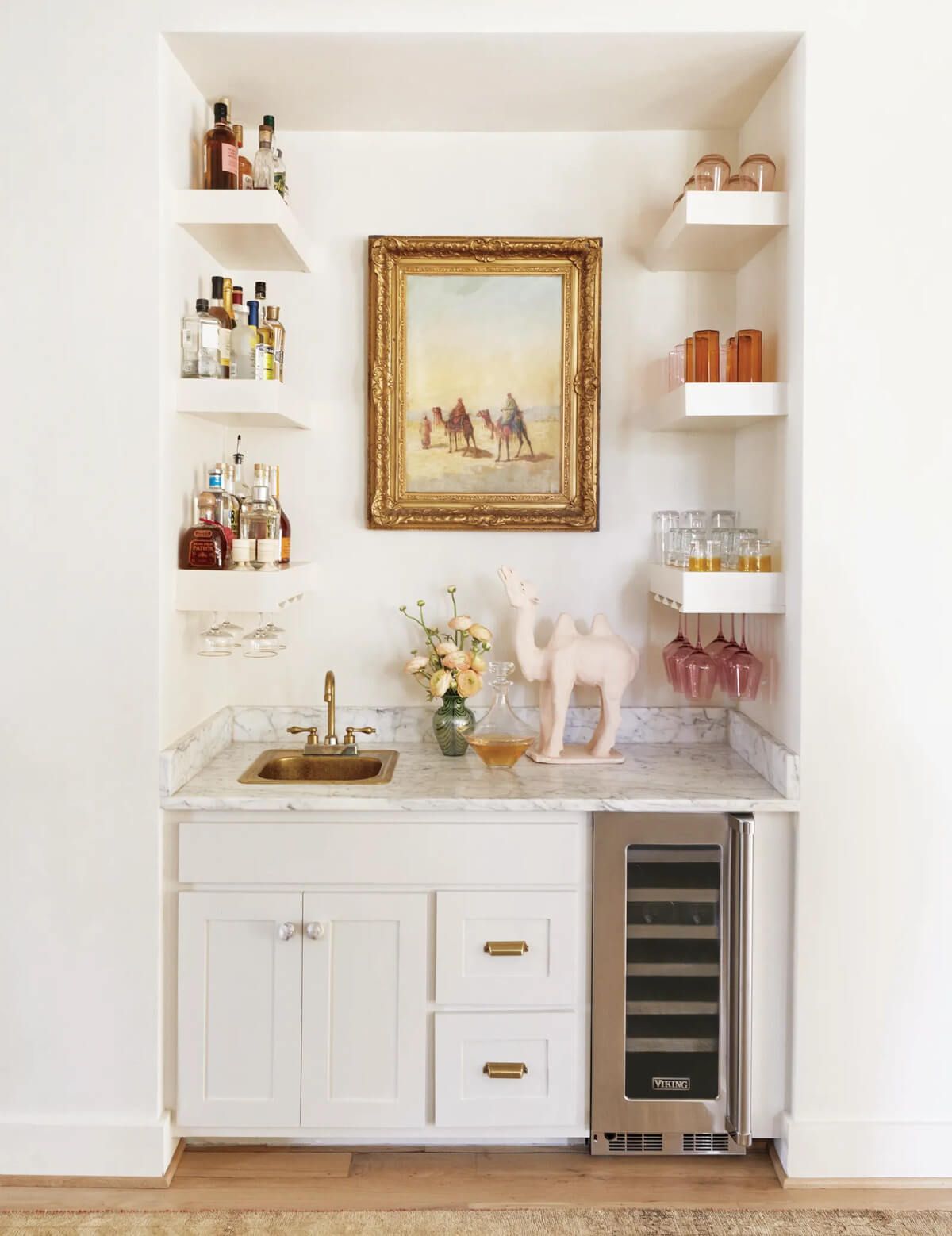 The Nashville home was all painted with clear tones, having its majority tinted in white or off-white.
If the idea of monochromatic whites feels bland, Musgraves's passion for shopping at antique thrift decoration stores for getting the most unique and eye-catching items gives each room a warm feel. Kacey is not only a multi-talented musician but a crafting and clay pottery enthusiast. "There's something really interesting to me about taking ownership over an object that meant a lot to someone else, and kind of becoming the new steward of whatever it is," she said. Many of the larger pieces of decoration, such as the enormous bust displayed by the singer's swimming pool are bought in second (or more) hand.
The singer confessed that she wanted a neutral palette to serve as a relaxing spot in the middle of her crazy lifestyle. "I really wanted a really serene space to come home to that felt, like, honestly like a spa and a place where I could find room for my thoughts."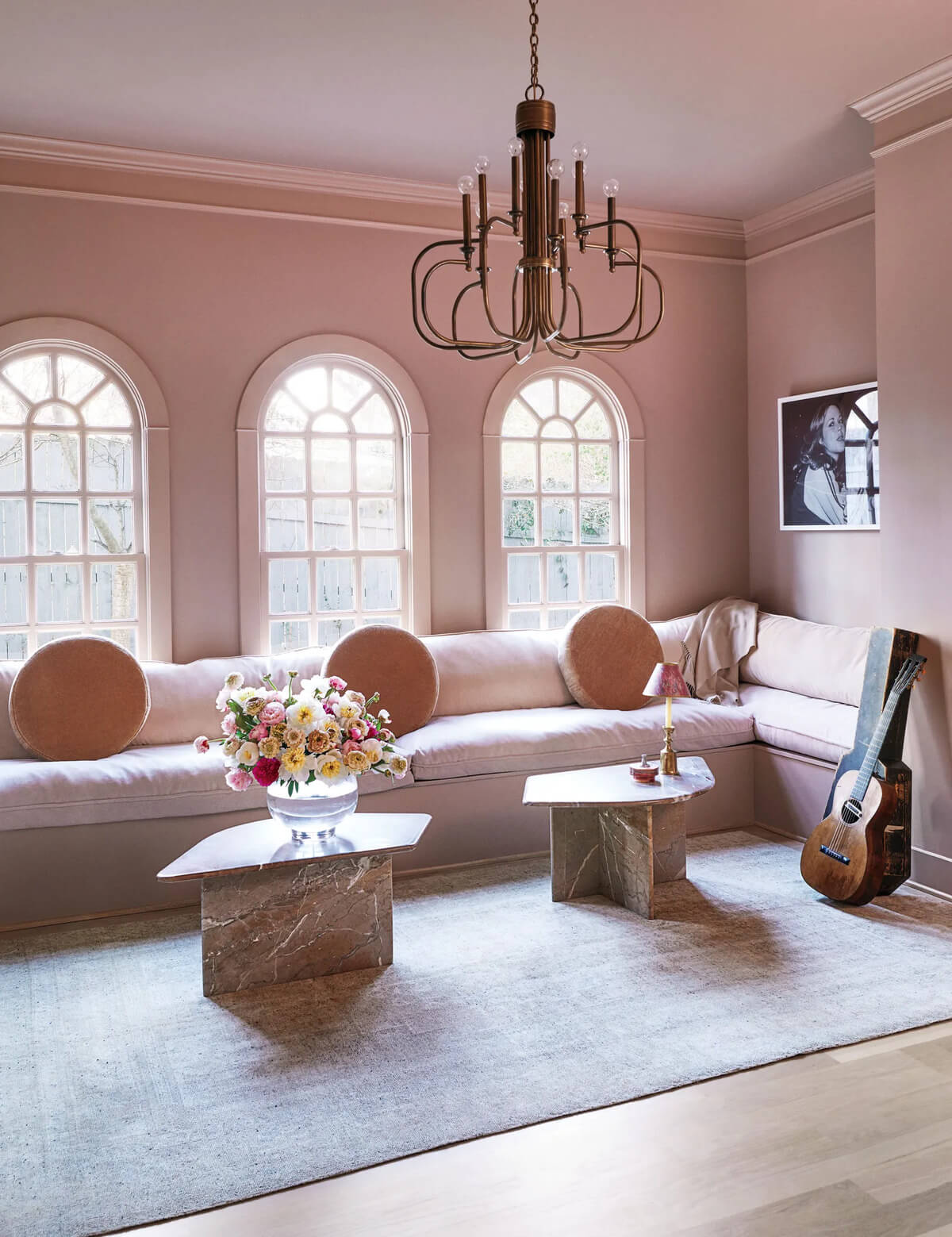 With that being said, the Nashville home piano room is a great example. Kacey incorporated a dusky pink that was inspired by a candle into one creative room. She says that this is one of her favorite rooms in the house and explained her appreciation for a "monochromatic moment." The warm shade is "a perfect balance of masculine and feminine.".
The built-in seating is cushioned in velvet and mohair fabrics in the same tone as the wall and it's combined with a pair of Vintage French cocktail tables and an antique grey rug. A photograph of the singer's mother adorns the room walls and it's a unique detail as well.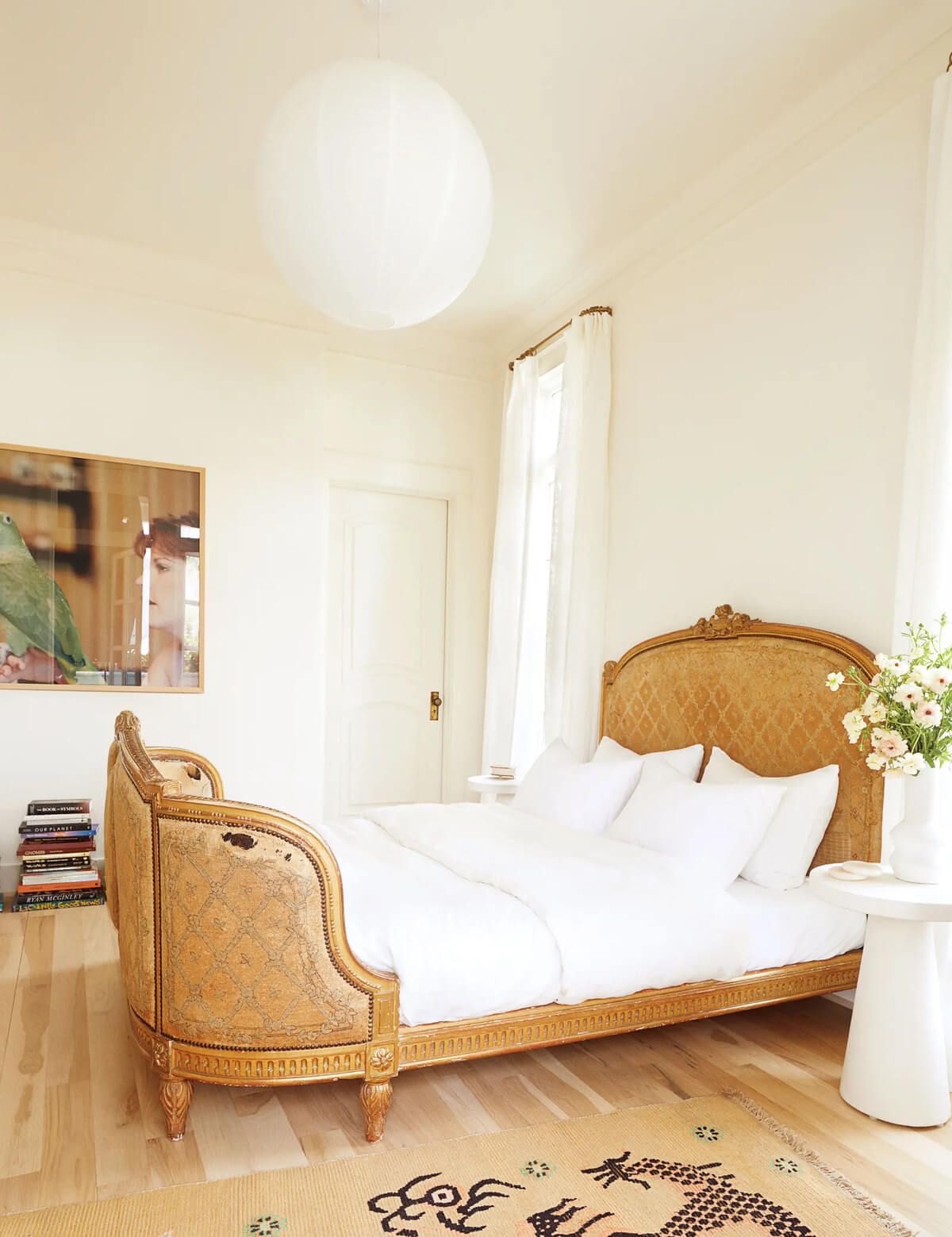 One of her favorite thrift purchases was this antique French bed frame. It is an exquisite detail located in one of her guest rooms in the Nashville home. "I love thinking about who might have slept here, what they dreamed about, the love that was made on this bed," "To me, it's really magical." – she says.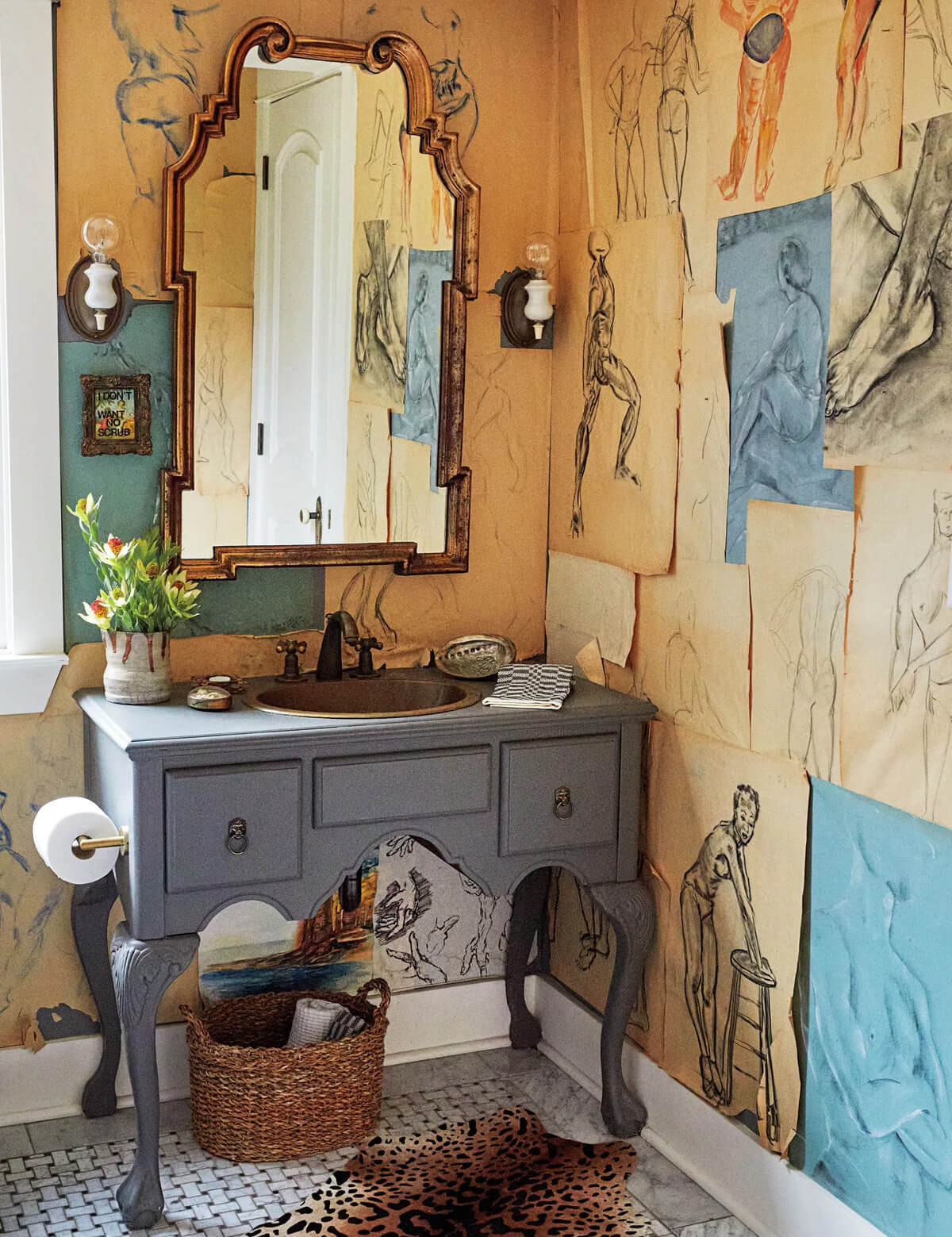 Another special area of the Nashville home is the powder room, which has a design scheme that Musgraves planned for a while, even before moving to the new home. The space walls are covered in nude sketches. "I'd started collecting nude sketches because I had this vision of hanging their floor to ceiling in a bathroom, but I hadn't done it," she revealed. "And then it was somehow here, already manifested, almost exactly how I'd pictured it. It's one of my favorite things about the house."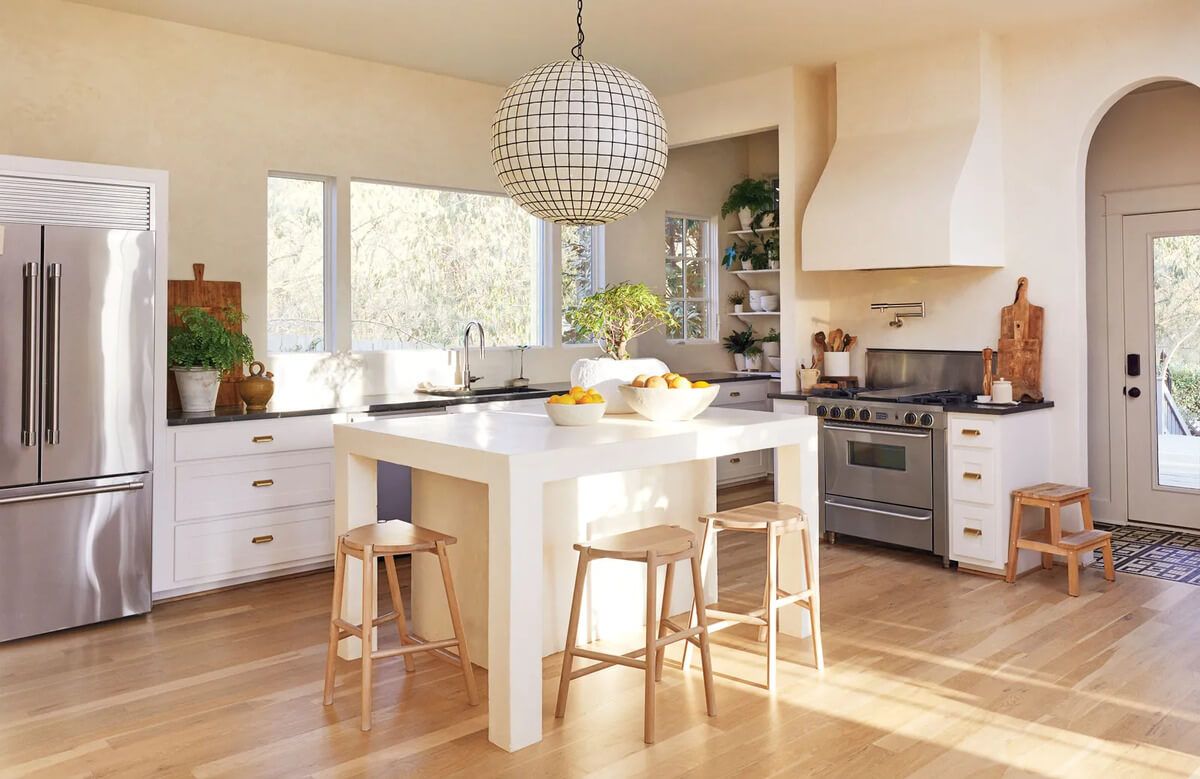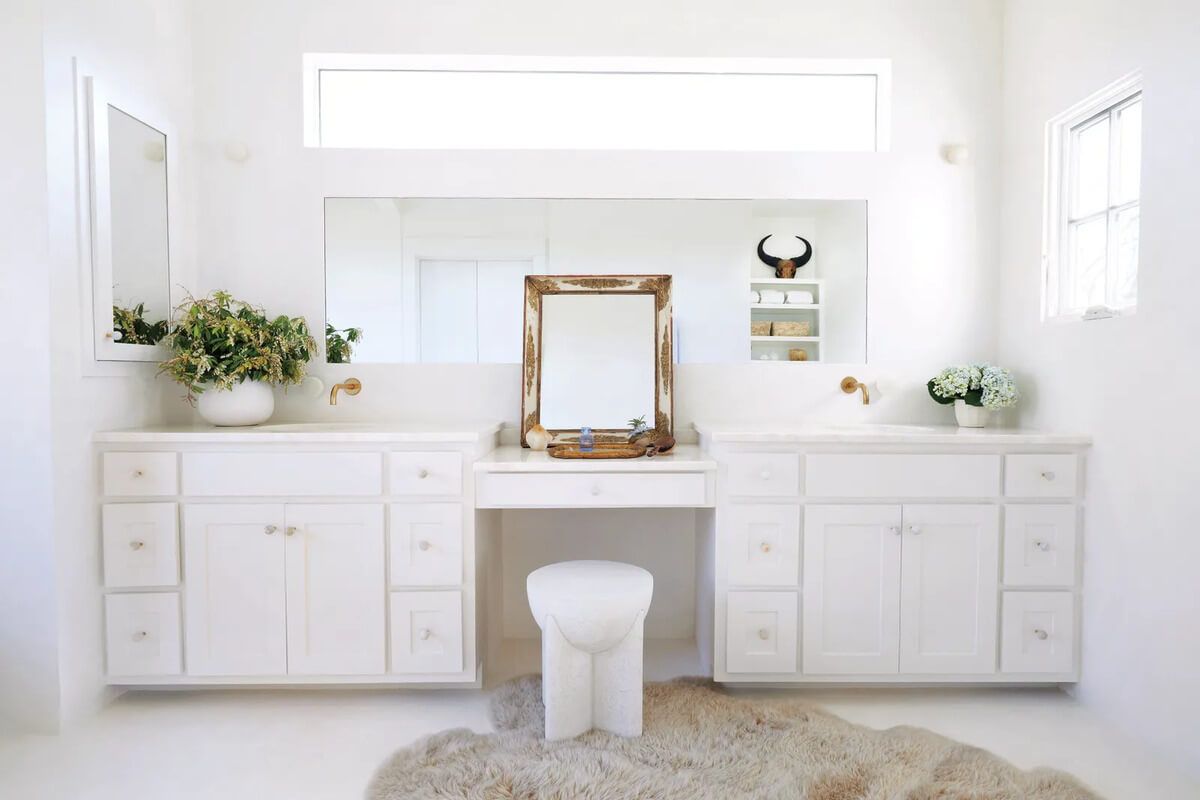 As she walks around, pointing out her favorite things, it's clear that almost everything in the house has a story, which makes the Nashville home completely unique. A lot of small pieces have a story behind them like the ceramic camel on her bar that she made herself a summer before – "this clay class with a bunch of old ladies that was the most fun ever."
Musgraves also tried to invoke a wabi-sabi aesthetic – a Japanese concept of embracing beauty in imperfection – that the singer appreciates because she felt like a way of explaining her actual aesthetic. "You can't put your finger on the exact style of this house, and I'd say the same about my music. Instead, it's a big patchwork quilt of all these things that spark some kind of joy in me."
She also kept a minimalist vibe in her Nashville home – "The interior of this home was my first time trying to embrace a minimalist mindset, and that is a challenge for me," Musgraves admits. "I love collecting things that intrigue me, which doesn't always bode well for [maintaining] a minimalist environment."
Source: Architectural Digest
ARE YOU INTO INTERIOR DESIGN?
If so, discover modern furniture and lighting designed by design lovers for design lovers. All you need is to download the Hommés Studio catalog. To complete your interior design project, choose the high-end homeware by ACH Collection.