Joe Adsett Architects and Graya Construction are long-time business partners. After several years of collaborations – including the construction of Joe Adsett's own house by Graya, the BoomerangHouse, it was time for Joe Adsett's retribution. The Australian architect turned a typical Queenslander home in Brisbane into a Spanish Revival mansion. The house is home to Robert Gray, managing director of Graya Construction, and his wife, the psychologist Meghan Gray.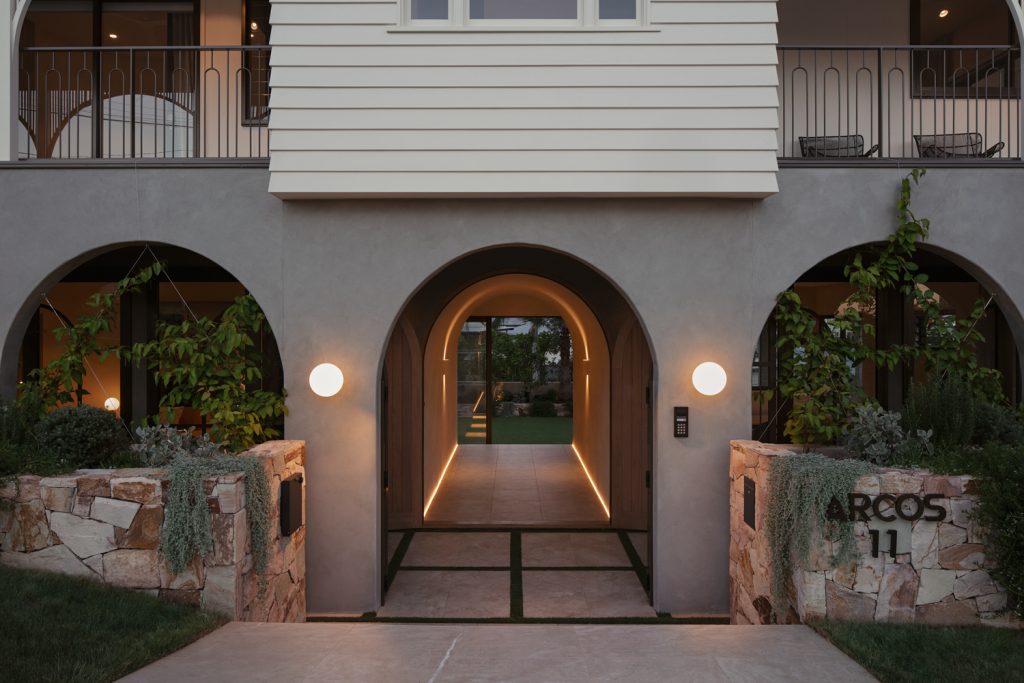 QUEENSLANDER HOUSE
How does a typical Queenslander house become a Spanish Revival exemplary? It seems it was a simple task to Joe Adsett Architects, with the helpful hand of Graya construction expertise. The Australian architect imagines a Mediterranean-inspired style home from the outside of the house. Arcos, the Spanish word for "arches," is a mansion full of seductive round shapes. The curvy details are not only found in the façade and building's structure but also in the interior design. Joe Adsett uses the ground floor of the typical Queenslander house to create immersive arched tunnels made from concrete. The dense tunnels seem to be a feature of modern architecture. Nonetheless, the curvy shapes make Arcos a contemporary interpretation of a Mediterranean house with Moorish inspiration.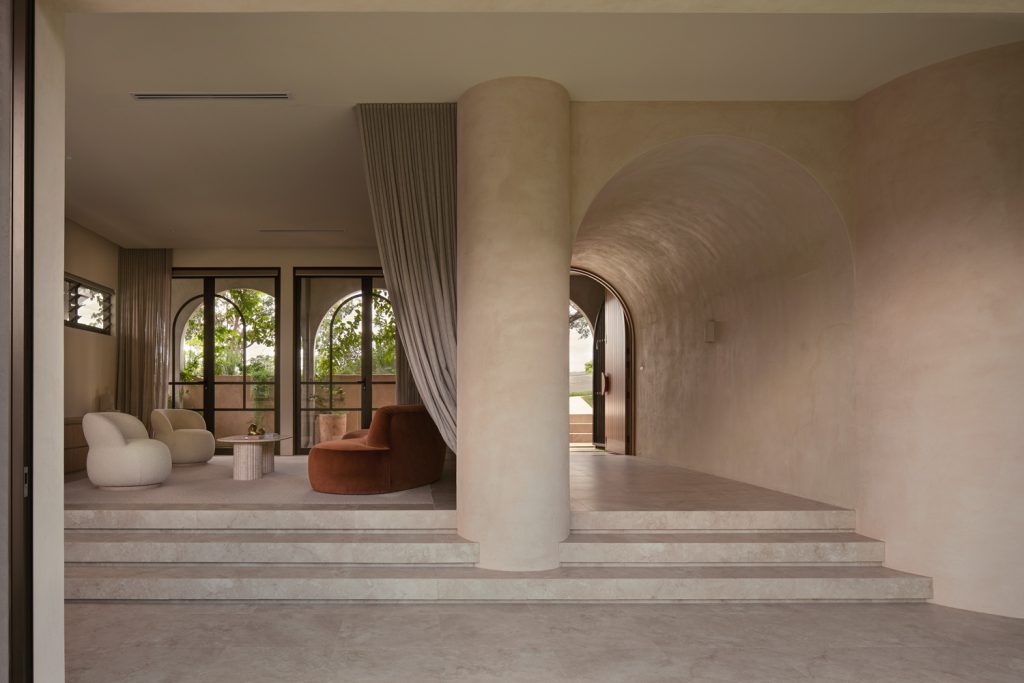 SPANISH REVIVAL HOME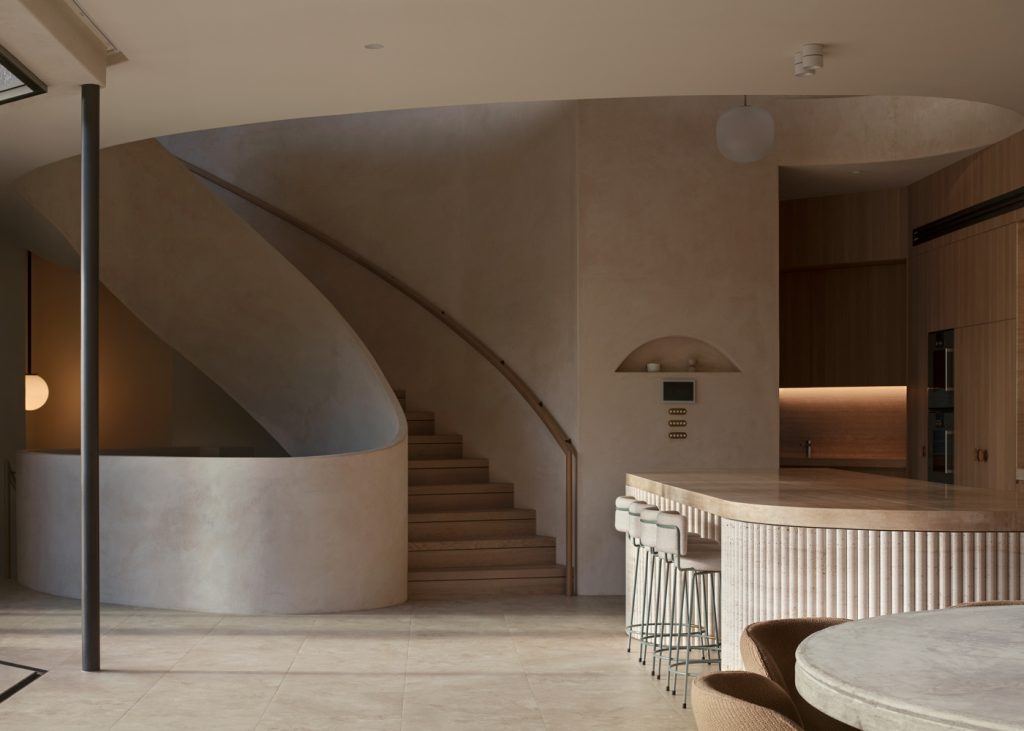 Arcos, the luxurious Spanish Revival home in Brisbane, is a property with three storeys, five bedrooms, six bathrooms, three living spaces, an eight-car garage, and a backyard patio with an outdoor lounge area. As with any other historic property, the renovation of Arcos happened under strict council guidelines. However, it didn't prevent Joe Adsett Architects and Gray Construction from delivering to Megan and Robert Gray the home they wished for.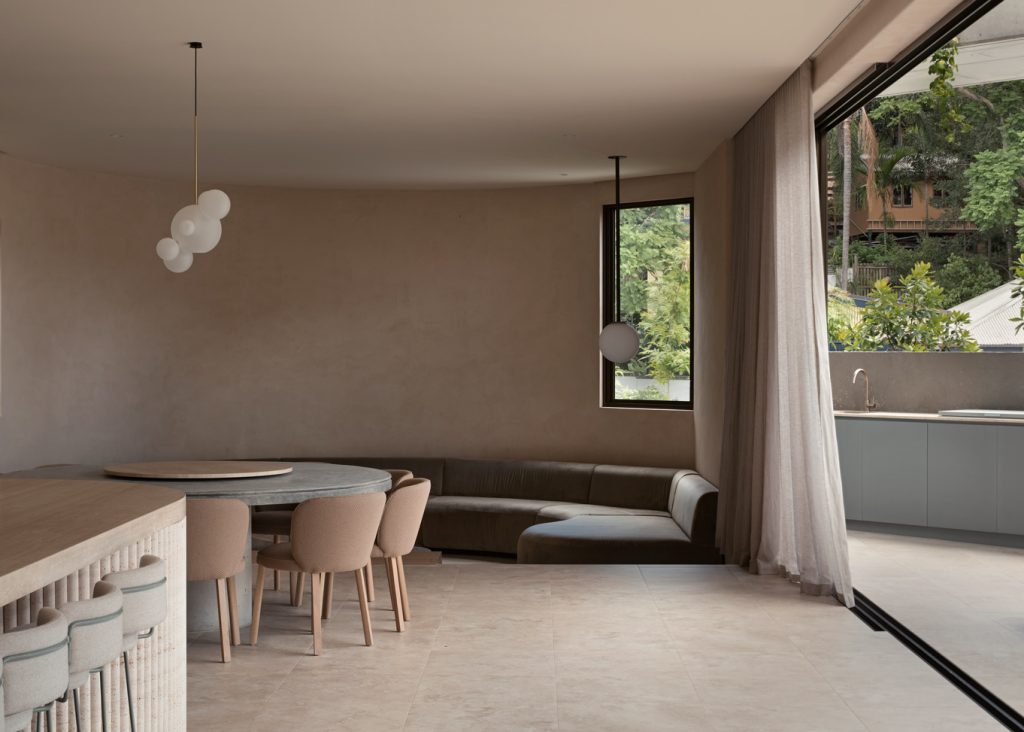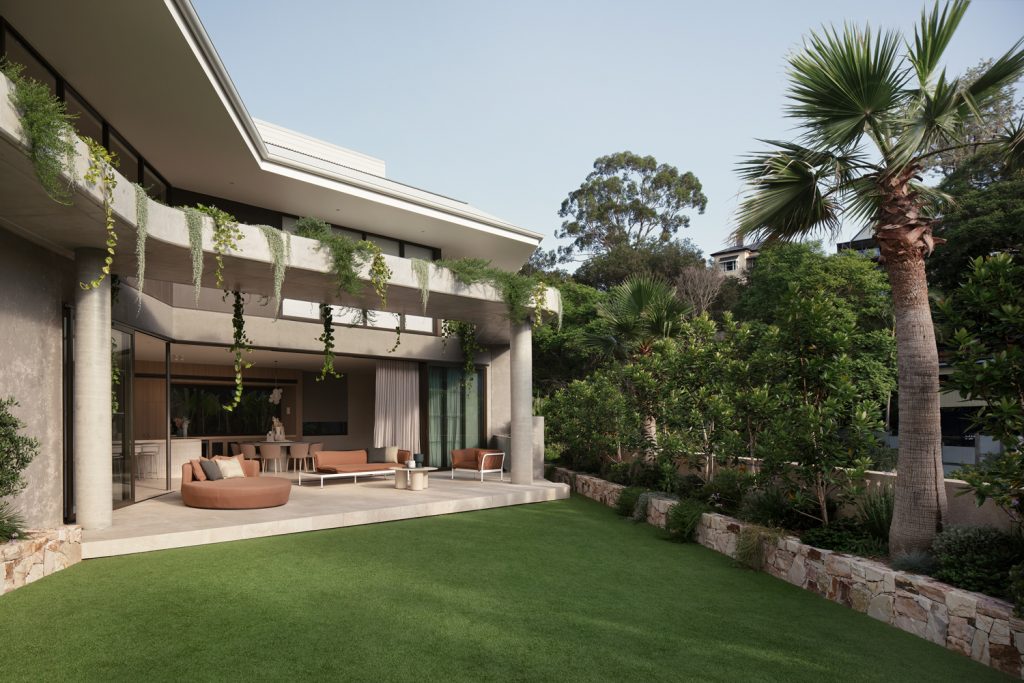 Arcos outstands for being the perfect balance between indoors and outdoors and between industrial and natural. In the own words of Joe Adsett, "It's a home that is designed to frame a view to the city from all rooms while connecting all living spaces to a central courtyard."

In this perfectly balanced Spanish Revival style home, concrete contrasts with grass. Furthermore, the timid beige interior contrasts with the vibrant green outdoors. In short, the luxury property is a wide luxurious home with neutral hues, welcoming and involving round shapes, and is closely connected to nature. Every room is expansive, has natural light coming in, and has a view over the outside or ends up connected to the backyard.
The interior of this Spanish Revival home in Brisbane is curvy. All details in this property are round. Therefore, there is a sense of dynamism, and light floats freely inside the house. When it comes to furnishings, round shapes predominate from the kitchen countertop to the winding staircase connecting the three floors. Additionally, toilets and the bedrooms, for instance, have some mid-century modern and art-deco furniture that brings a European flair to the interior design.
The bathroom in the master suite has a dramatic round bathtub that surrounds the tub. A curvy wall that holds two standing showers as well. Even though Arcos is suttle in colors, the Spanish Revival home is opulent in shapes.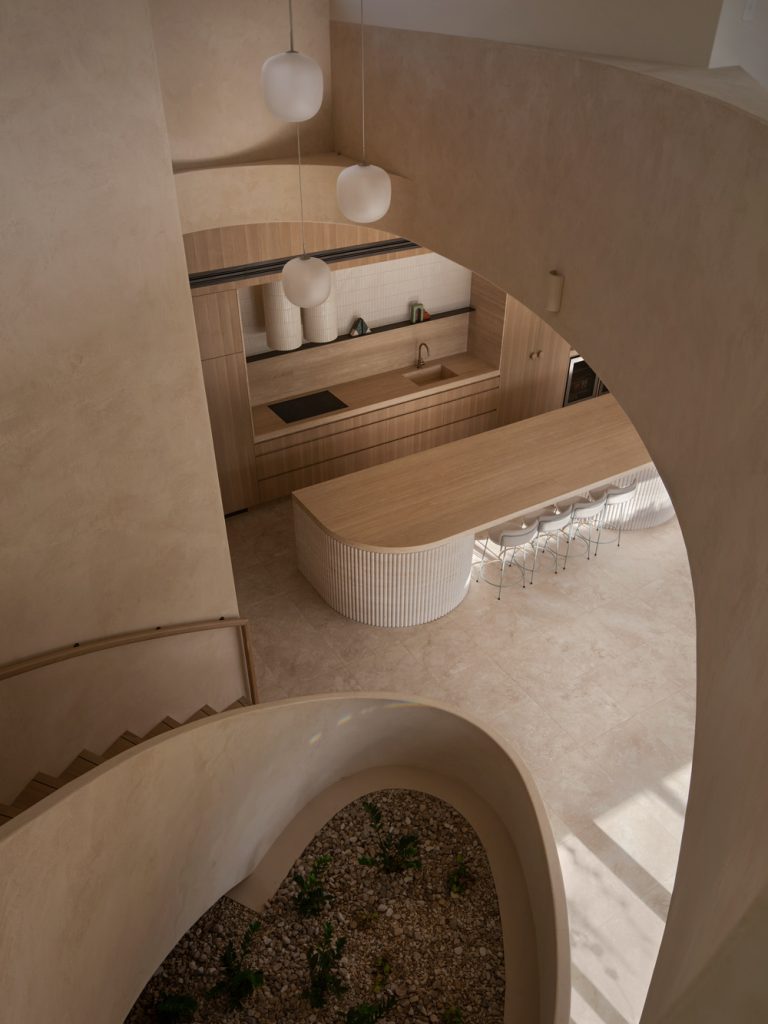 Due to the creativity of Joe Adsett Architects and the hands of Graya Construction, the typical Queenslander property becomes a Spanish Revival home, with inspiration from Mediterranean and Moorish architecture. Arcos is a mark not only on Australian architecture but also on modern architecture.

Keep discovering Australian architecture and interior design with Hommés Studio.
MEDITERRANEAN INTERIOR DESIGN STYLE BY BLAINEY NORTH
Allala, a Georgian-Revival-style property in Sydney, is the epitome of modern Mediterranean interior design style. The renovation and interior design were executed by the talented Australian interior designer Blainey North.
Source: The Local Project
All Photos By David Chatfield