2023 is right around the corner, and that is the perfect time to remember the top home interiors that make 2022 much more beautiful.
In the blink of an eye, December is ending, and a new year is about to start. 2022 was remarkable, a period that started with strong challenges due to the previous year and then slowly began to get bold and brave. Besides, 2022 was when all the spotlights remained in our home interiors, and we were surprised by new trends and needs.
As we start the 2022 farewell, we gathered the top home interiors of the year to celebrate a bold and challenging period full of beautiful inspirations. Check out our list of the top home interiors of 2022 and get inspired by these beautiful narratives.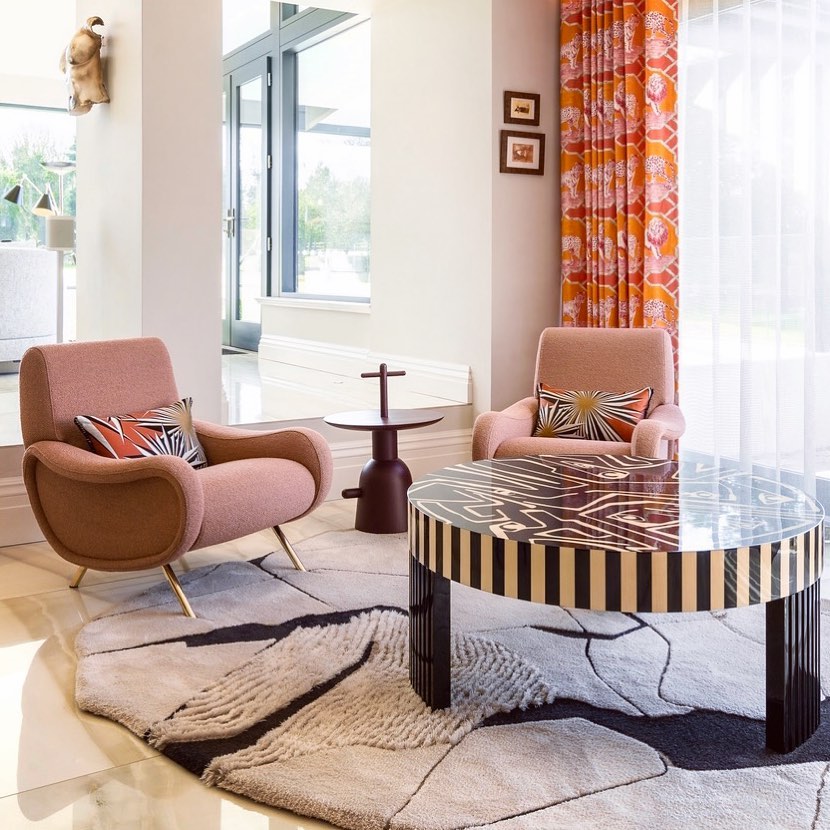 HOMMÉS STUDIO´S BEST OF 2022
Discover the top home interiors that leave their mark on 2022 – from modern country, mid-century to eclectic style, each of these home interiors helps to make the year even more beautiful. In 2022, the home interiors were the protagonists of many stories, and these are the real stars of the year. Check out our curated selection with the most inspiring home interiors:
1 – MODERN COUNTRY HOME BY KRIS TURNBULL
Imagine an interior design project where classy and glamours are the real stars; this is the modern country home designed by Kris Turnbull studios and one of the home interior highlights of 2022. The studio provided the architecture and interior design for the complete project makeover to produce a more opulent & modern design that best meets the client's needs & lifestyle. The studio got planning approval, organized a new internal arrangement, and then planned and coordinated the complete makeover from beginning to end.
The studio designed a beautiful and functional home for a modern family life using specialist joinery, wall treatments, handmade furniture, and ornamental lighting to create an interior that would last over time. The home interior has received a complete renovation and is exquisitely detailed. Ample natural light is welcomed into the large, open layout, which looks out onto the stunning landscape.
In this fabulous home interior, one of the unique pieces from the HOMMÉS Studio selection helps to give an artistic touch. The Picasso center table is the statement piece Kris Turnbull chose to highlight one of the living spaces of this stunning house.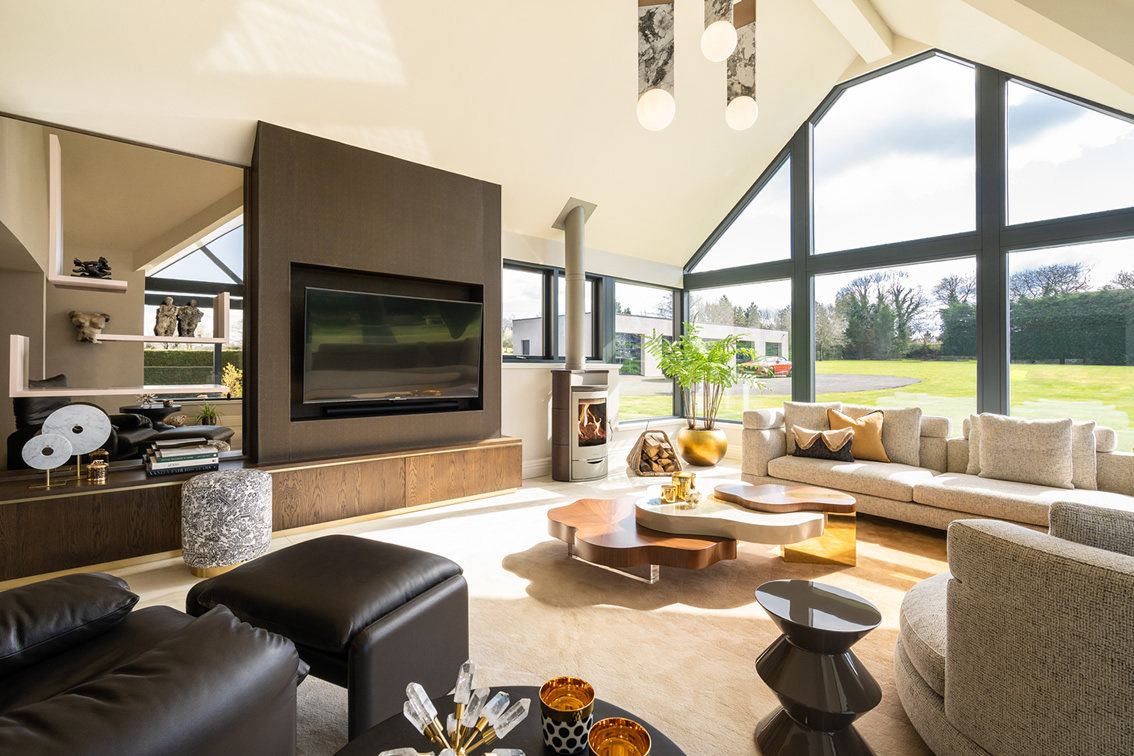 2- HOMEY & MARVELOUS VILLA IN KUWAIT
Beautiful and with significant meaning, this luxurious home interior in Kuwait has a unique and inspiring story that makes this one of the top home interiors of 2022.
The history of this charming and gorgeous home in Kuwait started in 2021. The creative director of HOMMÉS Studio was live on Instagram painting a mural when Fatemah Alshruaian fell in love with the sketch and decided that she wanted it to be placed on a wall. She contacted HOMMÉS Studio´s team, and then the story started to get out of the paper, and the result was an incredible home layout full of luxury.
In this home interior in Kuwait, black is the backdrop for a luxurious layout where refined materials and various ornamental items give a glamorous touch to the space. The interior was all designed by Fatemah Alsruain, a self-made interior designer that brings her passions to her home, and that´s why besides being a beautiful interior – this is also an inspiration to follow dreams.
To create this dream interior, Fatemah Alshruaian chose some items from the HOMMÉS Studio selection – including the stunning Cocoon suspension lamp that gives a glamorous touch to the living room as it works as a central piece for this beautiful narrative. Another lovely addition to this home interior is the TAPIS Shaped #43, a bold rug with beautiful colors that follow the home palette.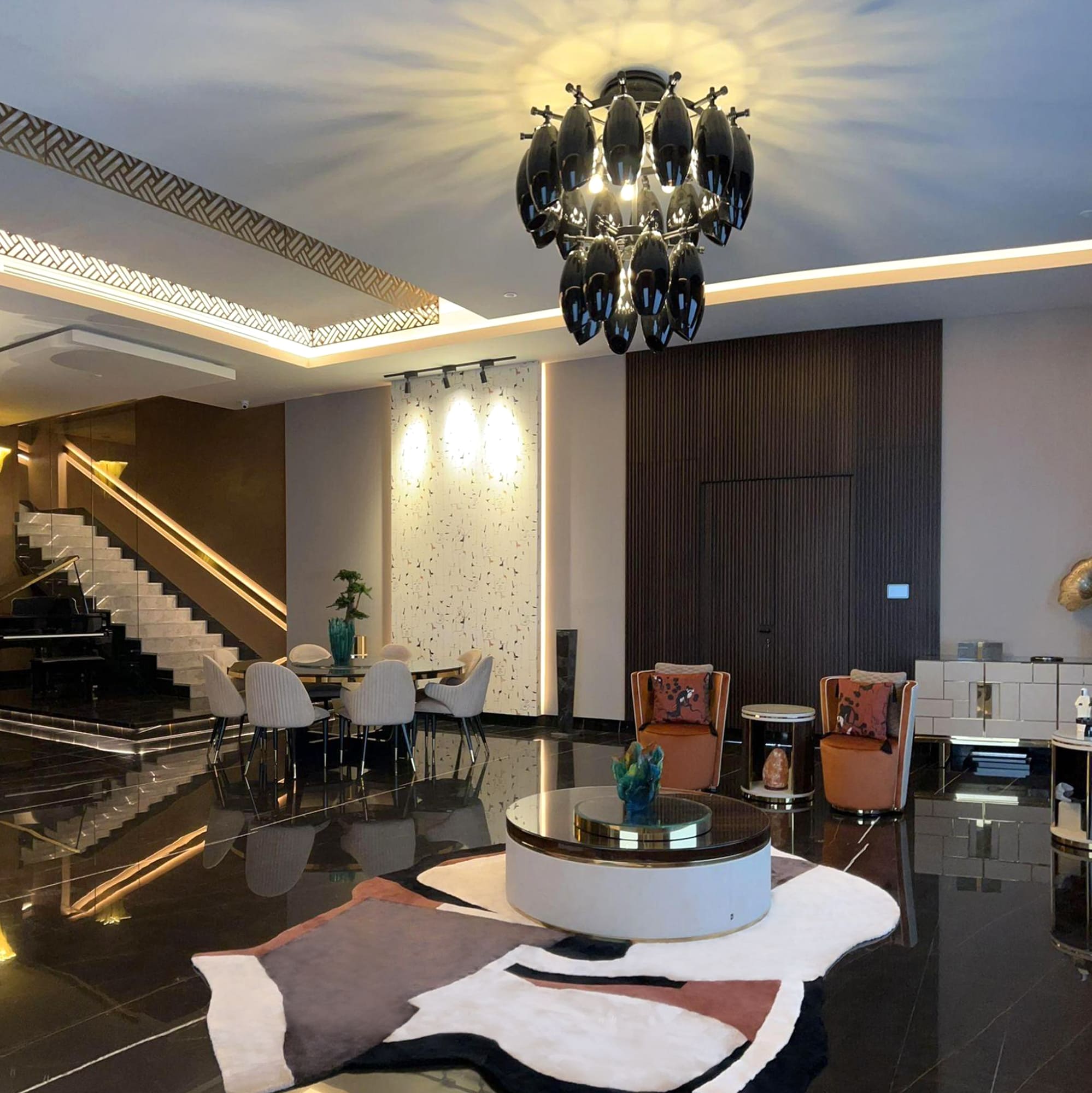 3- FENWICK HOUSE INTERIORS BY SIMONE HAAG
Last but not least – to complete our top home interiors of 2022, we selected the charming project by Simone Haag, where neutral hues and rich textures create a dream scenario full of inspiration.
In this home interior, Simone Haag presents a beautiful and cozy fusion between modern design and mid-century modern architecture in this idyllic mid-century home in Melbourne. The Picasso center table, Malala chest of drawers, and Luminous table lamp from the HOMMÉS STUDIO collection help complete the dream scenario created by the top interior designer and her talented team. The interior also features the TAPIS Shaped #038 rug.
The interior of this charming home shares a soft color scheme, stunning furniture, and lovely artwork inspired by nature. The project emanates a warm and peaceful atmosphere across four floors—two above and two below— all the home spaces share a friendly and inviting atmosphere. In addition to the serene feelings and lovely composition, this house has a strong foundation in nature, and each design decision has produced a forever family home.
We hope you have enjoyed our selection of top home interiors of 2022 and get inspired to create stunning projects in the next year. For more inspiration, check out our interior design project page and discover wonderful layouts by top interior designers.