Concrete Charm and Nude Crush are two interior design layouts for a modern luxury entryway, hallway, or any nook in the house.

The two modern luxury corners introduce the trendiest colors of the fall season – aubergine, purple, red wine color, amber, and night blue as well as a fine selection of classic neutrals. In any modern interior design project, a stylish nook with vibrant colors exhales a healthful sense of liveness.
Discover Concrete Charm and Nude Crush below.

CONCRETE CHARM: SHOP THE LOOK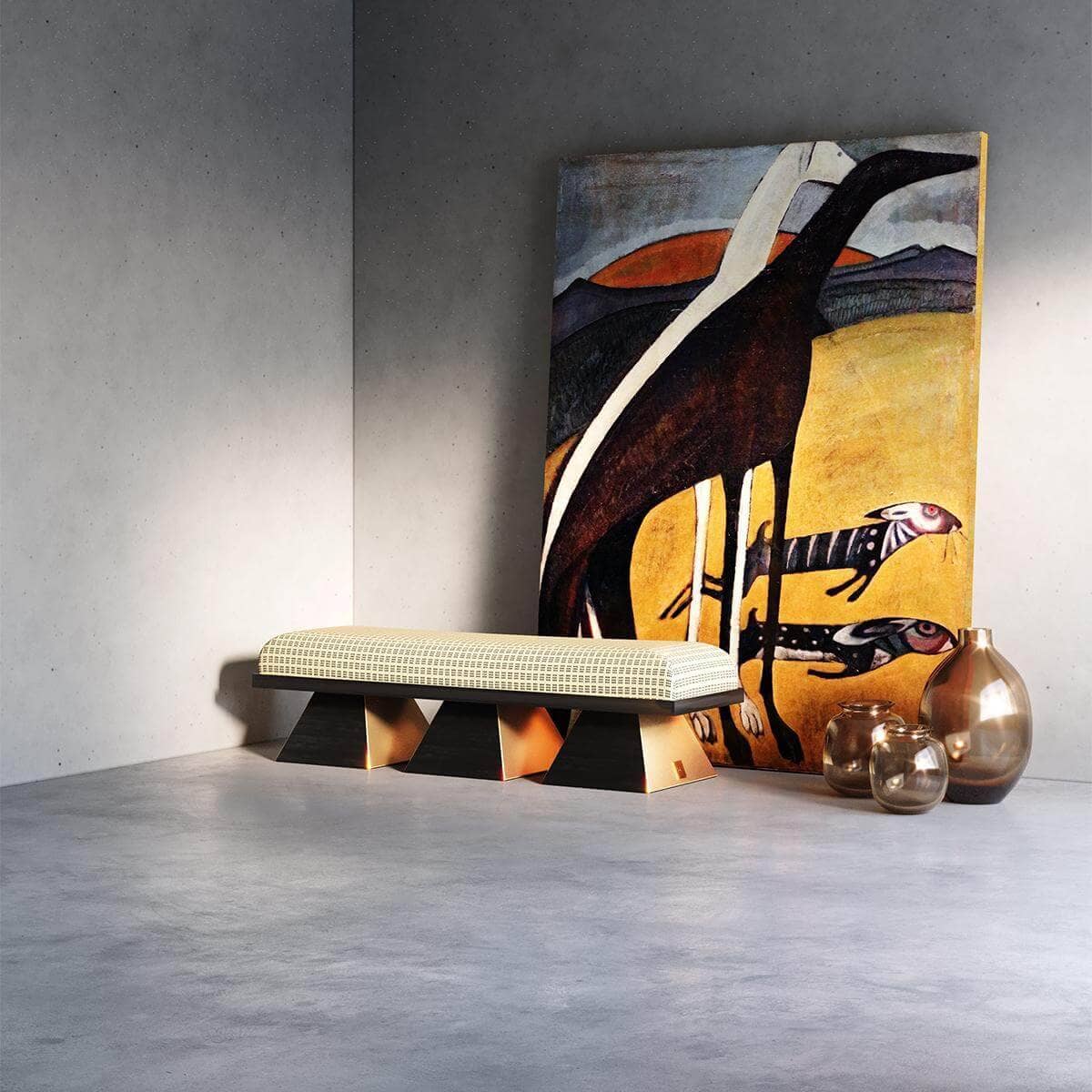 Mid-Century modernist homes await chunky furniture and zingy home accessories.

Juxtaposing with its charming raw concrete flair, modern furniture pieces with blocky shapes and zingy color accents will enliven any home.

Bump up your Fall interior design project with sophisticated design pieces.
MOA BENCH
Moa Bench is an accent bench. Its base and seat express a solemn geometry that accent a modern identity in any contemporary interior design project.
LYNX WALL LAMP
Lynx wall lamp is a luxury lighting fixture that breaks up with nostalgia. It also owns a striking beauty with a brutalism design influence that honors its material.
Have you ever wondered if there is anything more tedious than a wistful room? Take a minute. While you do it, the Lynx wall lamp will flash forward you to the future of interior design.

This wall lamp is pragmatic and functional yet eccentric. Lynx not only brightens up a dull room but also reforms it. For a disruptive interior design project, don't let the Lynx lighting collection out of it.
RAPLEE CONSOLE TABLE
Raplee Console Table is an Art Deco-inspired modern piece. Besides being inspired by this 20s design style, the unique entryway furniture piece has also another source of inspiration: the Raplee Ridge in Utah.

It mixes a luxury variety of woods and it's perfect for a hotel entrance project.
AHRON RUG
Ahron rug is an abstract rug with a sleek geometrical shape. It is not a rectangular rug, nor a regular one.
Ahron demands to be the focal point of the room so that it can be adored.
Due to its graphic design, the Ahron rug is perfect for enlarging a small room or merging two distinctive areas.
NUDE CRUSH: SHOP THE LOOK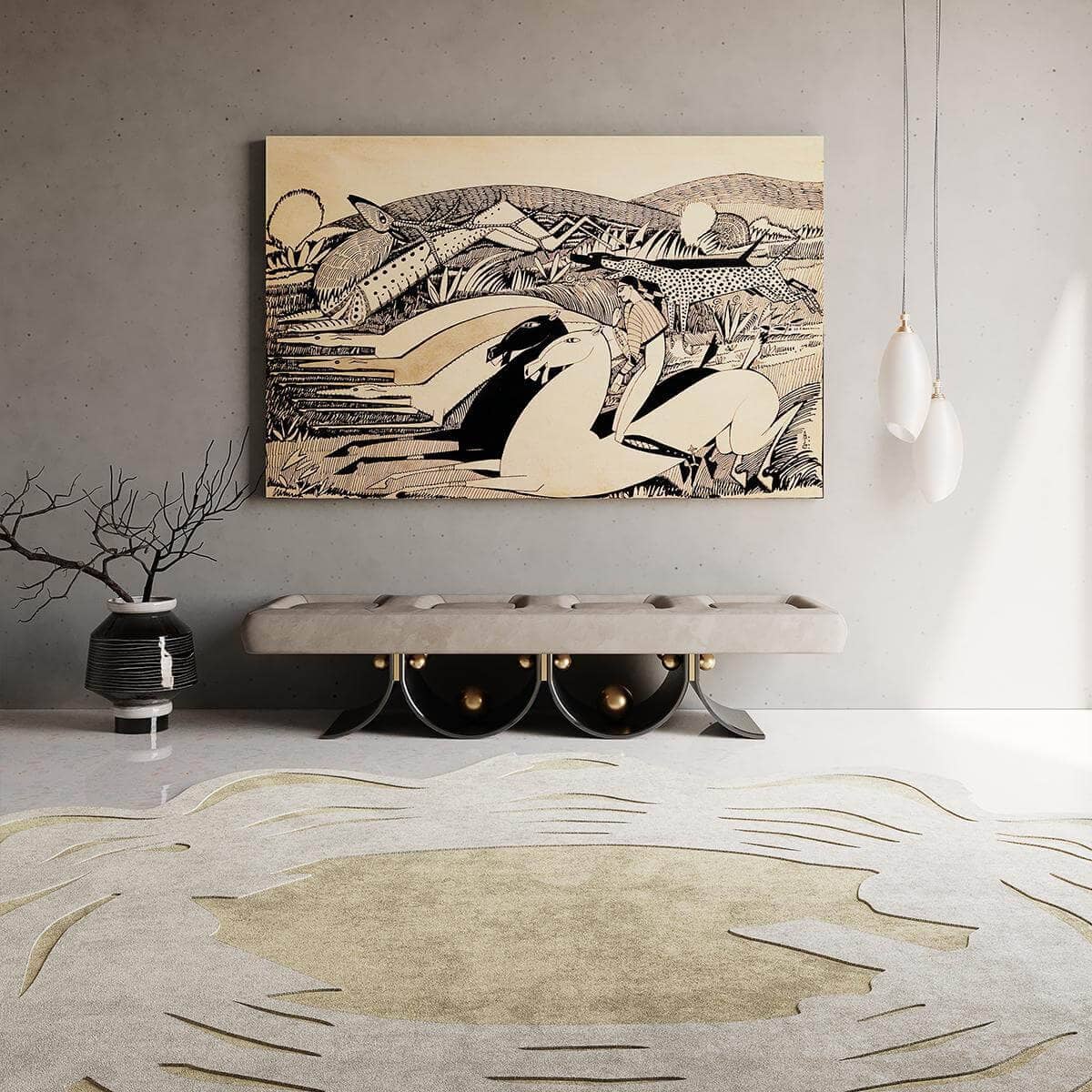 A minimal home with neutral colors and muted sandy glimpses nourishes the mind, body, and soul and celebrates astounding craftsmanship.

Contemporary furniture and elegant home accessories have distinctive features, sustainable materials, and seductive textures.

With a relaxing atmosphere, Minimal Crush is home to modern furniture designed and manufactured with passion and detail.
ARCANA BENCH
Arcana Bench is an Art Deco bench. This is a luxury bench that will steal the show in any modern living room project. This piece adds value to any seating area, presenting a quilted appearance.
ANTELOPE RUG
Antelope rug is a design masterpiece, perfect to be part of your next luxury design project as a statement decor item. The beautiful and one-of-a-kind details will infuse any room division with style and magnetism.
LUMINOUS PENDANT LAMP
Luminous Pendant Lamp is a classic reinterpretation turned into a modern unique lamp. This piece's design revives the timeless shapes of the 30s. An accent suspension lamp with bold and elegant forms for your next high-end interior design project.
COA VASE BY ACH COLLECTION
Coa decorative ceramic vase offers a minimal yet luxury silhouette design. A classic black and white vase, perfect for decorating your entrance pedestal table.
CONCRETE CHARM AND NUDE CRUSH: SHOP THE LOOK
Go to Shop The Look and discover a selection of products to style Concrete Charm and Nude Crush. We kindly suggest you get winter-ready with our FW21 Lookbook with modern luxury interior styling which you can discover here.
Download the Hommés Studio catalog and discover furniture, lighting, and home accessories to design a modern and sculptural interior.
Also pay a visit to ACH Collection website and discover high-end homeware and pet accessories for a wholesome modern lifestyle.