From Soft Textures to Artistic Shapes, a Statement Piece is Enough to Take Your Living Room to Another Level. Take A Look At This Living Room Selection With Unique Furniture.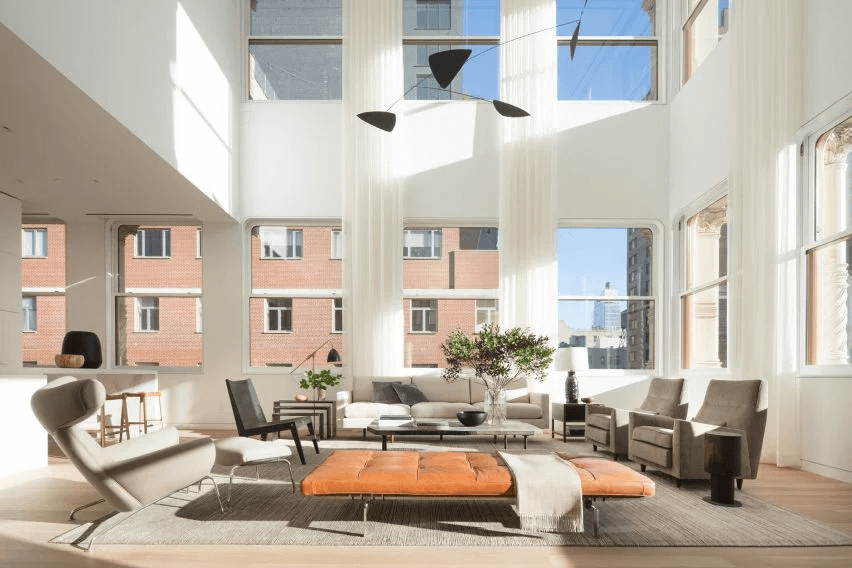 1. 6A by Brad Ford (United States)
This interior design project from late 2016 is located in Cast Iron House, New York, in a historic building. The 135-year-old iconic building is being turned into apartments by the Japanese architect Shigeru Ban and will contain 11 duplex apartments and two penthouses.
Surrounded by expansive windows, the penthouse was styled by the interior designer Brad Ford and contains unique furniture. The residence 6A features vintage furnishings and neutral tones to suit the double-height living room.
Underneath the black exclusive hanging mobile can be found a low bench-style seat with metal details in orange leather combined with a stone coffee table that supports a selection of unique furniture items.
Another option for a stone coffee table is our LUNARYS CENTER TABLE: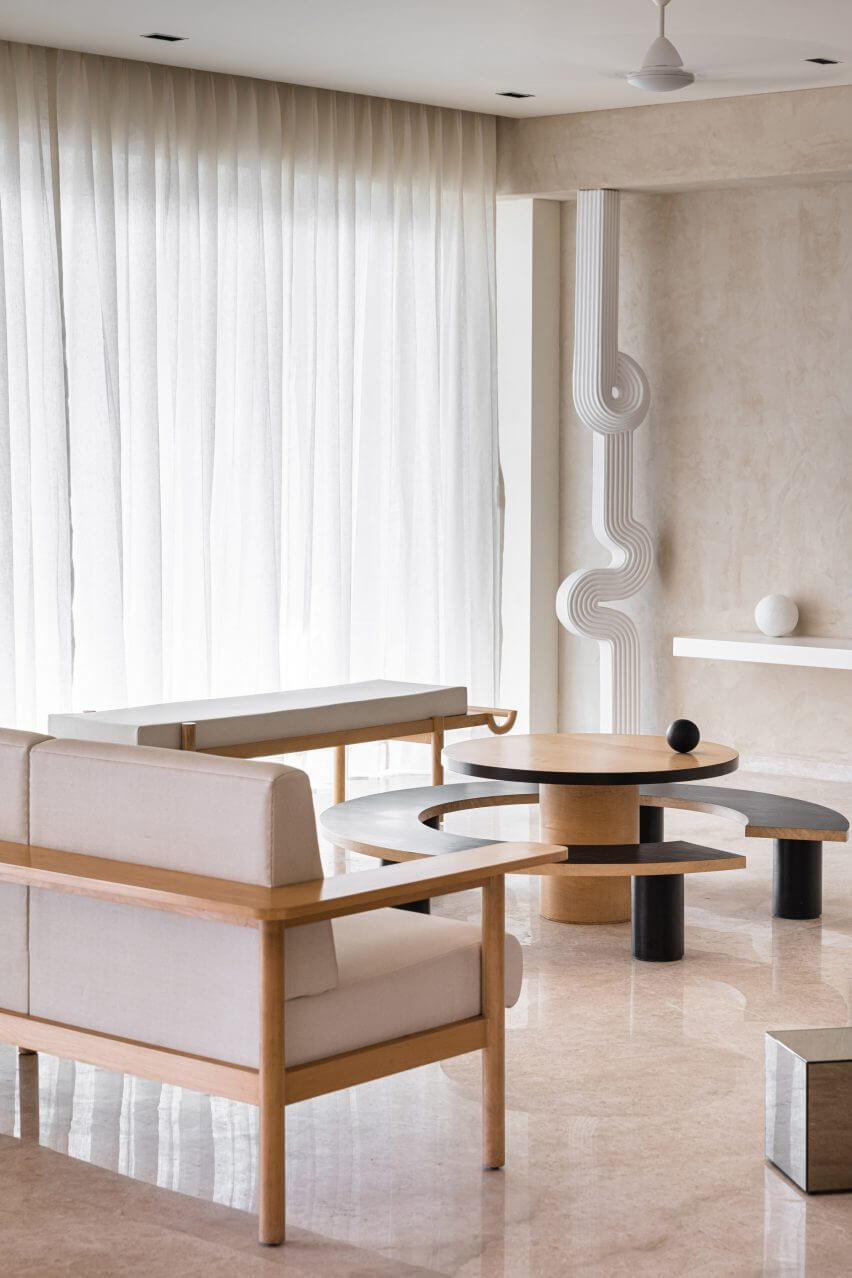 2. Mumbai Apartment by The Act of Quad (India)
This minimalist but playful home located in Mumbai, India, was designed by local studio The Act of Quad, and it's highlighted by its multiple spherical and rounded shapes. The four-bedroom, 325-square-meter apartment is dotted with orbs and circles, emphasizing the otherwise minimalist space.
There is an out-of-the-box black and wooden circular coffee table surrounded by curved benches that bring a playful note to the open space living room. The table is combined with nude hues, woody details, and white soothing curtains.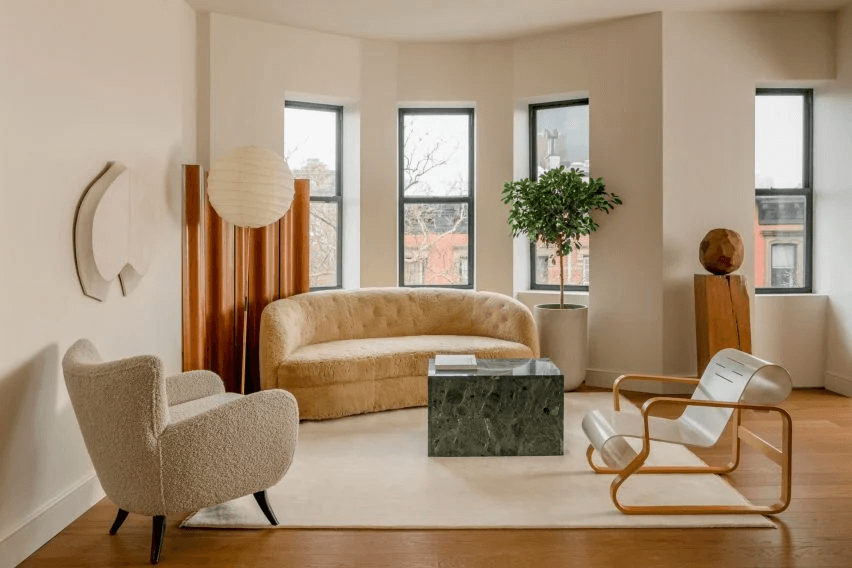 The Amity Street Residence was designed by a collaboration between Selma Akkari and Rawan Muqaddas. The duo renovated the flat with unique furniture situated in a 20th-century building in Brooklyn, New York, adding warm and natural materials to the space.
The 1,400 square-foot interiors, which have been updated from a neglected apartment into a space filled with warm colors, have three elements of seating furniture that are the principal components in this living room, complemented with a soft white circular lamp and a straight-lined marble center table interpreting a secondary character.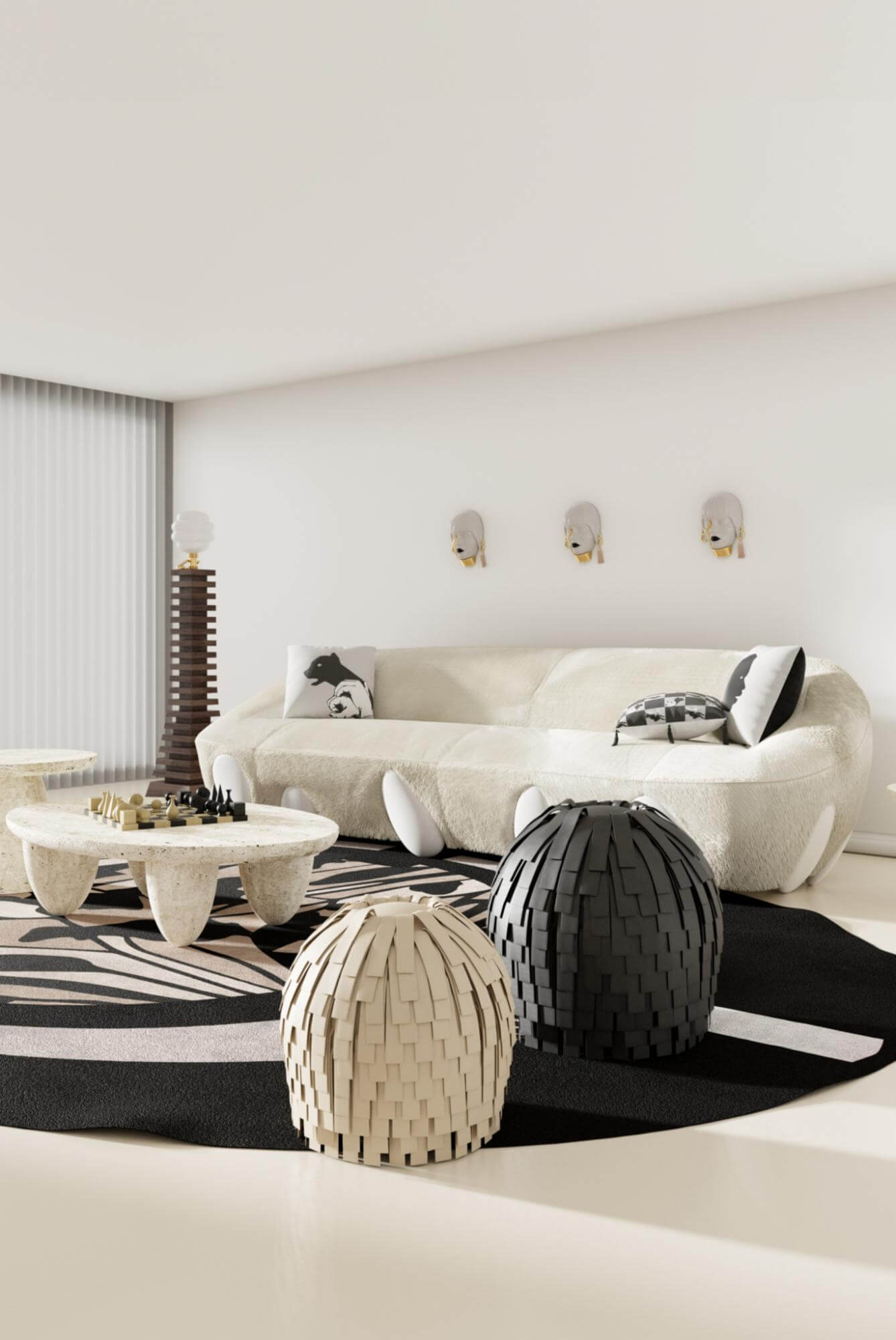 4. Luxe Futurama Living Room by Hommés Studio
Luxe Futurama is a representation of the Space Age glamour. A cohesive black and white conceptualize a new dimension of lifestyle and decorating, sleek and chic.
This modern luxury living room has a unique furniture – a round travertine side tables sit beautifully next to a squishy white sofa. A moon-like coffee table levitates above an oval mid-century modern rug with a monochrome abstract visual language. This cutting-edge compound is only complete with home accessories with a fantastic design and extraterrestrial demeanor surrounding round and textured celestial bodies.
Get inspired by the unique BAM BAM POUF: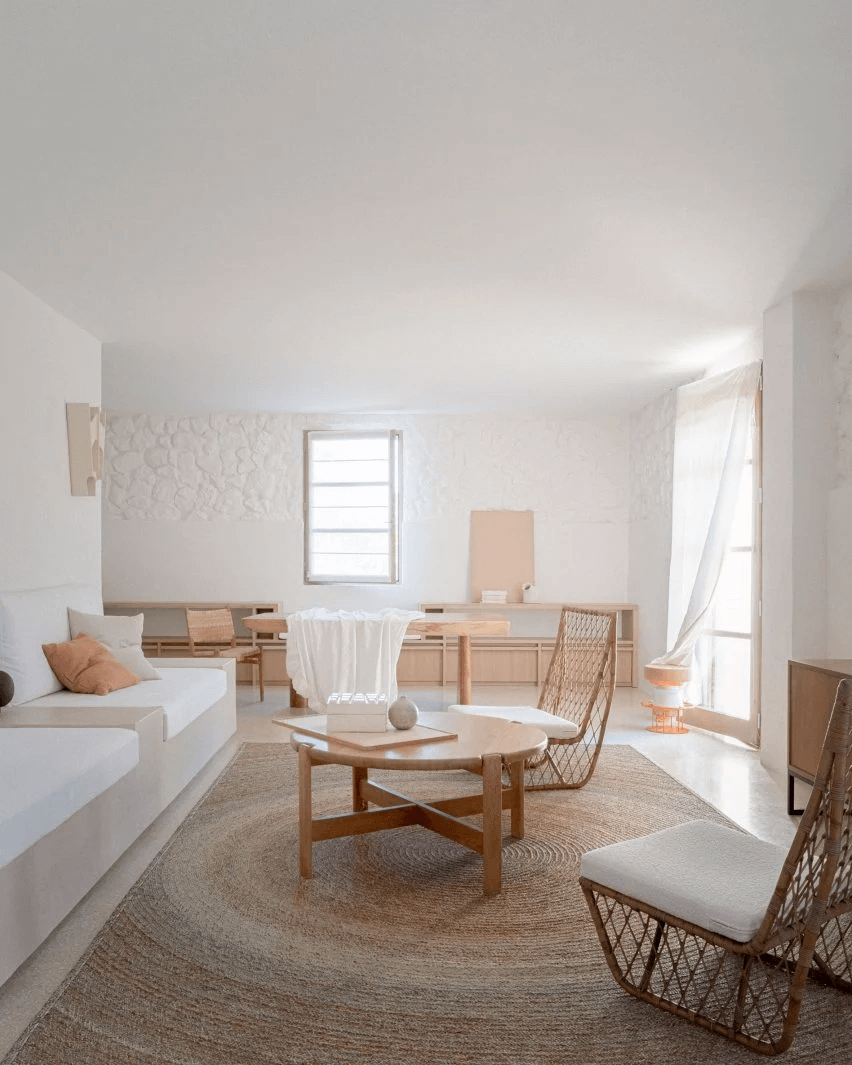 MA house was projected by the architect Timothee Mercier that has converted a ruined farm in France into an intimate refugee for his parents. The property is located in Vaucluse, a picturesque part of southeast France that boasts vineyards, lavender fields, and quaint villages.
Mercier chose rustic furnishings in neutral tones and natural materials like wood and raffia. The house is filled with unique furniture pieces that Vivivano's mother, an antique collector, sourced.
In the central living room of this astonishing interior design project with a natural vibe, he added a pair of vime armchairs with high backs complemented by a simple circular wooden coffee table.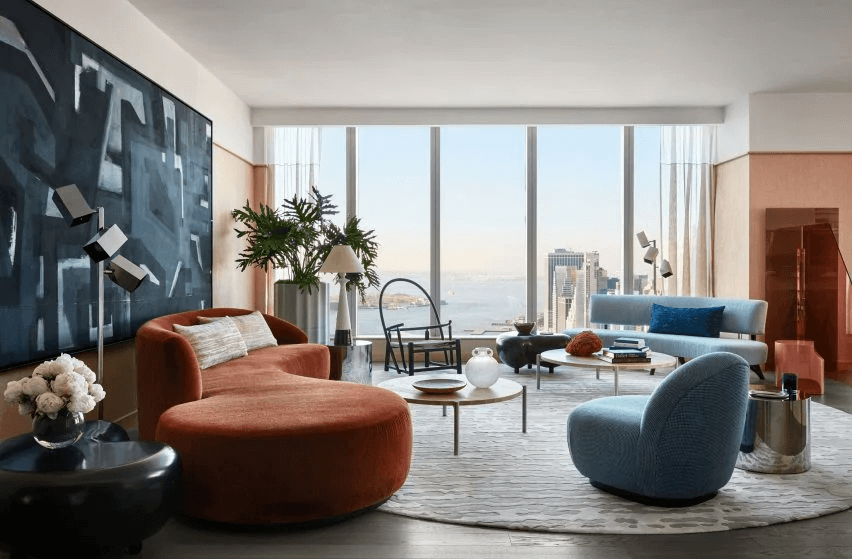 6. One Manhattan Square by Jamie Bush (United States)
The One Manhattan Square apartment was projected by the American designer Jamie Bush that packed this New York apartment full of unique furniture pieces from the 1970s combined with contemporary to fuse architectural designs in a kaleidoscope of styles, colors, and textures.
A feature of the decor is the mix of colors and furniture, from the voluptuous upholstered seating in light blue and pink hues in the living room to more geometric and rare finds.
Bush's combination of old and new elements is especially evident in the living room, where items such as a black 1972 hoop chair that is paired with an undulating rust-colored sofa. This contrast of pieces brings refinement to this remarkable space.
Get a similar look with our VONKLI SOFA:
The Thane Apartment was renovated by The Act of Quad and is easily distinguished by its smattering of blue accents present on the furnishings and fittings. The cobalt touches create a strong contrast inside the otherwise neutral-toned.
Located in Thane, India, the 101-square-meter high-rise apartment has many custom items, including a grey L-shaped sofa, a padded swing, and a quartz-topped dining room table.
The dazzling blue color scheme is persisted in the living room, where the shade crops up on rounded piping and bead-like attachments on the seats.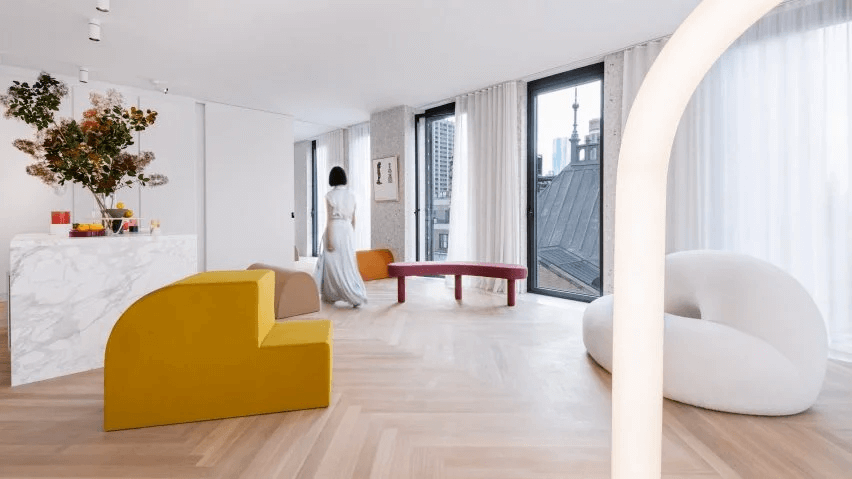 8. The Bryant apartment by Standard Arts (United States)
The British architect David Chipperfield remodeled the charming apartment inside the residential tower The Bryant. The home was furnished with capricious decor and colorful artwork elements.
In the living room of this two-bedroom, the designer added sculptural foam and plywood stools and a curving, acrylic floor lamp. Such as the rest of the interior, the studio desired it to appeal to the uniquely curious mind.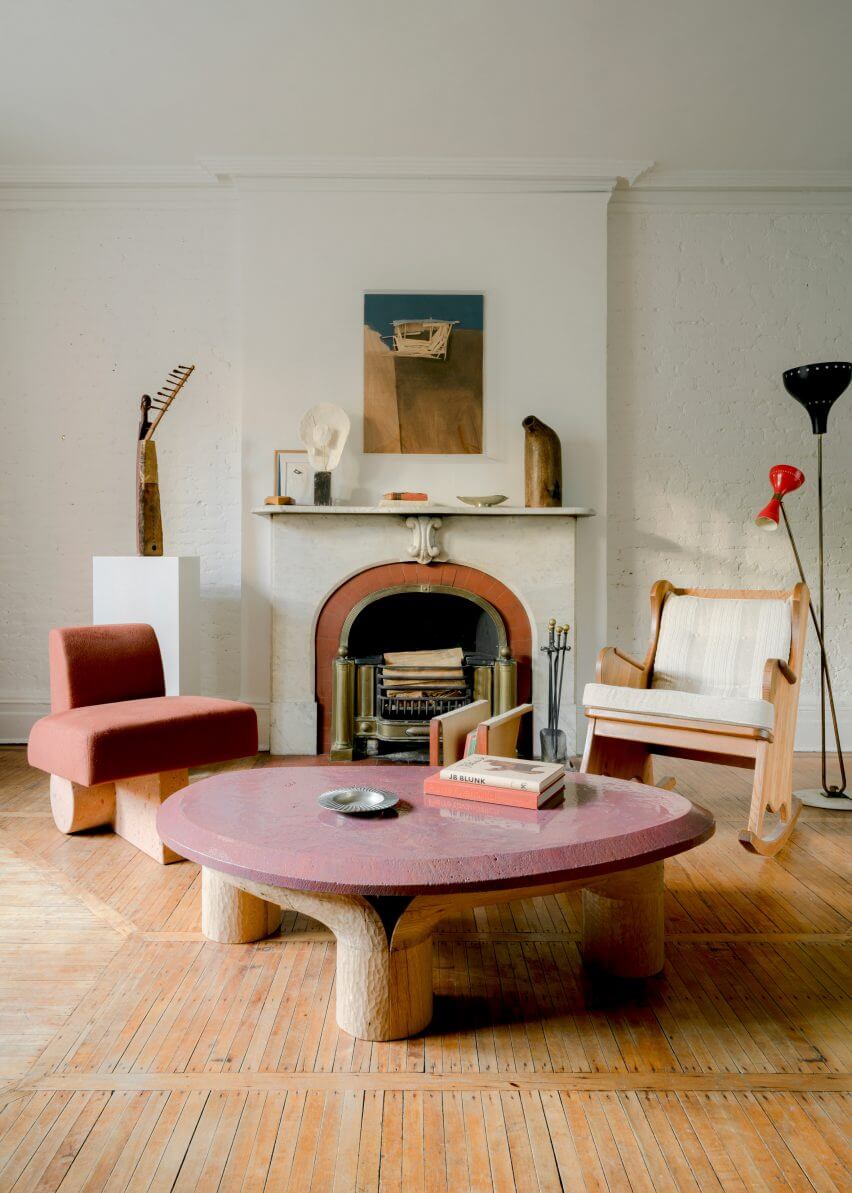 9. West Village apartment by Olivier Garcé (United States)
The apartment was developed by the New York-based interior designer Olivier Garcé, adding contemporary and unique furniture to this apartment located in a pre-war brownstone building in the West Village, New York.
The designer aspired to turn this apartment into a gallery space for his friends' work, including collectible furniture, experimental ceramics, decorative lighting, and original artworks.
The main elements are the circular rustic coffee table with three carved wood legs and the unique red side chair.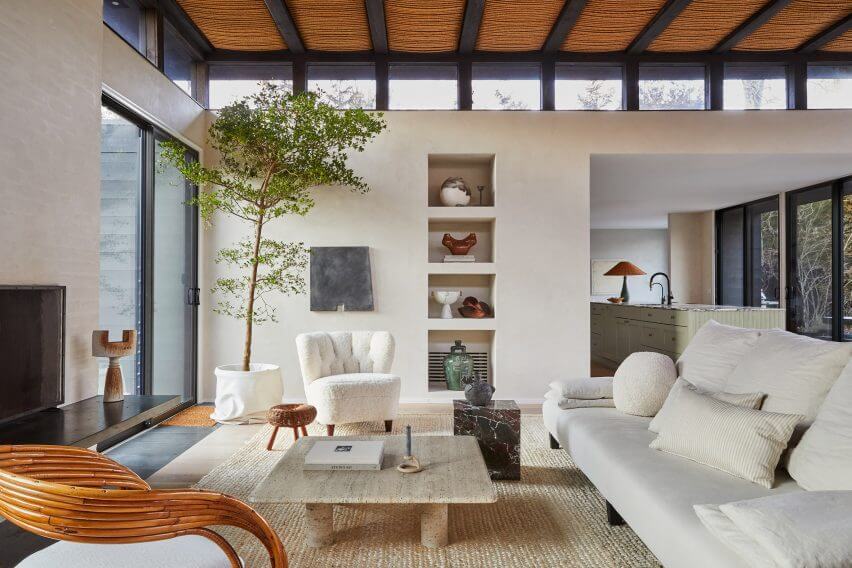 10. Amagansett House by Athena Calderone (United States)
This mid-century Long Island dwelling Amagansett House incorporated in its design a comfortable and intimate sensation by adding linen textiles, vintage finds, and plaster walls.
The New York designer Athena Calderone, who owns and lives in the flat, reformed the interiors with a soft color palette and a mixture of modern and vintage that include sculptural adornments, urns, and candle holders. This house contains unique furniture such as the low stone center table, the marble detail, and the vime chair are important elements in this space.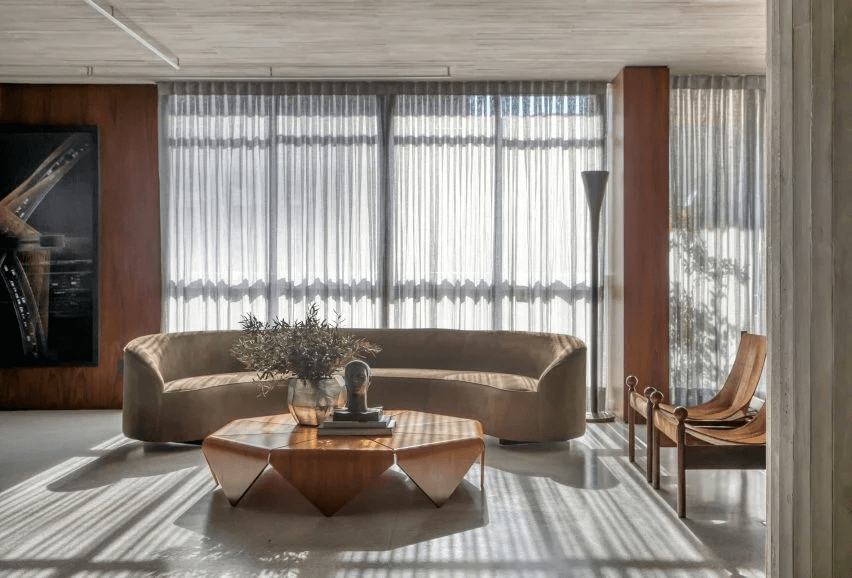 DN Apartment by BC Arquitetos (Brasil)
A walnut coffee table with triangular legs framed by a curved sage green sofa is the focal issue for this São Paulo apartment, creating a backdrop for an extensive collection of mid-20th century Brazilian art and design in this 1970s flat renovation by BC Arquitetos.
Located in an iconic building in the traditional neighborhood of São Paulo, the 230-square-meter DN Apartment was created for a landscape architect client. The apartment is wrapped in natural walnut wood, interrupted only by original faceted concrete columns.
Source: Dezeen
ARE YOU INTO INTERIOR DESIGN?
If so, discover modern furniture and lighting designed by design lovers for design lovers. All you need is to download the Hommés Studio catalog. To complete your interior design project, choose the high-end homeware by ACH Collection.