Looking for red living room ideas? Try these 10 tips to take your living room to the next level using red – a powerful, bold color.
Red living rooms can be used with various options and arrangements, and by using this powerful and warm color, can be reached any interior design style, from traditional to modern, giving any room the perfect atmosphere. This shade is known for transmitting many sensations – it's vibrant, classic, deep, dominant, romantic, and a lot more. With this strongness, it takes a lot of responsibility to use it due to the fact that it's not easy to get it right in an interior design project.
The range of the color palette is practically endless when it comes to living room interior design projects, but red is an extraordinary plan for enhancing any space. It fits perfectly casually around a room or even as a complementing shade. Just using it in a furniture piece it's enough to spice things up and instantly change your mood. This versatility is explained by the wide spectrum of reds and the ways you can use them.
In past times, this tone was relegated and used strictly in unseen spaces, such as tiny bathrooms or laundry rooms. Those days are gone, and nowadays, red serves as a striking focal point in an area and helps to set the vibe. Using it in a furniture piece, it's enough to spice things up and instantly change your mood.
'Red is invigorating and passionate, lending a dramatic, intense quality to the room,' says the interior designer Jennifer J. Morris 'Sexuality, power, and wealth can be associated with red. A darker red can feel like a fall or winter space whereas a brighter, poppy tone can feel more like spring and summer.'
Find out in this article some of the different ways to use red, from softer, shadowy tones to profound, rich burgundy.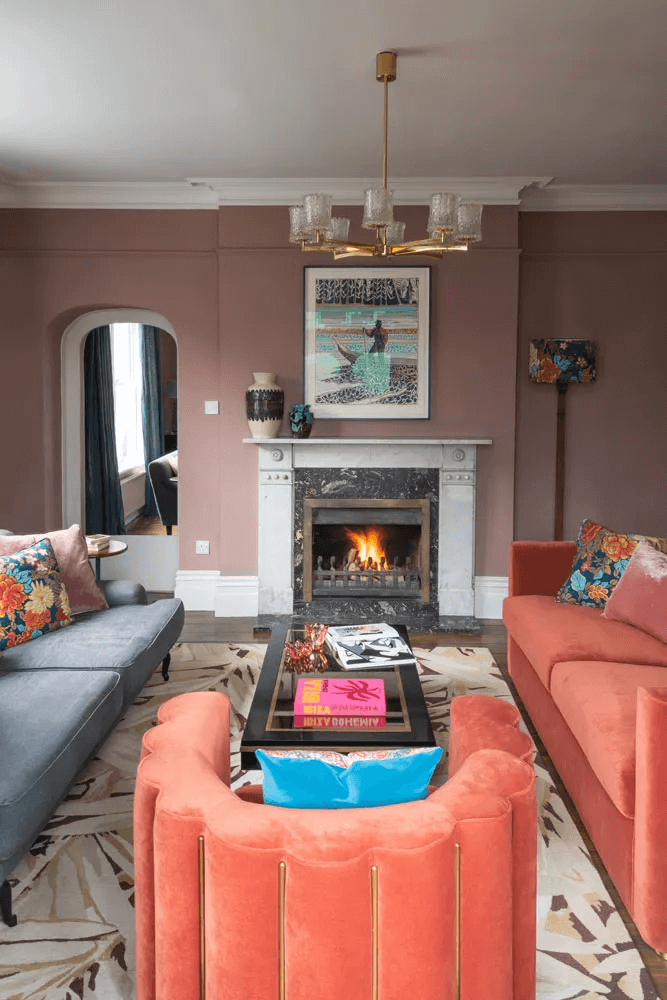 1. USE TONE-ON-TONE
The first method to design a red living room effectively is through the tone-to-tone process, using a red tonal palette.
These pallets simply have the main tone followed by other gradient shades of the same color to create a complementary composition. This can be worked by painting the walls and supplementing them with furniture, textiles, and decoration accessories. The key to this tip is to use just one hue and to compose the interior design project with the less contrast possible.
Another fundamental principle of the tone-on-tone method is choosing the ideal shade of red to work as the project color base. Marianne Shillingford, Dulux's creative director, says, 'Red is the most powerful color in decorating so you have to choose your shade of red according to the atmosphere you want to create.'.
'Red is the most advancing color and will make large open spaces appear more intimate because it's also the warmest color in the spectrum. It offsets the coolness of north-facing light, so you might even get away with turning the heating down a notch or two, and no one will complain,' she adds.
2. USE A BOLD TONE AS THE BACKDROP
While choosing shades, it's critical to consider your lifestyle and the practicality of the space. If you want a red living room for the purpose of slowing down by taking time to relax and watch a movie, the chosen color should not be an overwhelming red that screams for attention. It should be used instead a calming tone that flows with the space.
It is possible to tone down this effect by following the variety of directions of hotter red shades and pairing them with other milder ones – a red with a hint of brown or a red with purple undertones feels heavier than a solid red with traces of pink. Likewise, opting for bolder materials in the red living room, such as brick or wood, can soften the intensity of the color.

3. CREATE A LAID-BACK VIBE WITH RUST TONES
This excellent vintage shade, a reddish-brown hue, represents a slow-paced lifestyle and an association with nature. This particular shade warms up even the coldest interiors and can be used as an accent shade or as a neutral in a red living room.
In fact, this shade of red complements white for a soothing and edgy look. Other earthy tones like browns, greens, and greys make a perfect combination, creating a calming atmosphere when paired with rust. Using plants also look refined when positioned against a rusty wall – the ideal shade for urban jungle style.
On the earthy end of the spectrum, muted rusty tones can evoke an easy-going, inviting vibe that blends beautifully with brown, taupe, and wood.', says Helen Shaw, Benjamin Moore's UK Director.
4. GIVE SERIOUSNESS TO YOUR LIVING ROOM BY ADDING MAROON
Maroon is a dark and saturated color. It's a blend of red and brown and sometimes plum. Since it's a profounds and vibrant color, it's not easy to pair it with any tone. However, there are certain universal combinations that look good with it, such as white, beige, and gold. This is a red color that goes with grey as well.
The color's heat can create the desired atmosphere in cold climate areas, perfect for creating a cozy vibe in a red living room.
Classic maroon interiors benefit from natural wooden furnishings. They are excellent both for intense maroon-shaded walls and simple maroon decor.
5. USE RED AS AN ACCENT
Colors in interior design affect the sensations that the room transmits. Red walls, ceilings, furniture, and decoration pieces can create vitality and passion. By adjusting the amount of red in the room, it is possible to control it's influence and impact.
It's essential to add a pop of red in order to create an elegant red living room as a way to dial back on the color's effect. Emphasizing pieces like cushions, paintings, and decor can be ideal for bold tones. However, consider using this color in more unusual spaces, such as on the floor or above a fireplace.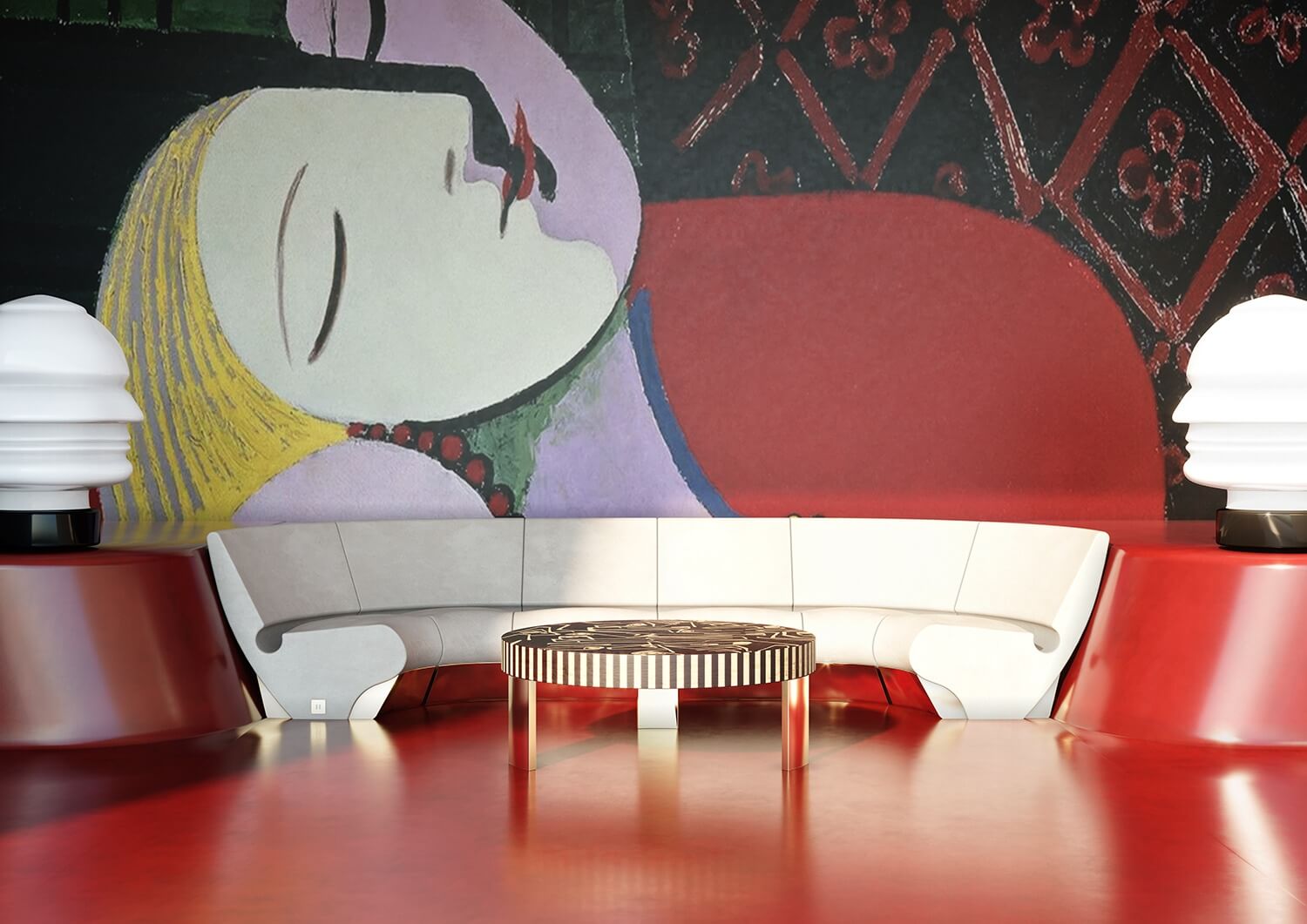 6. TRY A RED WALLPAPER
If you want to create a daring interior, a good option is to dedicate an entire wall to the shade, and if paintings are not your preference, then wallpaper in red tones is the best bet for a exquisite red living room.
Besides introducing the colors, the wallpapers also bring texture and pattern to your red living room.
7. ADD RED THROUGH FURNITURE
The idea of using red furniture pieces is that a single surface can suck up the light in the room, feeling relatively dense.
It's important to remember that the accent furniture piece doesn't have to match other statement pieces in the room. Using a different color palette in some pieces makes a room feel thoughtfully assembled without feeling too matchy.
8. COMBINE RED WITH COMPLEMENTARY COLORS
Red can be tricky to combine because it's the most robust hue in the color wheel. If paired up carefully, red can be a great merge when mixed with other shades.
Powder or baby blue is a surprising color that has harmony with it and works as a balance in terms of strength and depth. Such as the baby blue, the sage and olive green also makes a tranquil combo, with a careful equilibrium of both tones, which makes the red living room more versatile.
9. TRY THE OMBRE EFFECT DESIGN
These dip-dye curtains and walls epitomize the kind of fun you can have with interior design. This is a trend that is ideally suited for those who want to rejuvenate their living room curtains.
The dye effect additionally complements that two-tone wall, giving the interior an innovative and unique look.

10. PAINT LIVING ROOM DOORS RED
If you want to escape the norm of the conventional go-to elements for the color red, you can go further and add a pop of color on the door. The matte effect looks striking in these otherwise neutral living rooms.
SO… IS RED GOOD FOR LIVING ROOMS?
The answer is yes!
Red can make a living room look unique and striking. When decorating your space with red, remember to avoid pastel tones such as peach, lime, and coral.
Consider using the color in soft furnishings such as cushions or rugs and mixing them with other textiles.
When choosing the red for your room, be thoughtful about the shades. A darker tone will feel more elegant and sophisticated, while a bright and vibrant red can add a playful element but could make your room too shocking or intense.
Source: Livingetc
ARE YOU INTO INTERIOR DESIGN?
If so, discover modern furniture and lighting designed by design lovers for design lovers. All you need is to download the Hommés Studio catalog. To complete your interior design project, choose the high-end homeware by ACH Collection.