Find out the 13 strategies recommend by interiors designers to make a stylish and elevated space to relax.
Luxury living rooms have been increasing as a trend in the upper classes of society. With a good design and readjustment, your luxury living room will be the ideal place for an evening with family or friends.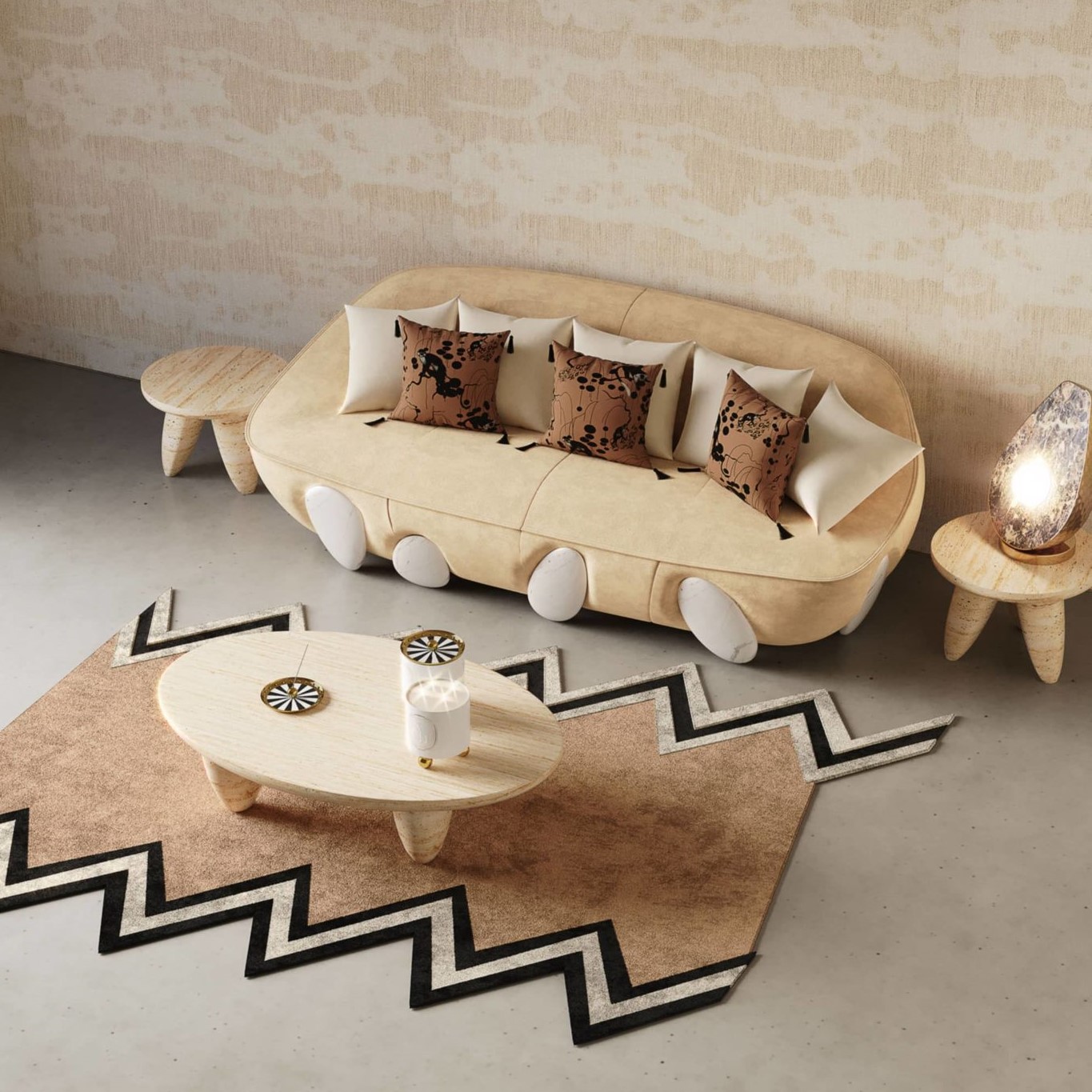 It would help incorporate textures and rich tones (this is an excellent way to start). You can use sculptural resources and works of art to add color, pattern, elegance, and grandeur to complement it.
Ann Marie Cousins, the designer and founder of AMC Design, says it's all about trust for your space to have an injection of luxury. The designer also states that the attention is on the details, but this does not mean overcrowding the room with many objects; a cluttered house can seem unsophisticated.
To help you, we've put together 13 ways to decorate your luxury living room to become a true sanctuary.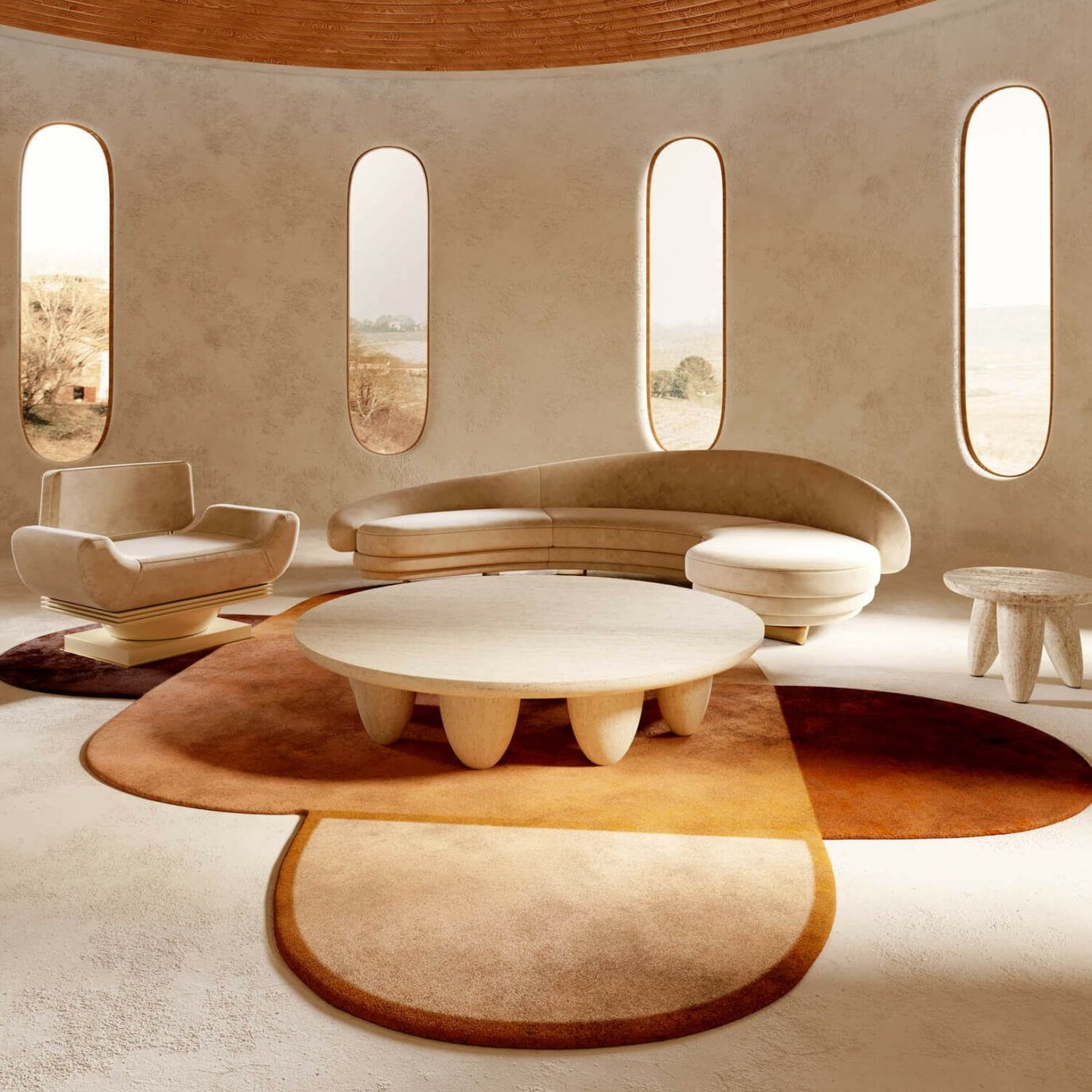 LUXURY LIVING ROOM IDEAS: AN ELEVATION OF SPACE
1- USE AN OVERSIZED LIGHT PENDANT TO MAKE A STATEMENT.
Ian Cameron, creative director of premium lighting firm Cameron Design House, says, 'We always recommend having a stunning pendant as the highlight in a luxury living room.'
A colossal light hanging in the center of the room draws the attention of the entire space and makes it sculptural. To divide the living space, the soft glow of the light helps distinguish different areas within the house, creating an elegant luxury living room.
If you choose, an oversized light is a focal point pendant to suit every space for an added level of elegance to a luxury living room.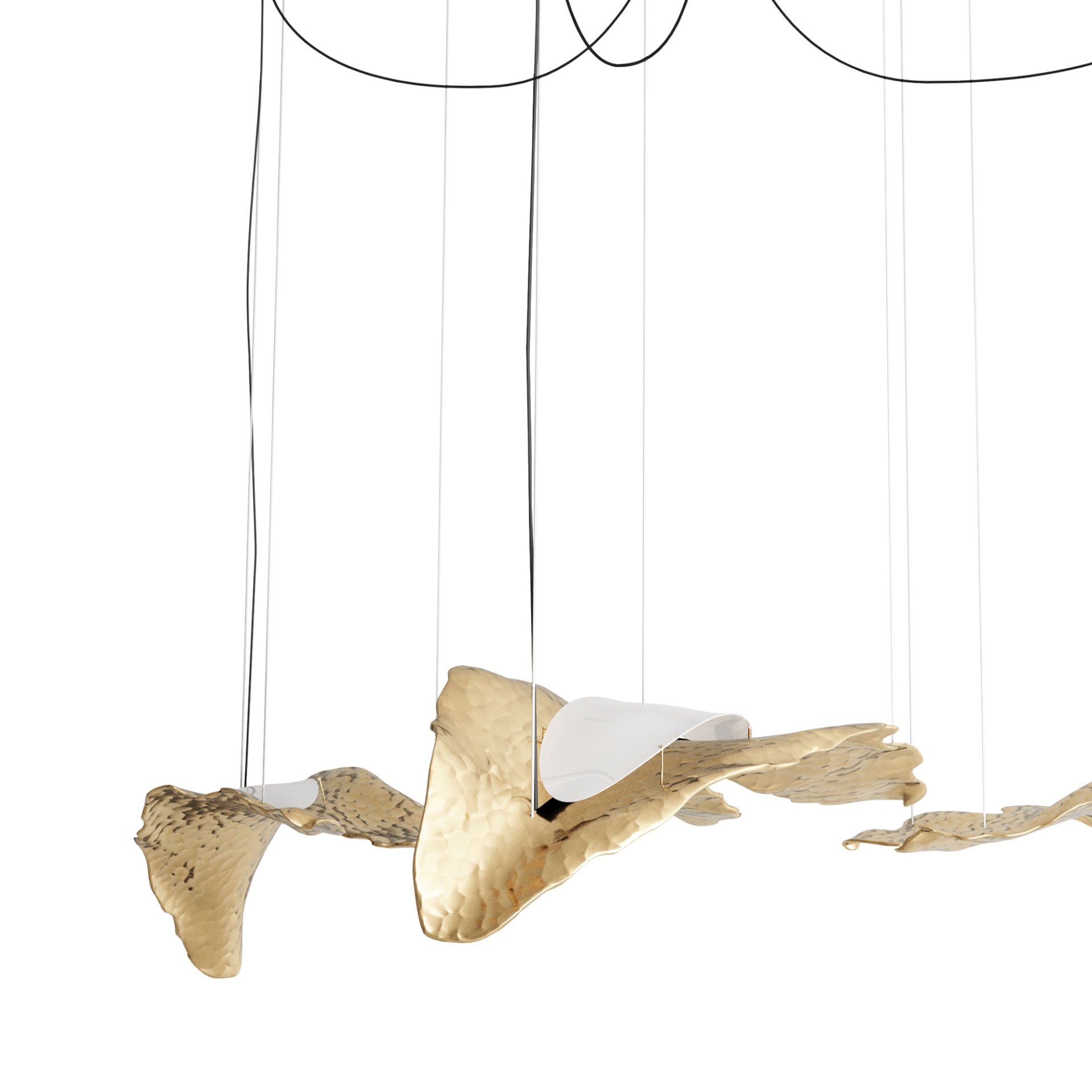 2- ADD DRAMA TO YOUR ROOM WITH HIGH-STYLE PRINTED WALLPAPER
Wallpaper has been trending, and in 2022 that doesn't change; the trend shows a continued penchant for all things nature-related. Wallpaper is an elegant way to add interest and drama to a room in tropical, botanical, or garden frame finishes.
"Metallic wallpaper brings your walls to life and is a great choice for low-light environments," says Jamie Watkins, co-founder of interior brand Divine Savages. "Our iconic Crane Fonda wallpaper is reimagined in the living room above on a larger scale. The dramatic black and gold colorway creates a sultry, moody elegance that allows the jewel-toned velvet sofas to shine."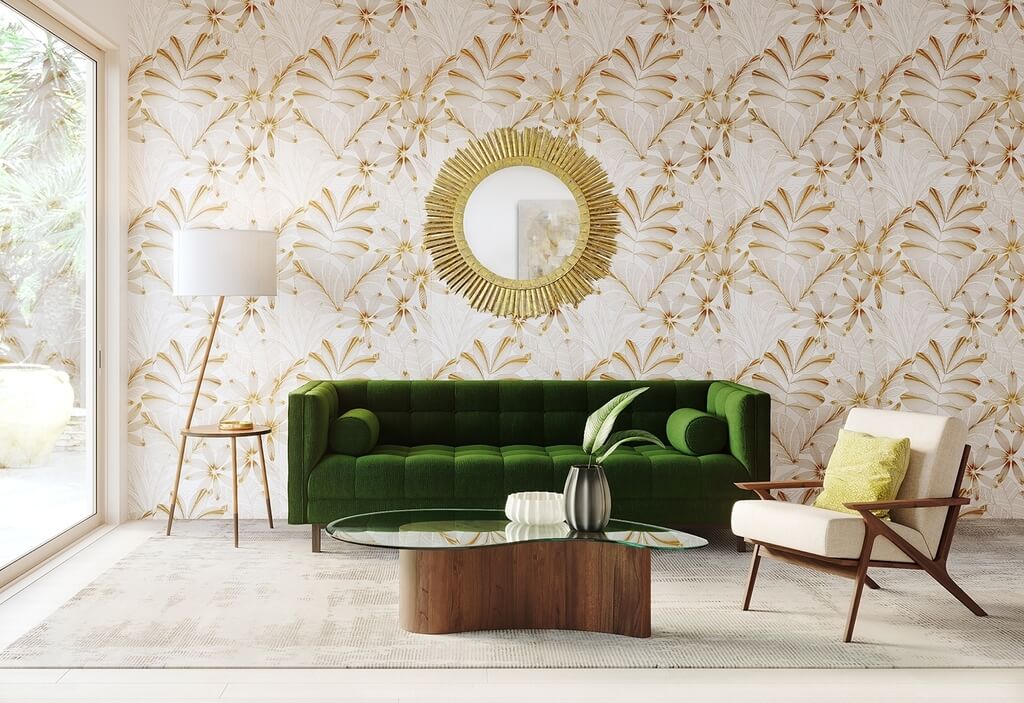 3- CHANNEL MINIMALISM WITH A LUXE TOUCH
Being minimalist does not mean that your design is not luxurious; even this is an option to design your luxury living room. You can create a luxurious aesthetic in a simple space by introducing comfortable, high-quality materials such as linen and bouclé and advanced design furniture.
"You can embrace minimalism and not compromise on luxury," says Joshua Smith, principal designer and founder of Joshua Smith Inc. There are many ways to combine textures, patterns, and neutral colors to give your luxury living room a modern and chic look.
'The tracks to the sheets are embedded into the ceiling for a cleaner look, and the sheets filter the light beautifully while adding softness and emphasis to the ceiling heights.' Says the designer.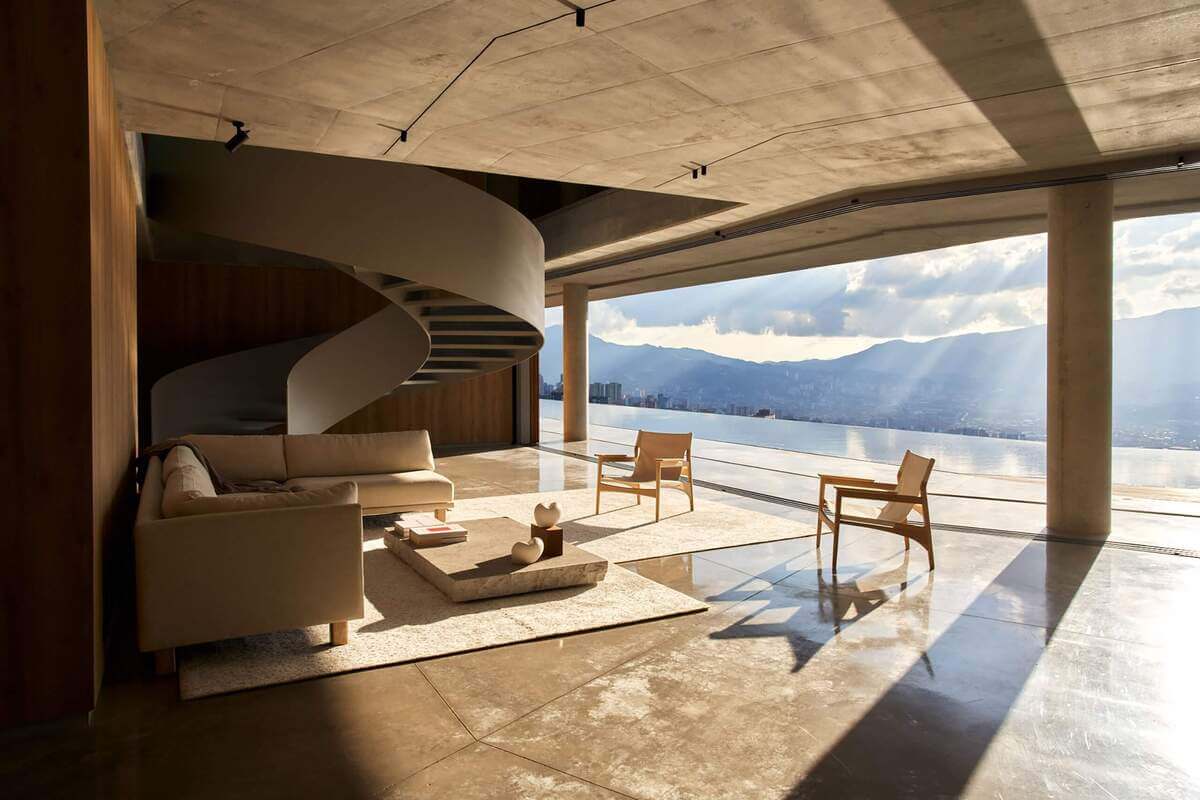 4- PERSONALIZE AND ADD LUXURY THROUGH CREATIVITY
'Luxury has a space just for you,' says Kellie of Kellie Burke Interiors. 'It is a place to sit, relax, and enjoy, not just walk by.'
If your luxury living room has your personality, you will elevate the space with a unique creative touch through art, furniture, or collectibles.
Large original artworks illuminated with neon light are unique for stimulating conversation.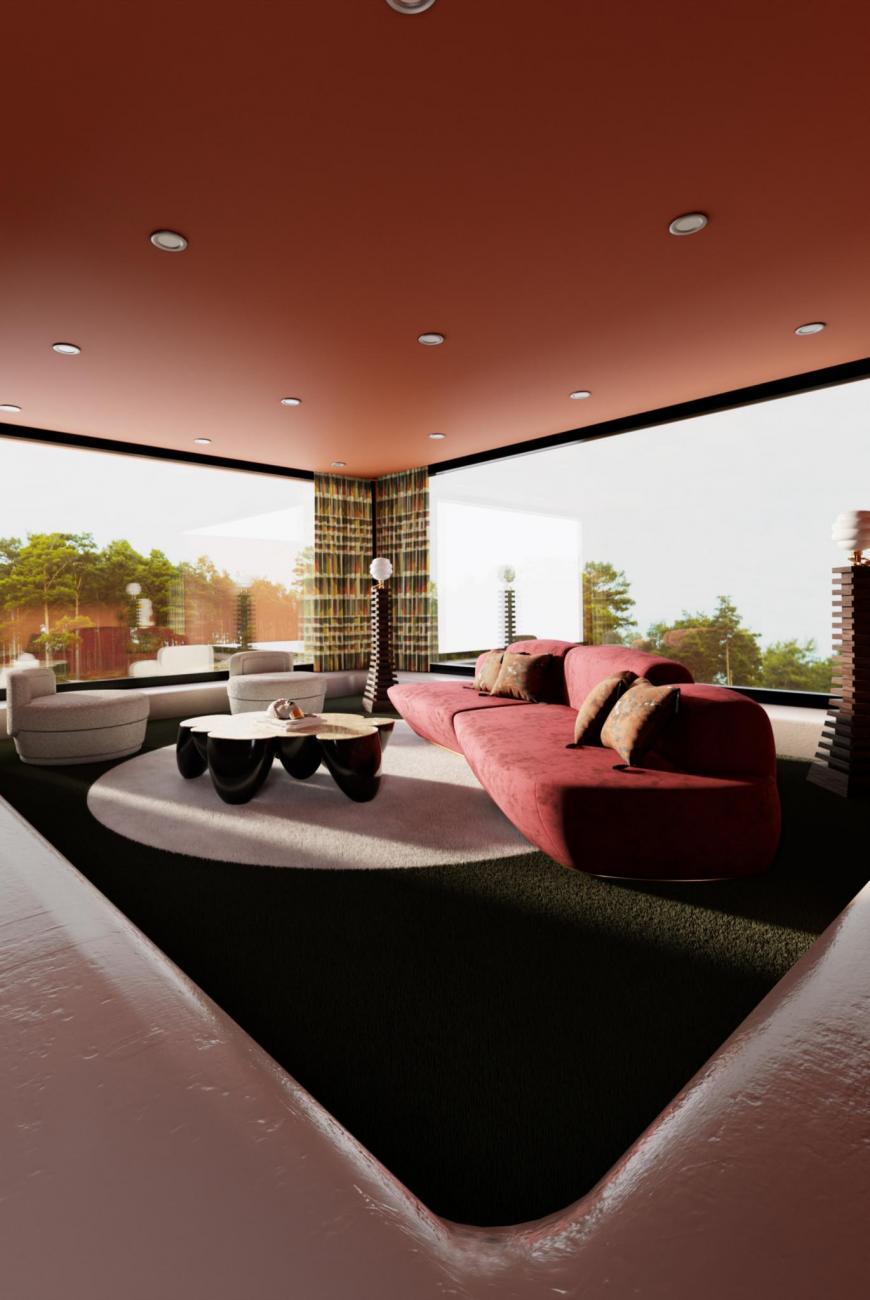 5- FOR AN IMPRESSIVE DISPLAY, HANG OVERSIZED ART
Using art to decorate your luxury living room is not only a way to add detail and color; it also makes the space severe and serene.
"Art adds character and a sense of personality to a space that you can't always fully achieve through materials and colors in a room," says Camilla Clarke, creative director at interior design studio Albion Nord. 'A room without art is an unfinished room. Your wall should be the canvas for your art.'
Making a balance between art pieces with the mixture of different types of furniture and new ones helps elevate a living space, creating luxury.
So your luxury living room will have character, but it will also tell a story that will make anyone want to stay there.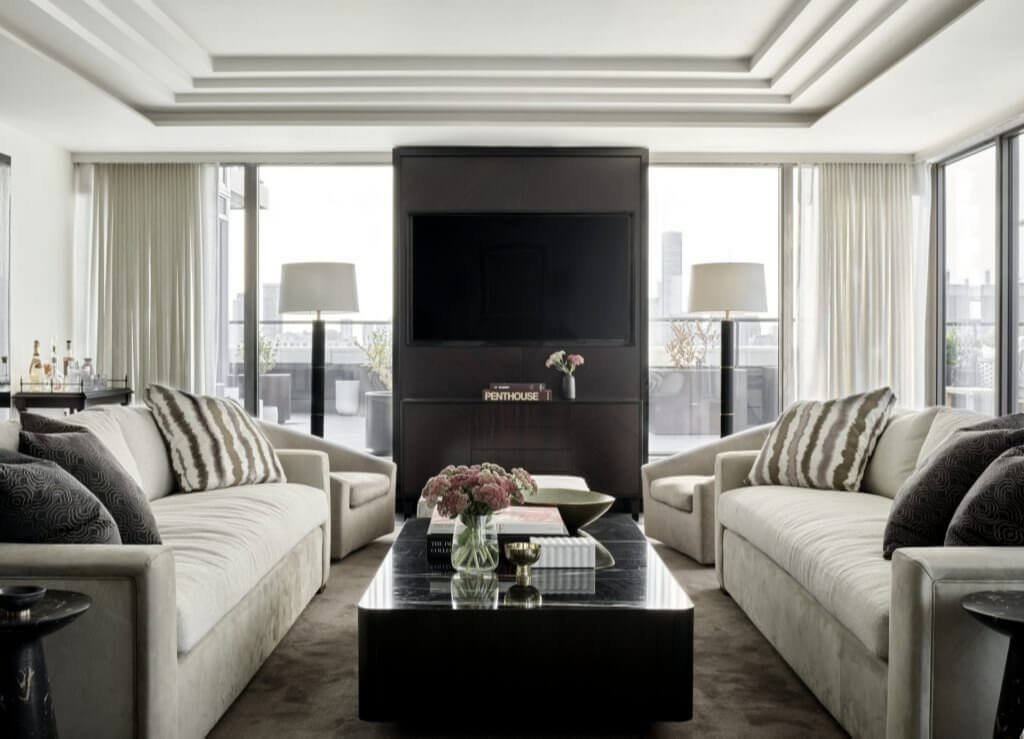 6- INTRODUCE A CLASSIC PIECE OF DESIGNER FURNITURE
Elevate any living room to luxury status by investing in a designer piece of furniture.
Want to take a step further on your luxury living room? Invest in a piece of designer furniture.
The arcana bench is one of the pieces by HOMMÉS Studio that suggests good taste and is also inviting and comfortable – essential elements for a luxury living room.
There is a timeless comfort to these familiar shapes, making a room feel homely simply because these designs are so beloved.
The arcana bench is just one example of how a small detail can change your luxury living room, but many other products will convey elegance and refinement like this bench.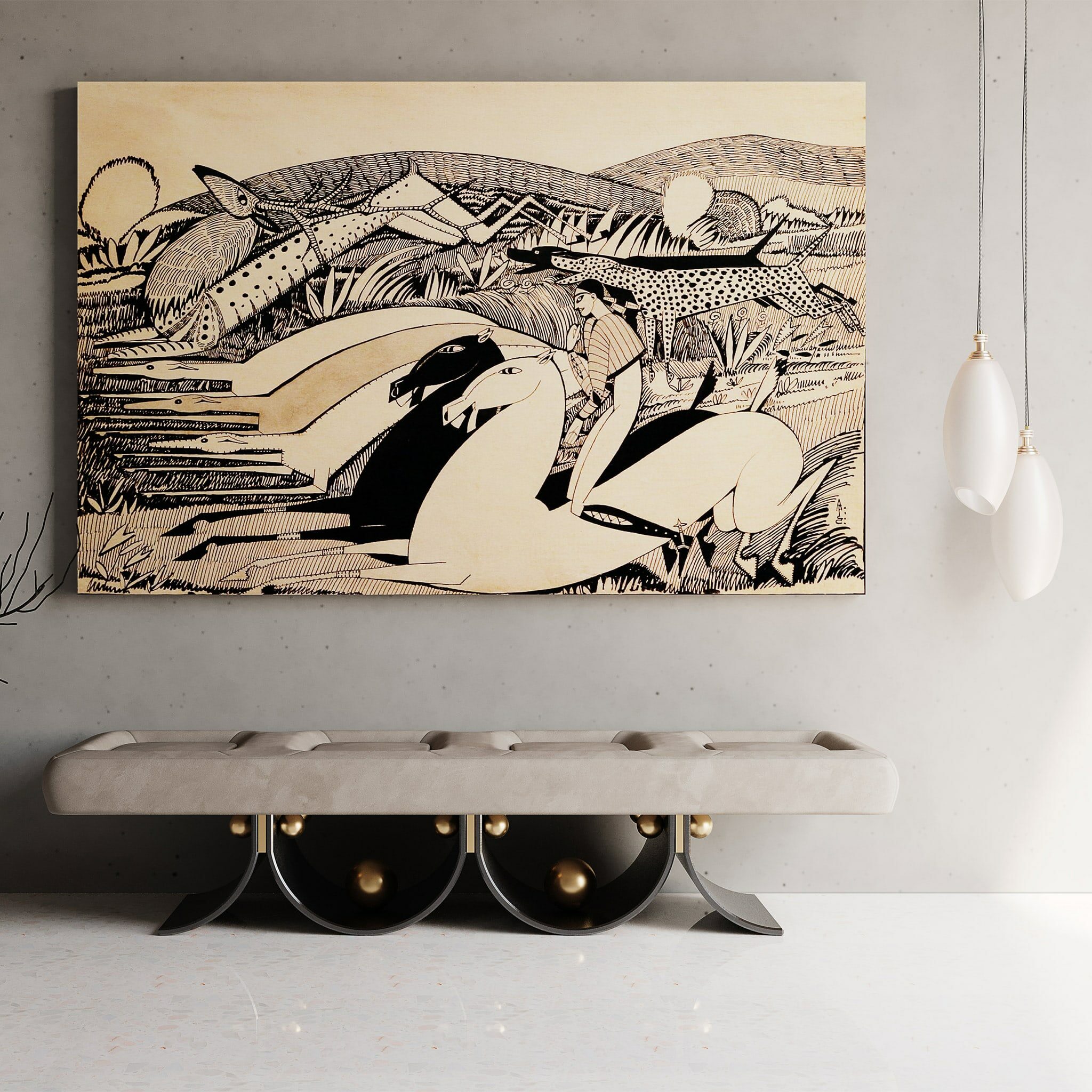 7- GET THE MOST OUT OF ARCHITECTURAL DETAILS
'The architectural details of the mantle alongside the art and furniture placement make this room feel welcoming yet grand at the same time,' says Malka Helft of Think Chic Interiors.
Striking architectural details can constantly be enhanced and embraced as they can add additional features to your luxury living room.
When combined with certain fabrics, and furniture art, these details erect a higher aesthetic.
'Architectural features, like arches, always add an extra layer of interest and make the home feel more custom.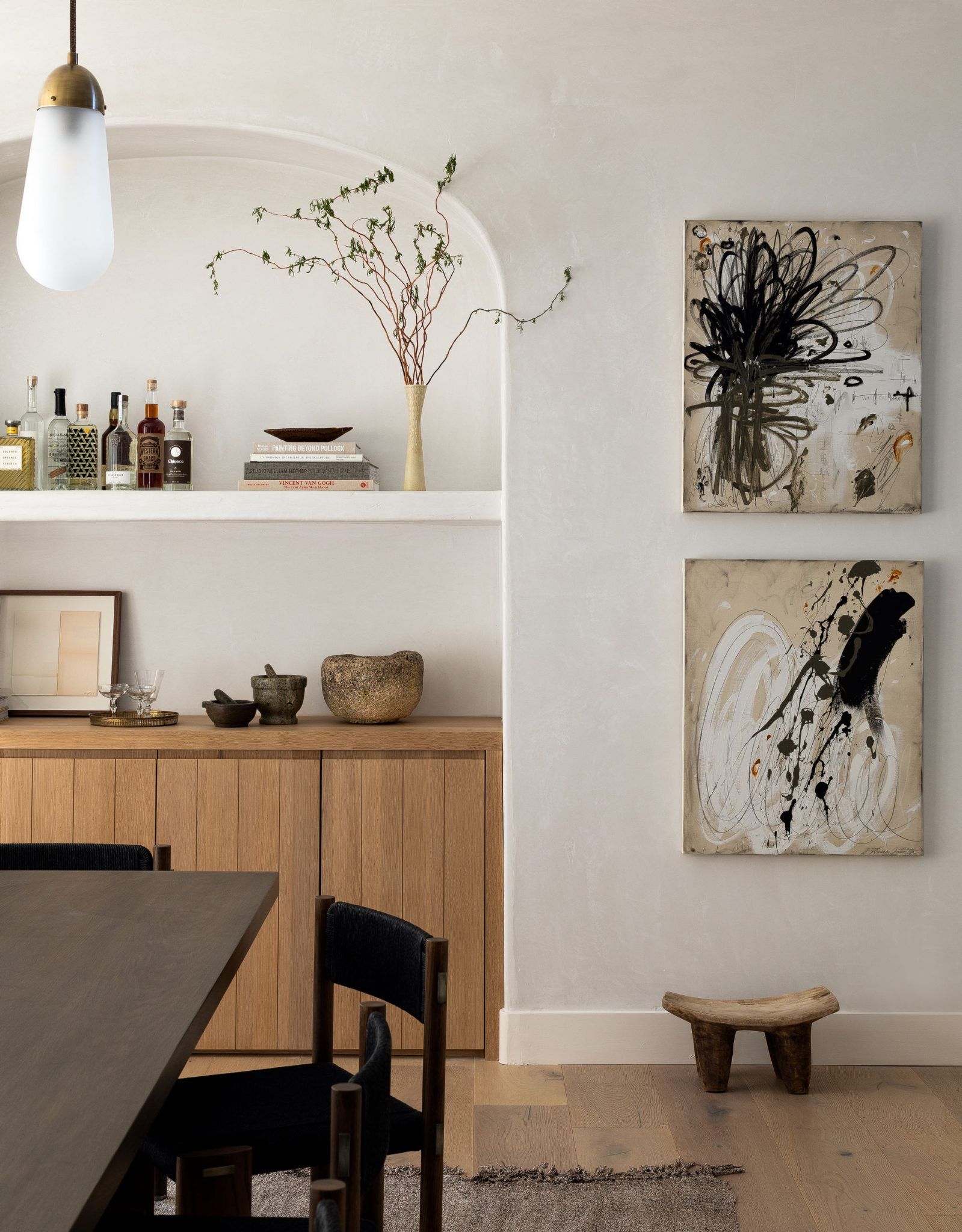 8- INCLUDE A PROPERLY POSITIONED AREA RUG
An area rug gives the luxurious living room a sense of space and drama while working your sofas and tables smartly and elegantly.
An area rug is a particularly effective living room flooring idea when placed under your sofas and side tables to create a cocoon and luxurious feel underfoot. It can also be a good idea to use it to decorate your luxury living room.
Clara Ewart, Head of Design at Kitesgrove, says: 'One way to create a luxurious interior is to implement statement pieces like sculptural lighting, a bold patterned area rug, or a memorable part of art within a quieter, simpler scheme.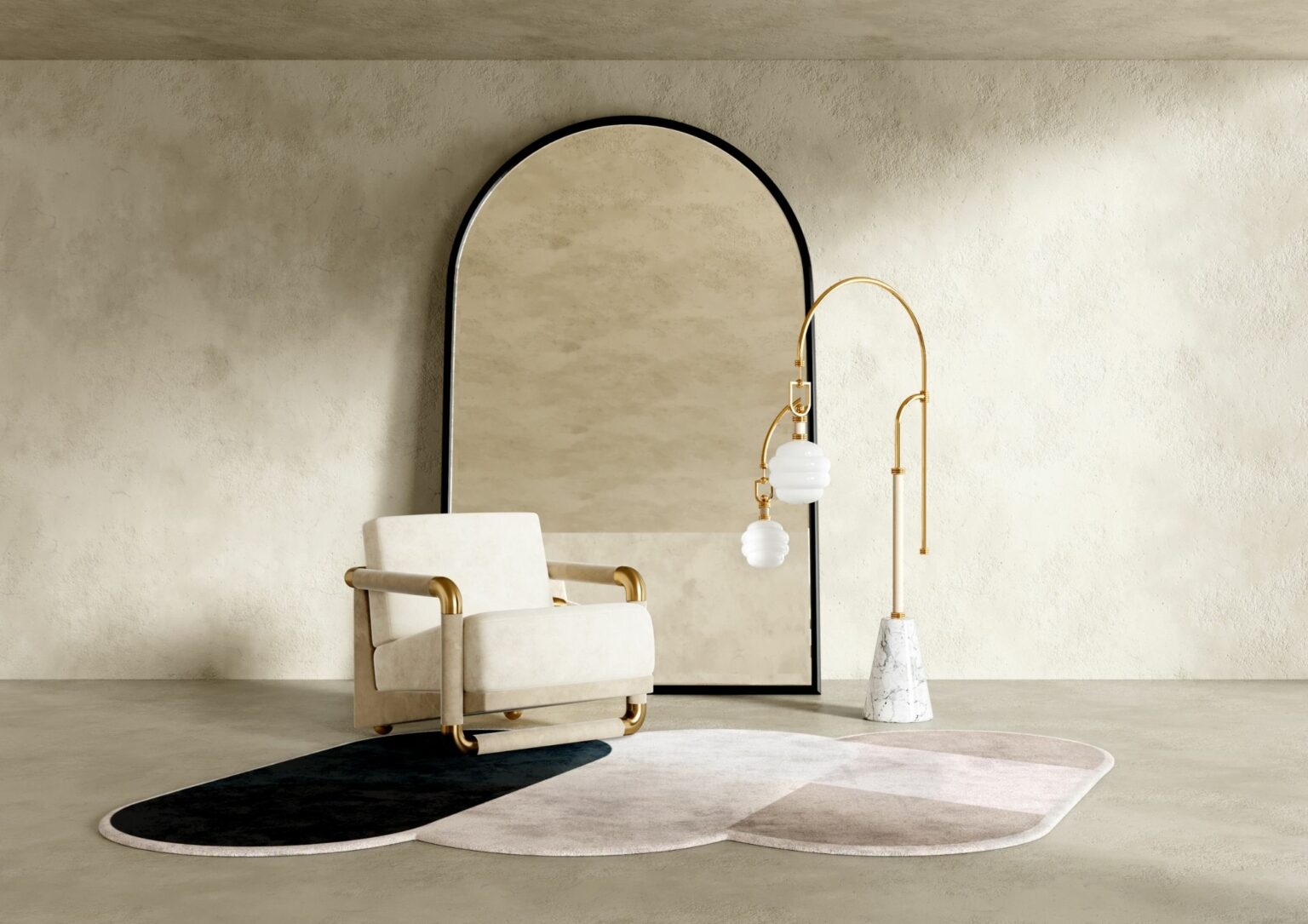 9- USE HIGH-END MATERIALS TO UPGRADE YOUR FEATURE WALL
In the luxury living room, the walls have a huge focus, and this focus is here to stay. Walls add interest to a room and can be especially useful in a space lacking natural or architectural features – they provide a focal point and a sense of direction.
But if you want to take your wall to the next level, use a different material, and be bold; marble decorations will give it a sophisticated aesthetic.
As green is a trend that's also here to stay, the marble wall above is particularly on point. "The great thing about natural surfaces is that each one is unique and gives people the opportunity to do something different and ultimately have fun," says Oliver Webb, director of luxury stone suppliers Cullifords.
This whole design process and the way different textures and materials are used may seem daunting, but if you trust the right eye, you will have a luxury living room made to measure. Coordinating the colors with the furniture and accessories will ensure the walls blend seamlessly into the space and bring that final touch of luxury.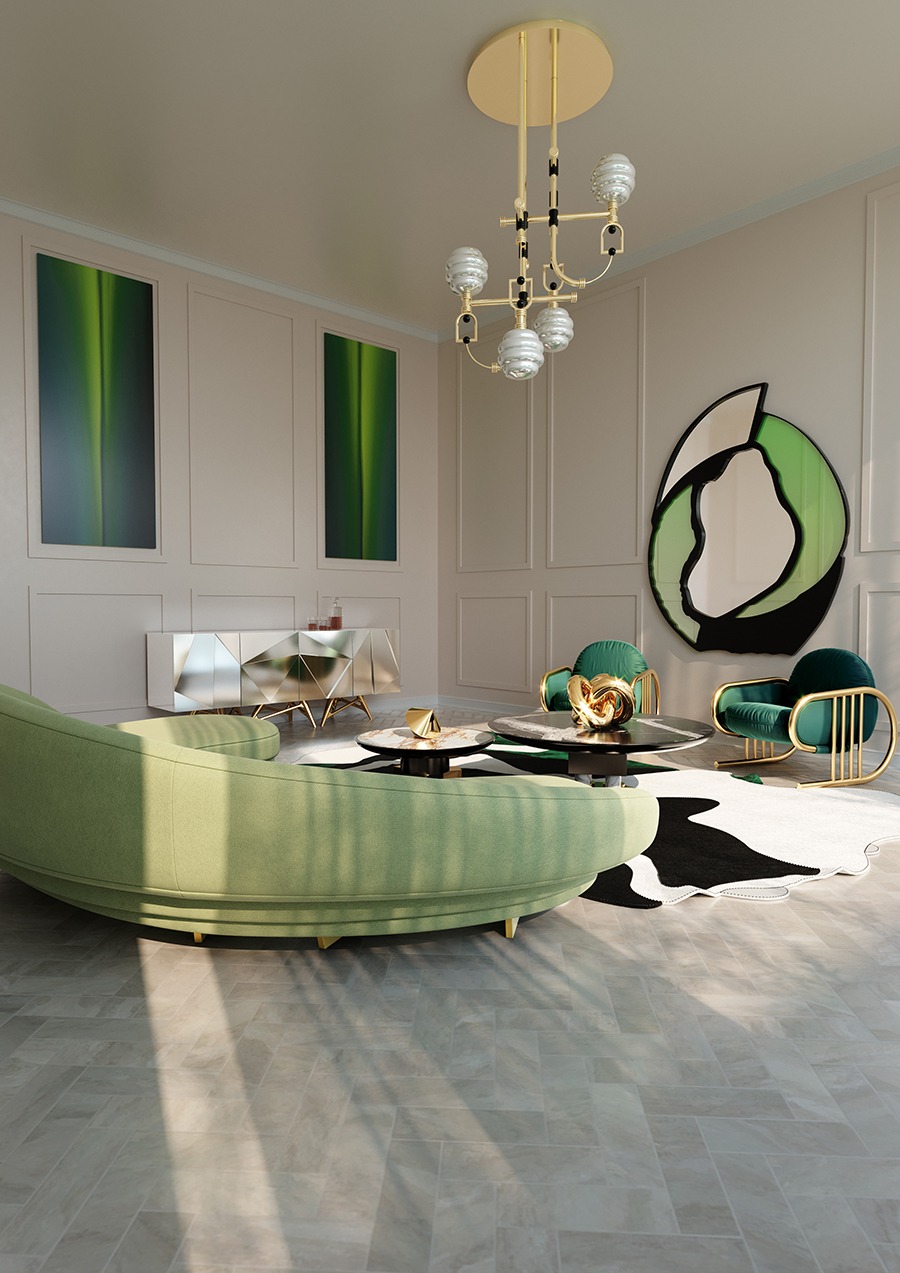 10- SHOW SOME CLASSES WITH EXTREMELY LARGE PANELING
Want to improve a space dramatically? Invest in wall panels. Panels are no longer a success but a decorative element that adds grandeur to areas.
"Found in historic, characterful buildings – like the boiseries at the Palace of Versailles – these ornate features add a sense of elegance to any space," says Juliette Thomas, founder, and director of interior design studio Juliettes Interiors.
So it's no surprise to see them enjoying a resurgence in many modern properties, to elevate them to more spectacular and superb rooms.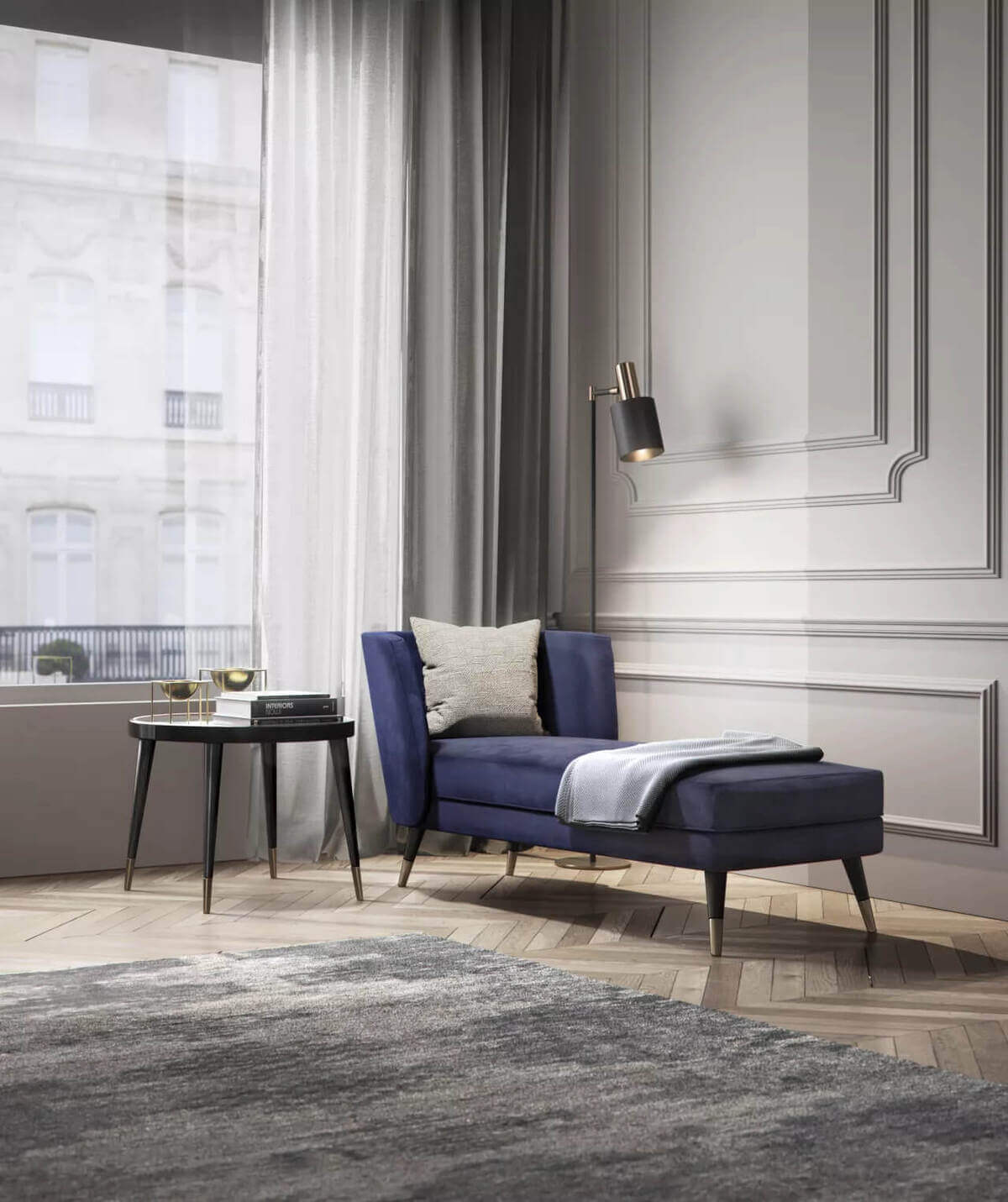 11- BUY A DAY BED OR A CHAISE LONGUE.
An accessory that you can add to your luxurious living room is a lounge chair, it may not look like it, but if it is the right lounge chair, it will bring sophistication to your room. It may be a design classic, but it's also a sofa trend for the modern home.
"Often used to fill large spaces by adding a decorative touch to proceedings, a chaise longue is the epitome of decadent luxury," says Juliette Thomas.
A symbol of luxury through the ages, the presence of a chaise longue adds an extra level of splendor to a space while doubling up as the perfect reclining spot.
Is there a better place to relax while reading a book at the end of the day? Or is there a better way to rest after a long day?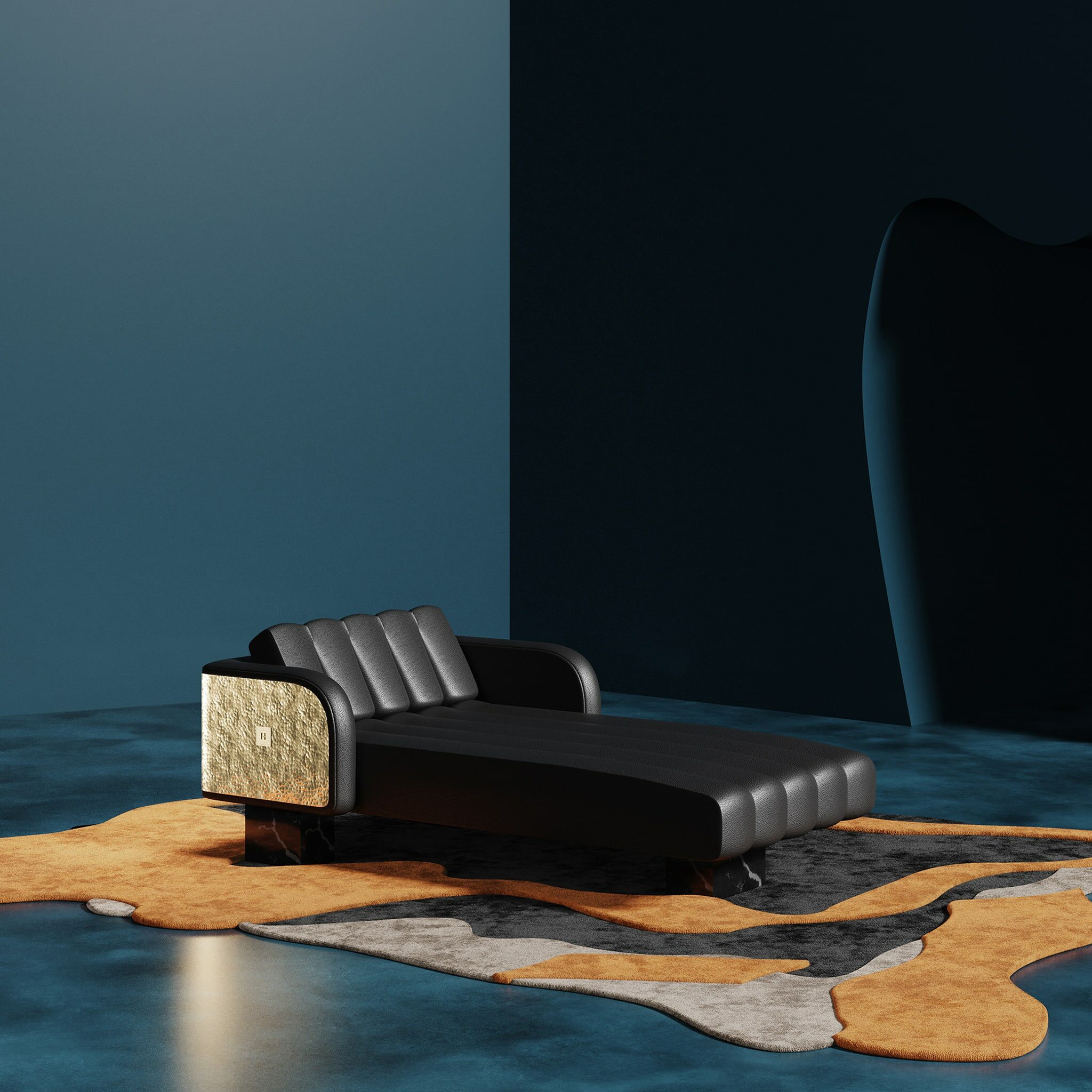 12- BE AHEAD OF THE CURVE
Curved furniture? Yes, please!
Curved furniture adds softness to spaces and is a trend that has grown exorbitantly.
"Bringing an architectural touch to the home, the unique shape of the curved sofas allows you to transform spaces into luxurious rooms with an immediately recognizable difference," comments Juliette Thomas. 'Also, the curves of home furniture don't have to be limited to sofas, with a curved table or chair equally capable of transforming any room into a cozy and comfortable space.'
If you were thinking of ditching curved furniture from your luxury living room, reconsider, this could be your crucial element.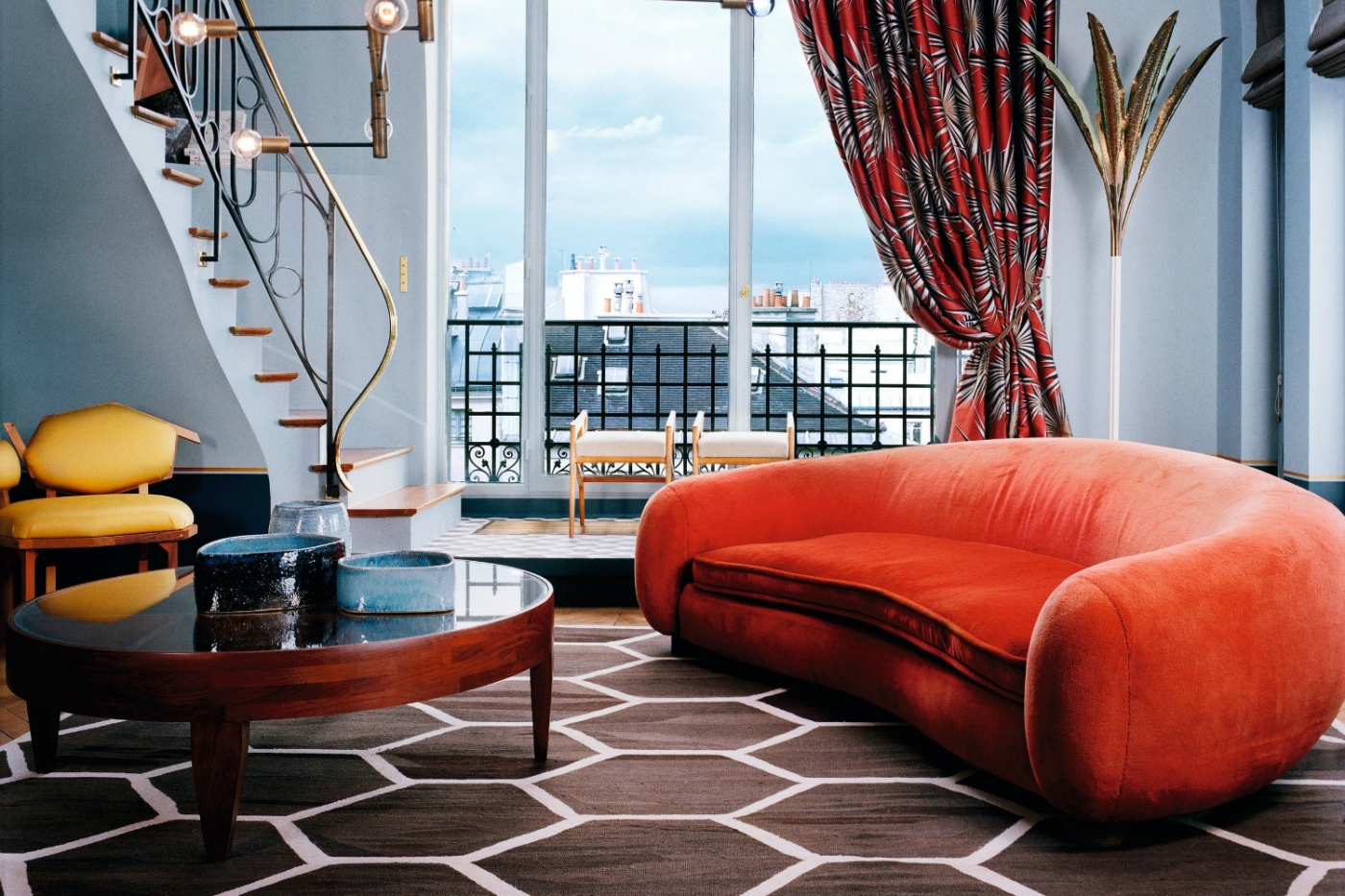 13- DRENCH YOUR SPACE IN COLOR FOR A LUXURIOUS APPEARANCE
Be bold!
Color is a viral interior design trend right now and can add a touch of drama to a room," says Ann Marie Cousins of AMC Designs.
Color a contemporary monochromatic look and away to create the illusion of bigger walls, making your luxury living room taller and more yours to add.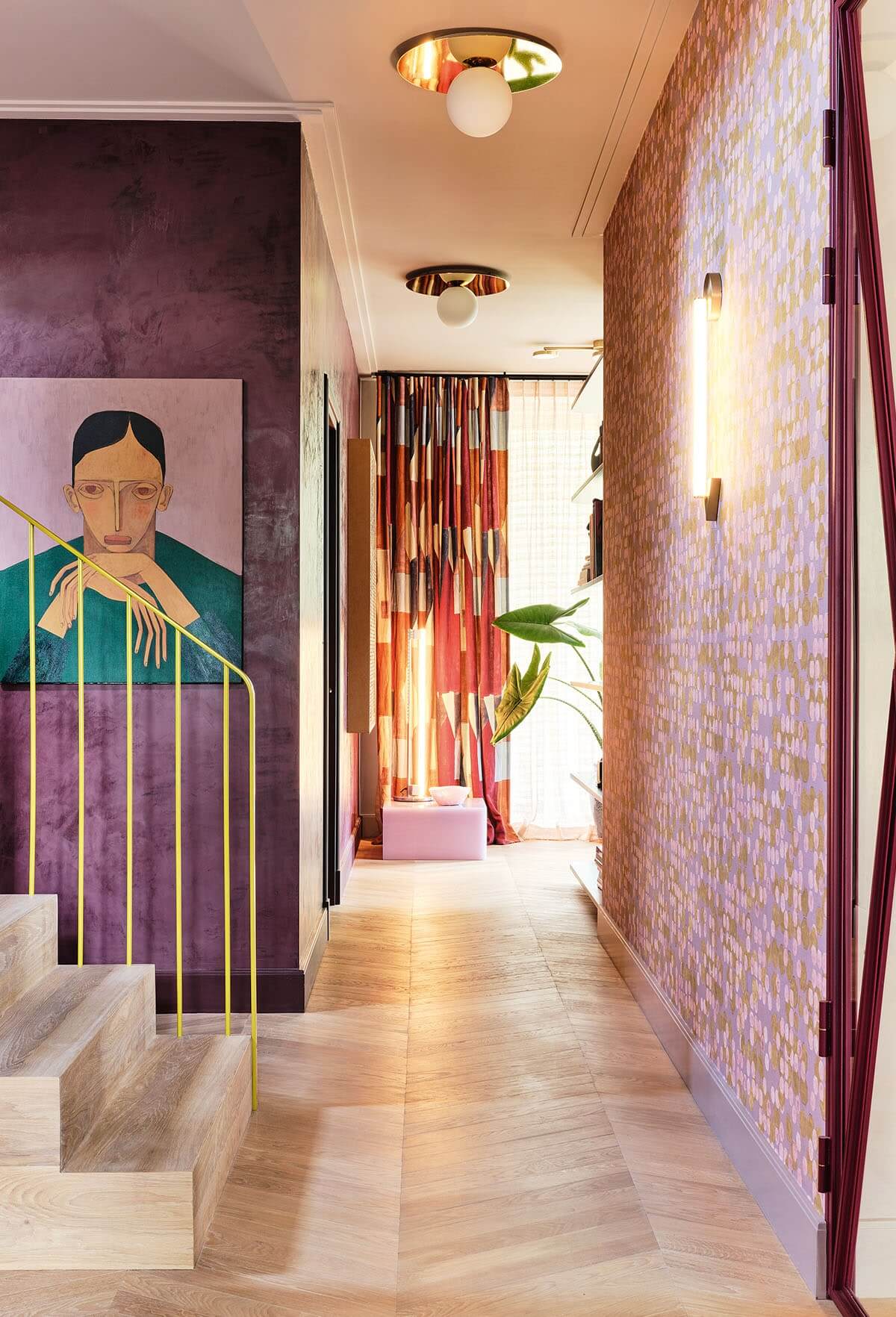 'A luxurious living room is composed of elegant classic furniture while still maintaining a contemporary feel through a cohesive color palette and personal touches,' says Jessica Lagrange. In this article, you know the 13 ways to add elegance and refinement to your living room, but the truth is that sometimes it may not be easy to do so, but for that, you can count on us.
ARE YOU INTO INTERIOR DESIGN?
If so, discover modern furniture and lighting designed by design lovers for design lovers. All you need is to download the Hommés Studio catalog. To complete your interior design project, choose the high-end homeware by ACH Collection.