There is a new restaurant in Paris! With the elegant and colorful interiors of Florence Lopez, this restaurant is a design lover's dream.
The French designer, Florence Lopez, reveals that she is not limited to a single style. What truly matters in her designs is that any interior has a unique personality. That is, it must have something distinctive, something that differentiates it from other projects.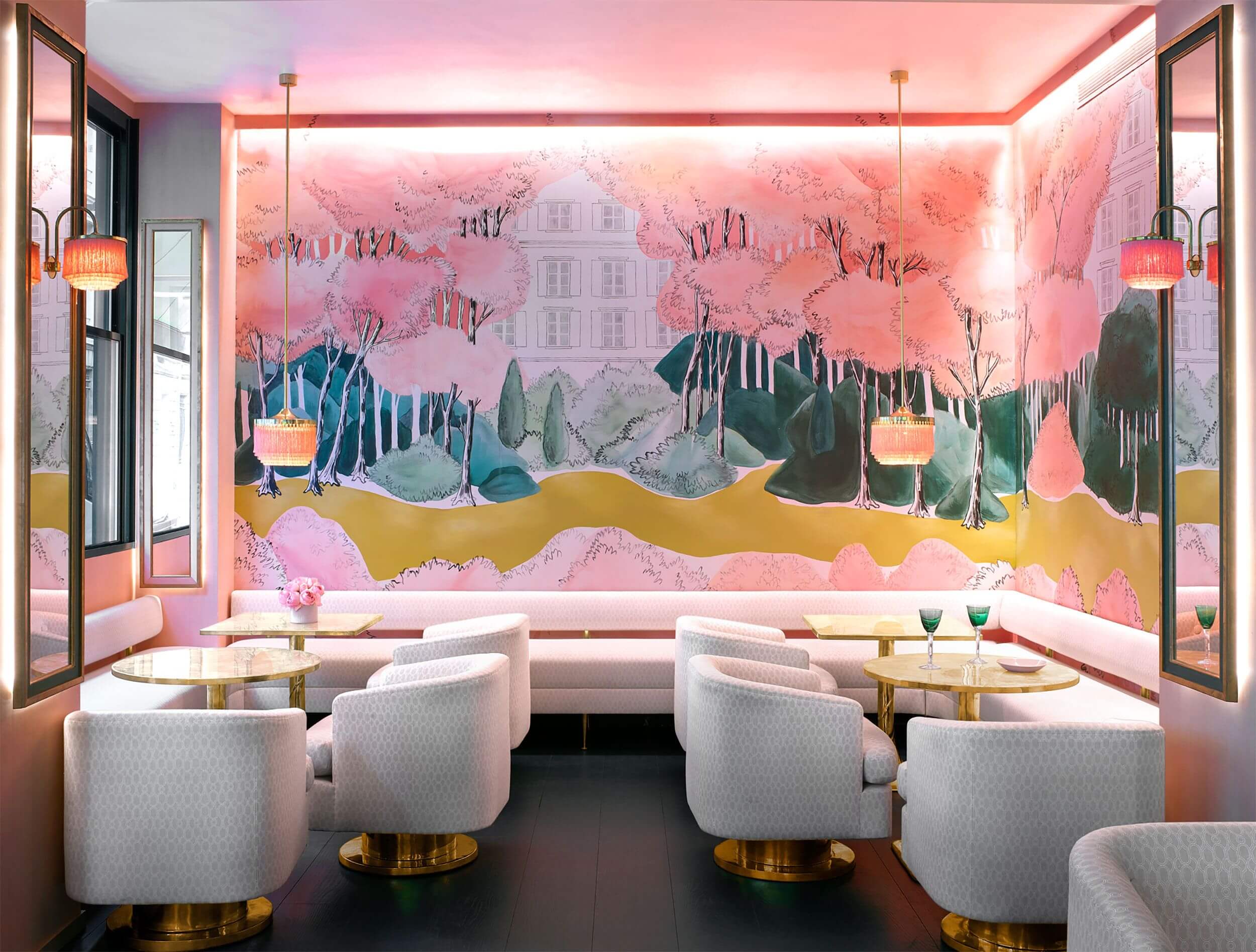 The Salon Rose features quartz-topped tables and a mural by artist Sacha Floch Poliakoff.

Mon Square situated on a corner of Paris that is almost hideously beautiful. It is located in the heart of Faubourg Saint-Germain, opposite the Basilica of Sainte-Clotilde, a neo-Gothic 19th-century building. Moreover, across the street is a small park, Square Samuel Rousseau. With a green lawn, chestnut trees, and tall plane trees, surrounded by a black wrought iron fence.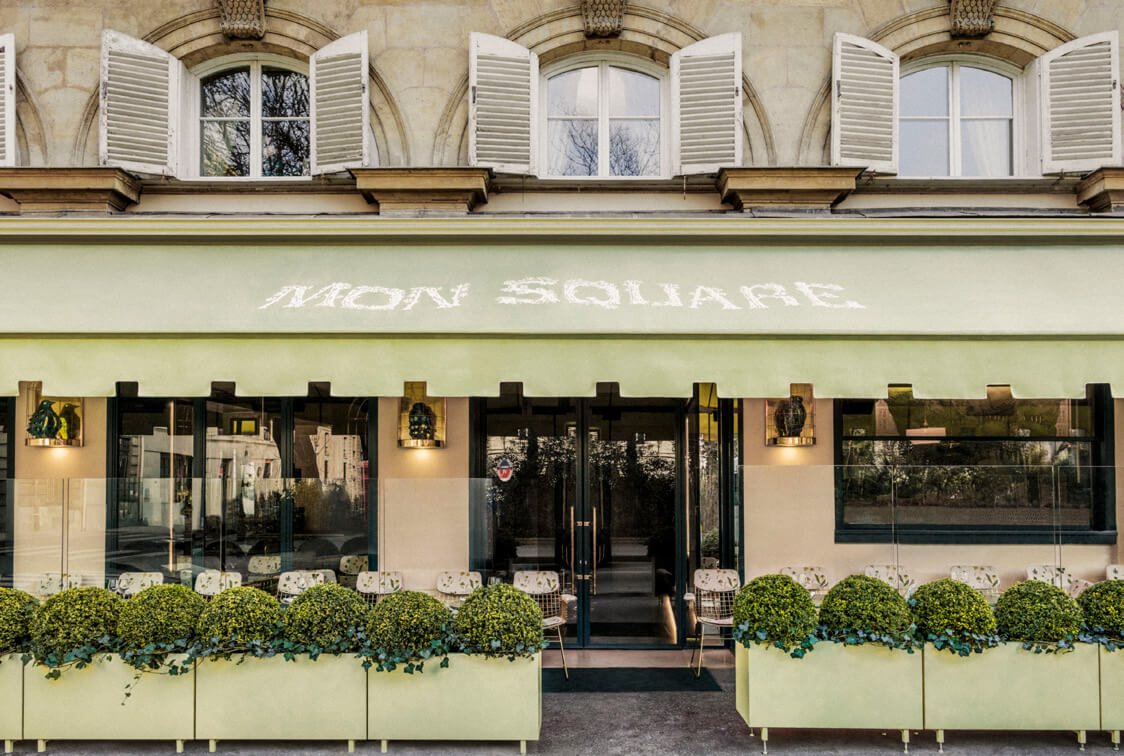 The outdoor terrace in front of Mon Square, which faces a small park, the Square Samuel Rousseau, and the Sainte-­Clotilde Basilica.
Quentin de Fleuriau, 32 years, is the owner of this new restaurant. Since he was a teenager,  Quentin, knew he wanted to have his place. He is a veteran of the Costes brothers 'empire. He spent more than six years learning how Hôtel Costes works, worked at L'Avenue, La Belle Armée and La Société, and was director of Café Marly.
The outdoor terrace in front of Mon Square. The furniture included elements of nature.
Quentin, at first, was just going to recreate the banquettes and repaint the walls. He ended up taking everything and with the help of Florence, an old friend, transformed the restaurant into something beautiful and for design lovers.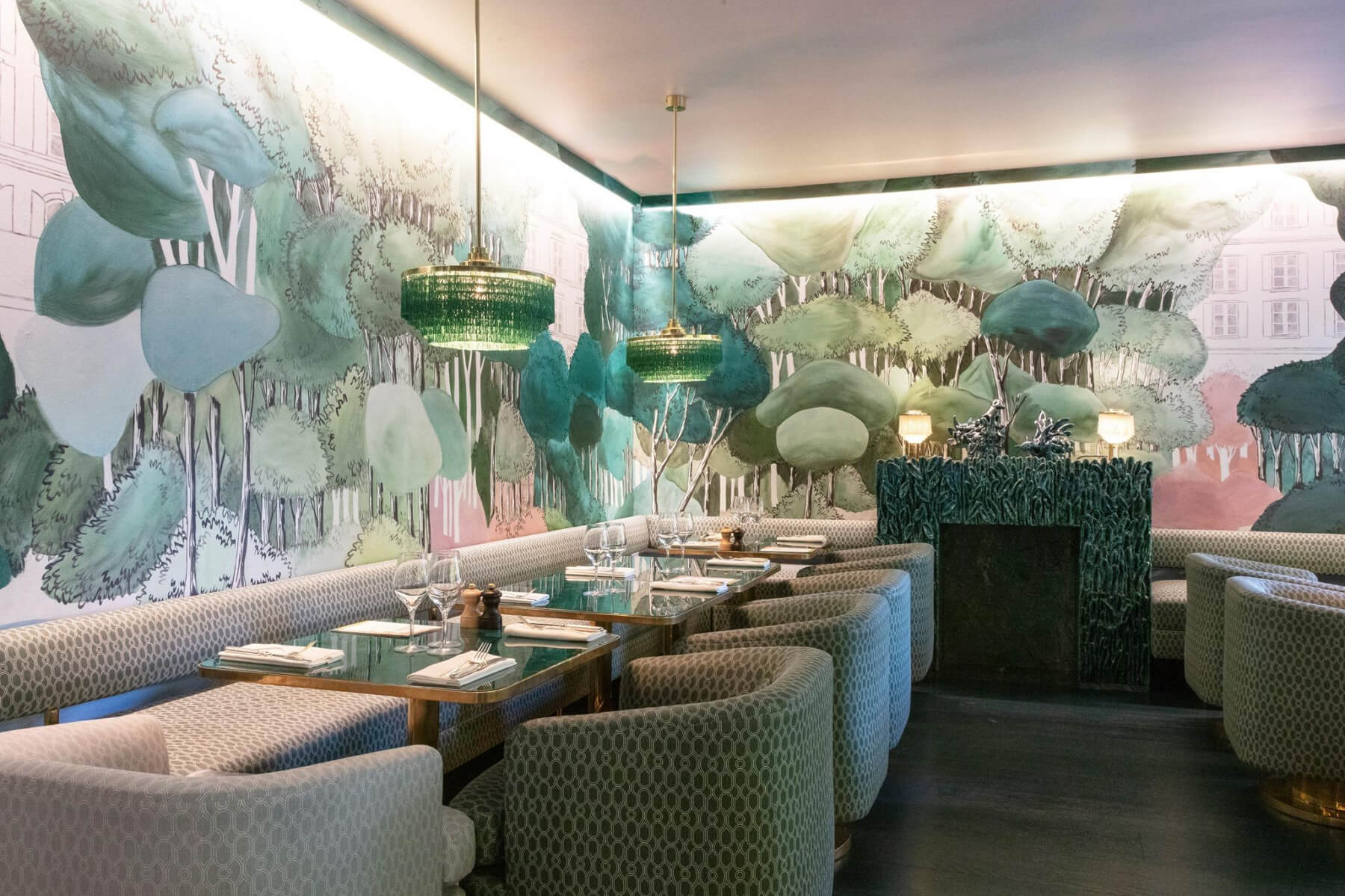 Florence Lopez was born and raised in Bordeaux. The design was never far away: her mother was a talented designer and the niece of Henri Frugès. Who, in 1920, commissioned Le Corbusier to build a modernist neighborhood in Bordeaux, the Cité Frugès, now a UNESCO World Heritage site.
At the age of 18, Lopez moved to Paris and became friends with Les Lalanne artist, designer Eric Schmitt, artist, and architect Olivier Gagnère and sculptor César. She worked for the Etamine fabric house.
Then she went to New York for an internship at Christie's and worked at Parish-Hadley and McMillen Inc. Returning to Paris, she worked with Jacques Garcia before launching alone.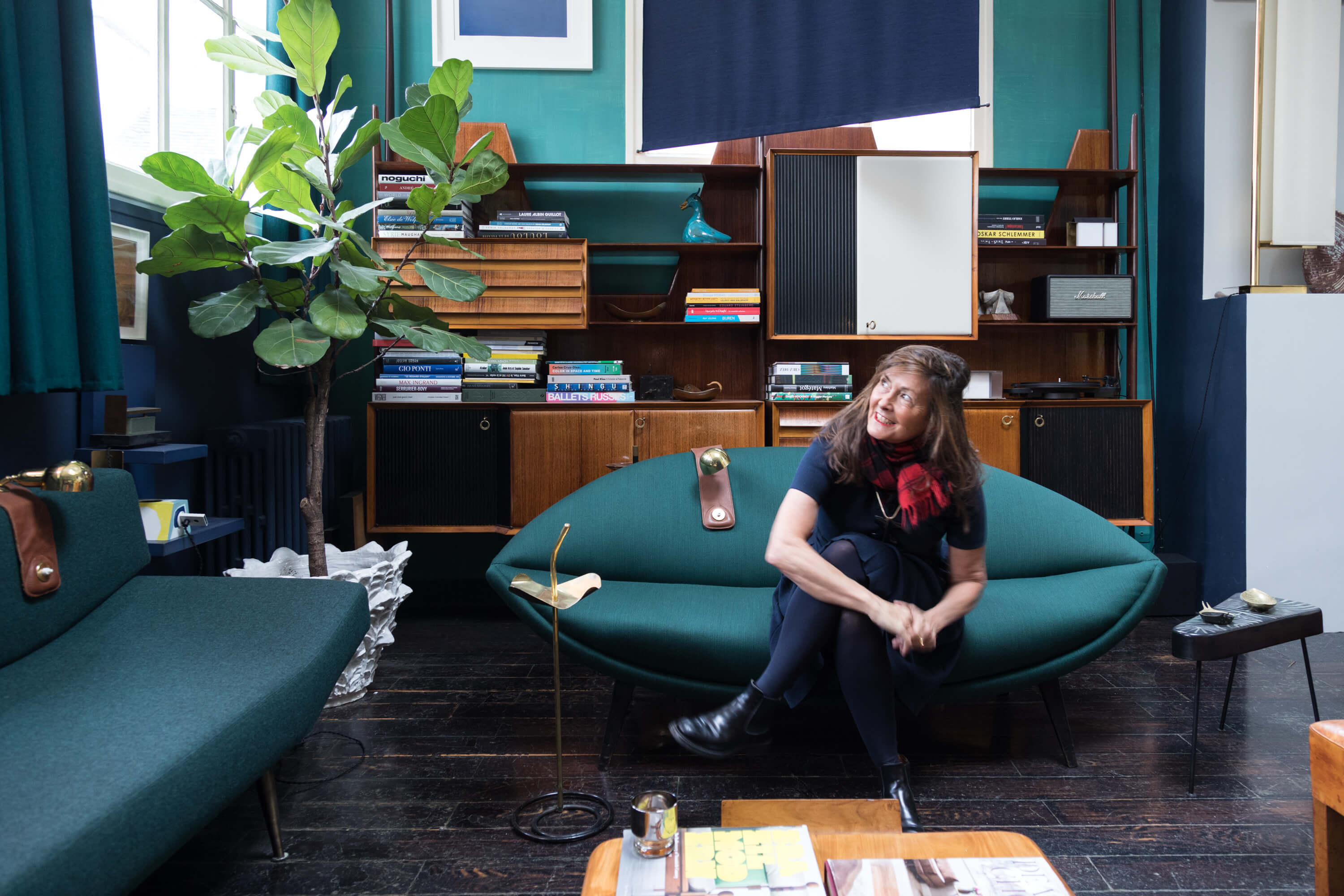 Designer Florence Lopez
Florence had never done any restaurant design. The first time he visited the place, he immediately had a vision of the space: an imaginary garden, very Parisian, accompanied by the sounds of Claude Debussy, a composer that Lopez loves.
Firstly, she created four main spaces in Mon Square: a large terrace protected by a long awning; a dramatic central bar; and two dining rooms. Secondly, a pink room to the left of the bar and a green one upstairs.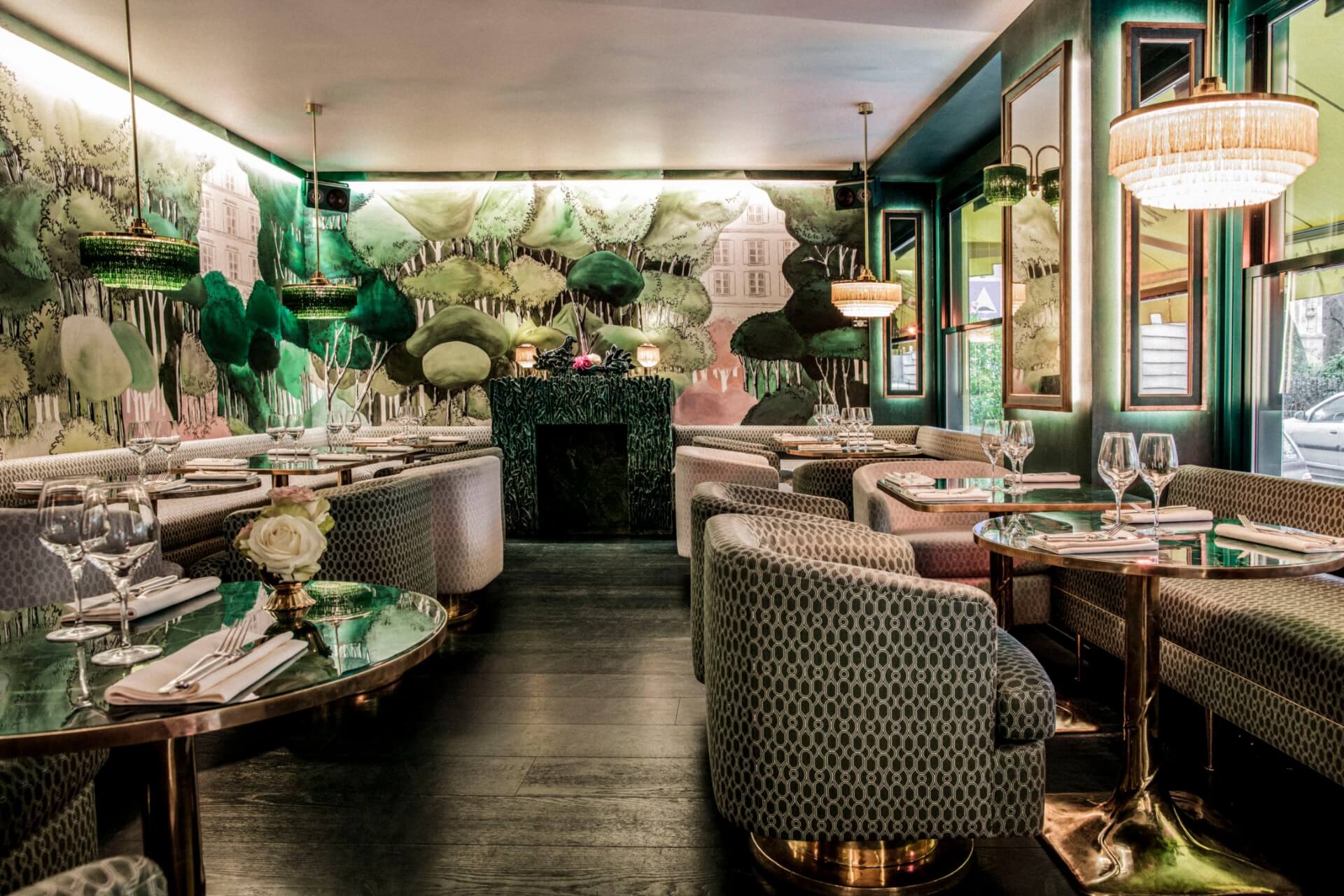 Florence included elements of nature in this new restaurant. The front doors have brass handles in the shape of branches. The floor and many walls are dark green. The tables have brass bases with green agate or rose quartz tops.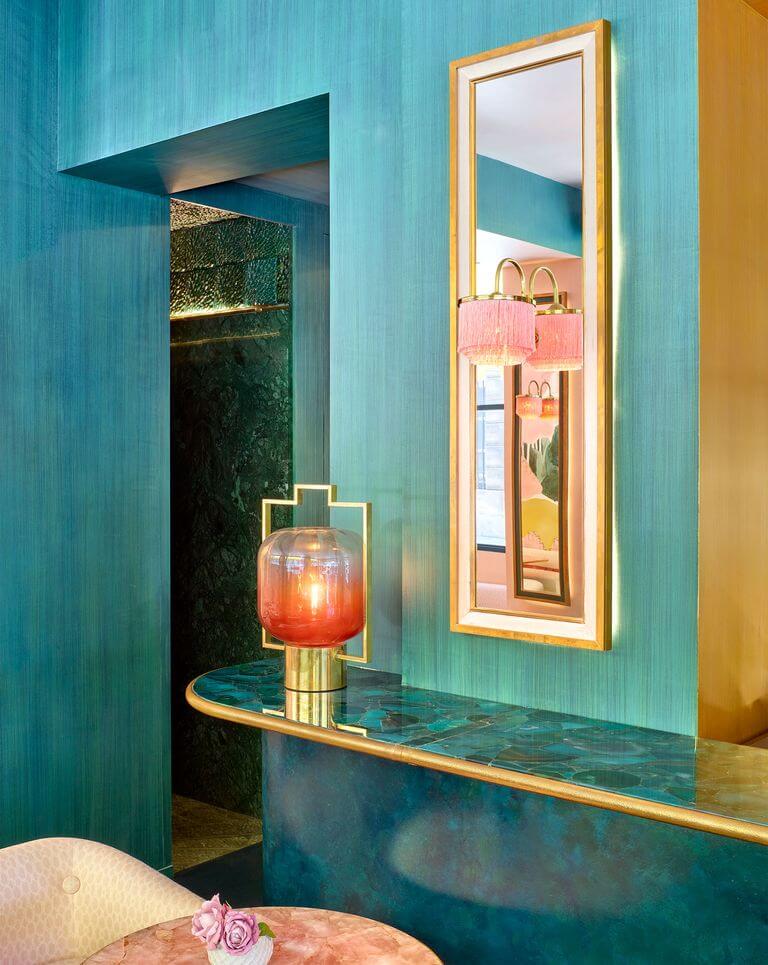 A vintage 1960s lamp by Hans-Agne Jakobsson rests on a green agate shelf in the bar area.
Also, to complete the splendid project, Lopez called on painter Sacha Floch Poliakoff who created murals of bucolic scenes, and the Portuguese ceramist, Bela Silva. She made several exotic pieces: a flock of colorful birds in brass candlesticks, perched on the outer walls; a huge tree that rises above the bar; and a mantle made of porcelain sheets with a green enameled texture.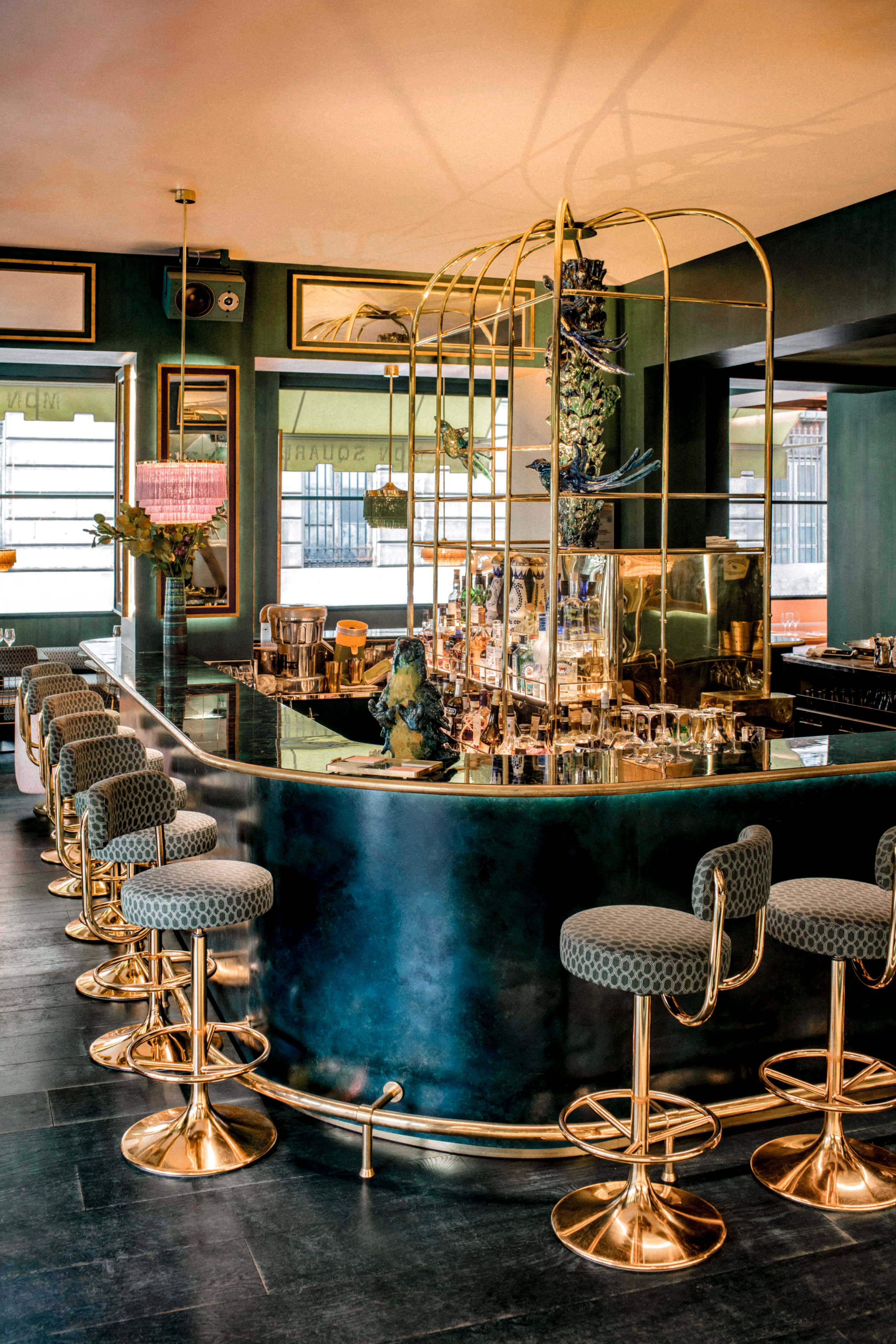 An elaborate tree and birds by Portuguese ceramist Bela Silva, in a birdcage by Florence Lopez, stand behind Mon Square's central bar, which is adjacent to the green dining room.
Therefore, a private room off the upstairs dining room is a collaboration with contemporary artist Mathias Kiss.
Since opening in January, this new restaurant in Paris, serving seasonal French cuisine, has started to attract a crowd. From movie stars, politicians and diplomats, to neighborhood goers and young, modern Parisians.
Most importantly, and quoting Fleuriau, owner of the restaurant:
"This feels like the beginning of a beautiful story".
We hope you liked our article and the interior's suggestions. Feel free to pin all the images to your favorite Pinterest board or to print it and use it on your projects' mood boards. Meanwhile, you can also visit our Pinterest boards to get more inspirations.
Get more ideas for your projects and find functional, stylish, and sizable lighting and furniture choices: