Greg Trauen, the co-founder of a South Africa-based architecture firm, designed his inspired by the Brazilian modernist architecture in Cape Town.

BRAZILIAN MODERNIST ARCHITECTURE IN CAPE TOWN
Surrounded by a breathtaking landscape but on a challenging location – in between mountains and slopes – Greg Truen brought to life a glass roof in order to maximize the views. At night, the modernist feature is like a light box in between the mountains.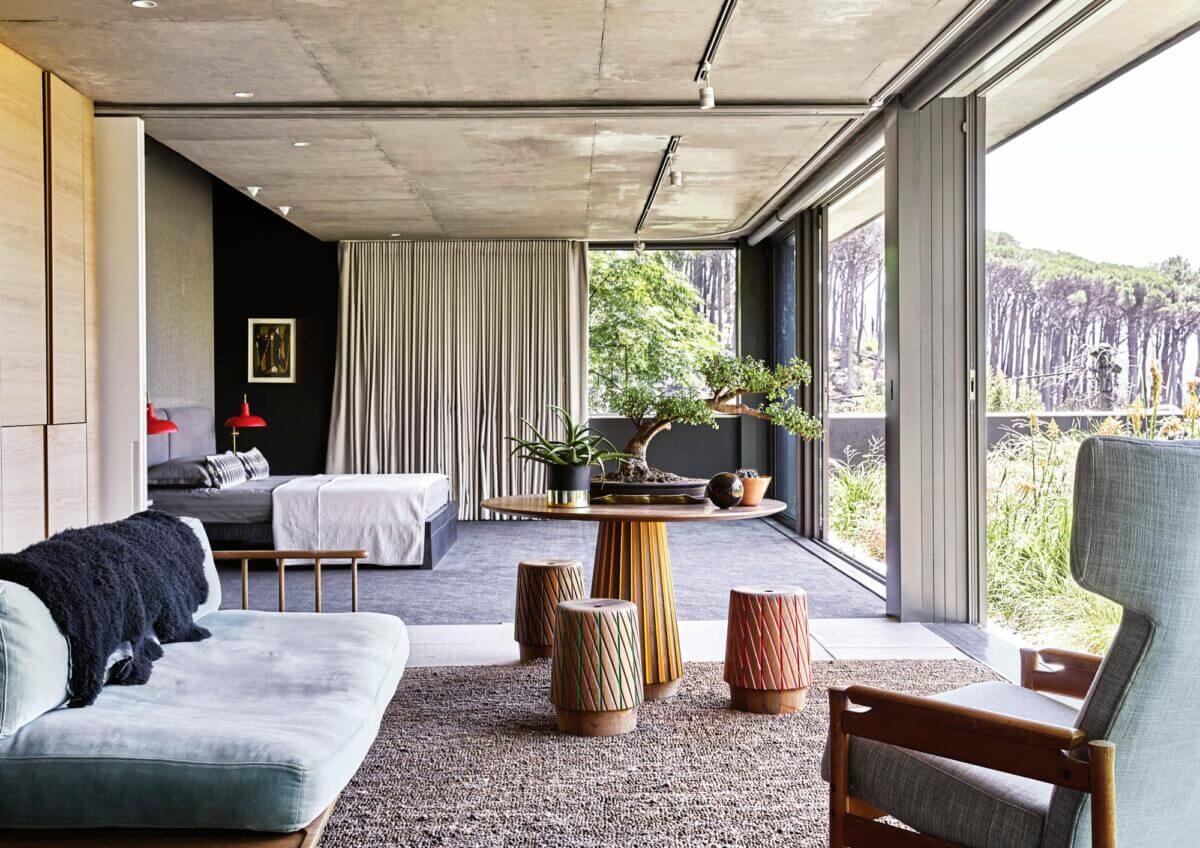 The Brazilian modernist architecture house in Cape Town is arranged on three levels – which mimic the mountainside. As a matter of fact, the floors are tiled with granite slabs so internal spaces feel as if they were simply an organized portion of the mountain.
The ground floor is occupied with garages and service areas while the middle floor has bedrooms. The highest floor exhibits social spaces such as living rooms.
Using granite instead of concrete is perhaps the turning point of this modernist home in Cape Town. It is highly influenced by the early Brazilian modernism as well as the first modern architecture pieces in California. The crisp lines are integrated in this house which combines raw materials with a carefully planned indoor landscape.
Respecting the site's characteristics, Greg Truen looked for bringing not only the landscape but also the birdlife inside the house. The tropical flair of early California and Brazilian modernism manifest itself on the wood that revests the interior but also on the brown hues of furniture and other decorative pieces.
Touches of warm colors – such as orange, red and gold – enhance the optimistic and tropical modern design that Greg Truen brings to the exemplar of Brazilian modernist architecture in Cape Town.
To the rugged surface of granite, Greg Trauen combines wood with a light coloration and streamlines and furniture upholstered in light hues.
Discover the contemporary interpretation of Brazilian modernist architecture with our article Studio Arthur Casas Rethinks Gil Borsoi Modernist Building here.
For designing an exceptional interior design project with modern furniture, discover Hommés Studio collection and download our catalog

Source AD Middle East