Natural stone such as marble, onyx, or limestone is found in many architecture, interiors, and products. But why is this natural material one of the favorites in the world of design? First and foremost, natural stone is durable and highly resistant (think about girls' best friends – diamonds, for instance). In addition to the long-lasting characteristic, some natural stones are weather-resistant. It couldn't be another way, so are precisely these weather-resistant stones that building construction uses to materialize some of the best architecture projects. For the very same reason, interior design and product design often use natural stone. However, another characteristic makes this material so popular – the unique texture and unrepeatable beauty. When using natural stone in product design, one will never be the same as another, despite using the same stone collected from the same place. And that is luxury – a natural material, beautiful, durable, and unique.

ALABASTER
Alabaster is soft and fine-grained. Due to its characteristics, Alabaster is a natural stone that has been used for centuries to carve elaborate forms and ornaments. However, it is soluble in water, which means that it is not suitable for exterior architecture.
Nevertheless, alabaster is a great stone to product design. Not only is it easy to craft, but it also has a crystalline color in its pure form. In this manner, alabaster is a natural stone widely used in lighting design.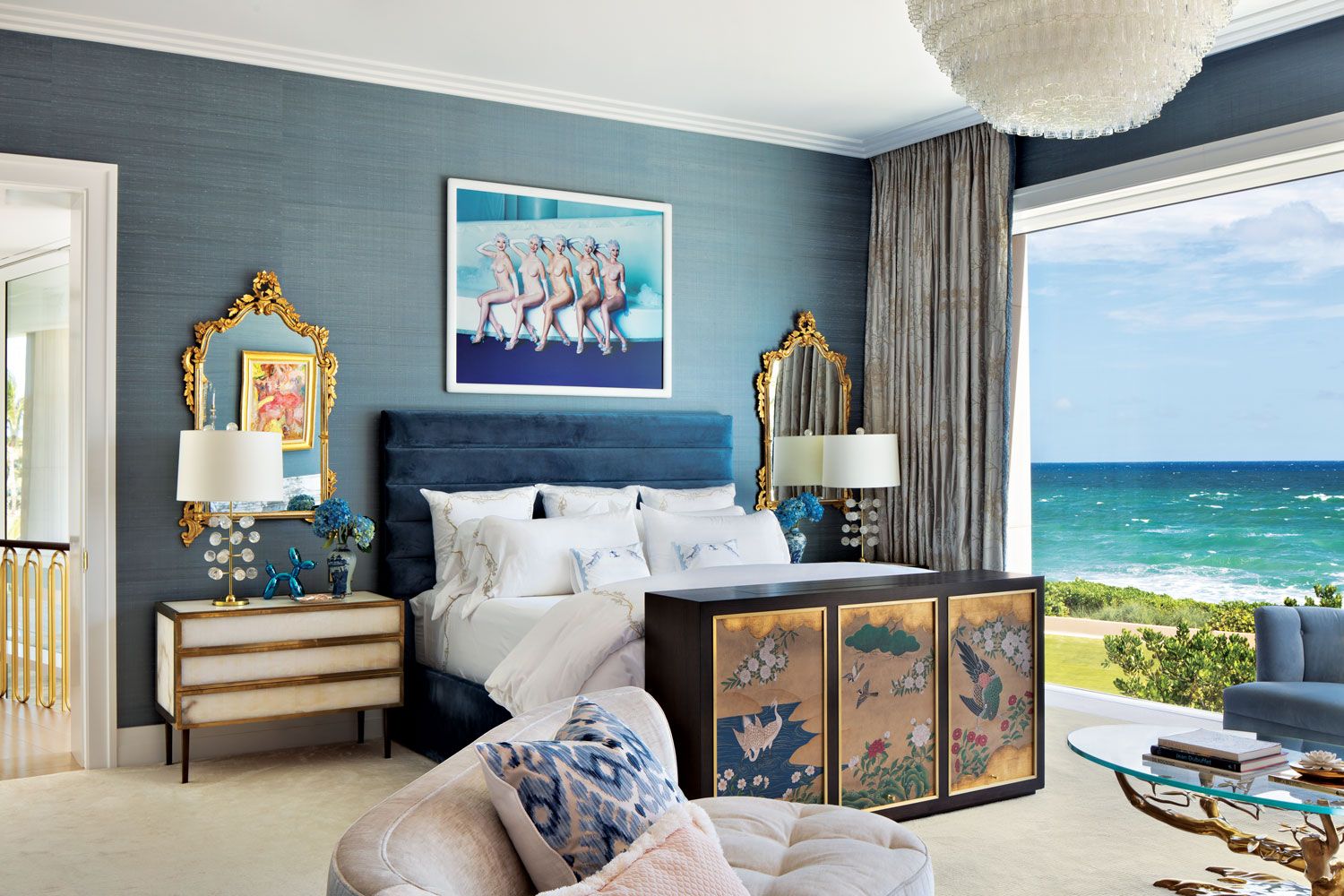 Modern Love is a residential project in Palm Beach, designed by Stonefox. In the master bedroom, the nightstands are made from Alabaster stone.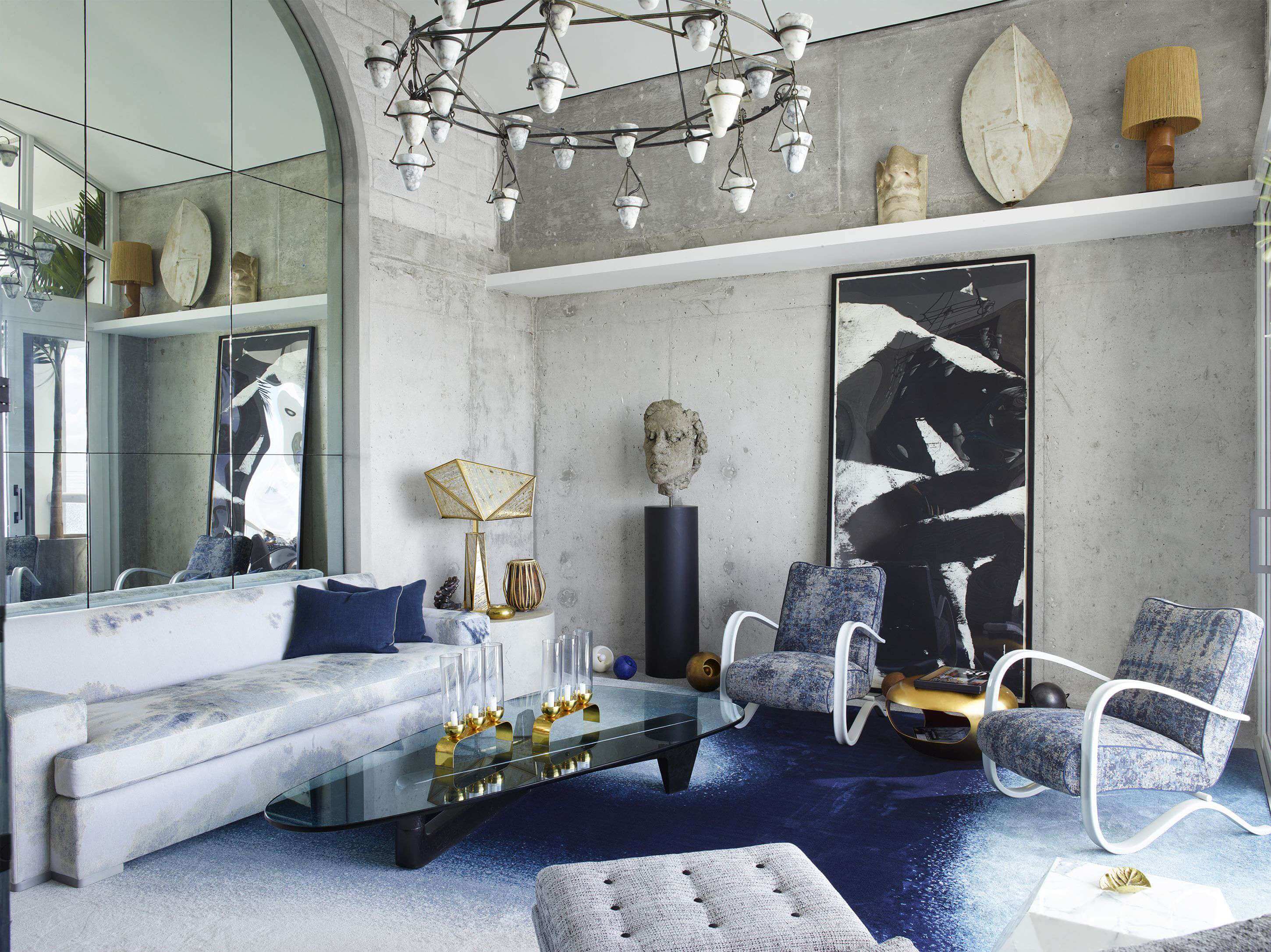 In the modern living room of a Silicon Valley entrepreneur, designer Jean-Louis Deniot hangs a 1920s' bronze and alabaster chandelier.
ONYX
Onyx is a translucent gemstone composed of parallel bands of quartz. It has a mystic appearance and is commonly found in sculptures and jewelry.
However, onyx is not widely used in architecture and design, and that is a shame. Since onyx is present in almost every color, it has a huge potential as raw material for a decorative piece, such as lamps and tables.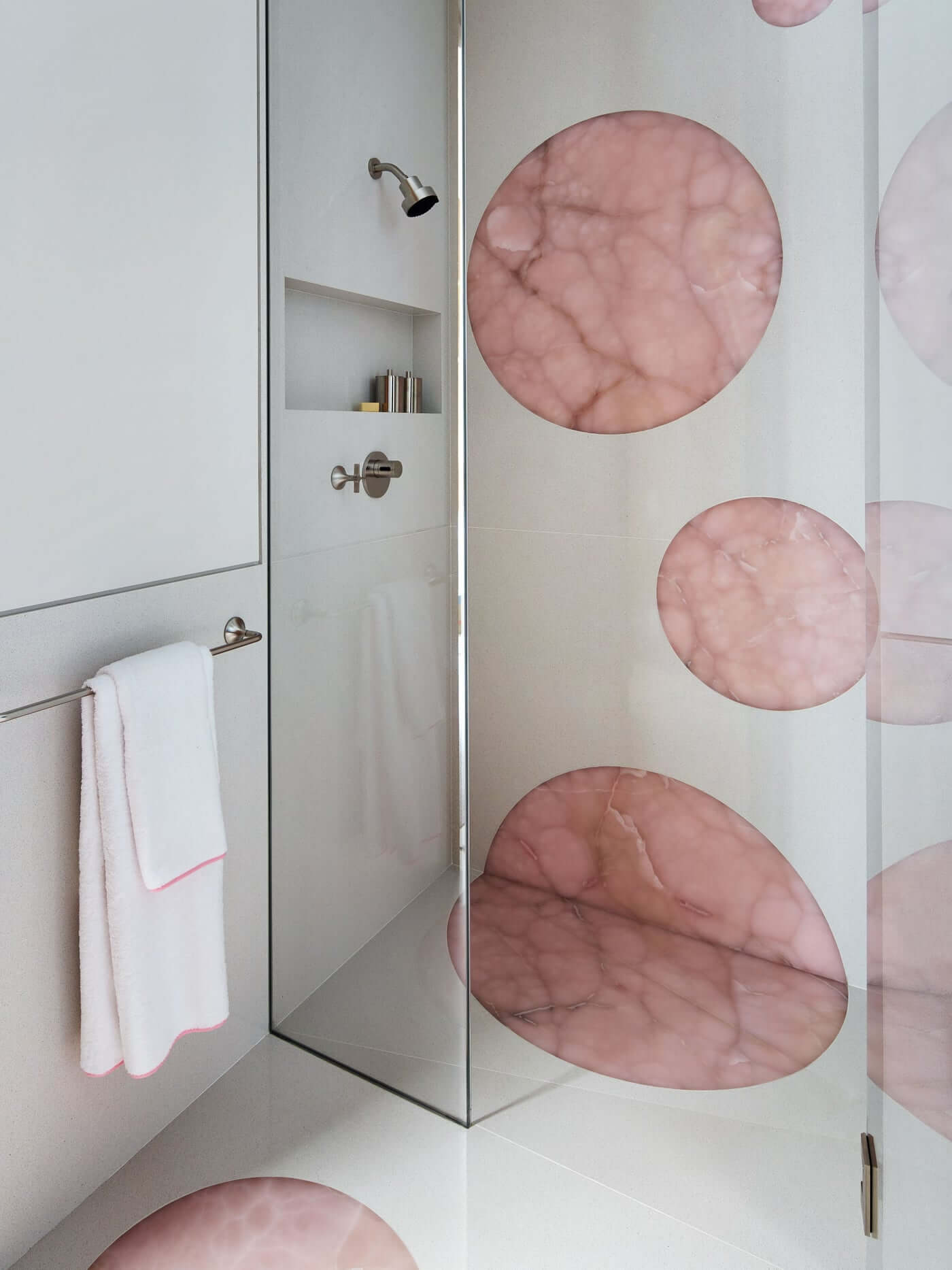 Steven Volpe designs a bathroom of quartz with circular pink onyx elements for a child's bathroom in a family apartment in Manhattan.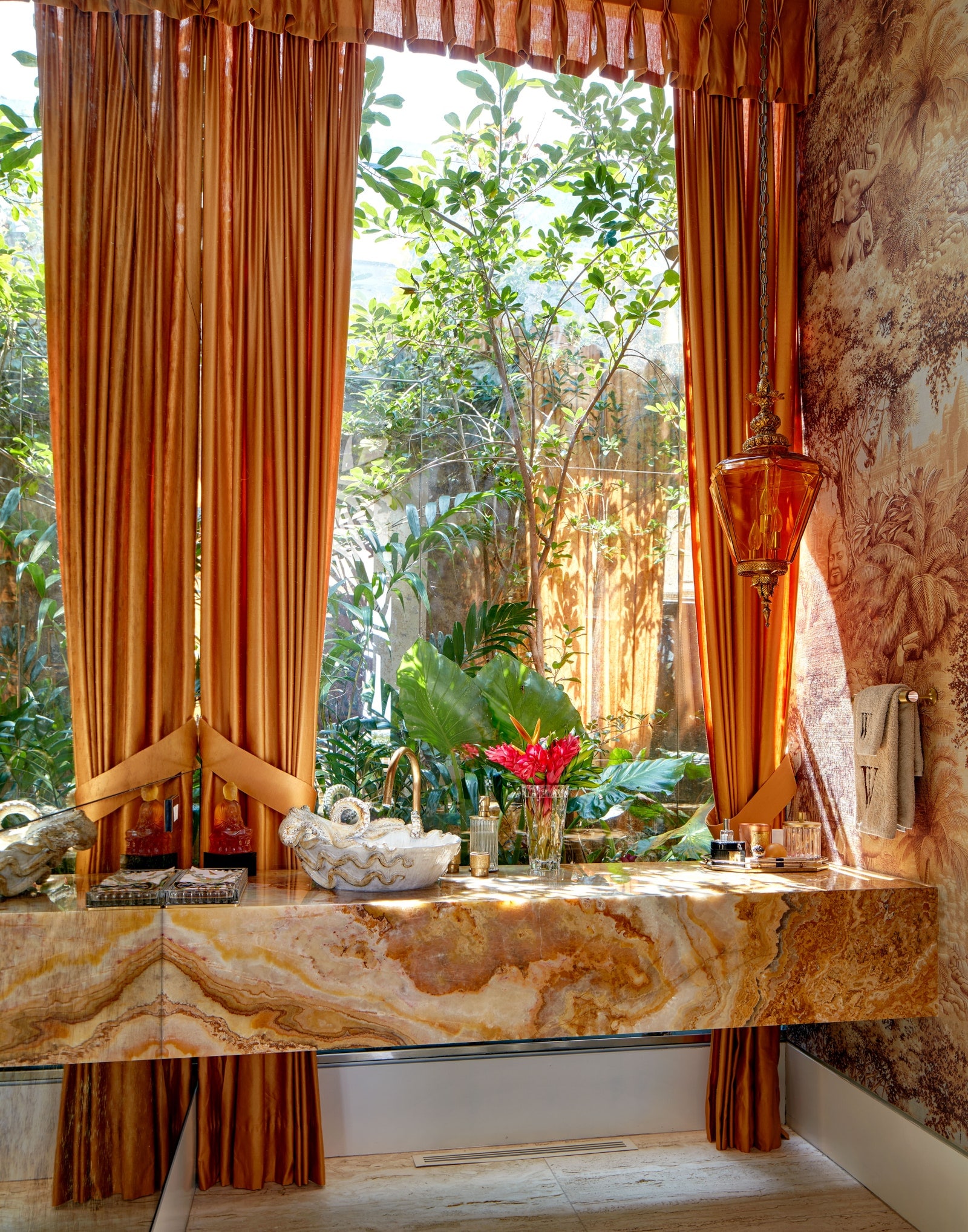 In the bathroom of Lenny Kravitz maximalist home in Beverly Hills, one bathroom has an orange onyx vanity.
ALSO READ: 10 Best Celebrity Homes That You Need to See Again
BASALT
Basalt is a dark-colored natural stone that is formed when lava cools rapidly. Due to its coloration and texture, it is frequently used as an aggregate for concrete. As a result, basalt in combination with concrete is a good natural stone to construct modern architecture projects and industrial buildings, since Basalt is low-cost and high-strength.
In architecture and interior design, Basalt is also popular as flooeing material.
The Rimrock House is a project by the Seattle-based architect Tom Kundig.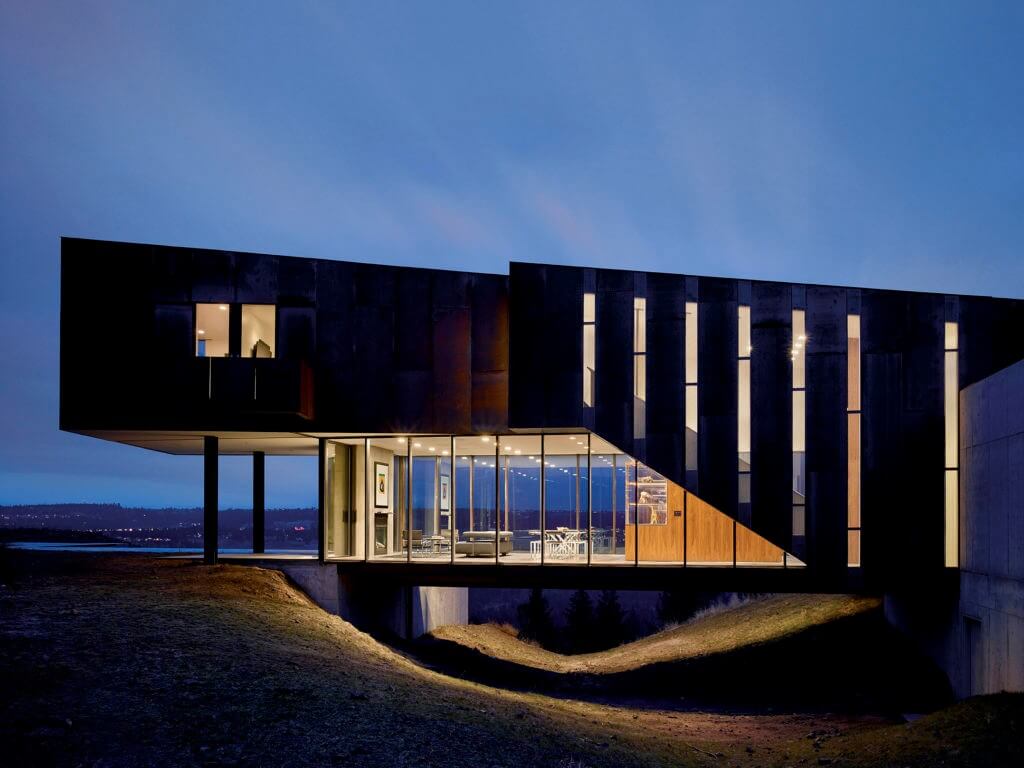 Rimrock house is one of the 10 Most Breathtakingly Architectural Houses. The basalt structure has a rusty hue and is fully integrated into the landscape.
FLINT
Flint is a highly durable natural stone with irregular-shaped nodules in sedimentary rocks such as chalk. Romans were the first to use the stone for construction. However, flint is not commonly used in contemporary architecture.
Flint varies in color, but it is commonly glassy black with a white crust.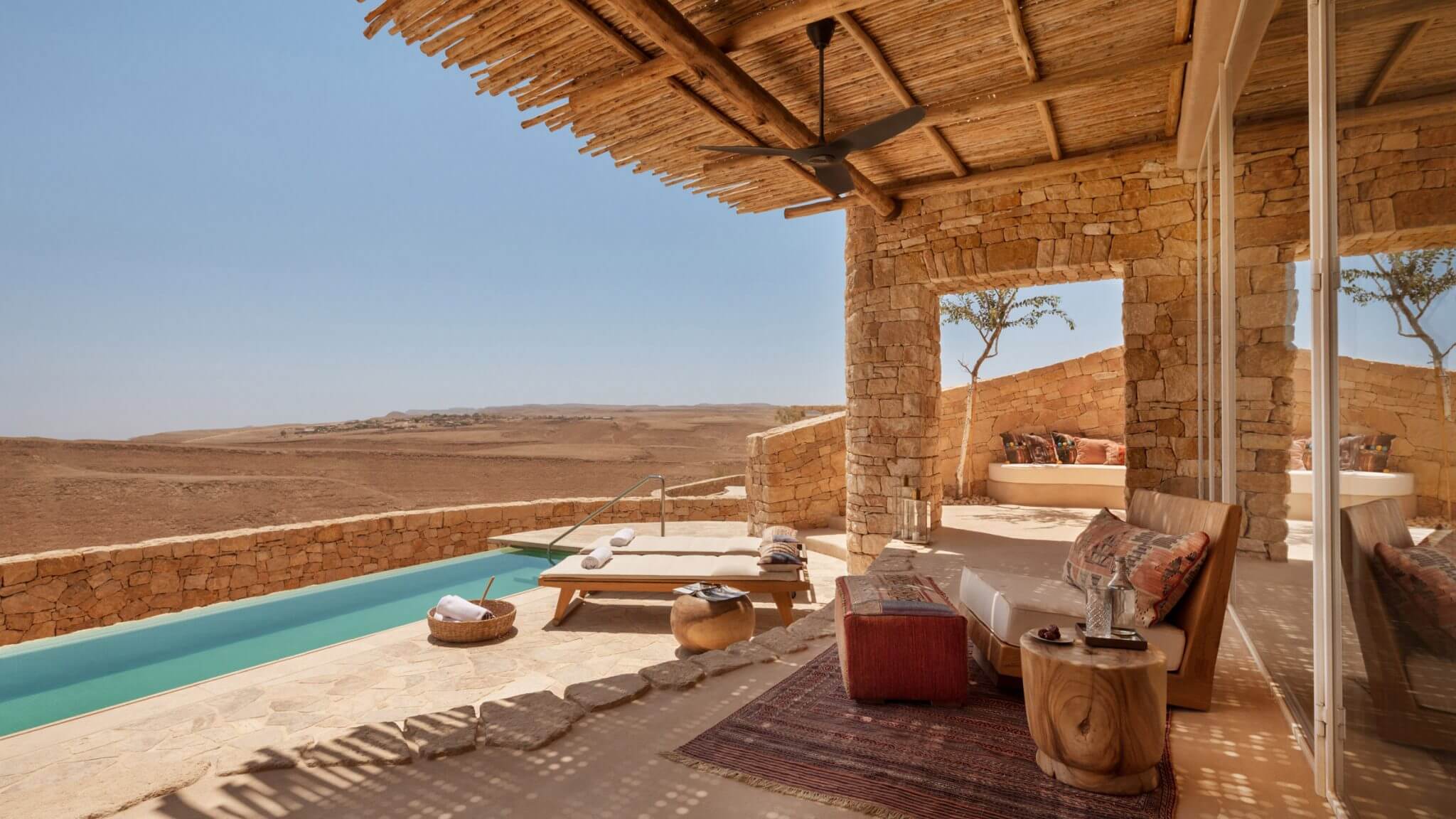 The Six Senses Shaharut Hotel in Israel is one of the 13 Top Design Hotels to Travel to in 2021. The hotel is located in the tiny desert community of Shaharut, and it riffs off structures built by the nomadic Nabataean tribe.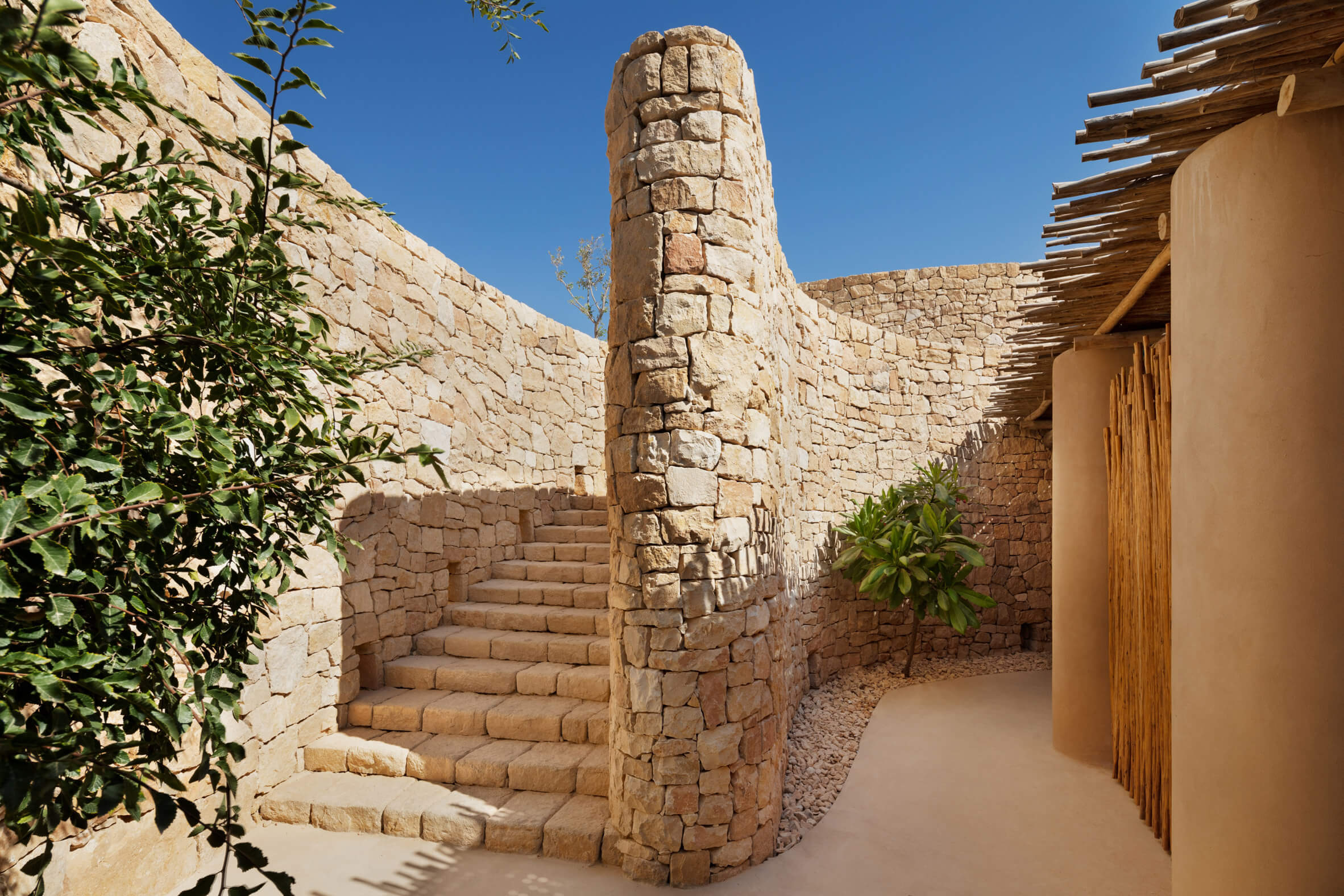 Plesner Architects, the studio that designed this hotel, choose a combination of limestone and flint for the building's construction.
LIMESTONE
There are many different types of limestone, a natural stone composed mainly of calcium carbonate. One of the most popular is the travertine stone. Another is the Portland stone, is holds notable buildings such as the St Paul's Cathedral and Buckingham Palace in London.
Overall, limestone is a good natural stone for architecture, interior design, and product design. It is easy to cut and carve and has a concise texture and color.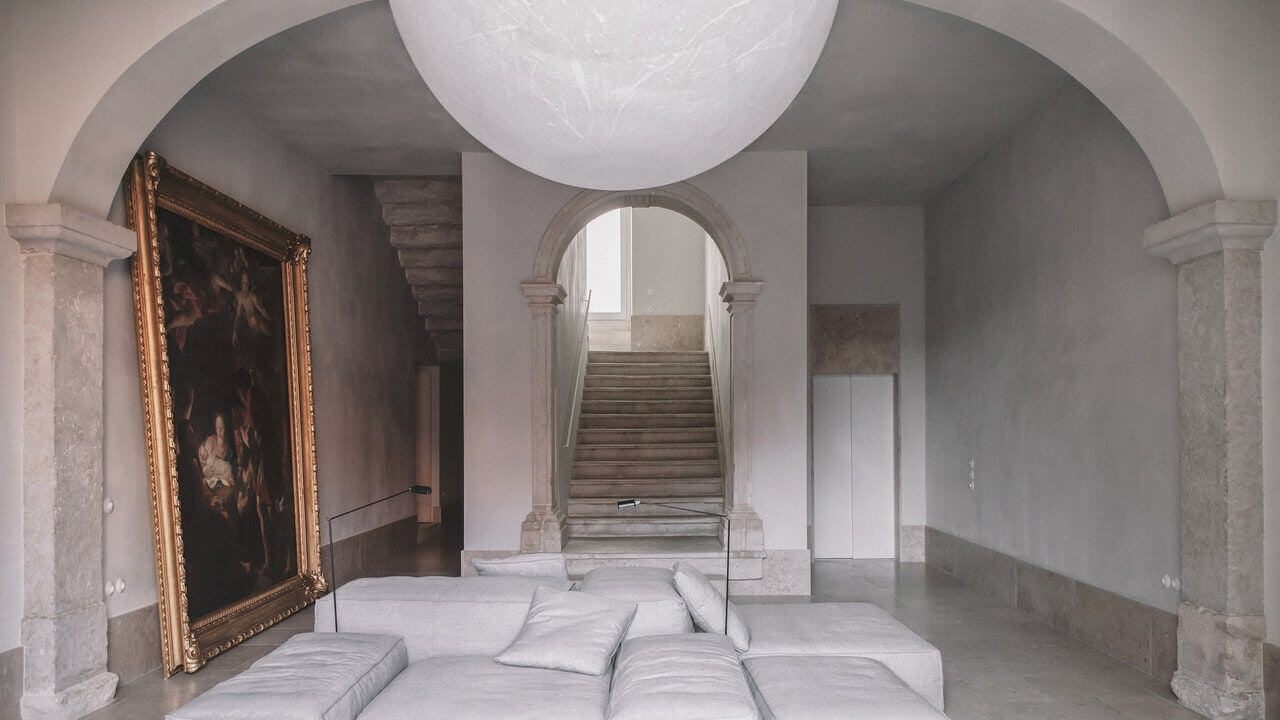 Santa Clara 1728 is another one of the 13 Top Designs Hotels to Travel to in 2021. The hotel is located in Lisbon, and it is one of the few houses that survived the devastating earthquake of 1755. In this hotel, the staircase is limestone.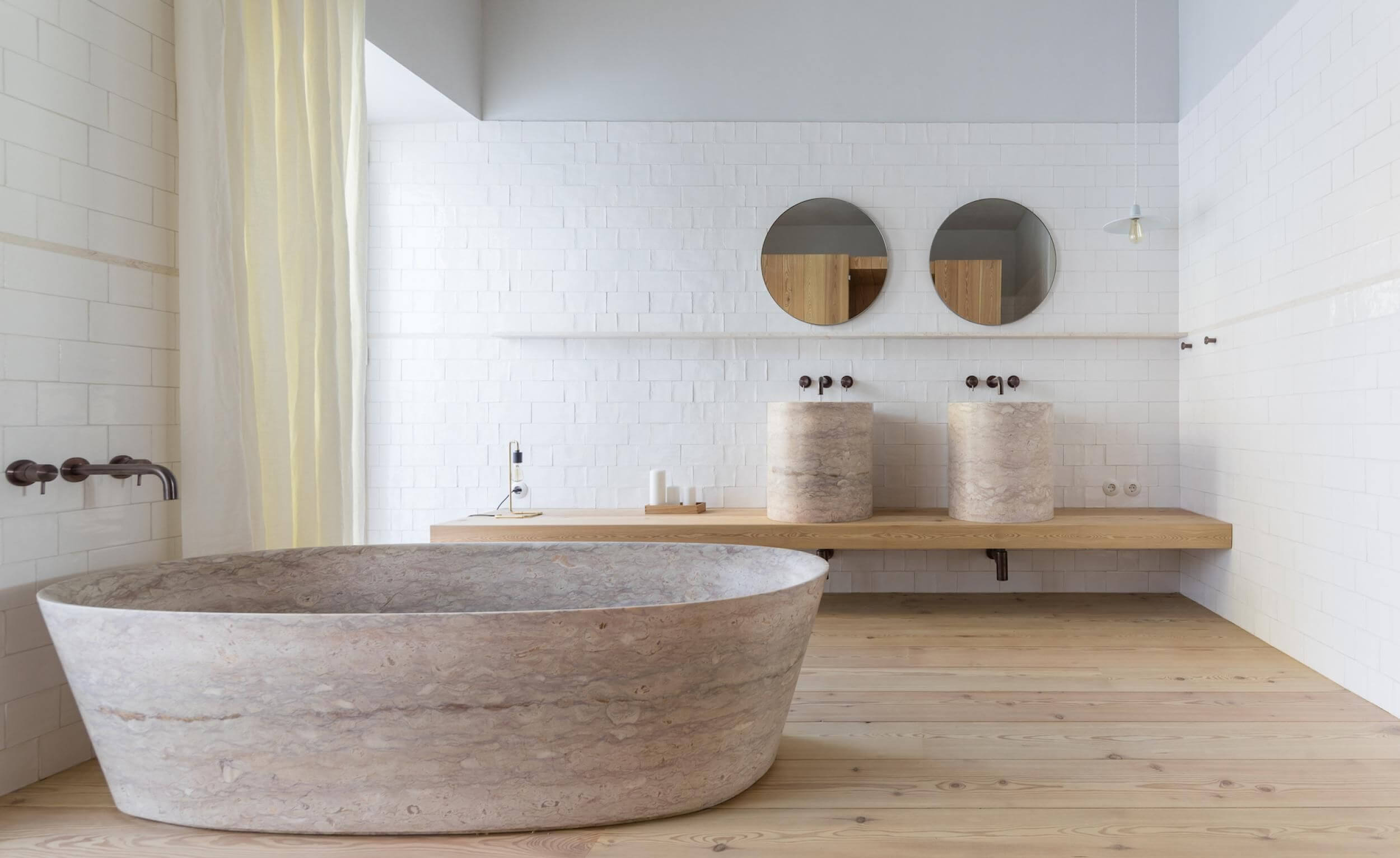 At Santa Clara 1728, bathrooms have amazing limestone features, such as the bathtub.
Prymo Dining Table Natural

Dining Table 14.200,00

€

Odonto Center Table Natural

Center Table 6.400,00

€
TRAVERTINE
One of the most commonly used forms of limestone is travertine. Travertine has been a primary building material for centuries. To illustrate, the Colosseum in Rome is the largest building in the world made from this natural stone.
Travertine is still widely used, especially as tiles and for bathroom fit-outs.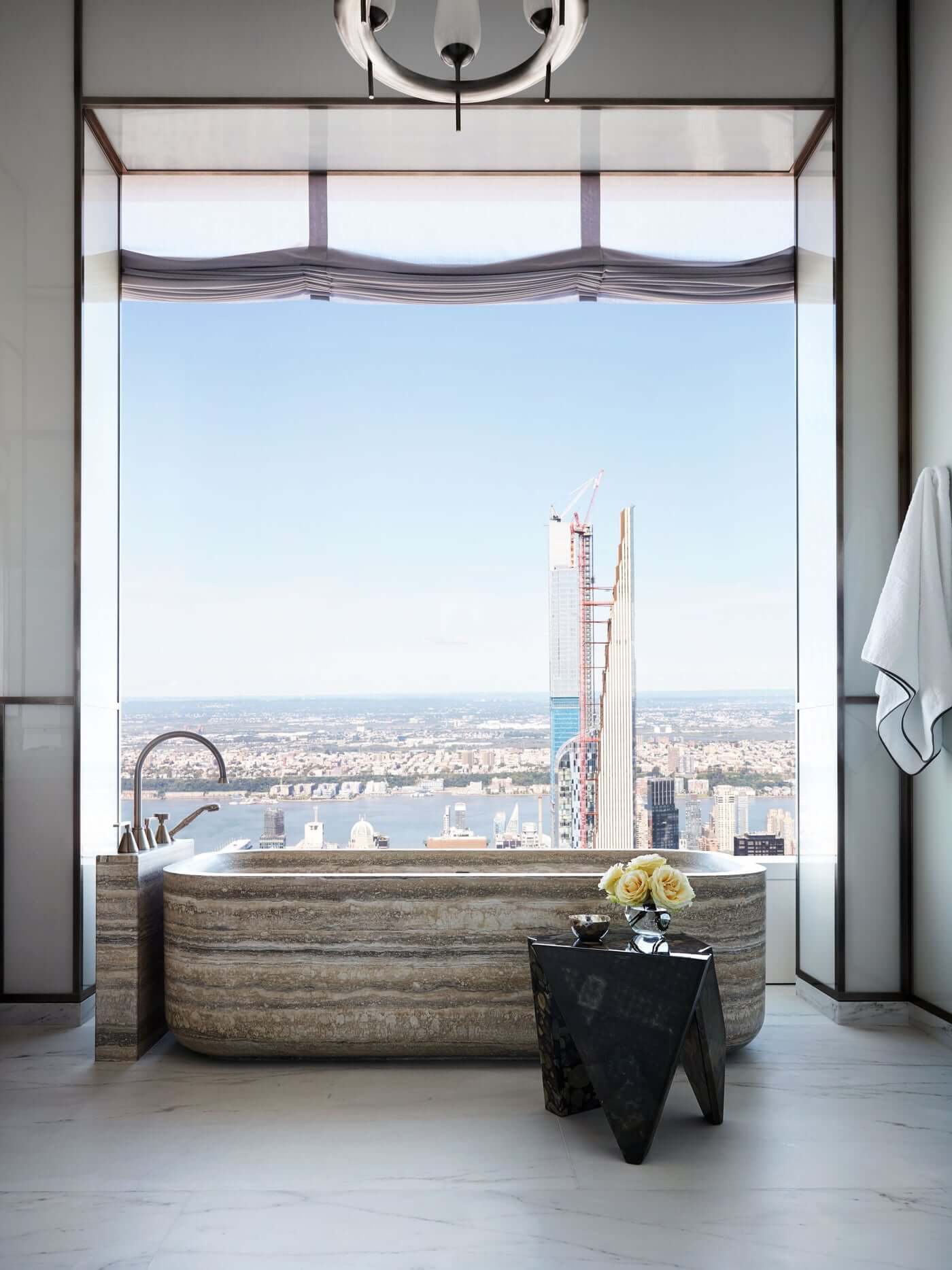 Steven Volpe uses several natural stones in this luxury apartment in Manhattan. For this breathtaking bathroom, the designer chooses a travertine bathtub.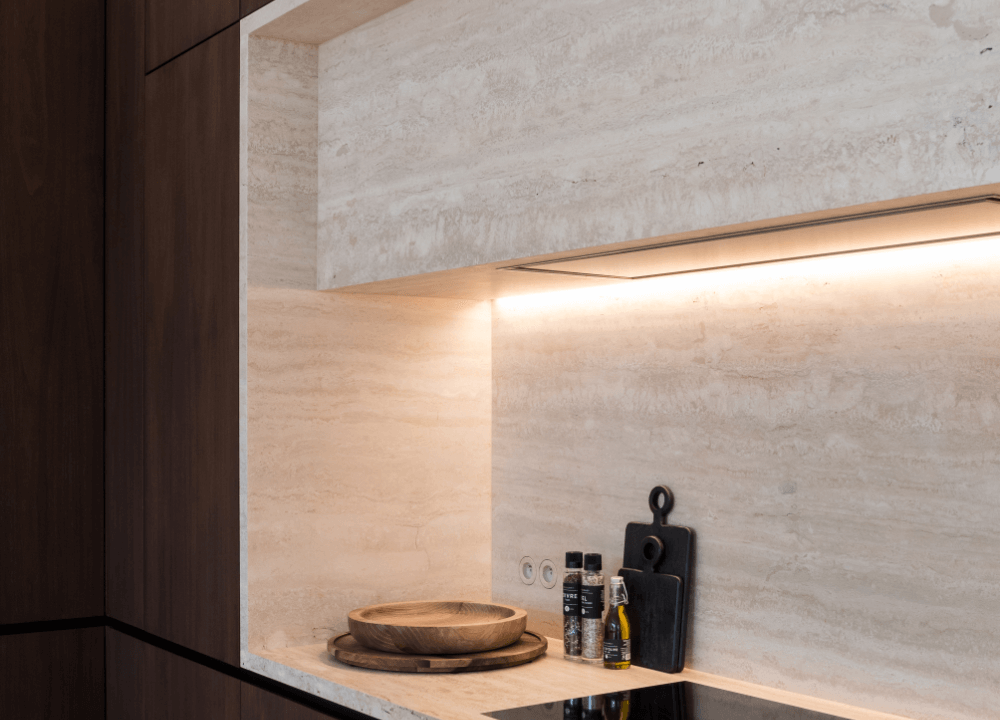 MUST READ: Is Travertine Stone The Biggest Interior Design Trend?
Lunarys Center Table

Center Table 5.900,00

€

Lunarys Medium side table

Side Table 4.900,00

€

Lunarys Large side table

Side Table 4.900,00

€
SLATE
Slate is a dark, fine-grained natural stone formed when sedimentary rocks are subjected to high pressure. Besides being durable, slate is resistant to weather and frost. Additionally, slate can be thin. As a result, slate natural stone is widely used in architecture and interior design.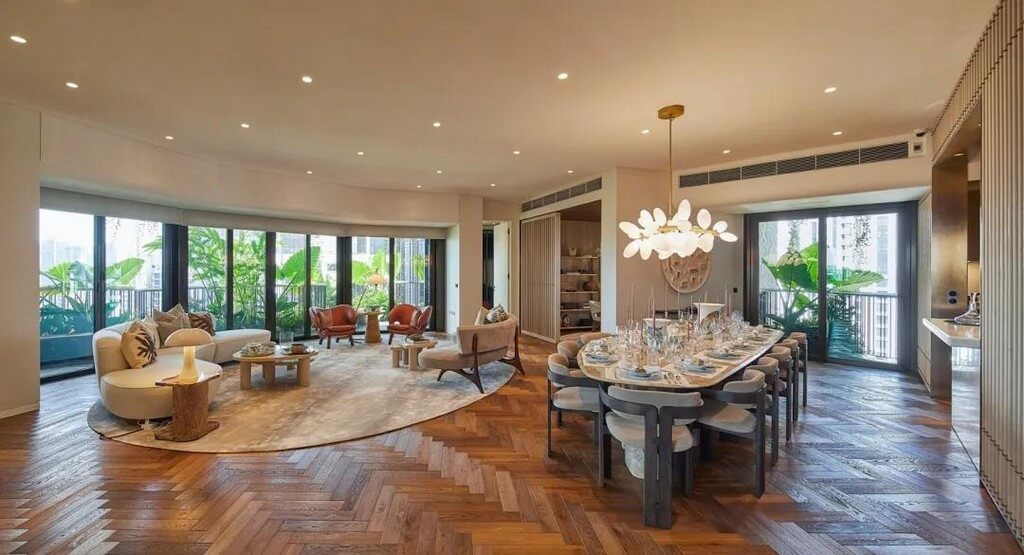 Eden, Thomas Heatherwick's biophilic design masterpiece, has several natural stones, such as slate, limestone, and marble.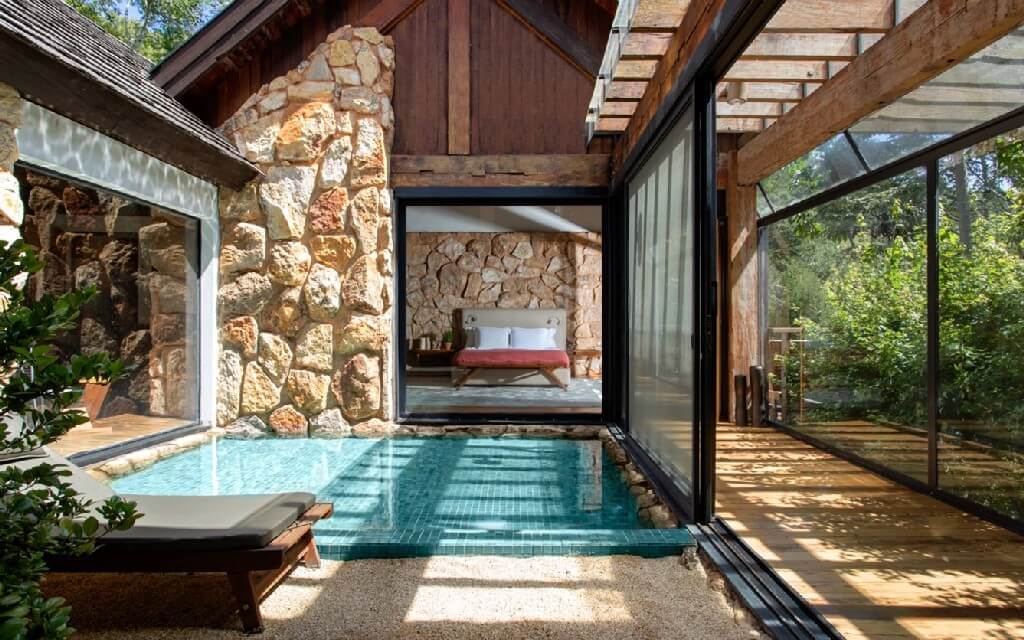 Six Senses Botanique in Brazil is an innovative and sustainable new hotel. The construction is modular using local materials, such as jacaranda wood, natural stone, and chocolate slate.
SANDSTONE
Sandstone is composed of fine silicate grains eroded from other rocks, giving it either a warm red, yellow, or orange coloration.
Used for construction since prehistoric times, sandstone continues to be a popular choice in architecture and design as it is abundant, durable, and easy to handle.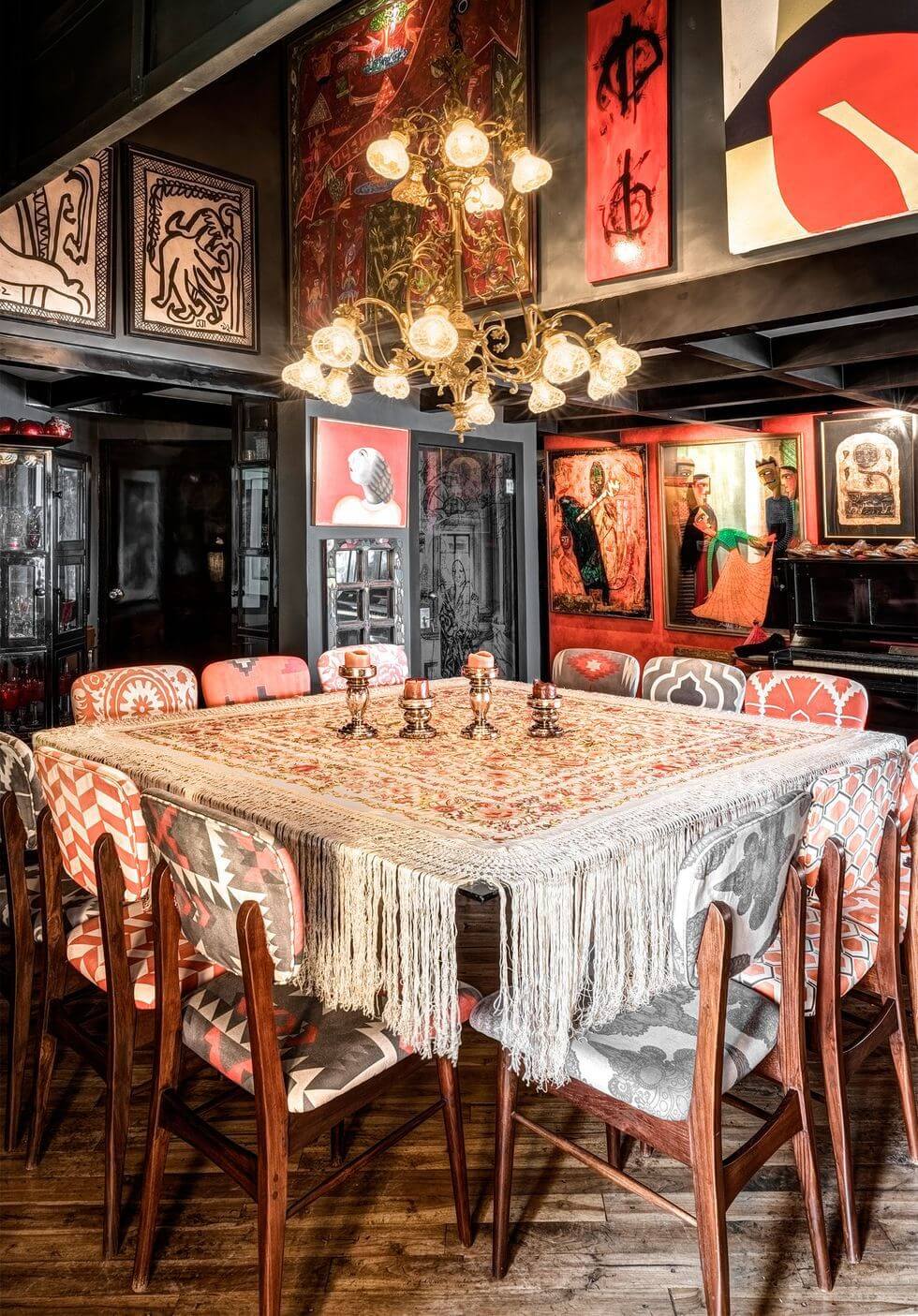 In this Colonial-style apartment in Mumbai, the owners created the dining table, which features a glass top over two carved sandstone pieces.

PORPHYRY
Porphyry is a strong and hard-wearing natural stone that comes in reddish-brown to purple hues. It is composed of large-grained crystals embedded in a fine-grained groundmass.
Since antiquity, porphyry has been used in architecture and design, though it is rarely seen in contemporary architecture and design. Today it is mostly used as aggregate in constructing roads in places where cars require studded winter tires.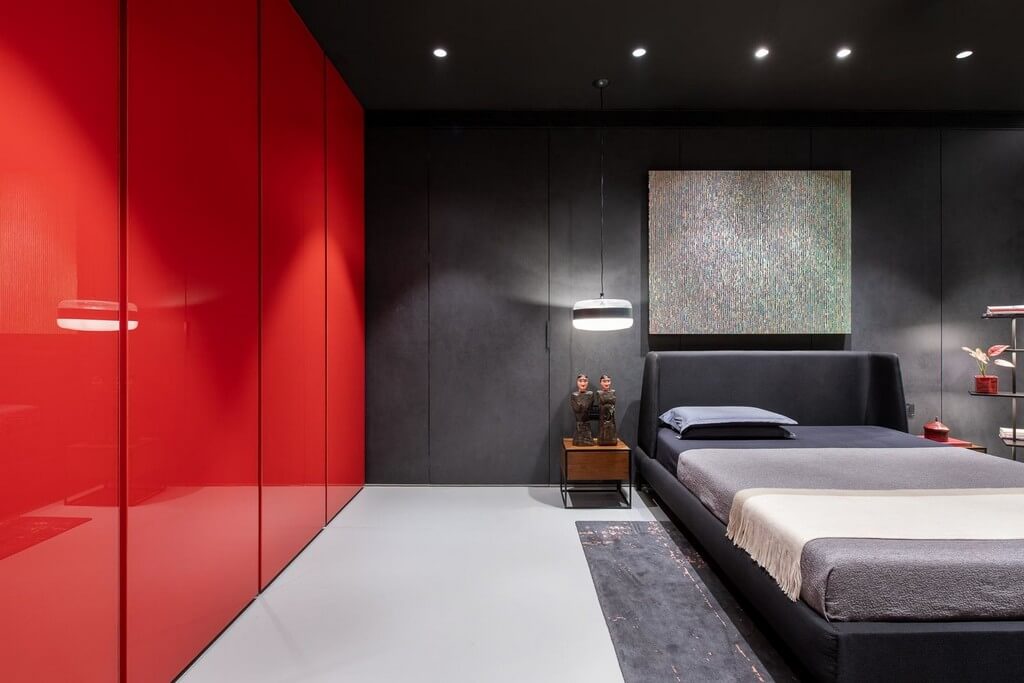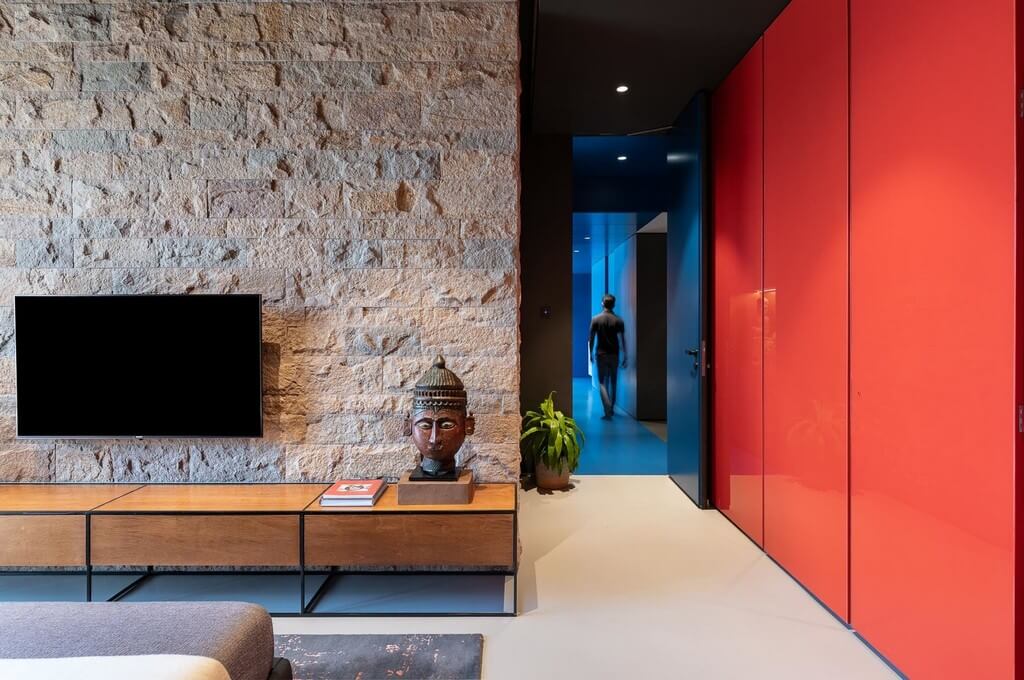 The colorful apartment in Mumbai by DIG Architects has a pièce de résistance made of porphyry. The stone wall opposite the bed is a composition of three sizes of natural stone with rough-cut finish.
MARBLE
Marble is a metamorphic rock with veins of calcite crystal. It forms from limestone that has been exposed to heat and pressure and is found in many colors.
Marble is strong, but it is easily carved and polishes well. For this reason, marble has numerous applications in interior design and product design.
In interior design, for instance, marble is popular in kitchens and bathrooms. In product design, marble is an essential material in contemporary furniture.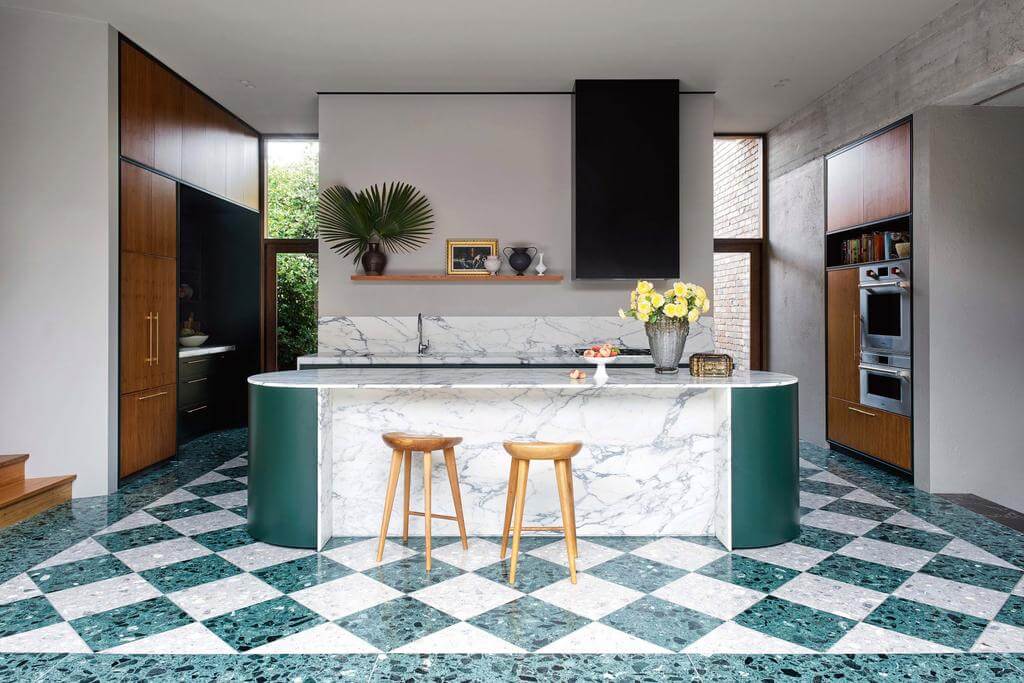 In this house in Sydney, whose project is a collaboration between the owners and Arent & Pyke, marble is the primary material. So there are marble countertops and marble staircases, among other features.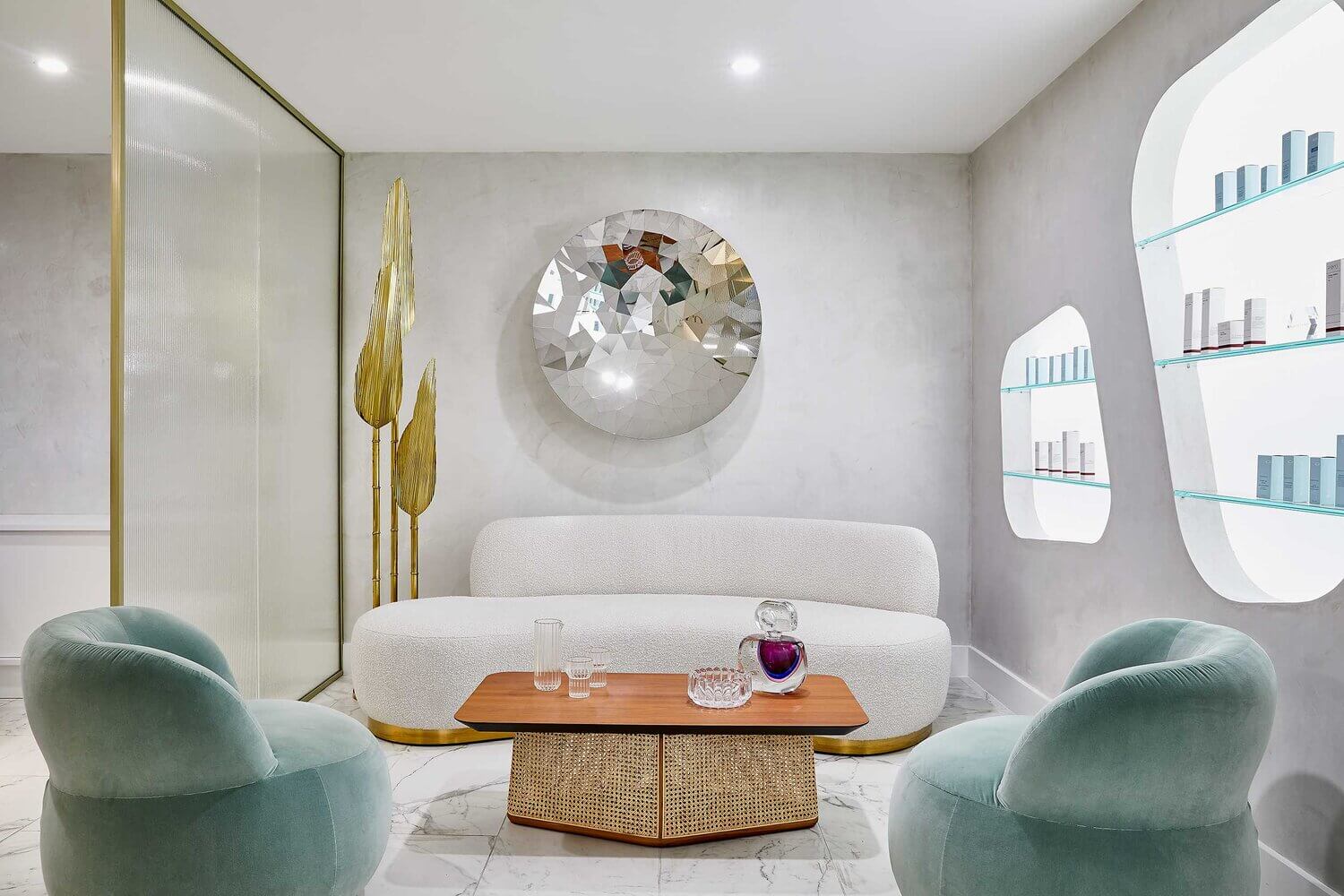 Also in Sydney, Nina Maya floors a Medispa with white marble.
Fifih Side Tables Arabscato Set 10

Side Table 14.900,00

€

Odonto Center Table

Center Table 10.000,00

€

Utah Side Table

Side Table 6.900,00

€
Atlas side table by Hommés Studio is a marble furniture piece. The contemporary side table is made of green lapponia marble.
GRANITE
Granite is one of the most widely used stones in architecture and design. It forms from the slow crystallization of magma beneath the Earth's crust.
Granite is popular due to its strength, durability, and low porosity. Adding to this, Granite is available in a variety of colors, making it highly aesthetic.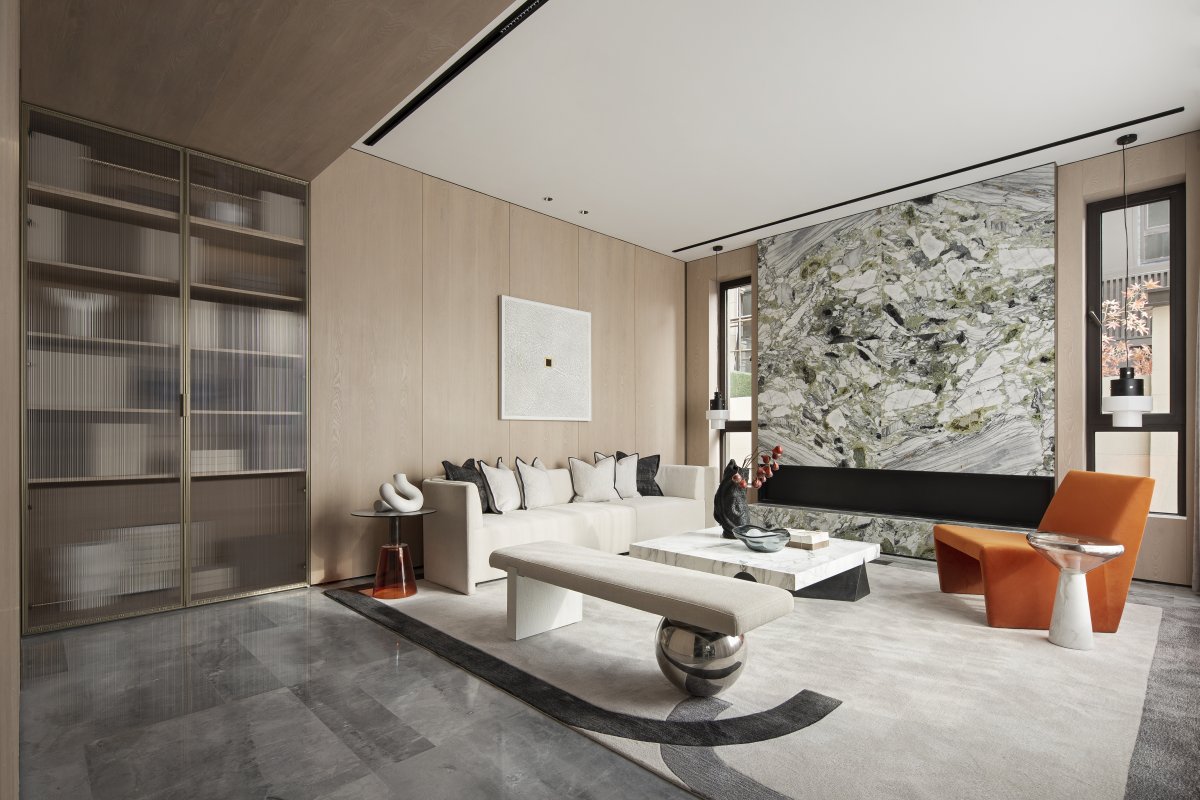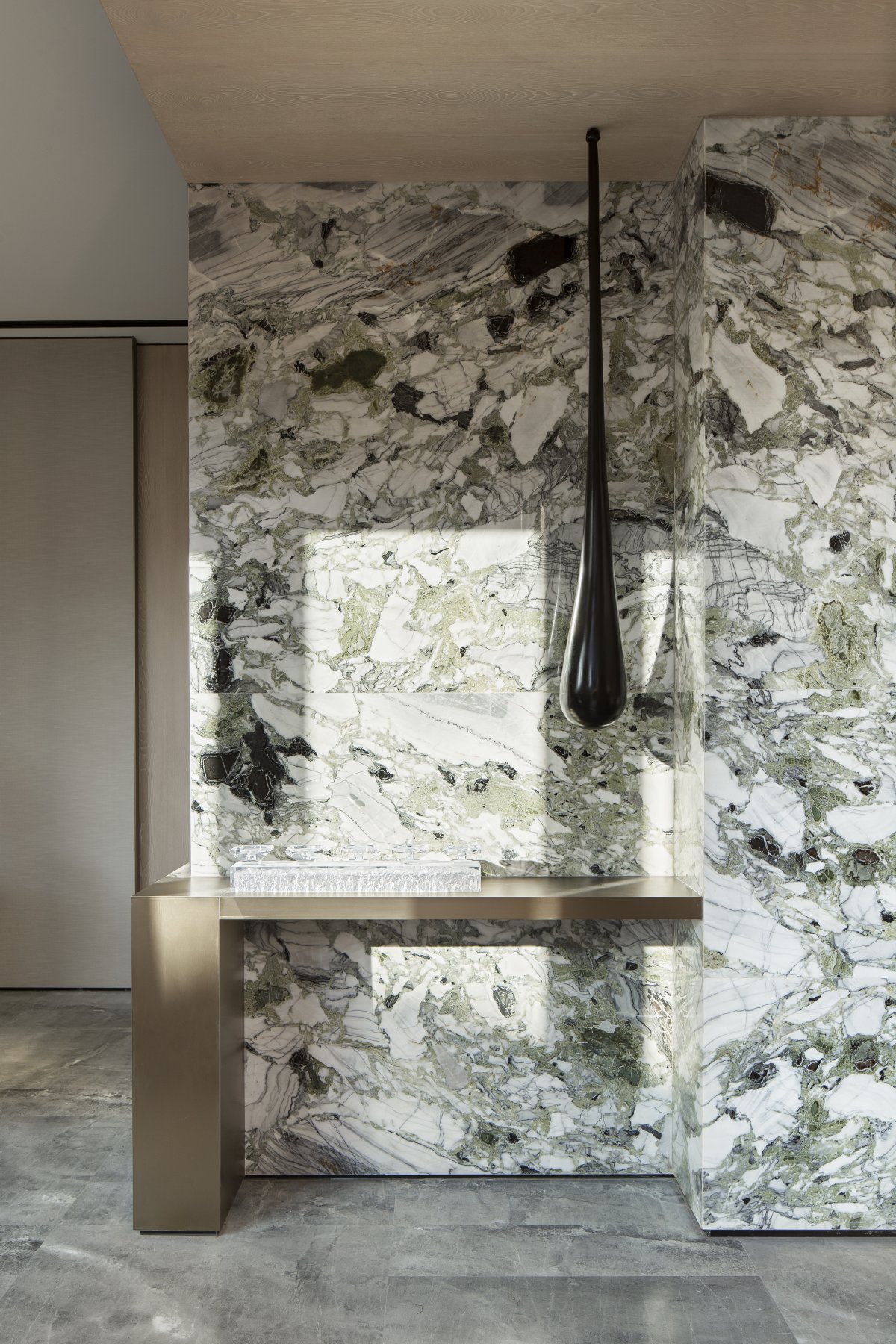 Glory Mansion Project by One-Cu Interior Design Lab tells a story with its bold expressions and rich textures. The designers integrated different marbles, granite slabs, and light champagne-gold stainless steel.

Don't save your inspiration for later! Instead, pin the natural stone you're using on your next design project and visit Hommés Studio Pinterest for further inspiration.
Source: Dezeen