The living room can be the most intimate place in a home. It should reflect not only your personality but also your soul and taste.
The living room is one of the most important places in our house because when we have guests this is the room that they will observe more closely and also have to feel comfortable.
So, whether small or large, you can design your room in a modern way that will look attractive and relaxed. You can design your living room by putting your heart and soul into it.
Hommés Studio selected 11 modern living room ideas for you to be inspired.
SEE THIS NEW CLASSIC LIVING AREA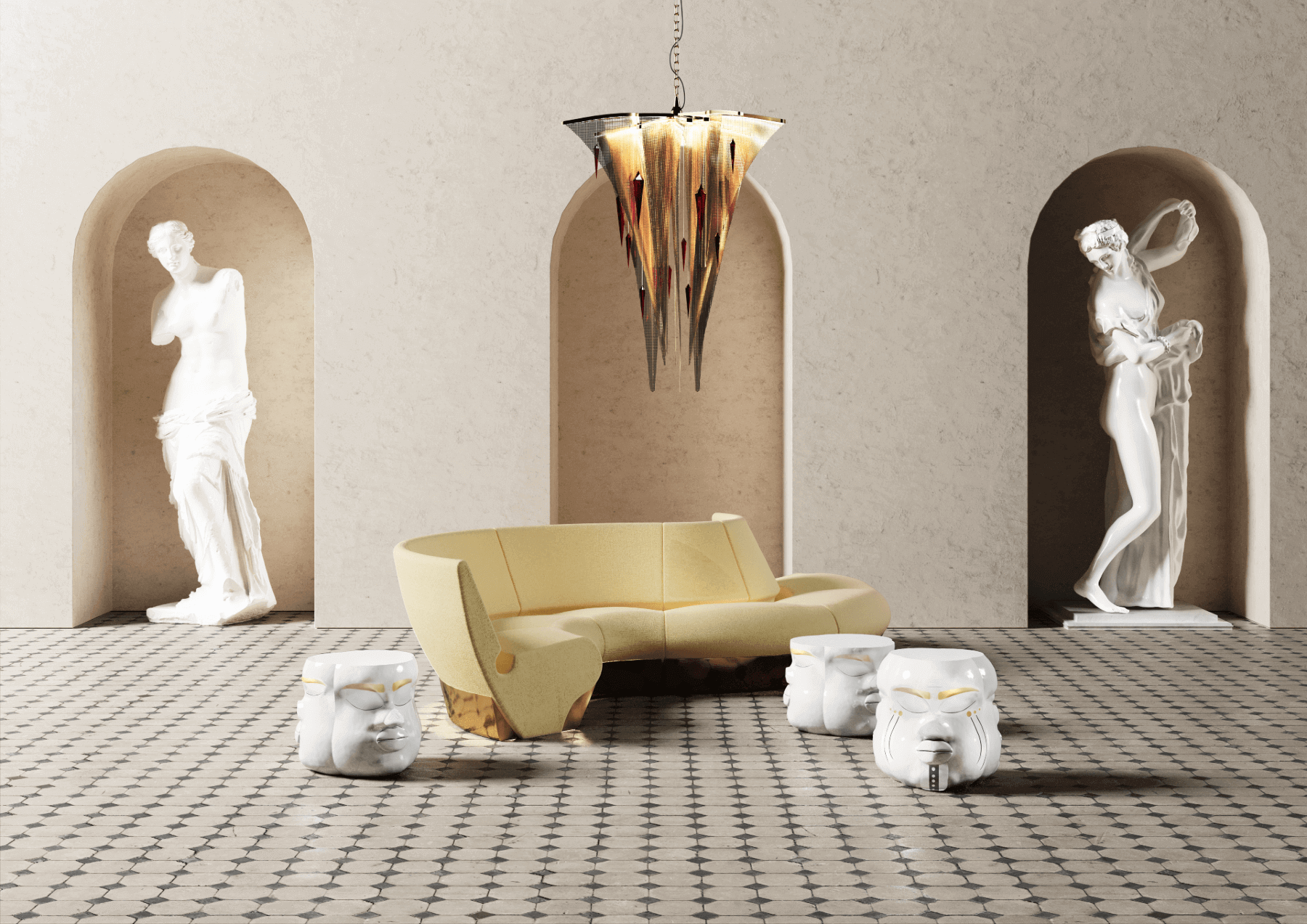 ART-FILLED HAMPTONS LIVING ROOM
This East Hampton, New York, home has an elegant and stylish living room to welcome visitors and enjoy the moment.
The couple that acquired the house is passionate and art collectors.
Characteristic that they wanted to insert in the house, when they decided to give a new life to it, with the help of the Peruvian architect Javier Robles.
A white sofa matching the wall and floor set the stage for the vintage cream chairs that flank a personalized Marmoreal coffee table. The artwork of Egan Frantz comprises the whole length of the sofa.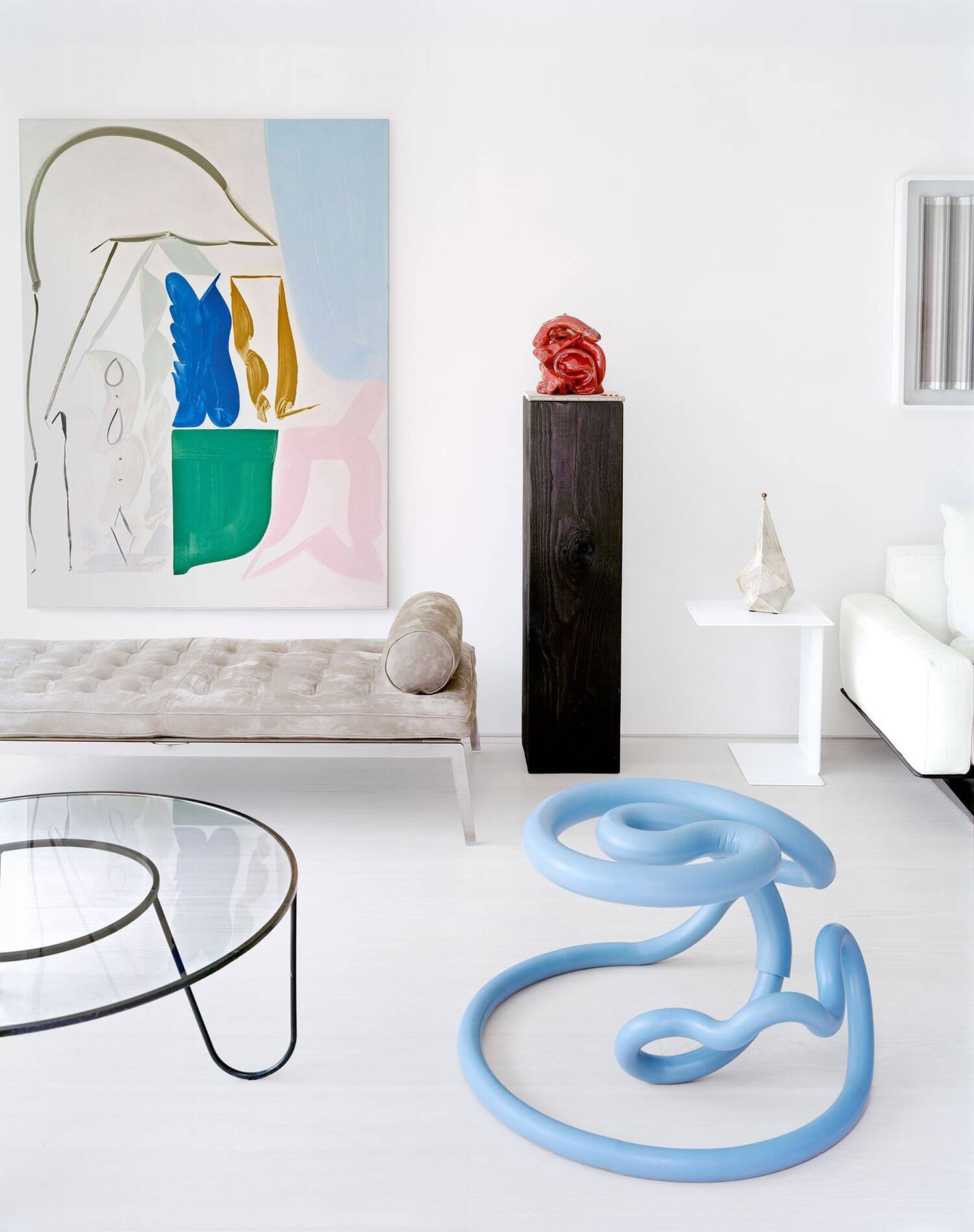 GLAM CHICAGO LIVING ROOM
This house in Chicago, designed for 7 people, a newlywed couple and their 5 children, is unlike any other. When they decided to design the living room, the couple did not want playrooms or kid-proofing. On the contrary, this would be a mature space to live, host, and, most significantly, appreciate time together.
A neutral, stunning, and modern living room, in Chicago's historic Palmolive building, features a smart blend of antiques and vintage finds that make a sense of balance.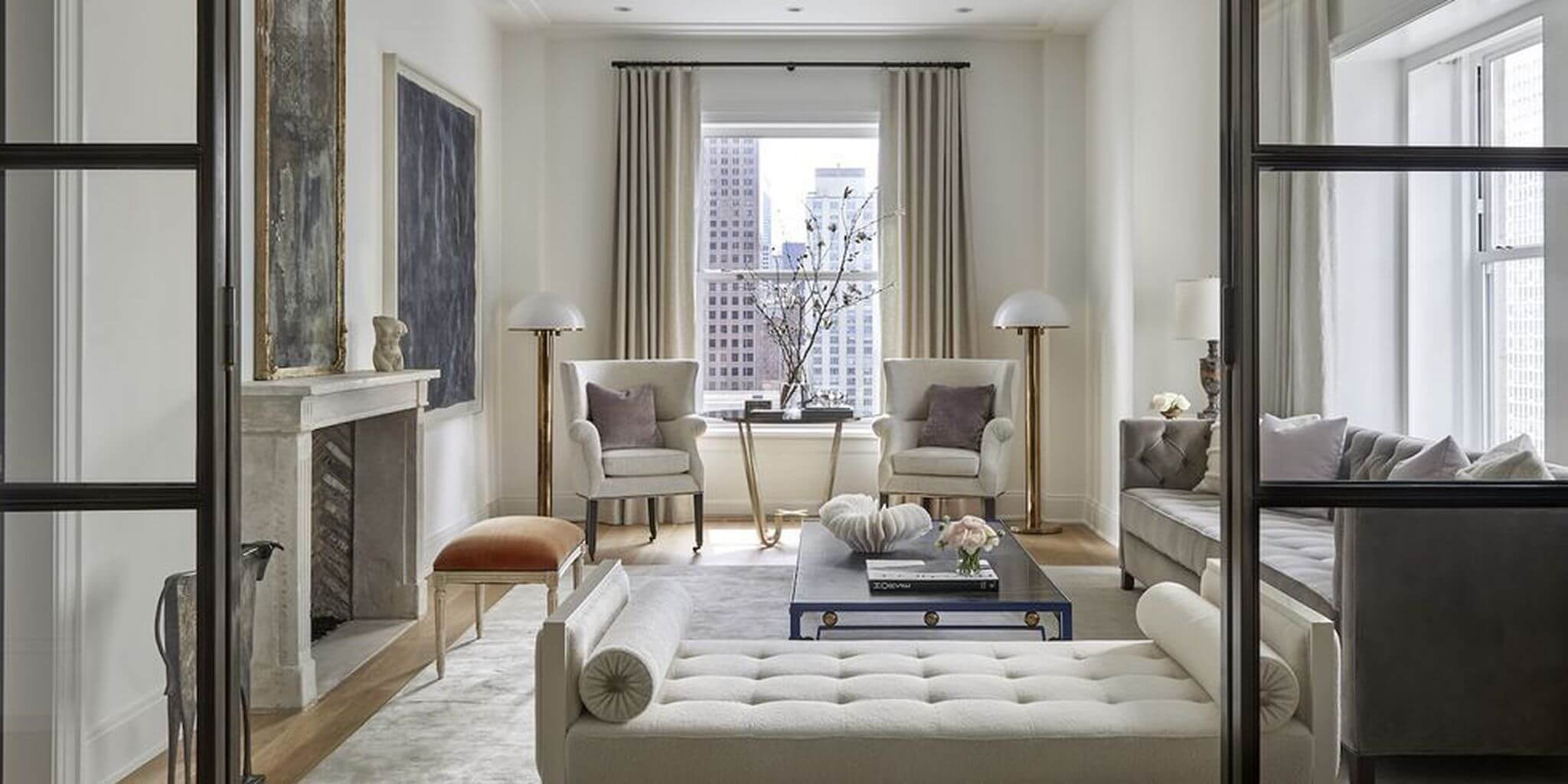 MODERN LIVING ROOM IDEAS – NEW YORK CITY LOFT
New York designer, Becky Shea, took the challenge from Homepolish co-founder, Will Nathan, and built an impressive loft in New York City.
Her goal was to transform his SoHo loft into an industrial retreat while maintaining the authenticity of the SoHo design spirit.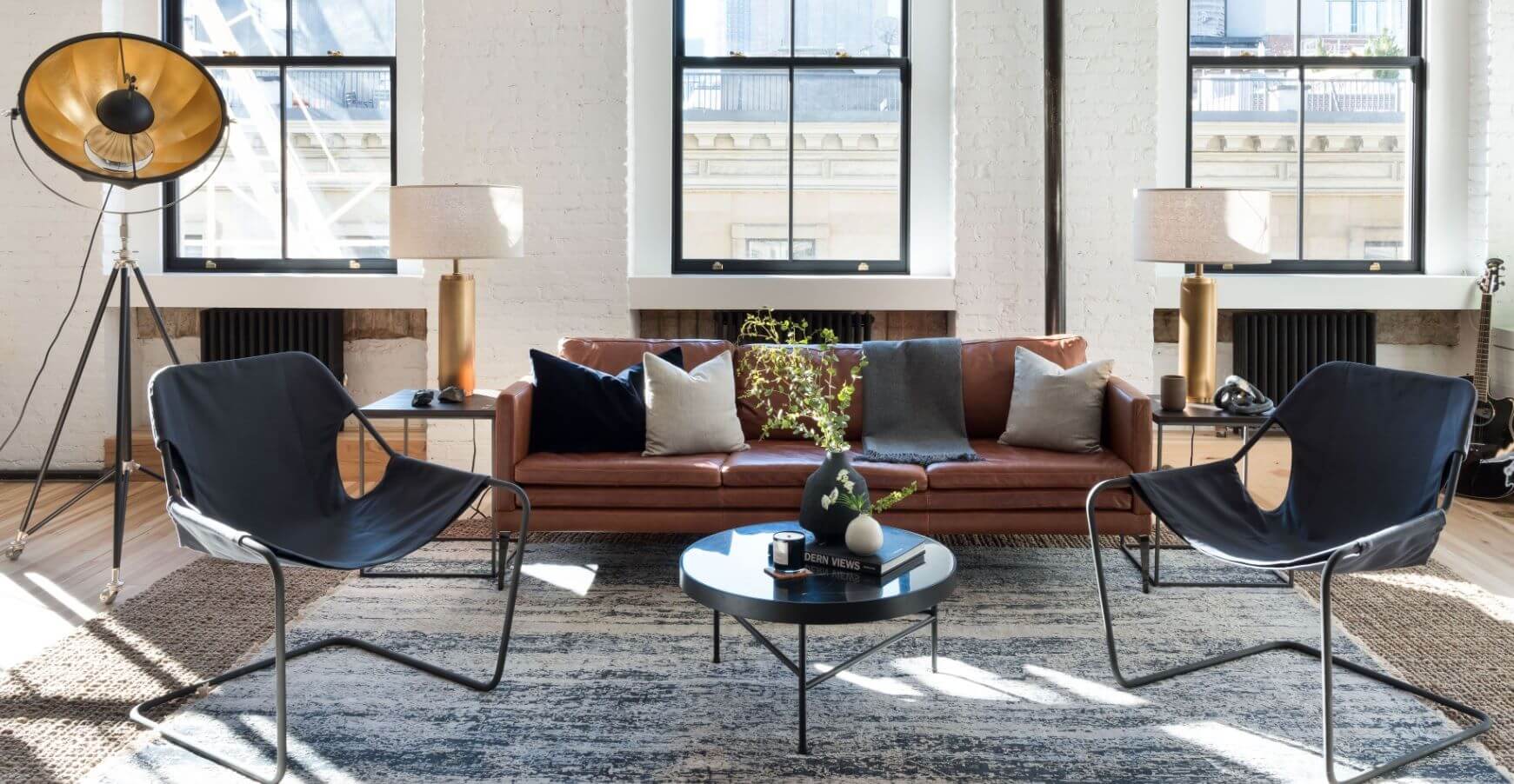 The living room, which features a mix of industrial components as well as Shea's organic-modernist aesthetic, is an experience in open-concept living.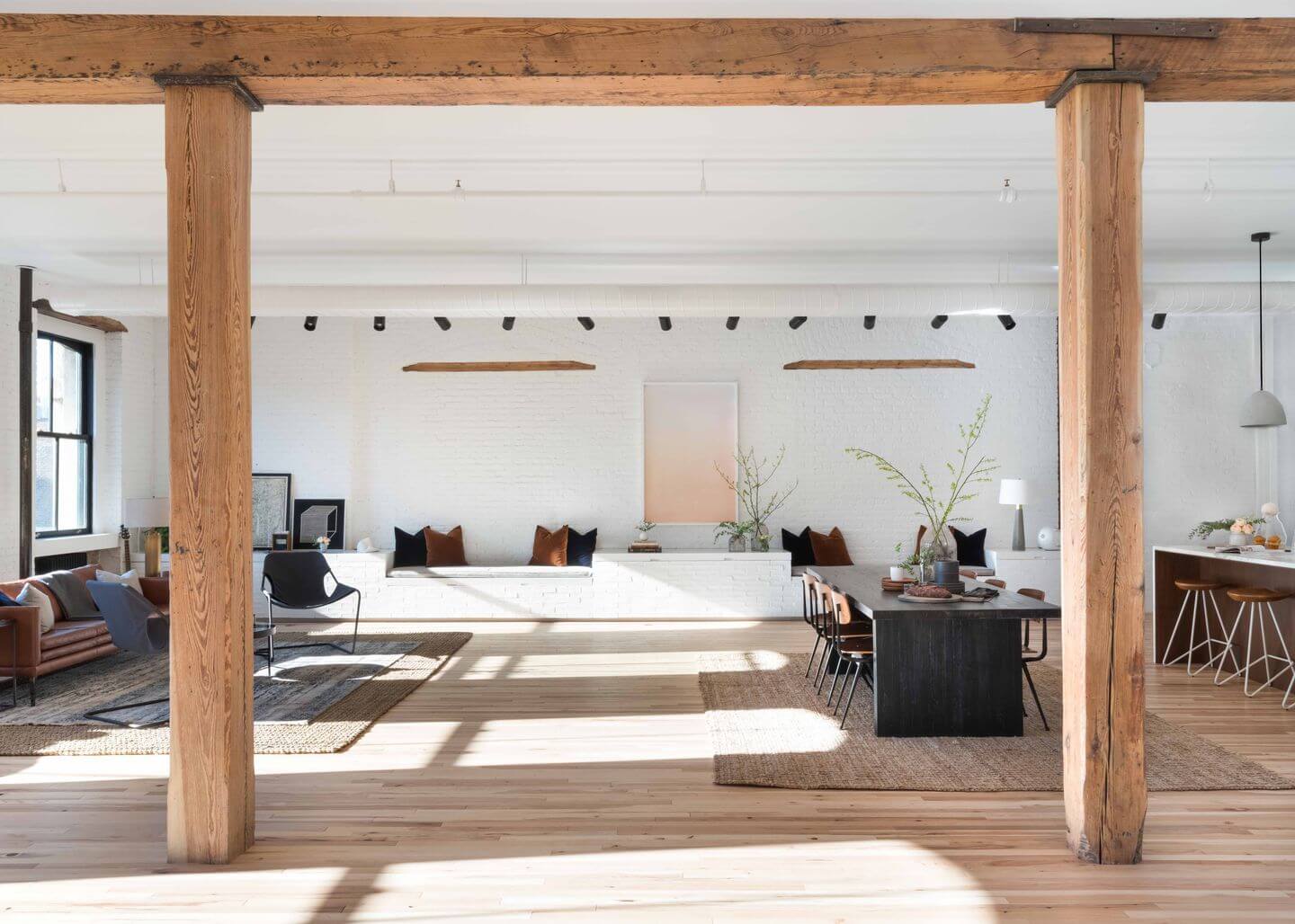 MODERN WASHINGTON D.C., LIVING ROOM
Architect Piet Boon and designer Jennifer Schmidt took on the challenge of transforming a loft in Washington, D.C., where the ceilings and walls were completely white.
With a wooden palette in shades of white and grey and by combining some textures, Schmidt has built a surprisingly cozy home and living room suited to the sophisticated tastes of customers.

CONCRETE AND NAVY LIVING ROOM
Designer Jean-Louis Deniot has renovated an impressive home for a Los Angeles tech entrepreneur. The designer's goal was to build an Art Deco refuge in pastel colors.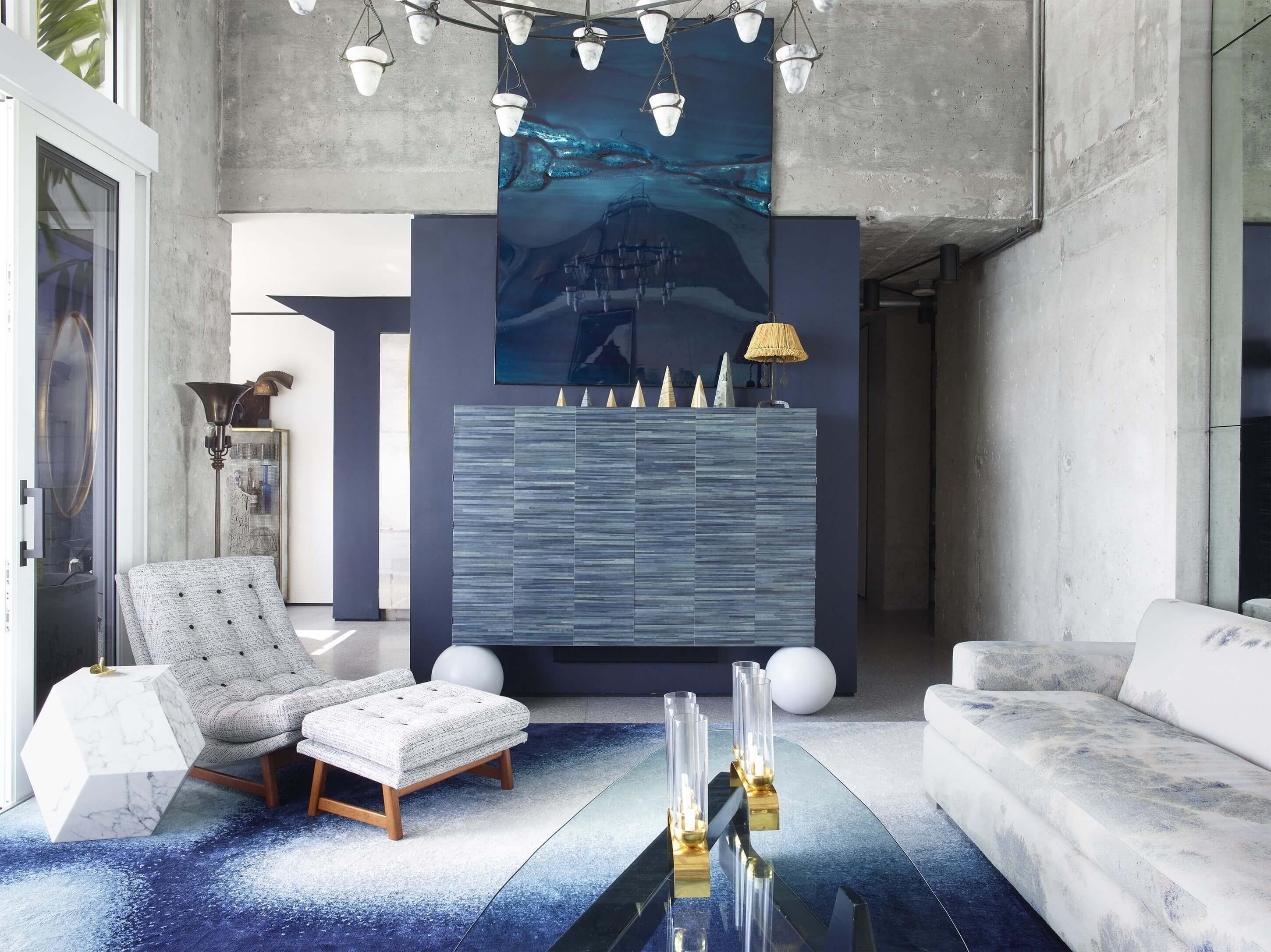 In the living room, the sofa from Deniot's collection for Baker is in a Martyn Thompson Studio fabric, the 1930s Jindrich Halabala chairs, the vintage cocktail table is by Paul Frankl, and the gold side table is by Hervé Van der Straeten; the 1920s bronze-and-alabaster chandelier, the indoor-outdoor rug is by Galerie Diurne, the artwork is by Franz Kline, and the shelf holds a Roger Desserprit sculpture (center) and a French 1940s lamp.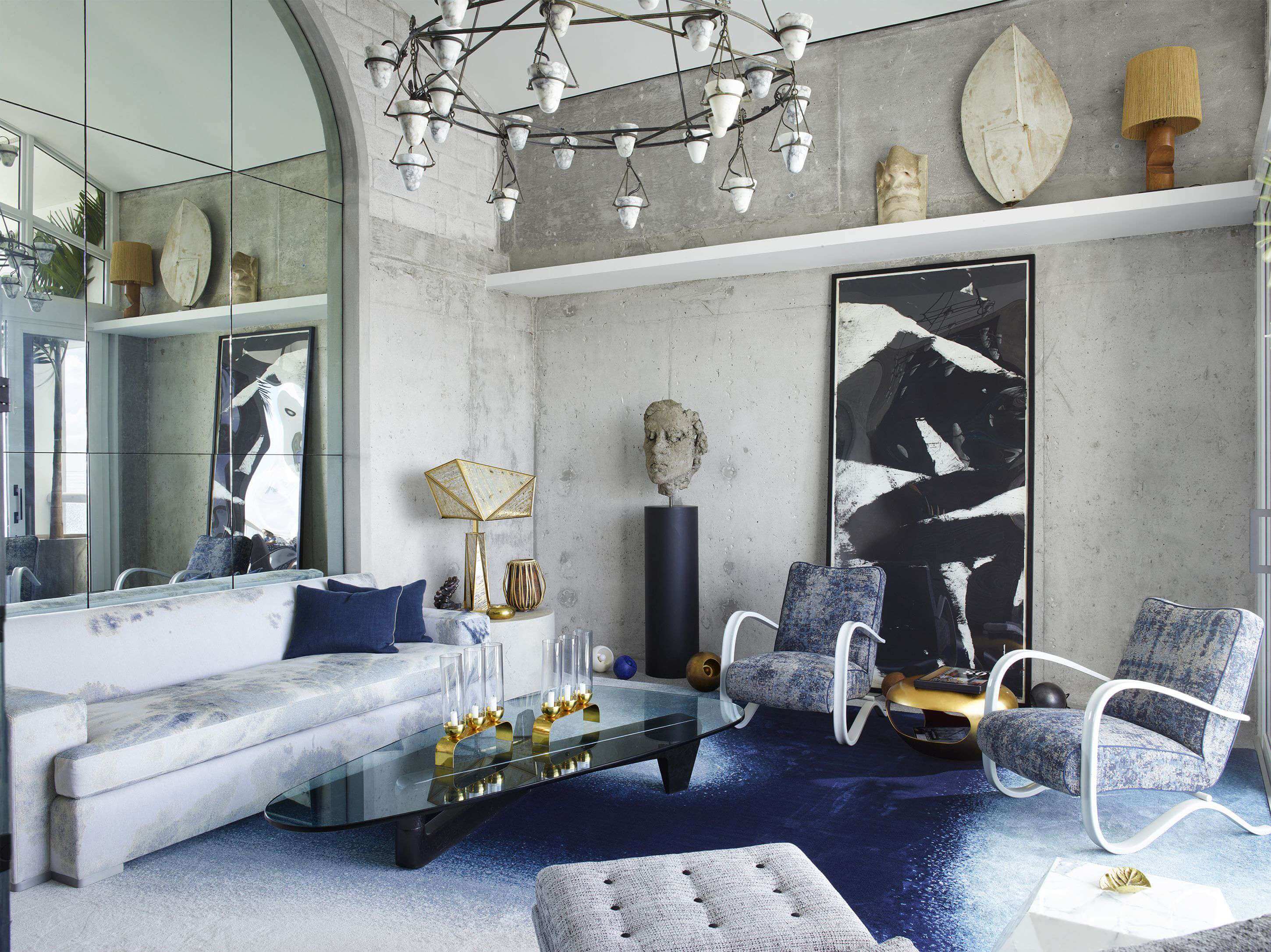 CHRISTIANE LEMIEUX'S MODERN LIVING ROOM
Christiane Lemieux, the founder of The Inside, an elegant home decor brand, takes a tour of her loft in New York.
This living room includes a huge work of art by Robert Swain, personalized sofas with neutral linen, and a coffee table and side table from the Brimfield Show.
BEACH HOUSE LIVING ROOM
Asked to update a beach house on Long Island that had become a mess after four decades of renovations, David Mann decided to honor the past.
Mann's main goal in creating the living room was to ensure that there were plenty of places to sit, read, or spend time with friends.
The modular sofa in the living room is by Usona, and the ottoman is covered with a Kyle Bunting leather cover; the painting is by Darren Almond, and the floor lamp is vintage.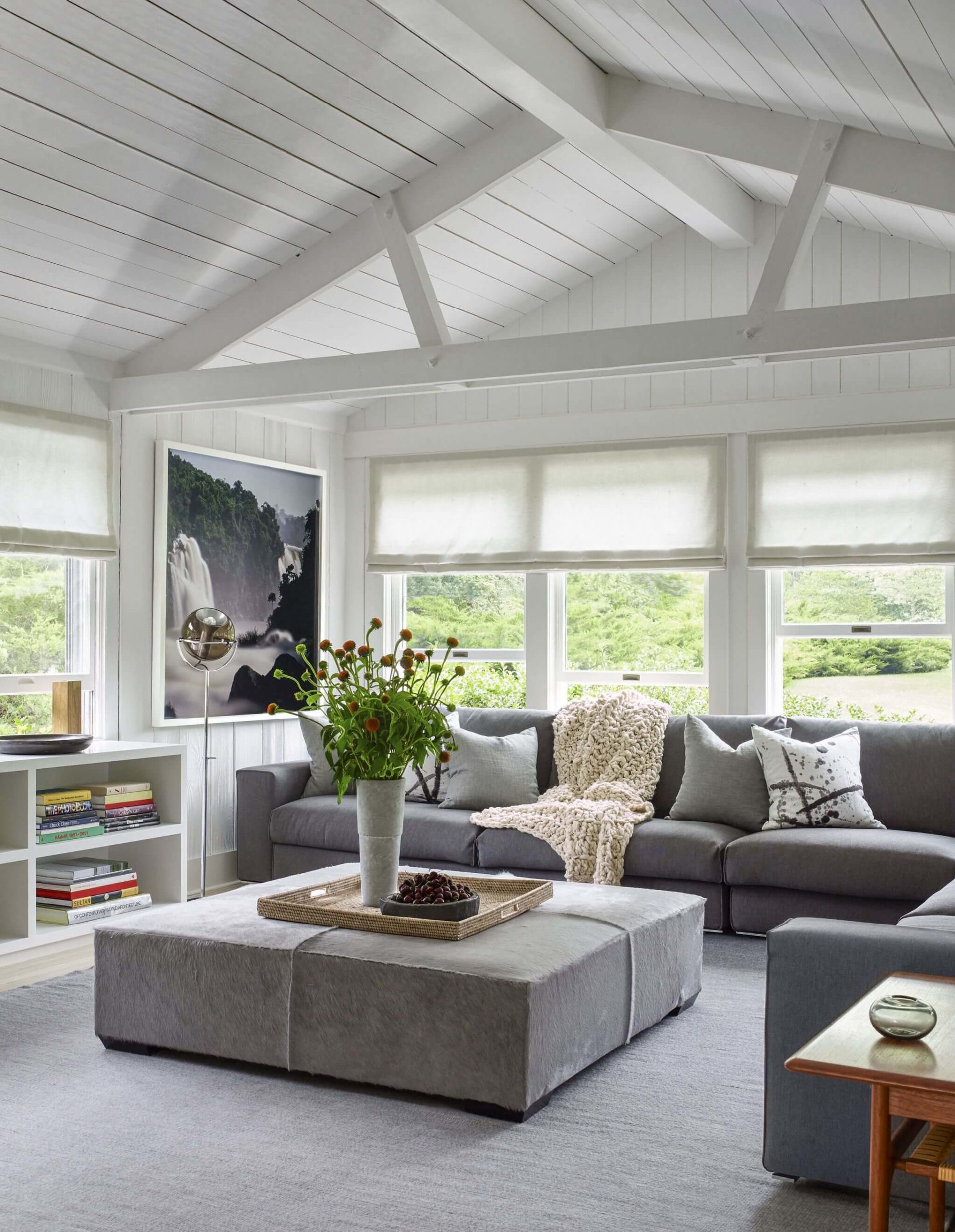 PALM BEACH LIVING ROOM
New York architect, Lee Mindel, is a staunch modernist, but also a humanist. This architect accepted the challenge, of a traveling couple, to transform their living room into a peaceful oasis, inspired by water, sand, and sky.
In this contemporary Palm Beach home, the living area is positioned around a rug that simulates the ripple pattern a stone makes when dropped in water.
MODERN TREE HOUSE LIVING ROOM
A young family goes to a longtime friend, designer Alejandra Redo, to add warmth, color, and peculiar charm to her modernist glass and steel villa on a wooded hill in Guadalajara, Mexico.
This modern Mexican house among the trees is centered by a living room with a sofa, ottoman, and chairs by Maxalto. The cocktail table and the side table are from B&B Italia. The ceiling is covered with walnut, the wall behind the sofa is lined in steel and the rug is old Persian.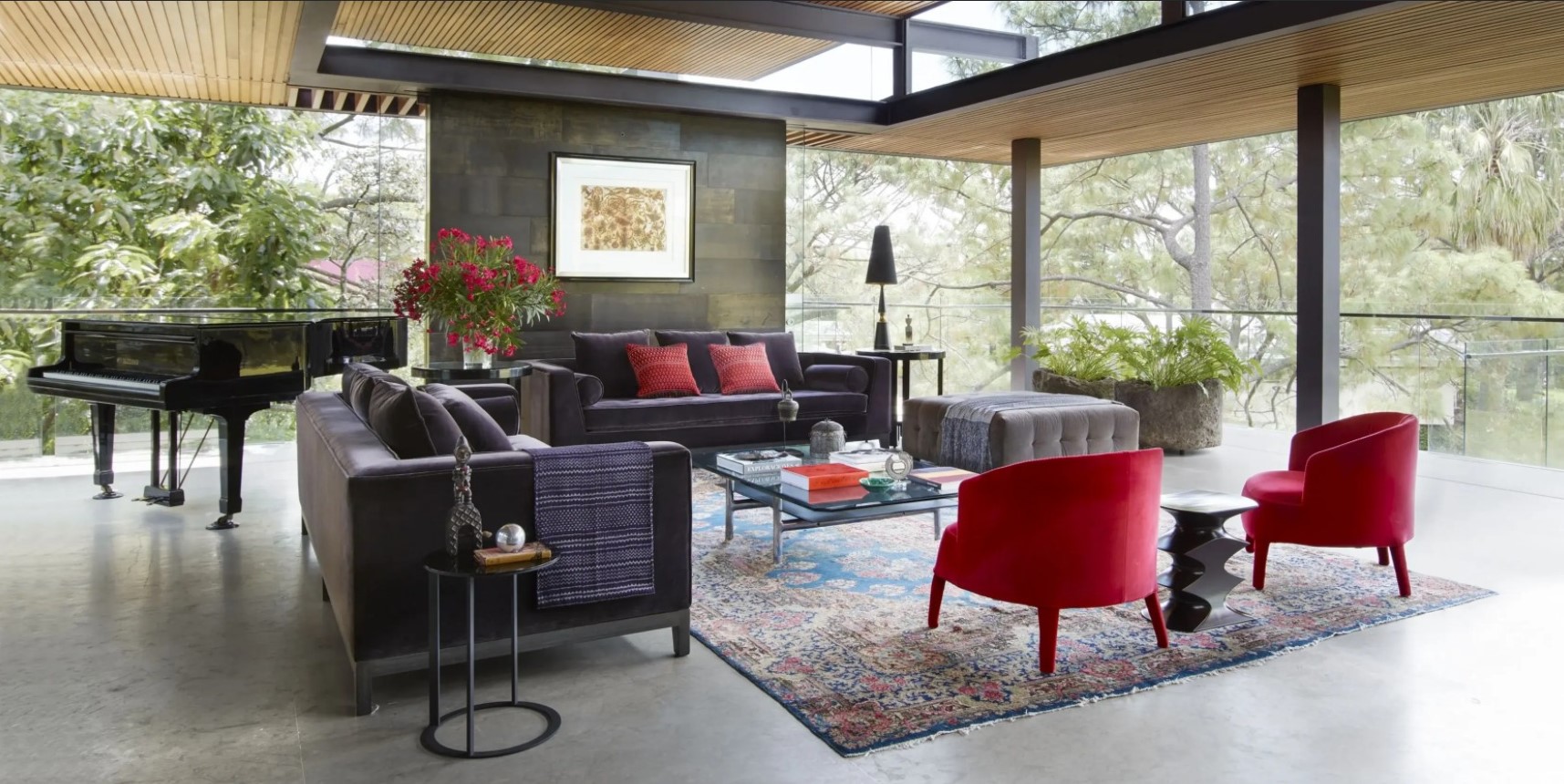 MID-CENTURY LIVING ROOM
Ku-Ling Yurman can't quite put her finger on it. The couple appreciates handmade and unique decoration.
In the living room of Evan and Ku-Ling Yurman's TriBeCa apartment, mid-century furniture includes a pair of Nanna Ditzel chairs, a Hans Wegner armchair, and a Hendrik van Keppel and Taylor Green cocktail table.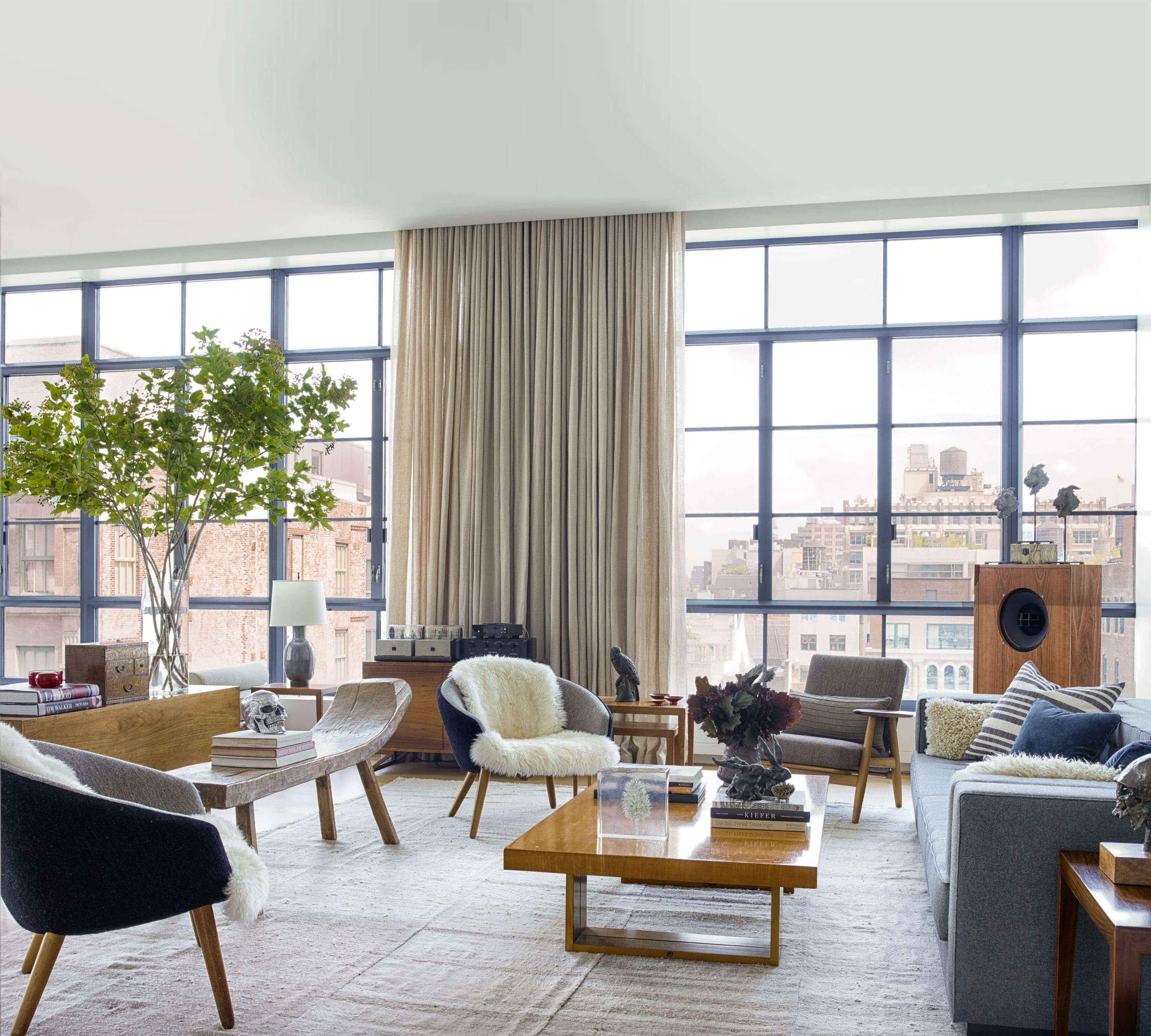 ART-FILLED MODERN LIVING ROOM
A lady, a Manhattan native, in her 50s, did not have to go far to find a good designer to decorate her living room: the extraordinary interior designer Alex Papachristidis has been a family friend since childhood.
In this living room, a pair of 1960s chairs from John Salibello, the custom sofas are covered in Holland & Sherry fabrics, and the Karl Springer cocktail table is from Mantiques Modern; the 1960s stainless steel chairs and cube are by Maria Pergay, the table lamps are by Andrea Koeppel; the artworks on the wall are by (from left) Richard Prince, Rudolf Stingel, George Condo, and Elizabeth Peyton.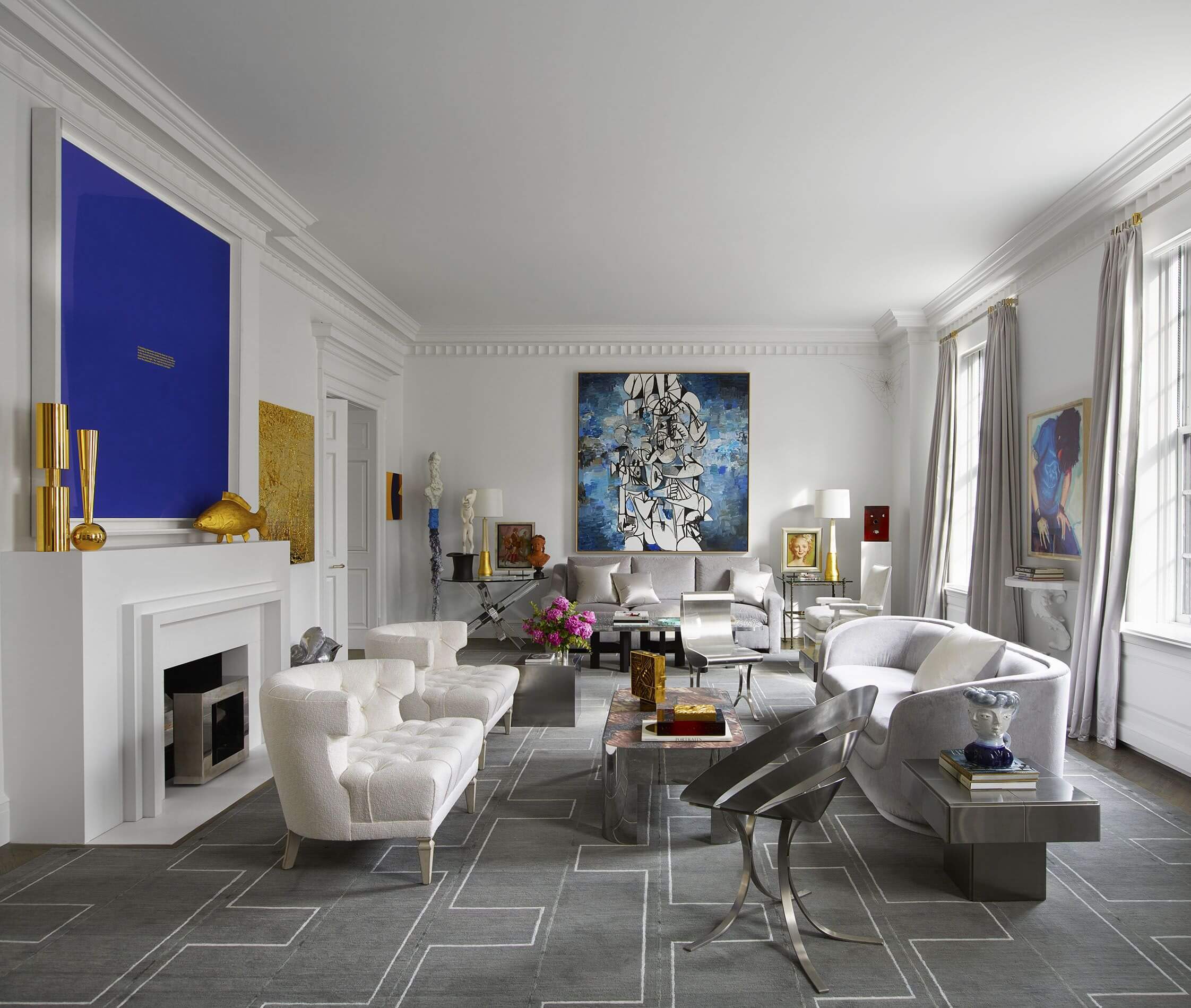 We really hope you liked our article. Feel free to pin all the images to your favorite Pinterest board. Meanwhile, you can also visit our Pinterest boards to get more inspirations.
Get more ideas for your projects and find functional, stylish, and sizable lighting and furniture choices: