Australian award-winner interior designer Nina Maya joins Quayside Specialists on their rebranding. Nina Maya has designed their new practice in Sydney, resulting in a stunning medical spa interior design project.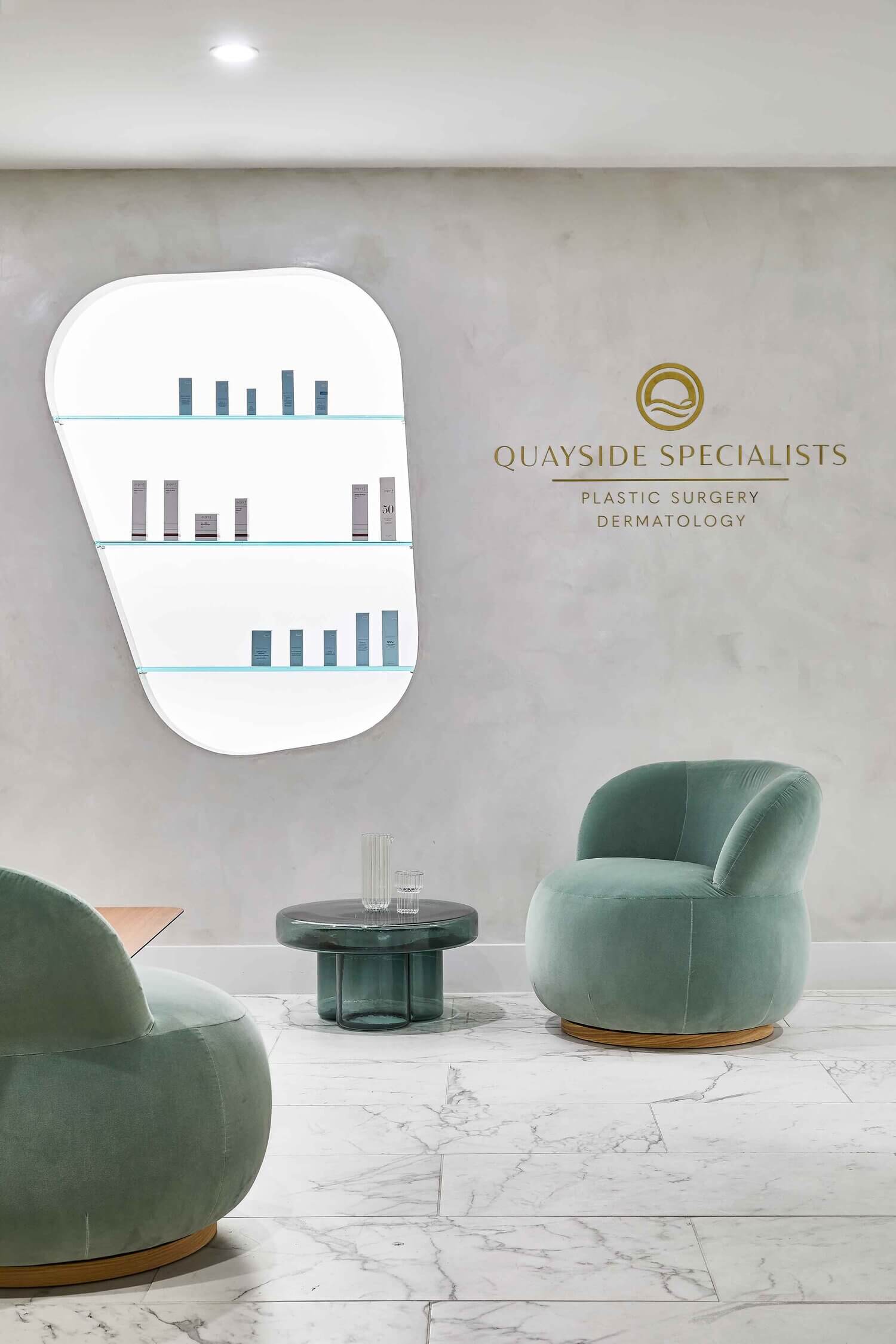 Quayside Specialists, a top medical practice of beauty and wellness decided to rebrand their business. Interior design is very important to communicate a brand. Therefore, Quayside Specialists asked Nina Maya to deliver the home of their new identity. For a luxury clinic that offers dermatological treatment, plastic surgeries, skin cancer treatment, and even non-surgical cosmetic procedures it is very important to communicate know-how, commitment, and sophistication. Nina Maya nailed this with her medical spa interior design project.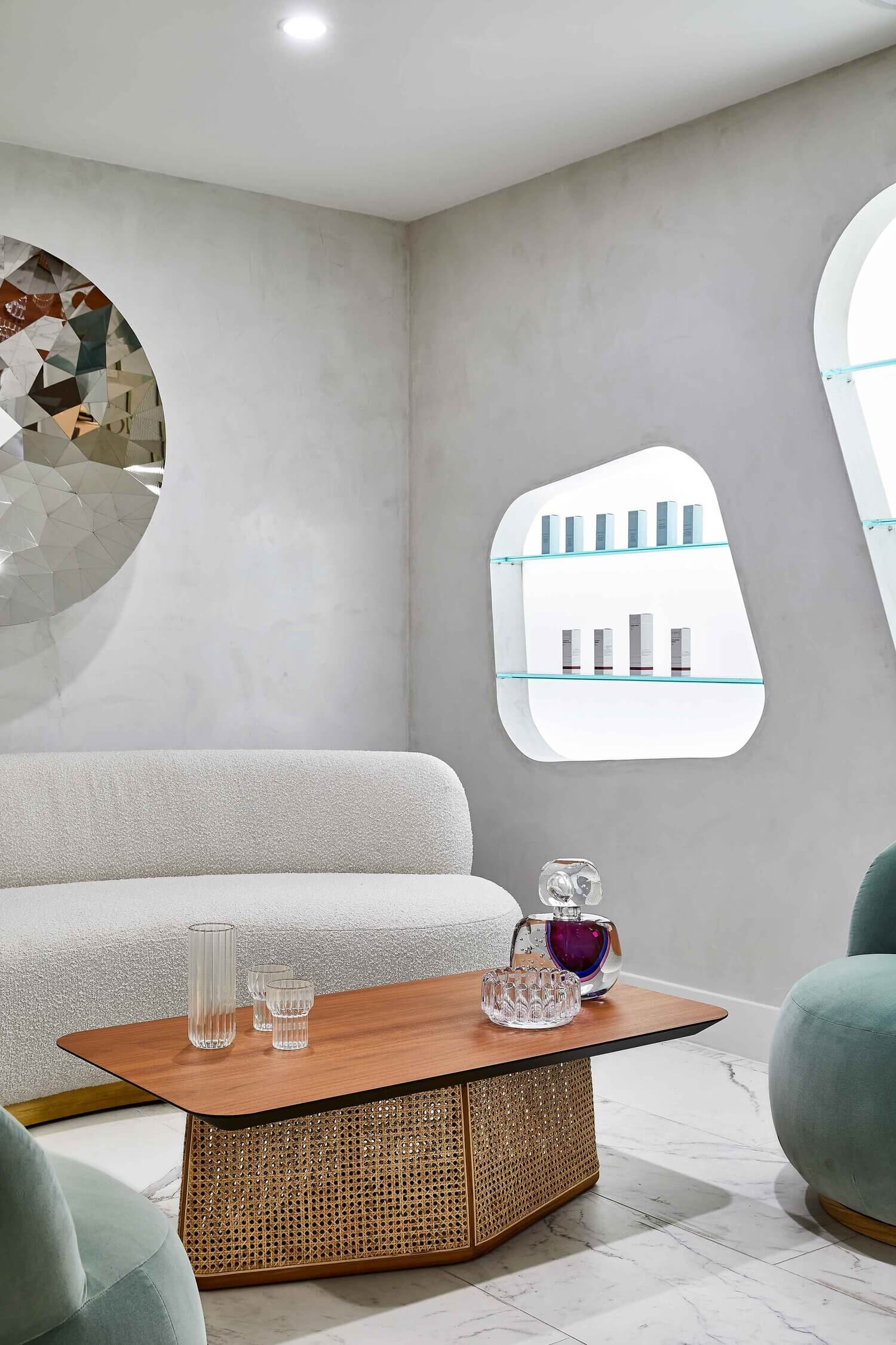 Every room looks exactly like a medical clinic. Nina Maya designs a 5-stars medical spa with traditional colors for medical practices, namely white and blue. Both colors are very popular in hospitals and clinics because they are effective hues on provoking calmness and quietness. That is the first step to have clients feeling in good hands. Despite the conventional use of white and blue as predominant colors, ain't anything conventional about the aesthetic of this medical spa interior design project.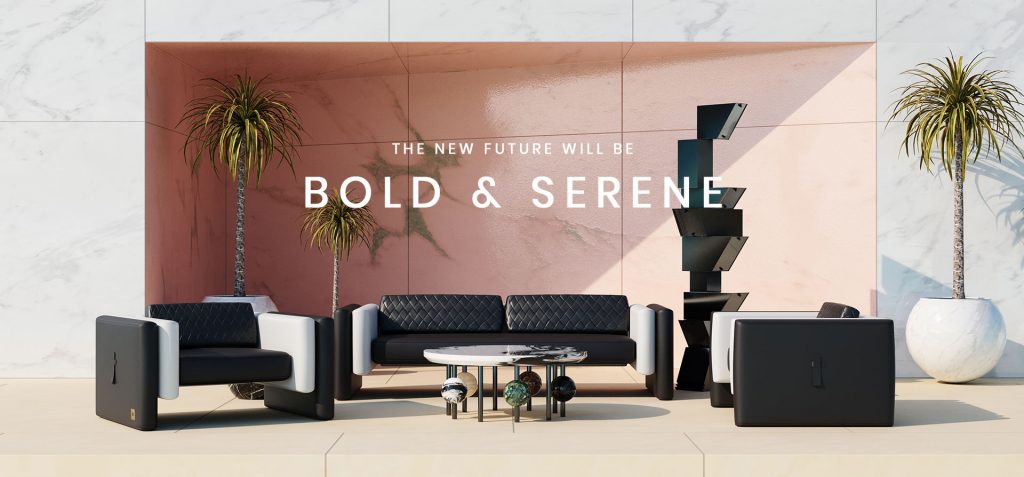 MEDICAL SPA INTERIOR DESIGN BY NINA MAYA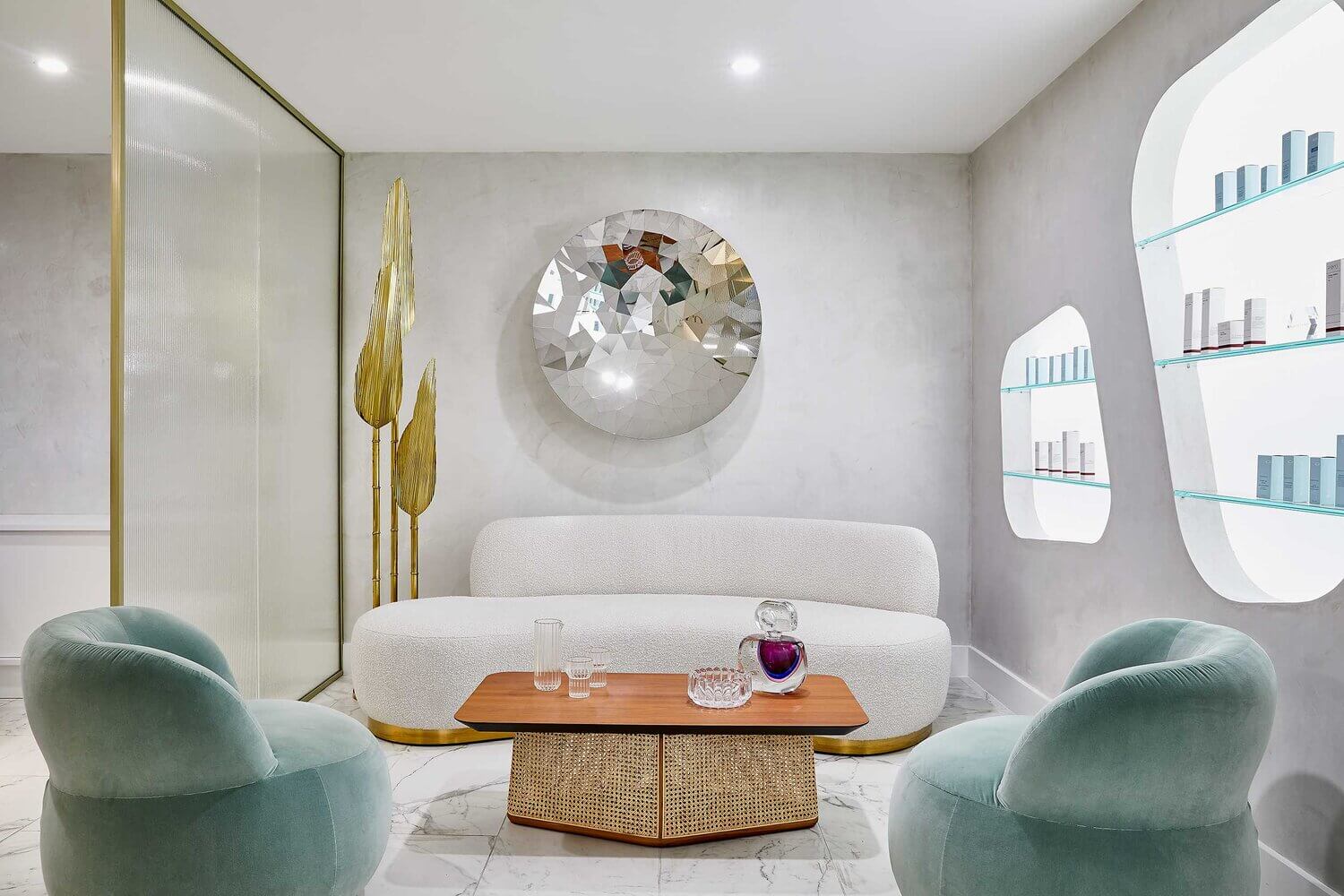 Nina Maya keeps the traditional colors and space organization from any other medical practice. Nevertheless, the details on furniture, homeware, and art make the medispa make the medical clinic look like a 5-stars hotel. In order to achieve a luxury hospitality project look, the Australian interior designer chooses high-end materials, such as marble and brass.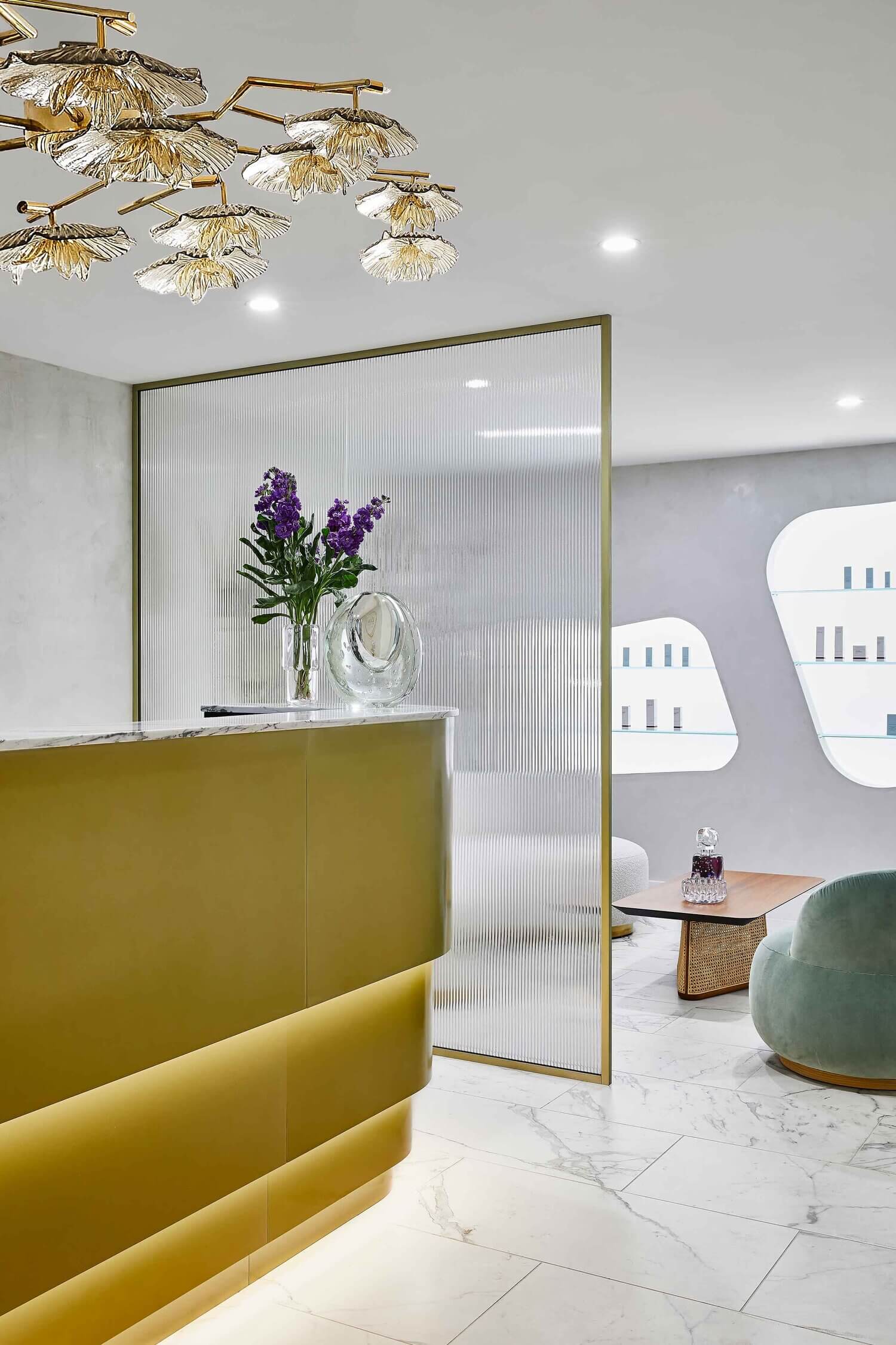 As matter of fact, marble is the show stopper of this medical practice interior design project. The floor of Quayside Specialists is an white marble burst of beauty. The walls are in white as well. However, this medical practice is full of life and glamour.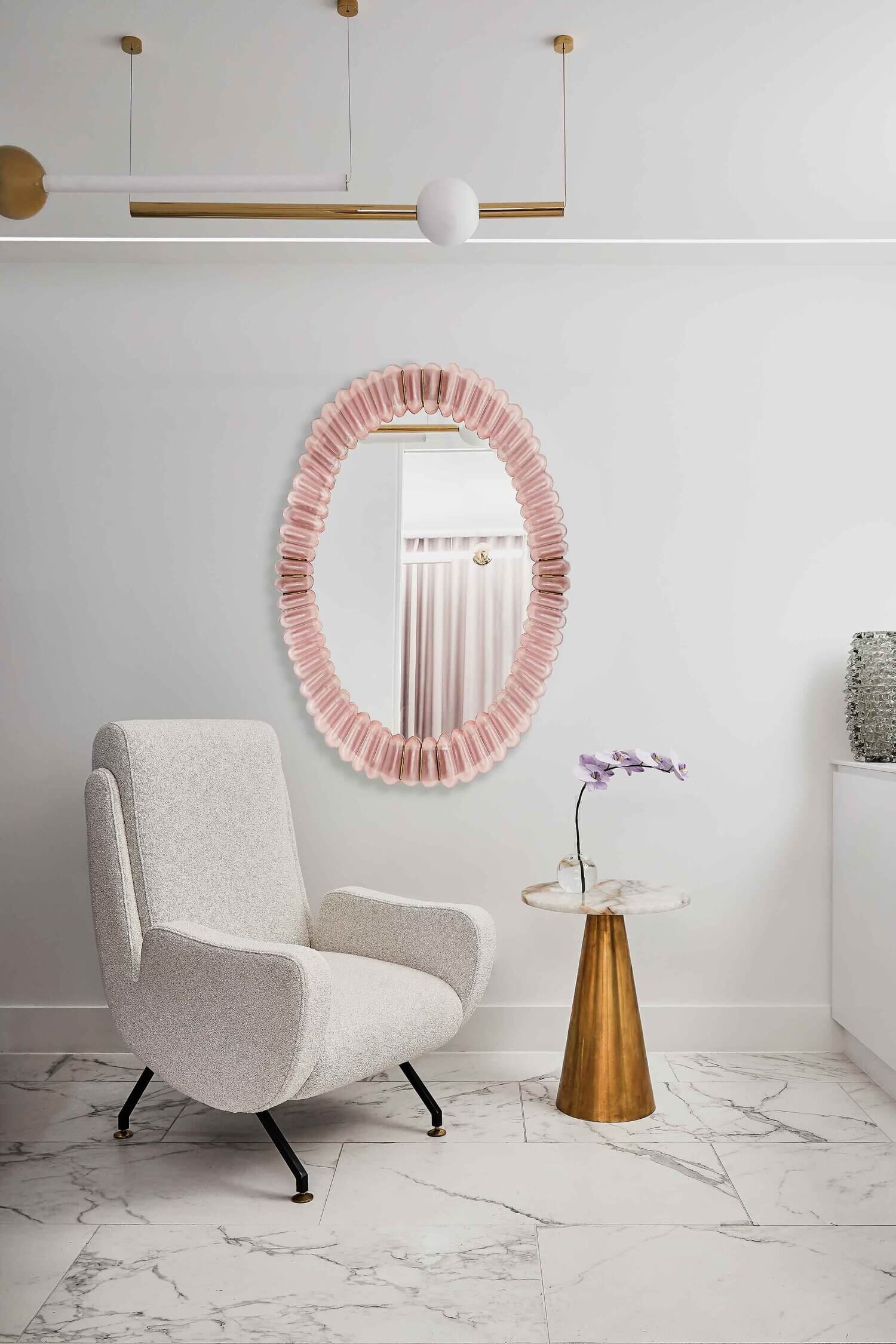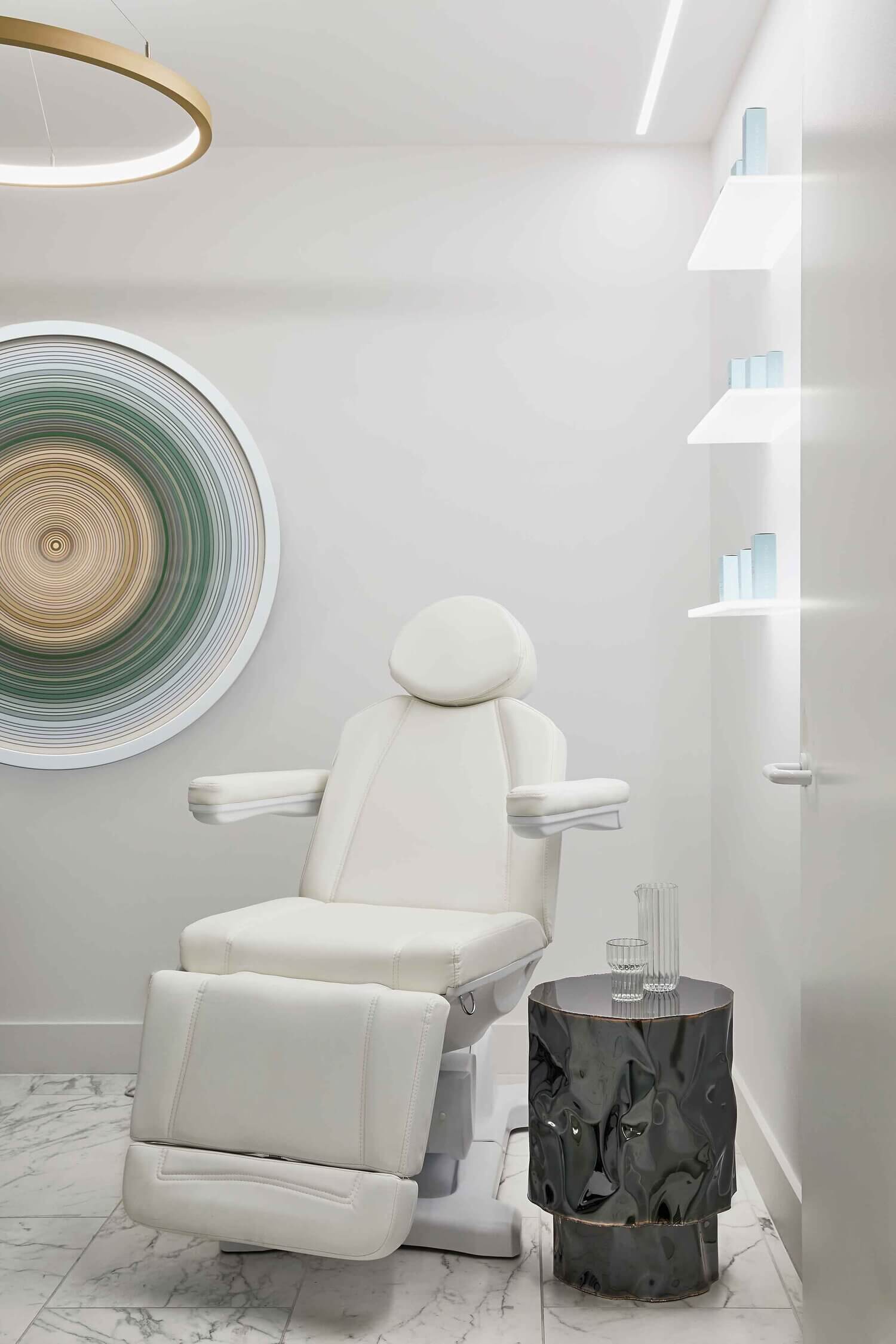 Nina Maya furnishes the medical practice rooms' with modern and eclectic furniture. In the luxurious waiting rooms, Nina Maya places round sofas which create a sense of flow, dynamism, and comfort. That is the premonition that something is about to change, and it will be a good transformation. In the middle of the round sofa and round armchairs is a retro coffee table, discreet yet elegant. The interior designer makes a statement of luxury in every room using metallic details.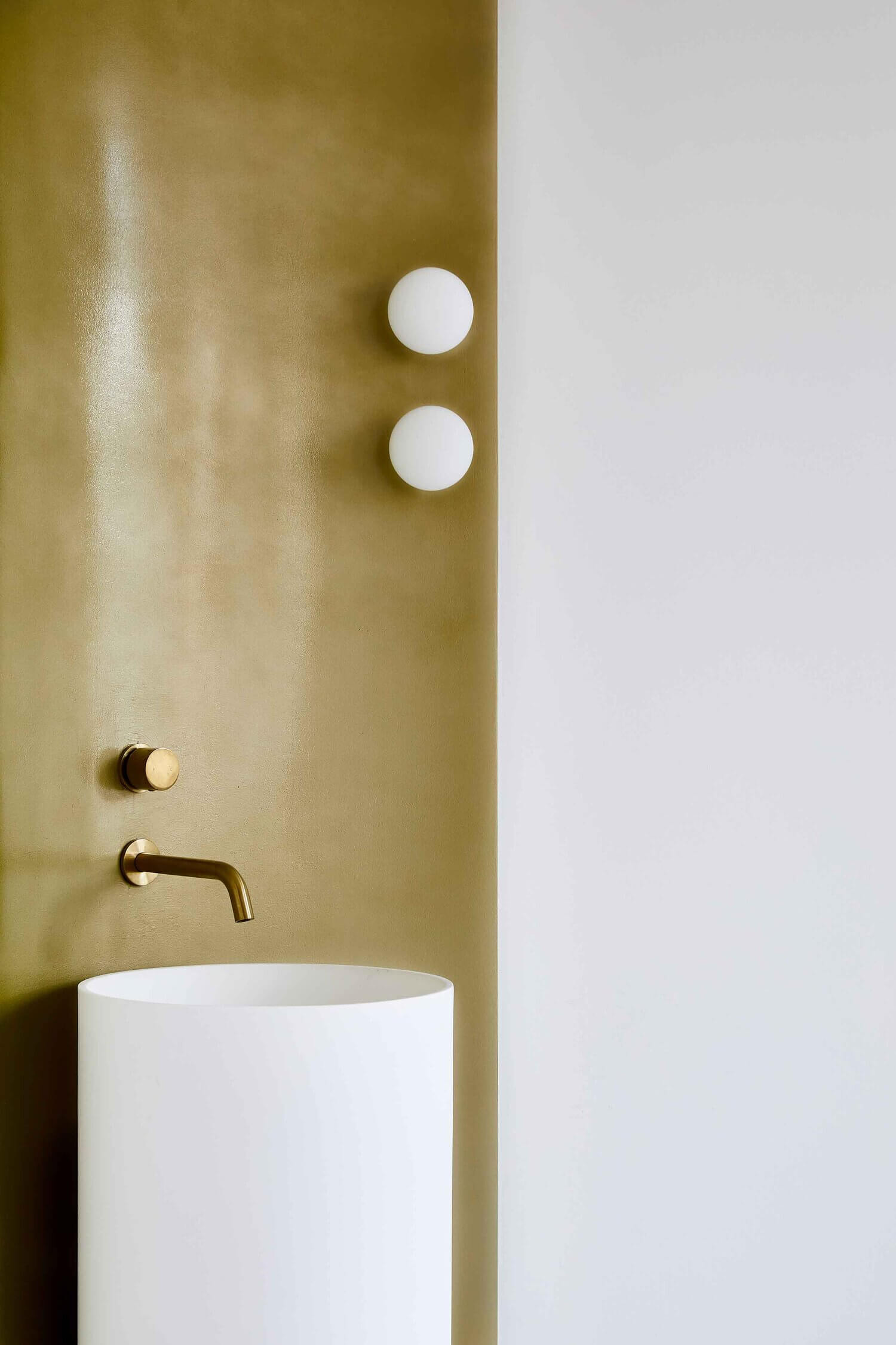 From the round reception desk in brass to brass lamps around the medical practice to brass framing the sinks in treatment rooms. There is always this luxury statement. In some rooms, Nina Maya goes further. For instance, the waiting room on this medical spa interior design project is decorated with a custom-made art piece made with 1000 mirrored metal. The artist behind the shiny and captivating art piece is the Sydney-based Olliver Tanner.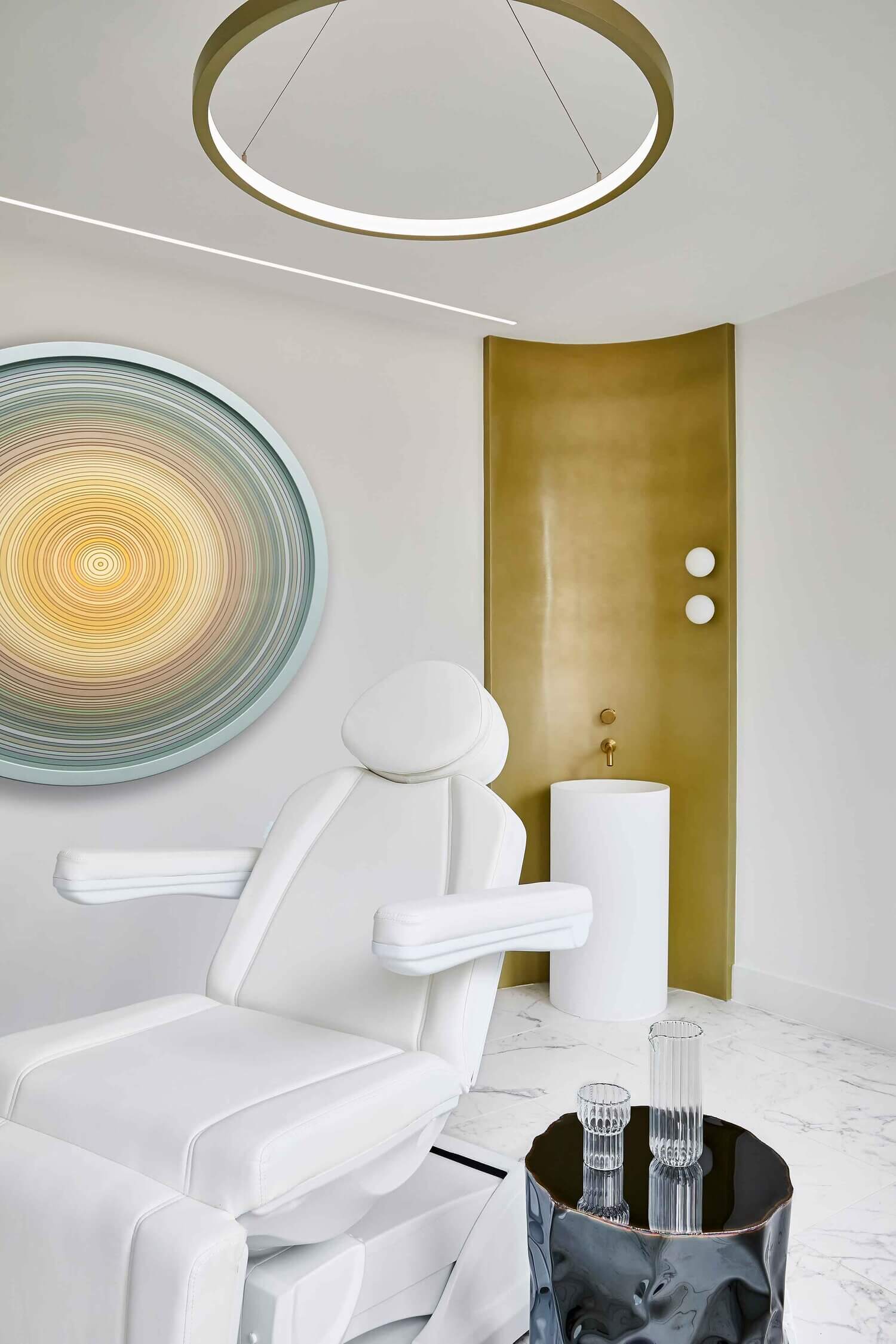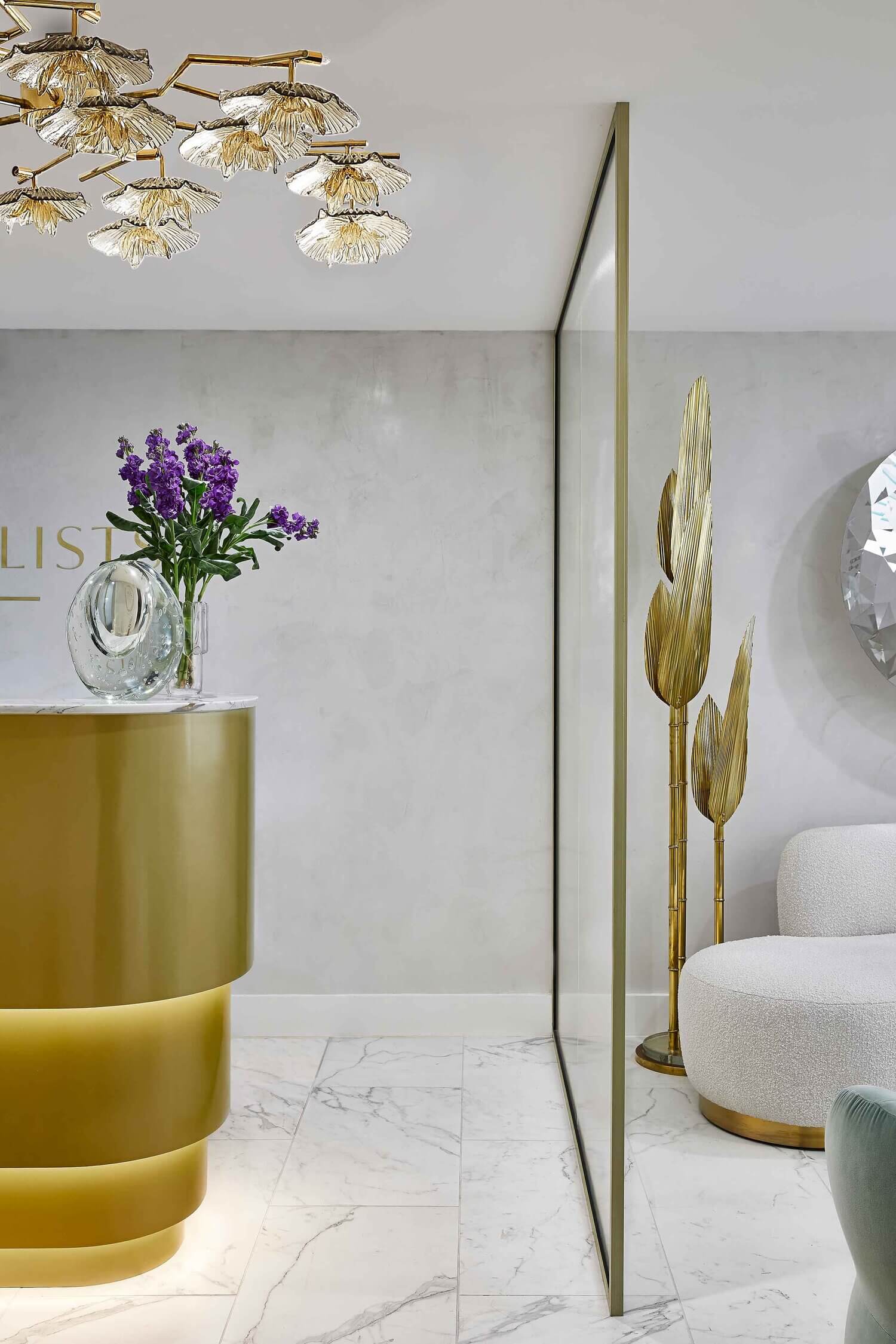 The treatment rooms have medical recliners with a white and futuristic aspect, bringing sophistication to the atmosphere. In addition, the medical spa interior design project includes several homeware pieces in glass. Such as the room divider in between reception and waiting room.
What is that you consider we learn the most from this medical spa interior design project by Nina Maya? Which detail did you appreciate the most? Pin it and let yourself be inspired by this medispa on your next commercial interior design project.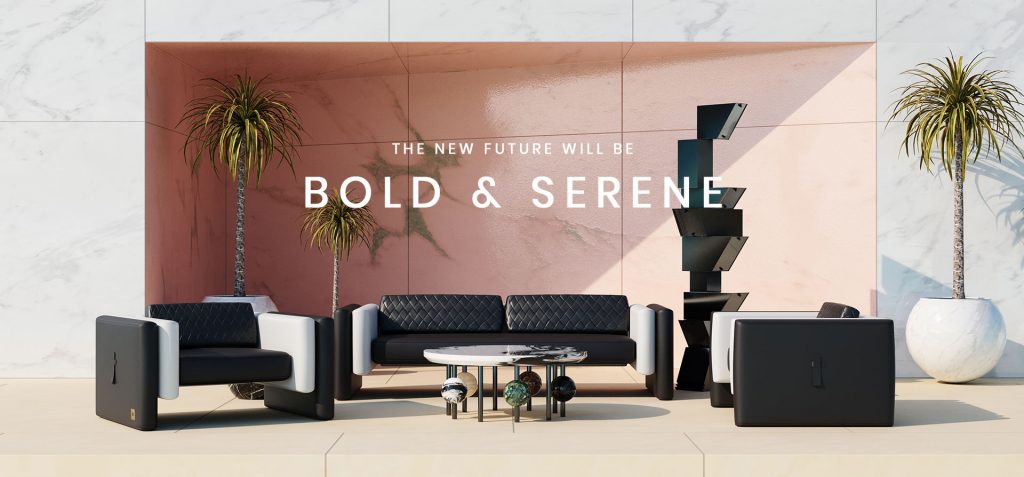 MEDITERRANEAN INTERIOR DESIGN STYLE BY BLAINEY NORTH
Allala, a Georgian-Revival-style property in Sydney, is the epitome of modern Mediterranean interior design style. The renovation and interior design were executed by the talented Australian interior designer Blainey North.
KEEP READING THE ARTICLE AND GET TO KNOW THE WORK OF AUSTRALIAN WOMEN INTERIOR DESIGN
Source: AD Middle East