If you're looking for bathroom inspiration decor, you'll find trendy bathroom ideas inside the best celebrity homes – from Melbourne to Beverly Hills. Celebrities team up with top interior designers to create breathtaking bathrooms.
Australian Flack Studio, mother and son duo Clements Design, and everyone's favorite Martyn Lawrence Bullard are just a few of the talents that deliver stunning rooms for the most sacred moments of the day.
From Kendall Jenner to Mila and Ashton Kutcher's house, the many interior design styles and the subtle details will give your limitless bathroom inspiration to take your bathroom design project to the next level.

ELTON JOHN AND DAVID FURNISH HOME IN BEVERLY HILLS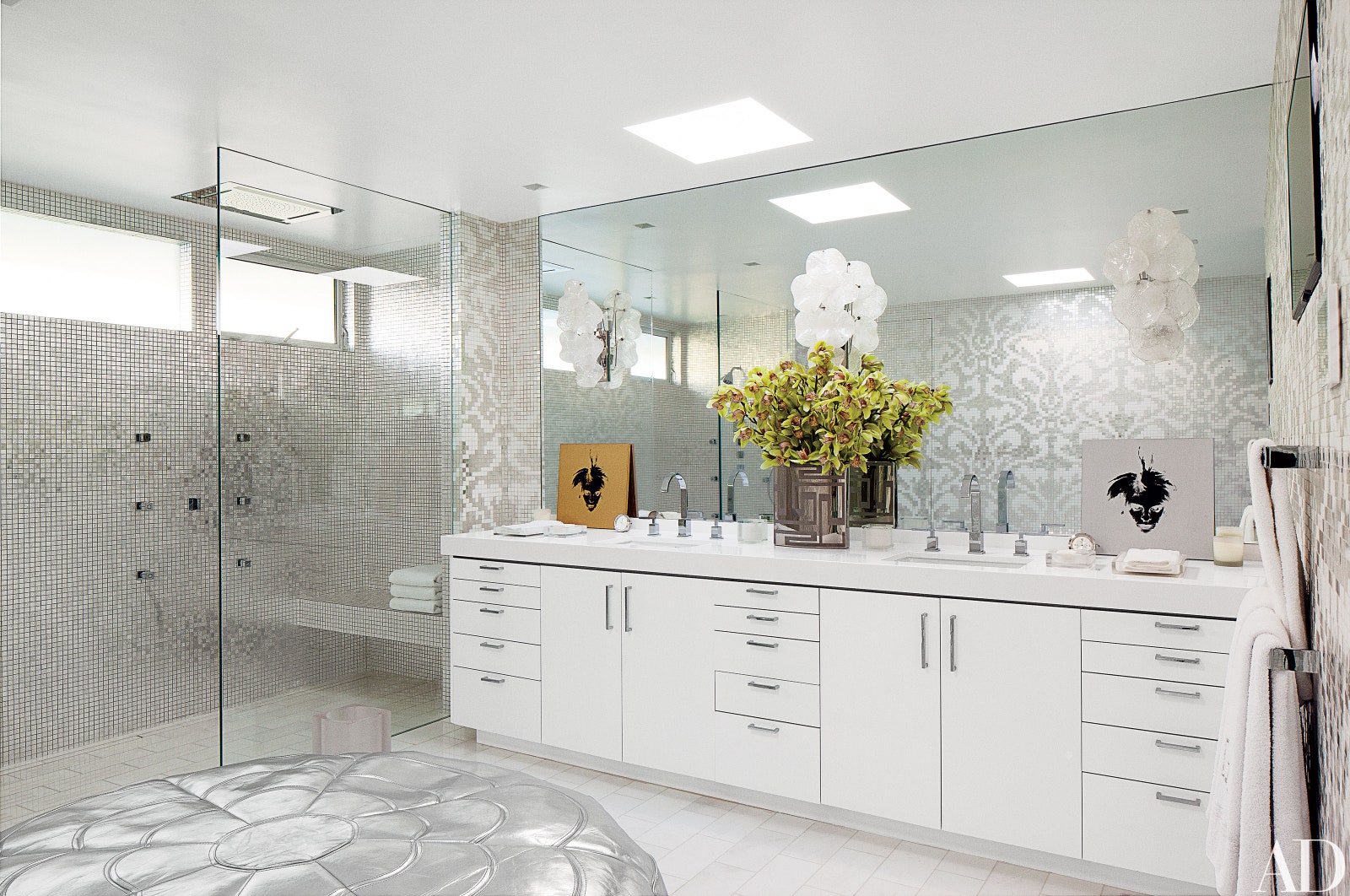 Martyn Lawrence Bullard is not just one of the celebrities' favorite interior designers. Martyn Lawrence Bullard is also friends with Elton John and David Furnish. White is the predominant color in their bathroom in Beverly Hills. Silver decorative elements give a contemporary touch to the bathroom design.
TROYE SIVAN HOME IN MELBOURNE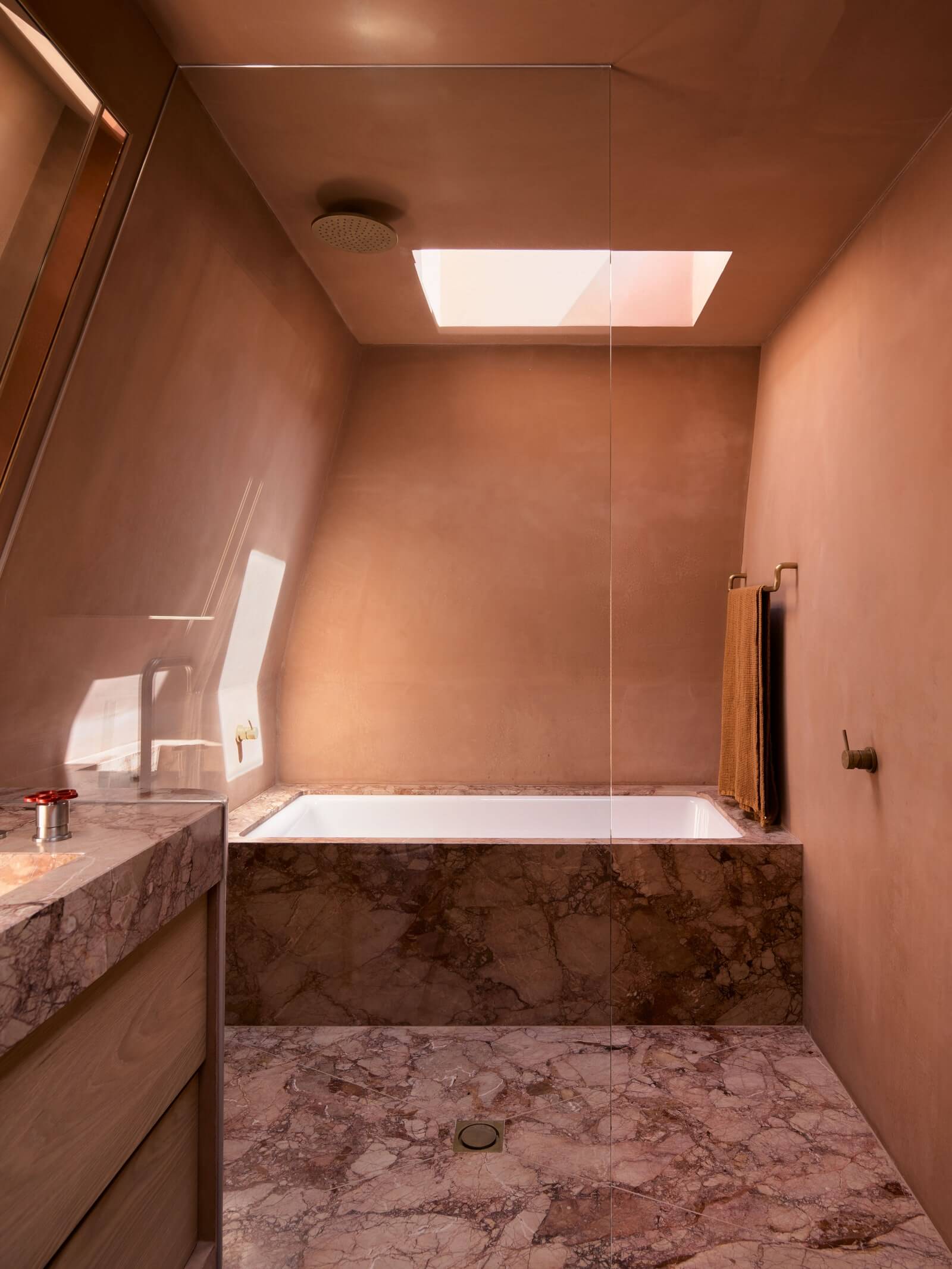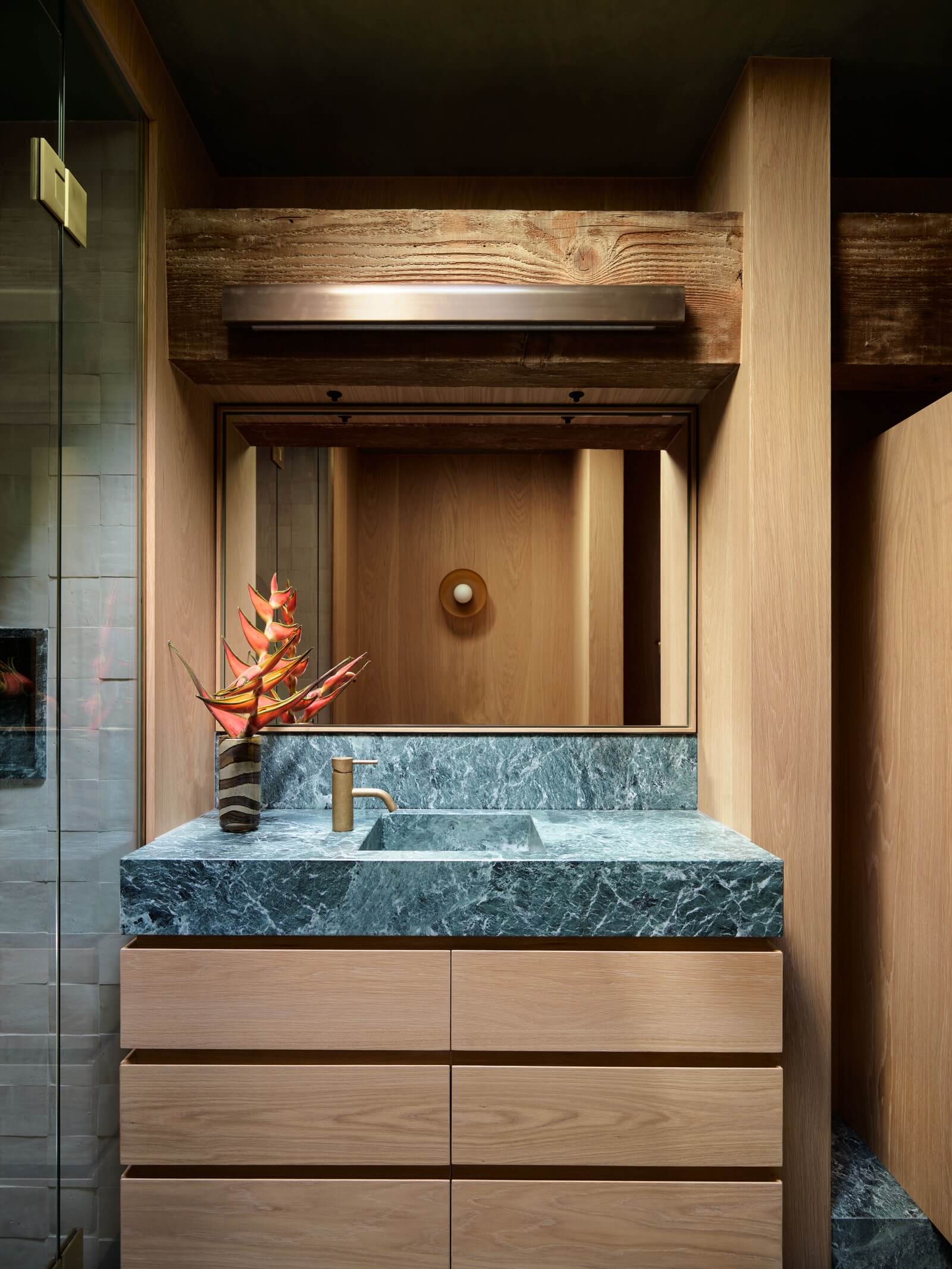 This is one of the best celebrity homes of 2021. For the ones who love earthy tones, the bathrooms designed by Flack Studio for Troye Sivan's Melbourne house are pure pleasure. The Australian design studio combines wood and marble with natural hues.
KENDALL JENNER HOME IN LOS ANGELES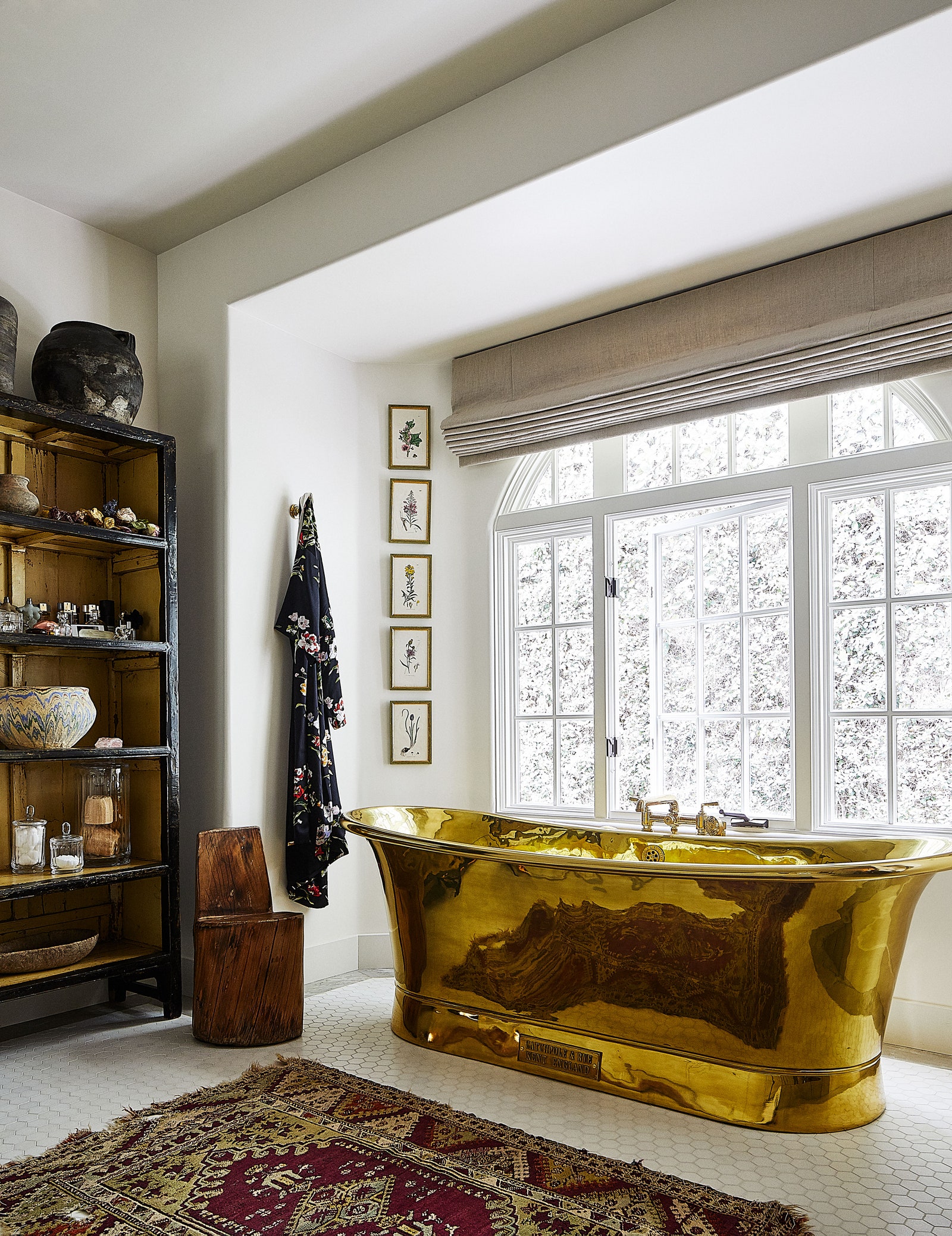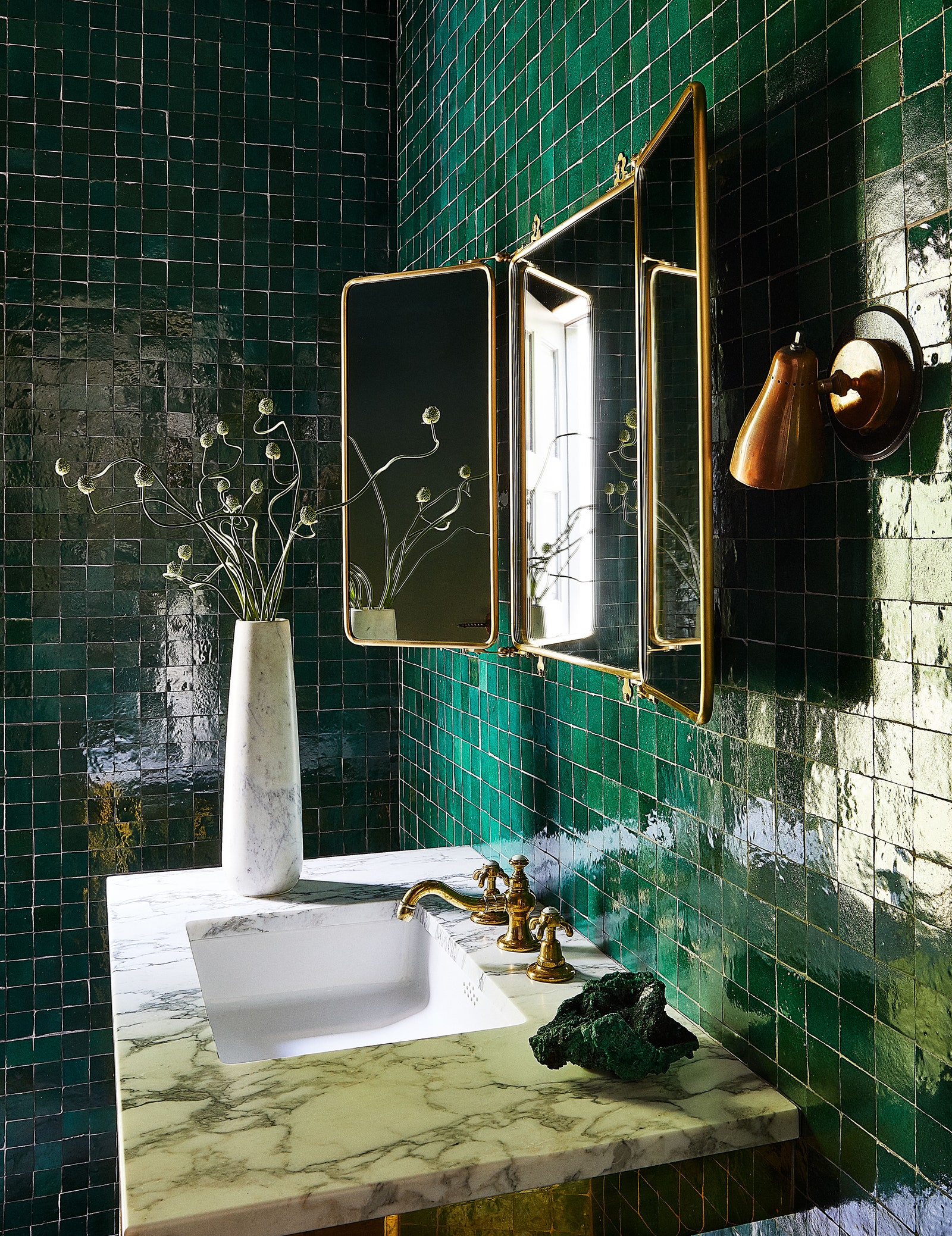 Kathleen and Tommy Clements, the mother and son design studio, came up with a glamourous bathroom with an industrial aesthetic – brass sconces, faucets and bathtub. The home of Kendall Jenner in Los Angeles is eclectic and is full of unique vintage pieces.
SERENA WILLIAMS HOME IN FLORIDA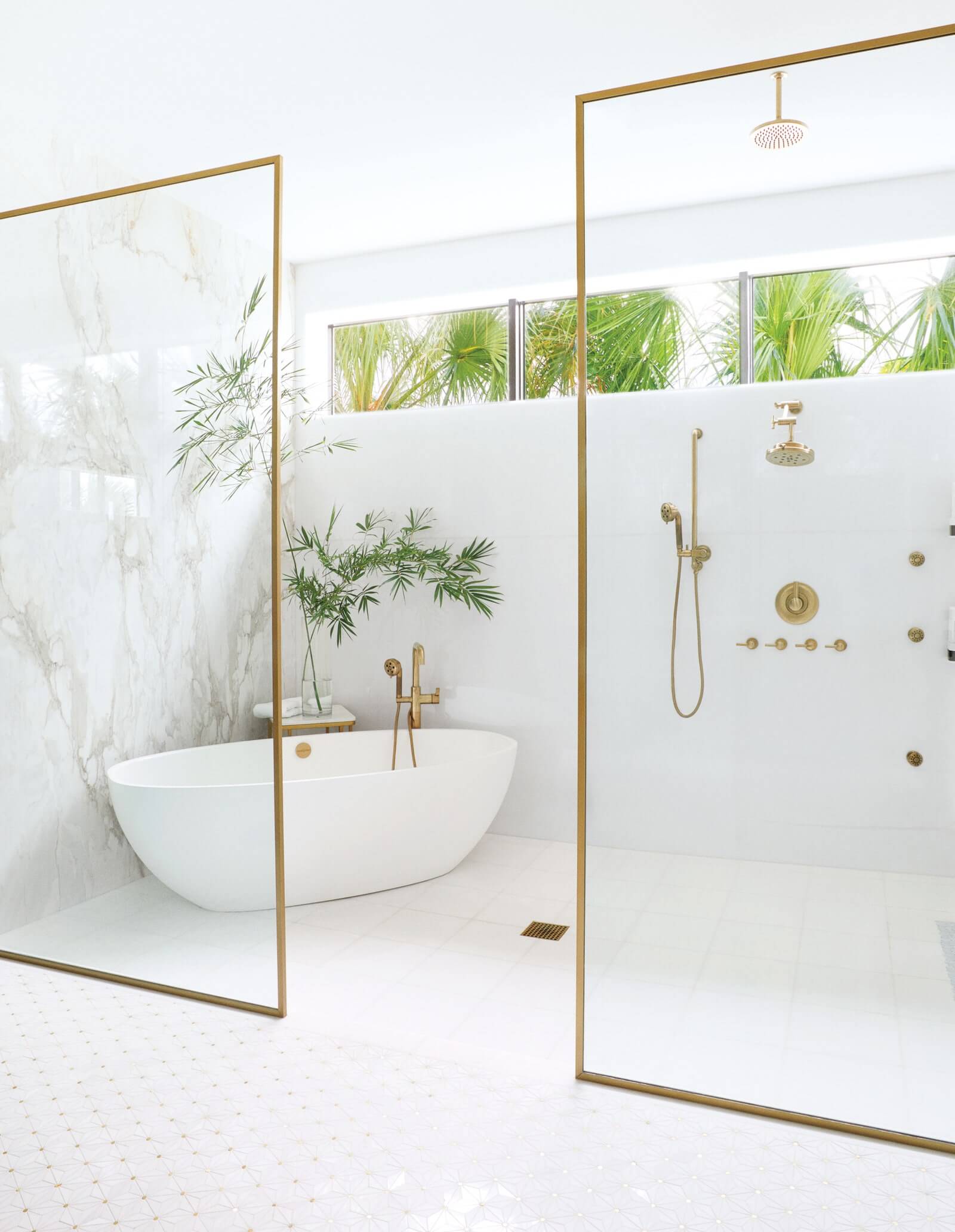 Serena Williams, her sister Venus and V Starr, Venus Williams' interior design company, create a tropical modern home in Florida. The bathroom is wide open and has a classic color combination, white and golden accents, for timeless bathroom inspiration.
KIM KARDASHIAN AND KANYE WEST HOME IN HIDDEN HILLS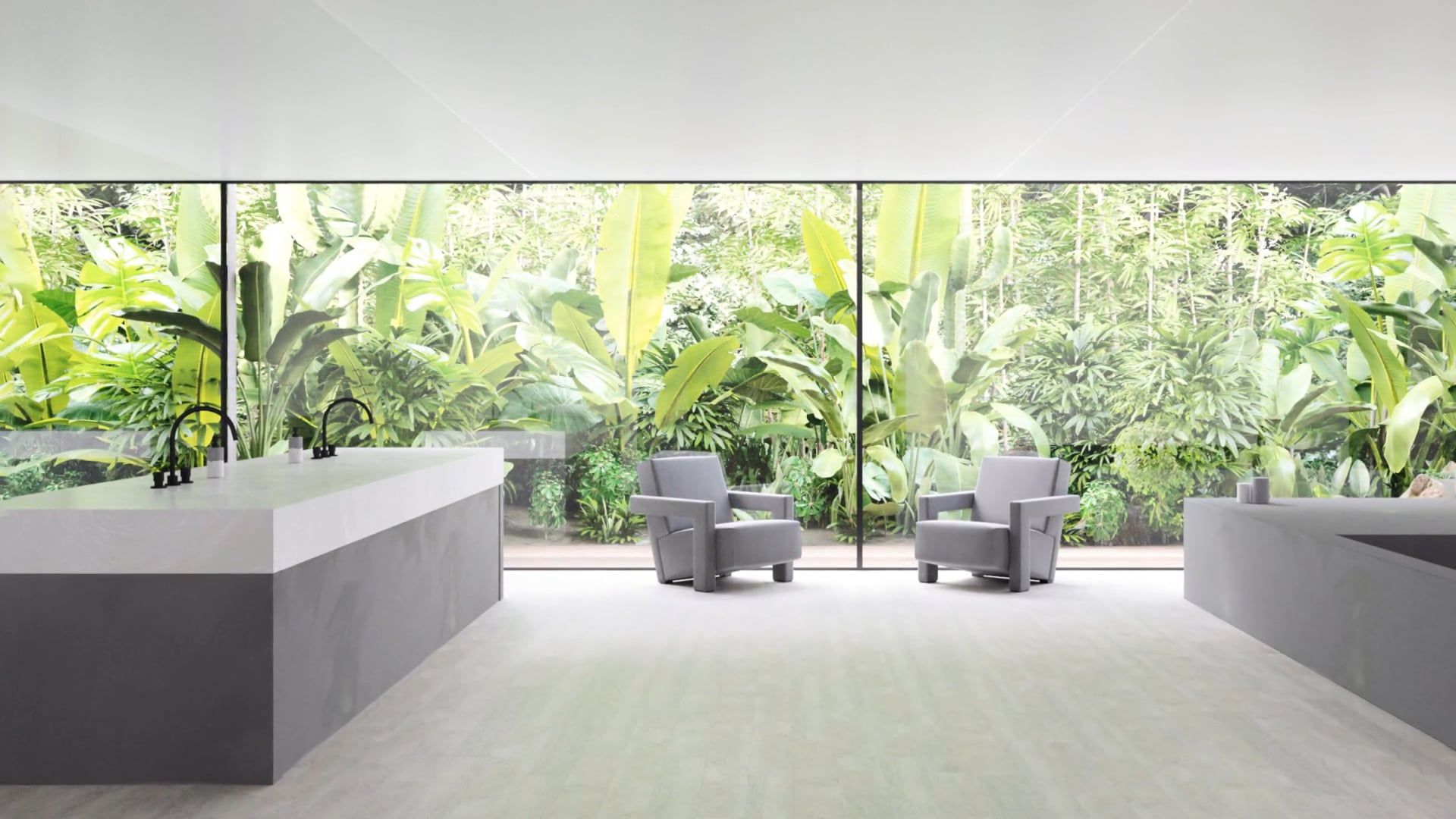 Kimye era might be over, but we are not over Kim Kardashian and Kanye West's family home in Hidden Hills. Axel Vervoordt led the hyper minimalist interior design. Multi-talented Kanye West designed some of the furniture of the house. Above, we picture the bathroom – hyper minimalist, hyper industrial, and it has custom-made sinks designed by Kanye West. The tropical landscape is the prime accessory of this master bathroom.
JESSICA ALBA HOME IN LOS ANGELES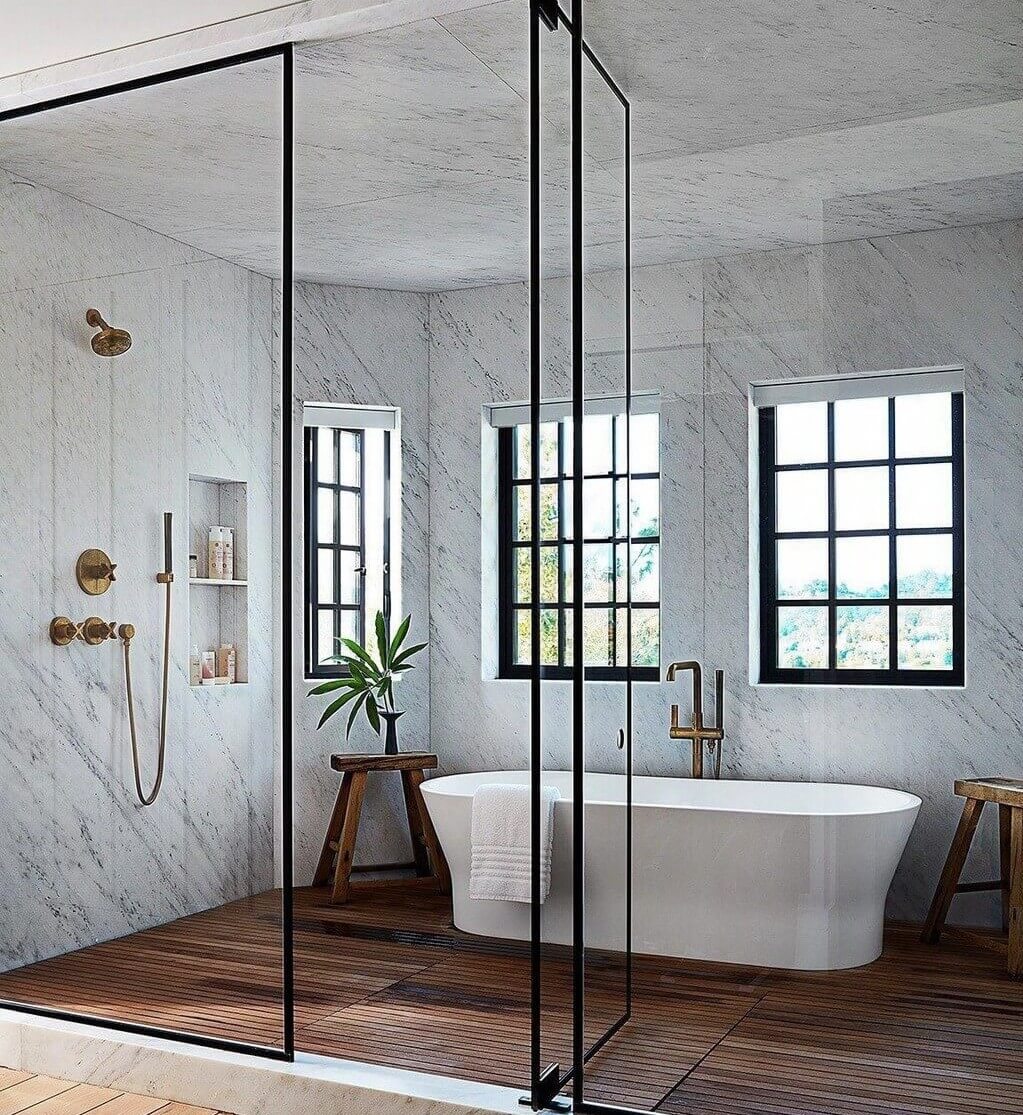 Clements Designs created a paradise for Jessica Alba and her family in Los Angeles. The modern family home has vintage gems in every room. Either a bench with a rough woodcut or a vintage sideboard in the master bedroom. The unique identity of Jessica Alba's home is also present in the bathroom. The cabinet shower gives away a 1920s flair, with dark wood, marble and black stainless steel features, a cocktail for vintage bathroom inspiration.
MANDY MOORE HOME IN PASADENA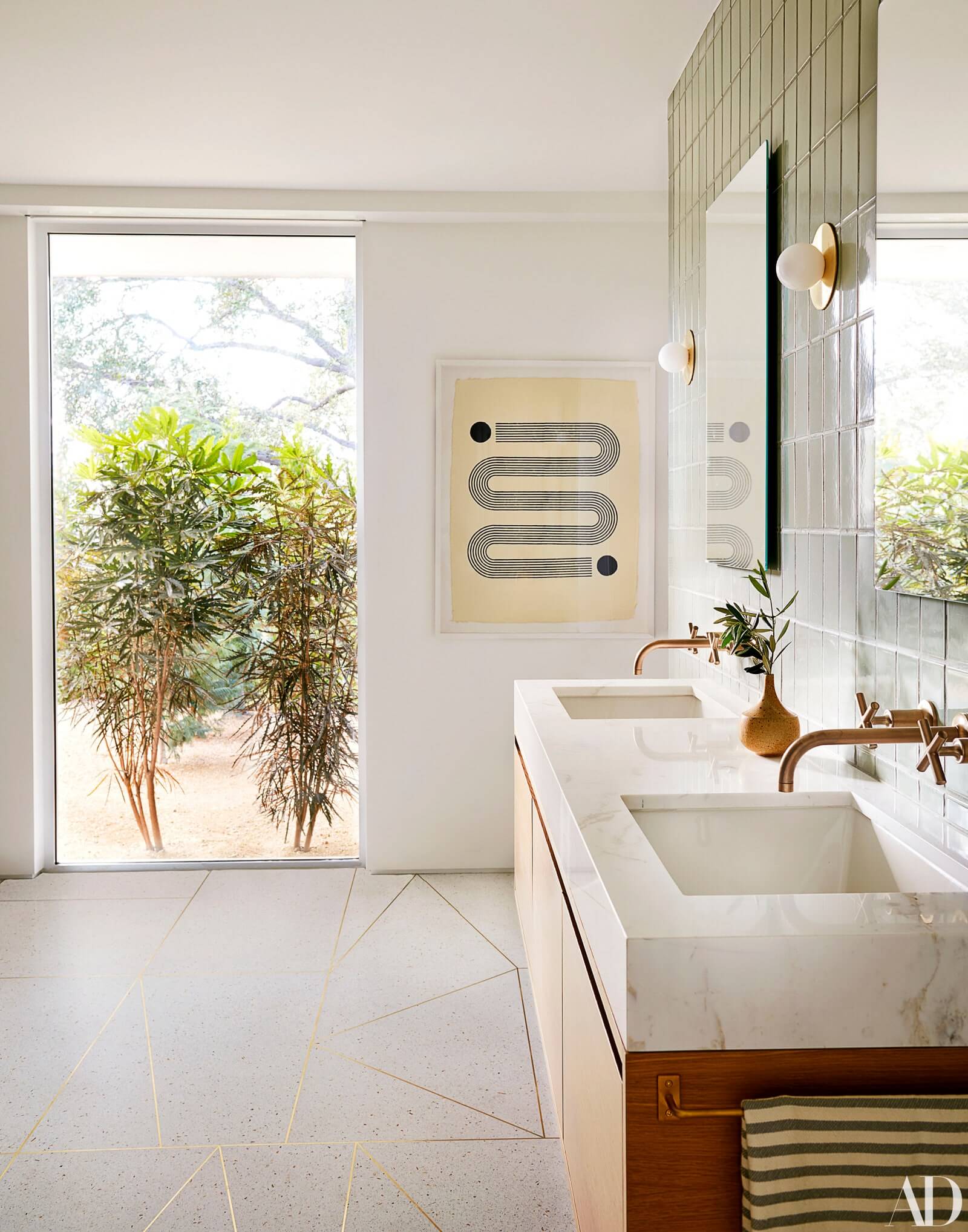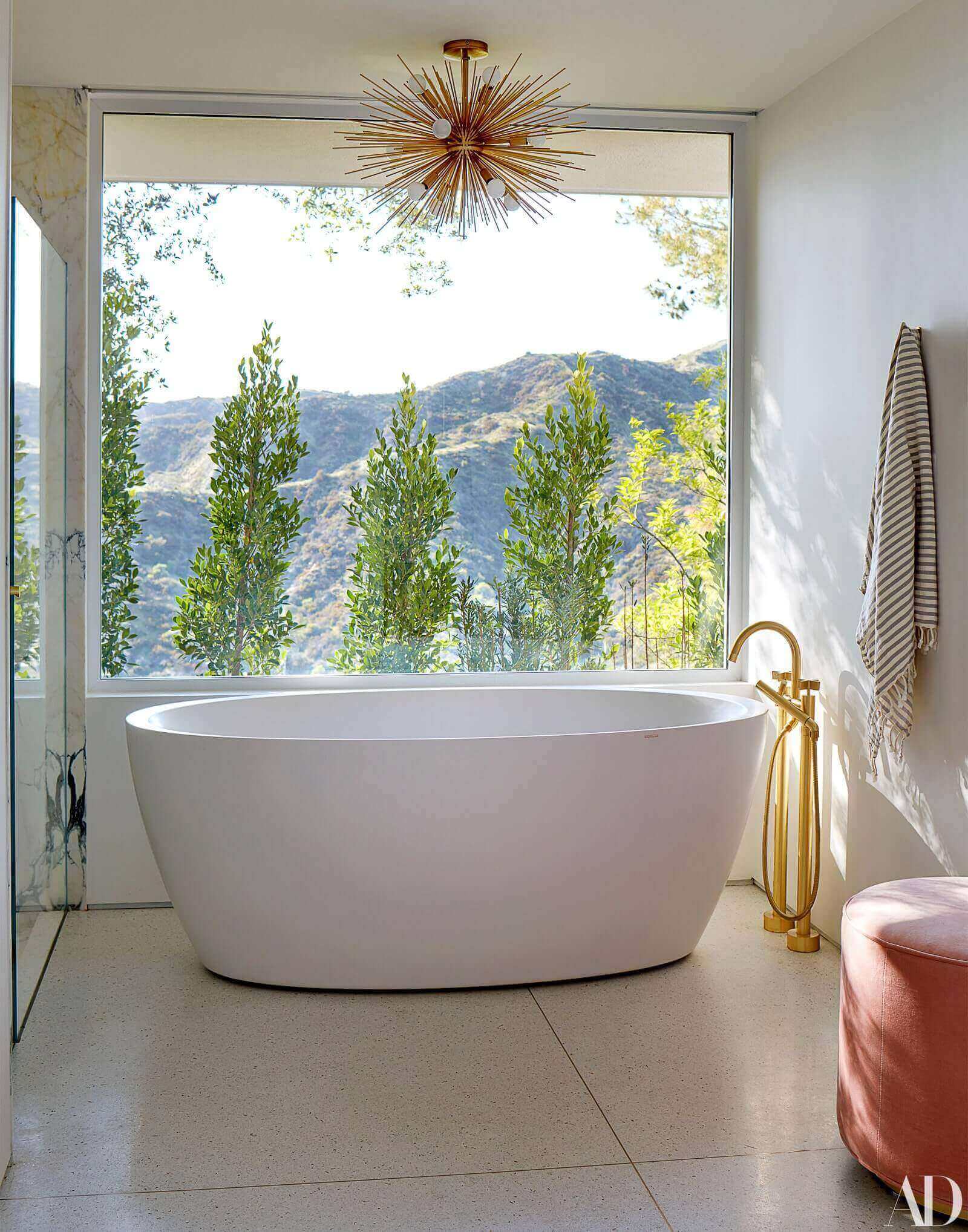 The mid-century house is a classic 1950s home designed by Harold B. Zook home of Mandy Moore in Pasadena. The architect Emily Farnham worked alongside Mandy Moore to reinterpret the original design. Sarah Sheman Samuel revamps the mid-century modern interior design. In the bathroom, orange hues bloom among the beige terrazzo floor and the white bathroom porcelains. Mandy Moore's bathroom in her Pasadena home juxtaposes classic with contemporary for modern bathroom inspiration.
LENNY KRAVITZ MAXIMALIST HOME IN BEVERLY HILLS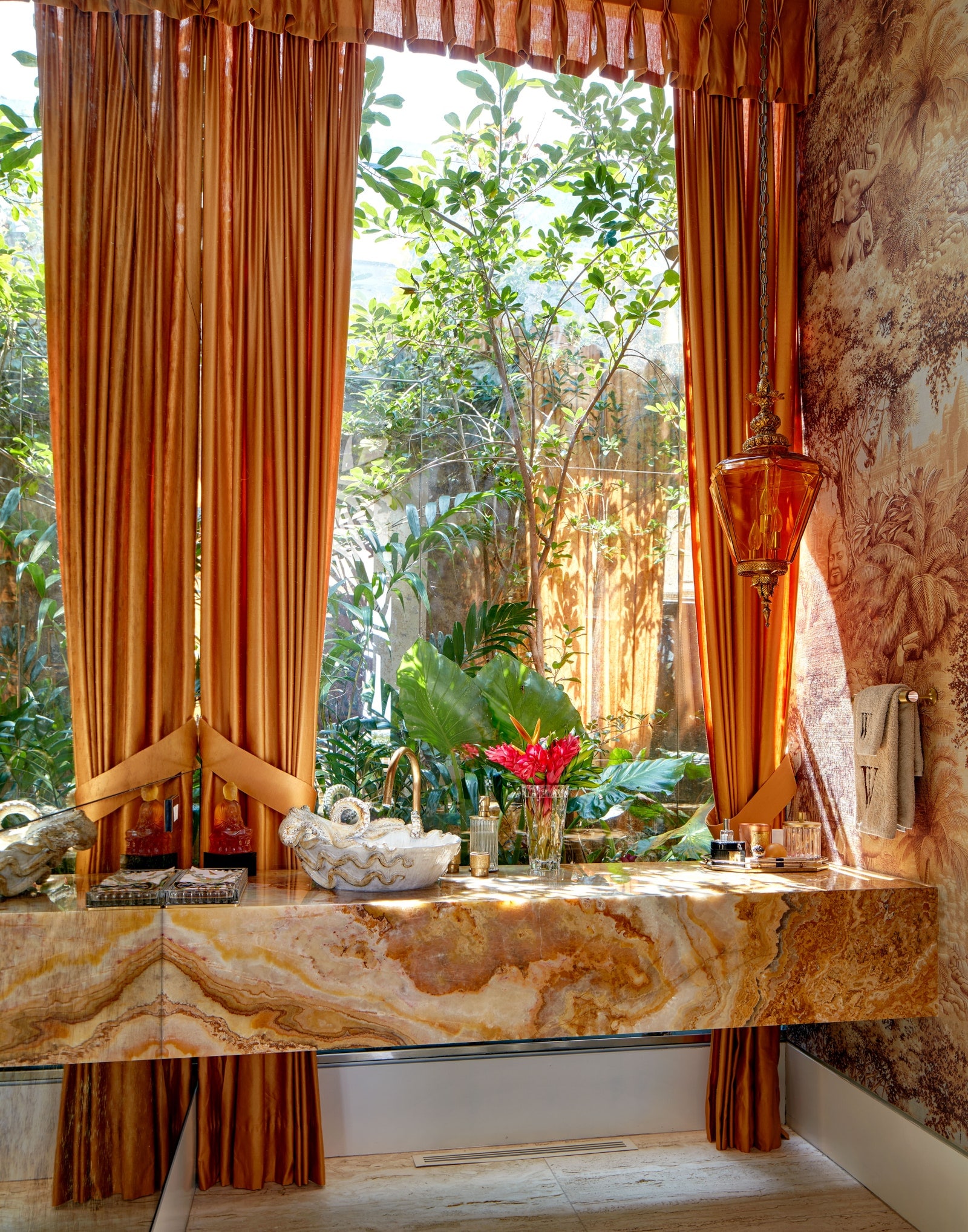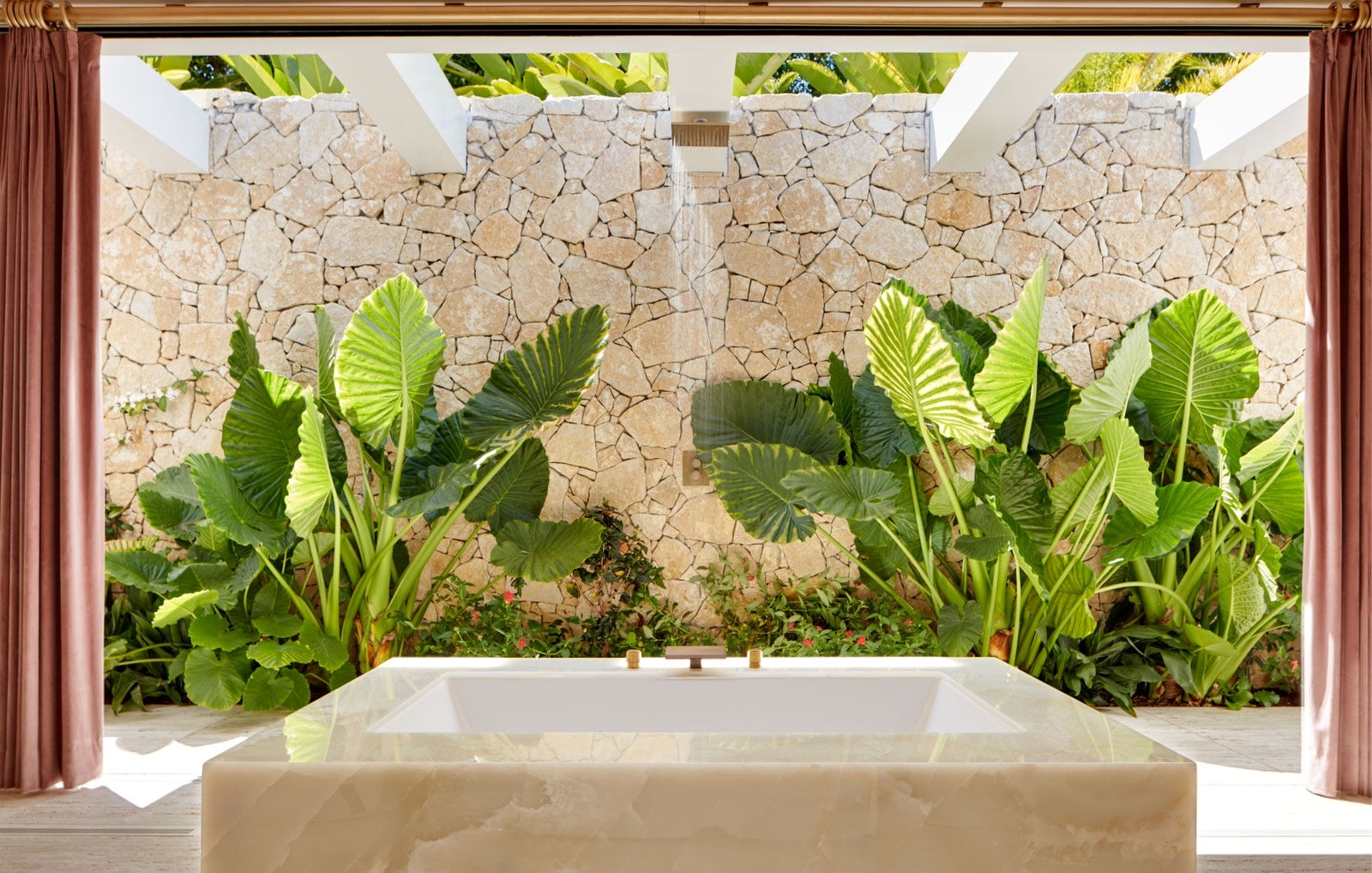 Lenny Kravitz knows how to make an impression. The singer turns into an interior designer and has been delivering stunning interior design projects in the past years. In Beverly Hills, Lenny Kravitz took the lead of his maximalist home. The master bathroom has an orange onyx bathroom vanity with a custom-made octopus sink. Kravitz's bathroom inspiration combines indoors with outdoors – the room opens onto an outdoor shower. Both tub and the floors are Italian travertine.
CHRISSY TEIGEN AND JOHN LEGEND HOME IN WEST HOLLYWOOD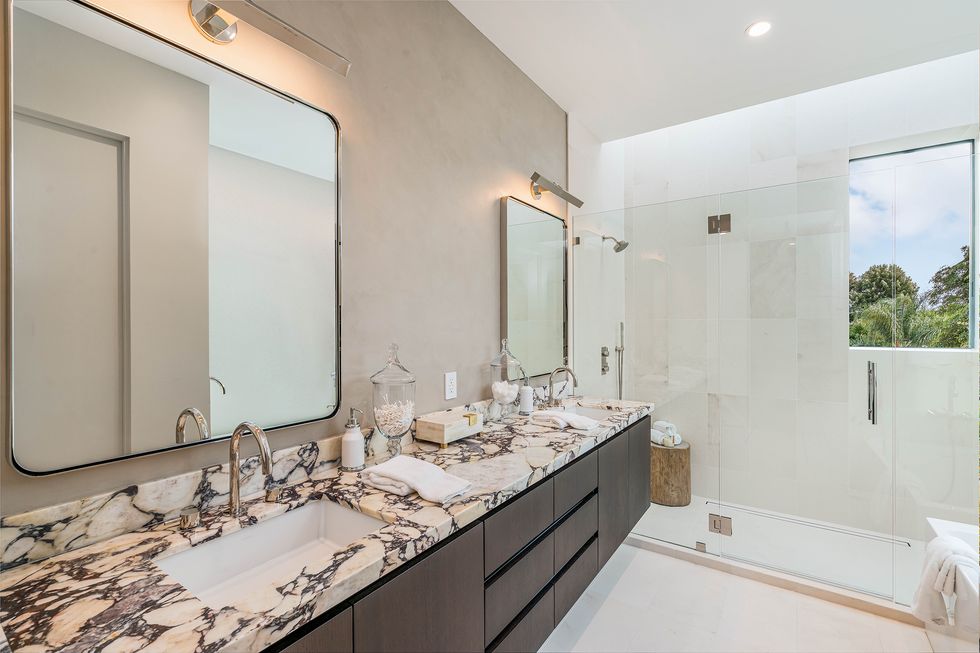 Chrissy Teigen and John Legend's home in West Hollywood is described as modern organic. In the property neutral hues, clean lines and natural materials reign. The bathroom has a modern outlook with marble and metallic elements – the right combination for contemporary bathroom inspiration.
MILEY CYRUS HOME IN LA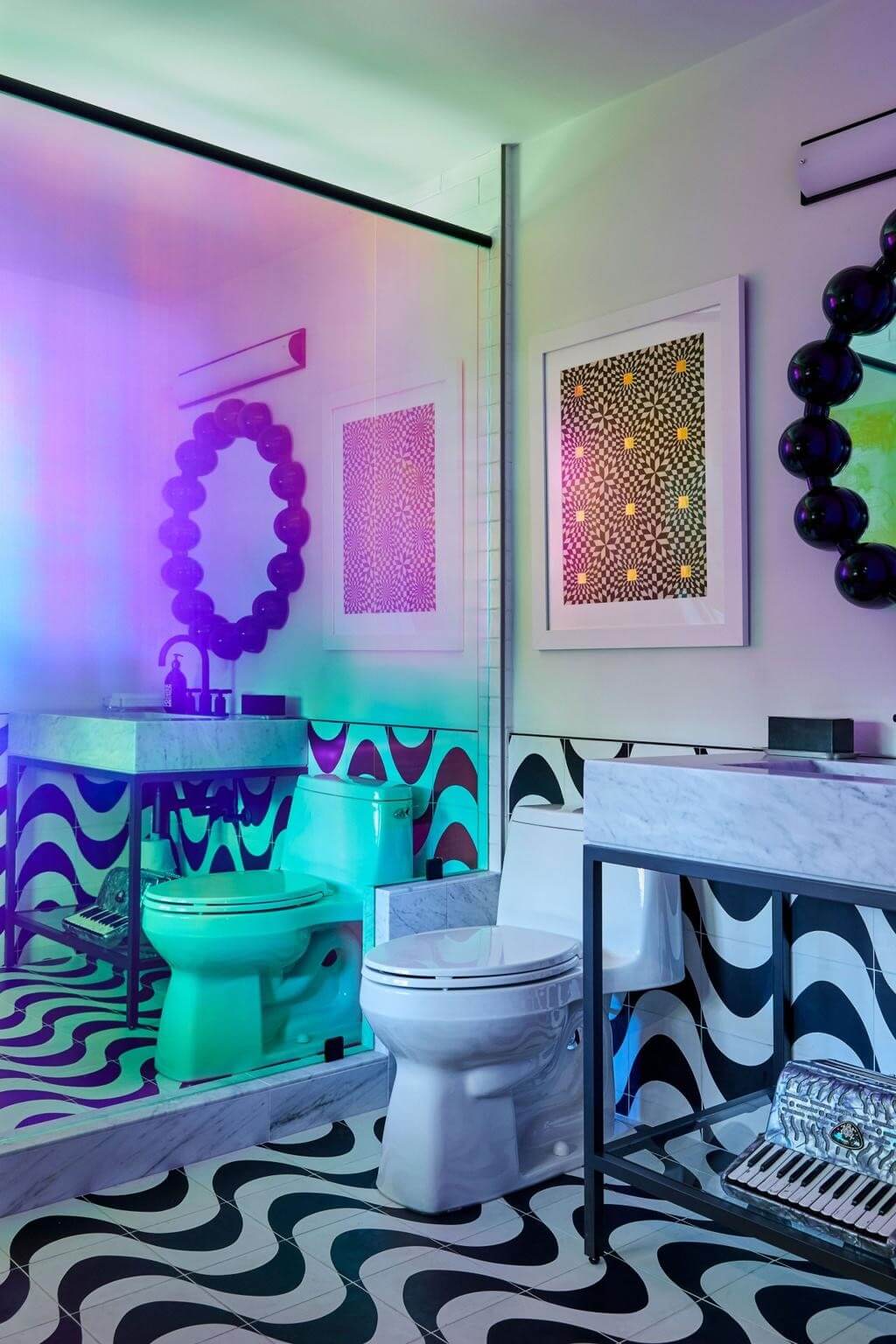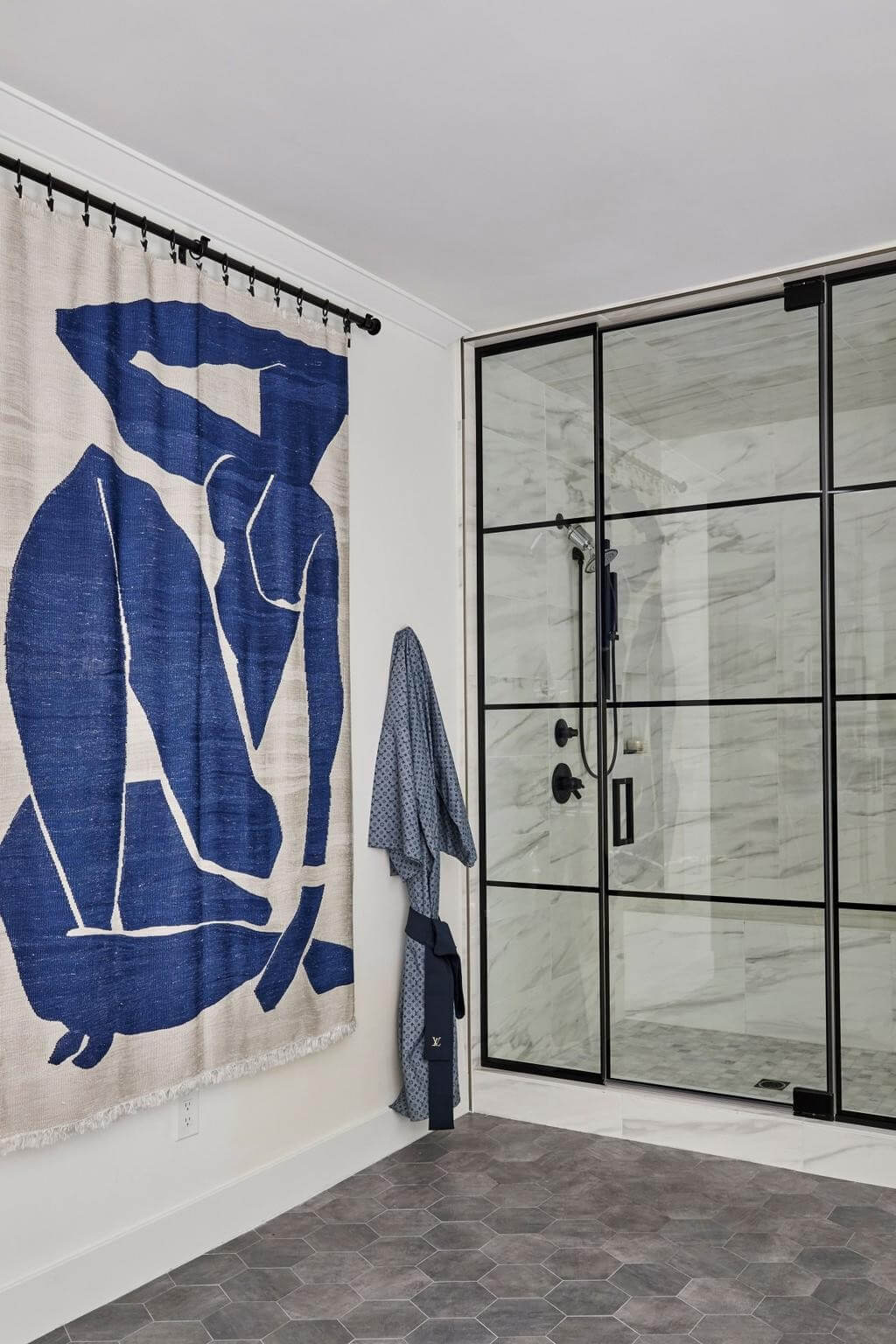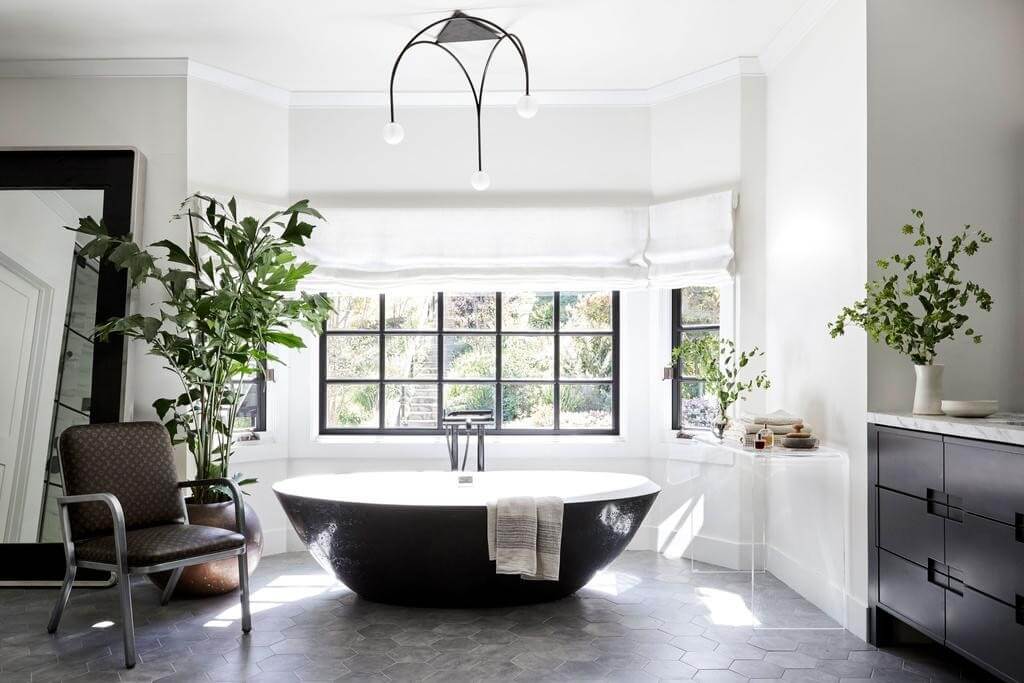 Tish Cyrus and Mat Sanders are the dream team for an unworldly interior design. At Miley Cyrus' home in LA, the duo brought together different styles causing a blast of bathroom inspiration. Here, psychedelic and zen meet. Even though the interior design is mostly characterized as boho-chic, the bathrooms change from the late 1960s psychedelic dream with traditional mid-century modern style.
MILA KUNIS AND ASHTON KUTCHEN HOME IN LOS ANGELES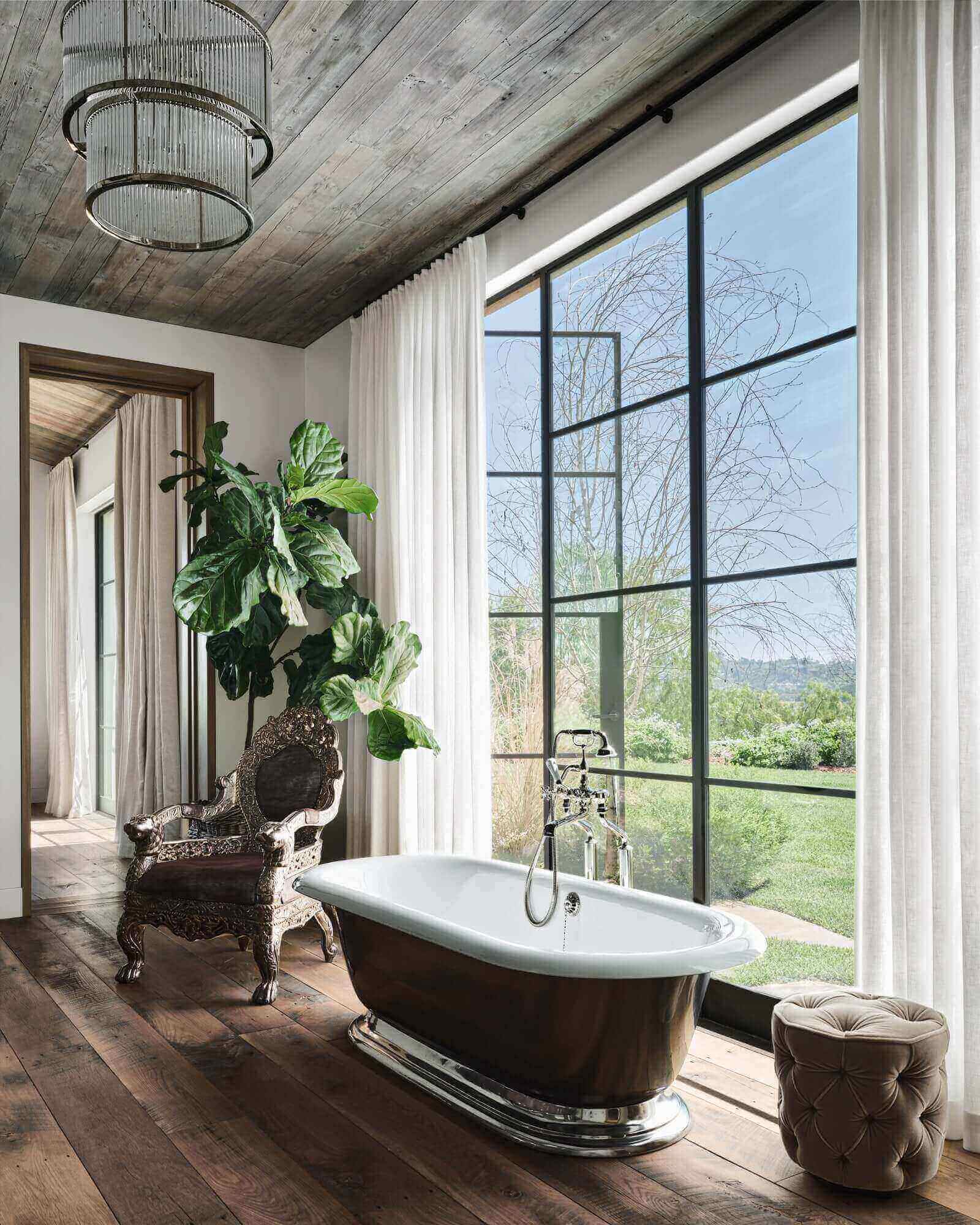 A dream house in the dreamy and exclusive Beverly Hills, made from scratch on the hilltop of Los Angeles. Mila Kunis and Ashton Kutcher designed their modern farmhouse alongside Howard Backen of Backen & Gillam Architects. Vicky Charles of Charles & Co. was in charge of the interior design, which follows the rural aesthetic.

Did you get very curious and are eager to step inside the home of these celebrities? Then 10 Best Celebrity Homes You Need To See Again is the right article for you.

For more bathroom inspiration ideas, visit Bathroom Design moodboard on Hommés Studio Pinterest and save the ideas that inspire you the most to elevate your bathroom design project.