In this historic apartment in Milan, designed by the architect Michele Pasini you can find the perfect combination of century-old frescoes with contemporary design.
This magic apartment was built in 1901 and keeps a unique story behind it. Before its interior renovation, the apartment survived the bombings of World War II that had hit a large part of Milan, destroying most of the historical and marvelous buildings in the city center.
Pasini, not only the architect but also the homeowner of this modern apartment in Milan that belonged to a woman who loved music, affirms he discovered the apartment by chance, but it was already destined for him.
This home is very particular when it comes to its evolution. It's filled with unique and autobiographical details. Some of the statement pieces that Pasini used were found and chosen in a magical way – two of the chairs were bought in a junk shop in Pasini's student times, and the T-chairs were found in a pile of rubble in the streets when Pasini was leaving his studio.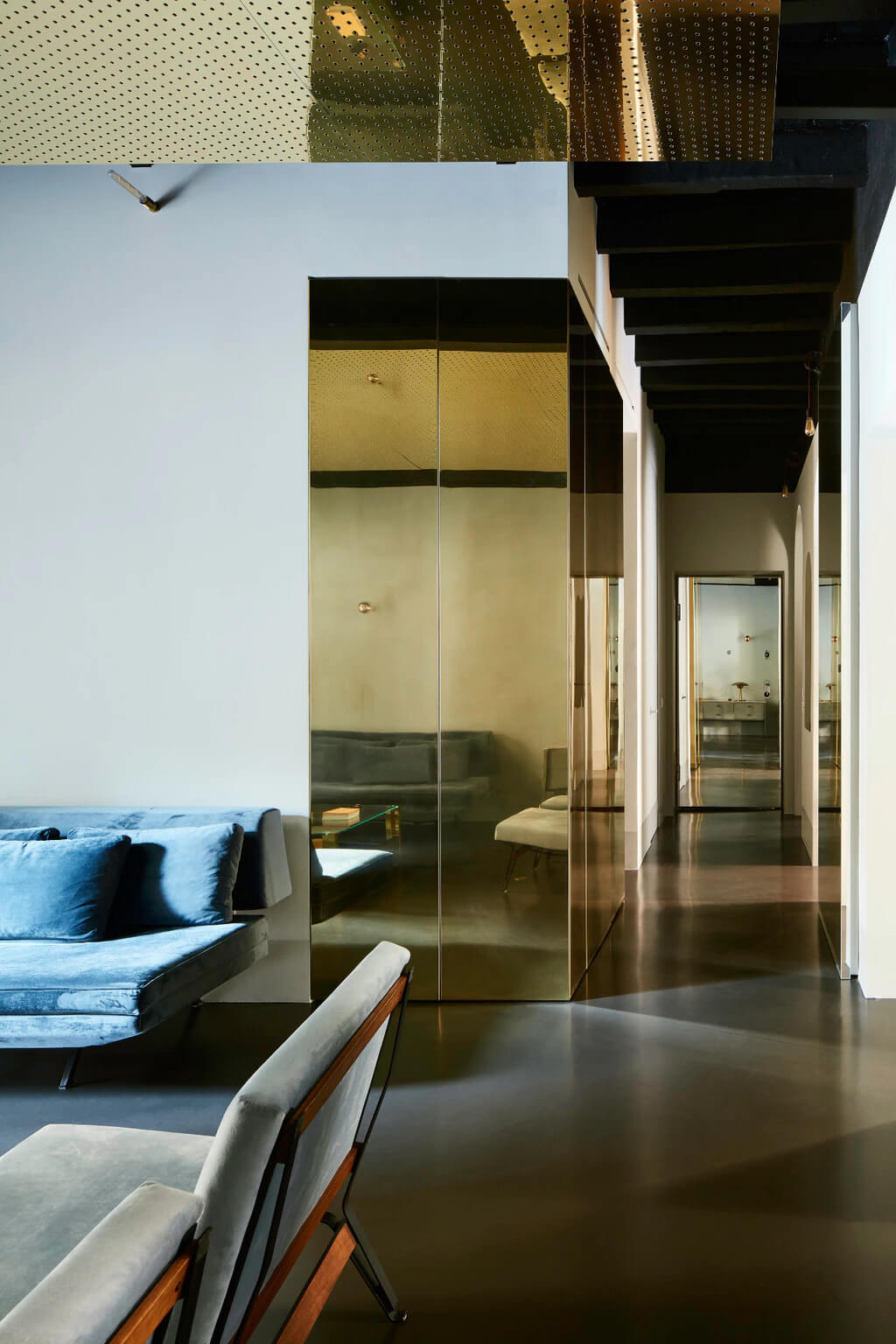 In order to renew this historic apartment in Milan, the architect has done a magnificent update to the apartment's original shell with contemporary marks that permits to have a sensation of transitioning through eras in only one space – the high-shine gleam of the '70s, the brash boldness of the '80s and ornate flourishes from the early-20th century. Pasini created an exquisite atmosphere by adding mirrored surfaces and metals.
This apartment is a relaxing escape in the middle of urban Milan. From the clear light on the dining room to the living area honey reflection shades, and then out onto a beautiful terrace penetrated with a green space filled with trees, the sense of transitioning through eras is continued.
In the living area of this historic apartment in Milan, there are two velvety sapphire blue sofa beds from the '60s combined with a pair of the '50s smooth grey armchairs with wood details in their base. Pasini also added a glass center table with a vintage grey cabinet in this area surrounded by reflective surfaces on the walls and ceilings.


The industrial-inspired kitchen with a stainless steel island with a Scotch-Brite finish is another charming area in this historic apartment in Milan. Pazzini chose white cabinets to contrast with this steel predominant styled kitchen. A unique detail of this space is the arched portals that permit to enter the kitchen.
Following the dining room pattern, the kitchen also has a classic abstract ceiling with the same Poliedri chandeliers.
In the main bedroom of apartment in Milan, Pazzini went to a simple and minimalist style with a classic bed with a white bedding set that is complemented by two vertical glass wall lamps.
Like the rest of this modern apartment in Milan, the bedroom is surrounded by mirrors.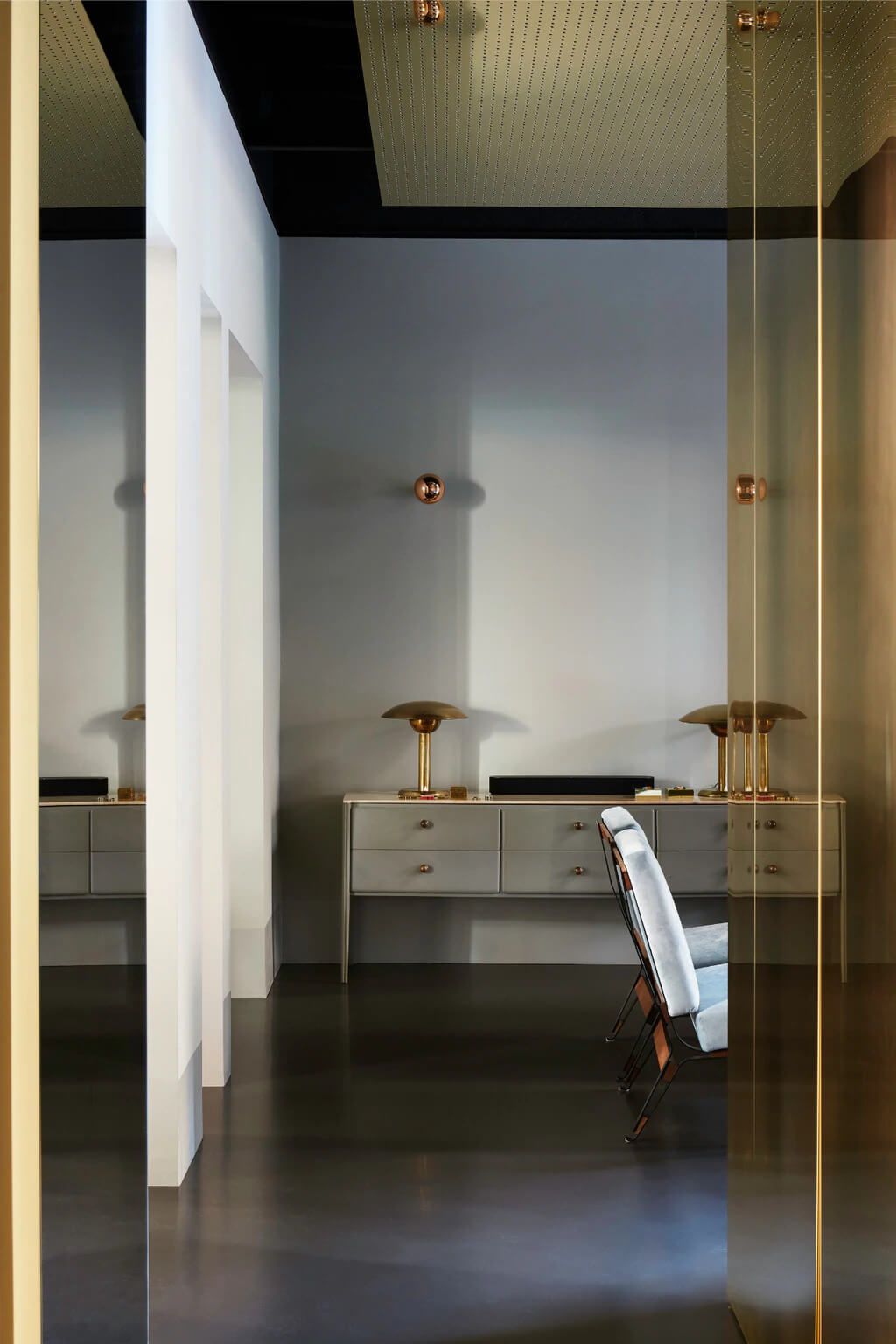 This 2002 reissued grey cabinet is also a magic furniture piece that fits perfectly in this historic apartment in Milan. Another amazing feature of this space is the ceiling – a horizontal tapestry in micro-perforated brass.
Source: Vogue Living
ARE YOU INTO INTERIOR DESIGN?
If so, discover modern furniture and lighting designed by design lovers for design lovers. All you need is to download the Hommés Studio catalog. To complete your interior design project, choose the high-end homeware by ACH Collection.