It is Monday and we are in the office, yet is 2021 and the office is still home. We decided to elect the most inspiring contemporary living rooms with iconic round sofas. Besides, in this article we suggest you the best round sofas by Hommés Studio. If you're looking for ideas to style your living room, you'll love the interior projects we've selected for you.
Beverly Hills Home by Jamie Bush + Co.
Jamie Bush + Co. brought to life a lightful contemporary living room with an iconic round sofa in Beverly Hills. The Serpentine sofa, as well as the Ondine high-back lounge chairs, are original designs from the unique Vlamidir Kagan. In this project, Jamie Bush takes a massive use of neutral hues to decorate the big room, it gives it a calm sense of floating.
Brooklyn Downtown House by DHD
New York-based interior designer David Howell, the owner of DHD, also chose Vlamidir Kagan couch for the living room. This historical townhouse in Brooklyn has a white living room with pops of color, namely yellow. The round sofa is a custom model.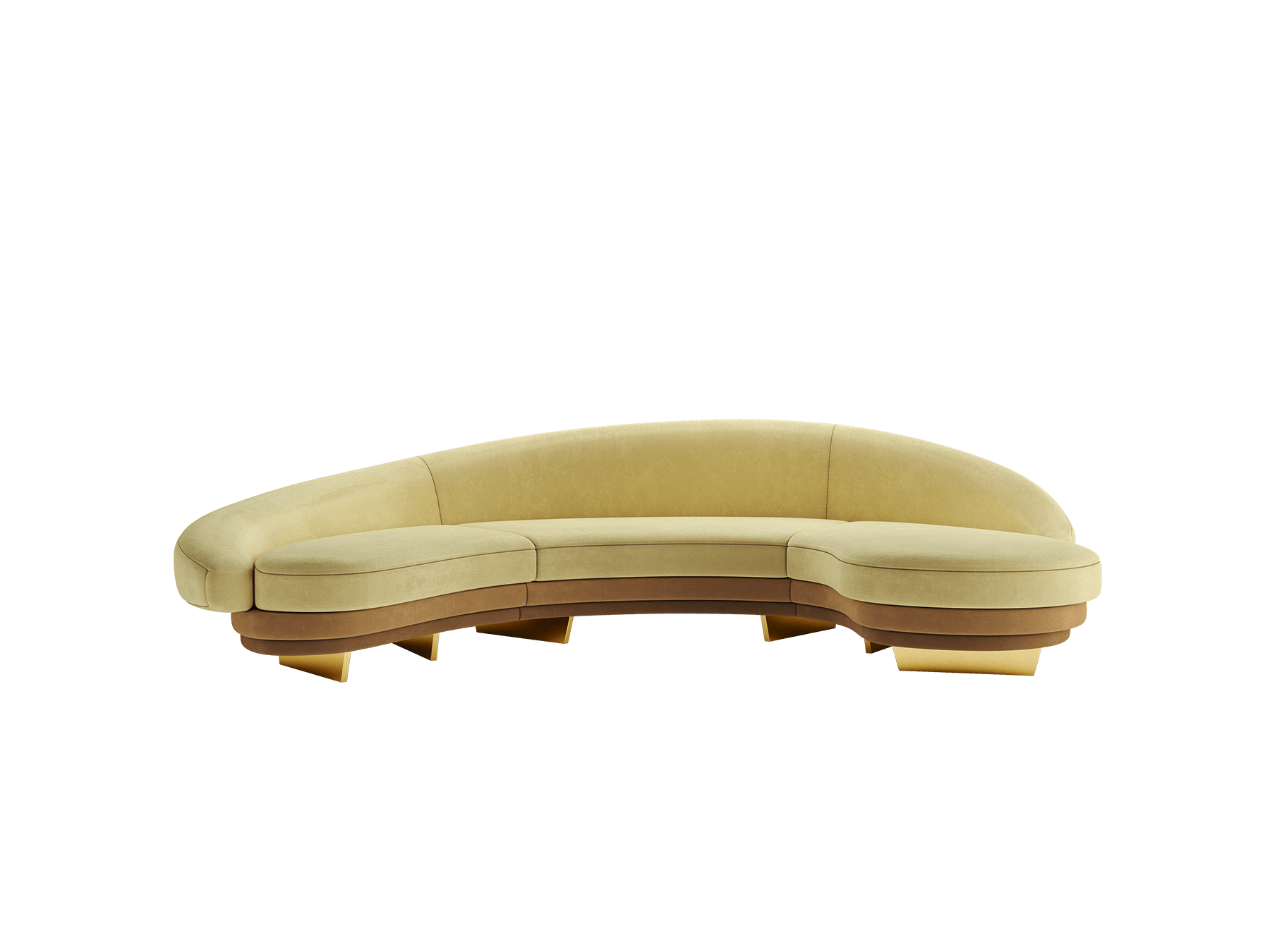 Giulia Sofa by Hommés Studio
Hommés Studio Giulia Sofa brings back the charm of mid-century interiors. Nonetheless, its simple design allows Giulia to be part of any contemporary living room.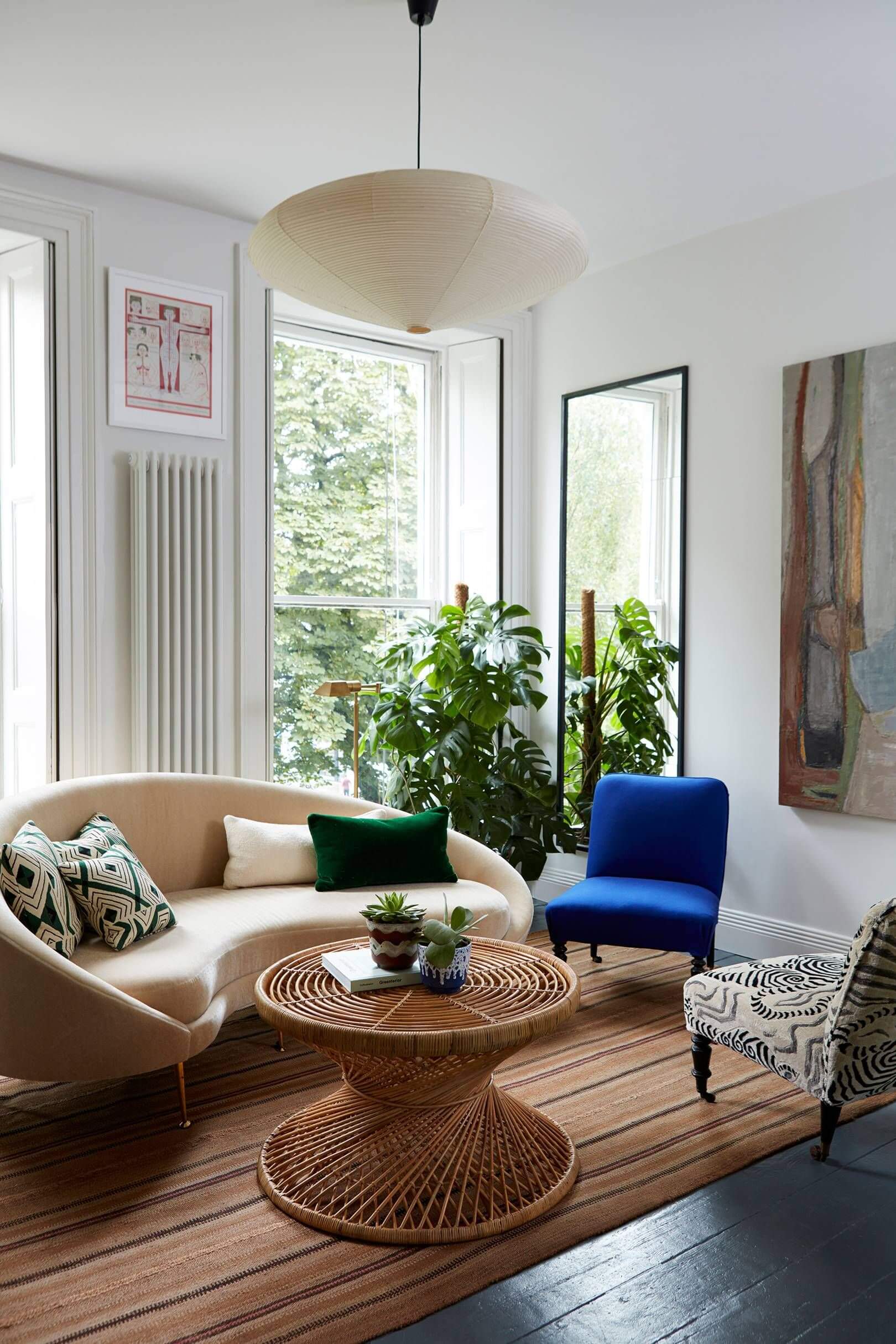 Living Room by Beata Heuman
Not only did Beata Heuman design this living room, but also did she designed the round couch. The British interior designer took inspiration from a Frederico Munari original. The curved sofa in cream meets ethnic patterns and vintage furniture, as result we find a modern living room.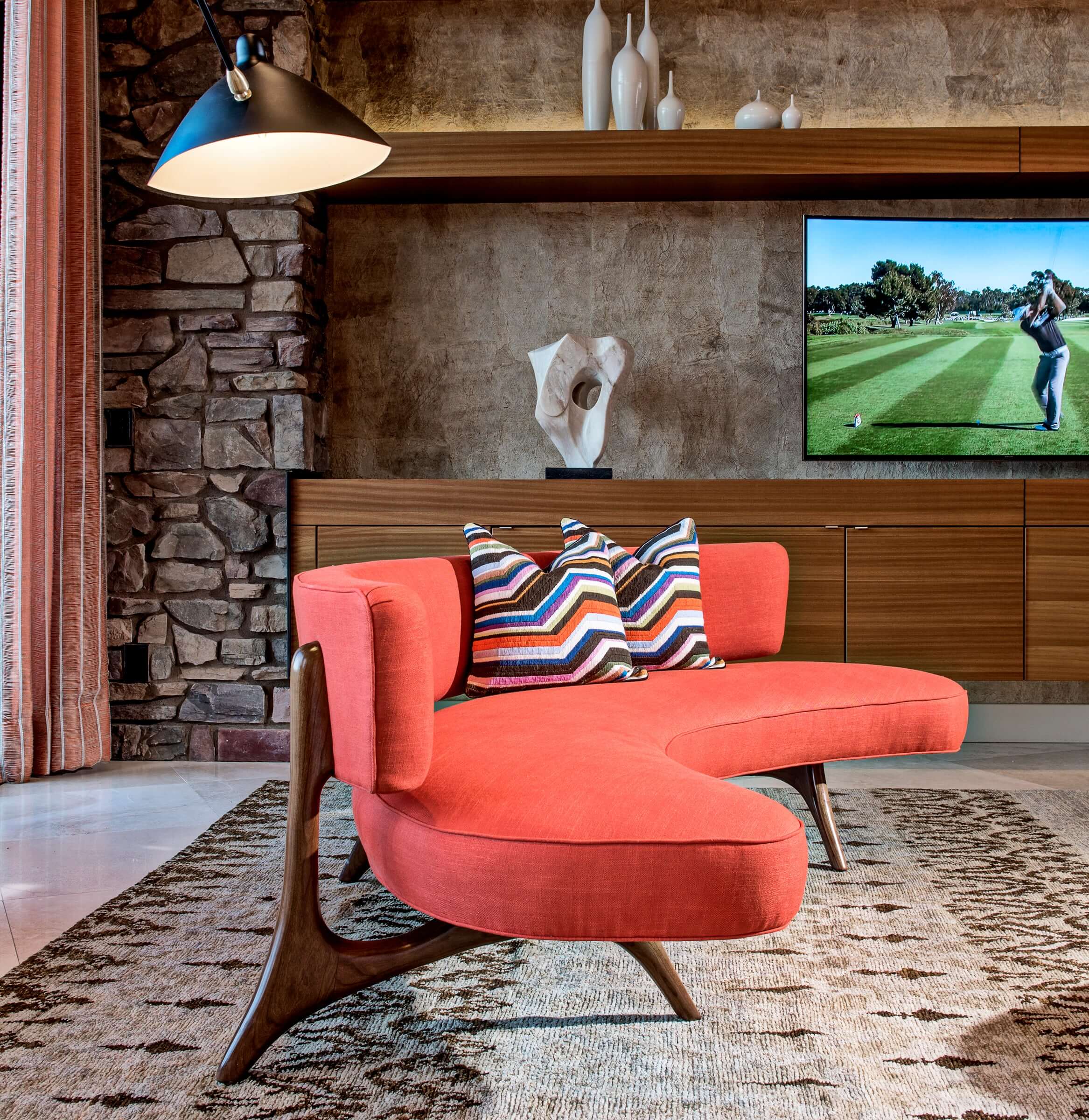 Arizona Home by B. Jarold and Company
This stunning mid-century interior is a design from B. Jarold and Company. The orange couch is a Vlamidir Kagan original. Undoubtedly, a Kagan couch is almost obligatory in living rooms with round sofas. At least, in the trendiest ones.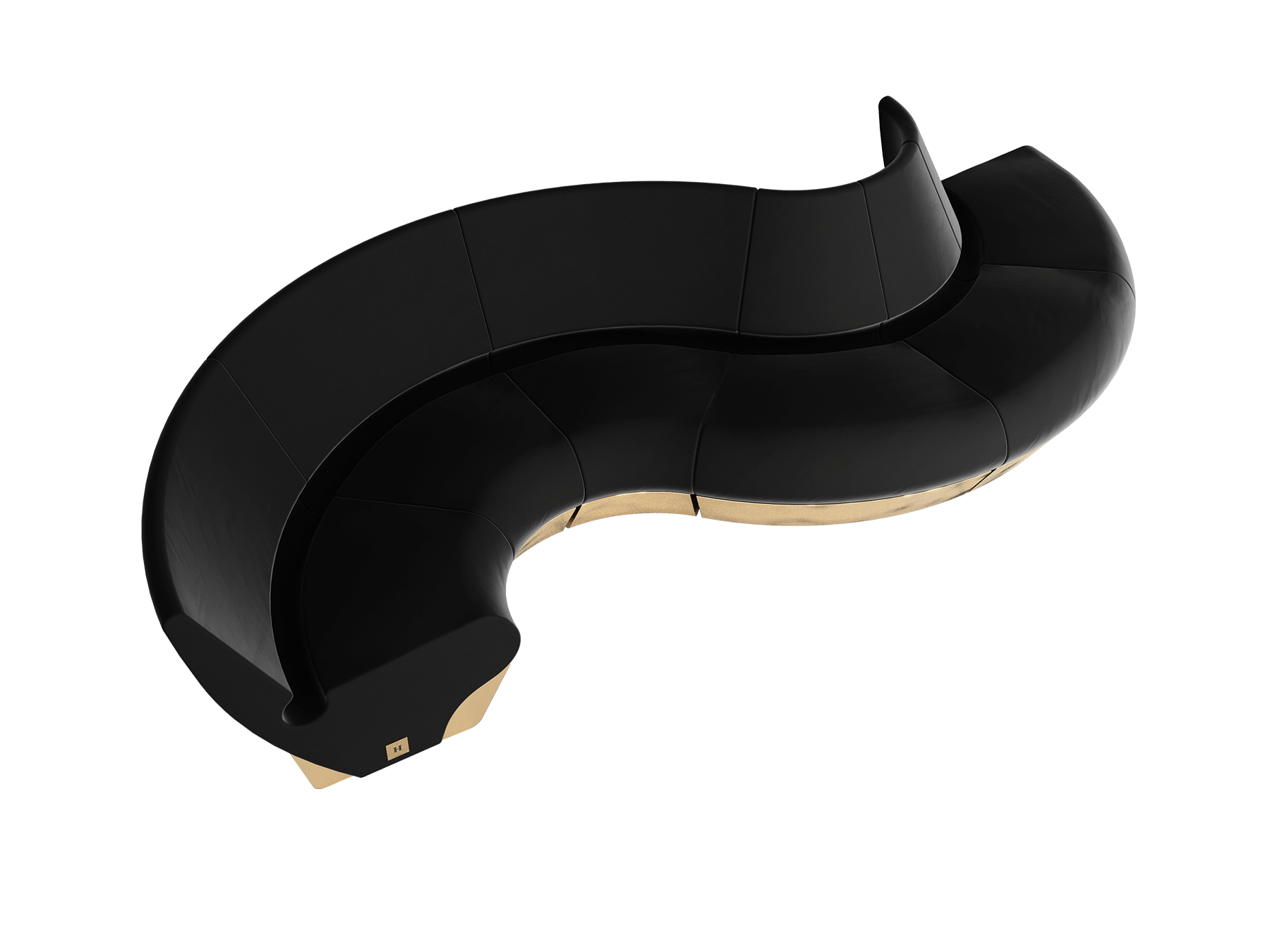 Gyvaté Serpentine Sofa by Hommés Studio
The Gyvaté Serpertine Sofa is part of the Gyvaté Collection, which stand out for its modular characteristics. In this manner, there's no limit to creativity in order to design a trendy living room.
Contemporary Living Room by Evolve Residential
This contemporary living room by Evolve Residential is one of the most beautiful living room. The details are compelling, as the variety of textures and materials is. Like Jamie Bush, the interior designer Josh Linder uses round shapes to create an involving environment in an all-white room. Again, the round sofas play the main role.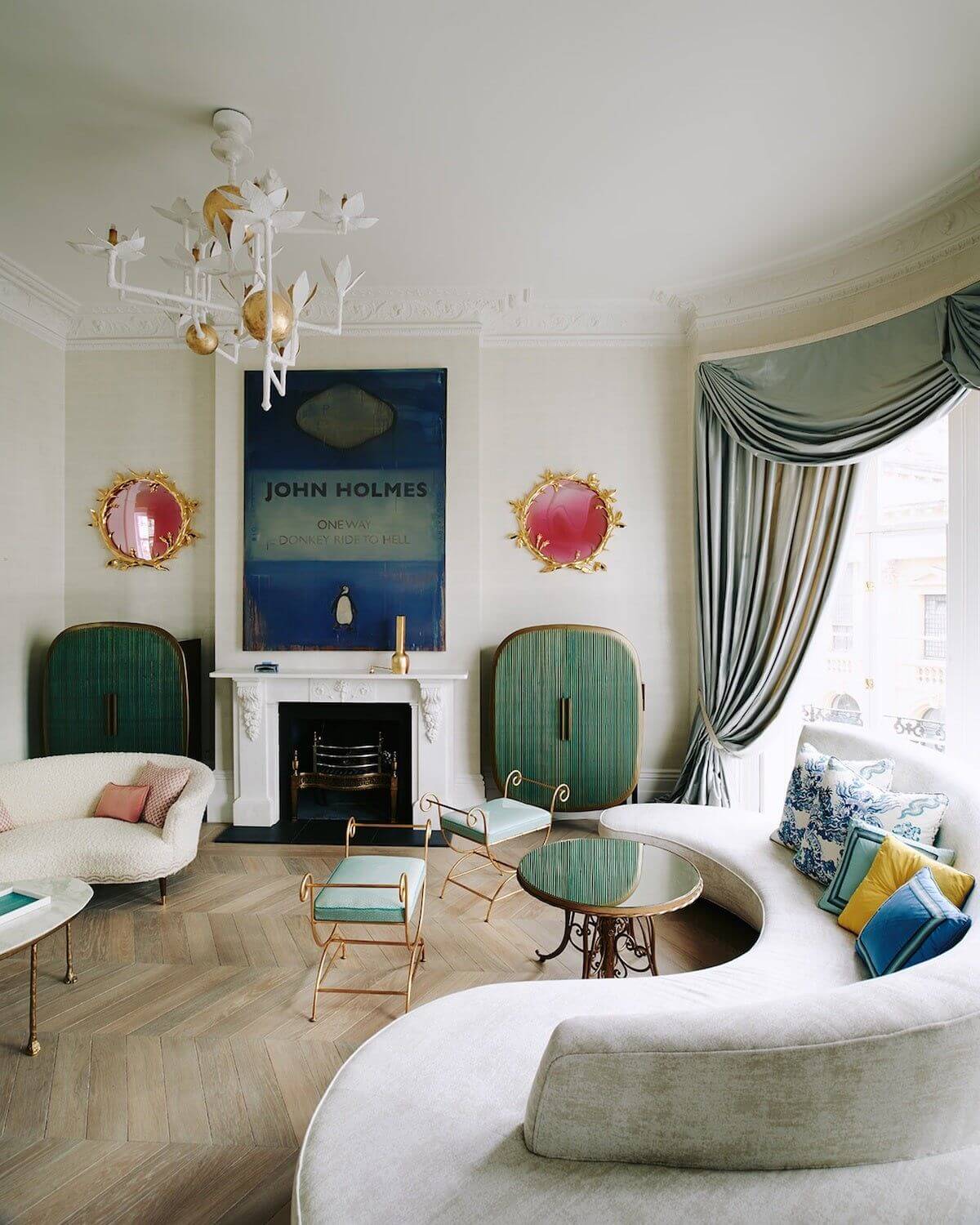 London House by Maddux Creative
This modern living room was a challenge to Maddux Creative since it is composed of three reception rooms which are put together by archways. The solution? To play with the forms! Therefore Maddux Creative unsurprisingly chose a mesmerizing Vladimir Kagan sofa.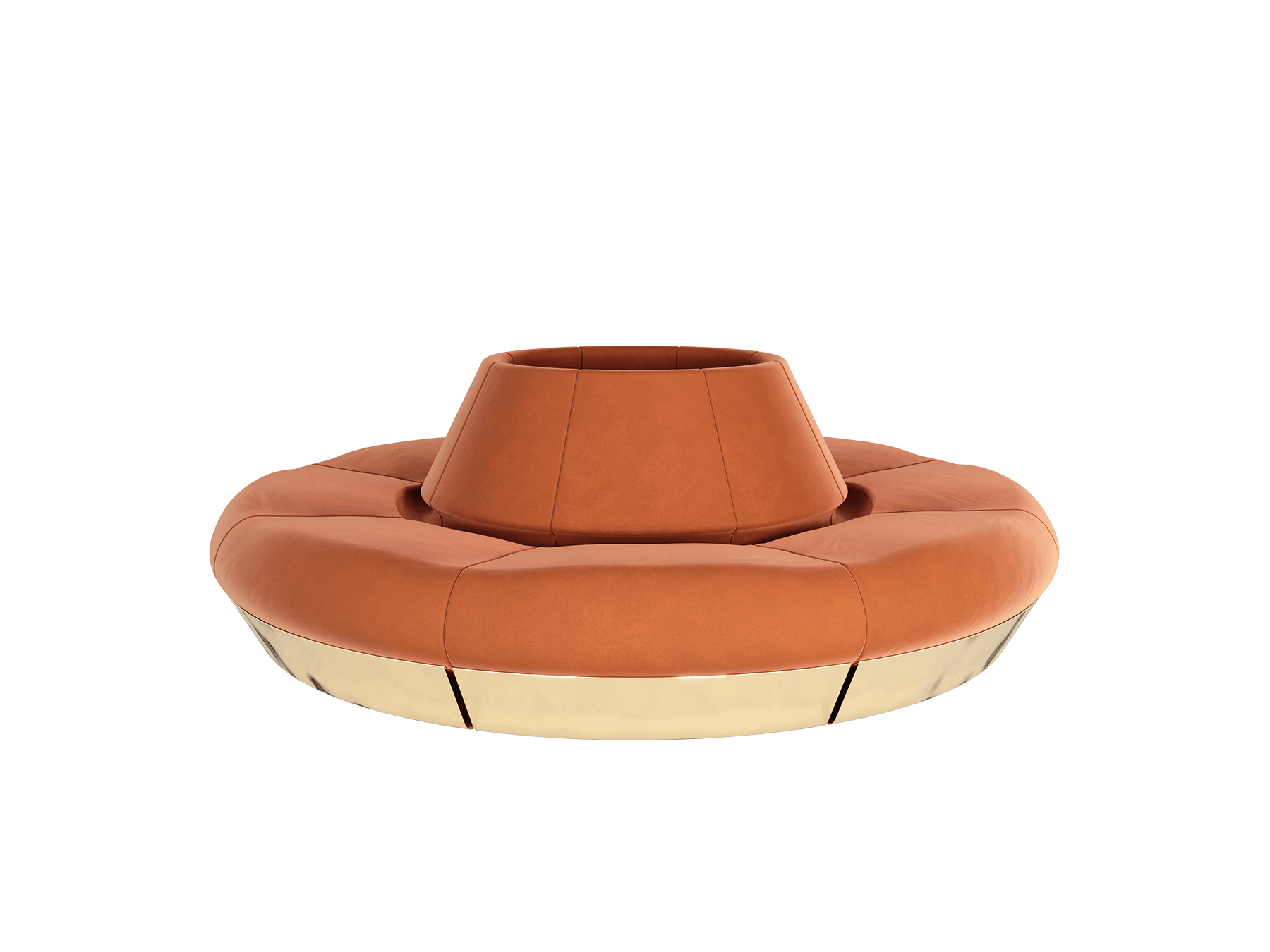 Gyvaté Round Sofa by Hommés Studio
Our Gyvaté Round Sofa is as round as a sofa can get. It is perfect to create dynamic rooms, especially if it is placed in a hospitality or commercial interior project.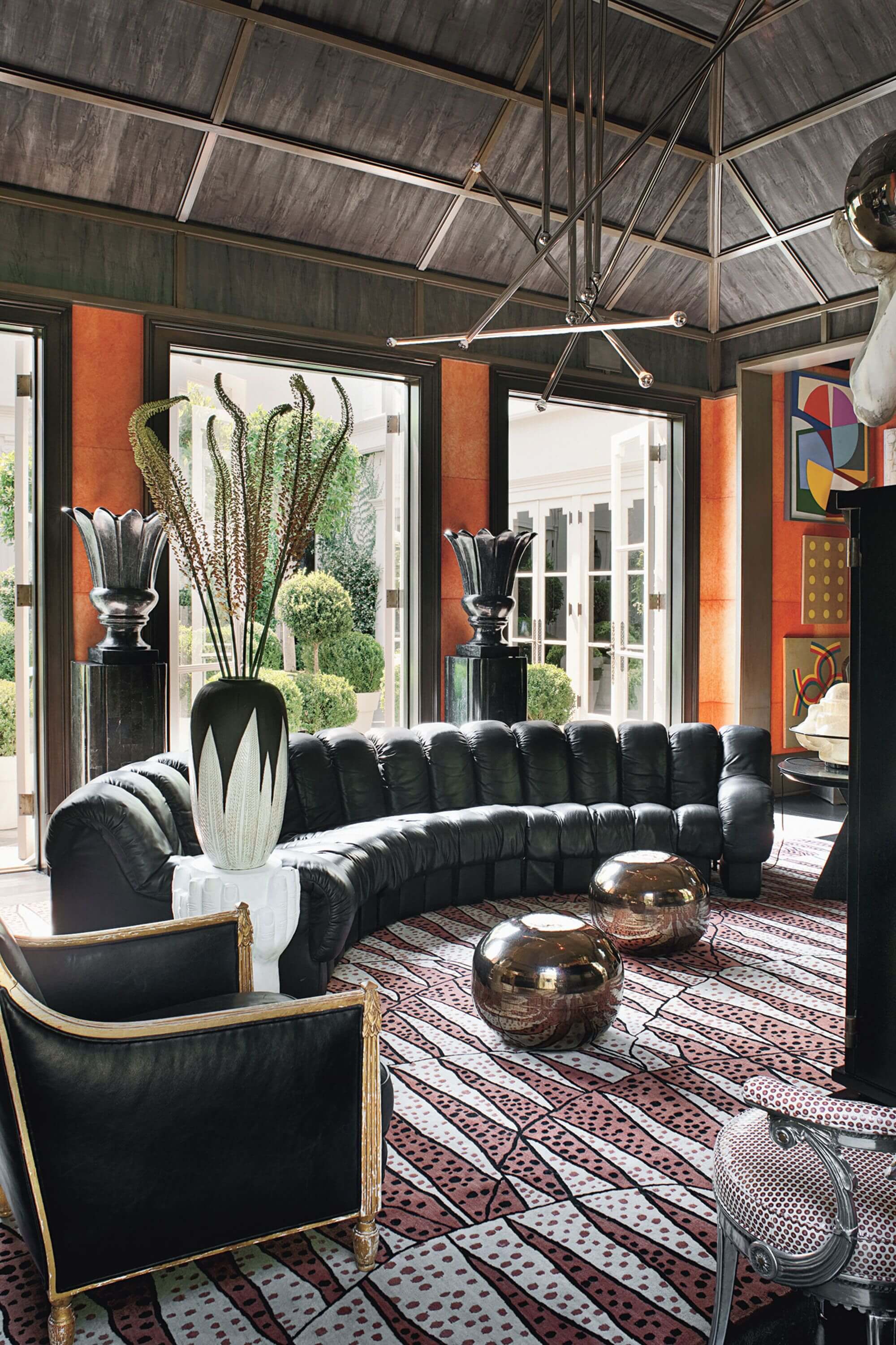 Kelly Wearstler's Beverly Hills Home
Kelly Wearstler wanted to create a quirky living room. We find a high ceiling with some glamourous and industrial vibes. Kelly Wearstler opted for patterns, prints, and leather to adorn the room. Therefore she chose a black leather de Sede iconic couch.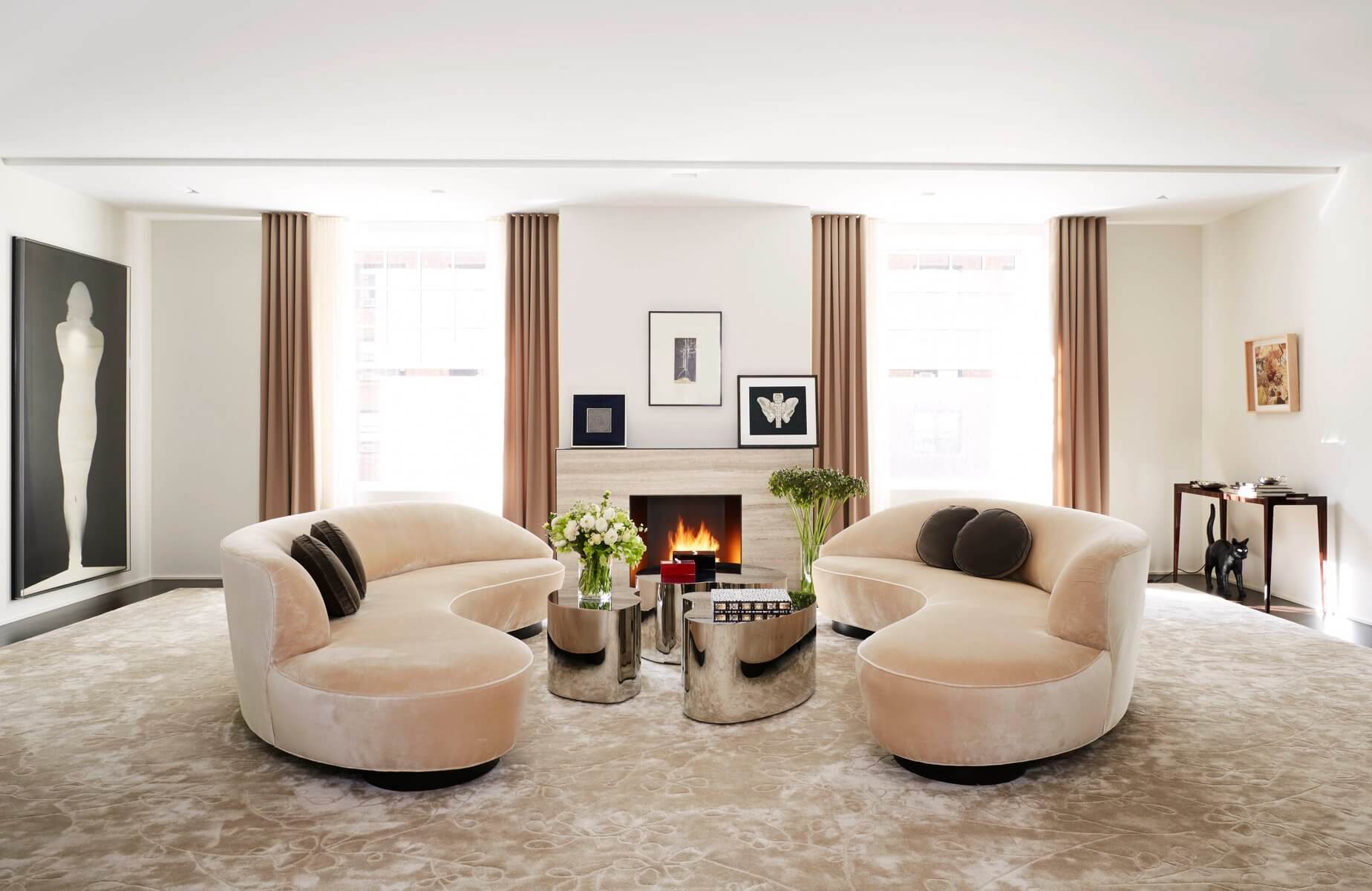 D'Apostrophe intimate living room
D'Apostrophe masters this intimate and welcoming living room, which is one of the most beautiful. It is simple but very luxurious. Vladimir Kagan is again present in the room, but in double.
Pre-war Henry Deglane-designed Apartment in Paris
The Pre-War apartment in Paris was designed by Henry Deglane and renovated by Brian O'Sullivan Studio. A vintage round couch adorns the room and creates a celestial visual.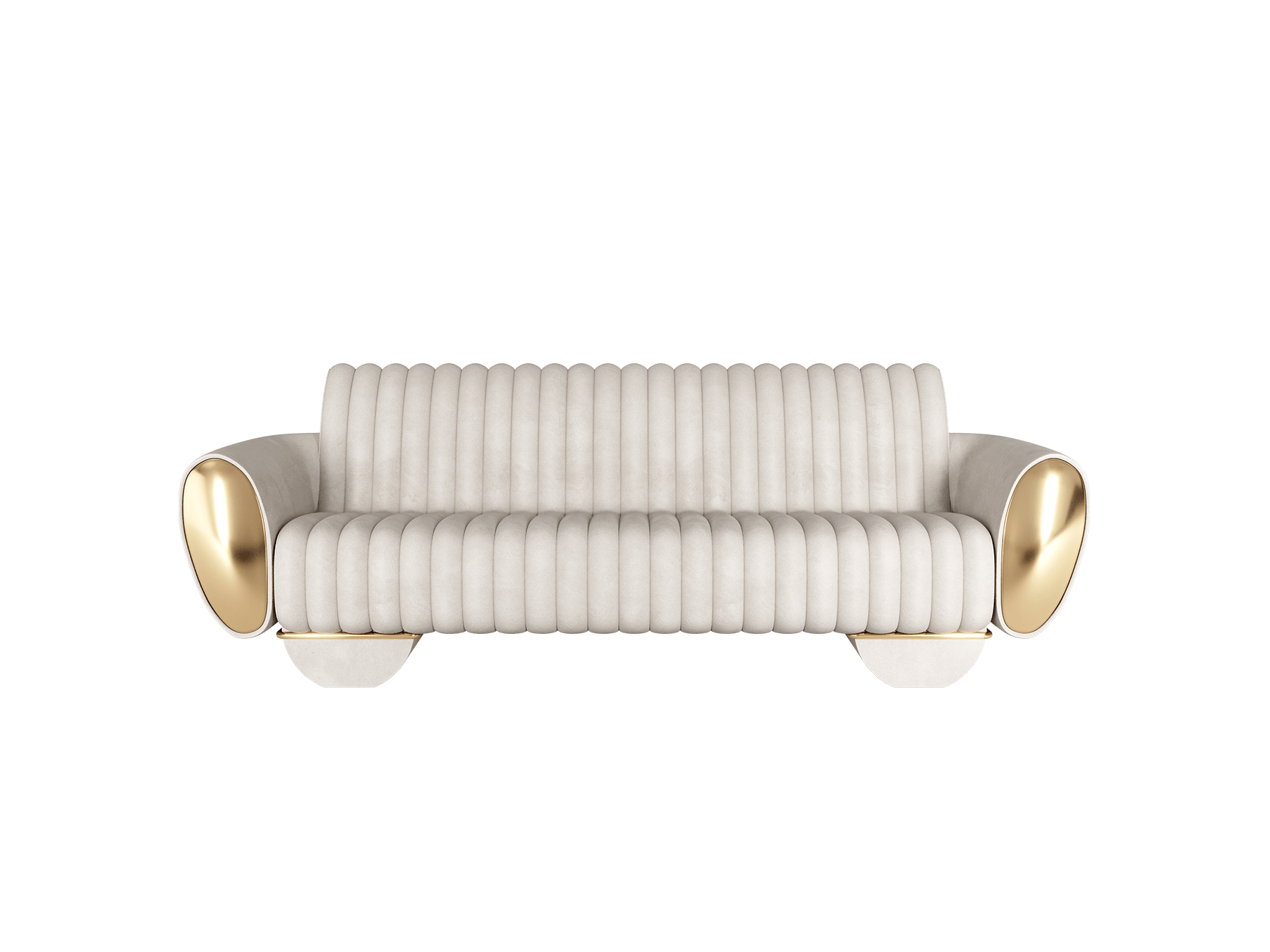 Fred Sofa by Hommés Studio
Our Fred Sofa is the round sofa that is needed to accomplish the most beautiful and trendiest living rooms. It is mid-century inspired and has complex and luxurious round forms. A total must for modern living rooms.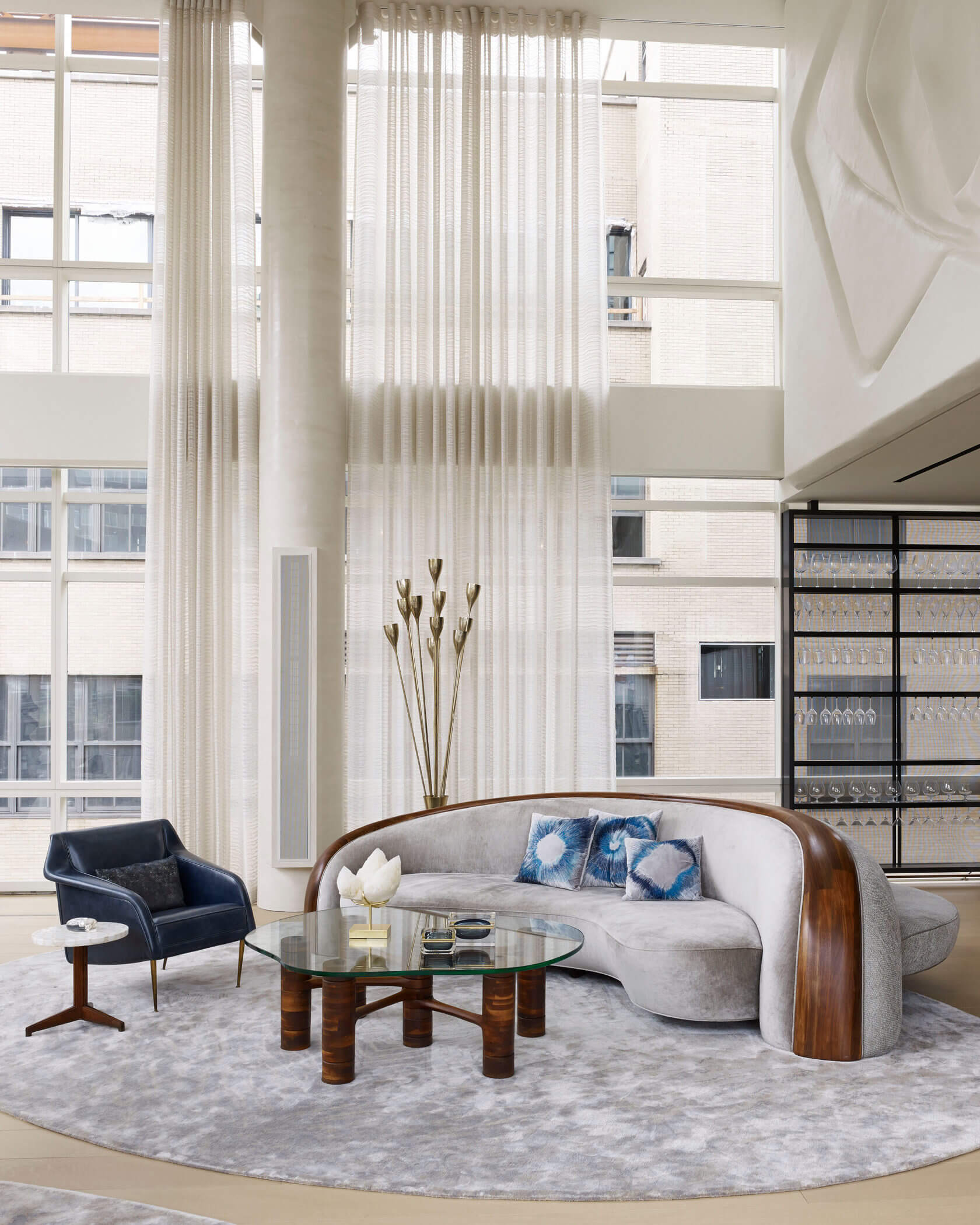 Lower Manhattan Living Room by Amy Lau
Amy Lau achieves this beautiful and trendy living room in Lower Manhattan with a double-side sofa from Vladimir Kagan. It should be noted the great use of space the designer does.
As we can see, round sofas create superb living rooms. All of these finely selected living rooms have a sense of motion. That makes them incredibly welcoming. Additionally, they are completely stunning and stylish. If you are as overwhelmed as we do, discover more ideas for living rooms with round sofas here.