What goes around comes back around. Once popular in every household, the conversation pit went out of fashion. However, the Nowstalgia is in the air and the 70s interior design style is trending, so the sunken living room is making a come back.
Here are 9 sunken living room ideas for a truly warm and welcoming lounge area. Created as a way to introduce a feeling of intimacy to homes, these sunken living areas push families and guests into one small and cozy space.
WHAT IS A CONVERSATION PIT OR SUNKEN LIVING ROOM?
A conversation pit or sunken living room is a lounge area embedded within the floor of a larger room to create intimate spaces for people to gather.
Taking its origin from 1927, the architect Bruce Goff incorporated the feature in a home he designed for one of his instructors. However, the idea didn't catch on nationally until it appeared on the set of The Dick Van Dyke Show in the early 60s, and then—seemingly overnight—the trend caught on and home builders began incorporating it on a widespread basis. Throughout the 60s and 70s, homes would have sunken living rooms. Accessed by a small set of steps, they are traditionally lined with custom built-in sofas.
While creating more intimate spaces for their occupants, sunken lounges are useful tools for creating broken-plan interiors and the illusion of taller ceilings. They can also prevent furniture from obstructing outward views, forging stronger connections between homes and their surroundings.
With Nowstalgia trending, many architects are enjoying the revival of sunken living rooms in modern interior design projects. However, designers are opting to fill them with free-standing furniture and statement fireplaces instead.
DISCOVER 9 SUNKEN LIVNG ROOM DESIGN IDEAS.

CONCRETE SUNKEN LIVING ROOM IN MEXICO BY JAVIER SÁNCHEZ AND CARLOS MAR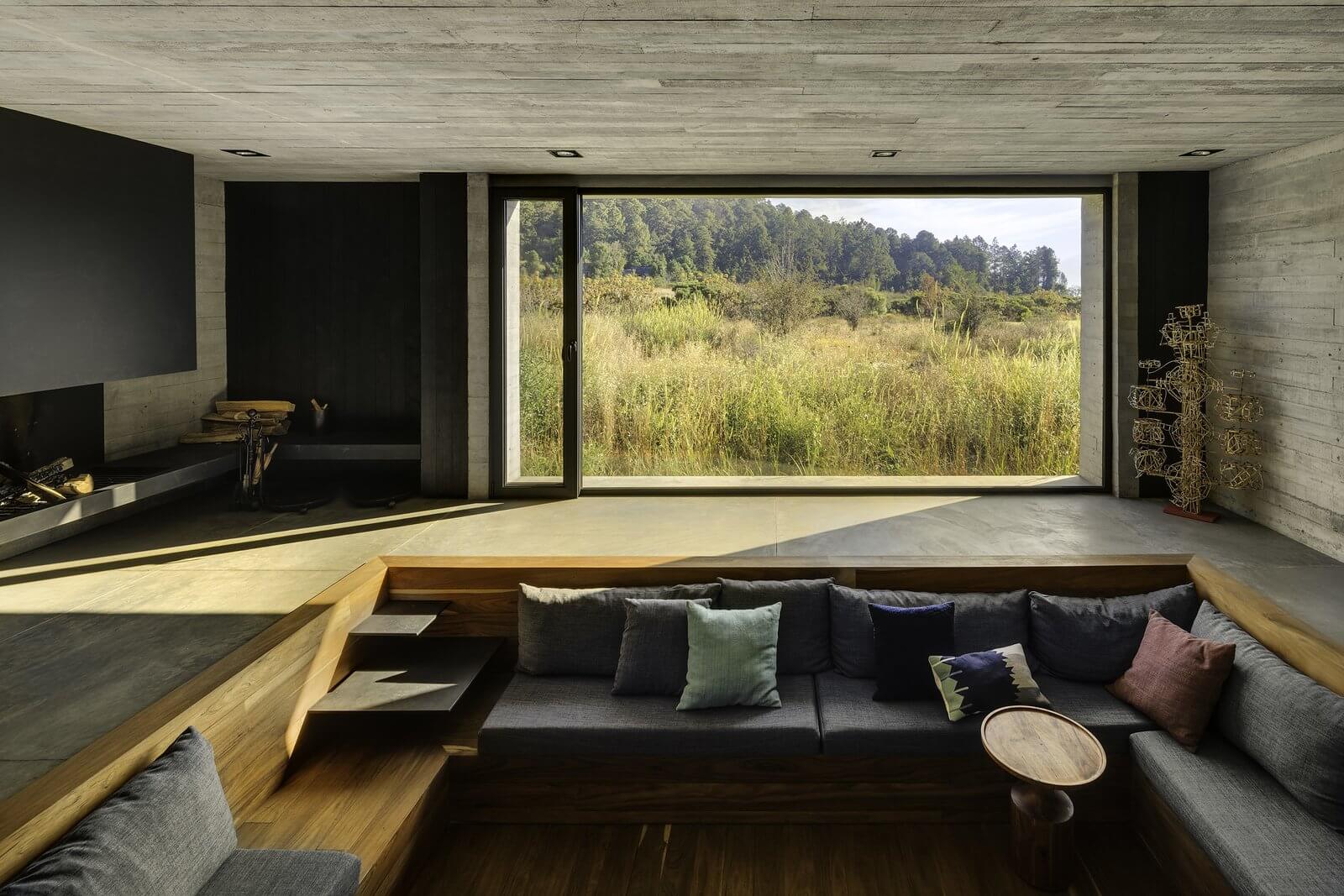 In Valle de Bravo, Mexico, architects Javier Sánchez and Carlos Mar created a monolithic, concrete home inspired by Donald Judd's minimalist work. Inside the three-volume structure, a sunken living room and a library incorporate sustainably sourced parota wood. The organic materials warm the interior of the raw concrete home.
CIRCULAR SUNKEN LIVING ROOM WITH FIREPLACE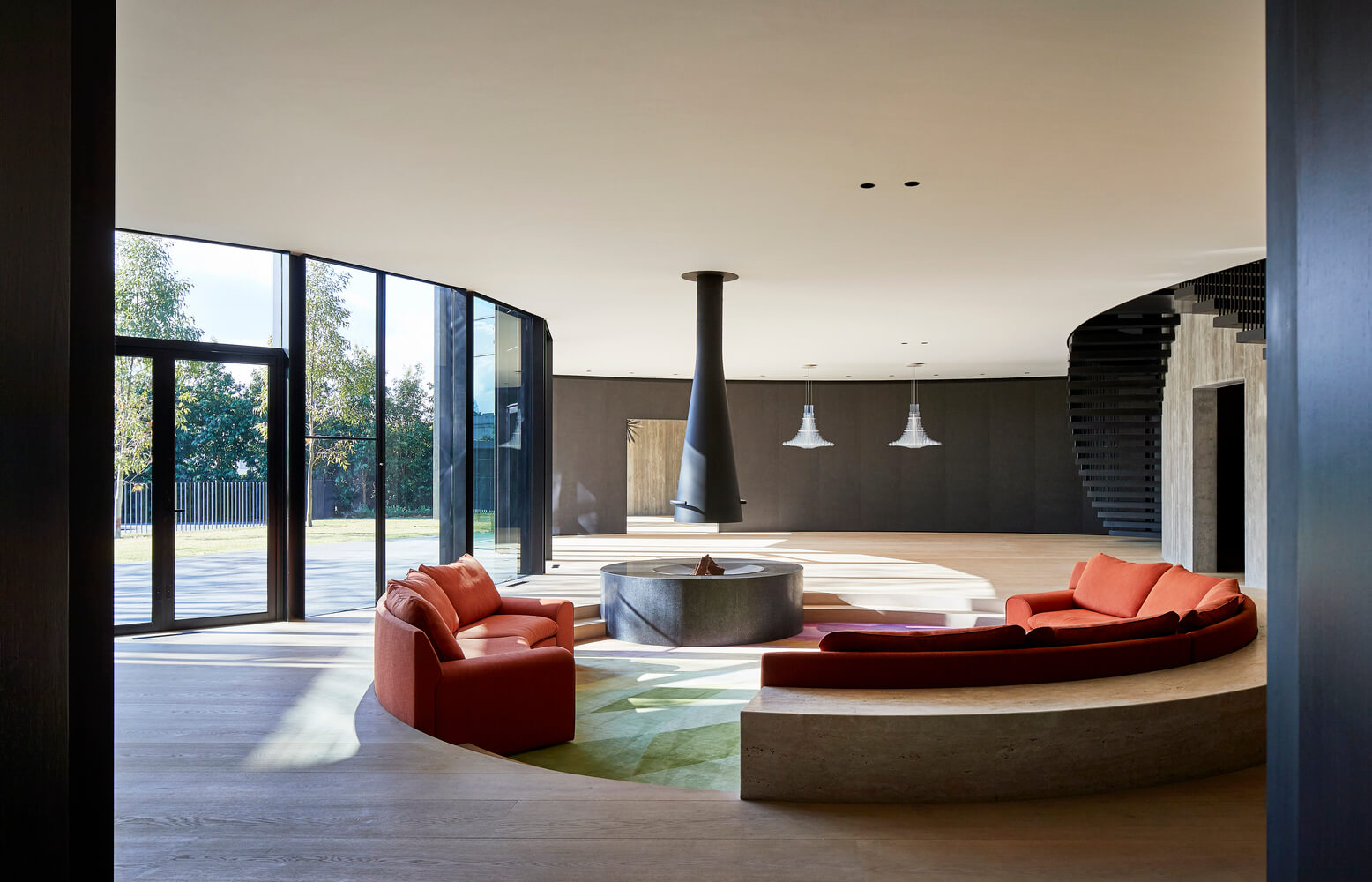 Peter Bennetts
A curved concrete plinth wraps around this circular sunken lounge, which Wood Marsh created at Towers Road House in Melbourne's Toorak suburb.
Accessed by two small steps, the pit is fitted with a polychromatic carpet and red sofas that are orientated towards a large suspended fireplace on one side.
OUTDOOR SUNKEN LIVING ROOM WITH FIRE PIT
Architect Matthew Hufft of Hufft Projects applied a ring of ipe around the perimeter of this fire pit on the patio of the Curved House in Missouri.
The outdoor area, which was designed in collaboration with Weston, Missouri-based landscape architecture firm 40North, features removable powder-coated aluminum benches upholstered in Sunbrella fabric.
SCANDINAVIAN SUNKEN LIVING ROOM
Marino Thorlacius
This wood-lined conversation pit at Holiday Home by Thingvallavat was designed by KRADS to separate the lounge space from the adjacent dining area.
Fitted out with pared-back leather furniture and a minimalist coffee table, it helps to retain focus on the views out across Iceland's Lake Thingvallavatn, which is framed through large panels of glazing.
INDOOR-OUTDOOR SUNKEN LIVING ROOM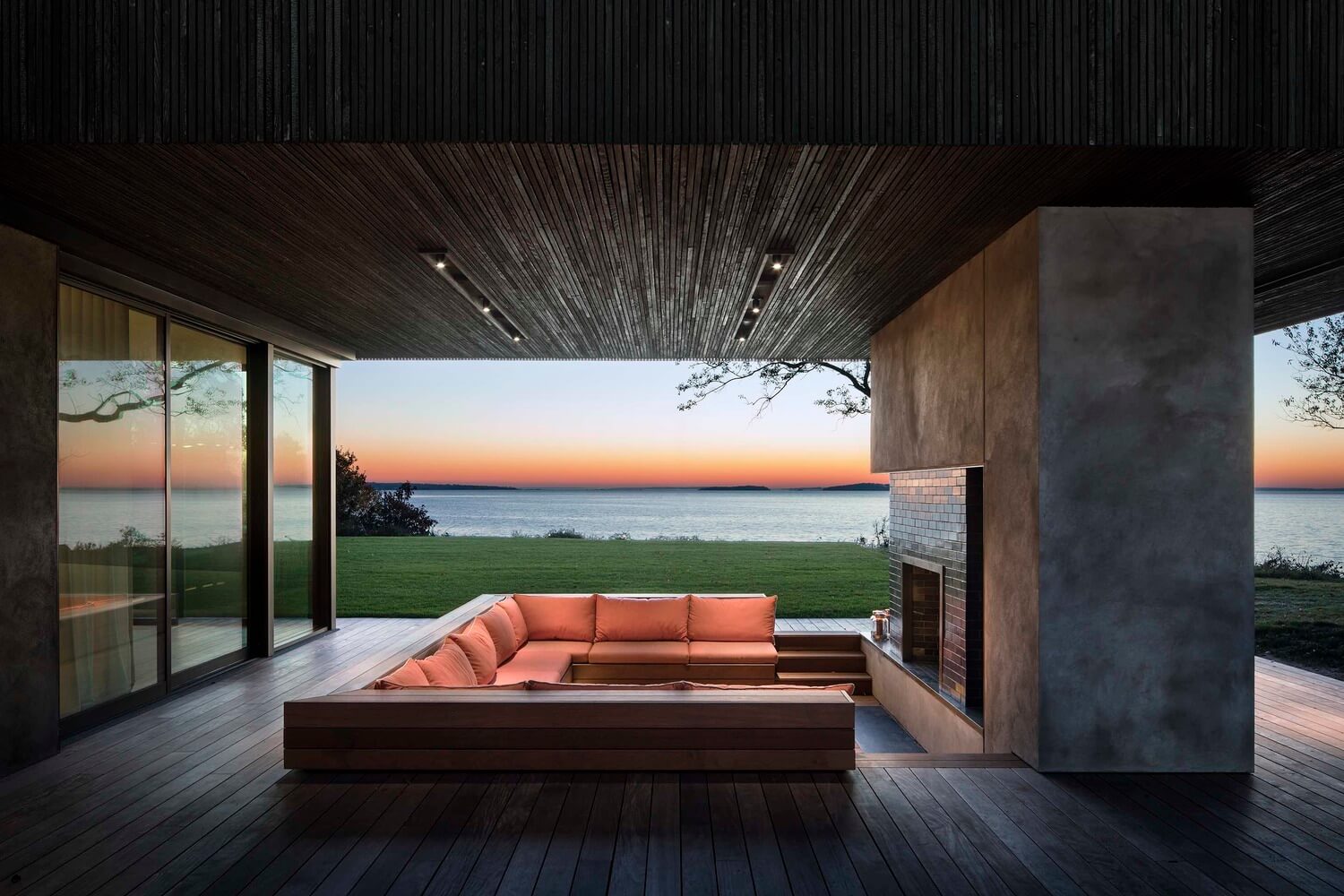 This sunken lounge sits on a semi-open deck that is enclosed by the open-plan lounge, kitchen and dining room at the Shore House in New York's Suffolk County.
It was designed by Leroy Street Studio as a space for the homeowners to host large parties and events and is complete with a large masonry hearth and fireplace surrounded by black ceramic tiles.
NEUTRAL SUNKEN LIVING ROOM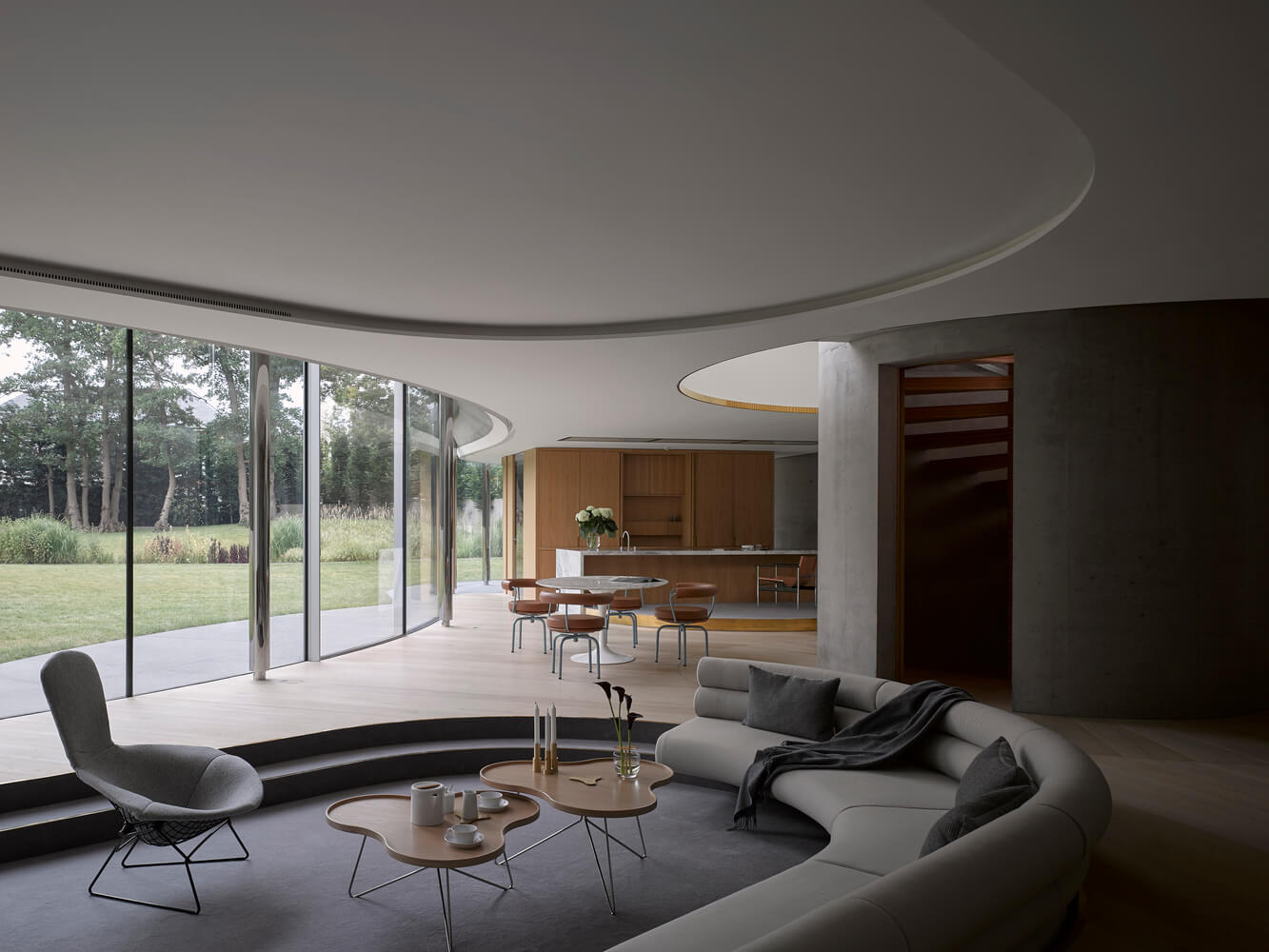 This curved sunken lounge is situated in one wing of the House in Coombe Park, which studio Eldridge London created for a family on a verdant spot in Kingston-upon-Thames.
Distinguished by a transition from oak flooring to soft grey carpet, it is framed by a large bespoke sofa that follows its curves.
A MODERN CONVERSATIONAL PIT WITH BOHO FLAIR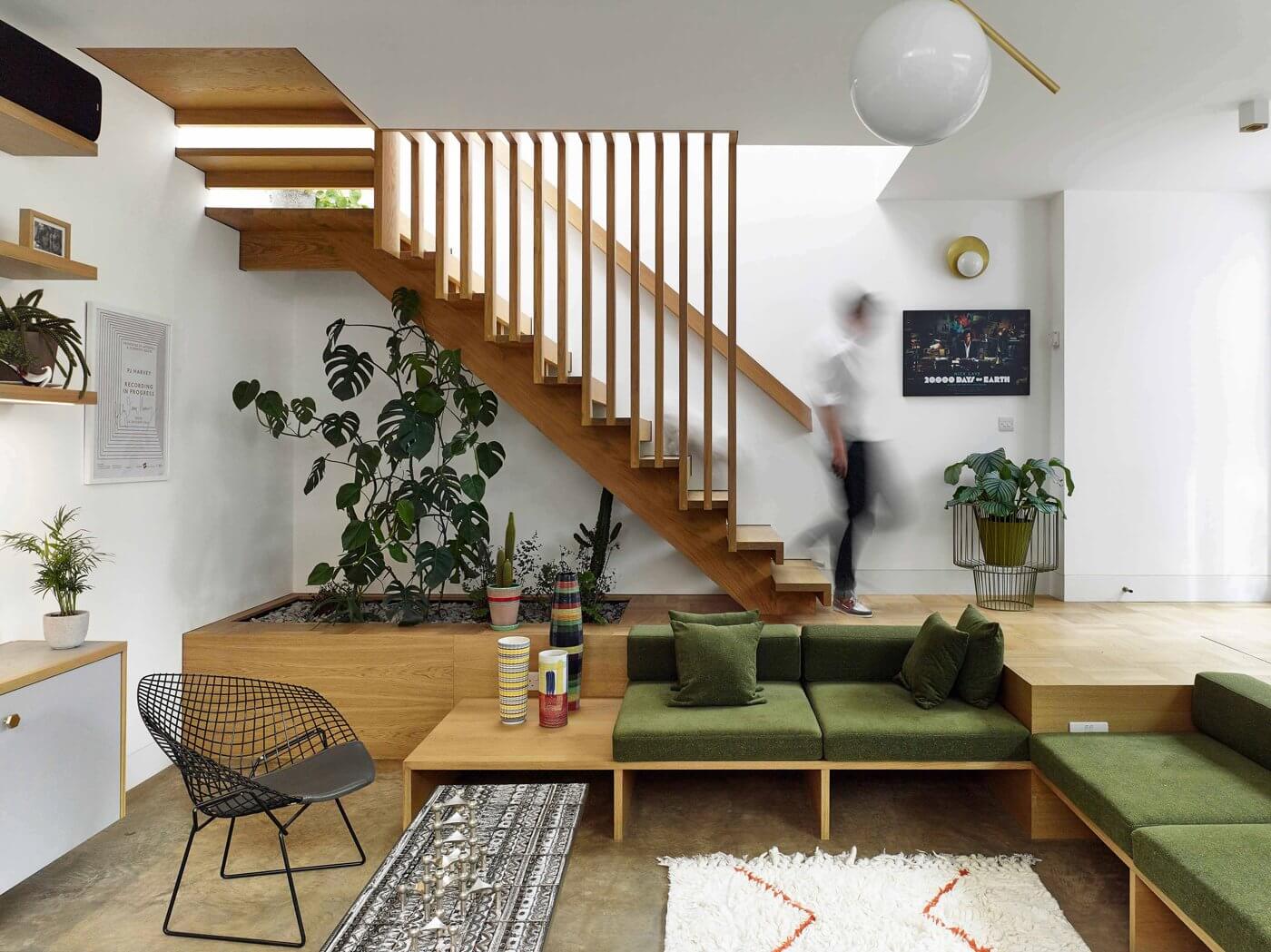 London-based firm Paul Archer Design built this two-bedroom, two-bathroom home for artist and interior designer Zoe Papadopoulou on the site of a former garage. The sunken living room features built-in storage and furniture to prevent clutter from accumulating. Wood is the most predominant material of this home which has a living room with eclectic rugs and olive green velvet upholstery.
OUTDOOR CONVERSATION PIT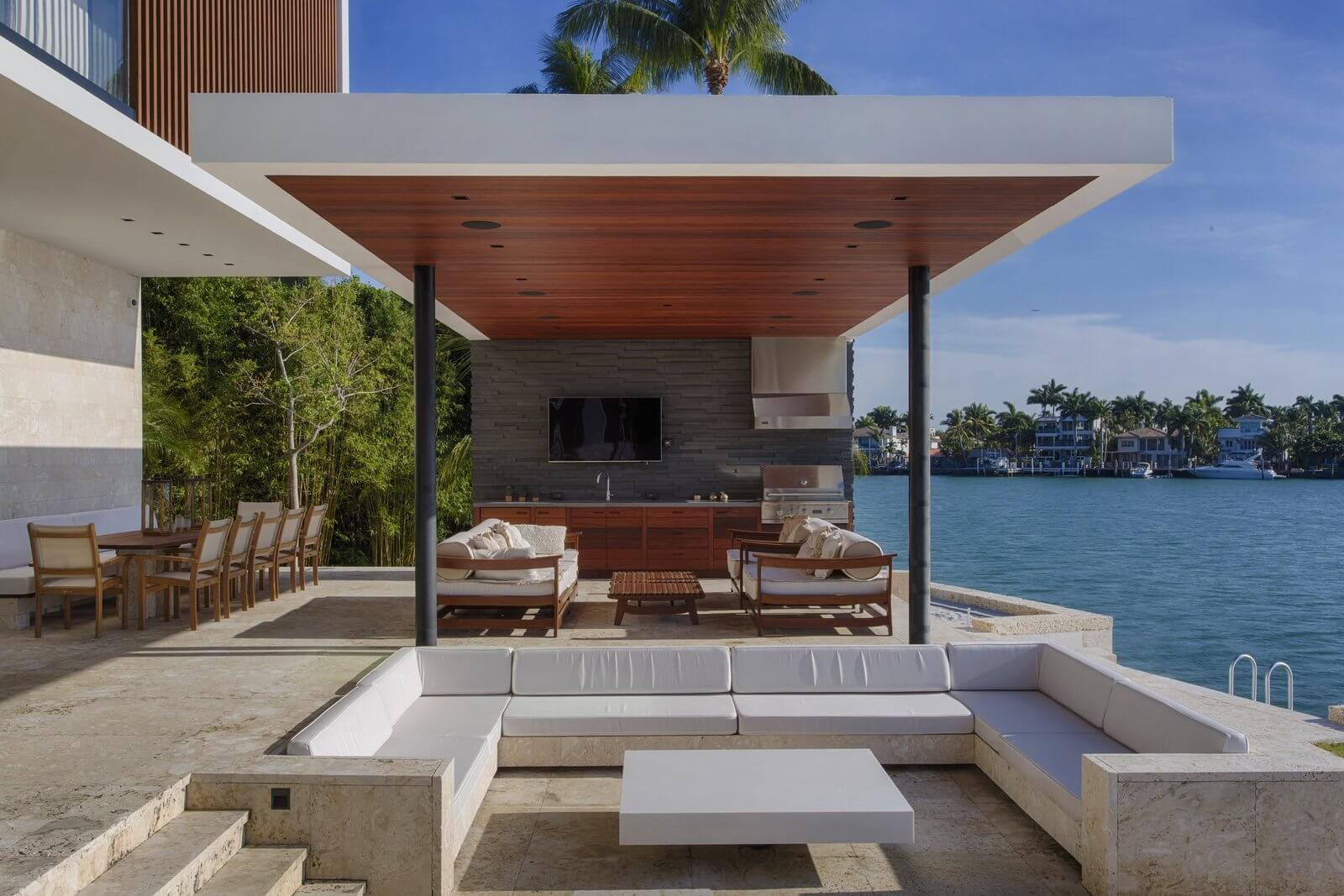 Lifestyle Production Group
A waterfront conversation pit brings a touch of midcentury glamour to this two-story, seven-bedroom oasis designed by Choeff Levy Fischmann in Miami Beach, Florida.
MID-CENTURY MODERN REBELLION
ICONIC SUNKEN LIVING ROOM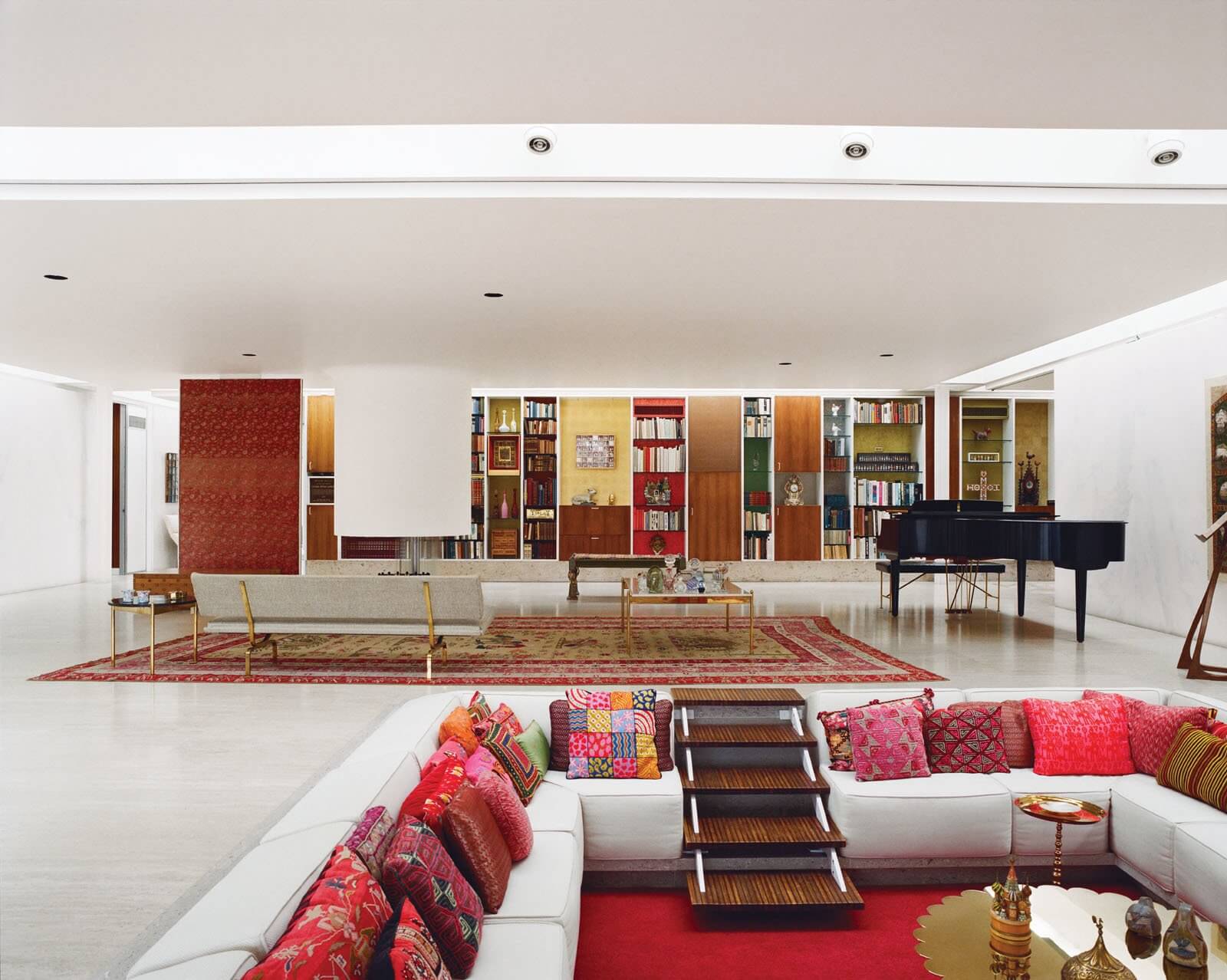 The conversation pit at the Miller House in Columbus, Indiana, was designed by Eero Saarinen. The home is considered one of the pioneers of the sunken living room. Today, the National Historic Landmark is open to the public as a museum.
DO YOU LOVE INTERIOR DESIGN?
Since you have come this far, we kindly invite you to download Hommés Studio Catalog and discover furniture and lighting designed by designer lovers for design lovers.
Pay a visit to our soul sister ACH Collection as well. You'll be delighted to discover a beautiful design of high-end homeware and pet accessories.

Source Dwell