Meet the new addition to the Rose House in France, where an all-pink house carries out a sustainable message while maintaining a remarkable design.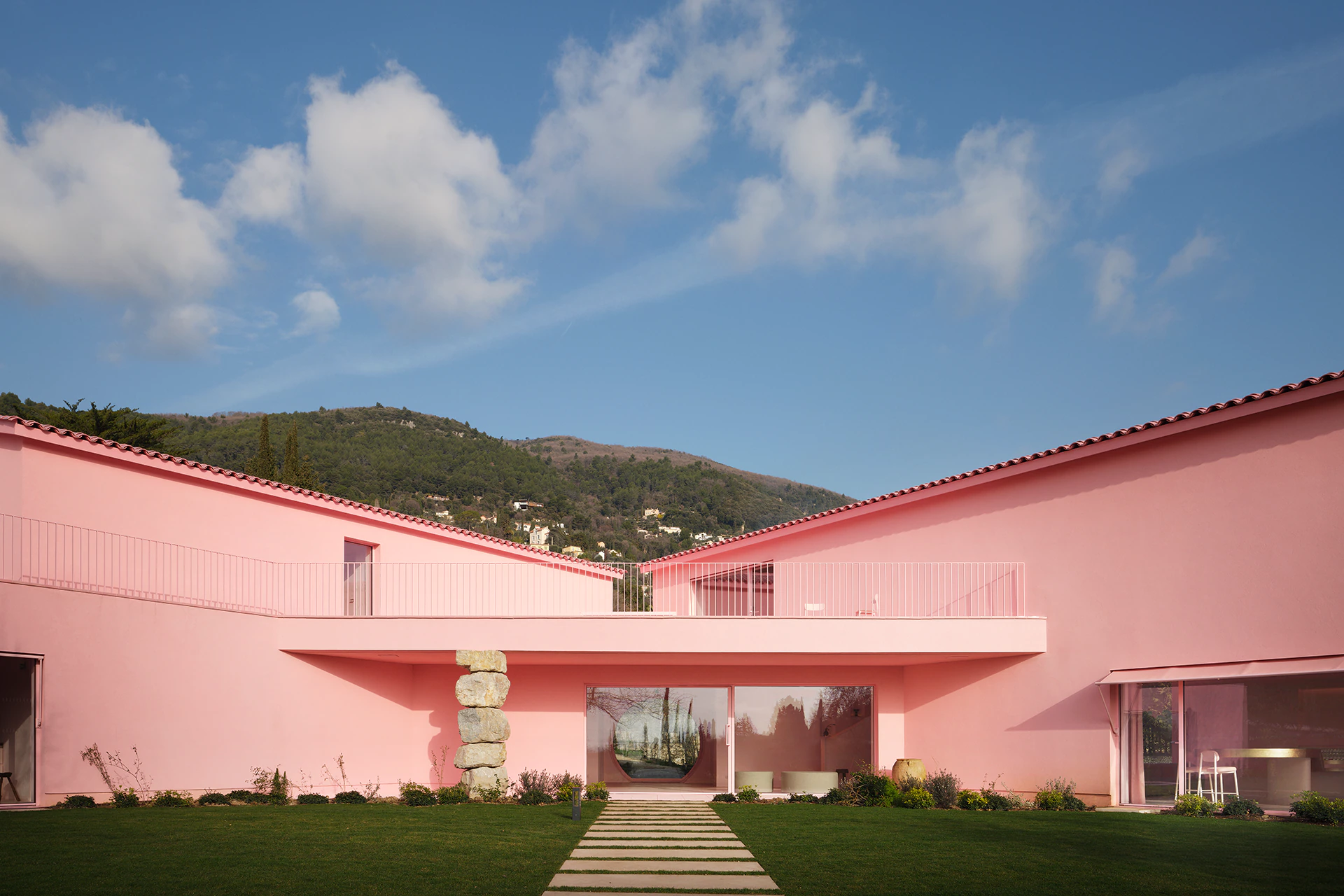 Nestled in the green city of Grasse, France, this legendary French Lancôme house is a brand new addition to its Domaine de la Rose estate, also known as the Rose House. With the help of architects Lucie Niney and Thibault Marca, Lancôme could fulfill its devotion to biodiversity protection, sustainability, and the preservation of perfume heritage.
This beautiful eye-catching pink color pays tribute to the well-known centifolia rose, a cultivated flower in Grasse and, more importantly, the leading ingredient of one of the most famous Lancôme perfumes, La Vie Est Belle.
Adapting regenerative cultivation procedures for an extensive range of perfume plants, this pink house and its plantation include jasmine, iris, tuberose, jasmine, fig trees, verbena, rosemary, and of course, the famous Perpetual Rose, which is the star of Lancôme's gleaming Absolue range.
The pink house was originally just a structure from the 1970s. However, it was completely renovated into an eco-friendly home. Niney and Marca achieved this by using an underground heat exchanger to cool the area instead of classical air-conditioning. Beyond that, they covered the property with lavender straws sourced directly from the state on the walls, and rice ones, from the Camargue region on the roof.
Now moving into the interior of the pink house, thanks to the cathedral ceilings and oversized windows, it is possible to see that its design is simply in terms of volume. This project exhales a sense of airiness and elegance, yet, it has a unique touch of creativity.
Besides being a working farm and beauty sanctuary, this design project was also built as an educational stop for training seasons, workshops, and events and to host perfumers and visitors. According to this, the architects' design direction makes perfect sense by amplifying everything and making it feel connected and modern.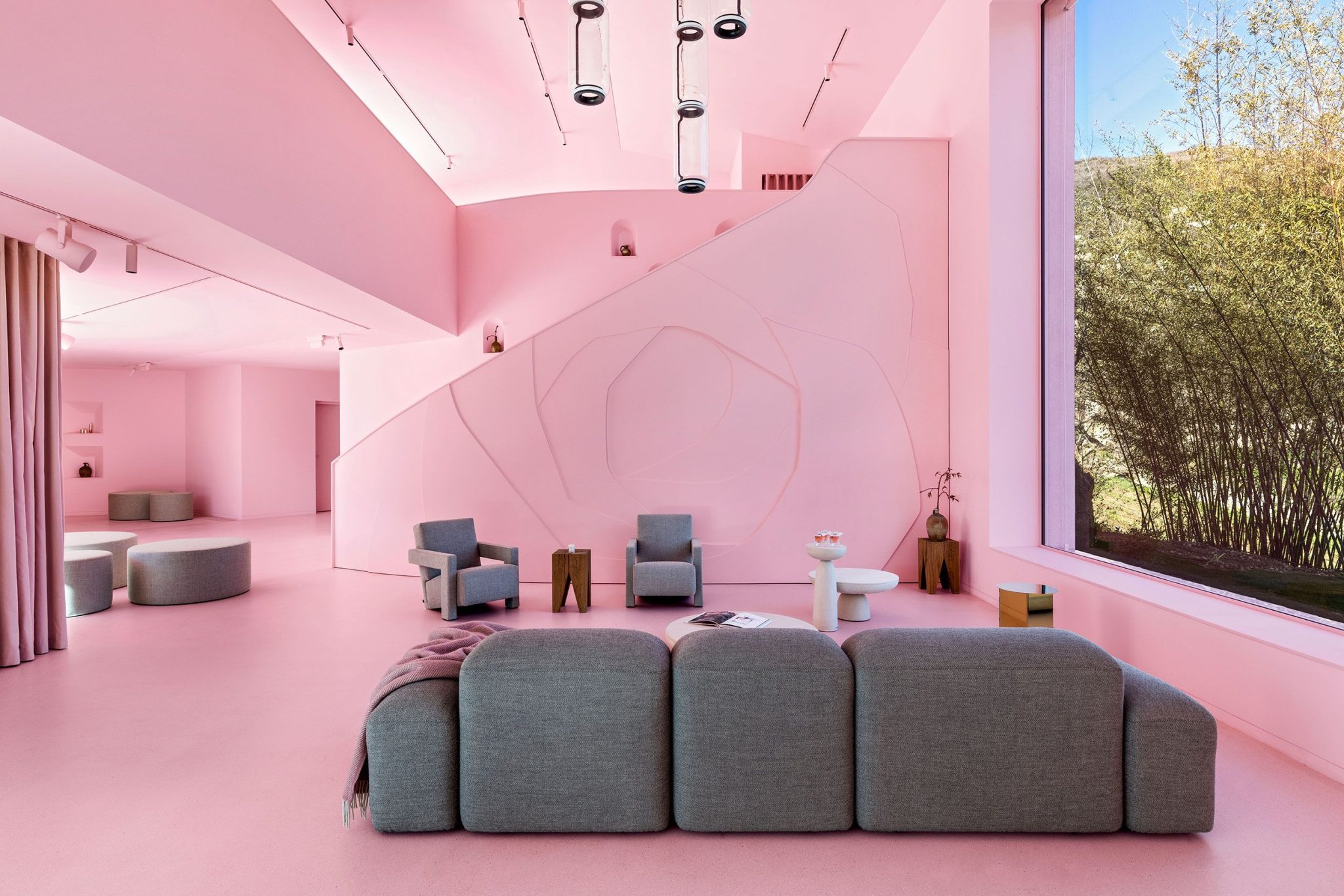 Even though this pink house is very roomy, it still has a lot of details, but in a way that doesn't overload the space. On the contrary, these details, such as the geometry rose engraving on the wall, revitalize the area more by adding another wow factor other than the color. Apart from this rose shape wall, what also brightens up the space is the other color elements that, although they aren't pink, still belong to a similar hue. So, it adds color and diversity to the room but without cutting the flow between all the other utterly pink house areas.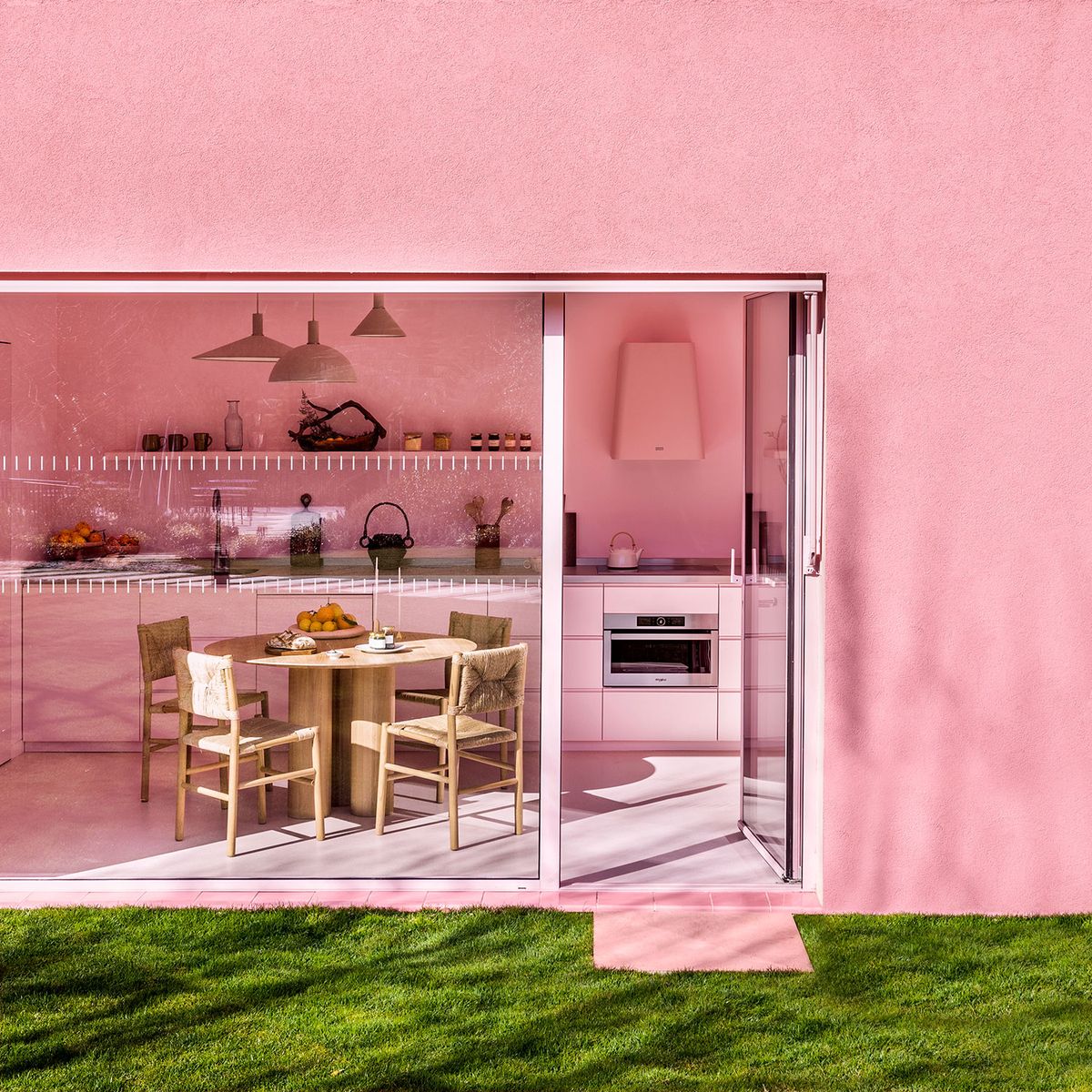 Despite this house having a magical contrast between the vivid green vegetation and the outstanding pink, making this place look like an absolute dream, it is also really well-thought, and every room and detail is there for a reason. Therefore, beyond being extremely captivating, this design project is also highly functional. An example of this functionality is the staircase niches, which allow a perfect space for decoration and storage yet, don't interfere with the movement and lightness of the design, as the nooks are inserted into the wall itself, being a part of it.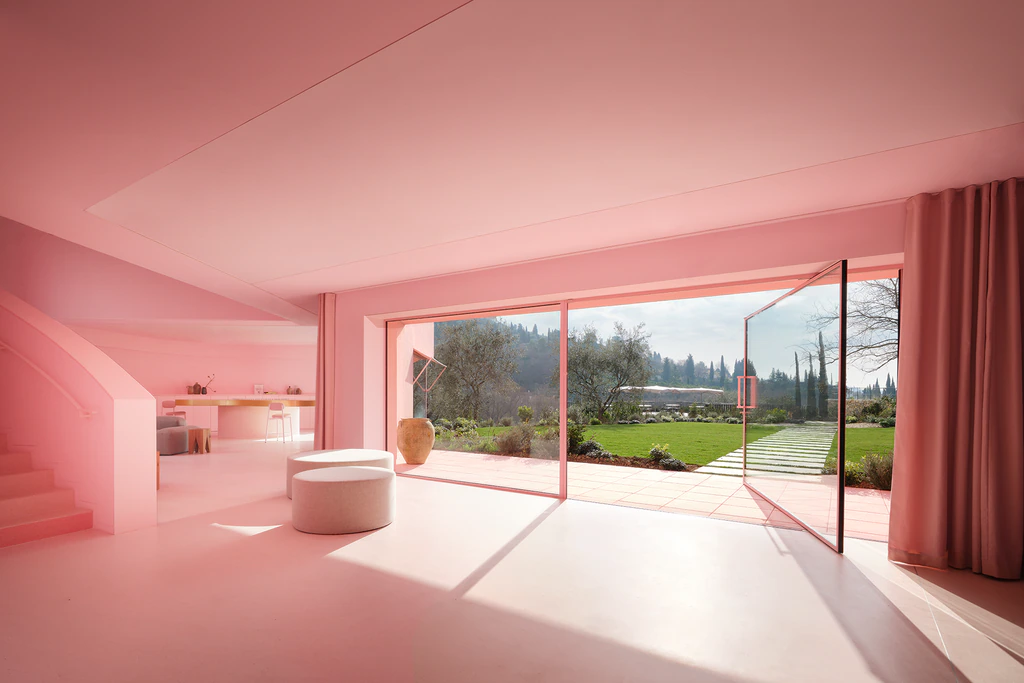 As you already know, this pink house stands as a symbol of Lancômes dedication to biodiversity, so regardless of the importance they gave to the esthetic part of this building, the architects always ensured that the landscape was highlighted as well. Apart from that, Lancôme's initial idea has consistently been to make this project a monochromatic monolith in line with coatings found on the walls of local houses; that said, it's evident that one of the principal goals with this house was to boost its sustainability.
This magical pink house is the perfect example that a sustainable building can indeed be super stylish and still carry out a super important model to other more polluting designs. Now that this house, which looks like it's out of a fairytale, inspires you, dive even more into this pink aura and discover our new trendy magenta collection: Pantone Viva Magenta, which will definitely help you in your future projects.