Make your project stunning from first sight! We have gathered the best entryway design projects from the top AD100 designers to boost your layout's first impression. Check them out!
The entryway is responsible for the first impression of any home! The entrance is where you can get a preview of the whole interior, which is why it´s essential to have special care when designing this space because, as you all know, the first impression matters! To make your layout remarkable at first sight, we have gathered the best entryway design projects by top AD100 interior designers.
From Modern to Art deco, these entryway design projects have different styles. Still, they all have something in common: they are remarkable and can provide the inspiration you need to translate your project's vibe to its entrance. Be ready to find beautiful works of Kelly Wearstler, Jeremiah Brent, Ken Fulk, and so on! Keep scrolling to discover more.
10 Top Entryway Design Projects
From a whimsical vibe in the Kelly Weastler Modern project to a sober feel in the Kelly Behun Art Deco entryway design project, you are about to discover our curated selection of entrance layouts by the top AD100 designers. Enjoy the journey!
1- Downtown LA by Kelly Wearstler
We will start the inspiration with this stunning project by Kelly Weastler! Weastler is known for combining different styles and references to create fresh and remarkable interiors, and we can say that this project has her signature in each stunning detail. Here, the attention goes to the floral pattern in the ceiling and walls that integrate the space and turns the entrance into a journey to paradise! This vibrant design merges Mexican modernism with French, Portuguese, Spanish, and Moroccan design elements that turn it into an outstanding layout and redesign the historic California Renaissance building with a new approach full of energy and whimsical vibes.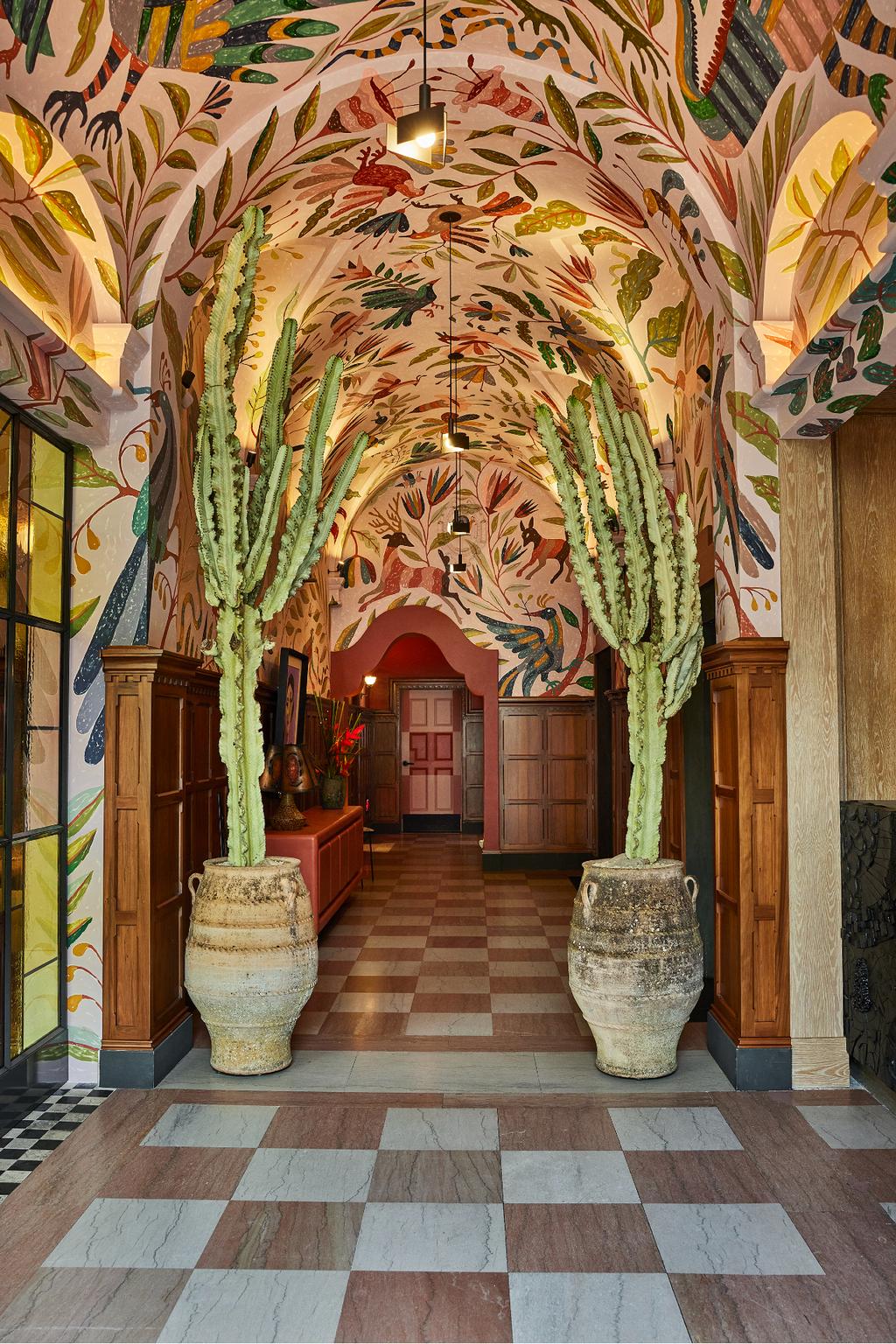 2- Hancock Park Estate by Jeremiah Brent
For Jeremiah Brent, every home should tell a story; following his thought, we can say that this entrance shares a tail of luxury and timelessness. From this entry, we can already picture the minimalist interior with lush touches waiting to be discovered. Dressed in neutral tones and setting a minimal approach, this entryway design project focuses on less furniture – featuring only one pendant lamp and one marble table; the project shows that less can be more.
3- Brownstone House by Alexis Brown
Alexis Brown has an artsy approach; her designs usually bring the best of the artisanal elements to create a fresh design where the artwork can be the heart of the interiors; as we should expect, this charming entryway has Alexis´s signature, sharing the charming and beauty. In this entryway design project, the AD100 designer paired the wall textile artwork above a custom shelf. The mix of purple hues and warm tones dictated the interior style; eclectic and bohemian.
4- Connecticut Home by Billy Cotton
From Billy Cotton, we have another stunning example that less is more. This entryway design project shows a preview of a home that blends classic and vintage flair; the combination of the stunning 30s french chandelier with the wood table and the patterned runners that covers the stairs make it possible to see the perfect match between styles with a touch of luxury and nature inspirations.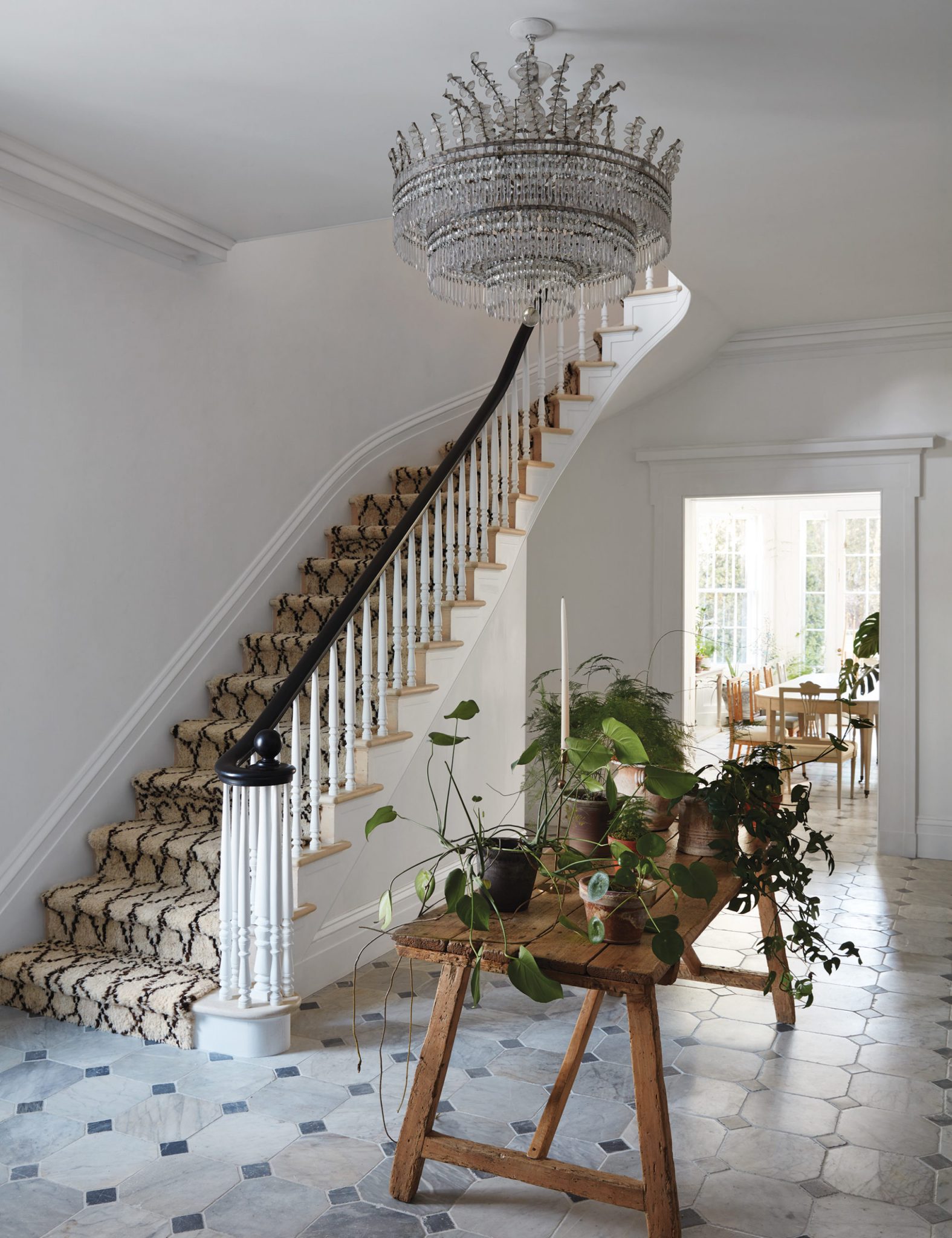 5- Lakeside Home by Beata Heuman
According to Beata Heuman, "the best design combines form and function with personality," and we can notice it when we look at this beautiful entryway design project. The AD100 designer focused on the functionality but without forgetting the character. The stool upholstered in floral patterns helps to dictate the home tone adding a splash of color while also being a useful seating for the homeowners.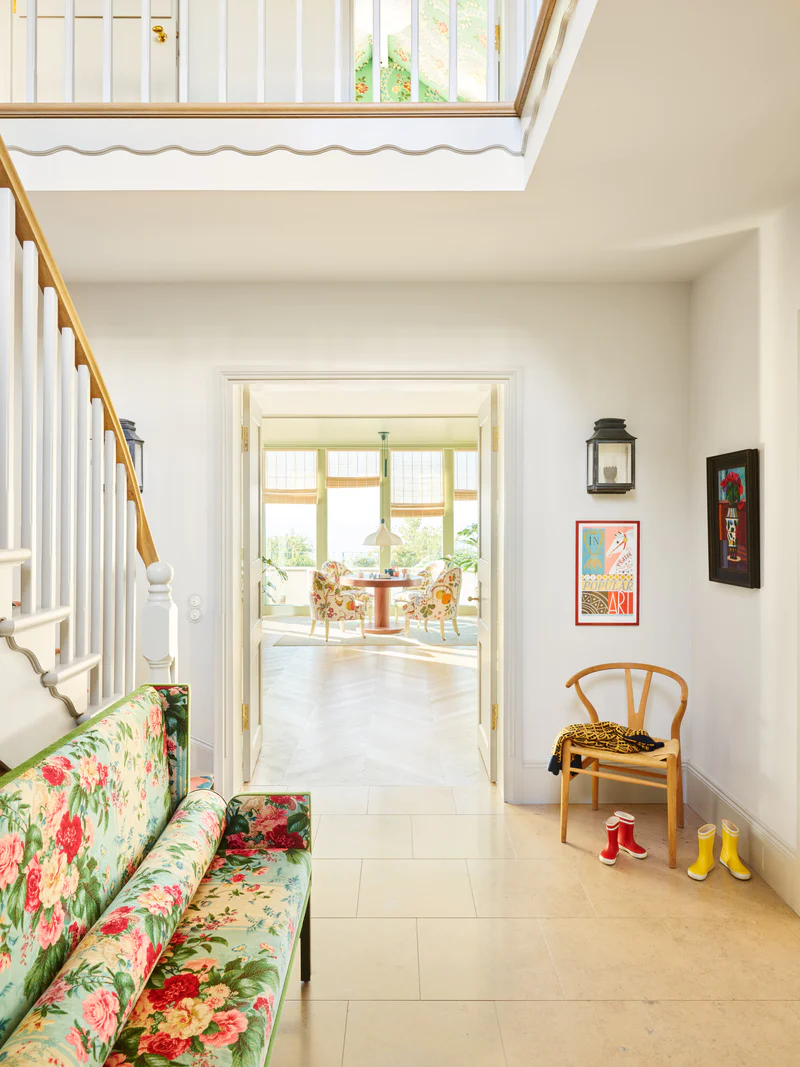 6- Seatle Residence by Nate Berkus
The most googled interior designer in the United States wouldn't be missing in our curated selection, so our next entryway design project inspiration is signed by Nate Berkus. Featuring modern furniture with clean and sleek lines, the project mix textures and materials to create a timeless aesthetic. With a neutral color scheme, the furniture in dark tones is paired with light accessories and golden lightning, giving a bit of lush to the layout.
7- Upper East Side Apartment by David Netto
David Netto is known for designing interiors that transcend the definition of Traditional and Modern – and in this entryway design project, he absolutely nails it. There are many things to highlight in this interior, starting with the mirror wall with an antique mirror frame that creates a new dimension to the entrance and gives it more amplitude; following there is the wall art with modern abstract patterns which blends a modernist approach to the space – and finally, the beautiful way that he match materials – from sisal to brass, creating the perfect blend into vintage and modern.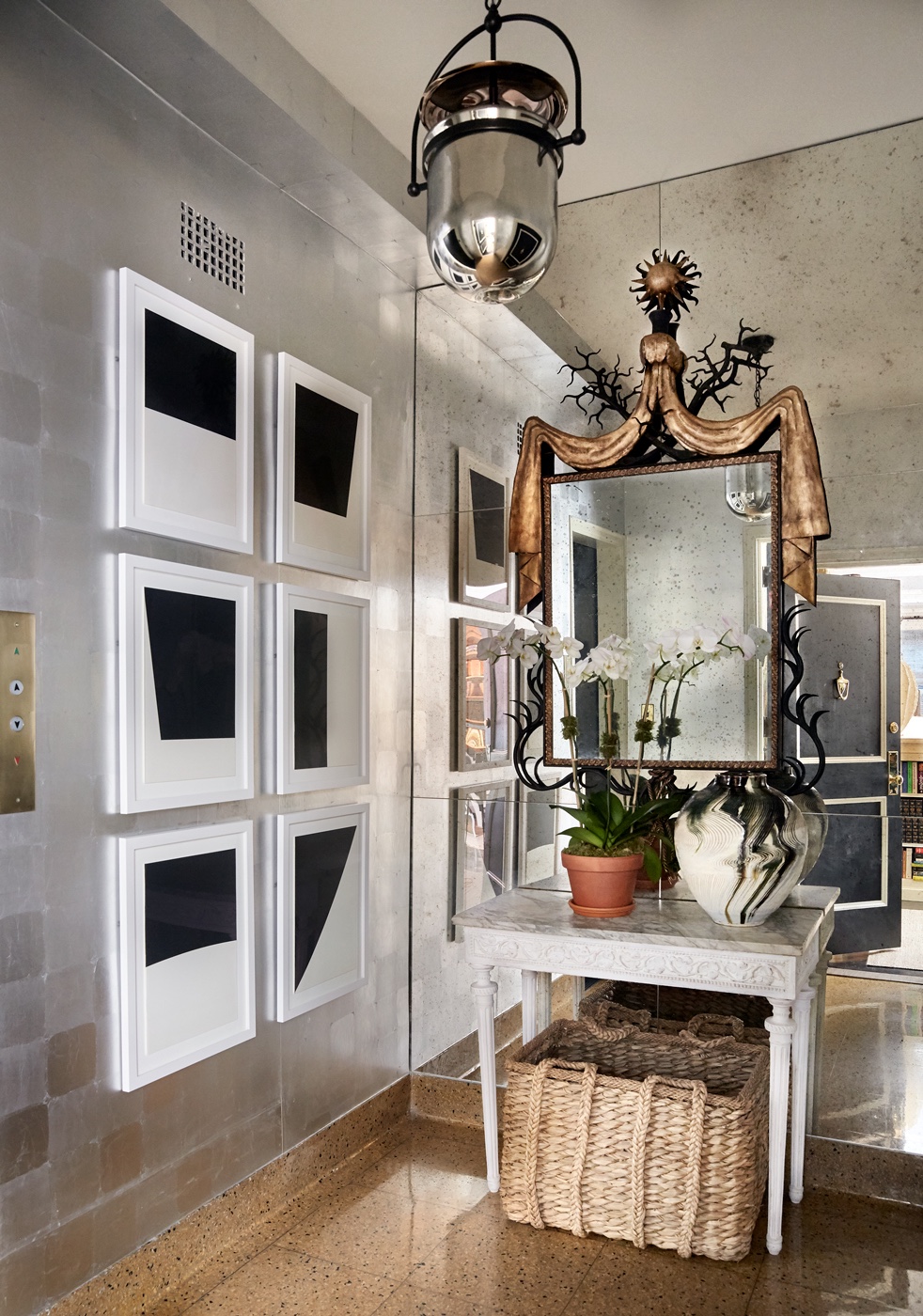 8- Fort Lauderdale Home by Jake Arnold
Opponent and Minimal, this entryway by Jake Arnold create a remarkable first impression with a minimalist approach. With a neutral color scheme, the AD100 designer focused on creating more visual interest with the texture contrasts, from the limewashed cypress ceiling details and hand-applied plaster to the incredible travertine table. Peaceful and tranquil vibes emanate from this entrance, which is another beautiful example that less is more.
9- West Village Apartment by Ken Fulk
Ken Fulk is known for his layered and glamorous interiors, and we are not surprised that this excellent entryway design project has his signature. Warm, homey, and at the same time bold and remarkable, all the spotlight of this layout goes to the stunning wood wall that is completed with a suspension console table, adding an extra dose of personality to the space. The interior design choices are completed with a mirror with an organic frame and flower arrangement.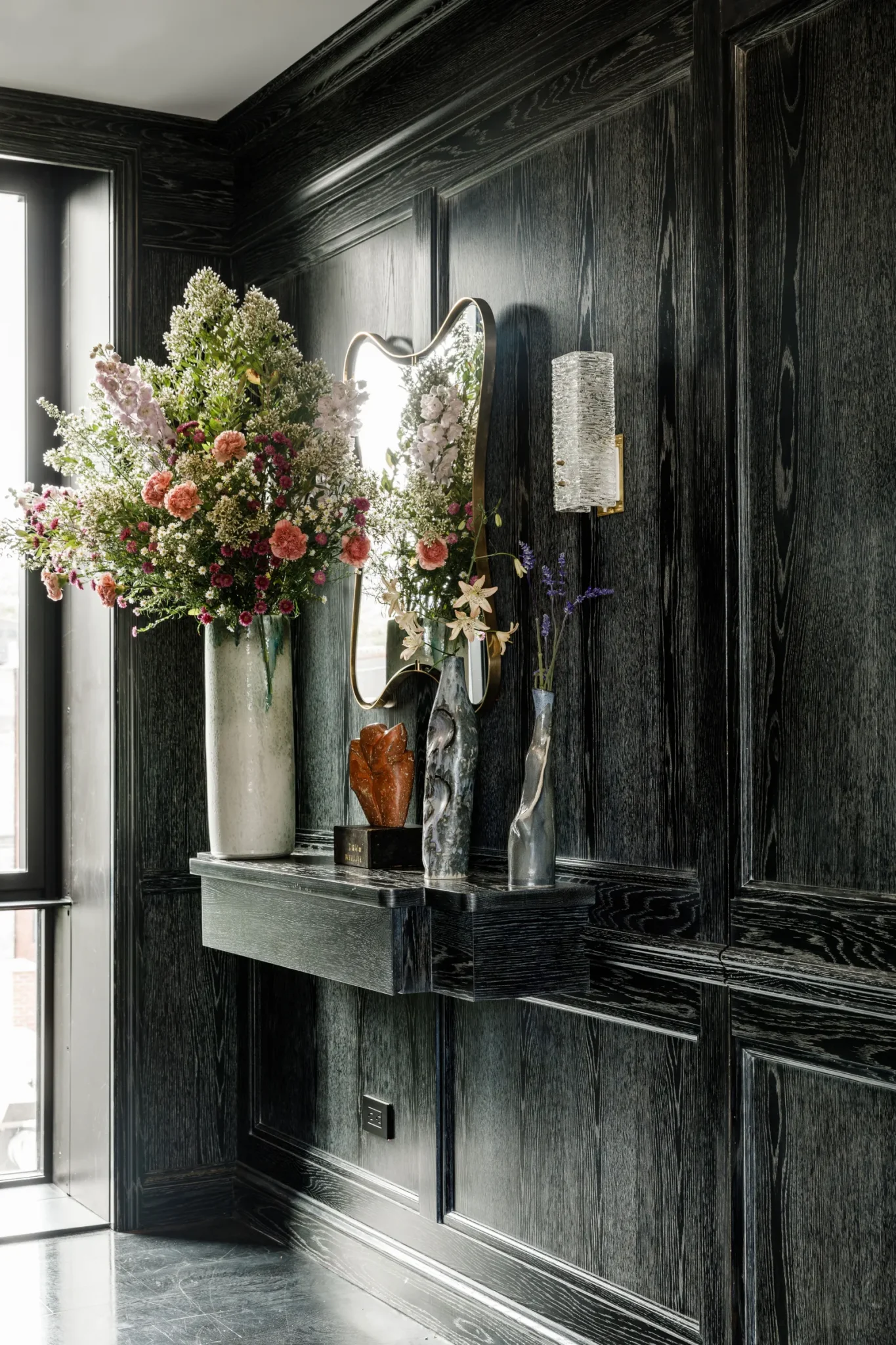 10- 1228 Madison by Kelly Behun
Finishing the stunning inspirations by the top AD100 designers, we have this bold entrance designed by Kelly Behun. This project is a beautiful example of Art Deco style, where the dark walls are covered with golden details to brighten up the space. The layout has a fine selection of furniture, which helps enhance the glamorous vibes. Completing the layout, the AD100 designer also adds an extra layer of comfort with a rug and a splash of colors with a flower arrangement.
The best furniture for an entryway design project
Inspired by the incredible interior design projects of the AD100 designer, we have also gathered some furniture picks from HOMMÉS Studio´s collection to help you to create a remarkable first impression; check them out.
We hope you have enjoyed our curated selection of entryway design projects and found the inspiration you have been looking for to create an impressive layout since first sight. For more insightful project ideas, visit our shop interior page and discover striking entryways.