​First published in Paris as Decoration Moderne dans l'Interieur, this rare 1935 portfolio of full-color plates reflect the influence of Art Deco modernism on architects and interior designers. A splendid book of authentic, hard-to-find designs has provided a treasury of inspiration for architects, interior designers, design students, and design lovers.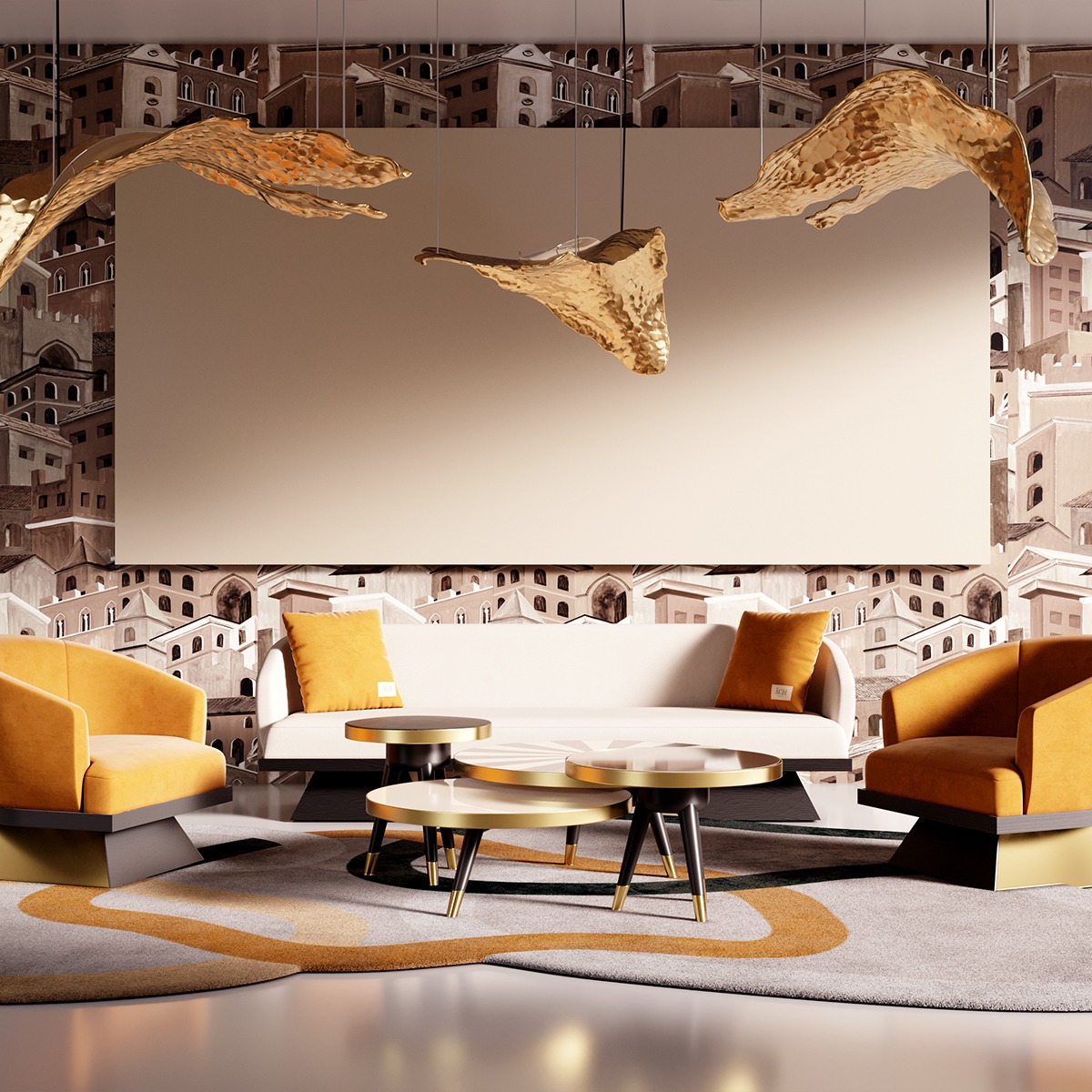 Today, with this article, we won't be as specific as Henry Delacroix. However, we made a selection of essential Art Deco design tips.
We present to you A Simple Guide for an Art Deco Interior Design Style.
If you're looking to get to know the style better and learn how to design an interior fully inspired by it, you've found the right article.
1. What is the Art Deco Style?
The Art Deco design style can bring all the glamour of the 20s to a 21st-century space. Art Deco, short for Arts Décoratifs, is characterized by rich colors, bold geometry, and decadent detail work. Having reached the height of its popularity in the 1920s, 30s, and 40s, the style still brings in glamour, luxury, and order with symmetrical designs in exuberant shapes.
Characteristics of an Art Deco Interior
Geometric and angular forms, exotic materials, and linear decoration characterize Art Deco design. There is no fussiness anywhere in sight in this strong, bold look.
Certain materials stand out in art deco interior design:
Stainless Steel;
Mirrors, Chrome;
Glass;
Lacquer;
Inlaid Wood;
Exotic Skins Like Shark and Zebra;
Ebony;
Marble;
Rare Woods.
2. How to Decorate an Interior having as inspiration an Art Deco Style?
Looking to bring the glamour of the '20s to your space? We will show you how Art Deco design can work in a 21st-century home.

COLORS
Striking, bold colors with a lot of contrasts are a part of the Art Deco Style. Bright and deep yellows, reds, greens, blues, and pinks mix well with silver, black, and chrome. If you want something softer, try creams and beiges. These colors contrast beautifully with the polished wood and lacquered furniture common to the period.
FURNITURE
Art Deco furniture tends to be large in size, so don't be afraid to buy big pieces. Sideboards, armoires, and generously sized chairs are all typical of the Art Deco design era. Furniture made of exotic woods like zebrawood, as well as chrome and mirrored pieces, are great options. Go for strong, streamlined shapes with no frills.
FABRICS
The fabrics in this style are usually either solid colors or geometric designs. In an art deco room, you shouldn't use any pretty florals or plaids. Try adding highlights with cushions in solid contrasting blocks of color. "Bold" is the key word to remember with this style.
LIGHTING
Lights were often made of glass and chrome (sometimes etched or enameled). Colored Tiffany-style glass and white glass were also pretty common. It's not easy to find fixtures that are original to the period, however, there are a lot of high-quality reproductions for sale on the market. We will show you some examples below.
These are the main Art Deco design elements you can incorporate into your decor to achieve the streamlined and modernist look of the Art Deco design era.
3. Art Deco Style Furniture: Key Pieces
Now let's check out some key furniture pieces you need to perfectly pull off an Art Deco interior design.
DINING TABLE
Billie Dining Table owns a striking attitude and sculptural shapes. A modern marble table with polished brass details for a contemporary dining room design.
CONSOLE
Annali Console is the perfect drawer console to fit in an Art Deco hallway, due to its geometry and color selection. It presents a graphic silhouette, reminding us of the New York Art Deco skyscrapers.
SIDEBOARD
Marino Sideboard is an exclusive furniture piece that combines exquisite materials and details of colors, making it unique. This sophisticated sideboard promises to add glam to any art deco interior design project.
Marino Sideboard will make you feel that home will always be your haven. Its nautical aesthetic pleases sea lovers who find comfort in the water and venturesome souls.
LIGHTING
Cocoon floor lamp was inspired by the Cocoon wall lamp design. It was conceived to highlight elegance and character around your living room.
Cocoon features a mix of peculiar materials, emancipating its luxury structure and shape. It's made of orange-colored glass suspended in a gold-plated structure resting on a bold black marble base. Inspired by Art Deco design jewel shapes, this floor lamp enriches your space with beautiful appointments.
MIRROR
Lush mirror carries us to another dimension through the exuberant biggish shapes, bringing back a lavish product with a modern touch of printed terrazzo Marsala from the times of the Art Deco design style. The primary function of a mirror is to prolong identity by its reflection, whether it is ours or from the surrounding space. Because of its predominant character, it is difficult not to be a protagonist in front of the LUSH mirror.
SOFA
Kara sofa is a statement sofa that promises to be the absolute protagonist of a living area project. Its shapes derive from an art deco design inspiration in its shapes, which determines an eclectic and luxurious style. It features a bold, unique marble base and high-quality, comfortable velvet seating.
Kara Sofa

Sofa 6.900,00

€
Create amazing art deco interior design projects with a selection of modern art deco furniture handcrafted and customizable for elevating your interior design project.