Warm colors are associated with strong emotions, passion, joy, and playfulness.
Pink, Orange, Yellow, and Dust. Meet the new HOMMÉS Studio collection inspired by the cool breeze of sunny days that gains a new meaning on each object, shape, and material.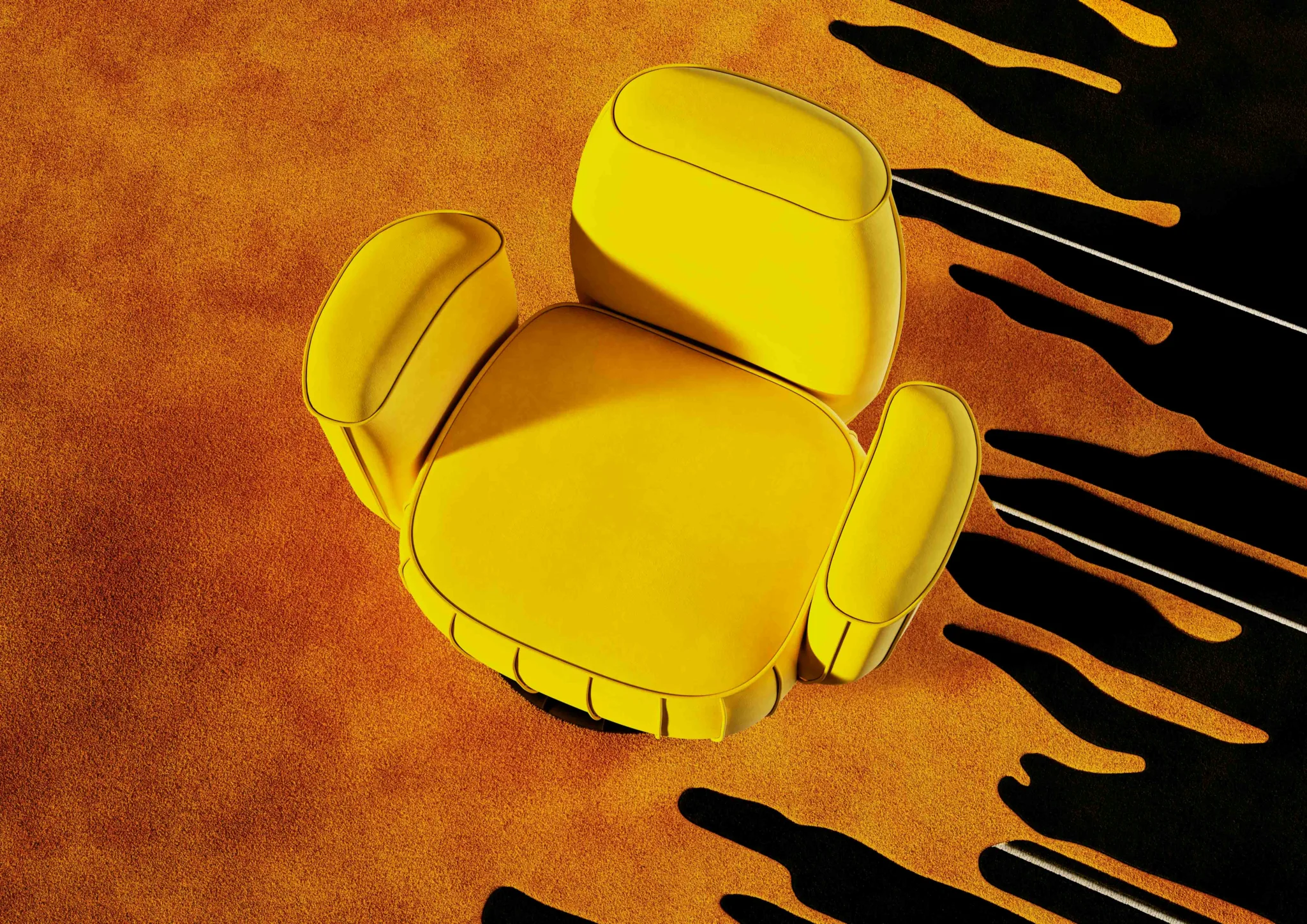 A Little More Color, Please!
That colors have been powerful communication allies since the beginning of time is news to no one. The world comprises surprising shades capable of building bridges between perception and emotion, sharing meaning across cultures, and bringing generations together.
Still on this idea, the colors we use in decoration also communicate who we are, what we represent, and what ideals we want to convey to those who are with us. The truth is that colors shape how we look at the world and at life. And in the world of interior design, it could be no different.
And it is precisely inspired by the idea of celebrating this invisible power of visual stimuli that controls our emotions, that HOMMES Studio launches its new furniture line: Warm colors 2023 Collection.
Warm Colors 2023 Collection
Sunny days are back! Close your eyes for a second and think about the electrifying feeling that a bright orange gives you or the seductive power of a deep red. A combination of warm colors has the ability to inject a sense of vitality into any space.
And because of the importance of color in all fields of design, from product to fashion, HOMMÉS Studio has created a selection of products with a sunny color palette.
Pink, Orange, Yellow, and Dust. These are the main combinations of the warm colors used to make up the new collection. Between fabrics and juxtapositions, it is possible to feel the pleasure of each visual stimulus in each product. Life, pleasure, vibrancy, and luxury are just some of the many sensations that the Warm Color Collection brings to its lovers. Are you ready to fall in love?
PINK
The main shades that make up this product range are comprised of red, blue, and white. These three hues together make up passionate and gentle pink, a color that represents fierce feminine energy and has an uplifting effect.
Among the items in the new collection, it is possible to find versions of some of the brand's beloved classics now also in warm colors, such as the Fifih Bench, the Ibiza Mirror, and the Matrioska Sideboard.
ORANGE
Another color capable of awakening our most intense feelings is orange. Synonymous with hope, this warm color carries a contagious optimism and fills any environment with beauty and joy. The fiery nature of the pigment goes well with brown aesthetics and earthy neutrals, creating a beautiful and cheerful atmosphere.
Among the new products, the contemporary Bossa Side Table – with 70's design influence – gets an orange version that, alongside the Billie Center Table in lacquer, adds a funky touch to bold living rooms.
To complete the warm colors decor, HOMMÉS Studio also presents the retro lighting fixture with iconic eyeball shades, Miyake Floor Lamp, an authentic Mid-Century Modern piece.
You can also find new versions for the classic Zadine Mirror, Jucca Dining Chair, and the Fifih Bench, upholstered in a warm orange fabric that suits any interior style.
DUST
Luxurious in its own right, this warm color joins the others in the sunny palette to add mystery and charming. Dust, as the name suggests, is an earthy ruby hue that is intriguing and fascinating at the same time.
Softly vibrant, this bleached red is perfect to pair with bold colors and soothing neutrals. Between burgundy and sandy shades, dusty tones add tranquility and timeless elegance to the room.
Among the pieces made for the collection with sunny colors we can highlight the Vonkli I, a Memphis-style armchair with a large seat, a small backrest, and a metal base with a gold finish.
Also in Memphis style, the ruby version of the Fuschia II Side Table helps to bring an air of elegance to the space, with layers of brave shapes and bold textures.
To complete the selection of warm 2023 colors, HOMMÉS Studio also presents the curvy and opulent shapes of Mykonos, a bold and iconic daybed that will seduce you and lead you to a bohemian lifestyle.
YELLOW
Of course, HOMMÉS Studio's 2023 warm colors collection couldn't leave out the most cheerful color of all… Yellow! Owner of a bright and energizing atmosphere, this color is able to transform any environment and let your most sincere emotions flow. In the interior design, using elements with pops of yellow emphasizes all the boldness and brightness that this color offers.
Meet a bright and vivid version of the Ajui Armchair II and golden luxury piece for a luxury bedroom project, the Matrioska Chest of Drawers.
As seen, sunny colors shape our outlook on the world and life, revealing the invisible power of visual stimuli that control our emotions. Take a moment to get to know HOMMÉS Studio's complete Warm Colors 2023 collection and let your most intense instincts surface in your room.