The current owners bought this unique mansion in the chic 16th arrondissement of Paris about eight years ago. They approached London-based interior architect Bryan O'Sullivan three years later. They asked him to renovate the mansion into a comfortable family home while retaining its golden charms.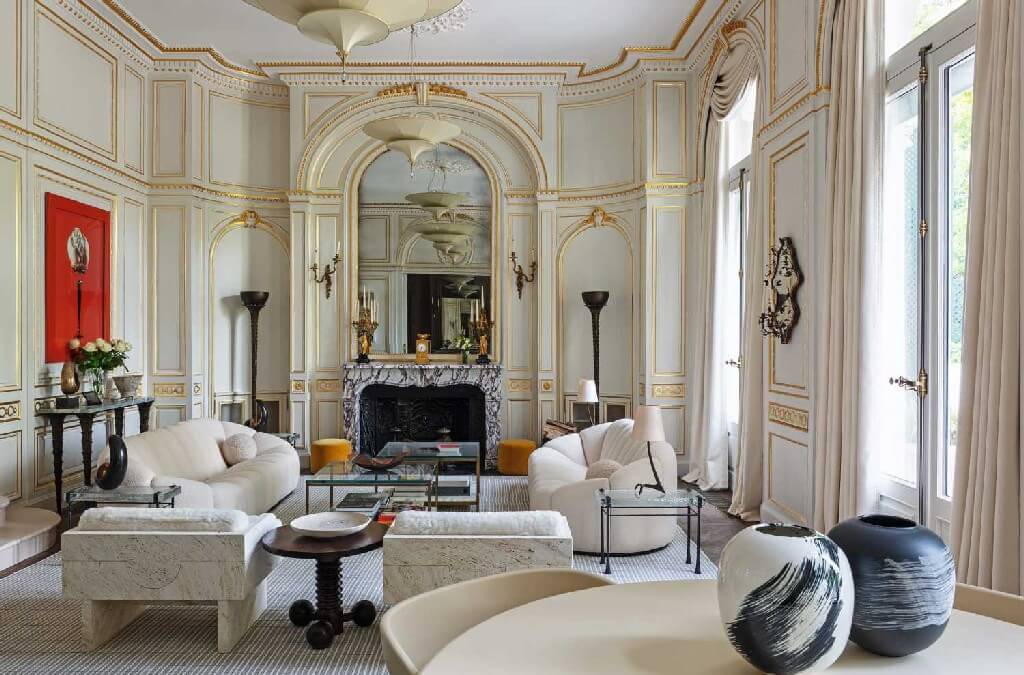 When O'Sullivan came on board, the owners had attempted unsuccessfully to kick-start the renovation many times. The traditional rooms were still in place, but many of the original details had been stripped out. The floors and plumbing were not of great quality, but it was still an amazing canvas to O'Sullivan work with.
The interior expert's first rule was to guarantee that any architectural interventions stayed true to the original building. "We did not want to mess with such a masterpiece of a house, we wanted it to feel authentic."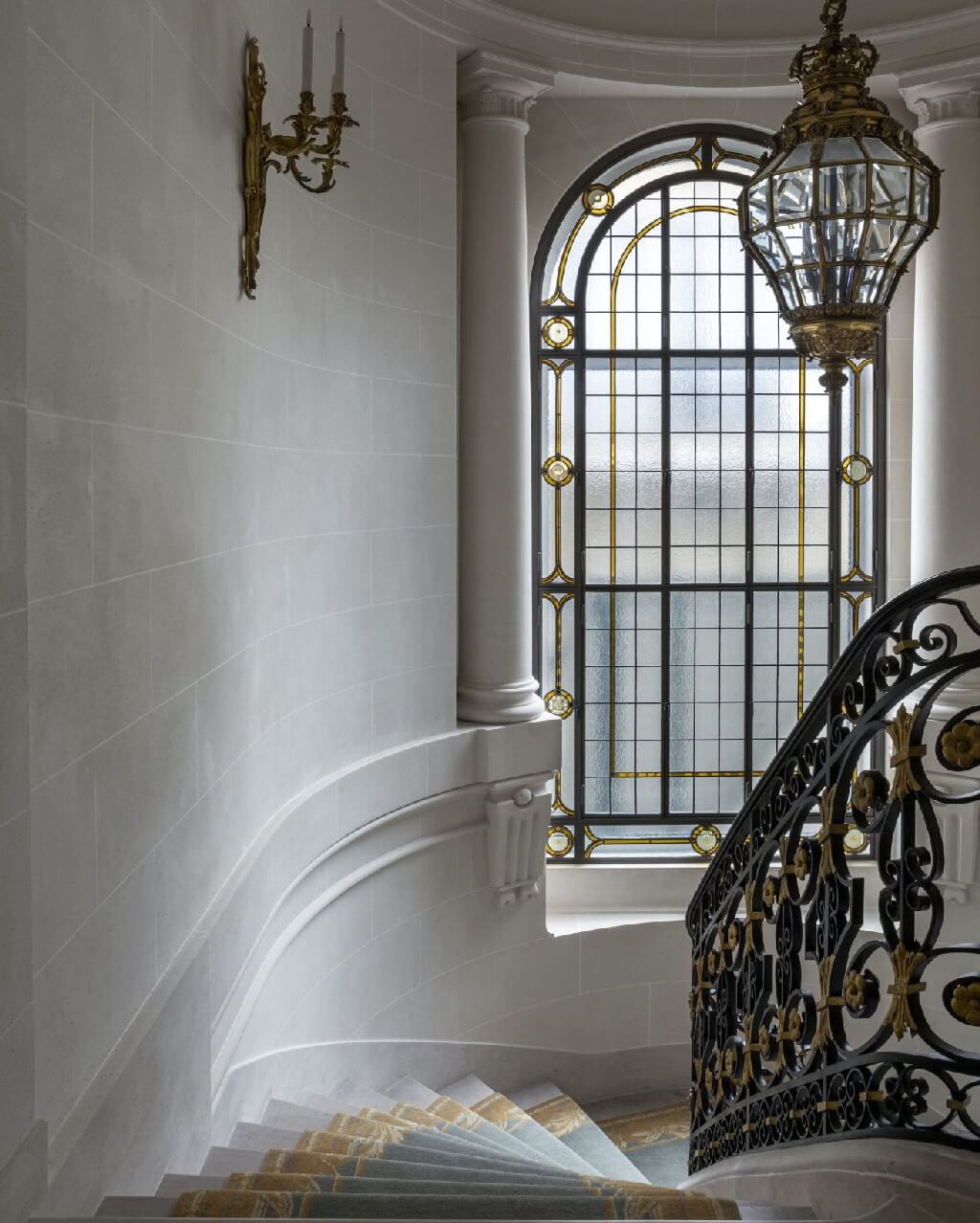 So, O'Sullivan and his team performed extensive research into period details. He found inspiration for the new decorative stucco, stair runners, stone floors, and Versailles parquetry flooring, as well as the lighter boards of the chevron parquet on the top floor.
O'Sullivan drew on the talents of independent artisans. They include Irish stonemasons, Belgian timber specialists, British furniture makers, French gilders, ironmongers, painters, and polishers. New structural additions included arched-fanlight doors to divide the dining room and grand salon from the main entrance hall.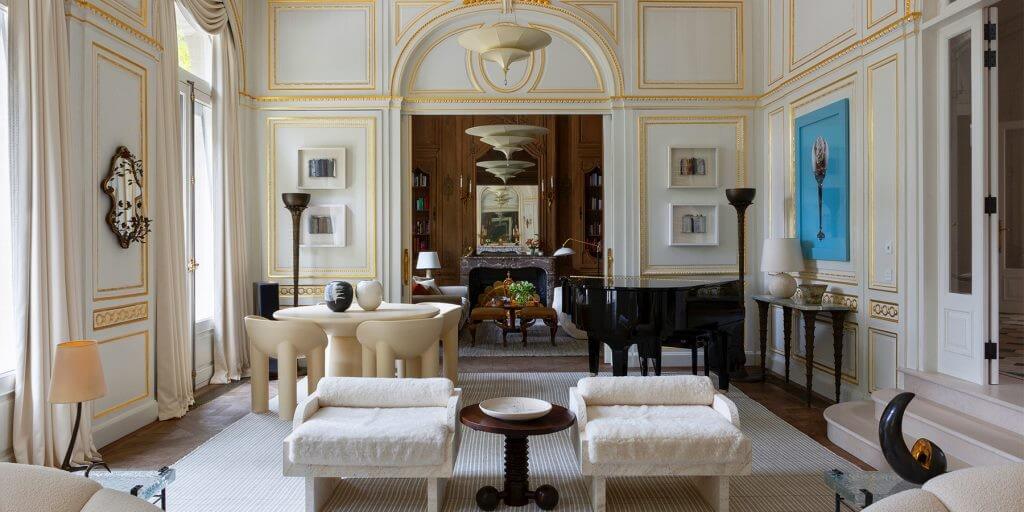 More natural light floods through a skylight and top floor lightwell down into the gallery on the first floor. "Before, it was an underwhelming space. Now, it feels kind of wow." That same wow factor also comes from the impressive scale of the rooms.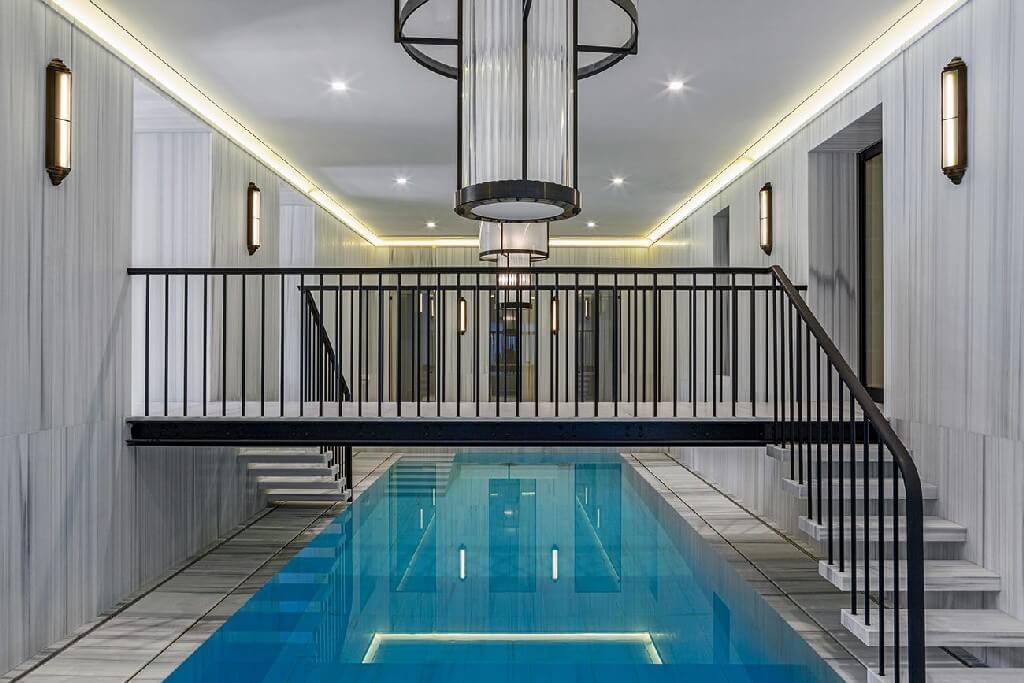 With his impressive architectural history, O'Sullivan was the perfect man for this job. Having worked with primary architects, including Annabelle Selldorf in New York and Luis Laplace in Paris, and interior designers David Collins and Martin Brudnizki in London, O'Sullivan founded his eponymous practice in 2013.
Today, he has projects traversing high-end residential projects. From New York to Ibiza, superyachts, and destinations such as Ballynahinch Castle Hotel in Galway, Ireland, and The Tamburlaine Hotel Cambridge, UK.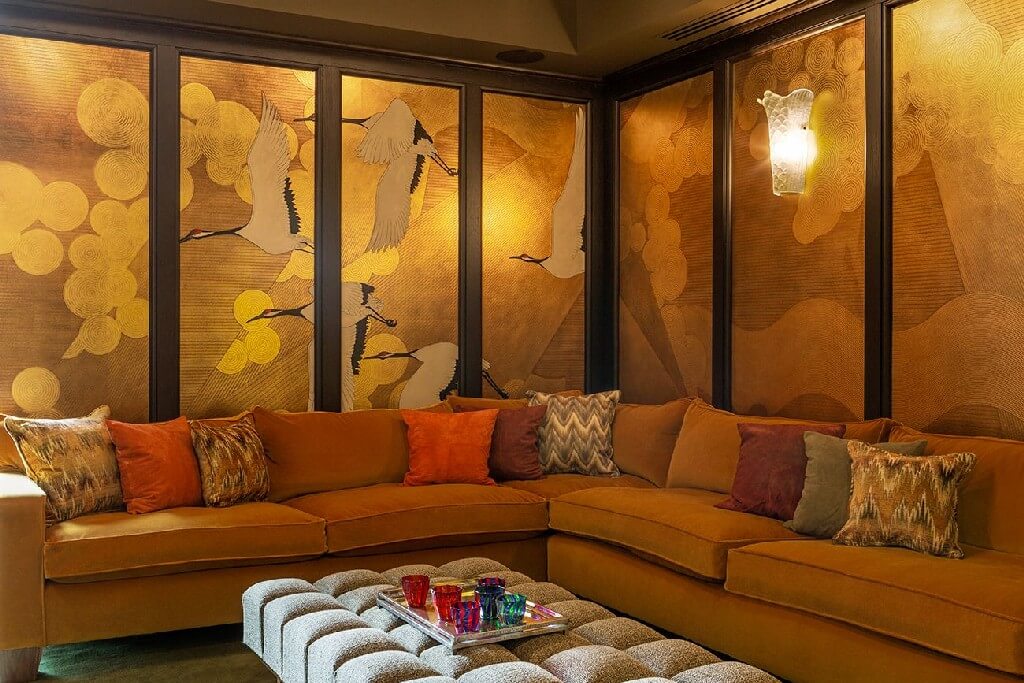 This unique mansion mixes traditional and Louis XV-style sconces with vibrantly patterned marble fireplaces, Fortuny pendant lamps, and curvy sofas. Italian floor lamps and shell-shaped cocktail chairs from the 1950s team with contemporary woven leather, wool-and-raffia rugs by Toyine Sellers, and 19th-century antiques sourced from London's decorative-arts fairs and the Marché aux Puces Paris. Giacometti-inspired chandeliers in the dining room and hallways provide a modern contrast to the ornate black-and-gilded wrought-iron balustrades.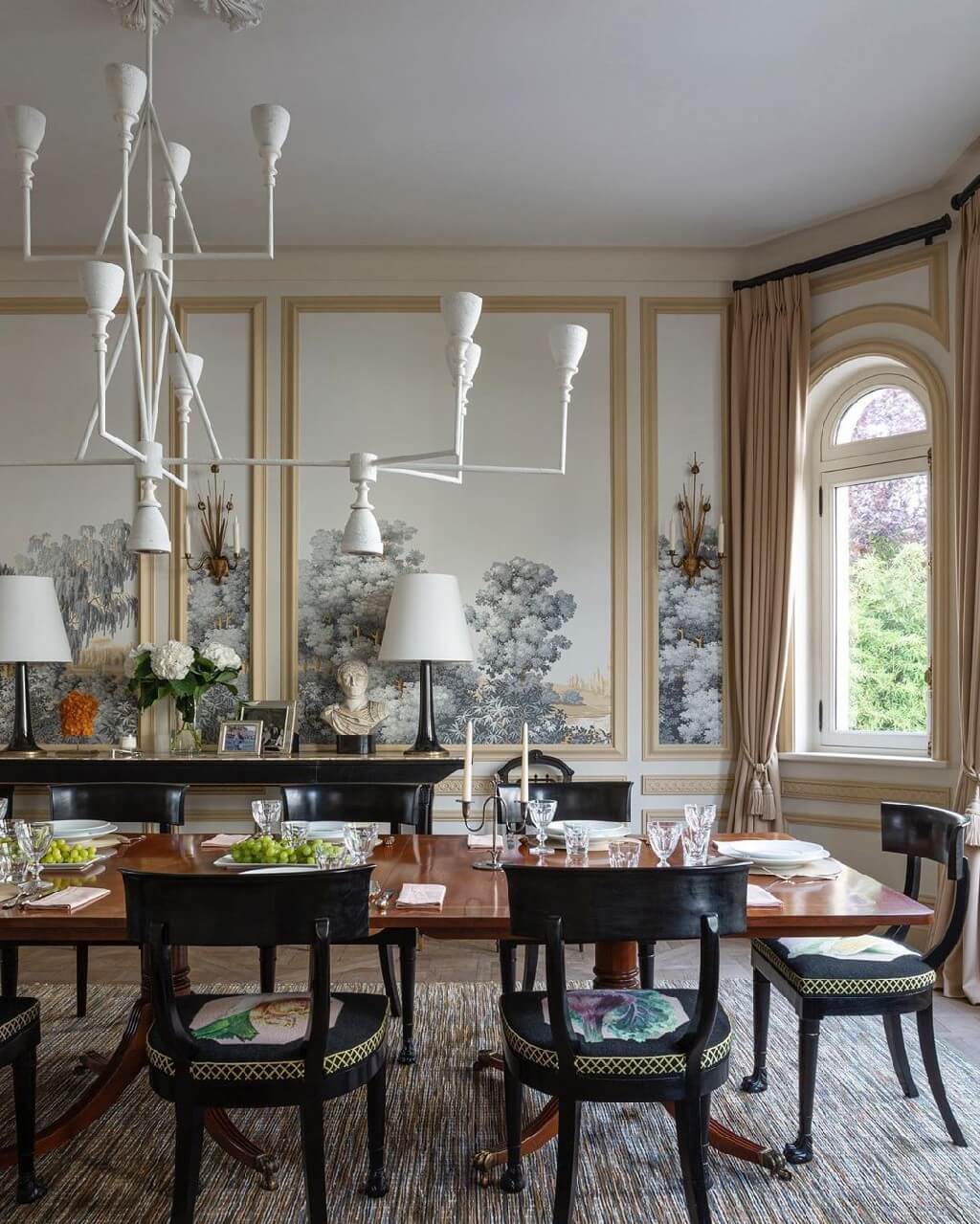 Bedrooms showcase unique bespoke pieces, such as fluted headboards and a walnut bed inspired by mid-century architect Jules Leleu. "I try to hide televisions as much as I can – they are my absolute pet hate," says O'Sullivan.
The result is a house that feels grand but not intimidating. "Nothing feels too far away or disconnected," says O'Sullivan. "What we tried to do was balance the house's past with the right contemporary mix of color, texture, and playfulness. In this way, the owners felt instantly at home."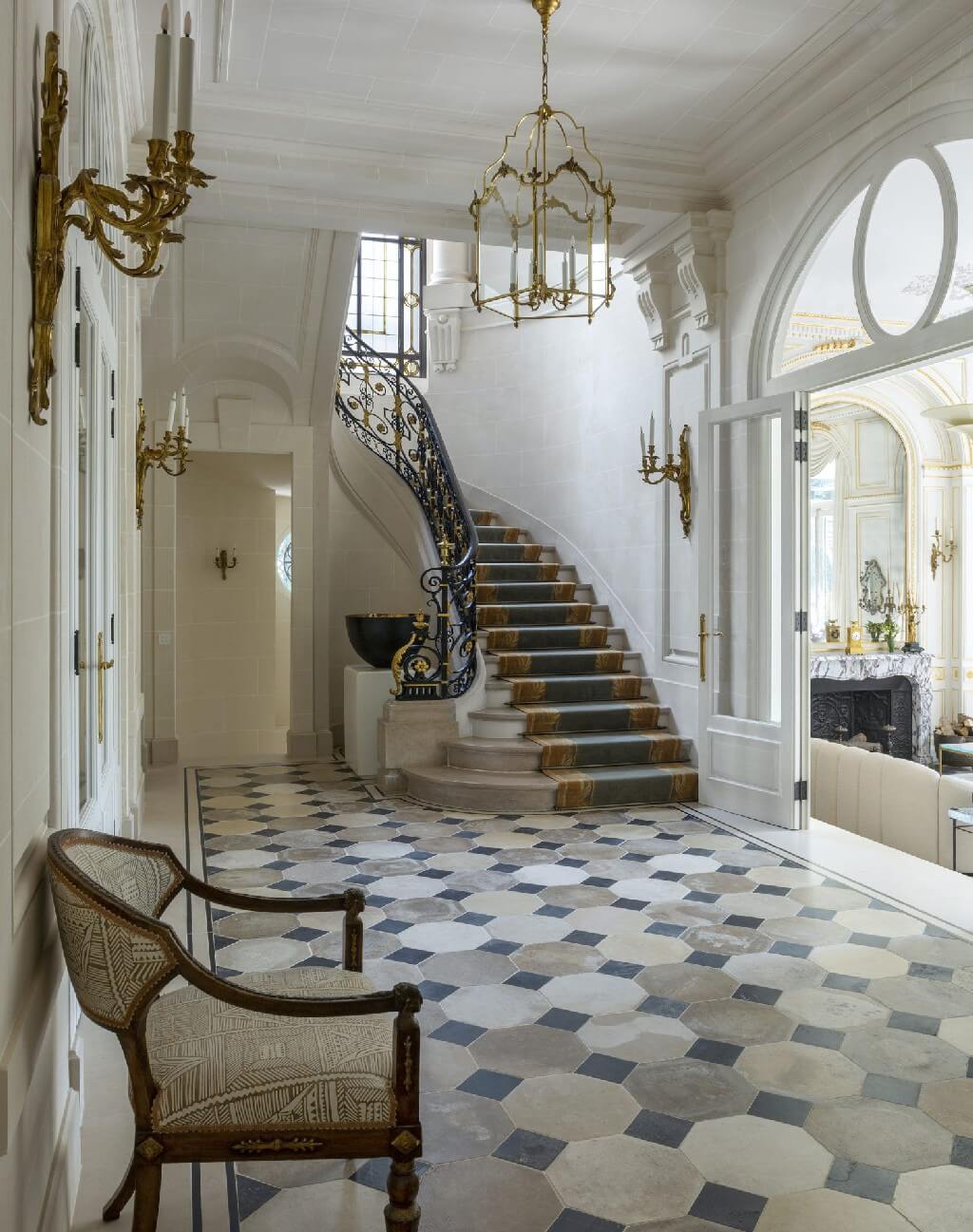 We really hope you liked our article. Feel free to pin all the images to your favorite Pinterest board. Meanwhile, you can also visit our Pinterest boards to get more inspiration.
Get more ideas for your projects and find functional, stylish, and sizable lighting and furniture choices:

Source: AD Middle East