The Goodtime Hotel in Miami Beach is a hospitality project of Pharrell Williams in association with entrepreneur David Grutman.
Architecture building by Morris Adjimi and outdoor landscape by Raymund Jungles. Interior Design by Ken Folk.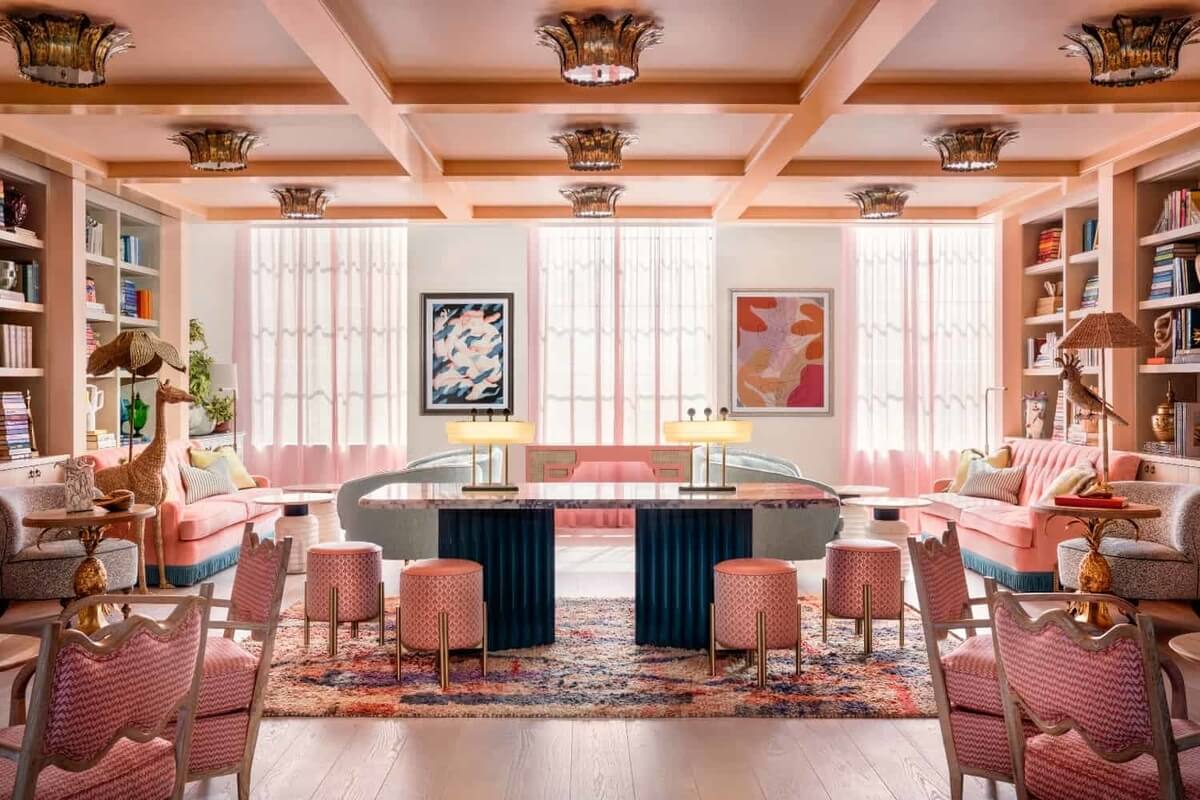 THE GOODTIME HOTEL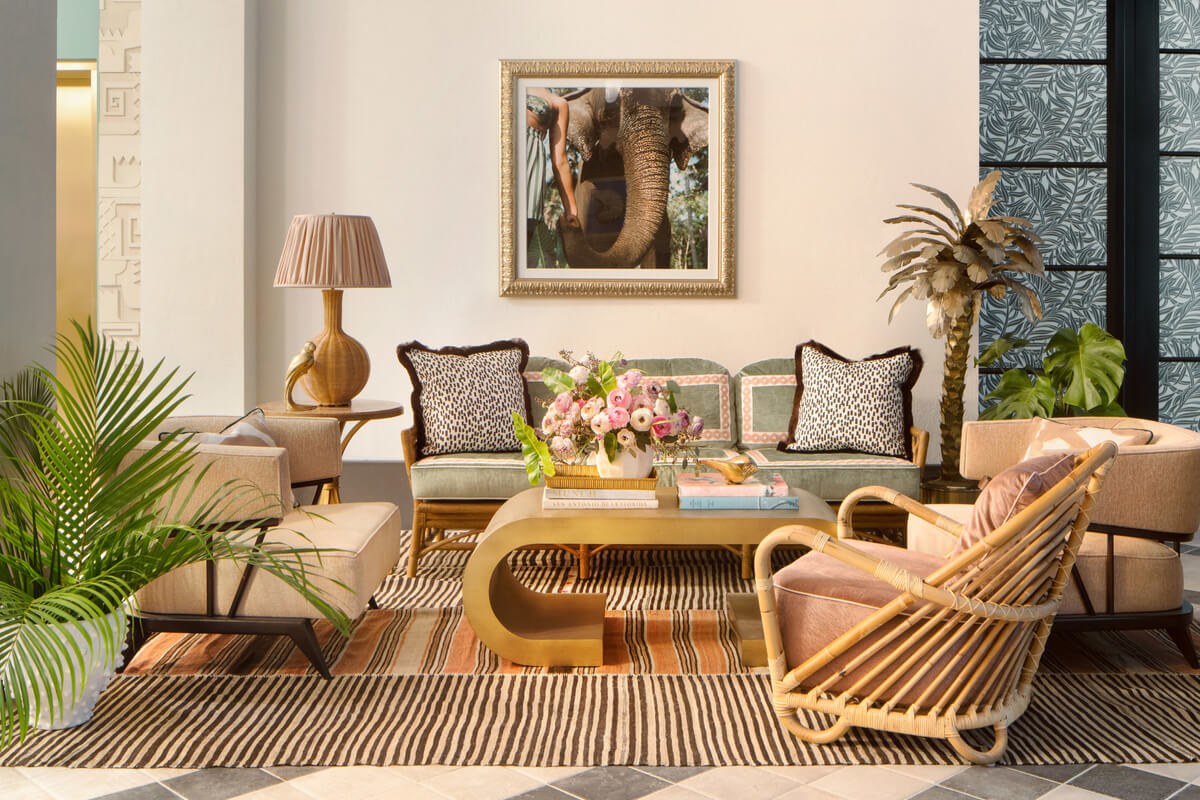 In case you're not aware of it, the singer, songwriter, and producer (among other things) is also a Real Estate developer. The creativity of Pharrell Williams is not limited to music. As matter of fact, the author of "Happy" has been involved in remarkable interior design projects, usually with a dreamy color palette.
The Goodtime Hotel in Miami Beach is no different. Pharrell Williams has a clear identity in interior design. Similar to his songs, the entrepreneur aims to give away good vibes and make people have a really good time.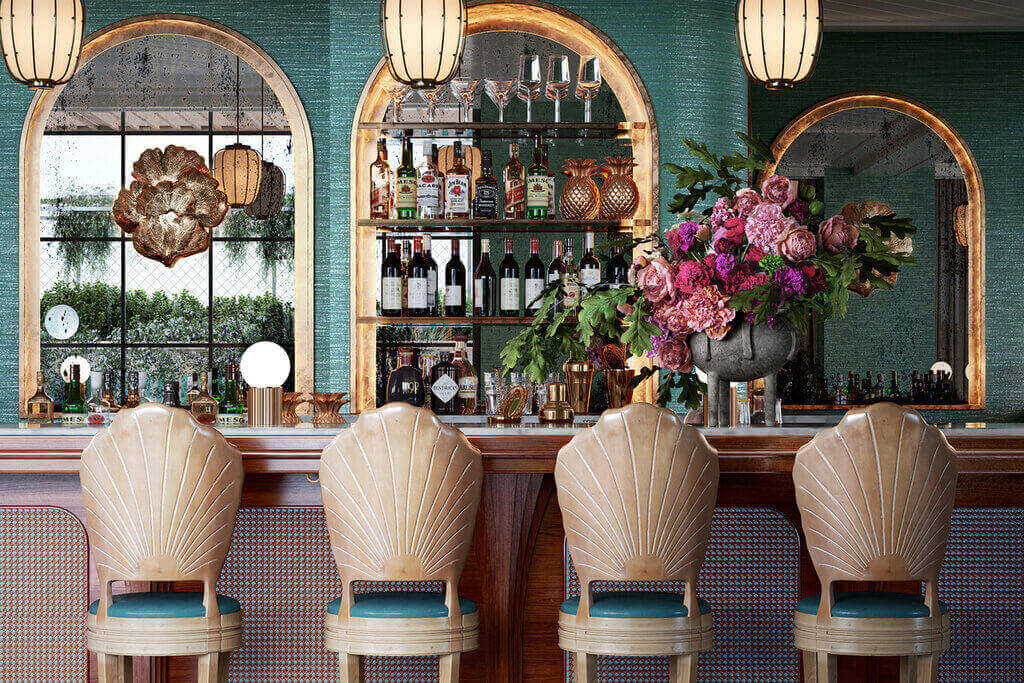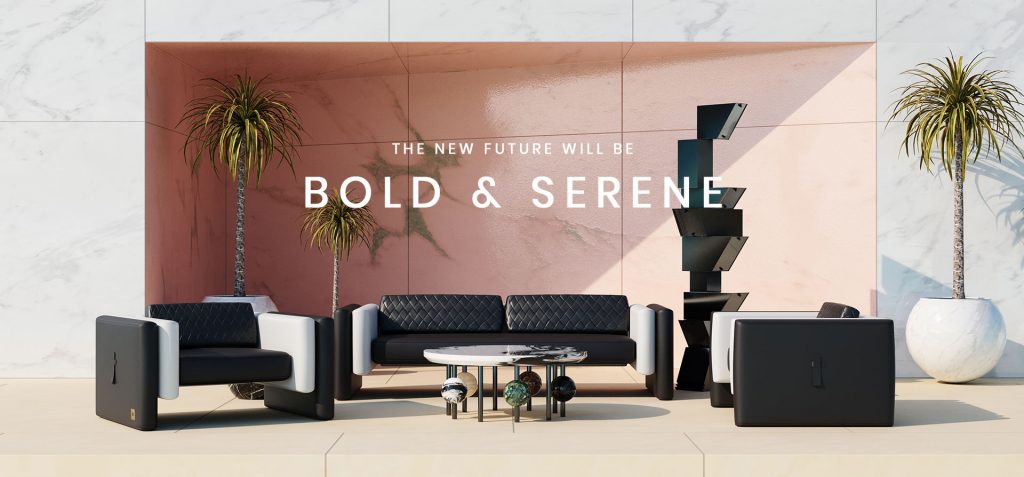 CANDY COLOR HOTEL
The color palette of The Goodtime Hotel in South Beach is not new in the work of the trio Williams-Grutman-Folk. Both investors and the interior designer worked previously on a peachy restaurant in Miami Design District, the Swan and Bar Bevy.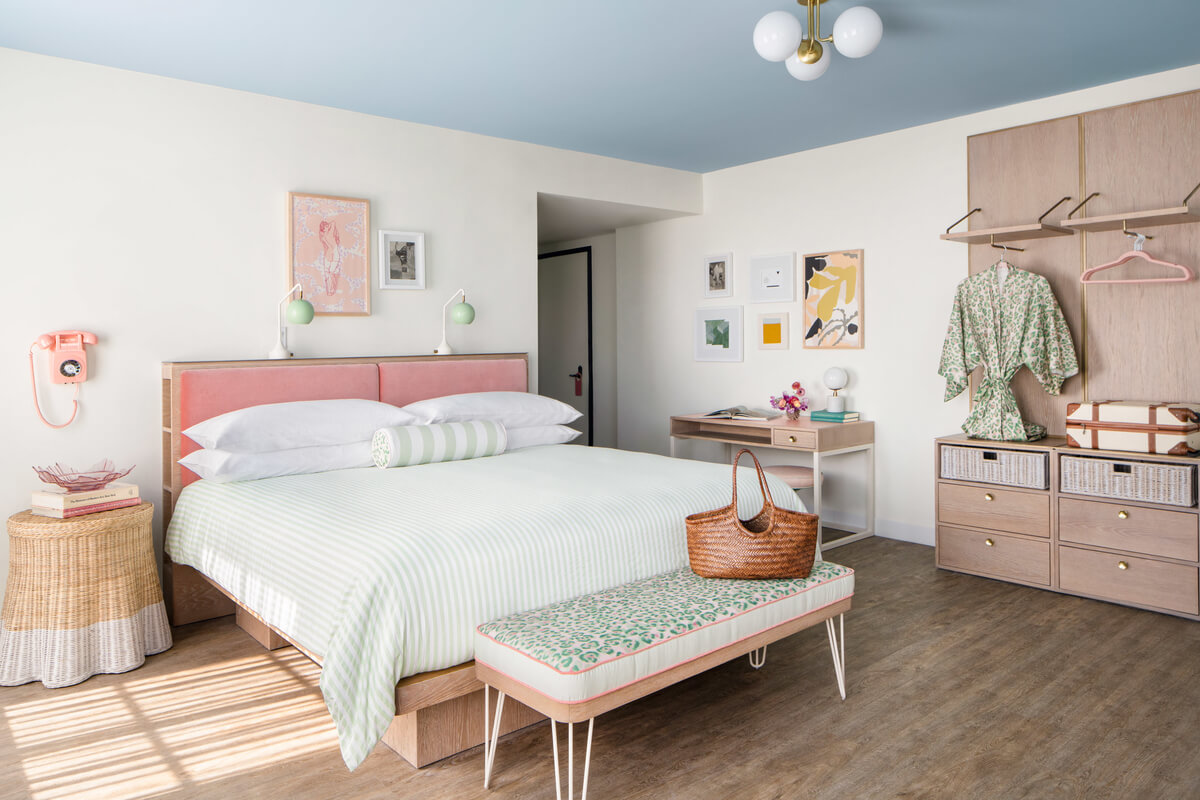 Similar to the restaurant Swan and Bar Bevy, The Goodtime Hotel in Miami by Pharrell Williams is a dream in pastel colors. Even though the predominant interior design style is art deco, at the Goodtime Hotel we experience a post-art deco with lighter colors. We could even argue that Wes Anderson was the inspiration for the interior design of Ken Folk.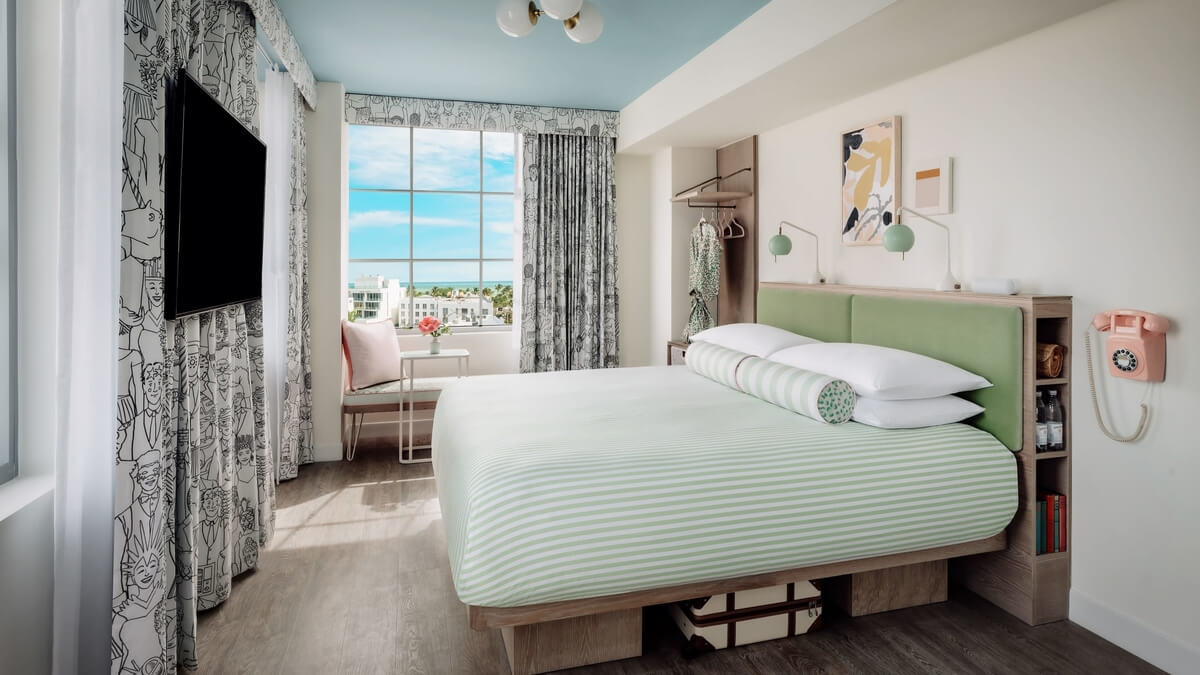 The pastel colors contrast with deep hues of classic art deco style, such as blue, green, brown, brick orange, and mustard yellow.
Undoubtedly there's a contemporary flair in art deco interior style at the Goodtime Hotel in Miami.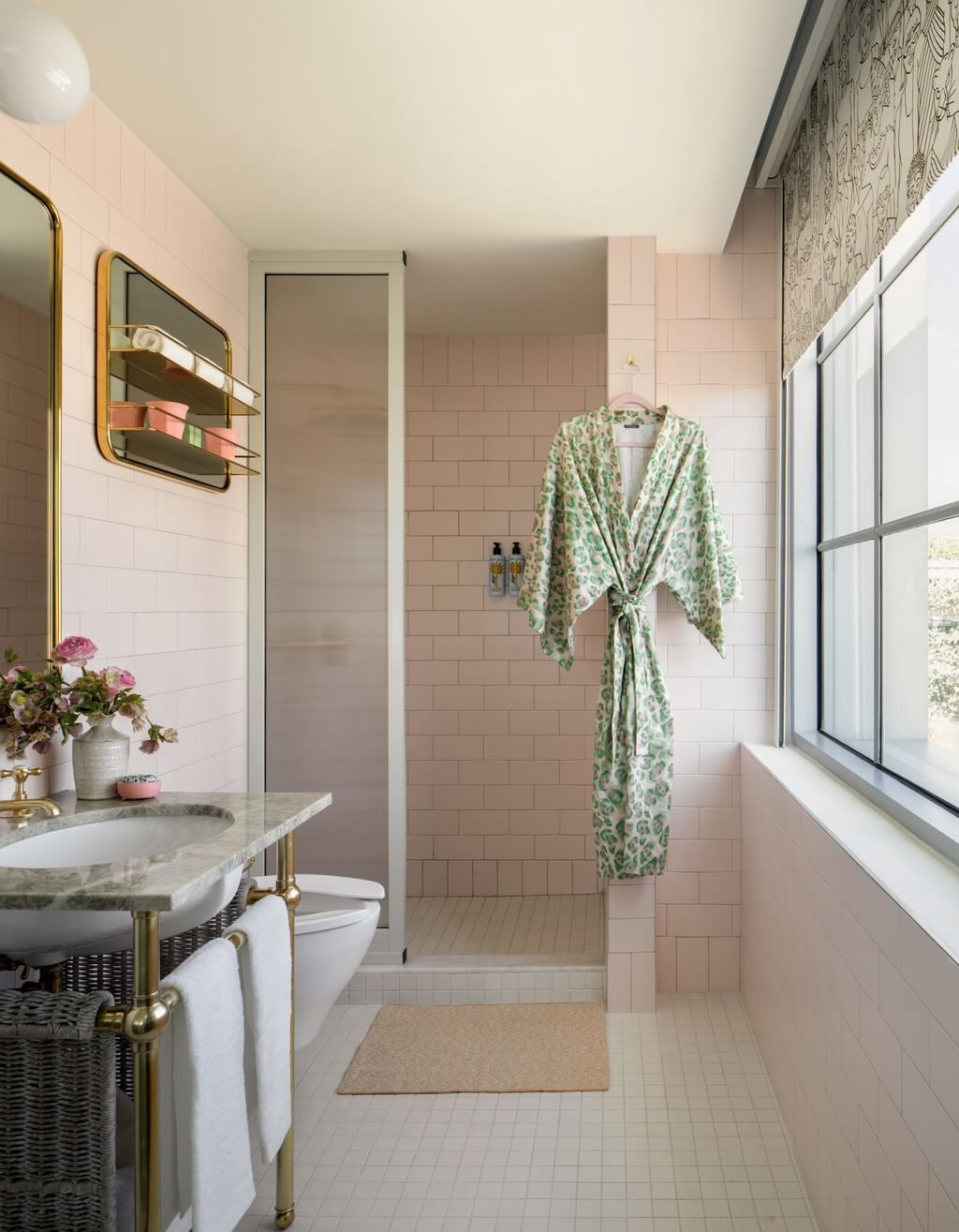 THE GOOTIME HOTEL LOBBY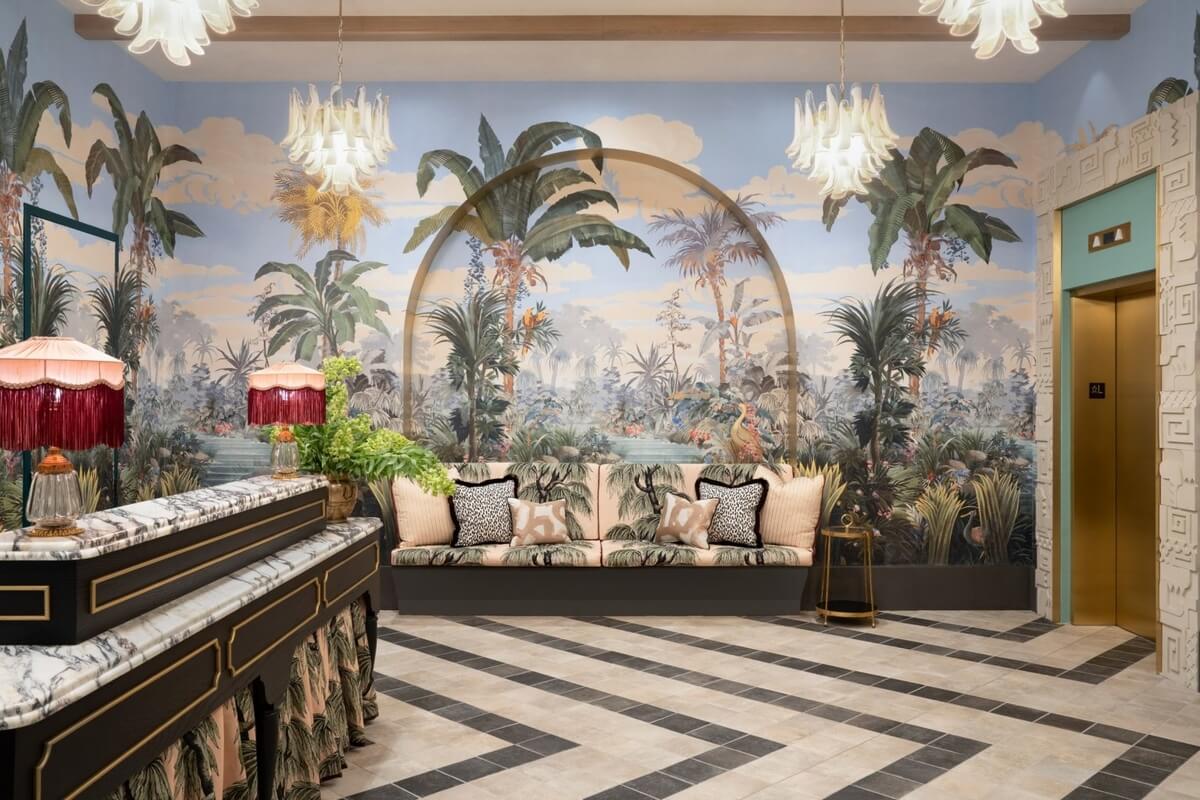 Even though many areas of the Goodtime Hotel are a contemporary interpretation of art decor interior style, the lobby is a travel in time.
There's a remarkable charm in the hotel lobby. The reception in black lacquered is decorated with dramatic table lamps with fringes. A delightful custom-made tropical mural pairs with art decor glass suspension lamps. At first glance, we feel a charm identical to the lobby of The Colony Palm Beach Hotel.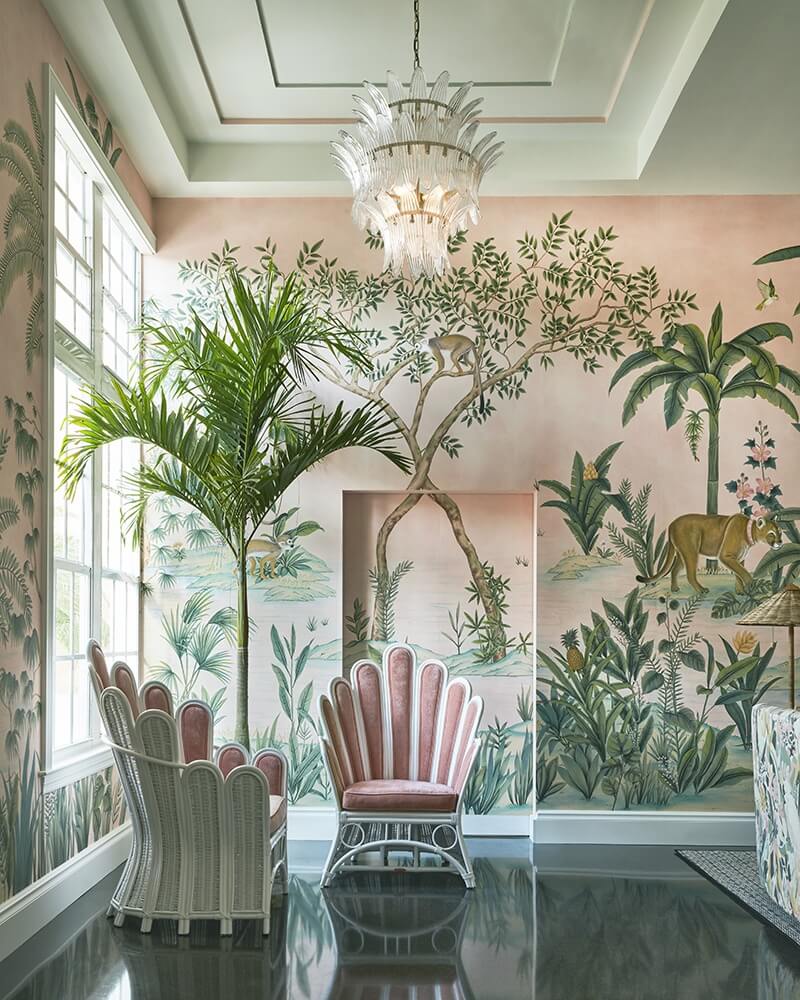 THE GOODTIME OUTDOOR POOL AREA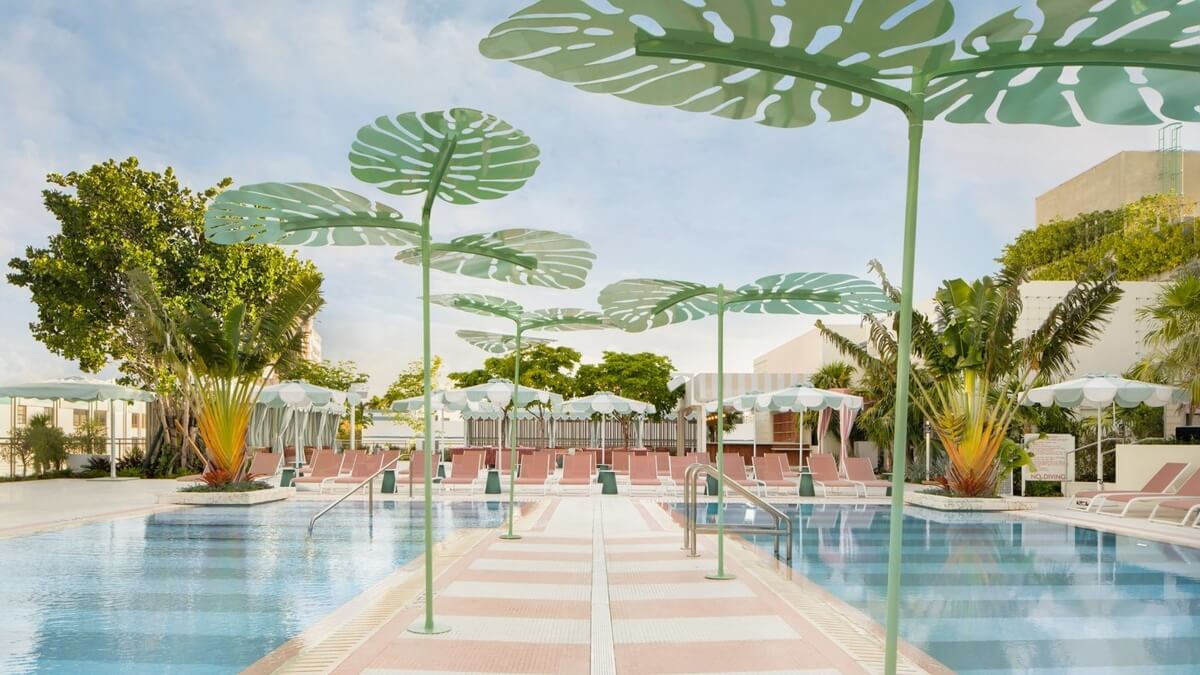 The Goodtime Hotel in Miami is about well-being, spending a good time, to relax and to recharge. In this manner, a carefully designed outdoor area is part of this stunning hotel in Miami.

The architect Raymond Jungles is the creative behind the outdoor pool area. At the Goodtime Hotel, we find an unworldly pool club, with a mid-century modern aesthetic… The baby pink sunbeds, the white umbrellas, and an outdoor area filled with plants to highlight tropical vibes. The perfect environment to be sunkissed and to get a good tan in Miami.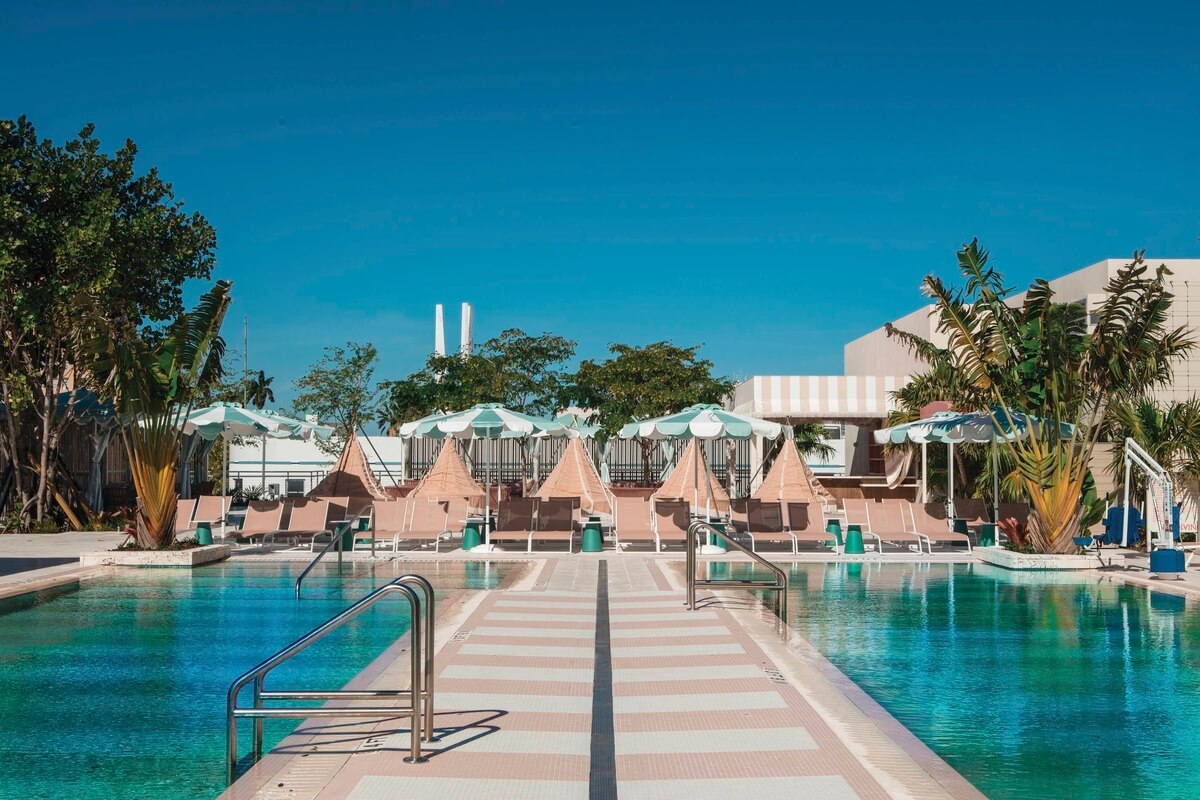 Do you appreciate the aesthetic of The Goodtime Hotel in Miami by Pharrell Williams and Ken Fulk? Then discover the luxury pink hotels around the world that will make you start packing!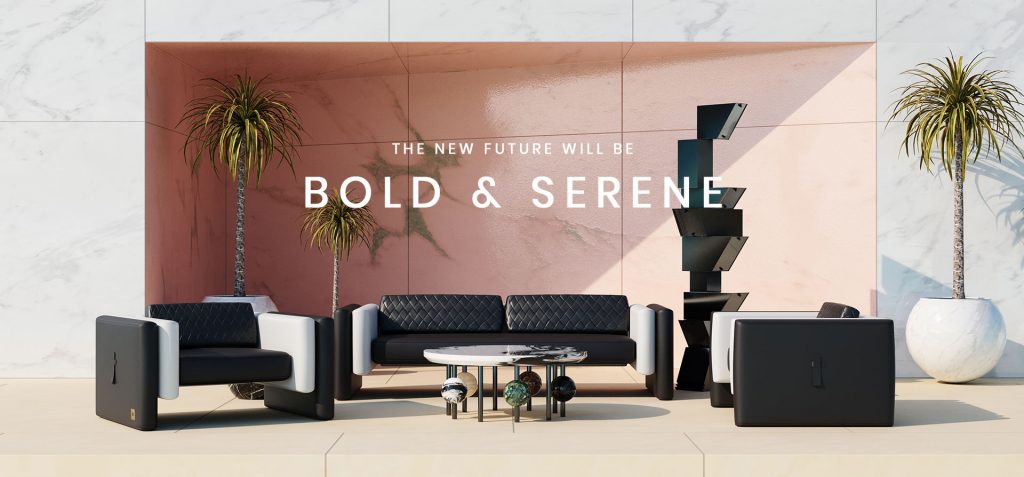 Source: https://www.dezeen.com/2021/04/26/goodtime-hotel-pharrell-williams-miami-ken-fulk/
Photography of Alice Gao