Bold and dramatic: Let's take a look at Martyn Lawrence Bullard's palm springs home
For fans of the world of interior design, some works are true works of art – especially when we talk about particular designers, a way to see how their style translates into different homes.
However, better than seeing the designer's work is even seeing the designers' own home, where they choose what they want to use; that's what happens with Bullard's palm springs home.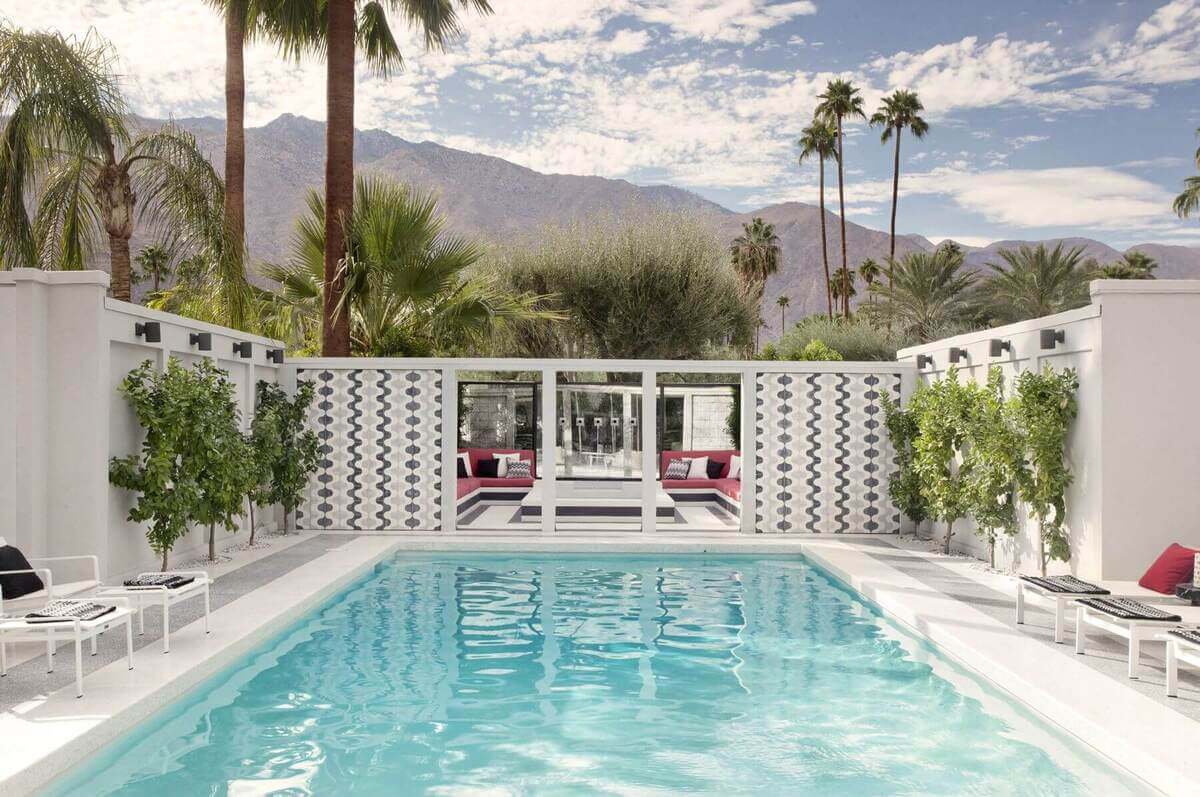 Tommy Hilfiger, Cher, and much of the Kardashian family are big names. These names were once clients of Martyn Lawrence Bullard, a portfolio that many designers envy and want to achieve. Despite all his projects, Bullard's palm springs home is his favorite home and where he keeps his heart.
The designer certainly paid attention to the old predecessors – initially built for Roger Moore (one of the actors who played James Bond) and later bought by Hugh Hefner. Bullard's palm springs home told a story even before he bought it.
Bullard's palm springs home was bought on a whim, starting from a daydream describing "the playboy in the desert" as if that's how he imagined his home. "You can only imagine what happened inside the sacred walls during that time," concludes Bullard.
The designer didn't think small; inside, we see a lush display of miraculous maximalist retro decor, complementing the home with zebra skin and palm trees. Bullard reveals that the modernist house has since been aptly called Villa Grigio "not just because it's painted a rather attractive pale gray," he laughs, "but because of the amount of pinot grigio that is consumed within its walls." "This house is ready for many martinis," he jokes, although it sums up what Bullard's palm springs home is.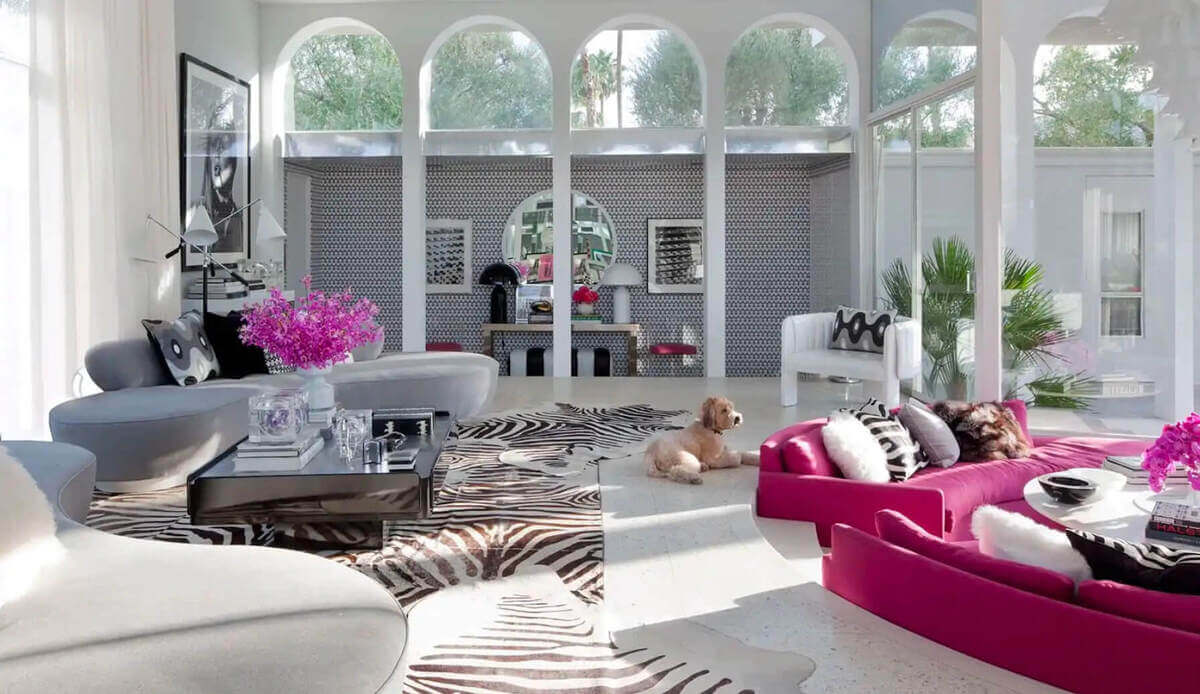 The designer knows that the house tells a story, but it's not just any story; it's a dramatic story. Bullard's palm springs home is full of drama, but what drama? The monochromatic, geometric, and colorful kaleidoscope of all things Bullard can be found in every room of this unique home. The drama continues with vintage jewelry, and his collection of the 60s and 70's furniture tells the drama this designer is looking for.
Bullard's palm springs home houses each piece in a prominent place, "a row of ten white arches that run from the inside out, creating this incredible indoor-outdoor living experience." The designer is right about the arches, as they structure the living space they flow into and encompass the pool area that feels like the epitome of Palm Springs.
These arches complement the star of Bullard's palm springs home, an open living room, a bright space with high ceilings, and large windows illuminating the room with a typical California sun.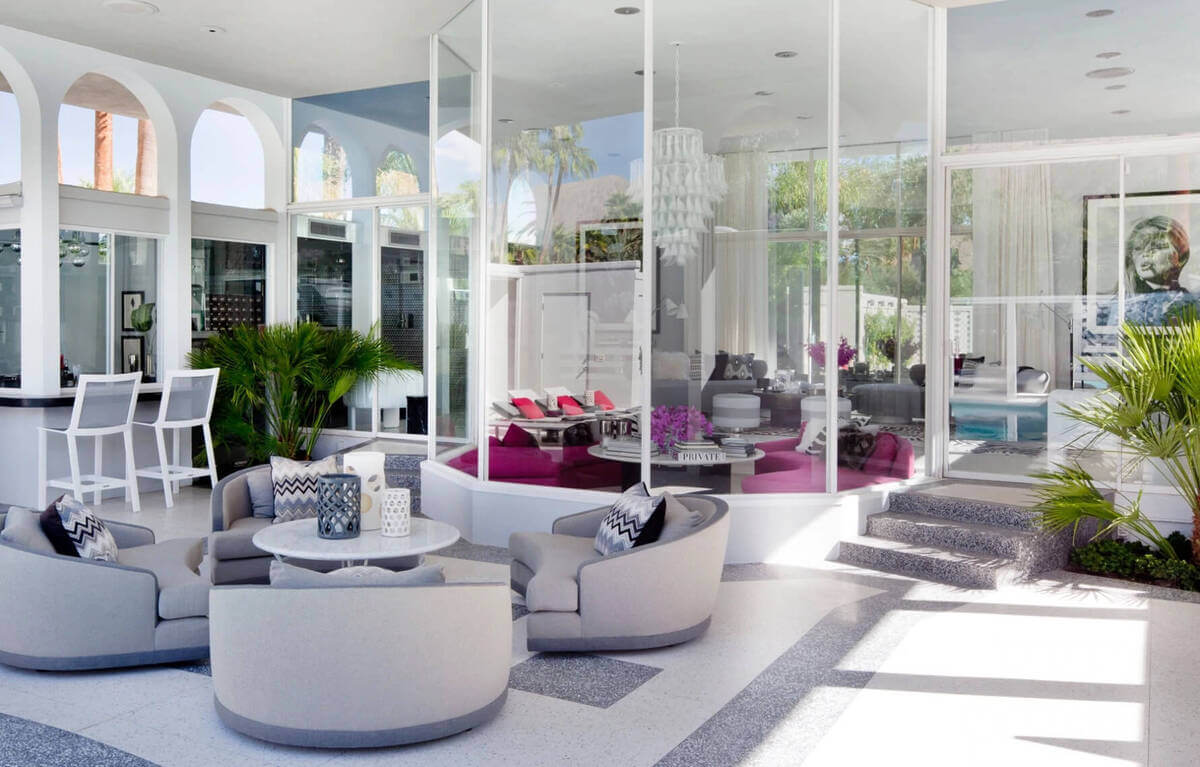 "I decided to go for a real Swinging Sixties, James Bond, mid-century vibe," Bullard says when he says that it's not just the bold dimensions. A design that only a genius can remember is to complete the living room with two fuchsias pink Vladimir Kagan sofas.
Covered in various zebra skins that belong to Andy Warhol is how he decorates the light terrazzo floors.
Grey curving sofas surround the far wall, taking a back seat to the layered space, mimicking the patterns of the arches once more.
Vibrant colors appear in Bullard's palm springs home, such as the movie theater, with high-gloss emerald green walls and two curved velvet armchairs in the same tone.

Bullard added a modern geometric approach to the cinema ceiling, showcasing his ability to reference the past, updating them seamlessly for a modern audience.
Bullard hasn't forgotten this, the monochromatic color scheme has been an increasingly high trend, and this is the designer's strategy to unite the space.
Intense black and white geometric prints can be found in every room, punctuated with bold colors to keep the space exciting, precisely like a piece of Pop Art.
Bullard's palm springs home comes as a shock when we realize that its kitchen is typical of a minimalist home. It even seems contradictory that there are only oranges and apples found in relation to the rest of the house.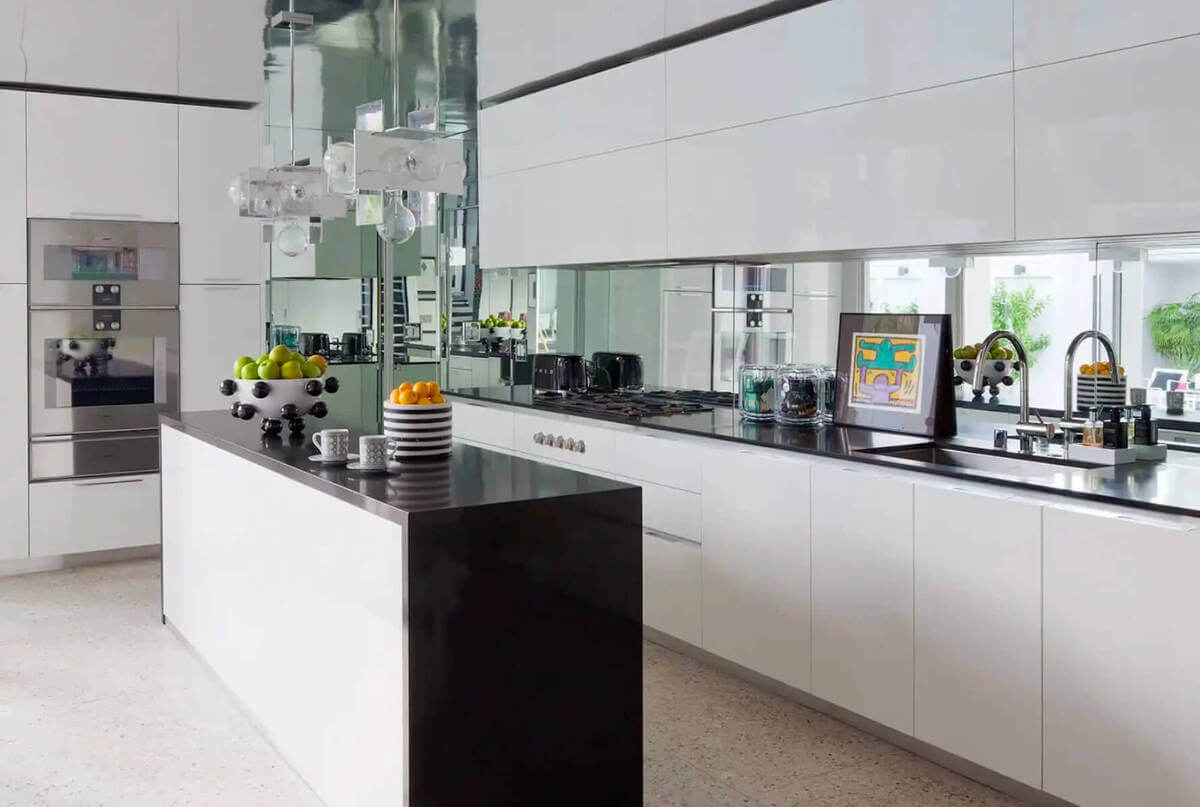 Bullard chose to keep the space elegant and refined with a black countertop framing the bright white cabinetry with a sharp, crisp line and a mirrored ceiling reflecting the light terrazzo floor, making the room feel open and elevated.
Bullard's palm springs home shows all the greater the designer has for his profession in the same proportion for the house. In an elegant and glamorous way, it makes any guest feel at home as soon as they enter a place that can name some of the most famous men in history as its owners.
Bold and dramatic is how this house by Martyn Lawrence Bullard, a true master of design, can be described.
ARE YOU INTO INTERIOR DESIGN?
If so, discover modern furniture and lighting designed by design lovers for design lovers. All you need is to download the Hommés Studio catalog. To complete your interior design project, choose the high-end homeware by ACH Collection.