If you're thinking about a bedroom renovation, Hommés Studio has come up with a Bedroom Interior Design Collection that will fit perfectly!
Refined Manhattan | Master Bedroom
In the first place, we have the Refined Manhattan master bedroom, a unique wonderland where we must feel comfort and love. A master suite that has a lounge area, which means, a dream bedroom. Besides all the interior design details, you'll be able to see the wallpaper behind the bedroom, from Wall and Deco and Élitis.

It's just like a fine mixture between Spring and Autumn, with warm colors and textures. The most amazing sets of bedroom furniture with wood details transform this bedroom into an elegant room.
In addition to an elegant room, a walk-in closet is a star when it comes to storage solutions. We can conclude that this room bonds different styles, but with the same outcome, a sophisticated master bedroom.
Kara Bed can only remind us of comfort and beauty. This is a unique piece handmade by the most skilled and talented artisans. It has an interior structure in wood and is upholstered in velvet.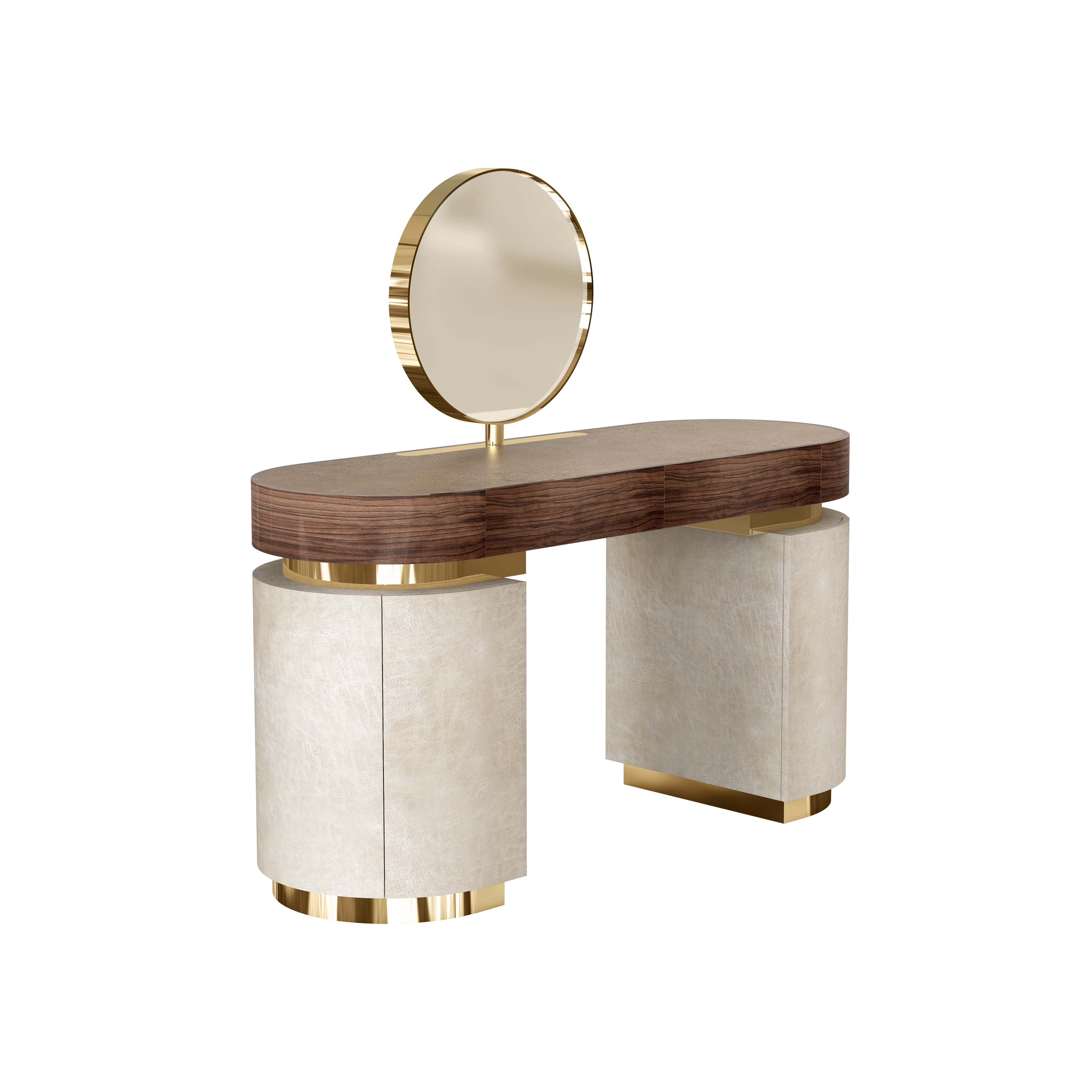 Claire Dressing Table is an Art Deco interior design piece, that transports us to an ancient time. However, this dressing table has a modern and contemporary touch.
Classic Romance | Master Suite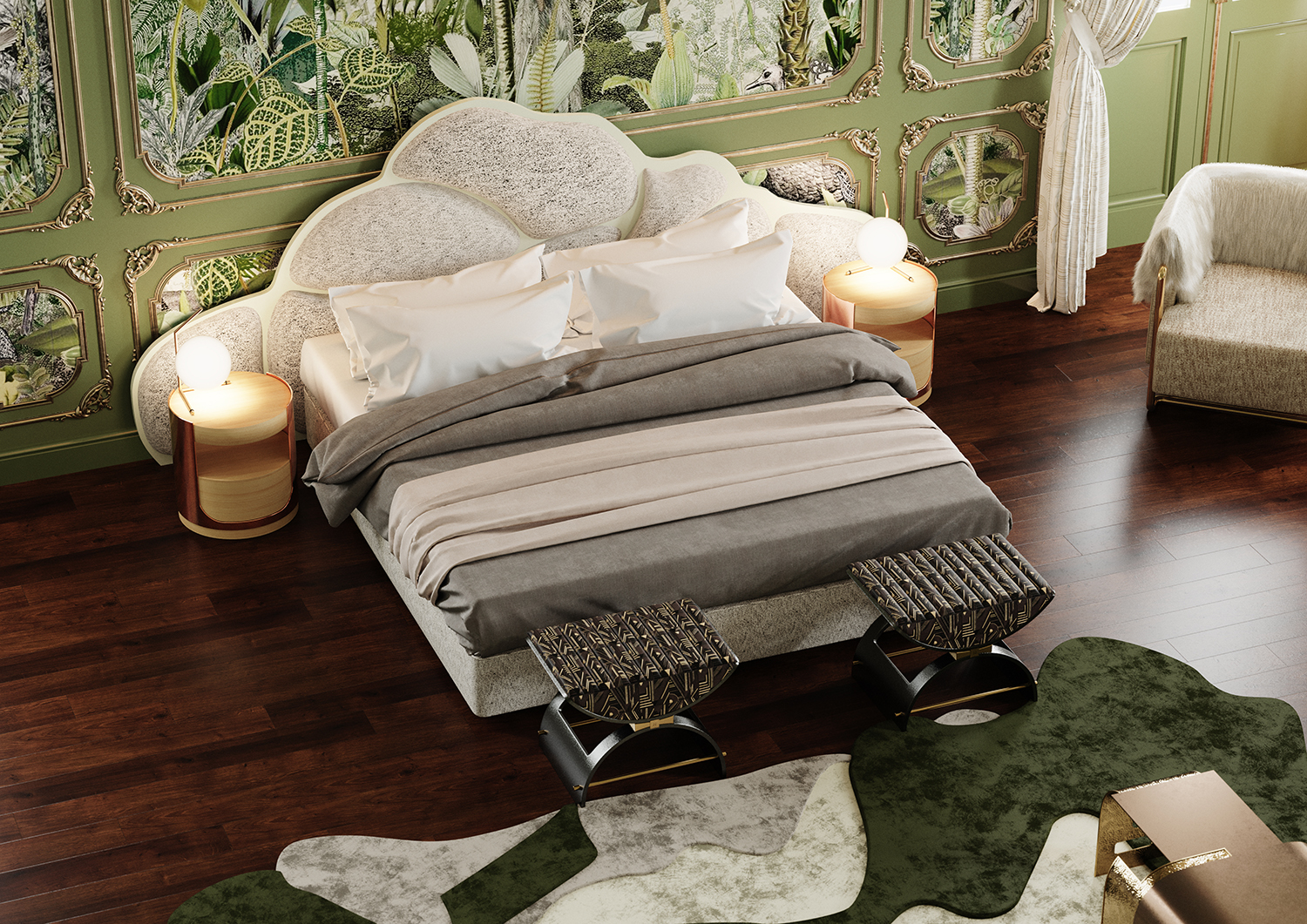 Classic Romance is a master suite where we can discover a simple recall to Versailles bedrooms. The bedroom itself and the decoration suits perfectly if you are inspired by that time. The star of this master bedroom is the mural "Panoramique Monteverde", from Casa Mance.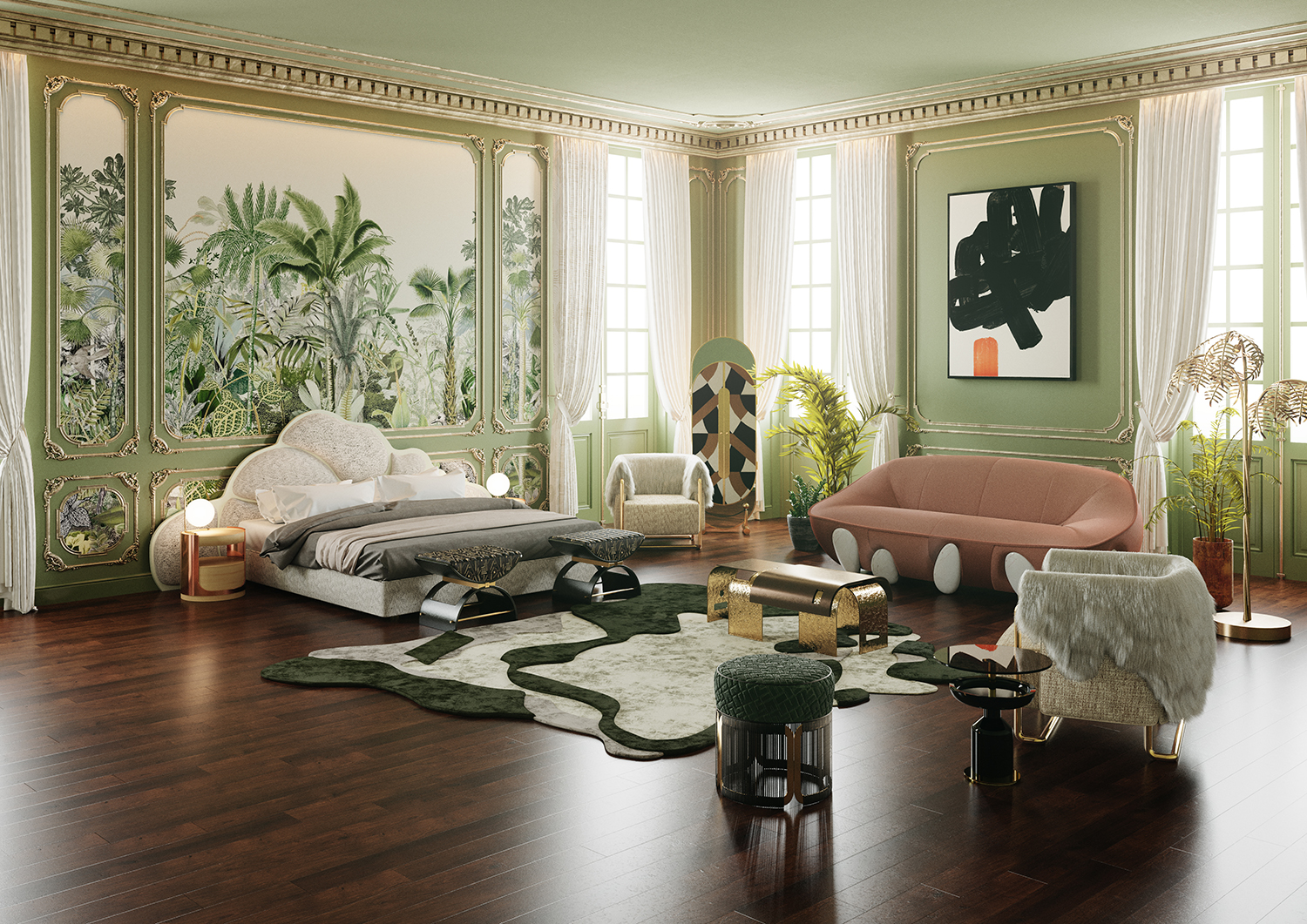 Let us proceed to a clear view of this Classic Romance master suite. The truth is that all green hues, refined materials, rich colors, and the wallpaper design transform this place into a romantic one. In addition to all of this, you can find the most elegant fabrics from Kirkby Design and Lelièvre Collection.
Jannu Bed is another example of unique design, by creative minds and skilled hands.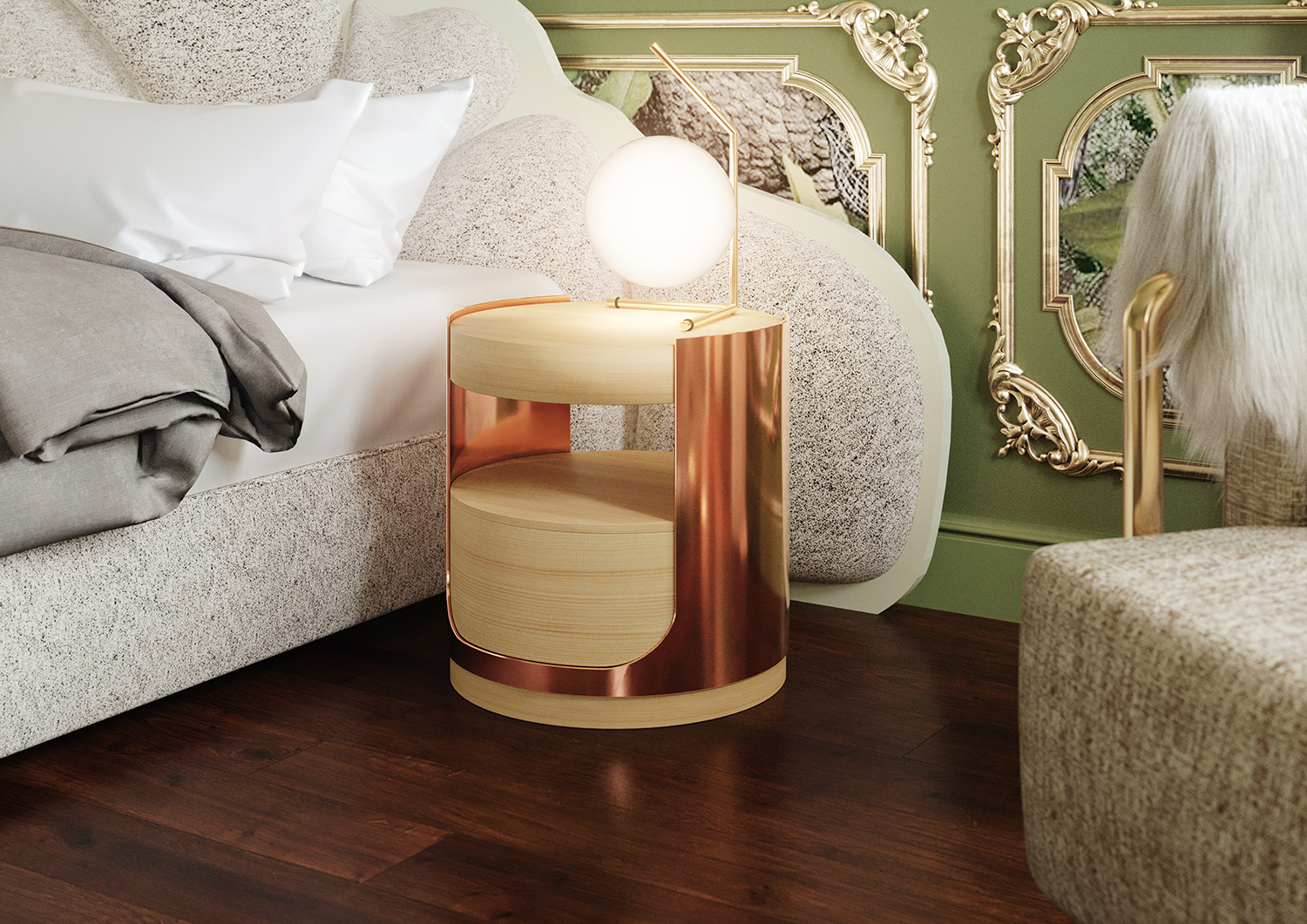 Kimura Nightstand is an elegant piece to add to your master bedroom, with it's round shapes and simple design. Another proof of how you can align the most amazing pieces with simplicity.
Italian Affair | Bedroom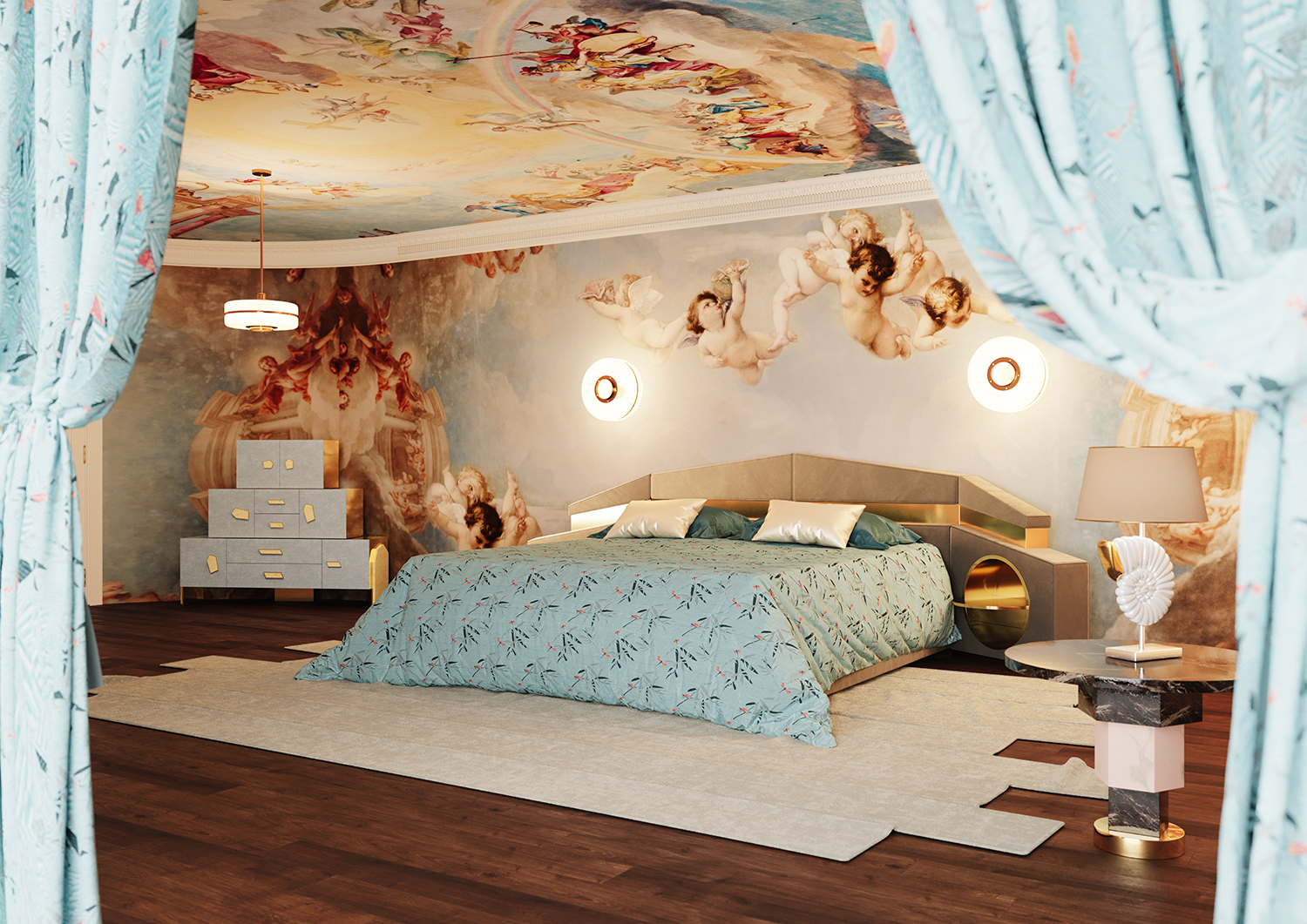 Our Bedroom Interior Design Collection continues with an outstanding bedroom, the Italian Affair. An intimate bedroom that allows us to feel a little bit of peace and comfort.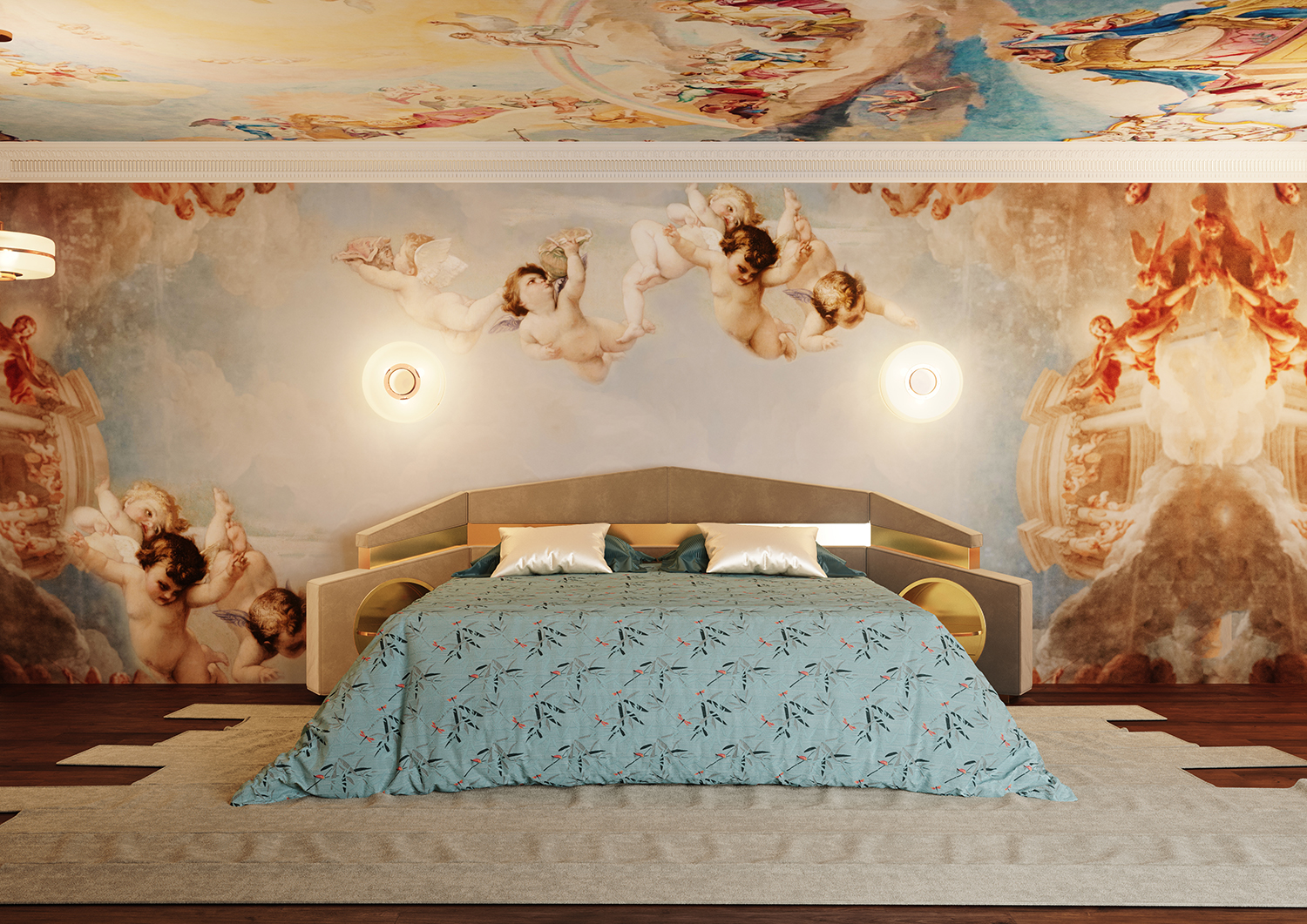 In this Italian Affair Bedroom, it's quite easy to see the Italian influence and culture. An incredible and dramatic design on the walls and ceiling reminds us of the Italian renaissance. The fantastic wallpaper that appears aligned with the interior design is from Rubelli.
Isis Bed has some contemporary and modern vibes all at once, just an inspiring piece that calls out for instant comfort.
With Malala Chest of Drawers, you can transform your room into a practical storage space, and at the same time a touch of luxury and class.