What makes a luxury kitchen? Learning from high-end residential projects, a high-end kitchen has high-quality materials and fine details. It also has custom-made fixtures so that the kitchen matches the remaining rooms of high-end residences. A luxury kitchen is all about space planning and good lighting design. When working on a luxury kitchen design, you must be aware of the purpose of the kitchen. Is your client an amateur chef? Will the kitchen be used only for cocktails' preparation at parties? It is essential to first and foremost think about the disposition of each element in the kitchen area. Then it's time to source the best kitchen furniture and high-end appliances. Space planning, high-quality materials, and a flawless visual texture – the recipe to make a luxury kitchen.

Let's learn what makes a luxury kitchen from high-end residential projects and find inspiration for your luxury kitchen design!

FINE DETAILS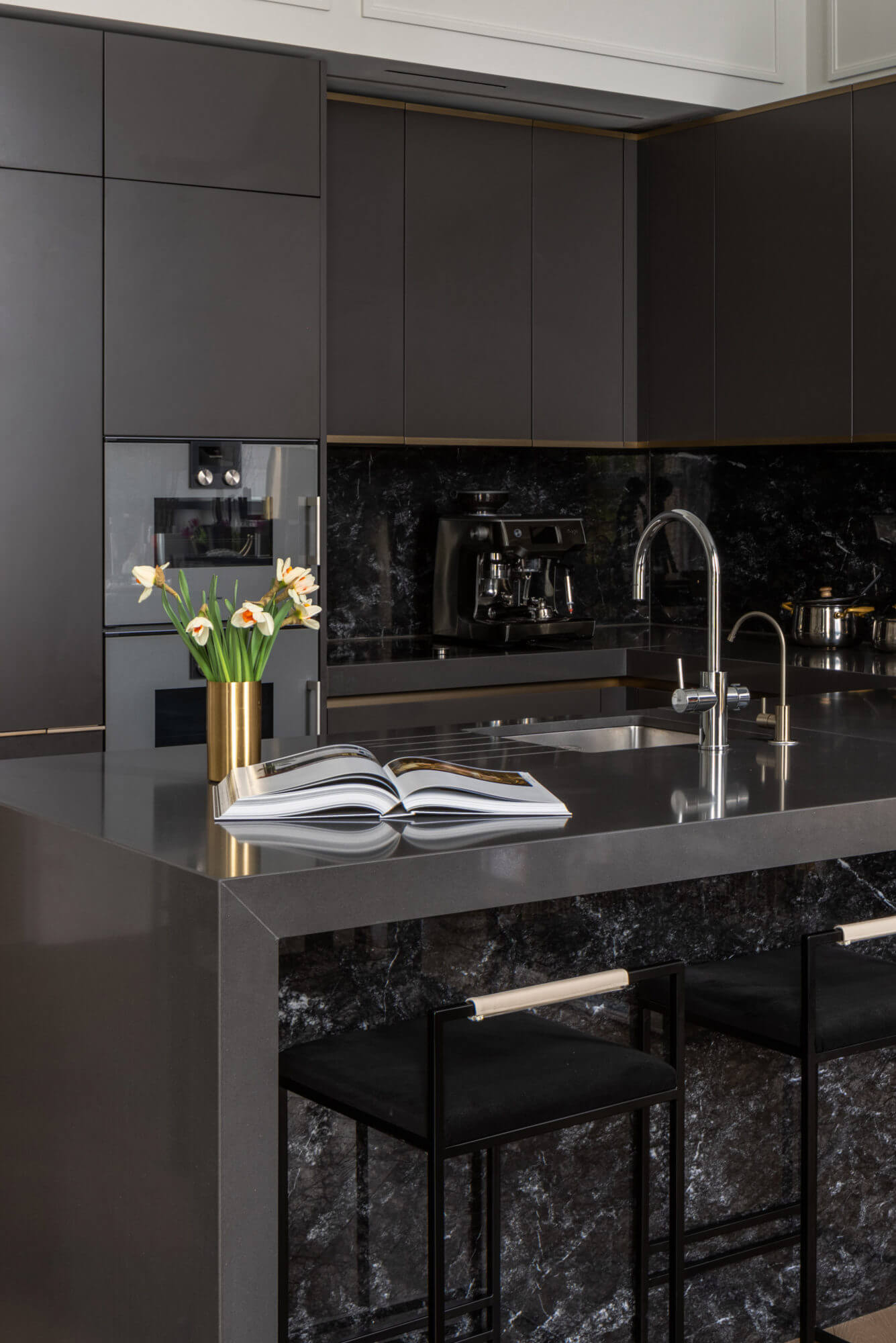 For an apartment near Regent Park in London, Olga Ashby designs an all-black kitchen. Such a dark color palette can only be incorporated in a room full of natural light. Olga Ashby combines black marble, dark grey cabinetry, and polished brass details. The sleek surfaces reflect a beautiful and natural glow. High-end kitchen appliances complete the luxury kitchen design.
UNIQUE KITCHEN DESIGN STYLE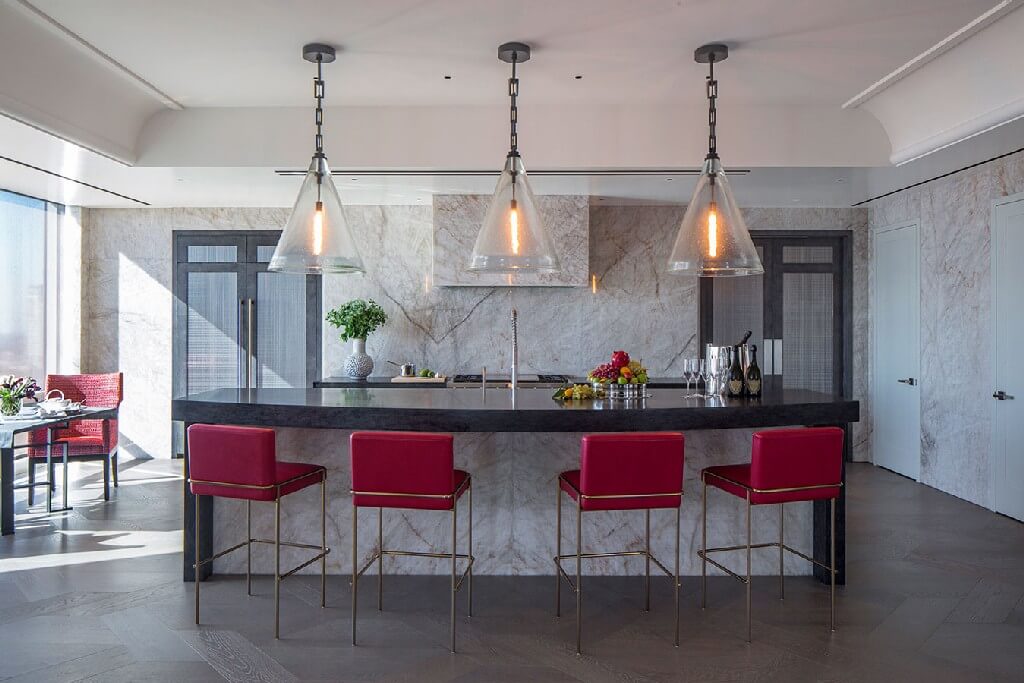 New York-based design firm White Webb added some classicism to a concrete and glass property. The industrial flair of this LA Penthouse is enhanced by industrial suspension lamps and blocky bar stools with brass details. Nevertheless, the kitchen has an upgraded version of brutalist interior design—light hues of marble contrast with the black countertop and black door frames.
CUSTOM-MADE KITCHEN CABINETRY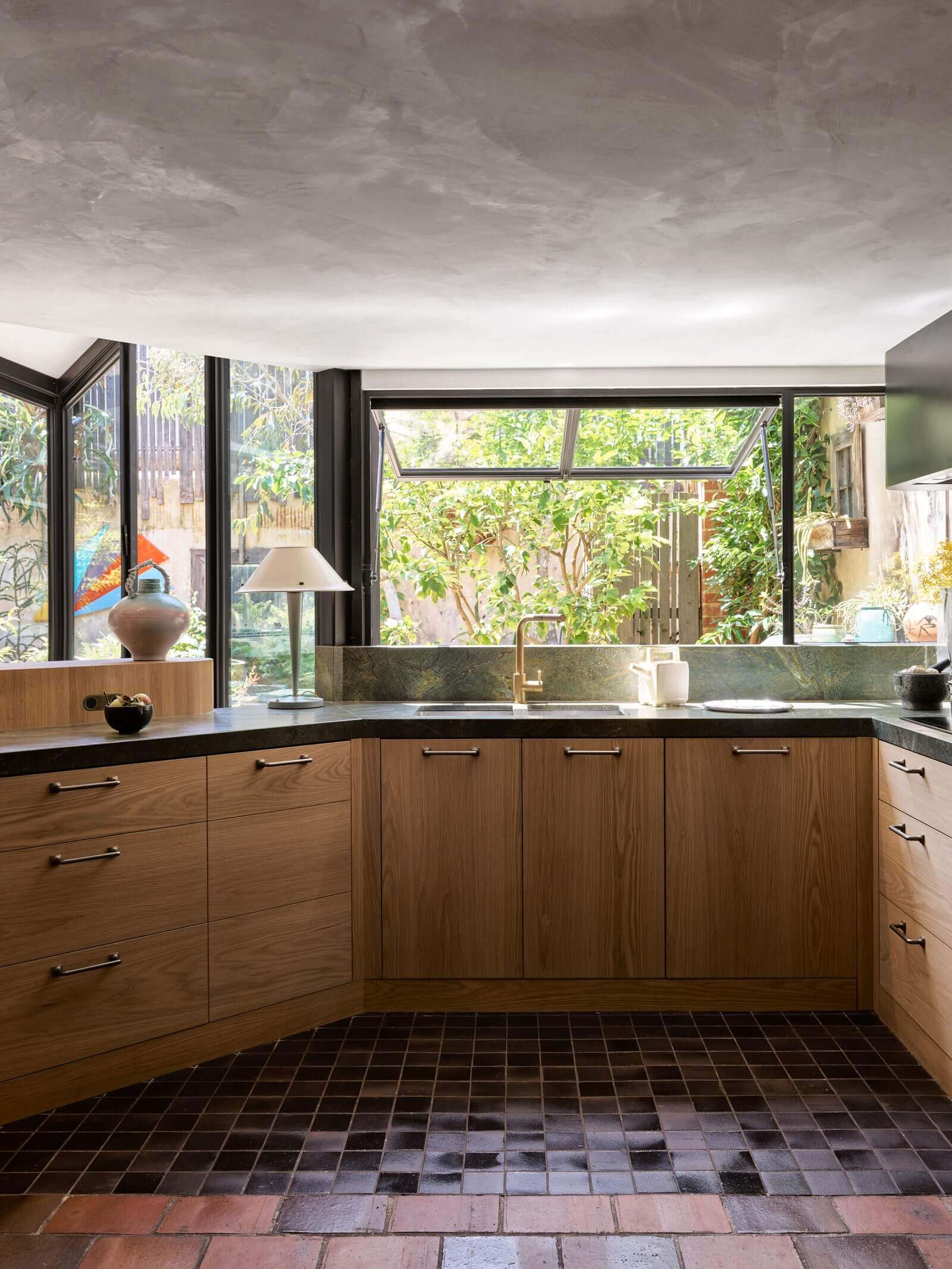 Designed by Flack Studio, this kitchen with custom-made wood cabinetry was conceived for Troye Sivan's Melbourne house. As a wood lover, Troye Sivan wanted as much wood inside the house as possible. Due to the industrial characteristics of the property and the functional courtyard, wood was the best material to keep the industrial flair and link indoors and outdoors.
LUXURY KITCHEN DESIGN WITH TWO KITCHEN ISLANDS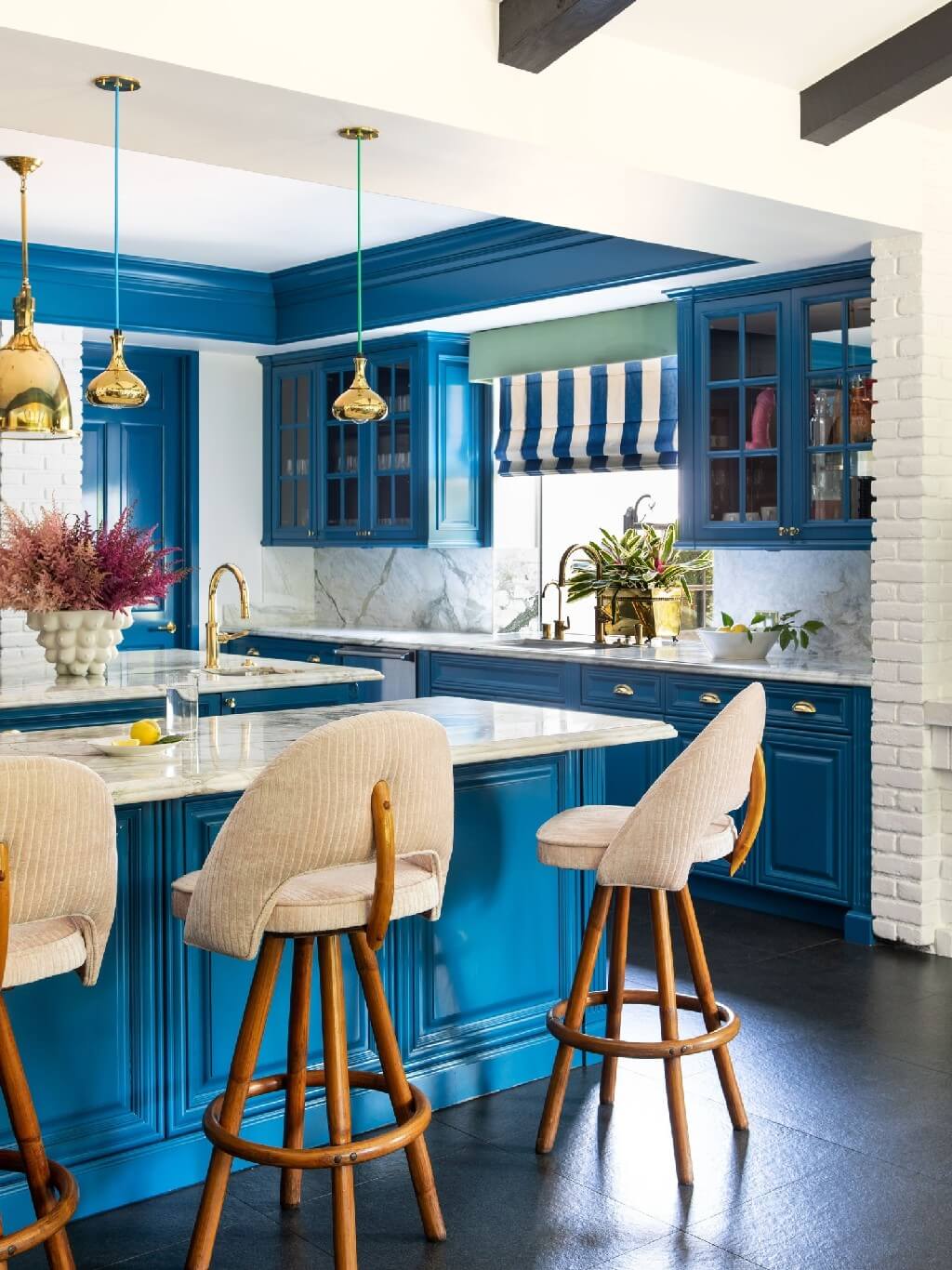 Cara Delevigne has a kitchen with surprising colors and… two kitchen islands at her LA's pad. This is great for big kitchens or if you plan to do many meals on your countertop, and for dinner parties where all the action happens around the oven.
JUXTAPOSITION OF TEXTURES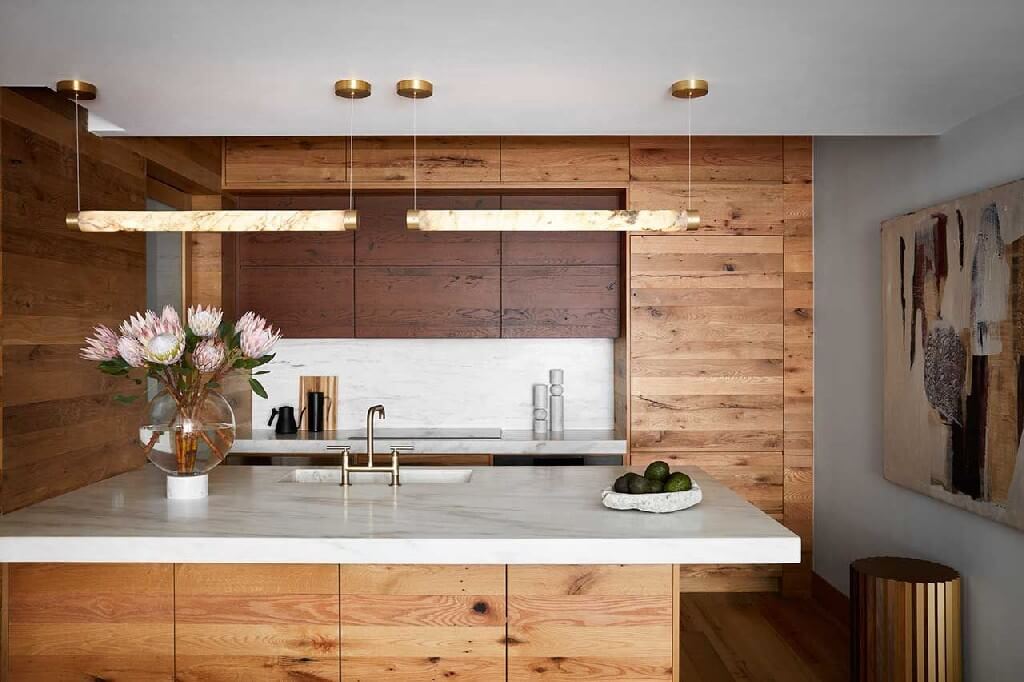 In order to design a luxury kitchen, the British interior designer Lee Broom juxtaposes textures in a New York Penthouse. The designer uses two different kinds of wood on the cabinetry, and two different stones – marble for the countertop and onyx for the lamps above it. The floor and the art piece that hangs on the wall contribute to visual texture far from being boring.
STYLISH DETAILS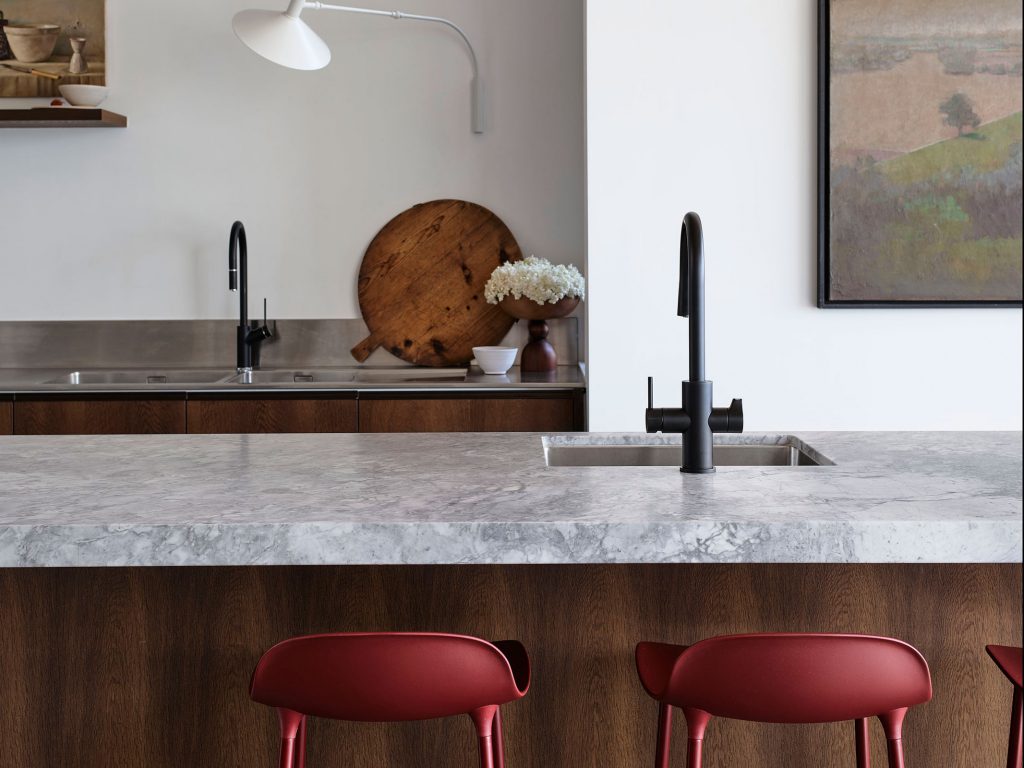 Arent & Pyke, one of the top Australian interior design studios, proposes a modern kitchen design with stylish details. The neutral hues and classic design are sophisticated by the red bar stools and the black matte faucets.
TIMELESS COLOR PALETTE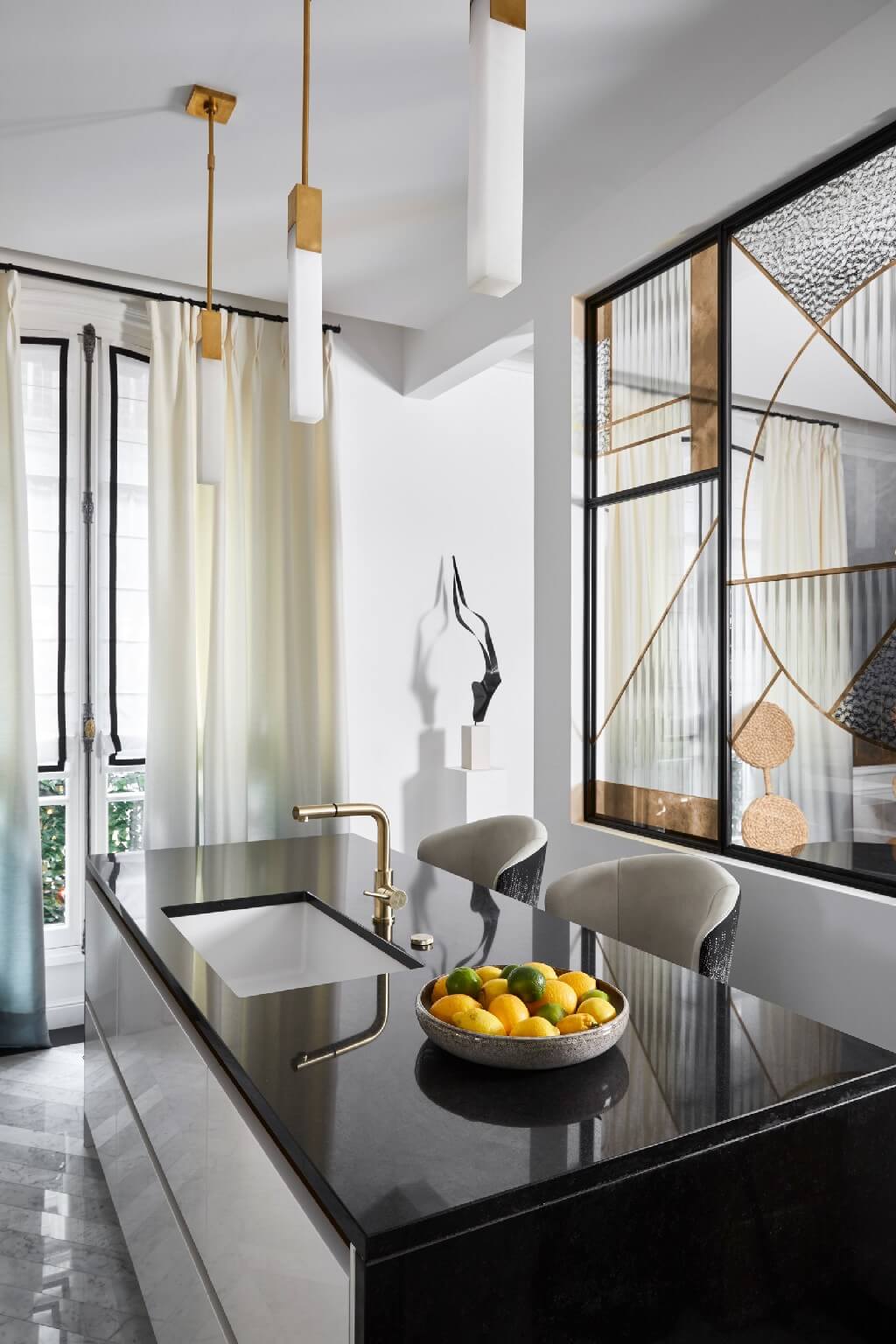 Paris is all about elegance. In this manner, Oscar Lucien Ono pulls off a classy interior design project with a timeless color palette. Similar to the rest of the neoclassic apartment, Oscar Lucien Ono chooses a black and white color combination. The interior designer also uses classic and elegant golden fixtures.

Keep planning your luxury kitchen design project! Read 7 Kitchen Design Ideas From Top Interior Designers and Stunning Lighting Ideas For A Completely Unique Kitchen.
Are you eager for inspiration? Then discover Kitchen Design Ideas moodboard on Hommés Studio Pinterest.