Raw materials, unpolished surfaces, neutral tones, chunky silhouettes, and geometric shapes – are the main features of brutalist interior design. Following the design movement that emerged following World War II, brutalist design has its manifestation in architecture by the incredible mind of Le Corbusier. Even though brutalist architecture was widely spread in the following decades, by the late 70s, it was hated. It was seen as an aesthetic manifestation of poorer countries, soviet movements and visually detained by poor taste. Nevertheless, a softer manifestation of brutalist architecture is the most beloved architectural movement of the 20th Century – mid-century modern architecture. Modern architecture influences contemporary architecture- using raw concrete and floor-to-ceiling windows as the renowned modernist architects did.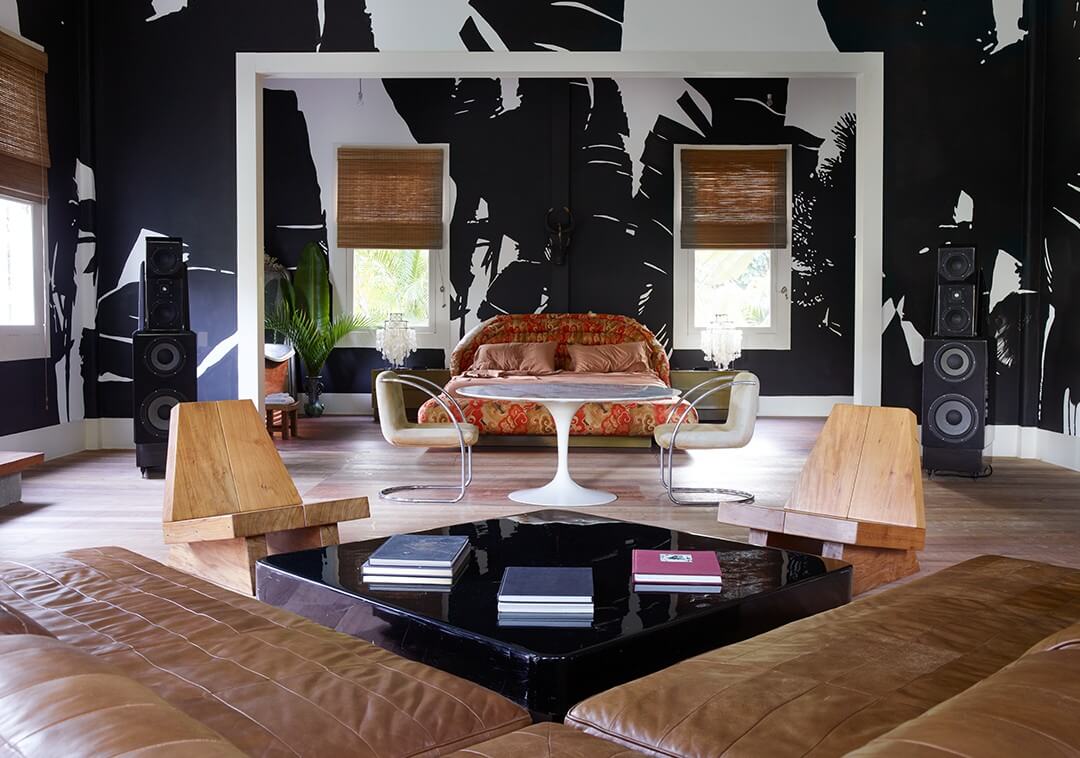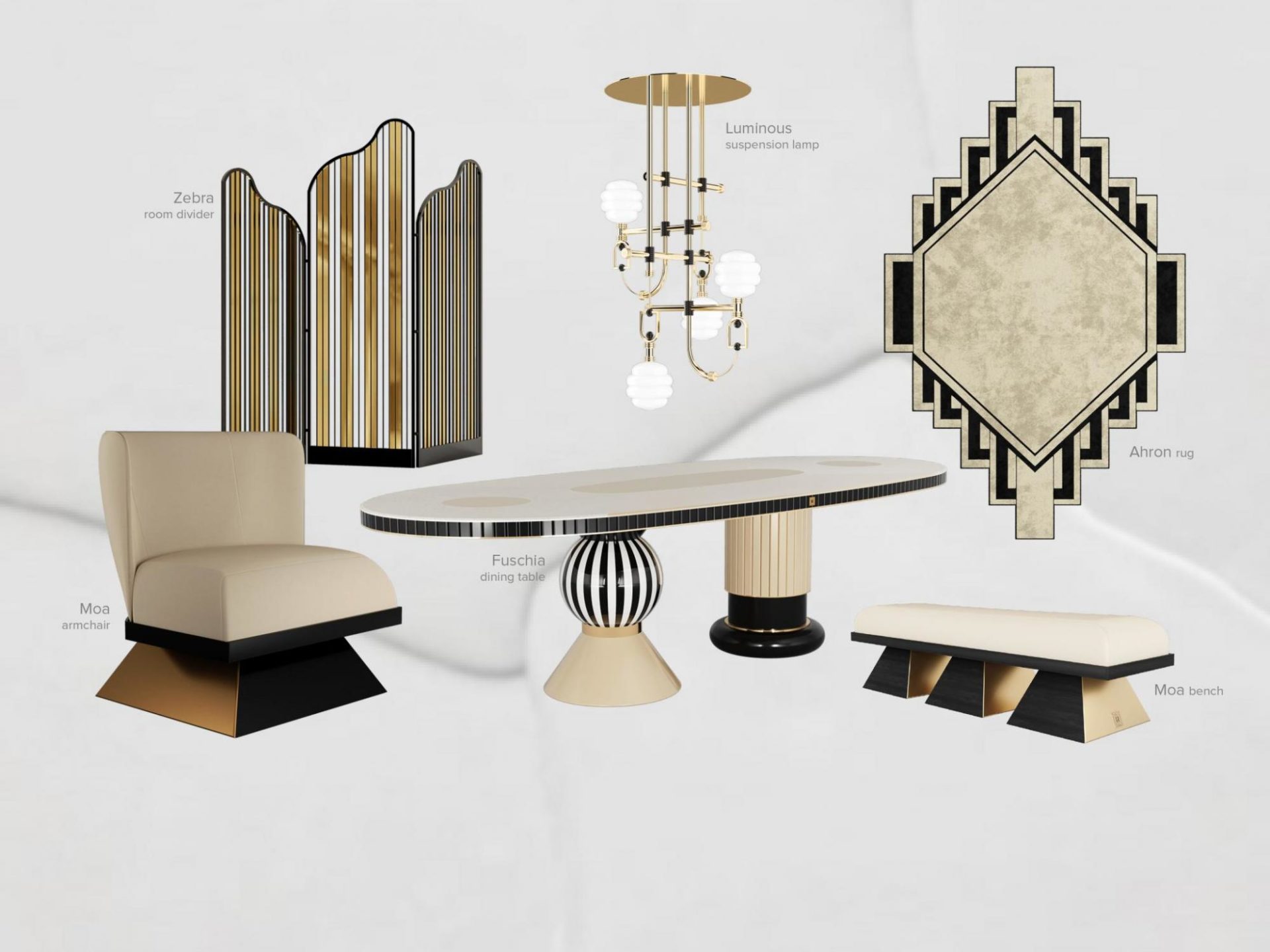 The many polarizations of brutalist design obviously manifest themselves in brutalist interior design nowadays. Kelly Wearstler, Lenny Kravitz, Paul Evans, and Gustaf Westman are interior designers and product designers who invade our homes with neo-brutalist interior design.
In interior design, modern brutalism emphasizes structural, spatial depth created in furniture, wall coverings, decorative objects, and architectural design as a whole.
MODERN BRUTALIST INTERIOR DESIGN
Modern brutalist interior design has some characteristics that allow it to be one with any contemporary interior design project.
LUMINOUS SUSPENSION LAMP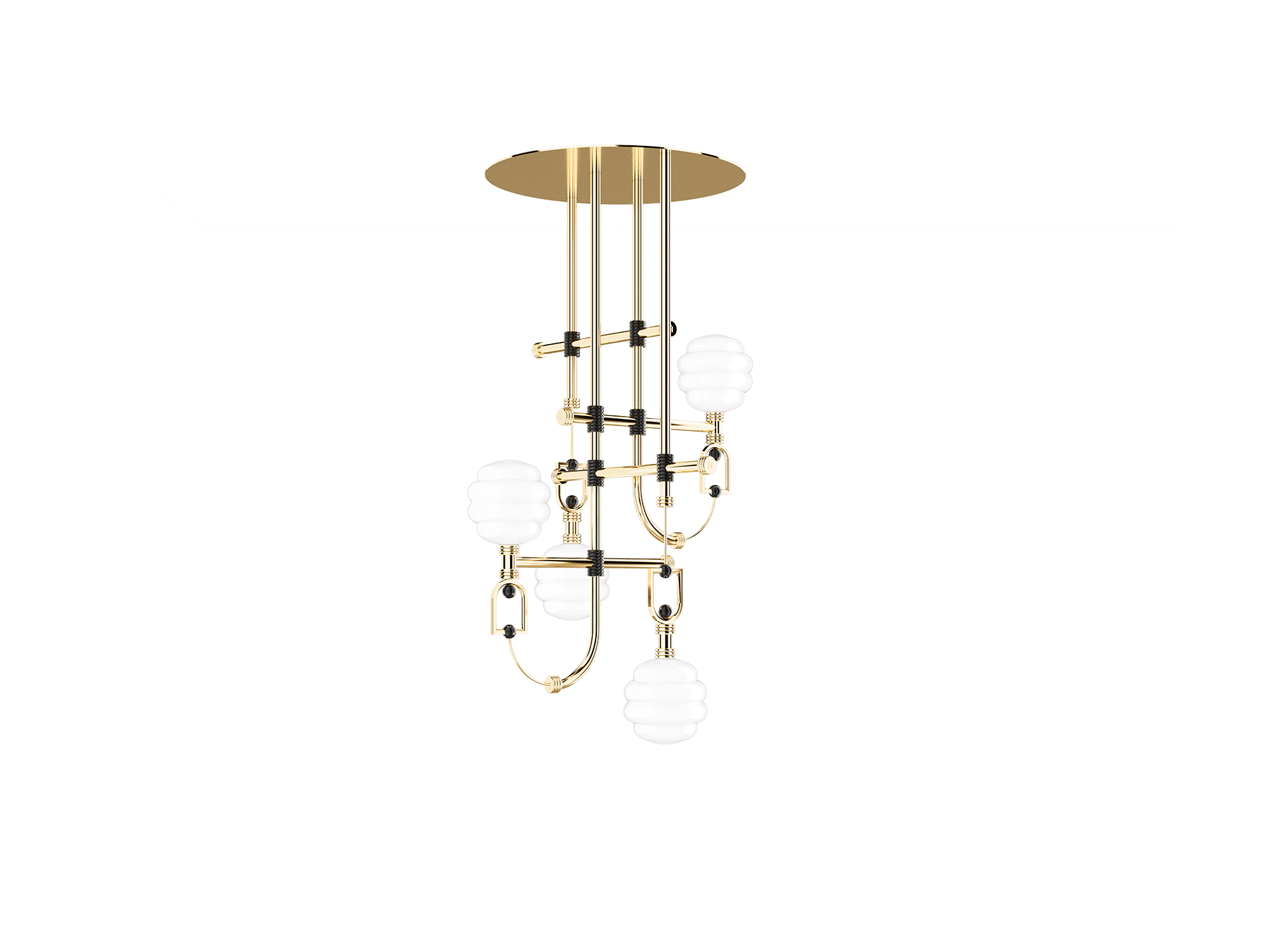 Luminous is a geometrical suspension lamp with gold polished stainless steel, details in black stainless steel, and handmade blown white glass.
Kelly Wearstler incorporates brutalist furniture in almost every interior design project of hers. Indeed, we don't associate Kelly Wearstler with raw concreted and neutral, cold colors. And this is due to the many polarizations that brutalist design had to survive until nowadays. For instance, stainless steel in silver became gold. A simple color variation turns the rough brutalism into chic brutalism. In this manner, warm metals, rough shapes, and untamed textures are Kelly Wearstler's interior design signature.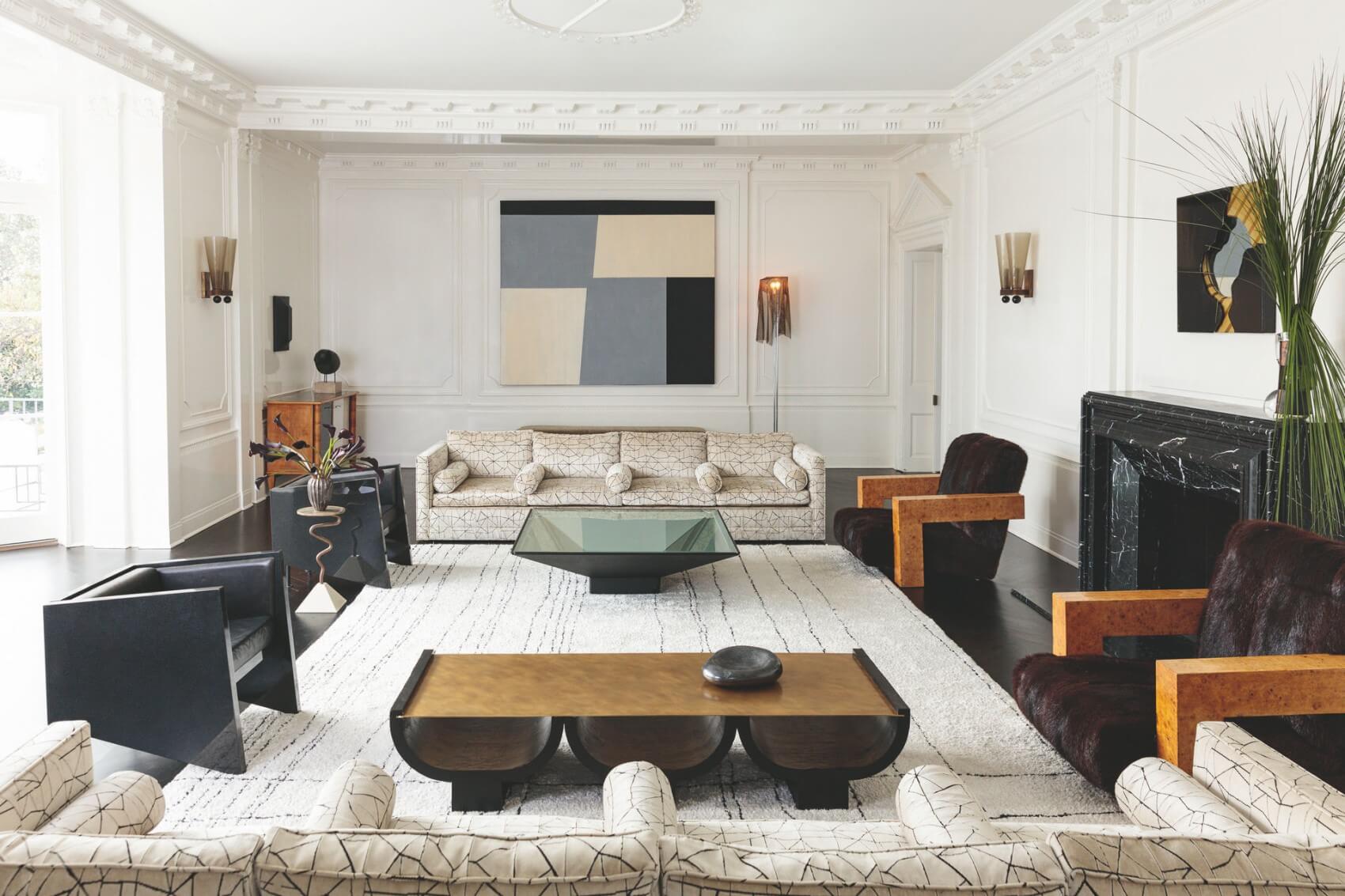 MOA BENCH
MOA seating collection with chunky silhouettes looks like a sculpture made out of a single block. In addition to its strong look, this collection has details in polished stainless steel.
Brutalism is constantly mutating – both in interior and product design. The designs of Instagram-breaker Gustaf Westman reveal it. While in the 80s, the neotenic design was a manifestation of brutalism, nowadays brutalism has the designation of chunky – blocky silhouettes that invade our homes. Deriving strongly from the raw concrete-made structures, the contemporary brutalist designs look like sculptures but are functional. Again, this reveals the polarization of brutalist design and how it invades social media, visual arts, and interior design.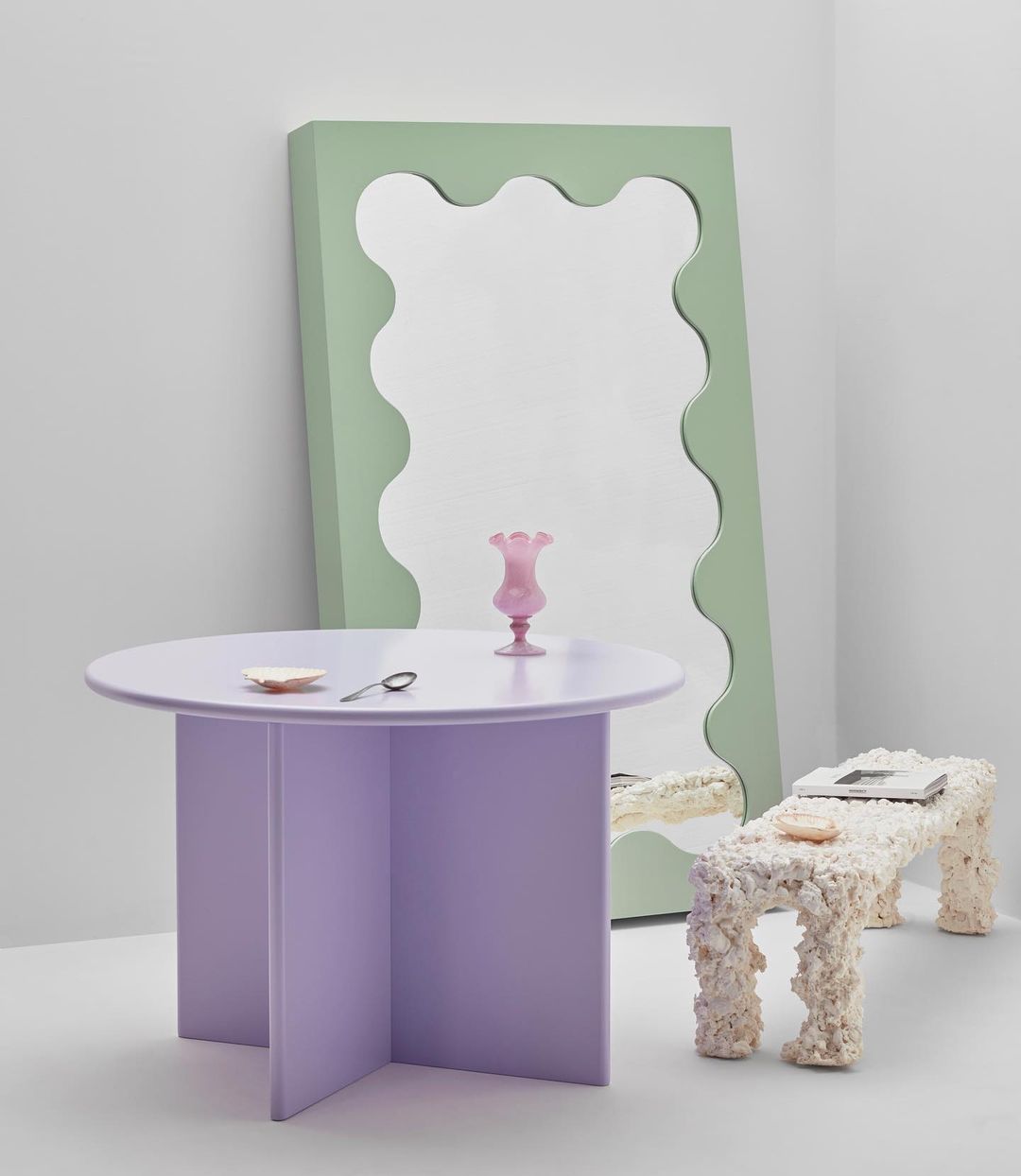 FUSCHIA DINING TABLE
Fuschia is a chunky dining table inspired by Memphis Milano. The dining table is a modern furniture piece that combines wood with polished stainless steel details.
BRUTALIST INTERIOR DESIGN INSIDE YOUR HOME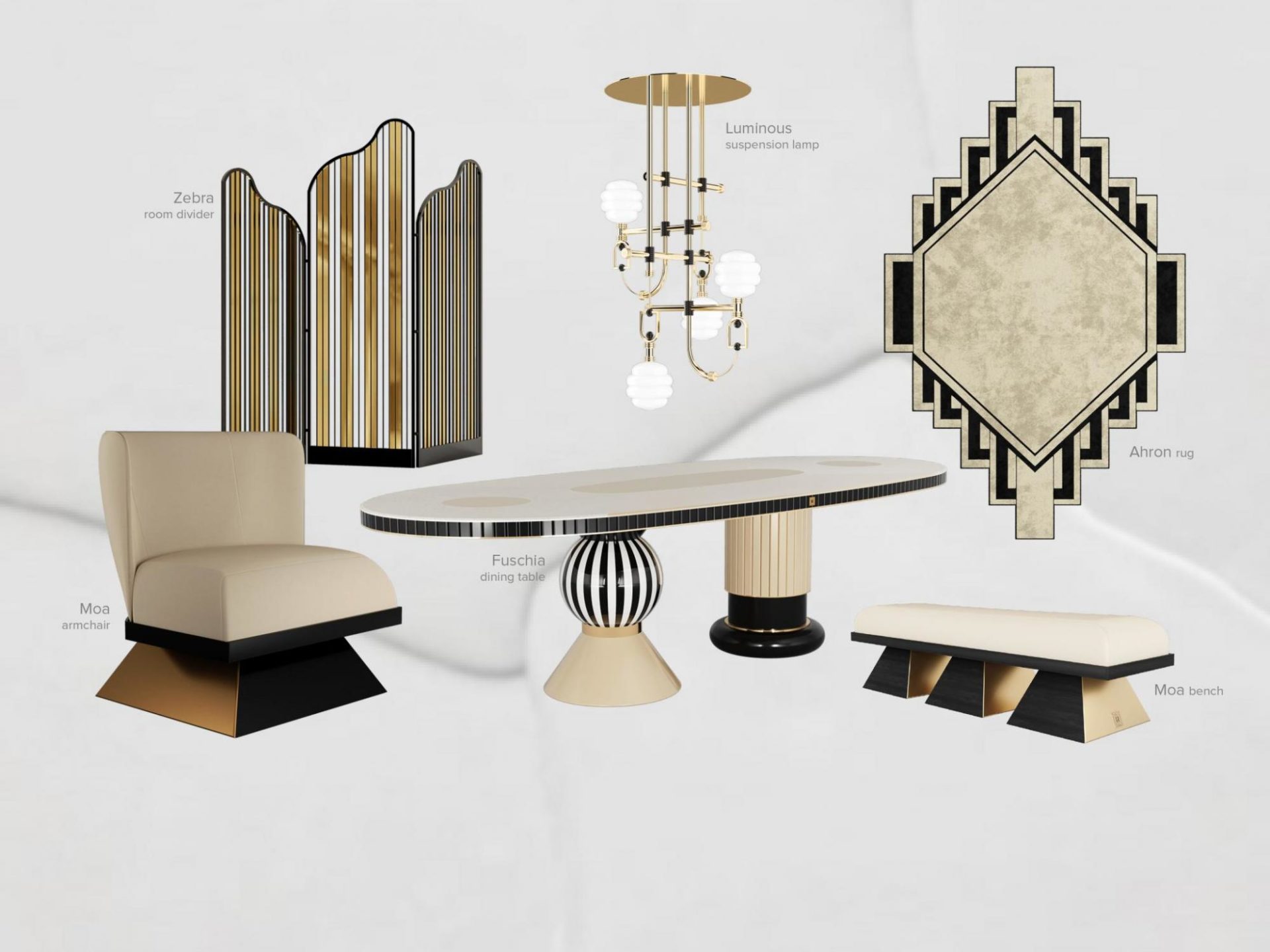 CONCRETE, GLASS, AND METALS
A winning combination. Since modern architecture is a big influence on contemporary architecture, if you're decorating a house with hypnotic concrete walls, add glass and metals, such as golden stainless steel, to give it the modern brutalism flair.
ZEBRA ROOM DIVIDER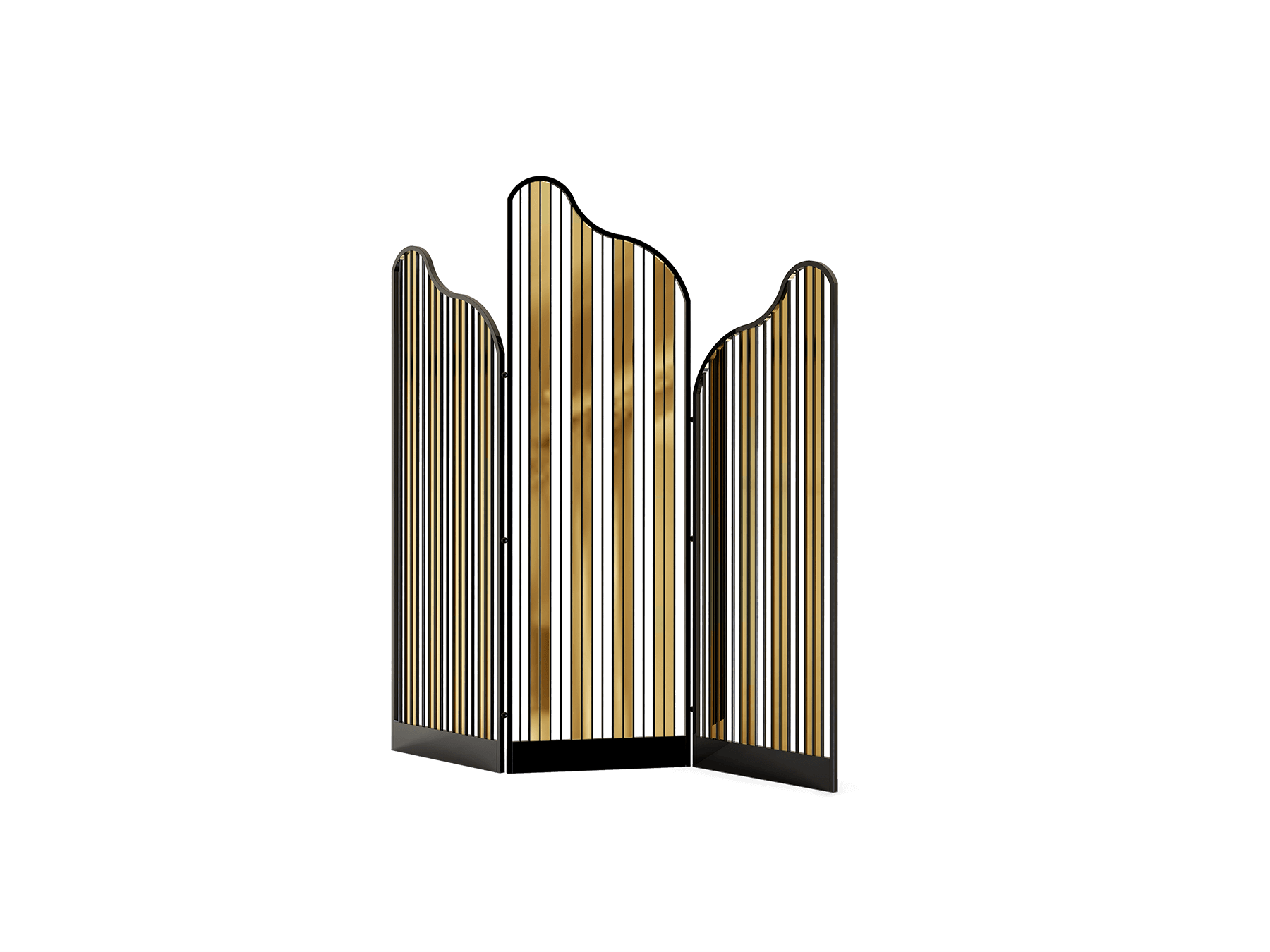 Zebra, a room divider made of black lacquered stainless steel with gloss finishing and metallic details in gold polished stainless steel.
CHUNKY SILHOUETTES
The modern brutalist interior design movement incorporates chunky furniture in almost every room. The blocky silhouettes hand out a sense of simplicity yet strength.
BONNIE CHAIR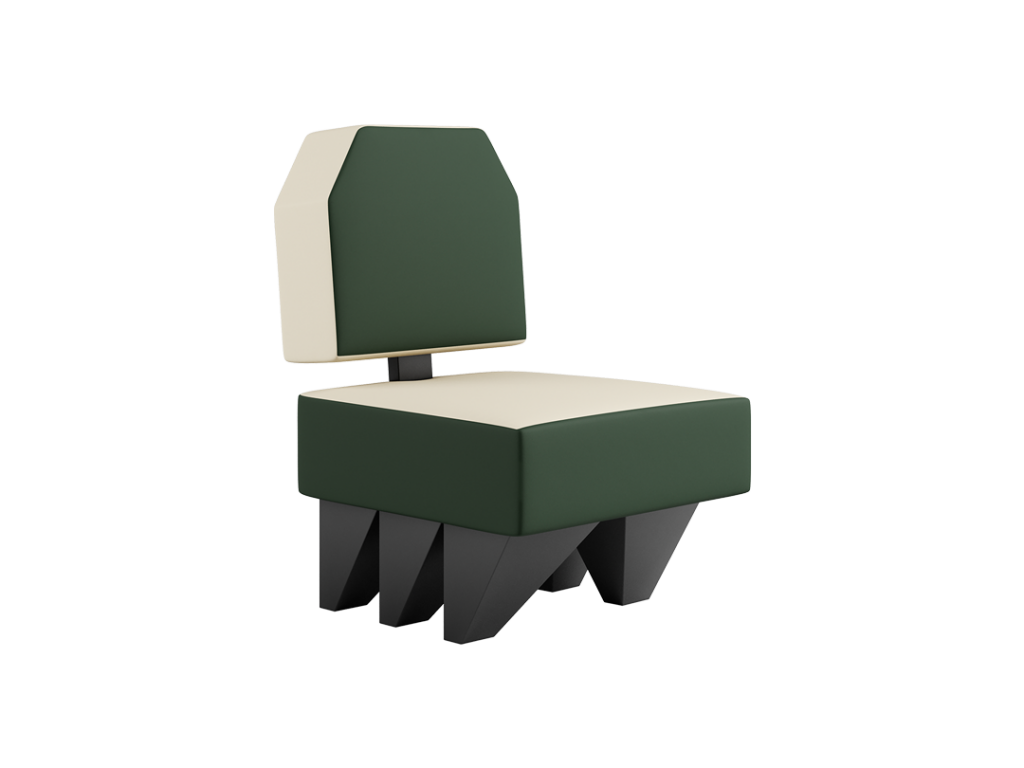 BONNIE chair is a chunky sculptural furniture piece rich in angles and geometric shapes. This chair is completed with stainless steel feet.
GEOMETRIC SHAPES
The original and magistral brutalist buildings demand accentuated sleek geometrical shapes. In brutalist interior design, geometrical shapes can be either minimal or dramatic.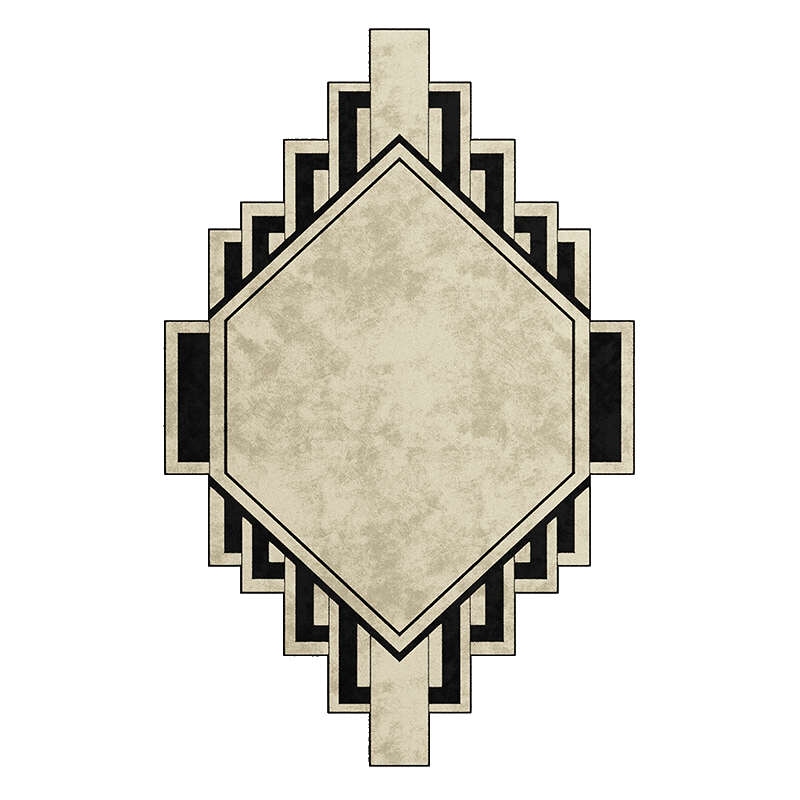 Ahron rug is an abstract rug with a sleek geometrical shape. Even though this is not an ordinary rug, Ahron fits any contemporary design project.
TEXTURED SURFACES
Organic shapes, textures surfaces, unpolished, raw materials – another feature of brutalist interior design. It finds its voice in unpolished wood furniture, for instance. But brutalist interior design implies rich tactile textures. In interior design projects, home accessories are the best to add a dramatic brutalist flair that contrasts with raw concrete structures.
MADONNA CUSHION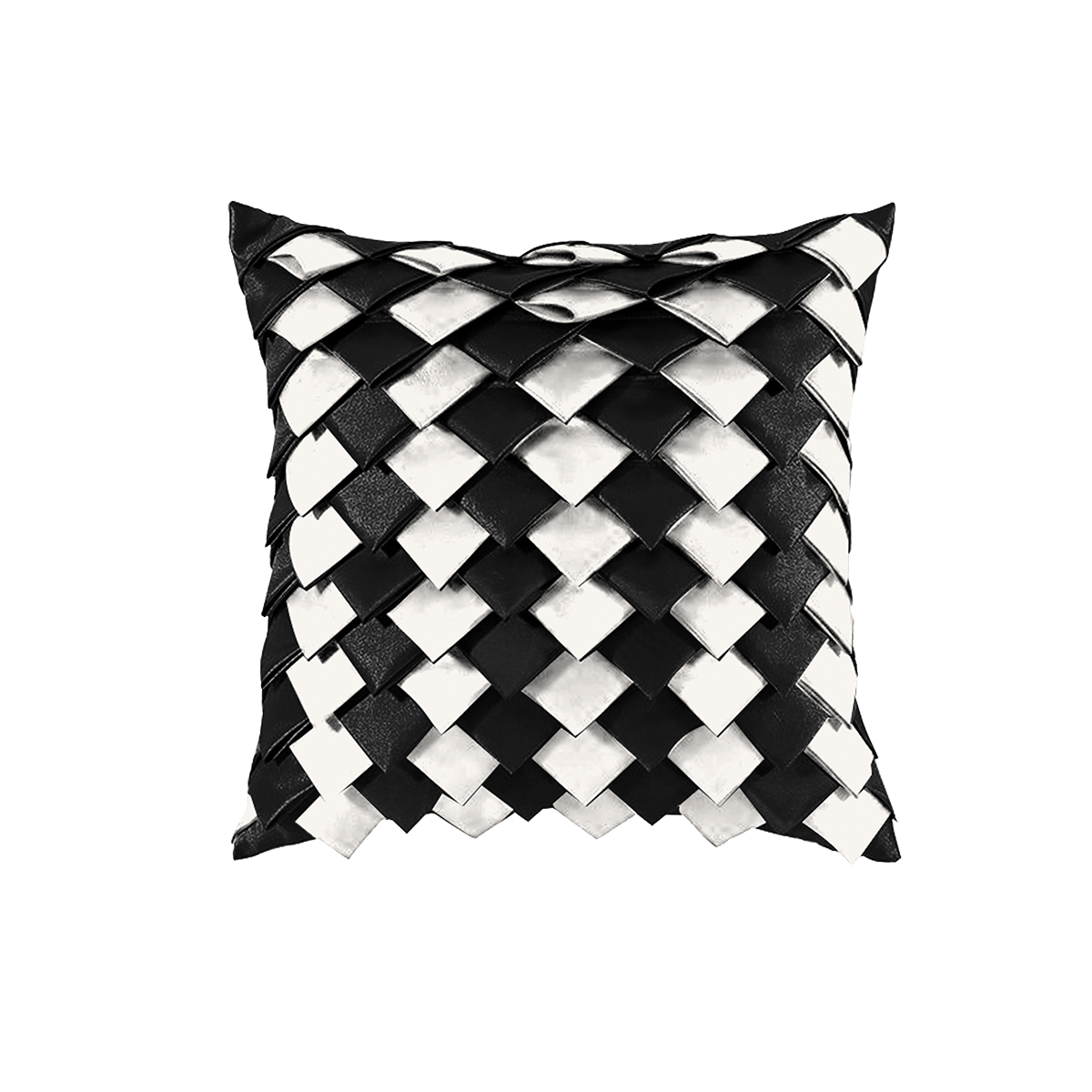 Madonna cushion by ACH Collection is a "more and more" home accessorie. It has a textured surface that is the result of the juxtaposition of geometric shapes.
INDUSTRIAL FLAIR
If brutalist design and industrial interior design go hand in hand, oxidized metals and stained mirrors are a must-have on your interior design project. There is a unique beauty in old-looking, rusty decorative pieces. Some brands deliver furniture pieces and home accessories with patina finishing. Nevertheless, natural brass pieces will age well and acquire an authentic industrial flair. Make aging fashion because it actually is.
EVEREST MIRROR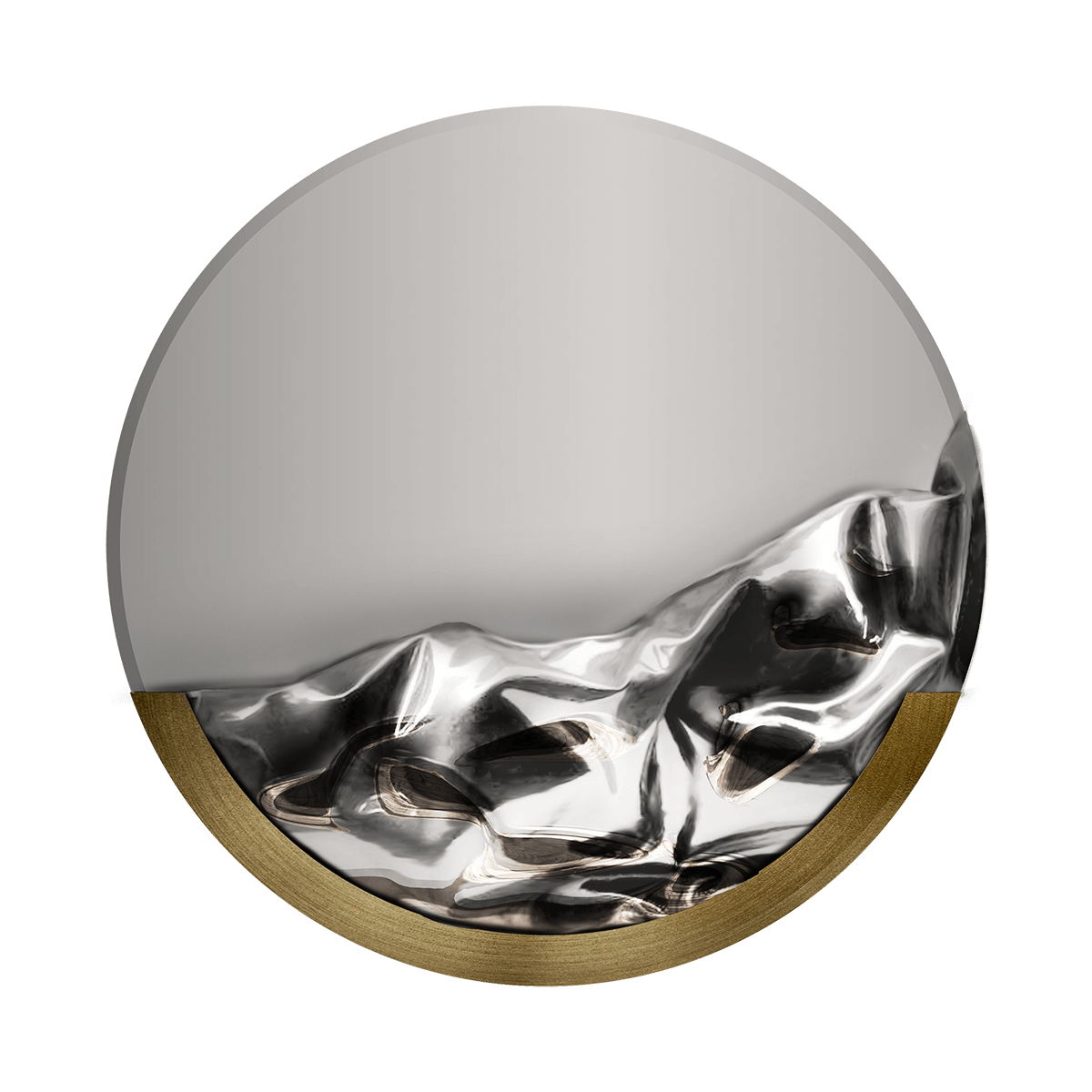 Inspired by the highest mountain on Earth, Everest wall mirror has an arc in brushed brass with patina finishes and hammered brass with nickel finishing.

Discover here the new brutalism with our article What is brutalist design, brutalist architecture and brutalist furniture? and follow Hommés Studio on social media to be up to date on the world of interior design.