Get to know Tin Tin – a distinctive and minimalist restaurant interior artwork, designed by Renesa Architecture Studio. Inspired by Indian craftsmanship, this Pan-Asian restaurant is located in Chandigarh, India.
Tin Tin, which opened this year, takes place at The Toy Hotel in Chandigarh and is completely out of the box.
Besides the food experience, the guests will surely have an involvement with the restaurant's interior design – an exquisite and minimalist modern interpretation of Indian Craftmanship. This artwork is designed by Renesa – a New Delhi-based architecture and interior designer that embraced this grotto-like space with unique characteristics, confronting the expectations and unsettling hospitality standards.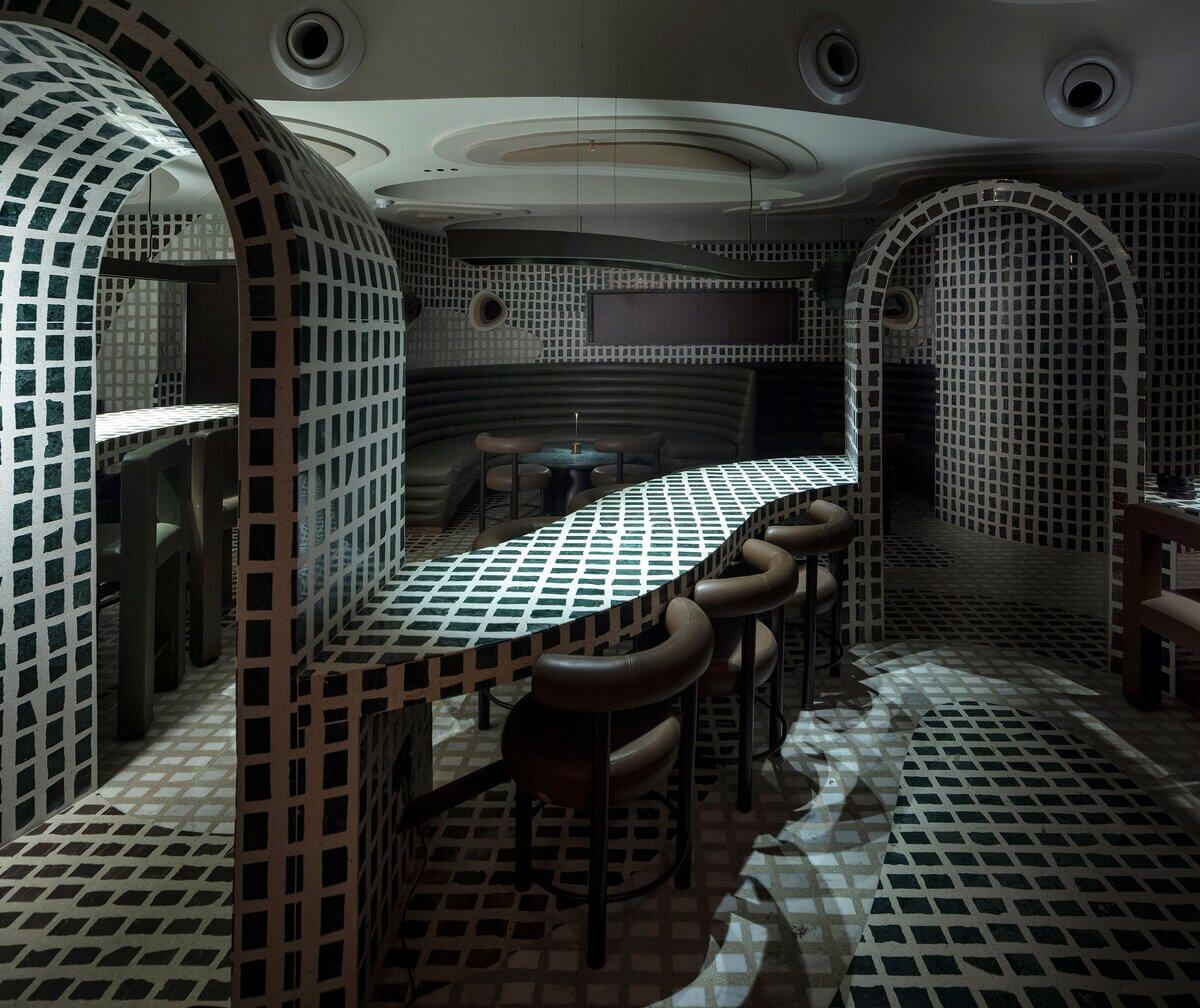 This 1500ft² ft labyrinth-like configurated restaurant interior is filled with a variety of broad arches, shaped roofs, and sinuous worked furniture, which gives unique and exuberant sensations while having its interior dominated by geometric grids that Renesa describes as a 'mosaic matrix' that delivers a quieting and Zen feel. Renesa focused on this sense of 'Zen,' conceptualizing it as a local sensibility that was ingeniously borrowed from Indian materiality.
An eye for detail discovered a new significance when Tin Tin was designed, satisfying the sharpened plan vision held onto by the restaurant's very much voyaged co-founder duo.

With Punjab's traditional materials and techniques, it was possible to construct this hospitality masterpiece that stands out for its undisputed cauldron of minimalist and indigenous materiality. The restaurant interior is entirely inspired by Indian craftsmanship, creating a modern interpretation, opening up horizons with its pan-Asian menu and dominated by South Asian flavors.
The unorthodox blend of these drastically contrasting elements – the combination of tangled layouts and shapely structures with geometric terrazzo mosaics, that reside all over the space – is why the restaurant interior is so strong and powerful and delivers a sense of visual dynamism.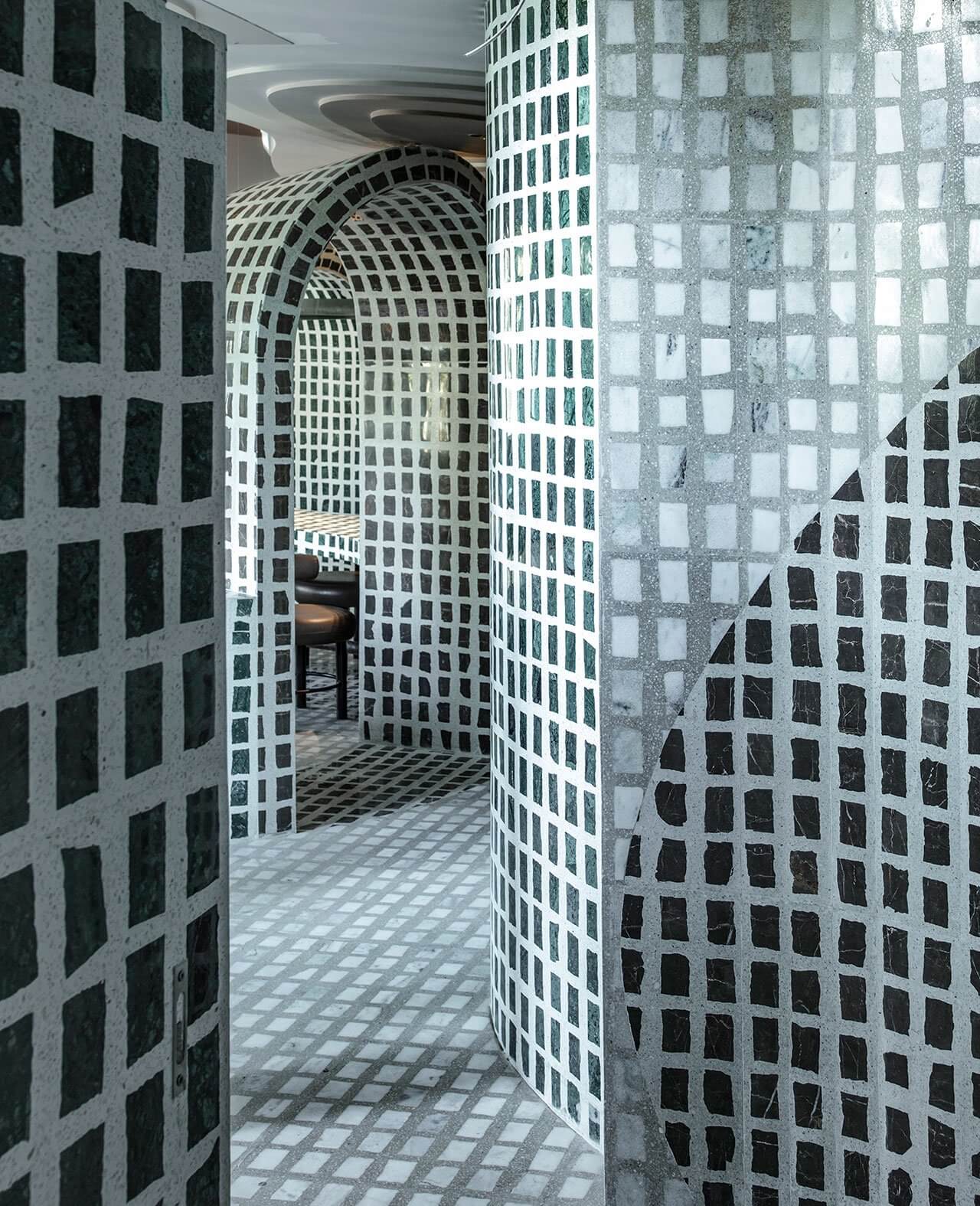 Tin Tin's gingham-like stone mosaics are the main feature of the restaurant's interior design project. They're present in the whole area, covering the floor, walls, and built-in furnishings. It was only possible because the local craftsman worked hand-laid for half a year on each mosaics piece, using 60 skilled stonemasons to hand-cut, polish, buff, and install, giving authenticity to the project. This allowed the creation of a three-dimensional geometric embroidered artwork where the crooked forms unpretentiously arise through the selective utilization of deep shades of jade, brown, white and grey-beige stone trims.
This sculptural tumult is composed of graphic shapes portrayed by the dominant scheme of hues that are accentuated by the curvilinear silhouettes of the furnishings, both built-in and freestanding, that stitch into the space in an organic form. The same happens with the suspended ceilings panels and the rows of saucer-like lights in the focal eating area that complete the restaurant, lending it a somewhat futuristic feeling that contrasts with the handiwork of stonemasons. Interestingly, the methodical grid of circular pendants complements the mosaics in the restaurant interior.
Renesa has complemented the restaurant interior with leather-upholstered deep green banquettes and dining chairs, both with tubular backs. The chairs offer even more curvaceous forms to the area while adding soft accents. They are placed around tables that wind through the space, some of them are tucked into light-filled nooks next to windows.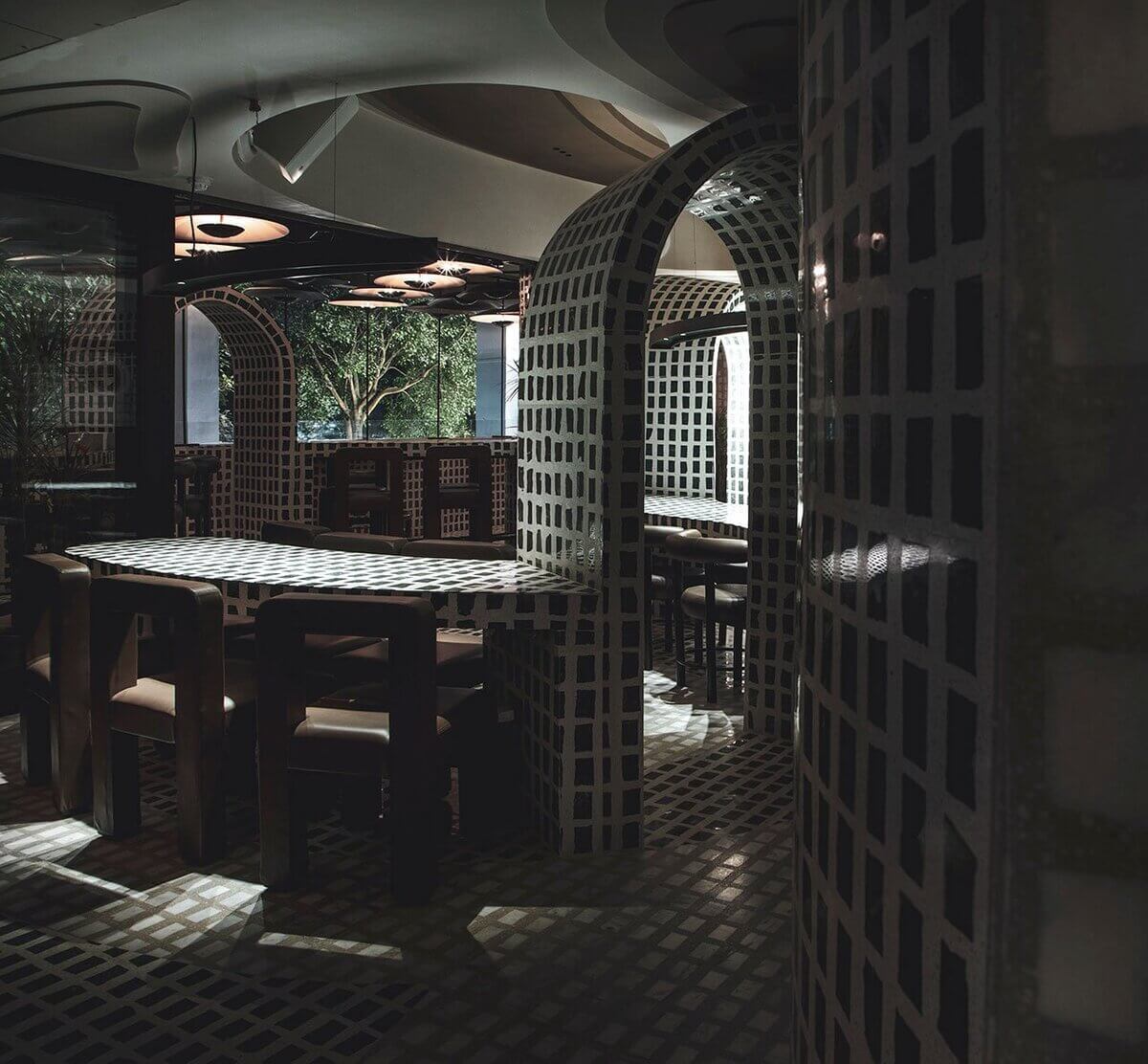 Supported by a many-sided organization of arched portals and winding counters, the labyrinthic design conveys a feeling of wonder and secret. In a more down-to-earth sense, the labyrinth-like setup makes an assortment of feasting zones that reach from independent high tables and private feasting nooks to snaking community tables, permitting the venue to metamorphose from a quiet restaurant during the day to a high energy lounge in the evening time easily.
The outcome of this unique restaurant interior design project is a space filled with authenticity that gives at the same time a minimalist sensation due to its graphic homogeneity while being proudly excessively in its sculptural abstraction and material richness.
Source: Yatzer
ARE YOU INTO INTERIOR DESIGN?
If so, discover modern furniture and lighting designed by design lovers for design lovers. All you need is to download the Hommés Studio catalog. To complete your interior design project, choose the high-end homeware by ACH Collection.