Art deco design restaurants are returning with flair to interior designers' projects! More glamorous than ever, take inspiration from our selection:
Perhaps it's because of the return of the 1920s, or because of boredom with the ubiquitous Scandinavian style increasingly associated with IKEA furniture, interest in Art-Deco design is slowly reviving. Bright wood, white walls, minimalism, open spaces and access to a lot of natural light have already become overwhelming for all of us. More and more new restaurants are turning their eyes towards high contrasts, dramatic spaces and bold colours and motifs, known from the 1920s. Although associated with the past, classically elegant interiors can look as modern today as they did 100 years ago, when the movement began. Check out our choice of 10 Art-Deco-inspired restaurants from around the world:
Best International Art Deco Design Restaurants:
1. Oretta (Canada)
This Italian eatery Oretta in Toronto, is the first art deco design restaurants on our list. With its art deco-inspired wall décor and colorful tile patterns fast became a new "Instagramable" place in town. Modern design that can be seen in open, white spaces were successfully mixed with art deco elements such as gold accents and vintage lightning. Unlike some of the heavy, monumental, and a little too dark art-deco interiors from the 20', this reinterpretation of the trend is more delicate and quiet.
2. La Dama (Barcelona)
The second art deco design restaurants on our list is real eye candy. La Damas' interior resembles some kind of private luxury bar with its bentwood chairs and plush sofas. Dark and a little gloomy space were decorated with the use of vintage furniture and beautiful wooden frames. A little dramatic colour palette with smokey hues evoke a sense of drama, while the vintage features make guests feel like at home.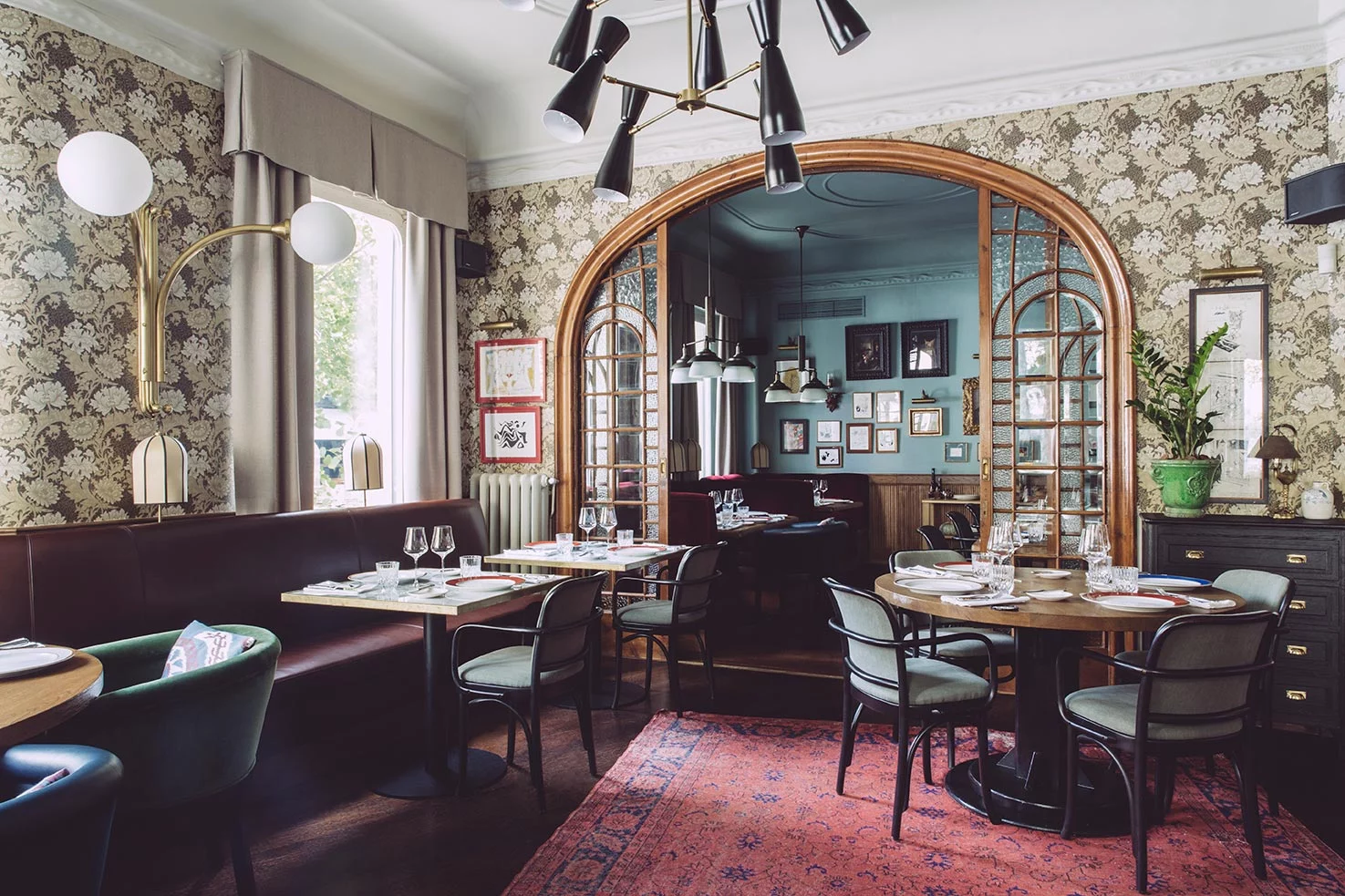 3. Quo Vadis (London)
Designed and furnished by Now London and Irving and Co, Quo Vadis restaurant presents all classic art-deco features served in a new, fresh way.
Deep green wallpaper that designers chose for the walls gives the place somewhat of a dramatic vibe, while the orange leather dining chairs and velvet furniture alongside with golden elements make it a truly elegant and glamour space.
4. Paley (Los Angeles) 
The design of this Los Angeles restaurant catches the Old Hollywood era. During that time art-deco trend was coming to an end, making a room for more simplified outlines of Streamline Moderne. Because of the number of big windows, designers could let themselves add a little dark and heavy tones of old fashioned art-deco. The perforated metal wall dividing the main dining and wine rooms, dark walls and leather sitting alongside wood tambour columns and anodizes brass make the eatery a warm and welcoming place.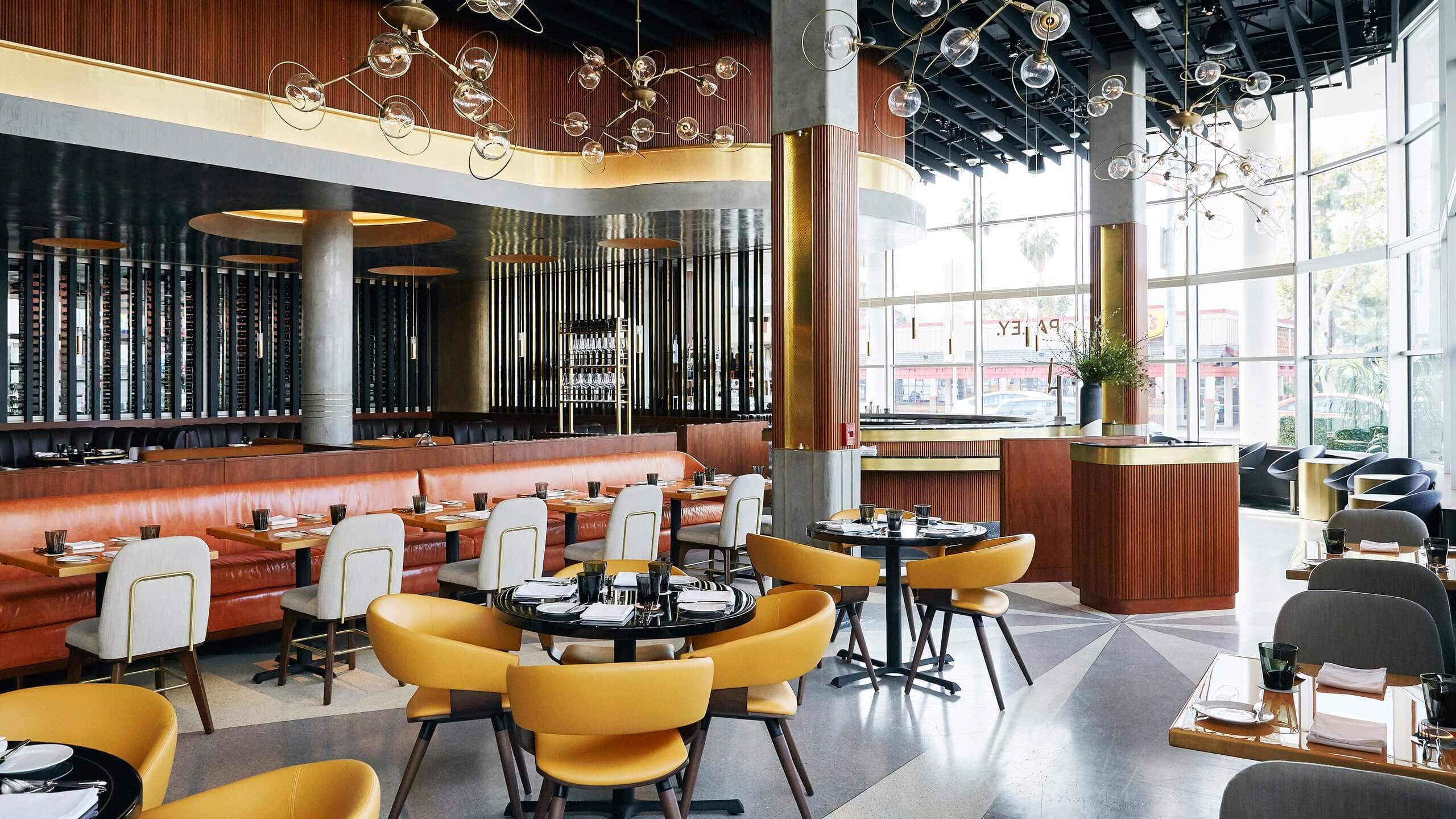 5. Red Herring (Los Angeles)
Dominated by the beautiful oriental mural, this restaurant is one of the most visited eateries in the angel city. Res Hetting couldn't be left off our list. This is one of the top 10 art deco design restaurants because the interior was built around the artwork that resembles '20s Old Hollywood. Its colour palette of nude pinks, deep green-blue, and brass accents fits the mural, creating a harmonious, calm environment. We can notice yet another art-deco element with all the geometric accents such as different shaped lighting or seating.

6. Beefbar (Paris)
Full of Art Nouveau and Art Deco inspirations,  Beefbar is a new project of internationally acclaimed interior architects Emil Humbert and Christophe Povet. This Parisian restaurant is one of the most luxurious eateries in town. So this is also one of the top 10 art deco design restaurants!
Designers tried to emphasize the original features, fabric, and style of the building, which was constructed in 1898 as the Lamgham Hotel.
Interiors feature-rich colour palette, dominated by olive, red, and gold. Walls are decorated with beautiful paintings and murals by Jules Wielhorski. The restaurant is a true feast for the eyes.
7. Waldeck (Amsterdam)
Café Waldeck welcomes visitors with its colourful interior and golden accents that remind us of the classics from the 20'. The dining hall is designed in Parisian style with its bistro high chairs, sleek design lighting, and mirrored walls. The pink long bar with its leathered pink high chairs makes a contrast to the dark blue walls. This art-deco inspired interior is combined with a little more modern banana leaf monochrome carpet and brass accents.
 8. Piur (Valencia)
The Piur restaurant is located in the city's Mercado Central – built in the early 20s one of the largest marketplaces in Europe. The historical building was an inspiration for Ana Milena Hernandez Palacios during the project. Lighting and striped wooden walls are the first violins in this restaurant. The space was divided into personalized corners to share meals in a more quiet and intimate environment. Earth tones alongside with wooden elements and terracotta tiles make it a calm and harmonious place. Beautiful and inspiring, this is one of the 10 Art Deco Design Restaurants that couldn't miss from our list!
9. Two Penny Chinese (Calgary – Canada)
This Chinese dim sum restaurant is a peculiar interpretation of China's art-deco era by Sarah Ward Interiors studio. The eatery resembles 1920s Shanghai. During that time this vibrant city was full of art which was a merge of art-deco with traditional Chinese motifs. In the restaurant, we can find classics like leather-upholstered banquettes or wall and mirror panels. On the other hand, walking in through a moon gate made from blackened oak takes guests for a far journey to the Monkey King Country.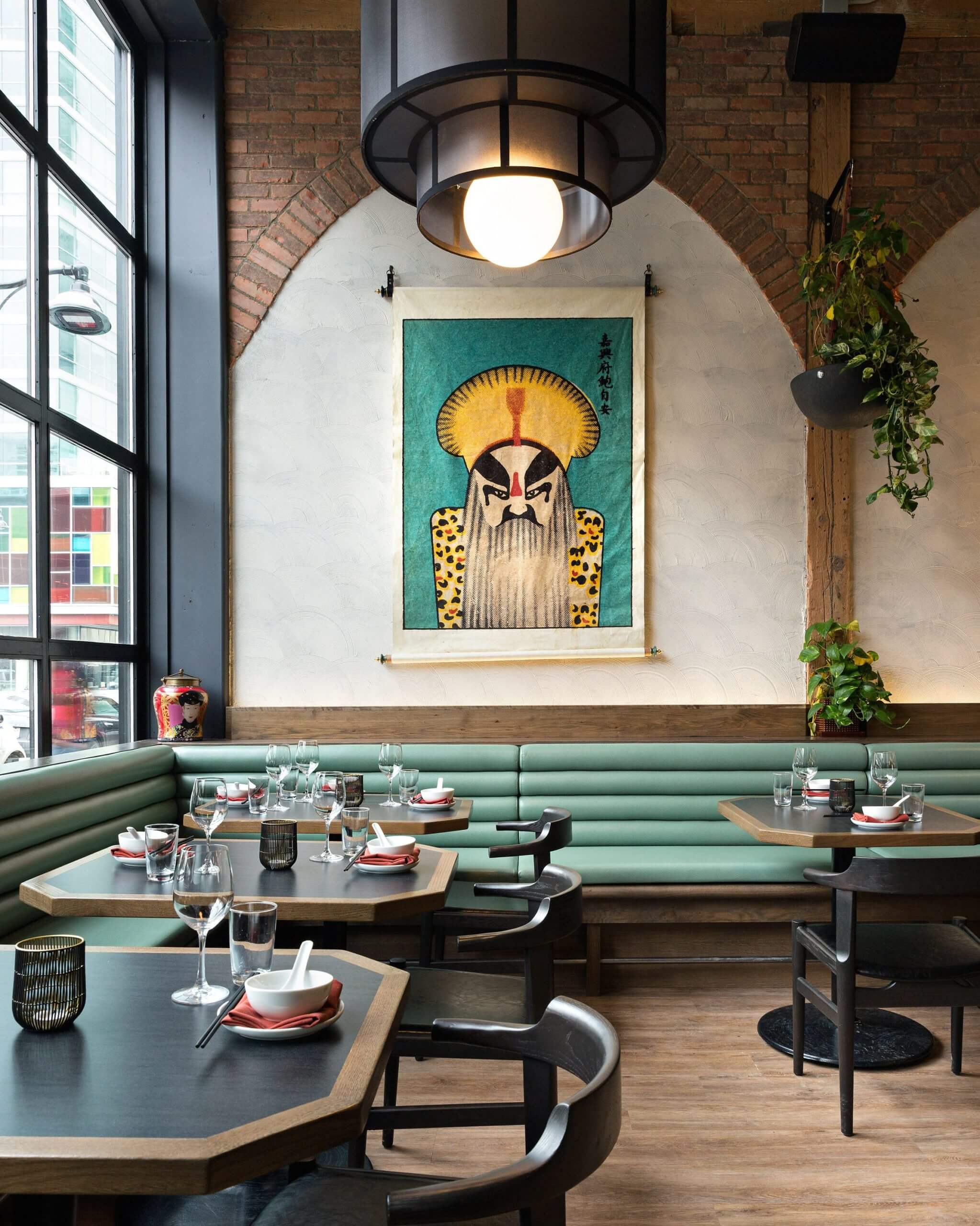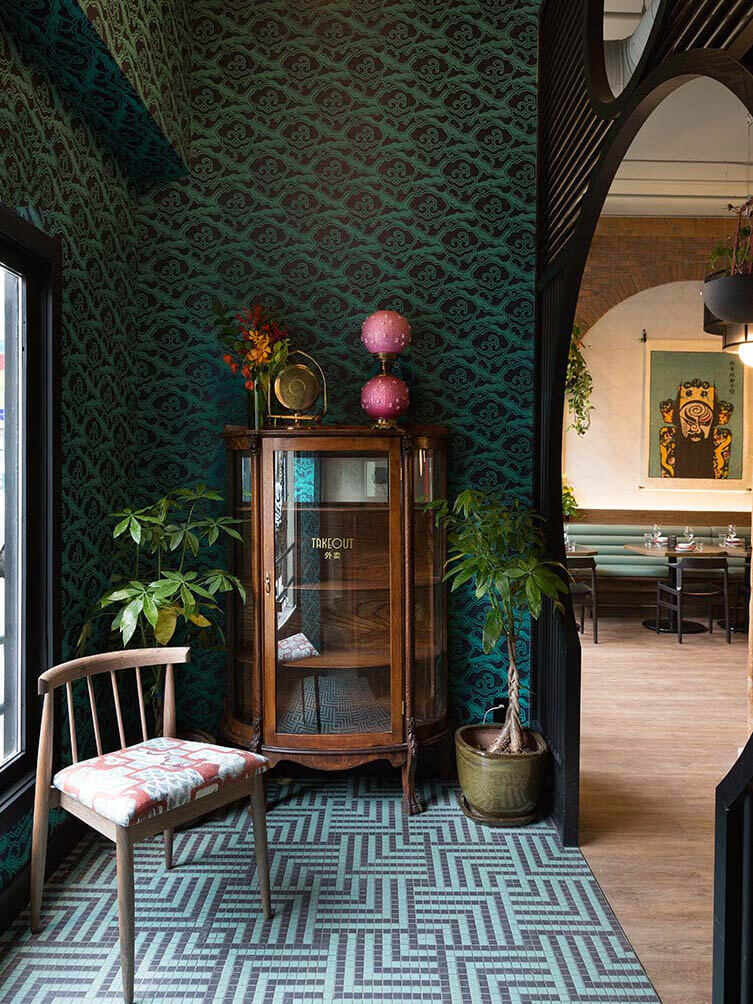 10. Voshod (Moscow)
The Voshod restaurant project was a true challenge for its designers. Because of its exclusive location in Zaryadye park, it is believed to be one of the central restaurants in Moscow. What's unique about this project part of our list of Art Deco design restaurants is its mixture of old, resembling past art-deco motifs with its new, futuristic elements, such as the circular lighting and spatial architecture. The project is supposed to pay tribute to the Soviet era and it turned out to be a big success. Art-deco orange-blue seating, unique molded bas-reliefs, and the use of retro plastic that resemble the past are combined with a futuristic chandelier that is reminiscent of the movement of planets on their orbit around the Sun.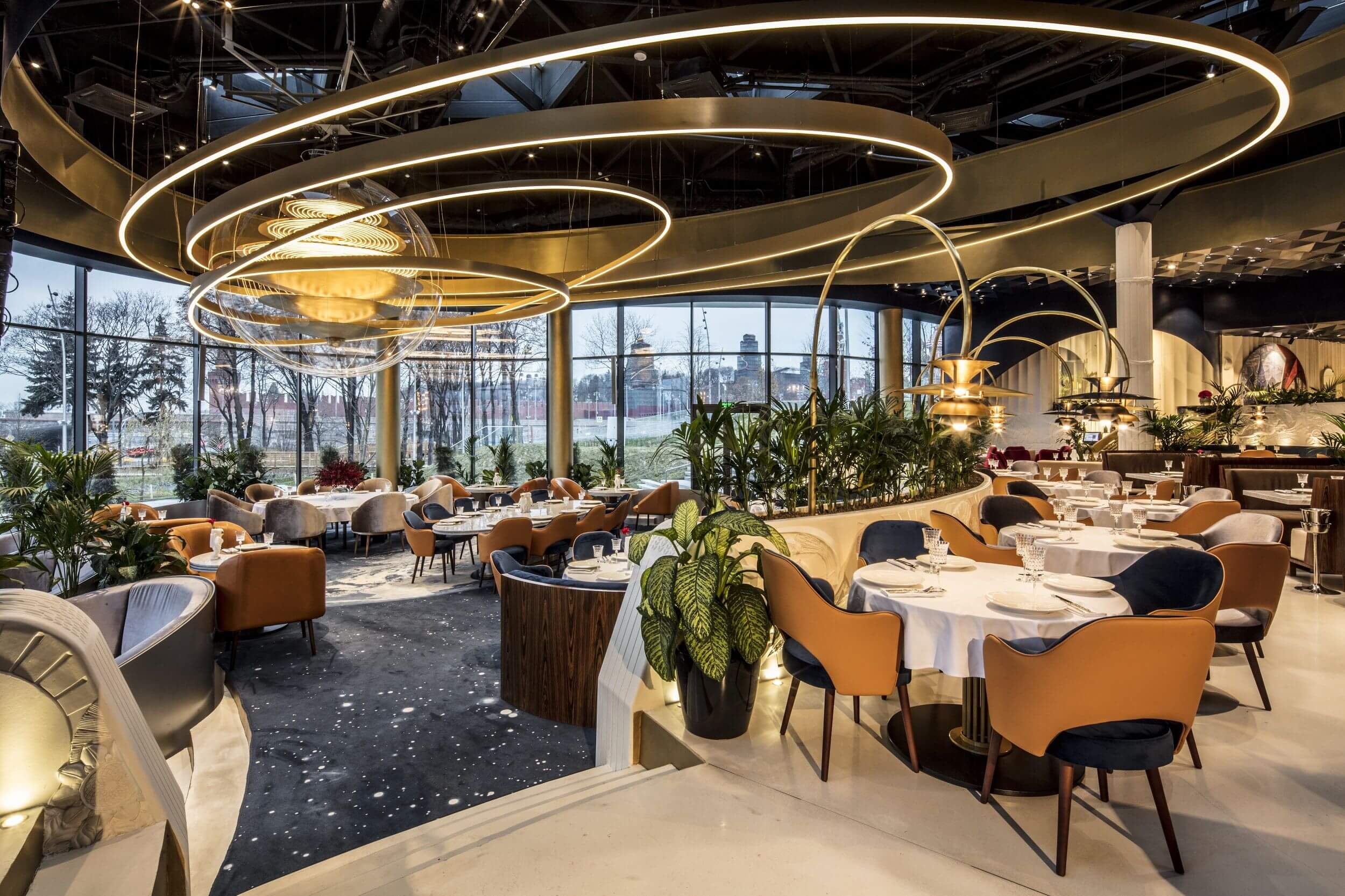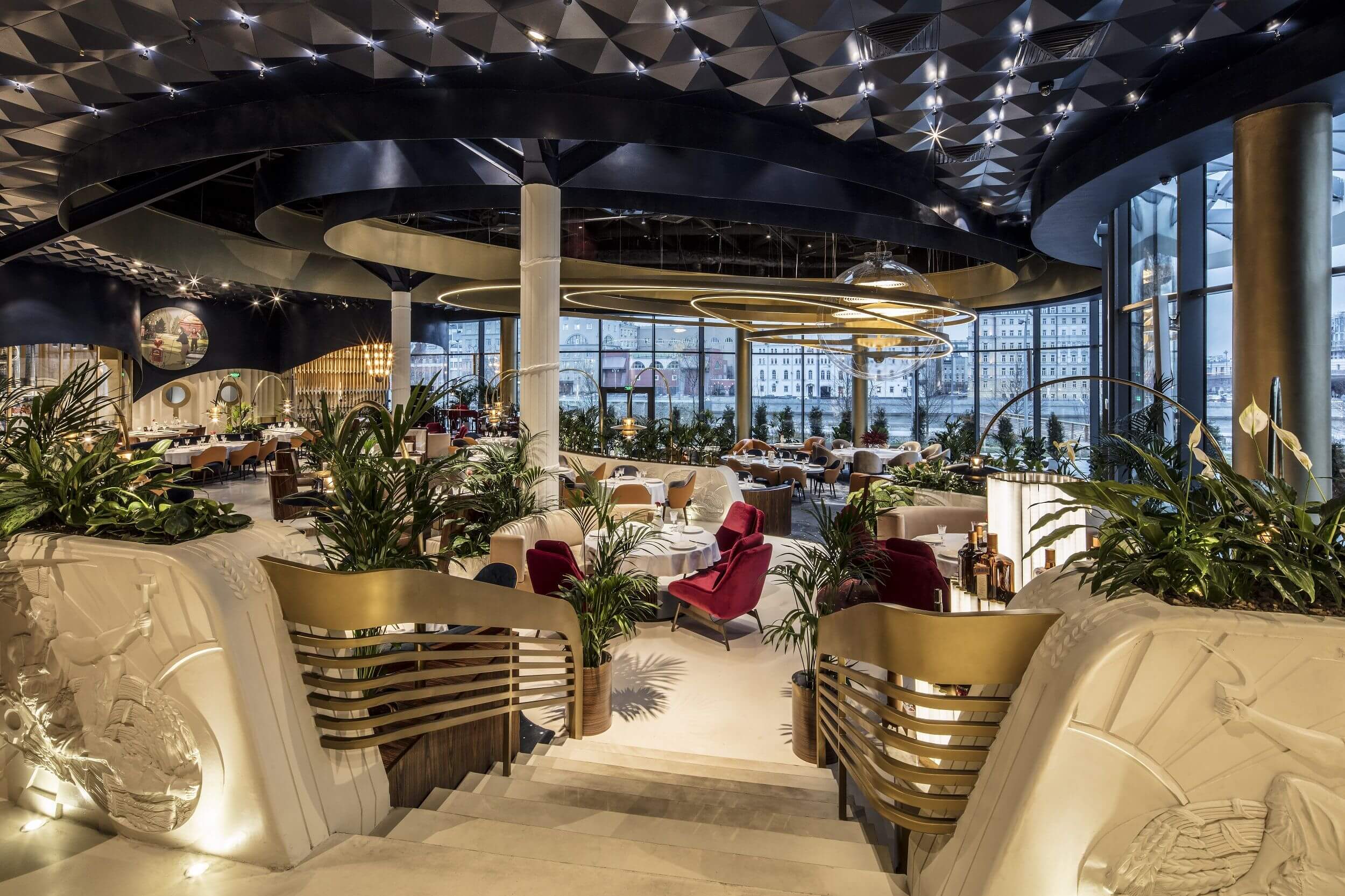 Now that you have been inspired by our list of TOP Art Deco Design Restaurants around the world, we have prepared exclusive content with some pieces to help you add an Art Deco style touch to your interior decoration. At HOMMÉS Studio you will find unique furniture from seating to tables, lighting and storage. Enjoy!