Ready to elevate your interior design? In this article, we selected the best Modern Living Room Ideas to inspire you to create a stunning living room.
Designing a living room for multiple purposes, such as watching movies, dining, hosting guests, or reading, can be daunting. The ideal living space should prioritize both your comfort and aesthetic preferences.
Many options exist for giving your living room a modern look. From minimalist designs to monochrome styles, the possibilities are endless. To assist you in making the perfect choice, we've gathered 15 unique modern living room ideas to elevate your living space.
1. Miami Beach Living Room
Barry Sternlicht has tastefully decorated his living room with a modern touch, creating a hotel-like ambiance. The living room is breathtaking with its neutral color palette, showcasing a Jean Merry armchair, exquisite side tables, and a contemporary sofa, all adding to the Miami Beach vibe.
This spacious and modern living room provides a luxurious setting for creating cherished memories with loved ones. Natural sunlight floods the room, enhancing its inviting atmosphere.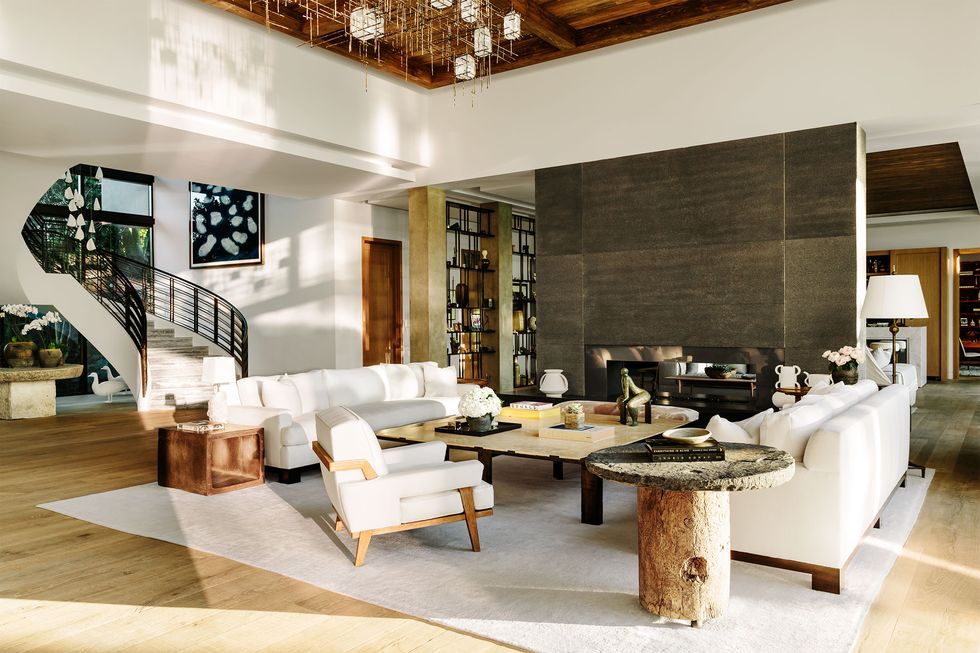 2. Maximalist Aesthetic Living Room
The Magical David Harbour and Lily Allen's home has a perfect and stunning Maximalist style. This maximalist home is full of bold details, color combinations, and texture; the living room is the perfect example.
This aesthetic gives the living room originality and uniqueness. The celebrity couple creates a fun and attractive living space. The living room is covered with flower wallpaper providing an inviting atmosphere. Also, the area features a murky green sofa, vintage furniture, and beautiful artwork.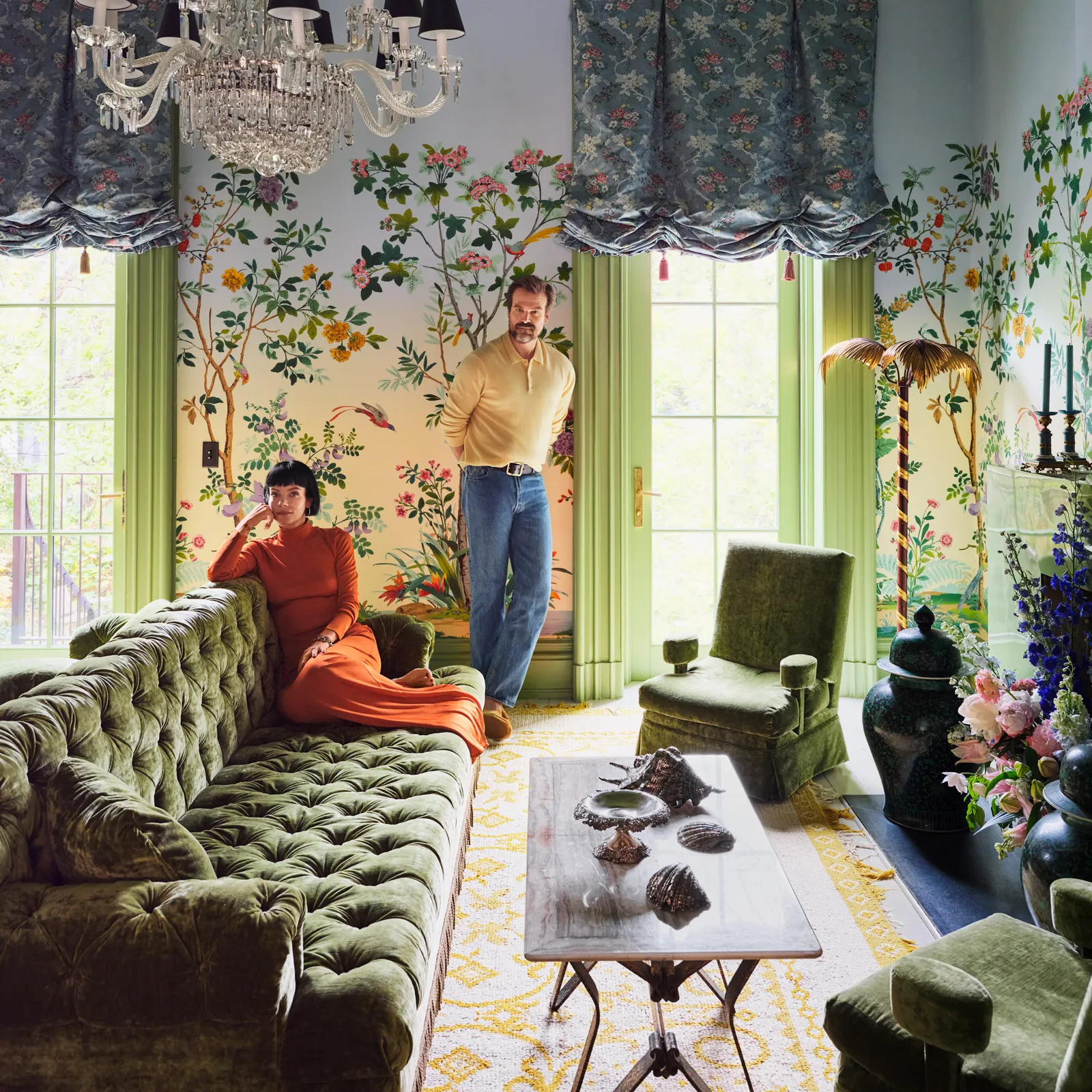 3. Mid-Century Modern Living Room
The living room can be a home's most intimate and personal space. The living room should express personality and uniqueness. With organic curves and clean lines, the mid-century modern style is an excellent idea for your living room design.
HOMMÉS Studio designed this modern living room in a mid-century style with incredible pieces, such as an Arcadia center table, a Kongo armchair, and a stunning Luminous Floor Lamp, creating the perfect contemporary aesthetic vibe.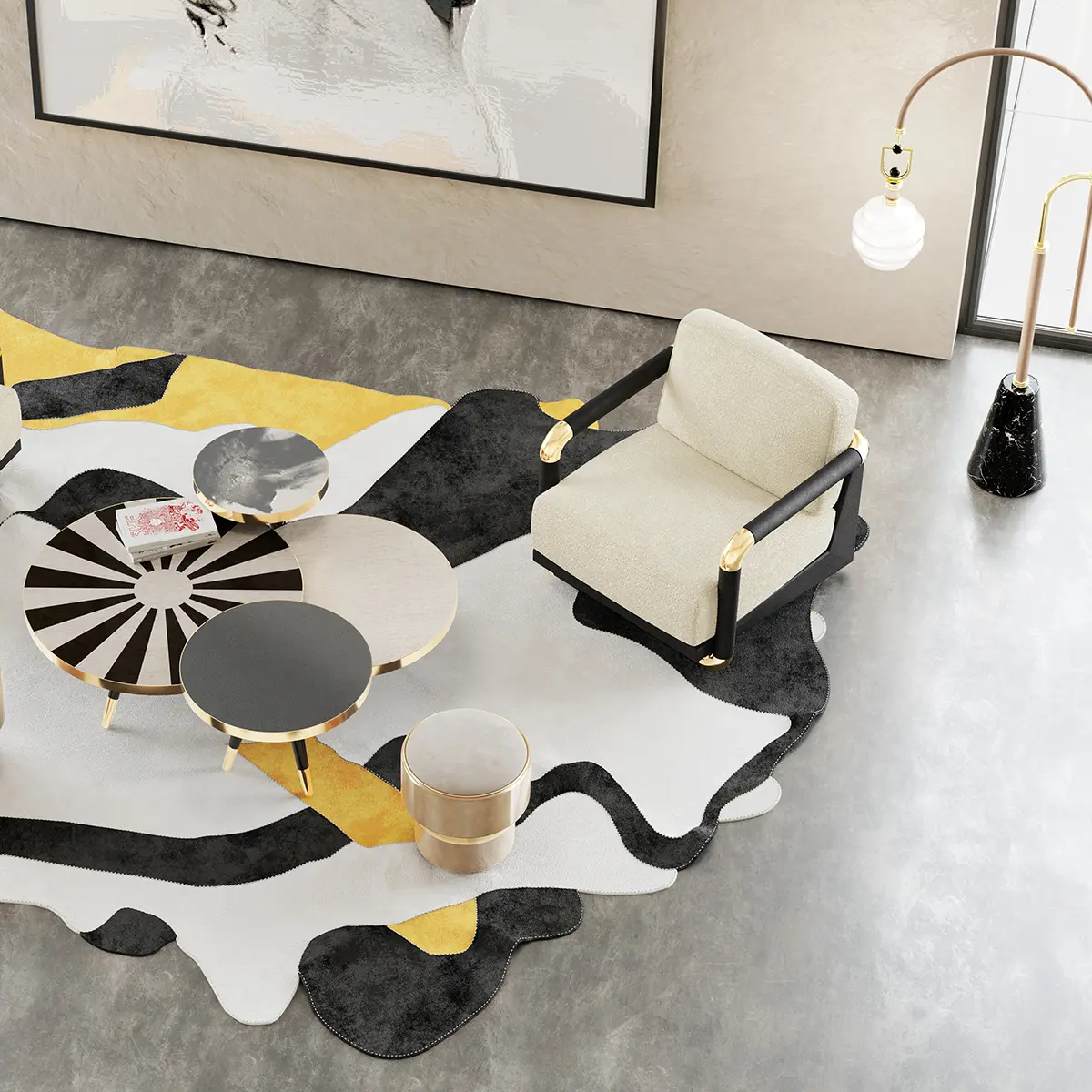 4. Monochromatic Living Room
Mara Brock Akil's LA Home showcases the beauty of monochrome tones in a living room. The pink monochromatic hue of the room, paired with a Vladimir Kagan sofa, a stunning rug, and paint from Portola Paints, creates a bold yet elegant look.
The living room boasts a picturesque pool view, and the West Coast vibe is perfectly captured with its rosé-colored ambiance. A monochromatic living room provides a serene and peaceful environment for reading a book or watching a movie.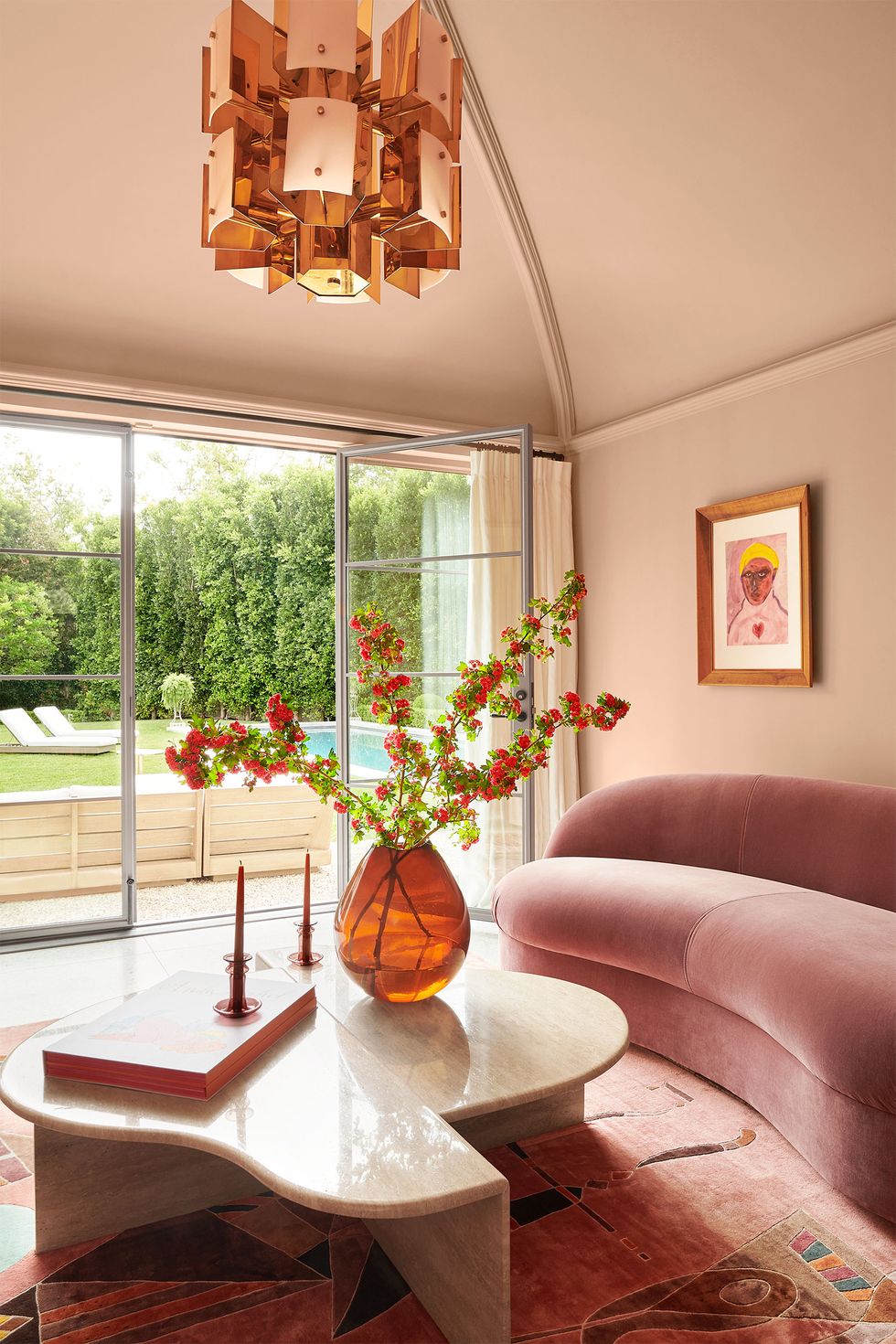 5. Hollywood Style Living Room
A movie night with friends or family is ideal in a living room. This modern living room idea is exceptional as it showcases a personalized motorized screen, giving the illusion of a floating home theater. Kovac Design Studio crafted this living room with a modern Hollywood style. This area features a Patricia Urquiola sectional, a coffee table, and a rug that create an ideal atmosphere for cozy movie nights.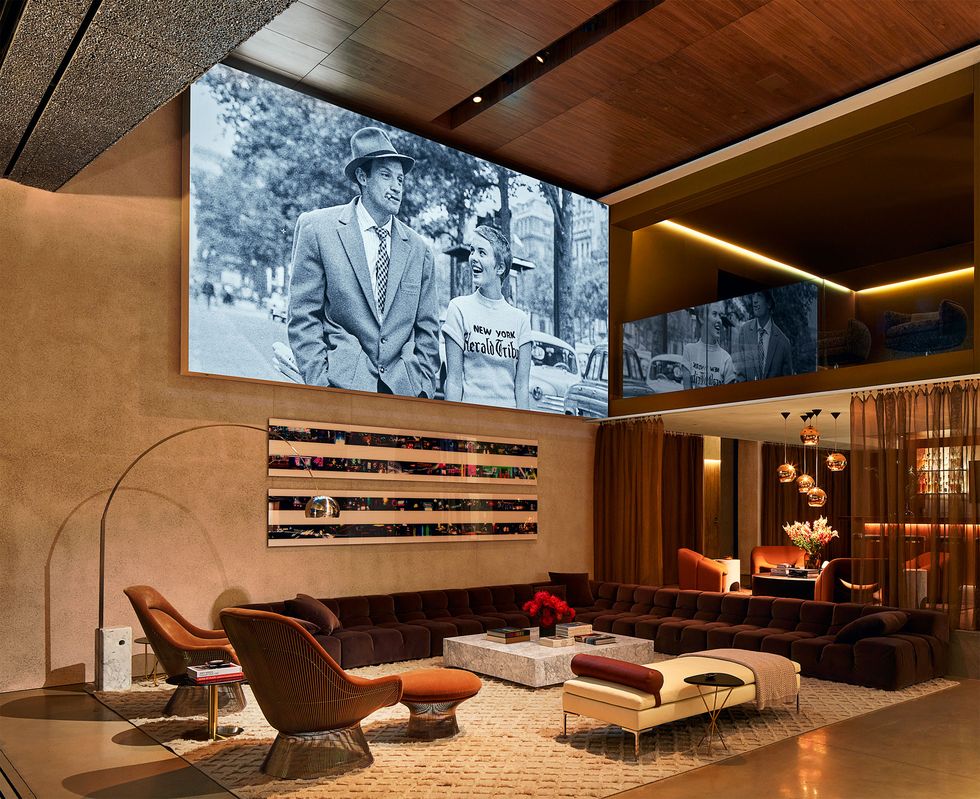 6. Rustic and Natural Living Room
Looking at the living rooms of celebrities can give you great ideas for your interior design. Amanda Seyfried's living room is particularly inspiring, with its unique rustic style that creates the perfect retreat. The cozy and modern ambiance uses vintage chairs reupholstered with Élitis Effigie Galactica fabric. Additionally, a wood-column coffee table is adorned with a Floris Wubben vase.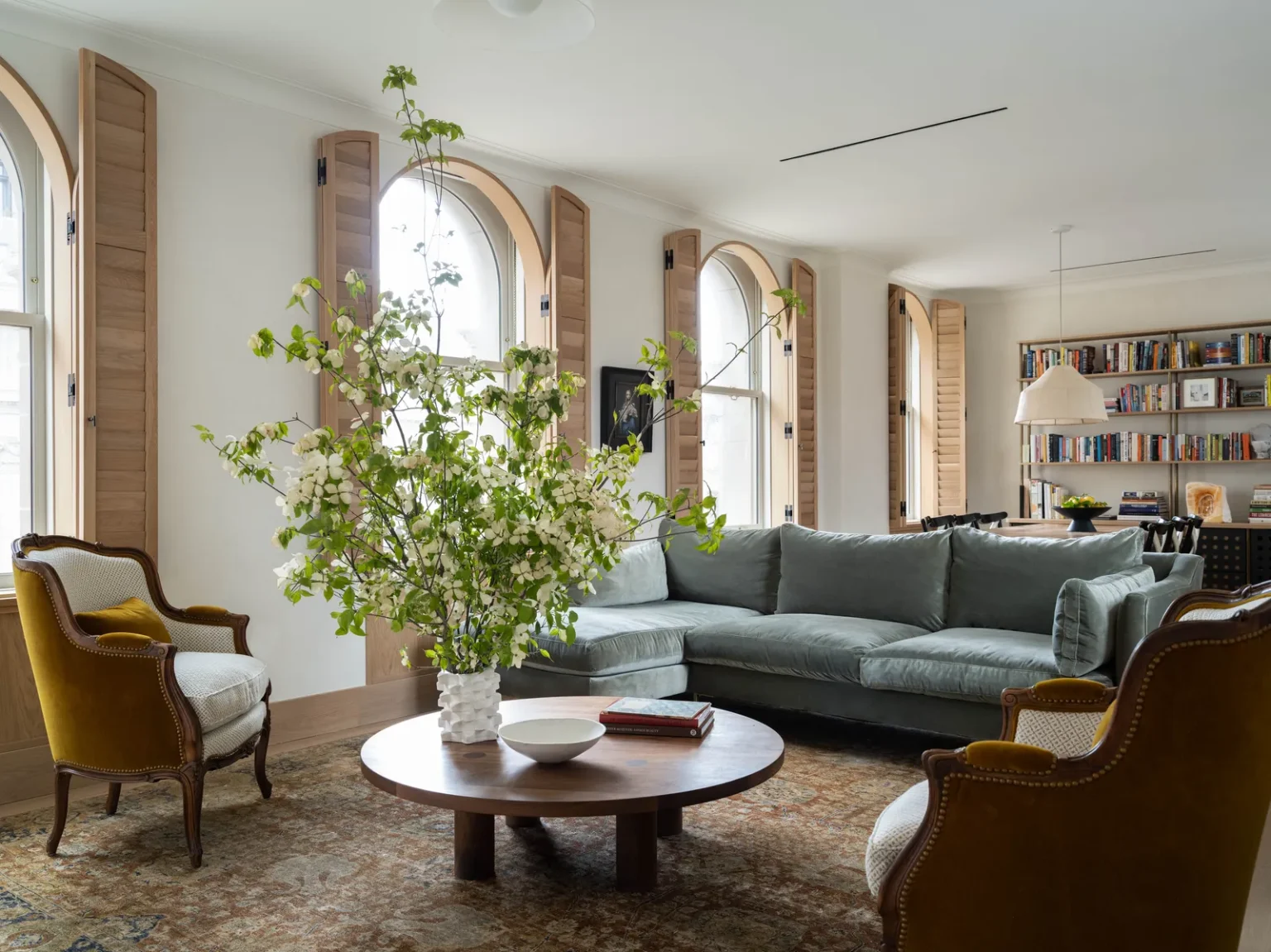 7. Industrial Living Room Design
This particularly stunning design can be found in lofts and warehouses in urban and industrial areas and is characterized by raw finishes like exposed brick, untreated wood, and metal. Furniture is functional and non-decorative.
The modern living room in this Connecticut beach house is breathtaking. The furniture features earthy, subdued tones that take center stage, while the bright ambiance of the space delivers a touch of sophistication.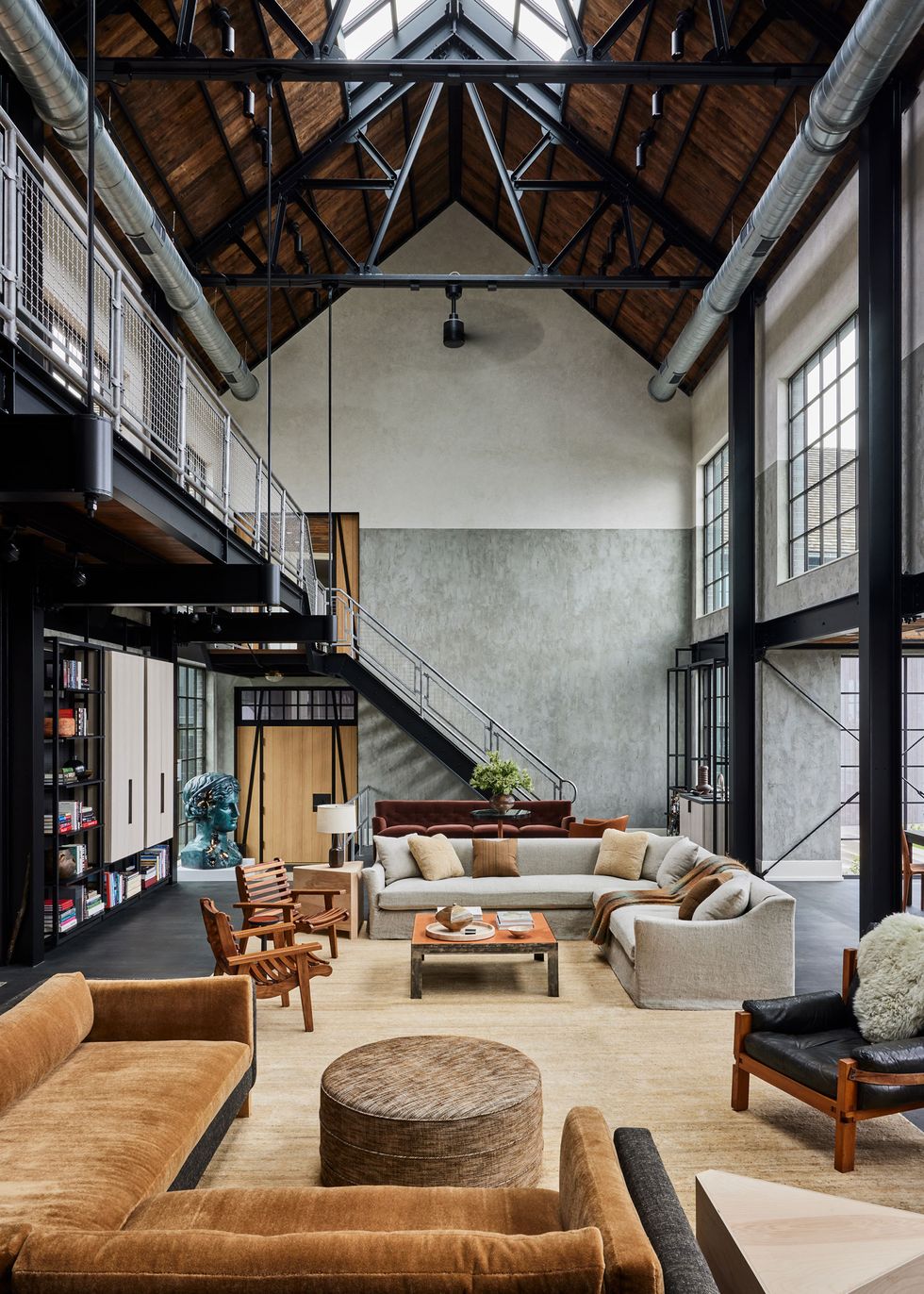 7. Black and White Living Room
Designing a living space with a black-and-white color scheme is timeless and classy. HOMMÉS Studio has created an elegant and chic black and white living room.
This living room has round travertine side tables that complement a soft sofa. The coffee table appears floating above an oval mid-century modern rug with a black and white abstract pattern. The overall design creates a peaceful environment that encourages socializing and enjoying the scenery.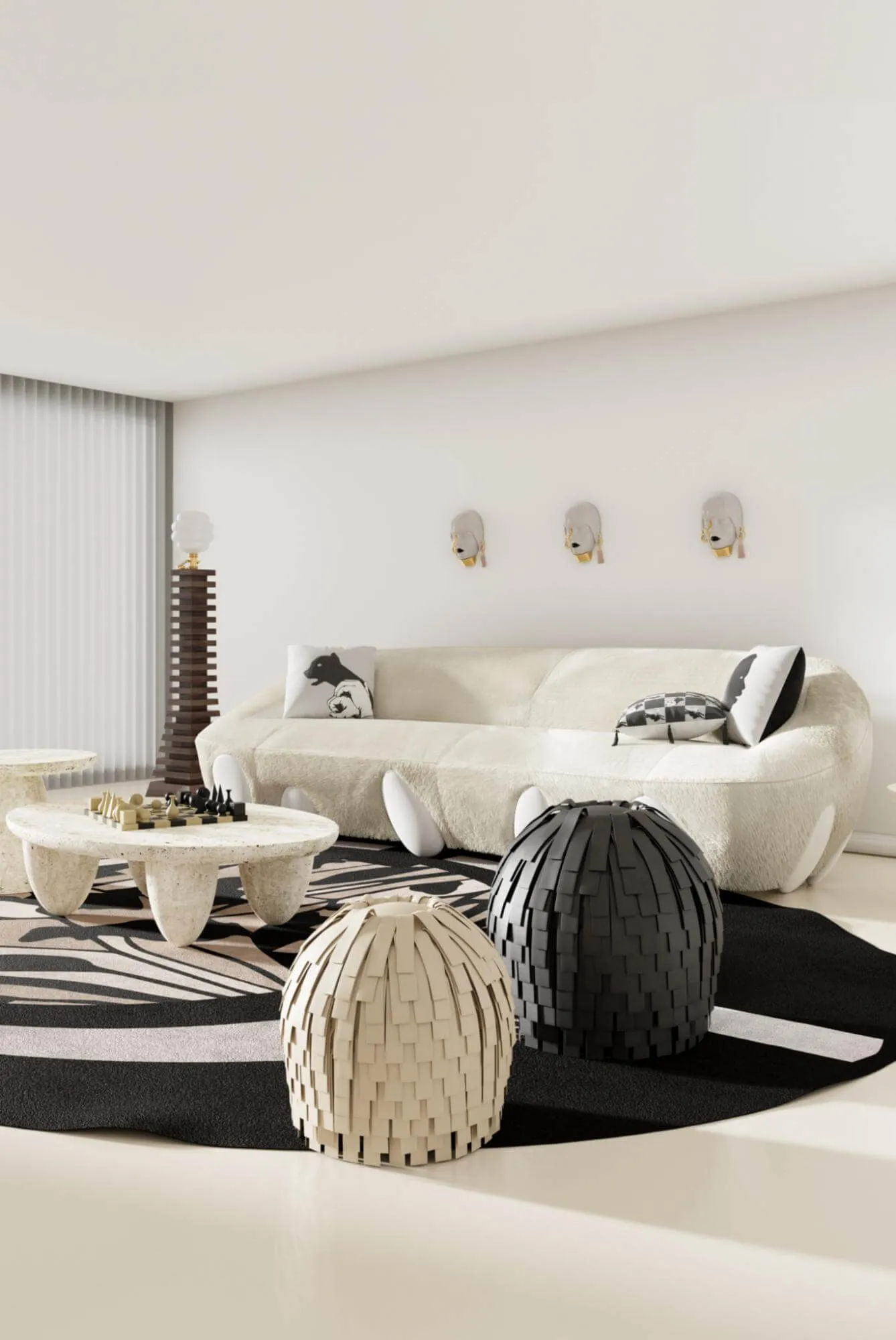 8. Summer Feeling Living Room
This modern living room has an interior design exudes a tropical and summery atmosphere. Fawn Galli expertly designed the space to create a summer oasis in the Boca Raton retreat. It features a rattan cocktail table and a half-moon-shaped Lejeune sofa, offering a tranquil vibe that will make you feel like it's summer all day long.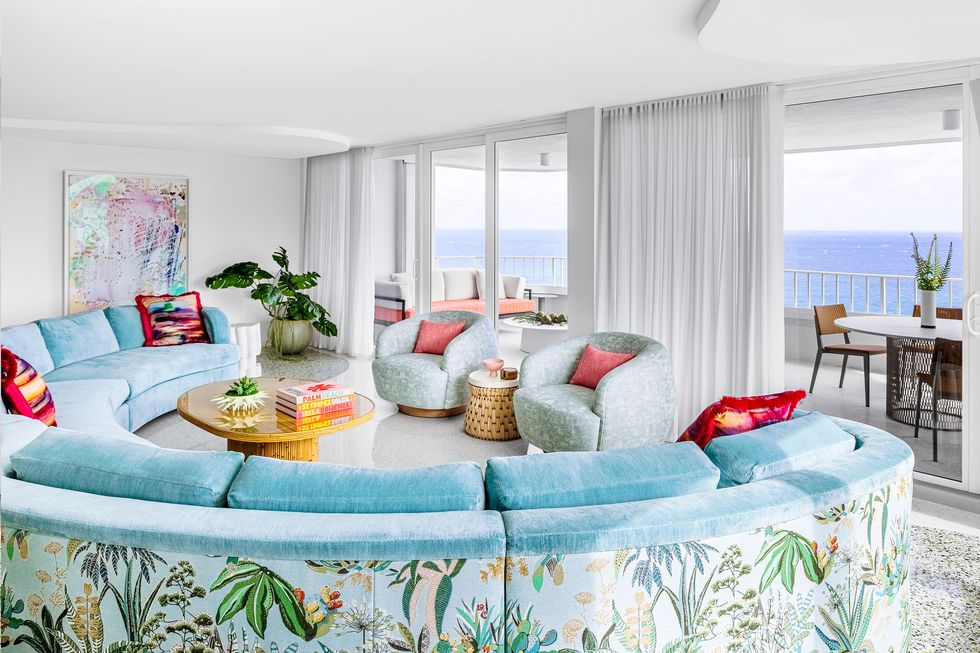 9. French-Inspired Living Room
Incorporating various colors in a modern living room can create a fun and playful atmosphere for guests and residents. Marie-Lise Féry's home is a stunning example of a colorful and elegant space.
Her living room boasts a velvet Christophe Delcourt sectional and a candy-coated lamp, which adds a sophisticated touch to the rainbow pa ette. The vibrant hues, contemporary furnishings, and captivating artwork combine to establish a whimsical and lively atmosphere, ideal for fashioning cherished moments.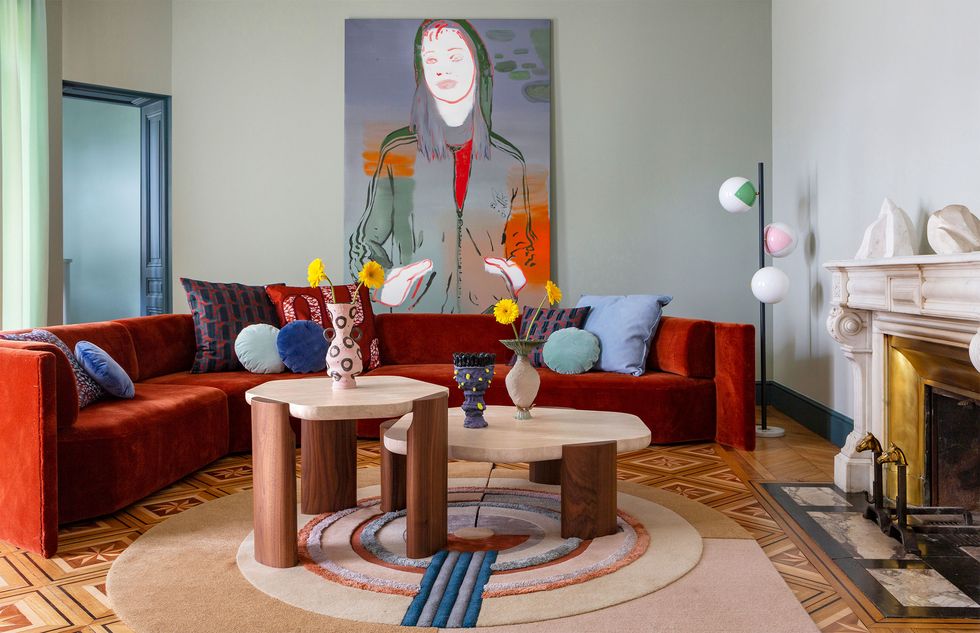 10. Quite Luxury Living Room
Creating a modern living room with luxurious furnishings can bring a sense of grace and refinement to your area. This living room concept blends understated elegance and sophistication, a popular trend for achieving spaces that exude refined beauty. This HOMMÉS Studio design is a perfect example of elevating your living space by combining comfort and style.
The living room is expertly furnished with plush seating, showcasing an inviting and sophisticated modern aesthetic. The soft lighting creates a serene ambiance, perfect for unwinding and relaxing after a long day's work.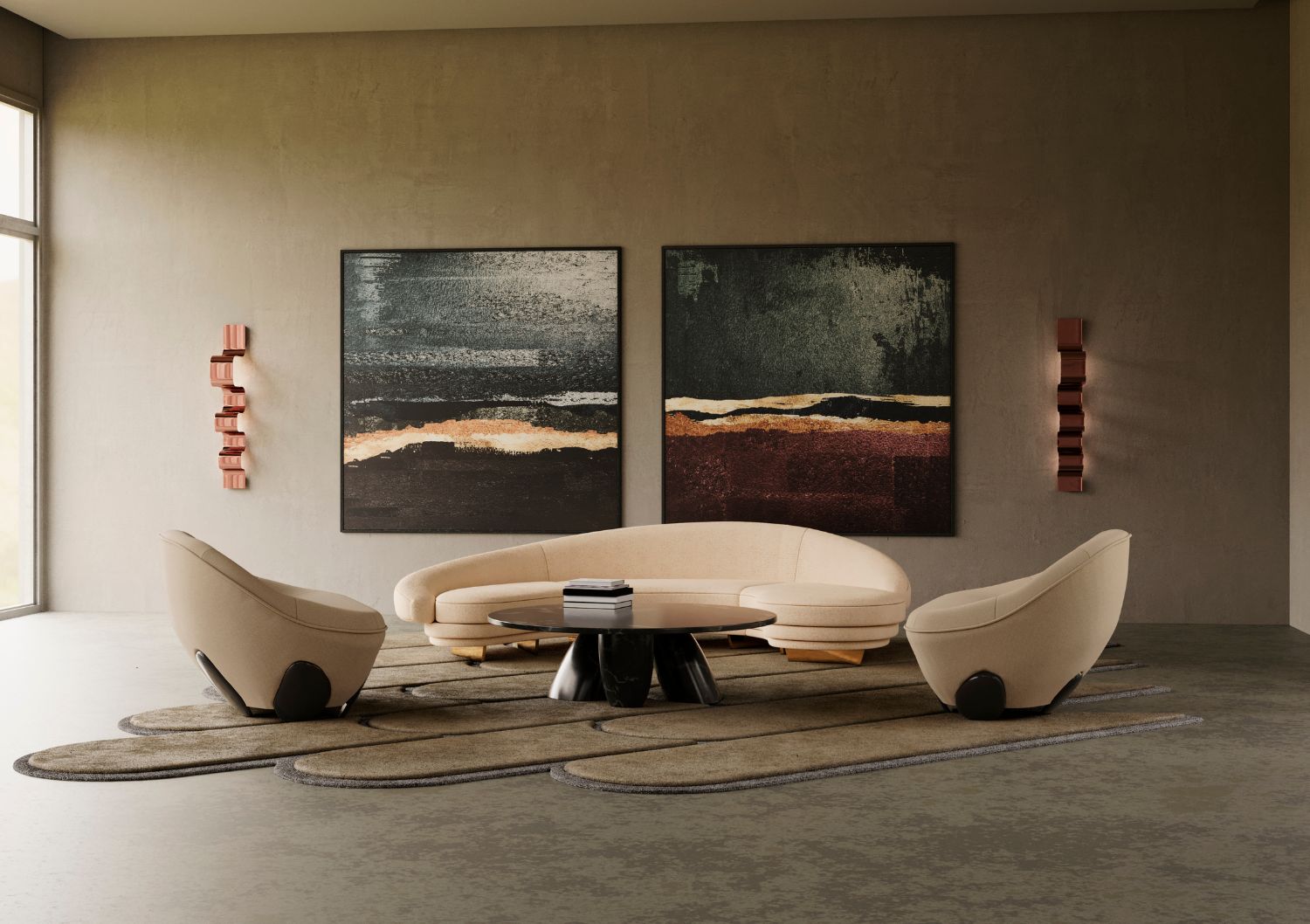 11. Enhance Your Living Room with Statement Pieces
A comfortable and cozy living room can be achieved by incorporating statement pieces such as a fireplace, ideal for chilly days. Kendall Jenner's LA home is a perfect example of this, with its warm hues and comfortable furniture that provide a relaxing retreat for the supermodel.
The design of the modern living room prioritizes a comfortable and warm atmosphere, with the fireplace acting as the main fe true. The furniture perfectly complements the overall ambiance with simple lines, prioritizing comfort. Additionally, the use of warm brown hues helps create a welcoming environment.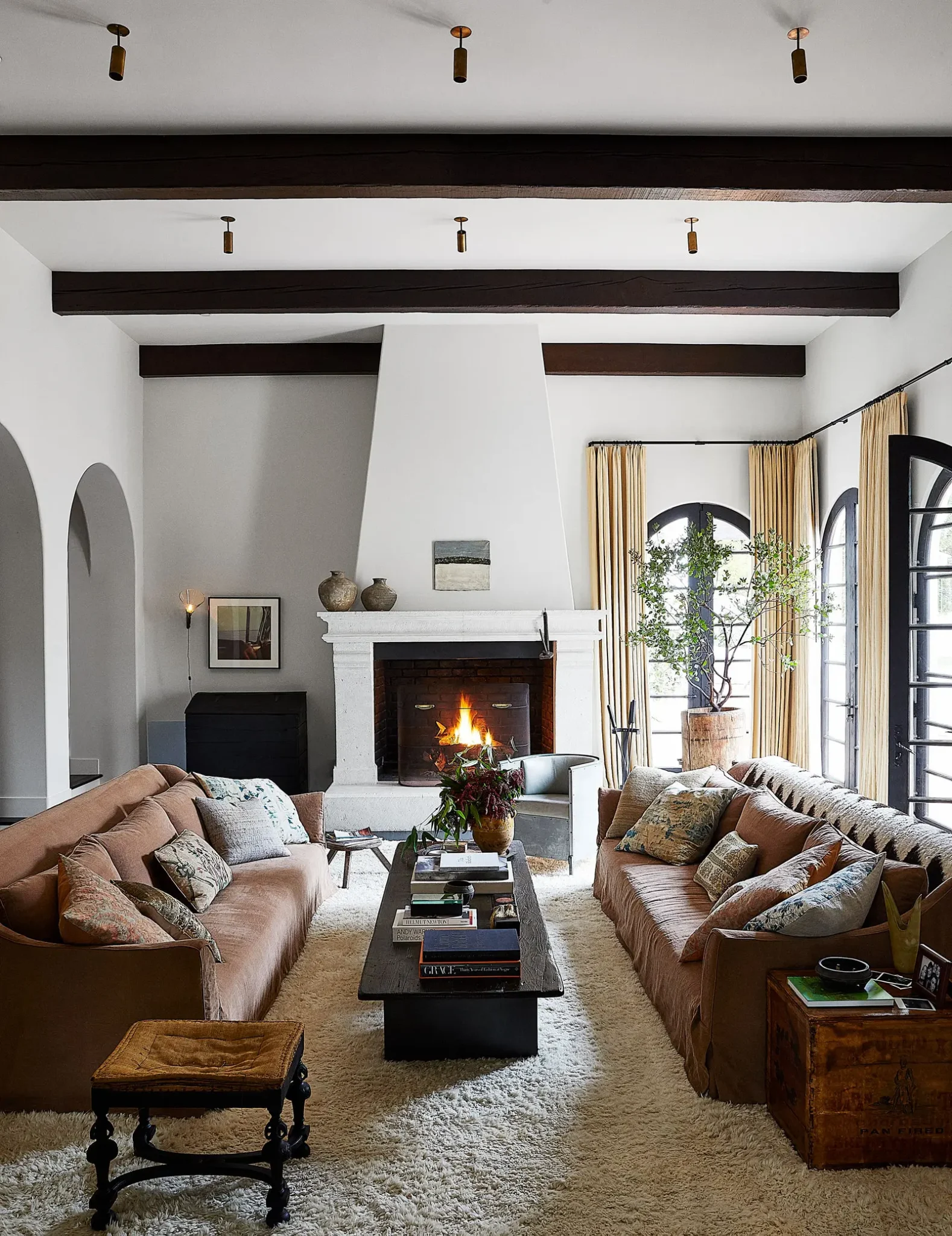 12. Neo Modern Living Room
The Neo-Modern style is all about comfort and function city. The living room designed by HOMMÉS Studio perfectly embodies this style with its luxurious furniture and stylish appearance. Rather than focusing only on aesthetics, the modern living room is intended to be practical. Overall, it's an impressive display of neo-modern design.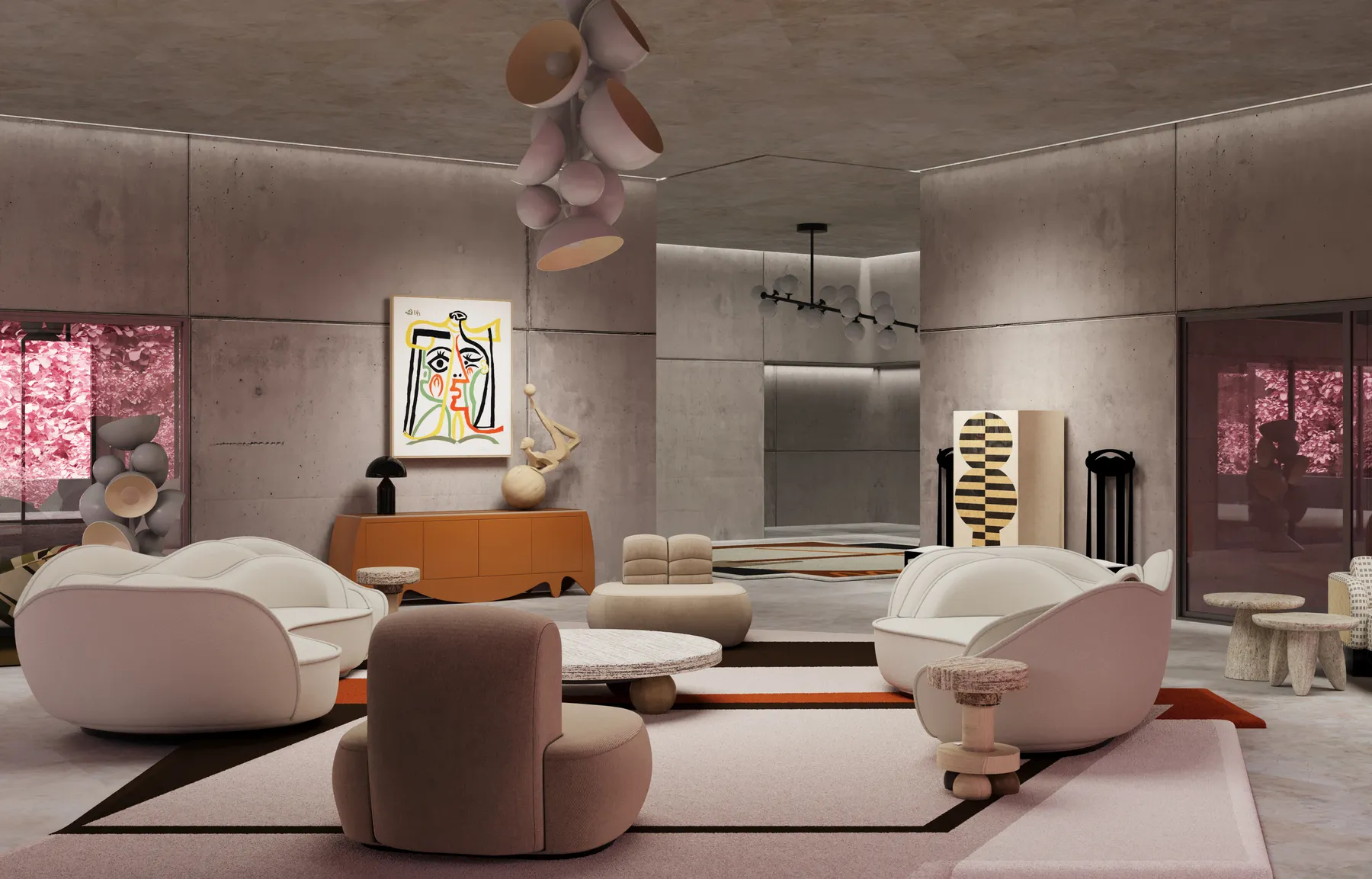 13. Embrace Bold Shapes
Embrace boldness and confidence to create your ideal living room. Take inspiration from this stunning design by Noz Nozawa, which features asymmetry and unique elements. Nozawa chose to balance the sharp edges in the living room by adding softer furniture and decor. The room features an unbelievable cocktail table, a curved rug, and a stunning sofa near the fireplace. Additionally, Nozawa created a comfortable seating area with bookshelves.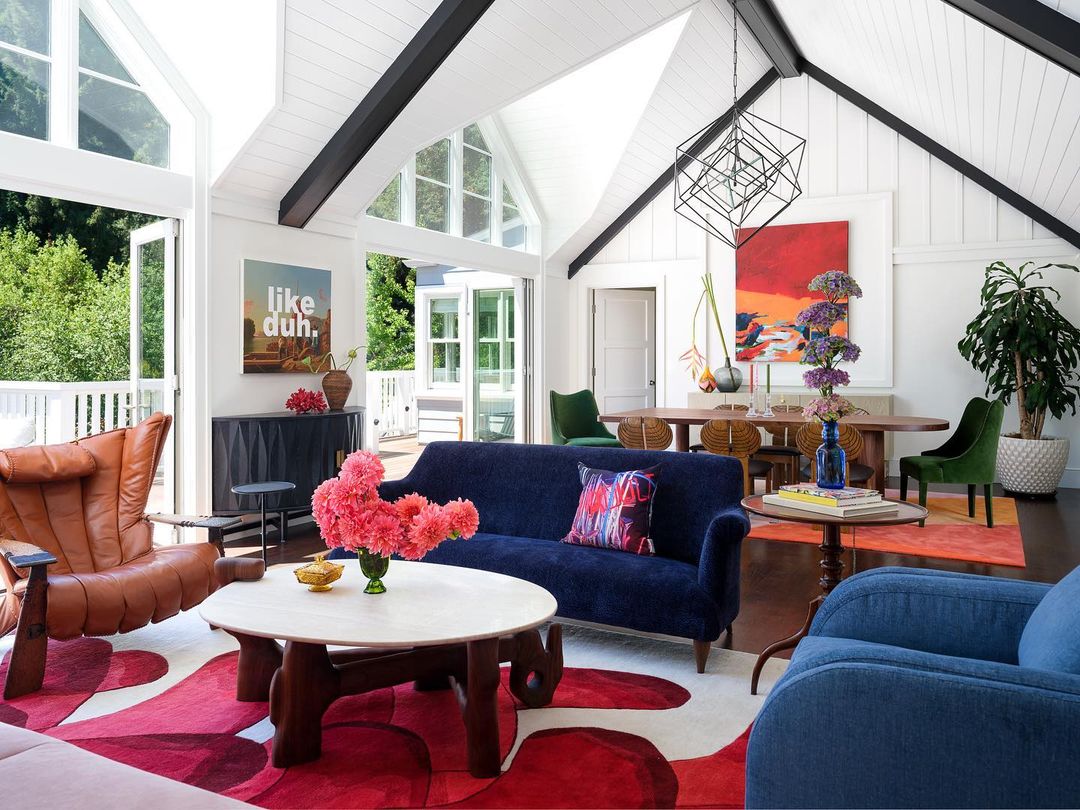 14. Eclectic Living Room
This modern living room was designed by Tom Sheerer, who added an elegant and eclectic style to the Upper East Side residence. The living room in this Manhattan apartment showcases a 1950s Danish desk and textiles from Holland & Sherry. The designer used pops of green and blue to add refinement and luxury to the neutral backdrop.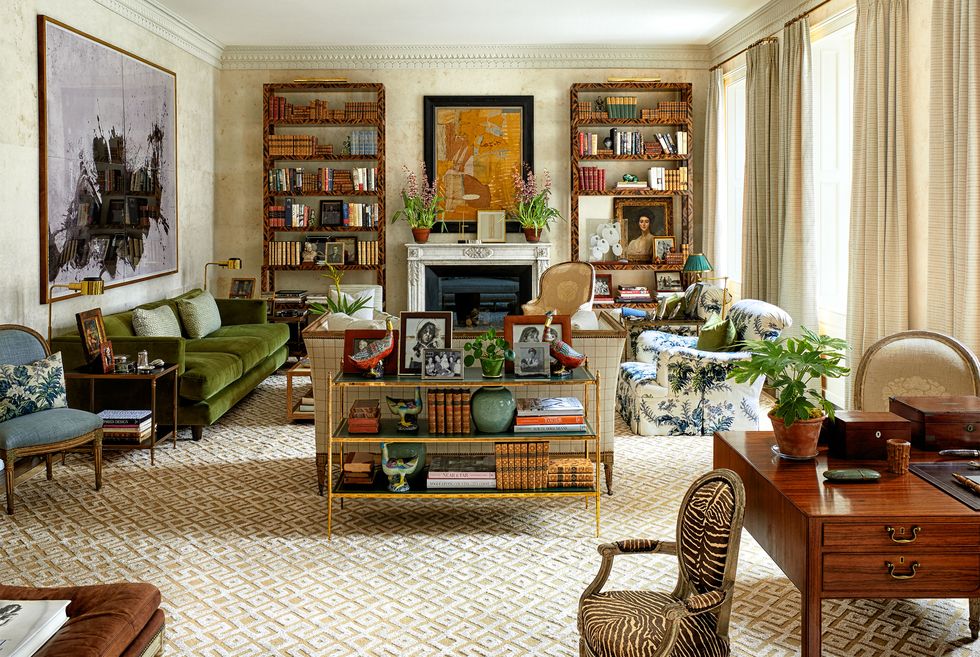 15. Add Green Details
Achieving an elegant and mysterious ambiance in your living room is made simple with this modern living room idea. HOMMÉS Studio has crafted a fantastic Royal Green living room that blends sophistication with luxurious furnishings. The green hues create a peaceful and immersive atmosphere.
This modern living room has green details, textures, and patterns. Each piece is beautifully handcrafted, providing a contemporary interior design and a unique green living room. This living room features a conceptual armchair, a stunning mid-century sofa, and a luxury center table.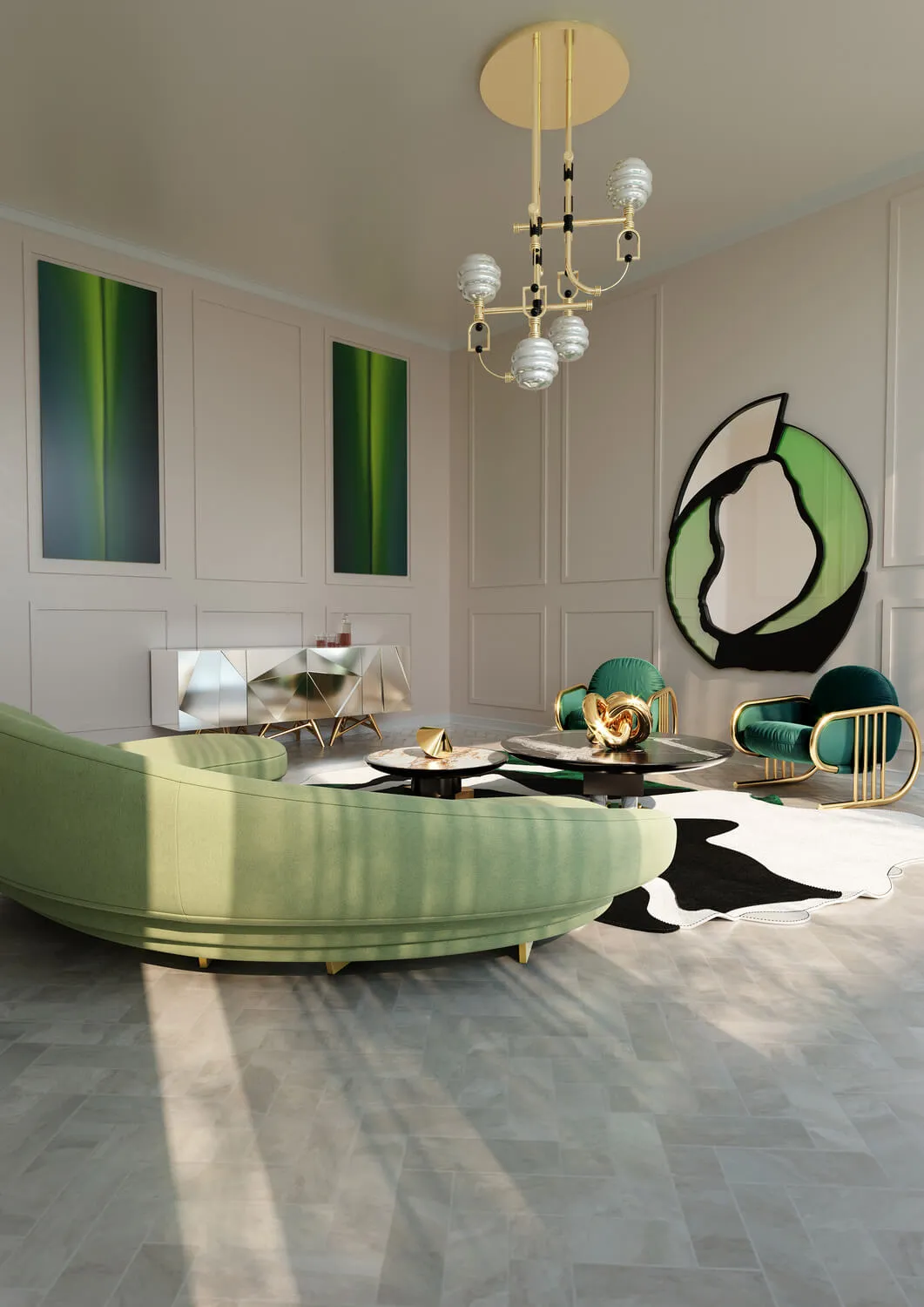 Enhance Your Living Room Projects
Discover the ultimate solution for your design projects with these captivating modern living room ideas. Whether you seek a monochrome charm or a neo-modern look, our curated collection of the best living room ideas will help you to upgrade your design projects.
We hope these beautiful living room ideas have inspired you as much as they have inspired us. If you're seeking additional inspiration, we encourage you to check our Interior Design Projects to find more inspiration to help you create your dream living room.