Full of unexpected design choices – David Harbour and Lily Allen´s Maximalist home is wonderful! Explore the details of this fantastic layout signed by AD100 Billy Cotton and architect Ben Bischoff.
Some layouts seem out of a dream – and it can be applied to David Harbour and Lily Allen´s Maximalist home; their family house highlights a mix of happiness, fun, and charming details – a home worth of two creative persons that gives life to many inspirations – on the screens or in the music.
The celebrity couple counts on the help of the AD100 Billy Cotton and the architect Ben Bischoff to create a magical garden in the form of a home that is full of character. Let´s explore this stunning Maximalist home? Scroll down to get inspired.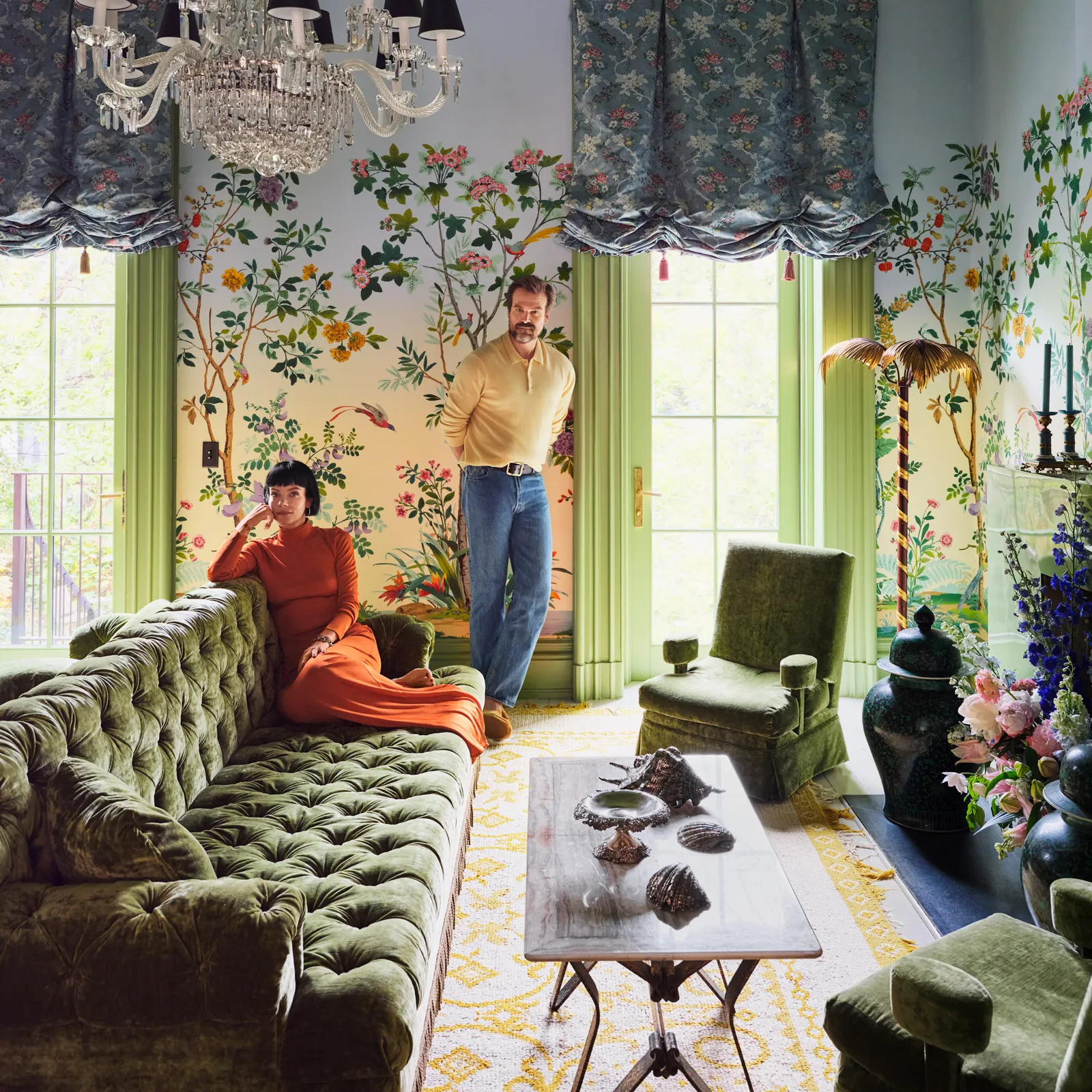 The Maximalism Style
Before starting our journey inside the David Harbour and Lilly Allen´s Maximalist home, we have a brief first stop: a short explanation about the style that helps to give life to this dream home. Maximalism embraces boldness; this interior design style is responsible for creating a space layered with patterns, color combinations, lots of texture, and bold decisions.
There is no rule for designing with this style, which is why it highlights many other references- such as Art Deco, Memphis, and Hollywood Regency Style; this variety of styles is welcomed in maximalist interior design to produce an original and enjoyable atmosphere.
Maximalist Style is incredible to bring more originality, boldness, and unexpected flair to your projects. This style is all around in David Harbour and Lilly Allen´s home – allowing the celebrity couple to have a creative and fun interior as they dreamed.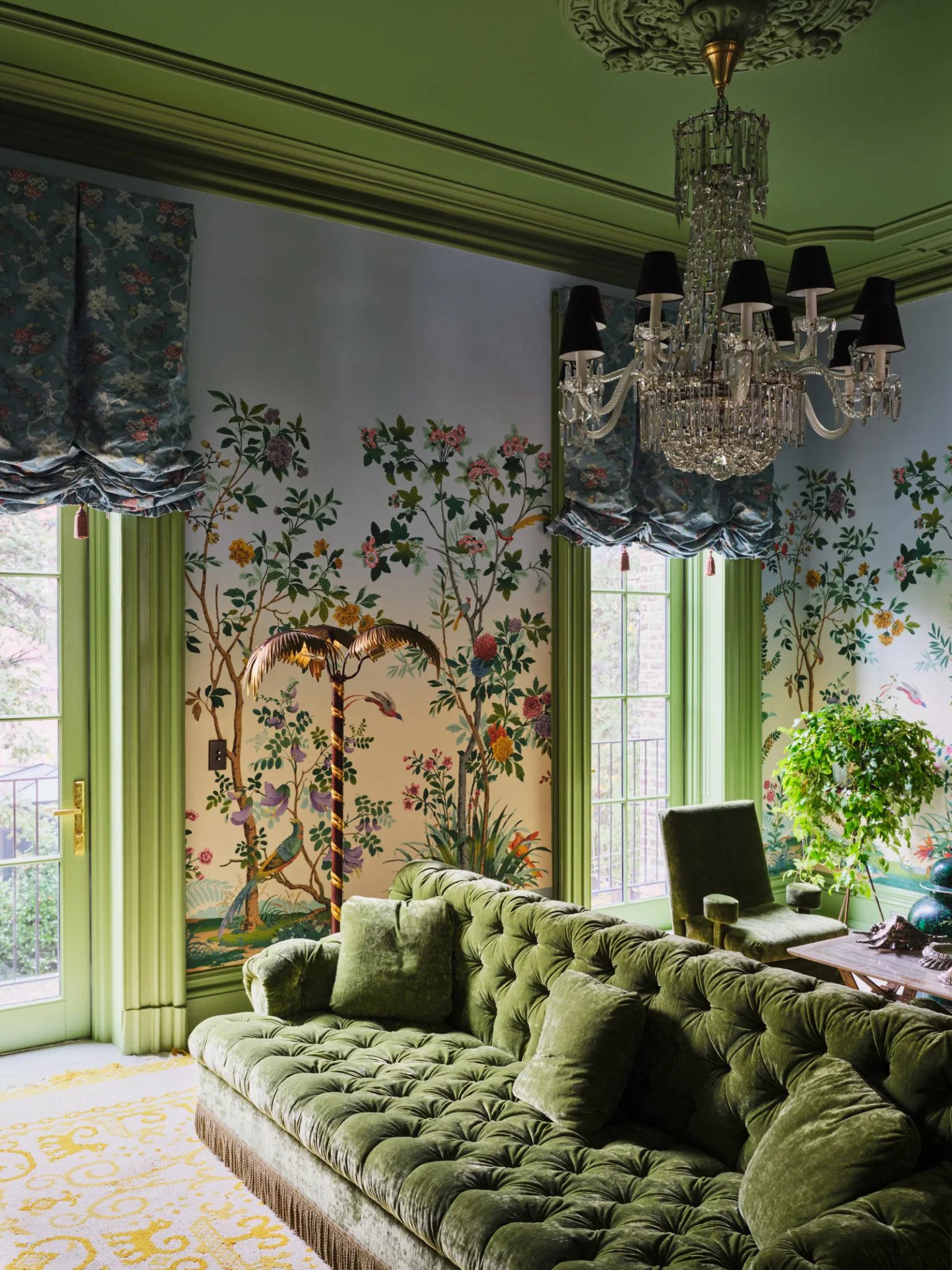 The Colorful Maximalist Home
It´s time to look at David Harbour and Lilly Allen´s magical home; a layout that inspires us to go bold and reach the dream home; whatever it looks like – because, as the Maximalist interior design highlights, there is no rule when designing an interior.
The Home Inspirations
We could say that David Harbour and Lilly Allen´s Maximalist home is a blend of dream and secret garden – but the truth is that this home is lovely and full of enchanted and fun details that make this a unique layout.
The canvas for its incredible layout is a 19th-century Italianate brownstone in Brooklyn's Carroll Gardens neighborhood. Still, before it began a magical scenario, the façade and the interior were in precarious condition. That is where the renewed architect Ben Bischoff and the top AD100 designer Billy Cotton entered to help the celebrity couple to create their dream family home. The stars wanted to preserve the interior details and personality for the renovation and make it casual for the family's daily life.
The interior of this dream home reveals a lot of colors, floral patterns, and unusual decisions – to create this ideal home, the interior design Billy Cotton went with three different perspectives: Traditional English, Modern Brooklyn, and layered Italian – presenting a mix of styles that a creative Maximalist home asks for and resulting in the dream garden that David Harbour and Lilly Allen call home.
The celebrity couple was involved in all the steps of the renovation and decoration – especially Lilly, an interior designer lover who has always done her home by herself – her visions for this home went for more colors, more florals, and more creativity. Lilly and Billy work to create a weird but magical interior – and we can say that they activate it beautifully.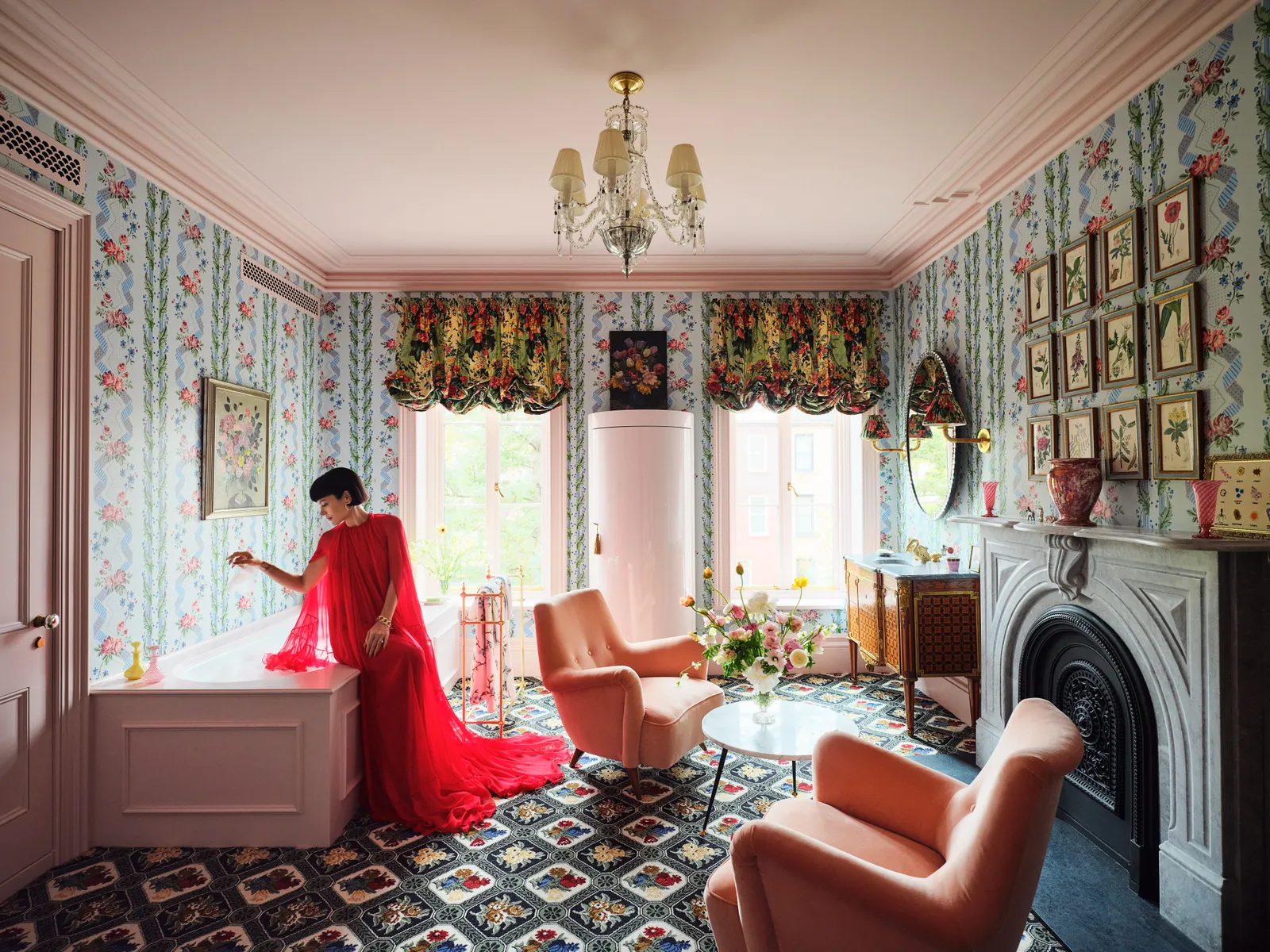 Discover Room by Room
Beautiful and surprising, we could use these two adjectives to describe this wonderful maximalist home; each home space reveals charming details and unexpected choices!
Let´s start this magical Maximalist home tour! For most people, the first impression counts, and David and Lilly believe that the kitchen is the home's heart- which is why this is situated at the front door of their home. The celebrity wanted to receive the guest at their heart, in that case, the kitchen. And what a stunning reception, the place is glamorous, luxurious, and magical.
In the kitchen, cream tones reign together with English-style references, creating an airy and charming space, giving an impression of a countryside home that perfectly matches the dream garden layout from the rest of the house.
From the kitchen, we head to the garden living room – a magical space covered with floral wallpaper revealing a cozy and inviting atmosphere. The spot mixes glamour and luxury; with a murky green sofa, vintage furniture, and beautiful artwork that adds charm and character.
As a family home, the design mixes the ideas of David and Lilly – the couple says that the kitchen, florals patterns, and the extras touches are all Lilly's ideas, but the surprising room is credited by David, an unseen primary bath or, we could say a seating area?
The fact is that there is a spot in this maximalist home that is a mix between bath and living; covered with wall-to-wall carpet and floral wallpaper, the space has a bathtub, a vintage sink stand, and a conversational area with two armchairs and a center table. Inspired by the Parisian style, the room has a chic and unique vibe, far from what we would expect, but what the celebrity couple desired in their dream home.
Continuing the atypical home layout, the windowless primary bedroom is curiously nestled in a quiet compartment between the bath and the dressing room; covered with pink tones and the same wall-to-wall carpet from the bath, the space shares the crazy but wonderful concepts of this home.
Proving that going extra is never too much, apart from the florals, this maximalist home also has space for animal print patterns – which is the real star in one of the living areas, where it goes all over the carpet and sofa.
David Harbour and Lilly Allen´s Maximalist home is everything that the style aims for – a space where creativity and bold choices work together to make dreams come true; in that case, a magical garden home.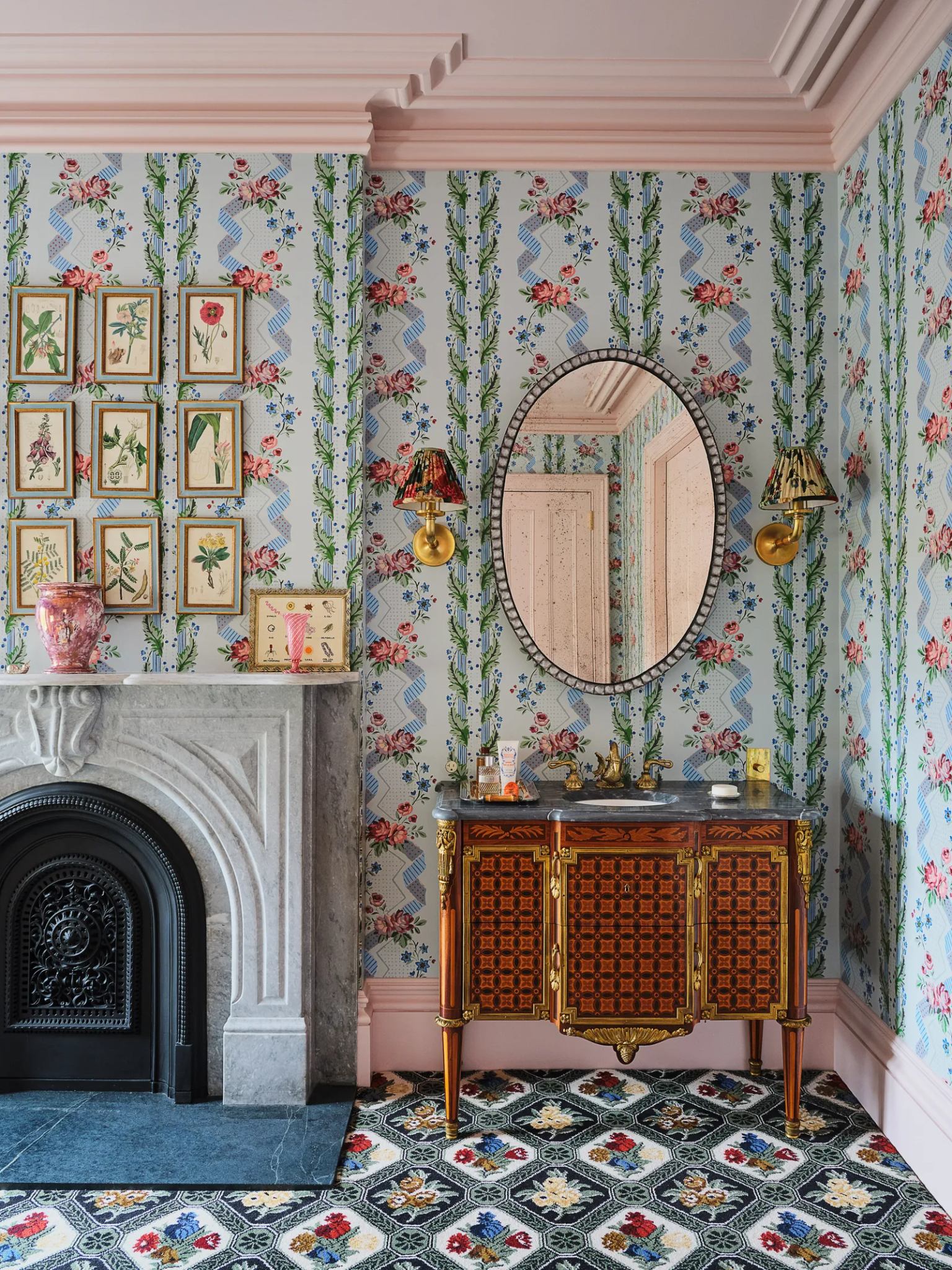 Steal the look
This magical Maximalist home is a beautiful inspiration and proves that going extra is always wonderful. Inspired by this stunning layout, we have selected some pieces from the HOMMÉS Studio collection to help you to create a home where everything is possible. Check it out:
What a wonderful tour! David Harbour and Lily Allen´s Maximalist home is not just a beautiful layout inspiration but also an example that there is no rule to creating a wonderful interior. More than following conventions, the important thing when designing a home is to create the perfect spot for the owners that follow their needs and dreams. We hope this interior has inspired you to make dreams come true with beautiful layouts. Find more stunning ideas by top interior designs on our projects page.