Royal Green Living Room is a remarkable design set, luxurious and mysterious, unexpected, but confident.

In HOMMÉS we believe that a home should express the soul and personality of those who live there. From its natural look and textures to highly polished and colored versions, all our pieces are a tribute to craftsmanship, honoring the art of creating soulful pieces with handmade techniques.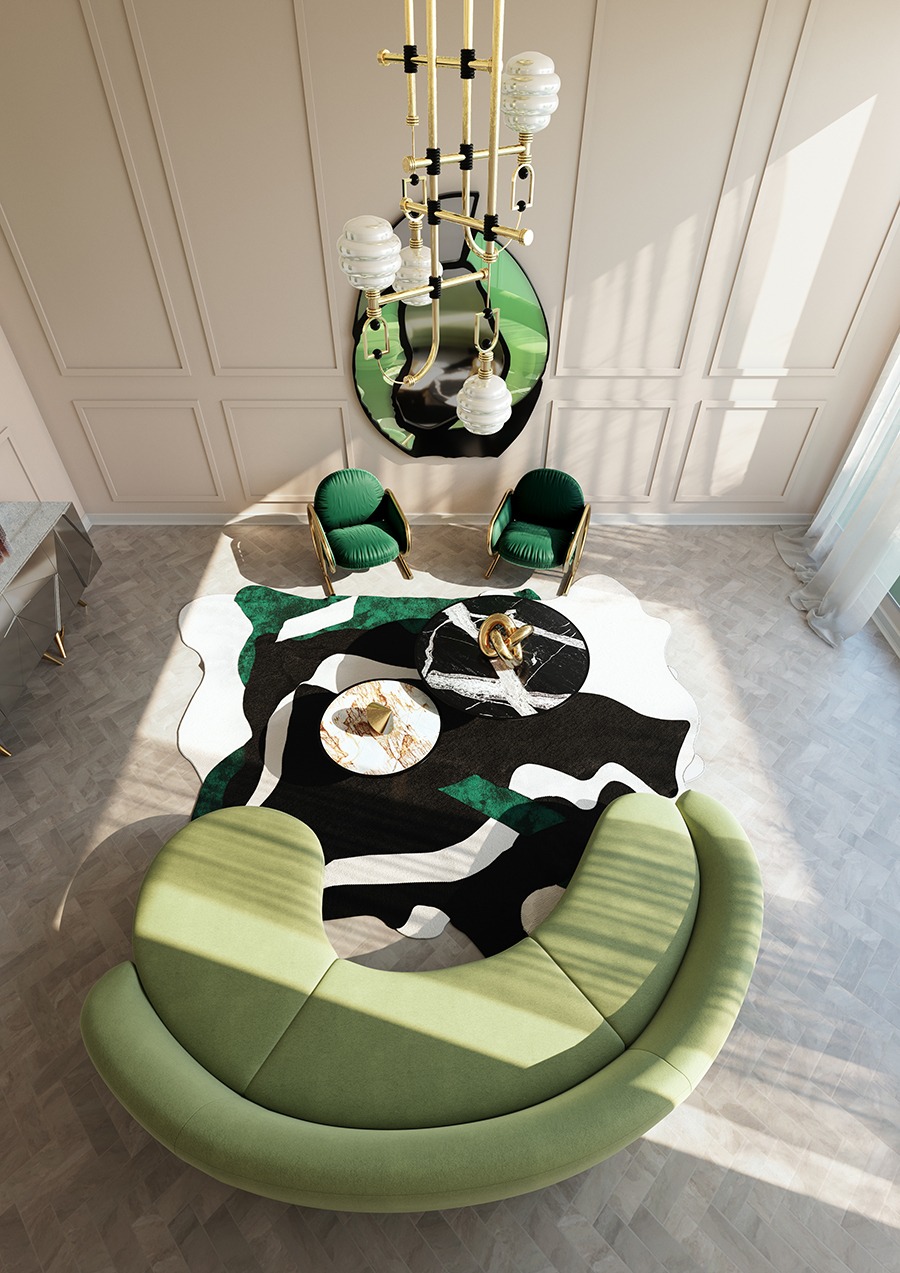 The green hues evoke an immersive experience with the peaceful natural scenario that surrounds this modern living area. This connection is rediscovered through green details, textures, patterns.

The unique Zadine Mirror is the centerpiece in this luxury interior. The wall mirror is placed alongside the mid-century modern Koro armchairs and elegant Luminous Suspension Lamp.

HOOMÉS'S FURNITURE PIECES USED IN THIS GREEN LIVING ROOM
Ajui Armchair II is a conceptual piece. It's an accent chair that combines an artsy interpretation of a cactus with the comfort expected from a luxury armchair. This armchair is the perfect choice for this modern living area project.

MATERIALS
Upholstered in Velvet;
Footer in Gold Polished Stainless Steel.
KORO Armchair
Koro Armchair is a mid-century modern armchair, whose refined fabrics and shape enhance the real sense of comfort. Perfect for any contemporary interior design project.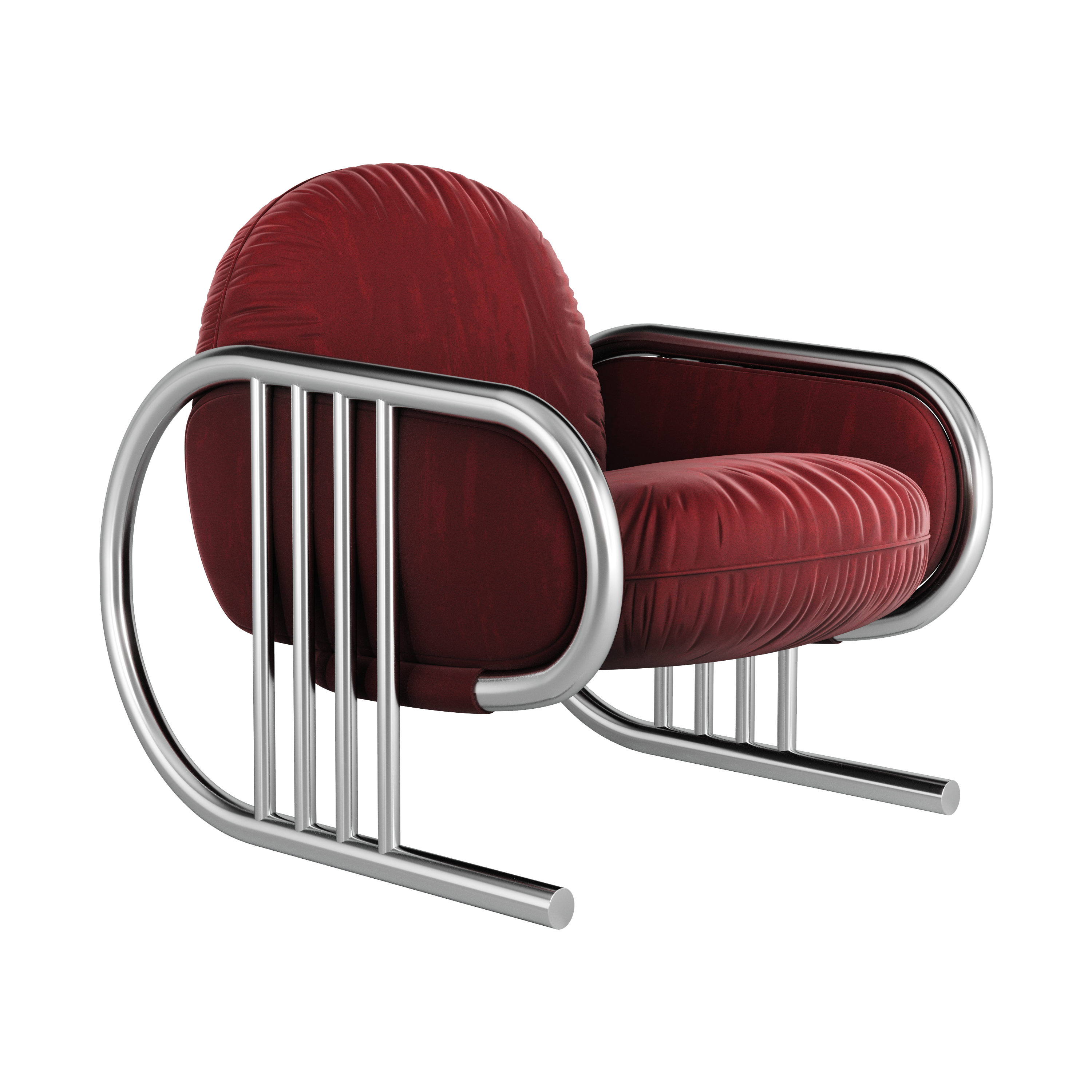 MATERIALS
Upholstered in Velvet;
Metal Structure in Polished Stainless Steel.
Giulia Sofa is a mid-century style sofa. This luxury sofa promises to be the absolute protagonist of a living room project. Its mid-century modern inspirations are reflected in its shapes, revealing an eclectic and luxurious lifestyle.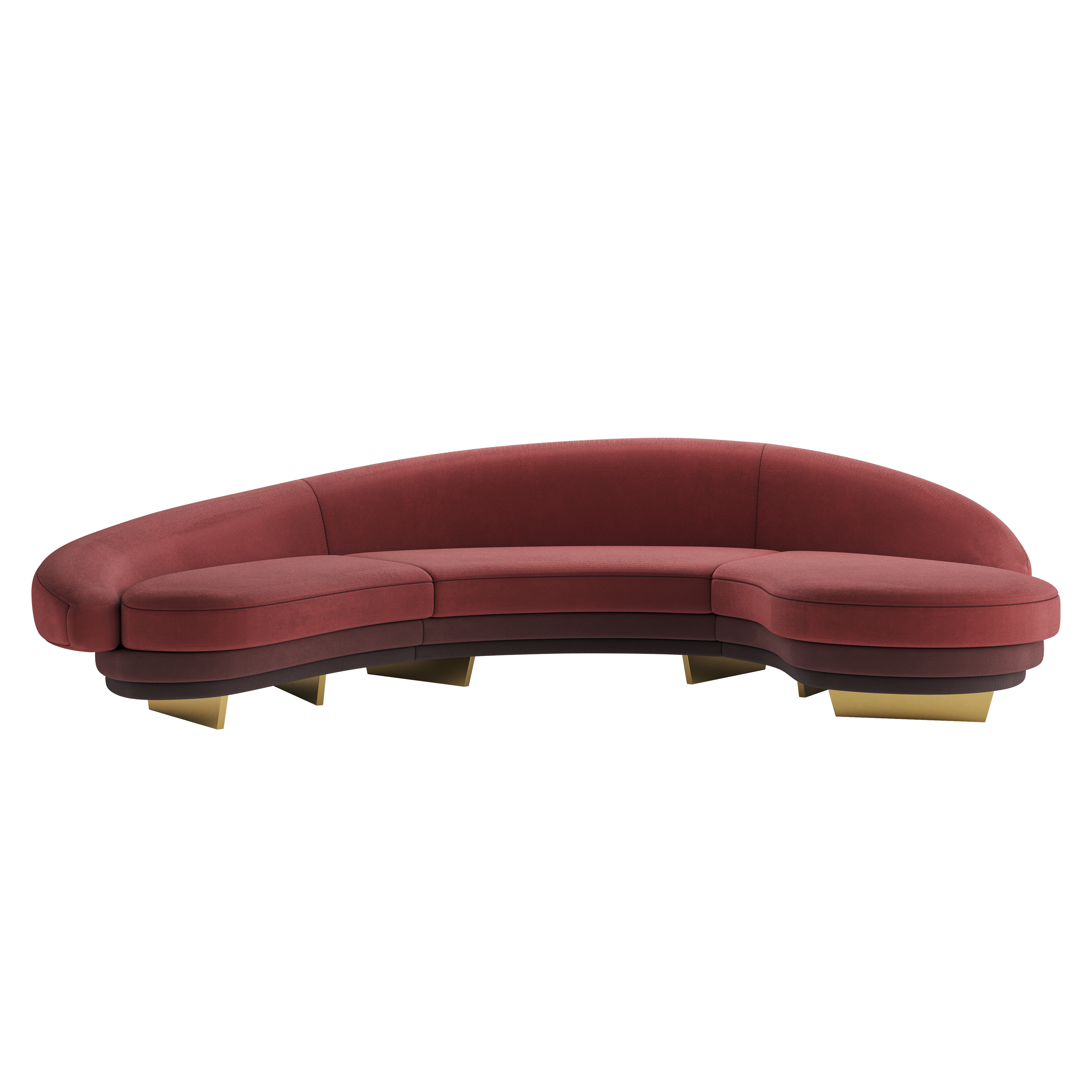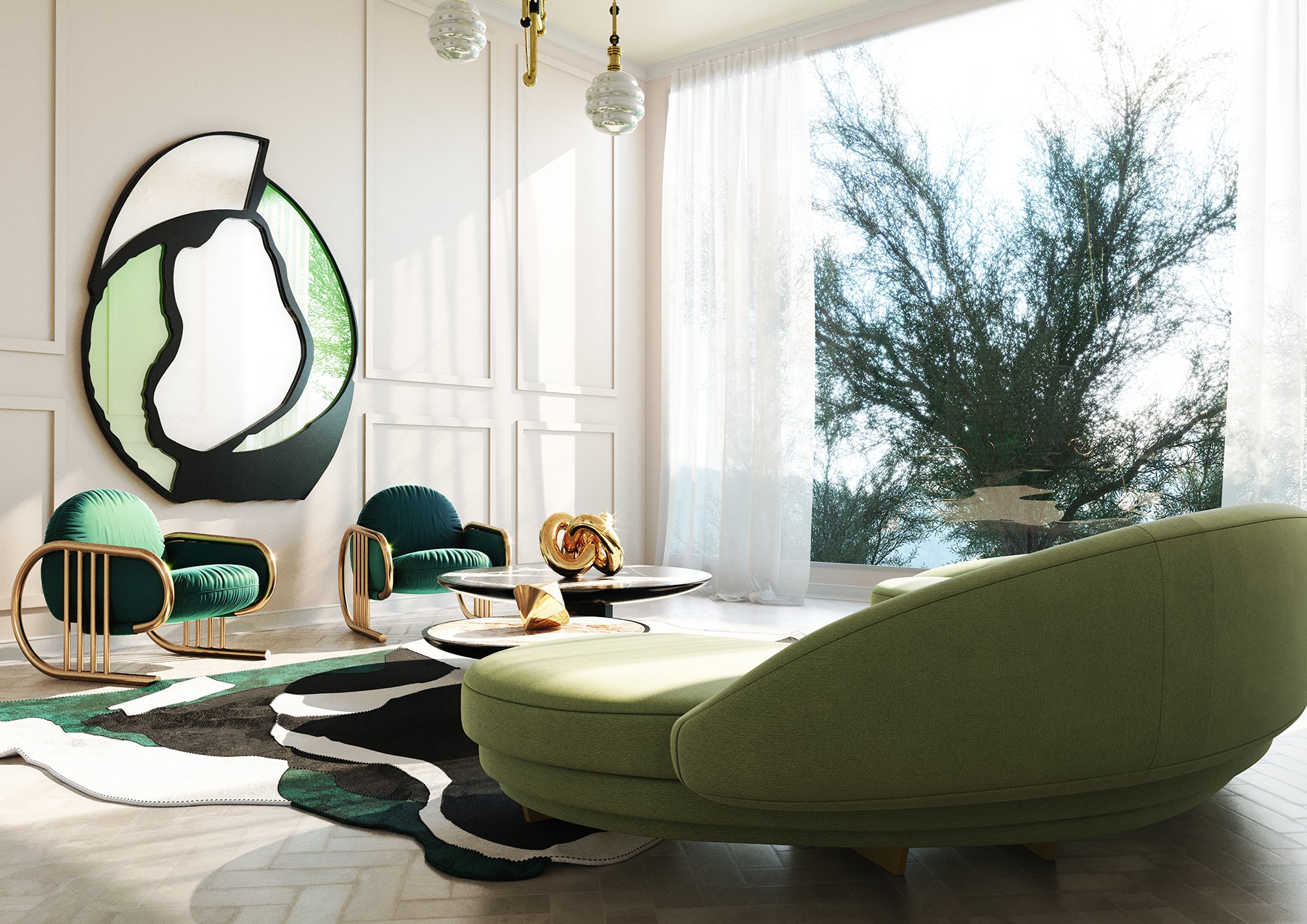 MATERIALS
Upholstered in Velvet;
Legs in Polished Gold Stainless Steel.
DING Center Table
Ding Side Table is the perfect set for a luxury living area. A mix of stones that compose a unique center table set for a luxury villa project.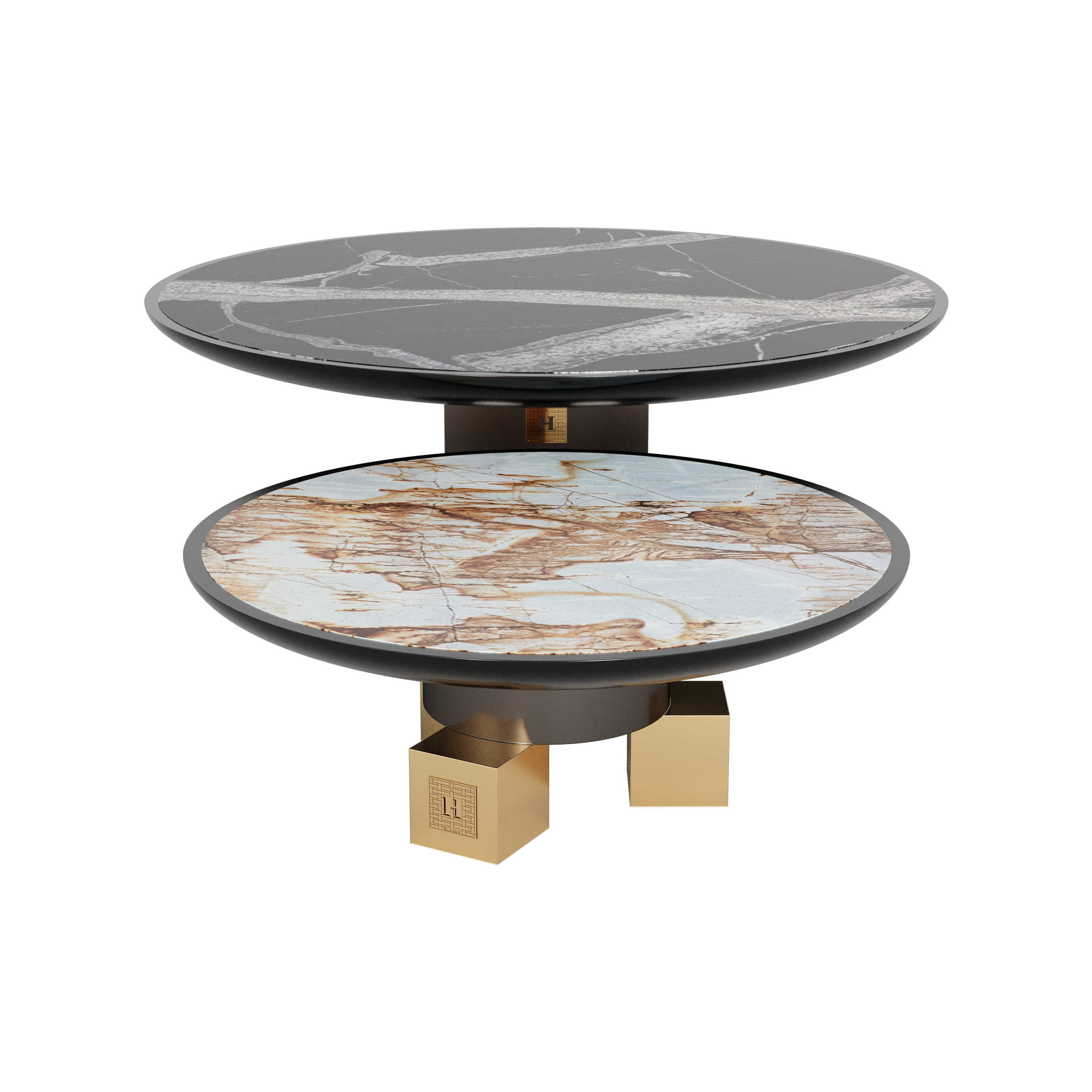 MATERIALS
Small:
Top in Polished Roma Imperiale Marble and Black Lacquered in Gloss; Cylinder Base in Black Polished Stainless Steel.

Large:
Top in Polished Arcano Granite and Black Lacquered in Gloss;
Base in Black Polished Stainless Steel, Polished Carrara Marble, and Gold Polished Stainless Steel.

Zadine Floor Mirror is a stylish shaped mirror to add a contemporary and luxury feeling to your home. This statement full-length floor mirror is ideal for those who want to boost any space's design with a gorgeous style.
This stunning mirror is the centerpiece in this green living room. Intended to design collectors, Zadine promises to impress when guests look around.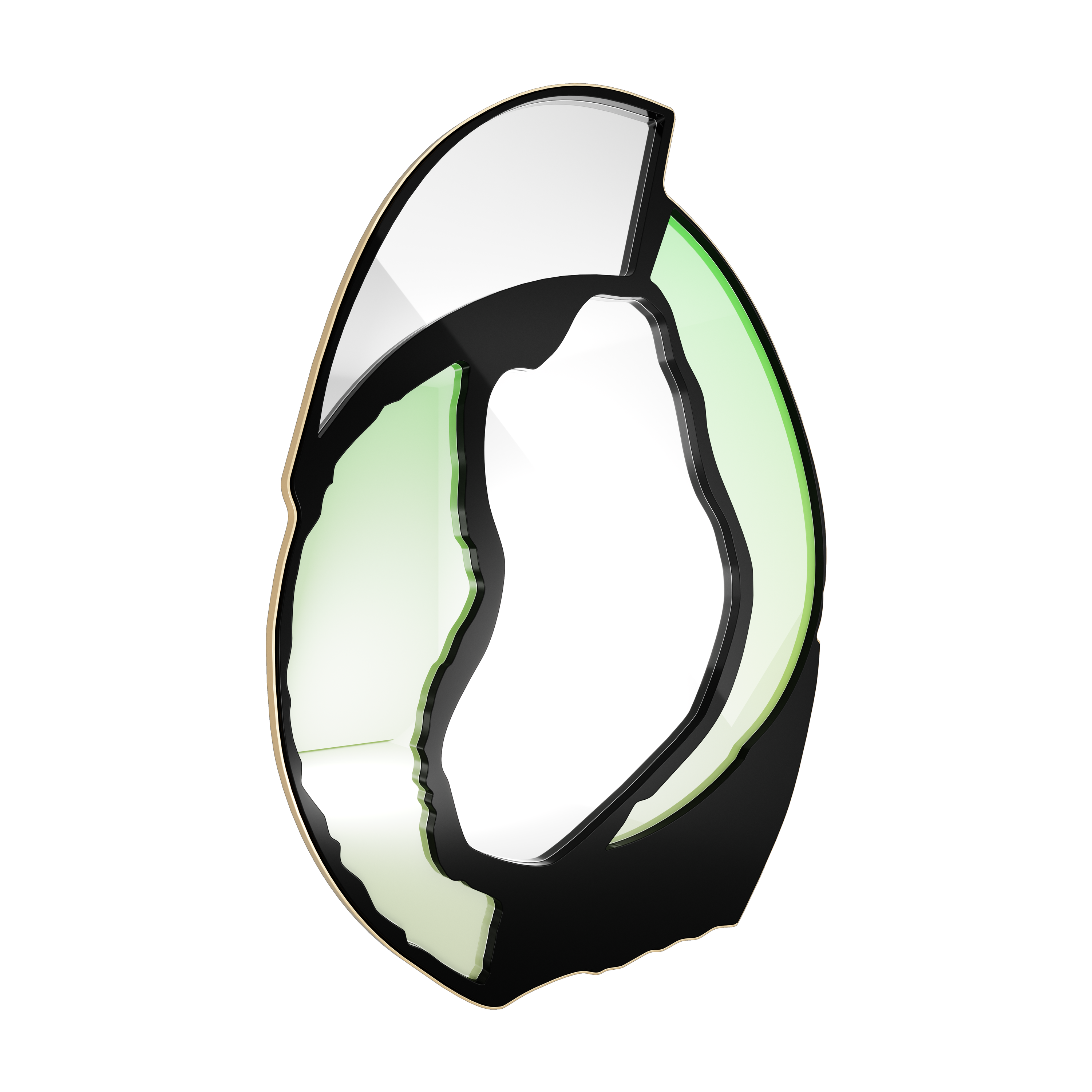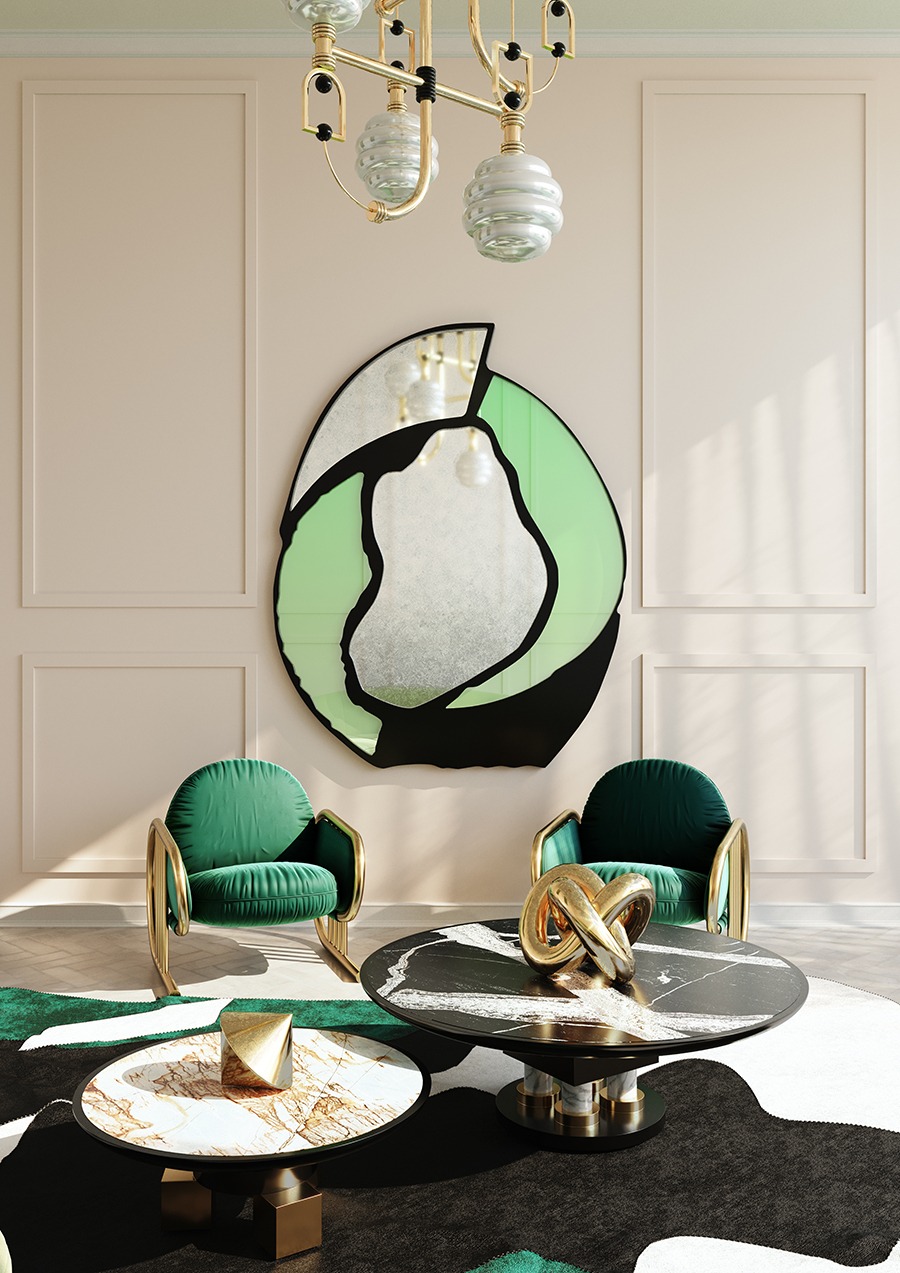 MATERIALS
Lacquered Wood; Mirror Glass; Colored Mirror Glass;
Rosalia Sideboard is an outstanding modern style design. The sideboard combines harmonious shapes and materials with an elegant theatrical shape to store your favorite items and be part of your high-end design project.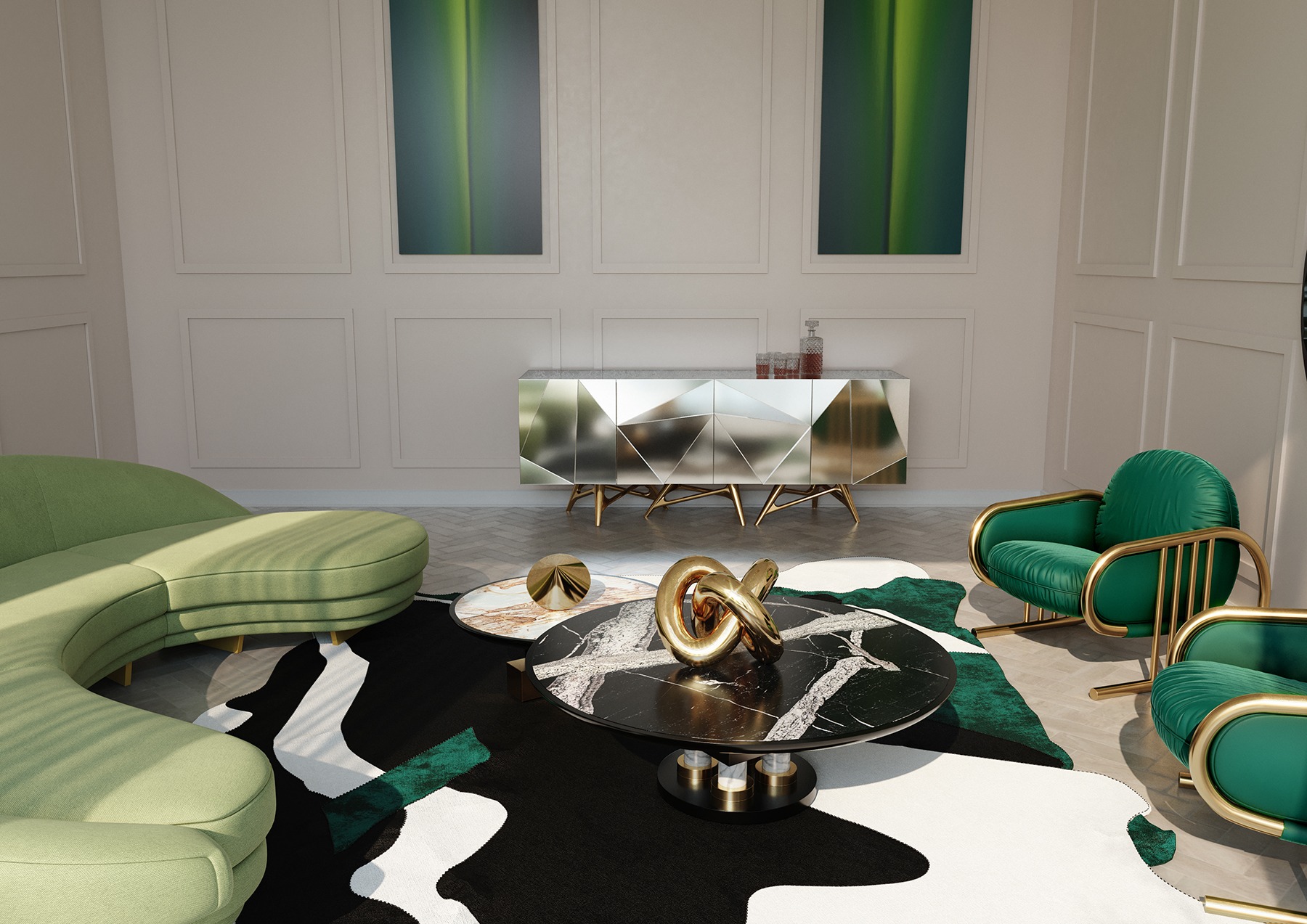 MATERIALS
Wood Structure;
Body Chromium Lacquered in Gloss;
Legs in Polished Brass;
Interior in White Bird Eye Wood Leaf in Gloss.
Luminous Suspension Lamp is a classic reinterpretation turned into a modern unique chandelier. This piece's design revives the timeless shapes of the 30s. An accent suspension lamp with bold and elegant forms for your next high-end interior design project.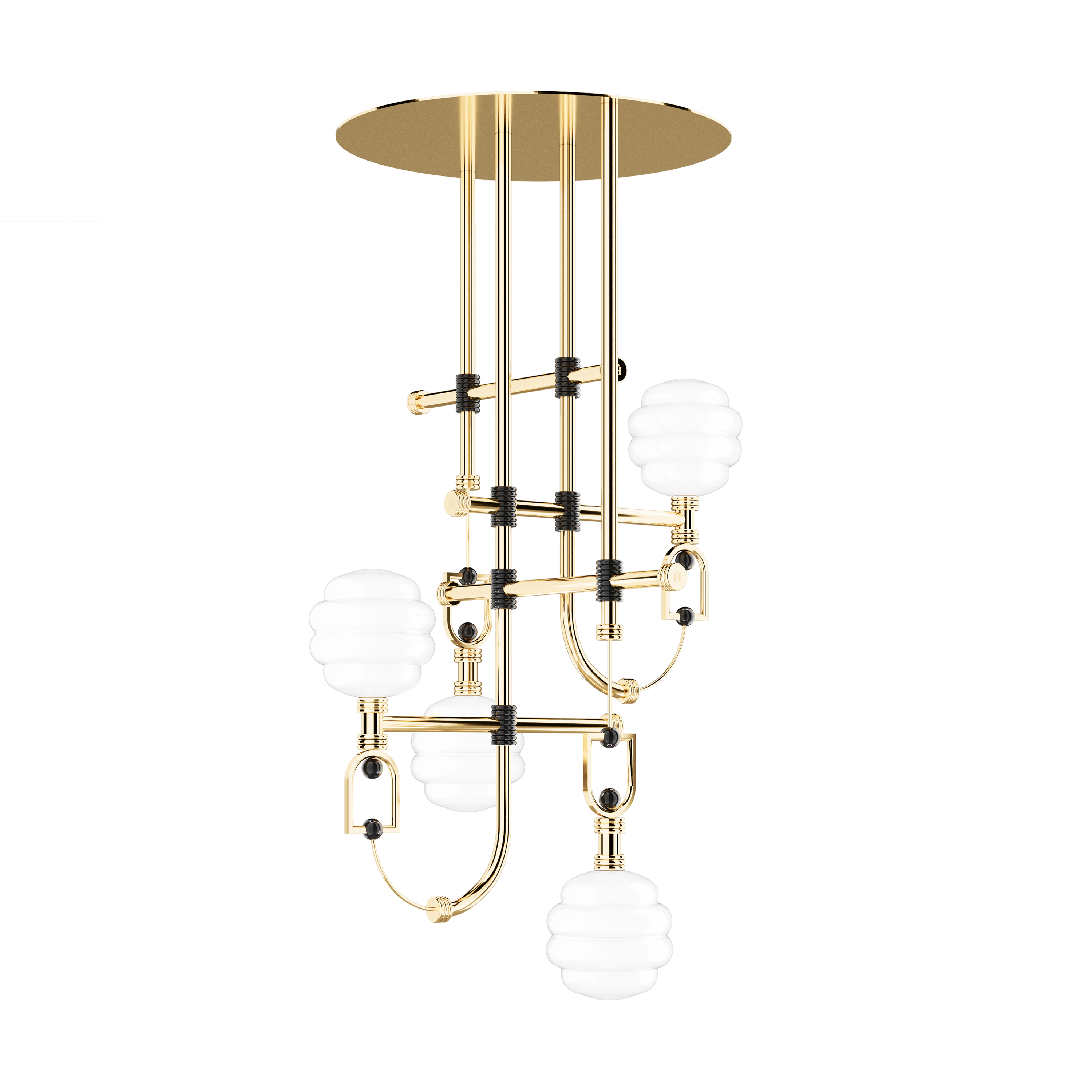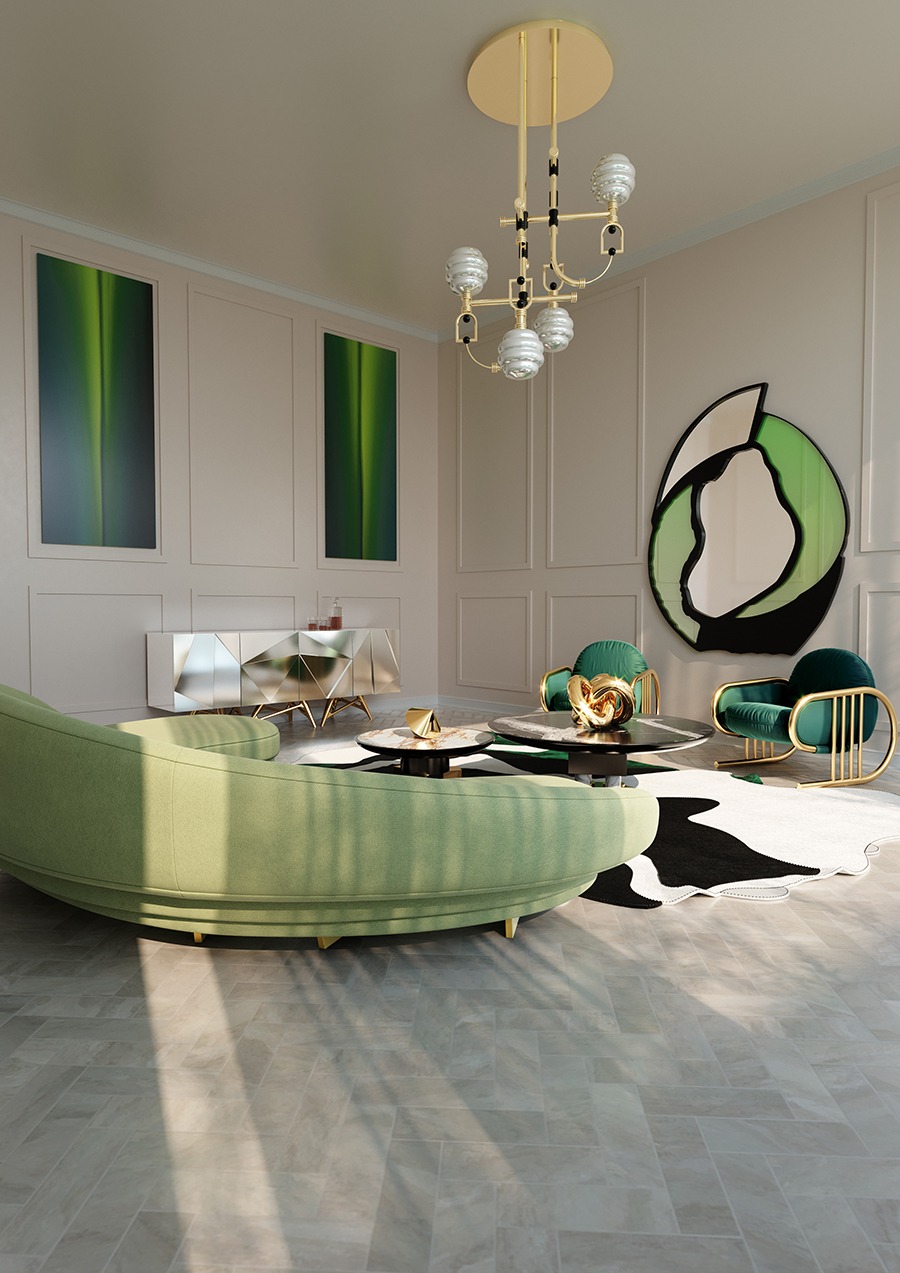 MATERIALS
Structure in Gold Polished Stainless Steel;
Details in Black Stainless Steel;
White Glass.
Due to the production of handmade blown glass, some air bubbles may appear.
Each piece was beautifully handcrafted, with one-of-a-kind detail that can make all the difference in any contemporary interior.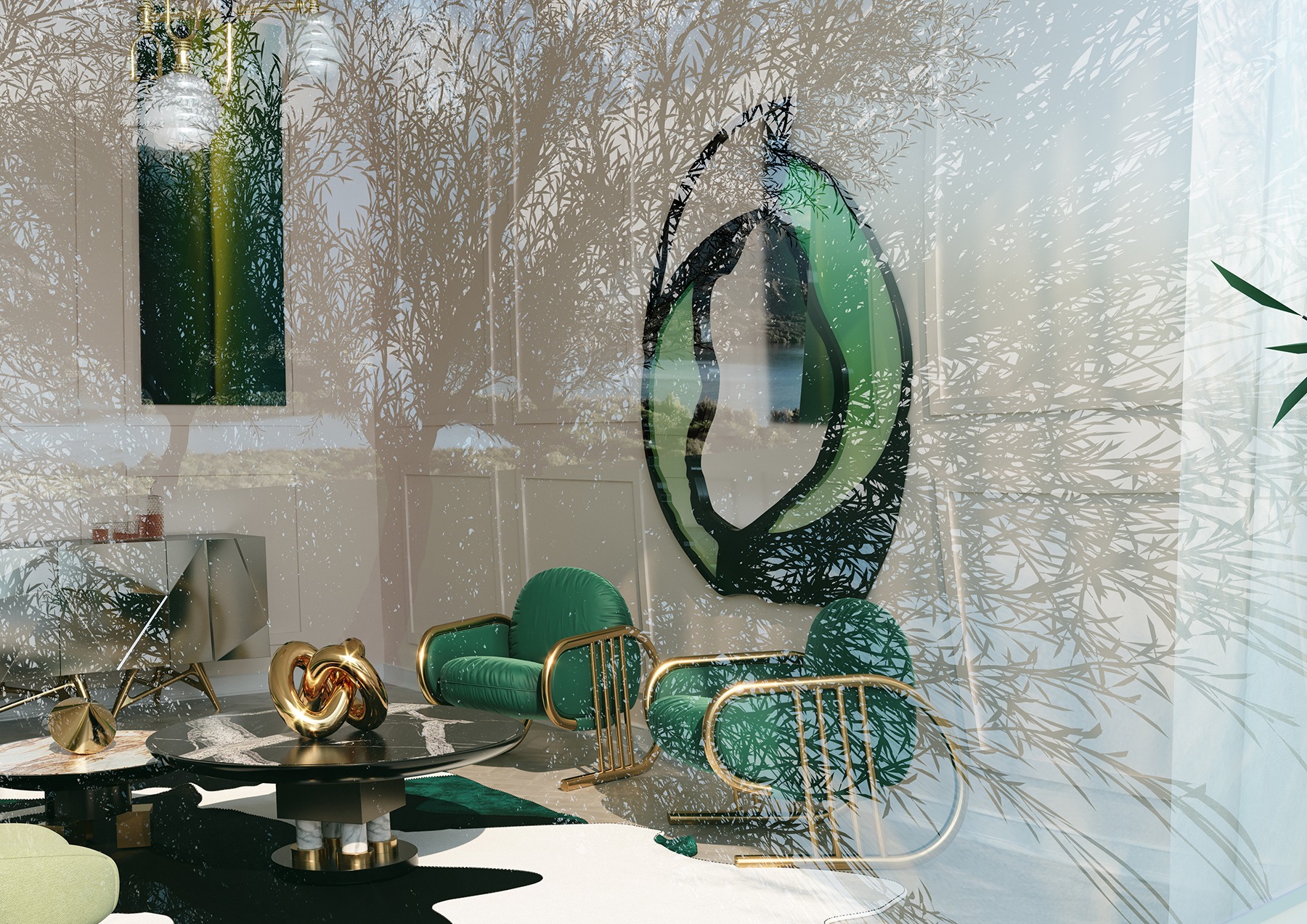 We really hope you liked our article. Feel free to pin all the images to your favorite Pinterest board. Meanwhile, you can also visit our Pinterest boards to get more inspiration.
Get more ideas for your projects and find functional, stylish, and sizable lighting and furniture choices: