In this ultimate guide, we will explore how to design a project that spreads the beauty of summer, allowing you to create a summer home that captures the spirit of the season in every detail.
Take a minute, close your eyes, and think about your best summer memories. They are probably filled with warmness, laughs, beautiful sunsets, and the joys of spending incredible moments outdoors.
But the beauty of this season doesn't need to stay just in the outdoors – we also can spread the summer sensations into the home design – and that is why we have gathered everything you need to design a modern project that shares it- from the interiors to the outdoors.
Stay with us to discover how to design a modern summer home – room by room, and fulfill your upcoming interior design projects with beautiful feelings that will guarantee unforgettable summer memories.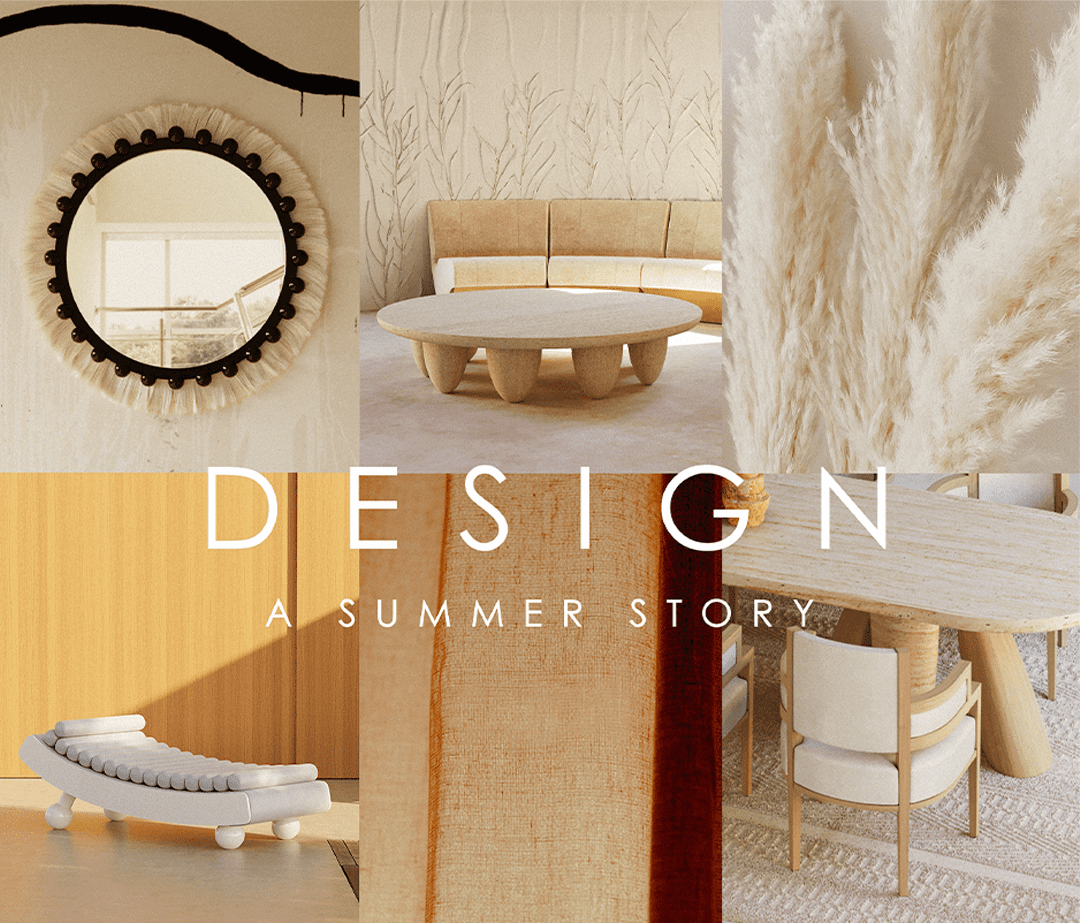 A STORY ABOUT SUMMER HOME
Summertime is always the best of what might be – and a summer home is a perfect background for a beautiful story, a narrative that brings joy, happiness, and the beauty of this warm season. Thinking about creating the ideal scenario for that story, we are happy to introduce this summer home guide, which will help you bring the best feelings of this season to your modern project.
Enter the summer home narrative and start to discover it chapter by chapter with inspirational moldboard ideas, expert tips, and incredible shop the look. As you can see, this summer home guide is everything you need to design a new summer story.
CHAPTER 1: Entryway
WELCOMING SUMMER IN – How to Create a Summer Entryway?
Spread the beauty of summer all over your design – starting by designing a welcoming entryway that will set your home design style.
In the first chapter of our narrative we are all about welcoming this season in – for that we will share the best ways to design an entryway that transmits summer feeling in all its details:
Embrace the Colors of Summer: Capture the vibrant hues of the season by incorporating sunny colors into your entryway design. Add accents in bright, summery colors with decorative elements such as throw pillows, rugs, or artwork. These colors will evoke a sense of nostalgia and remind you of those carefree summer days.
Let Nature In: Bring the beauty of Nature into your entryway by adorning it with fresh blooms and greenery. Place a charming vase filled with seasonal flowers on a console table or hang a wreath made of dried flowers on the door. Consider incorporating potted plants or a small herb garden near the entrance to infuse a touch of natural freshness and invigorate the senses.
Create an Inviting Seating Area: Summer vibes is about relaxing and unwinding. When creating a summer home design, the entryway should also be as inviting as the rest of the house. Create a spot that encourages to sit down and relax with a modern bench or a comfortable armchair. Additionally, you can add a side table with some summer decorations to emphasize the beauty of the season.
Play with Textures: Summer is a season that stimulates the senses, and incorporating different textures can elevate the visual appeal of your entryway design. Consider incorporating elements like rattan baskets, woven wall hangings, or a textured rug to add depth and character. You can also bring more textures to your design by choosing furniture with different materials and surfaces, which will add an extra dose of visual appeal and summer feelings.
Designing an entryway that welcomes summer in is not just about the visual – but also about the feelings that this season shares. For a summer entryway, you should remember to embrace the color of summer, invest in plants and greenery and play with different textures. Now that you know how to create an entrance that invites this season in, you can scroll down to discover a beautiful inspiration for your modern summer home project.
LAYERING TEXTURES FOR THIS SEASON – Summer Entryway Mood Board
Earth tones, stunning patterns, beautiful textures, and a touch of glam – all together can create a remarkable welcoming that reminds the best of summer days and welcomes good moments and stunning stories. In this summer entryway mood board, there is a sense of Nature that echoes the beautiful scenarios that summer offers combined with touches of luxury that make everything more beautiful.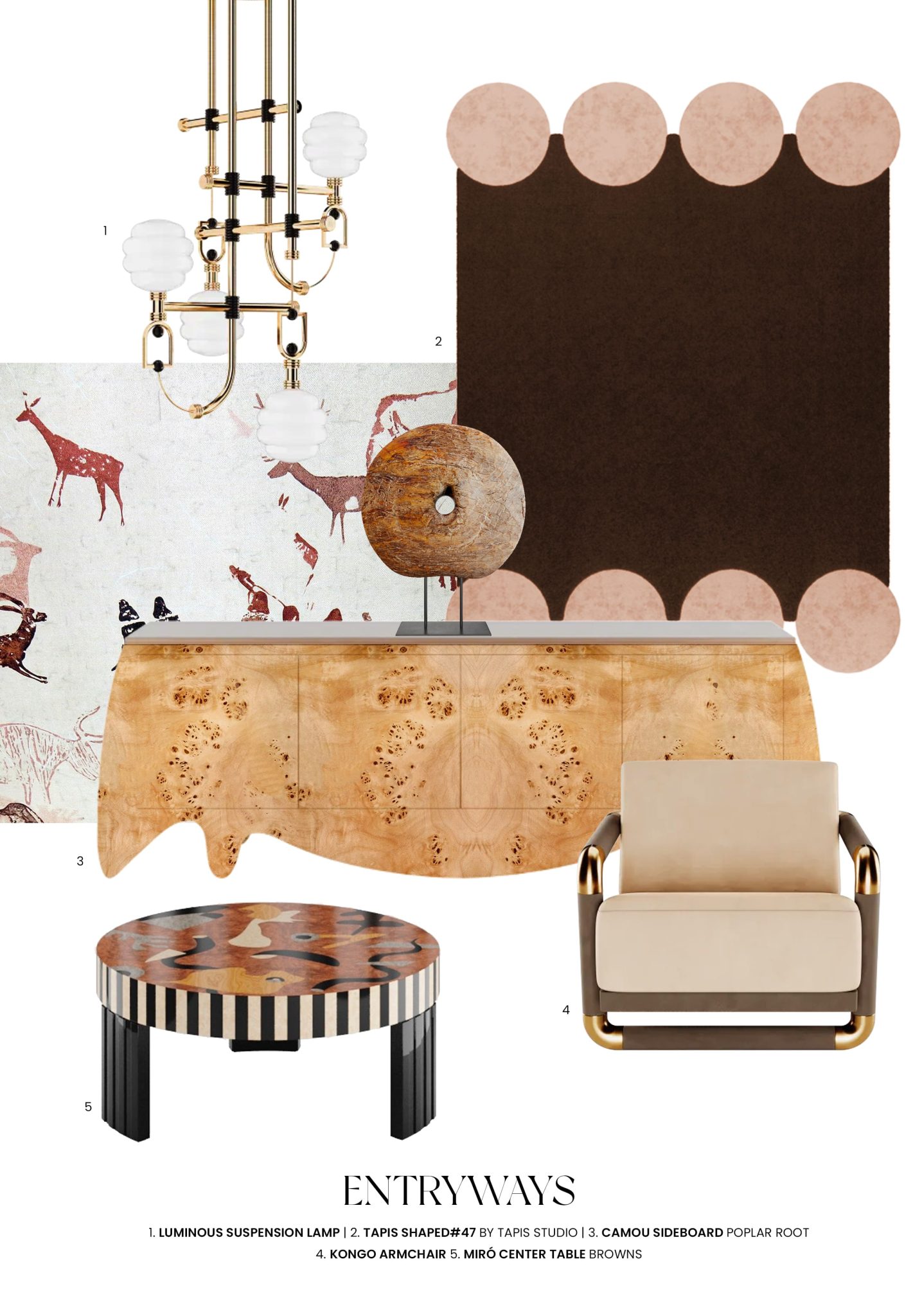 SHOP THE LOOK:
CHAPTER 2: DINING AREA
Summer memories are unforgettable, and the perfect dining area is one of the best spots to create incredible moments. Be inspired by the warm sunlight and the Nature that makes everything more beautiful during this season to create a place that will make dinners taste like never before and captures the essence of the eternal summer flair.
We have selected some expert tips that will help you to create a spot that shares the summer feelings and will make every moment on the table more special; plus, we also have a beautiful mood board inspiration with high-end furniture pieces. Dive into this tasteful chapter with us:
BRING SUMMER IN: How to Create a Summer Dining Area?
Make your dining room project ready to receive the best summer gatherings with the following expert tips:
Embrace Light and Airiness: To create a refreshing summer ambiance, start by emphasizing light and airiness in your dining room. For that, opt to maximize the natural light, choose a neutral color scheme for the walls (such as pastel tones and pale hues), and invest in mirrors to accentuate the light and make the space look bigger.
Bring in Natural Elements: Replicate the outdoor feeling by bringing it to your design using natural elements. To emphasize this feeling in your design, invest in plants and furniture with organic shapes and natural textures.
Choose Light and Breezy Furnishings: The right furniture and decor can transform any space – to create a peaceful and comfortable room that transmits the magical summer flair, invest in versatile and lightning furniture, use breathable materials like cotton or linen for chair upholstery and table linens to enhance the light and breezy atmosphere and incorporate summer-inspired into the decor accessories.
Set the Mood with Lighting: Bring the summer spirit with the perfect light. To create a cozy and intimate atmosphere, give preference for soft lighting, now to also bring the outdoors feelings to the inside you can use fixtures lighting inspired by the outdoors and to make the spot even more special, don't forget to add some candles on the tables to create a serene dining experience.
Embrace the light, natural elements, and a breezy ambiance to create a dining space that captures the essence of this warm season – and don't forget to follow the expert tips that we shared with you. With that in mind, we have another important topic in this chapter, inspiration. Scroll down to discover a mood board that breathes the summer feelings.
ALL ABOUT STRUCTURE AND FORM: Summer Dining Area Mood Board
Organic textures, clean lines, and neutrals colors set the tone of this inspirational mood board that exudes summer feelings and sophistication. Sober shades against light hues, rich materials against natural stones, and an infinite beauty in each choice that is all about structure and form.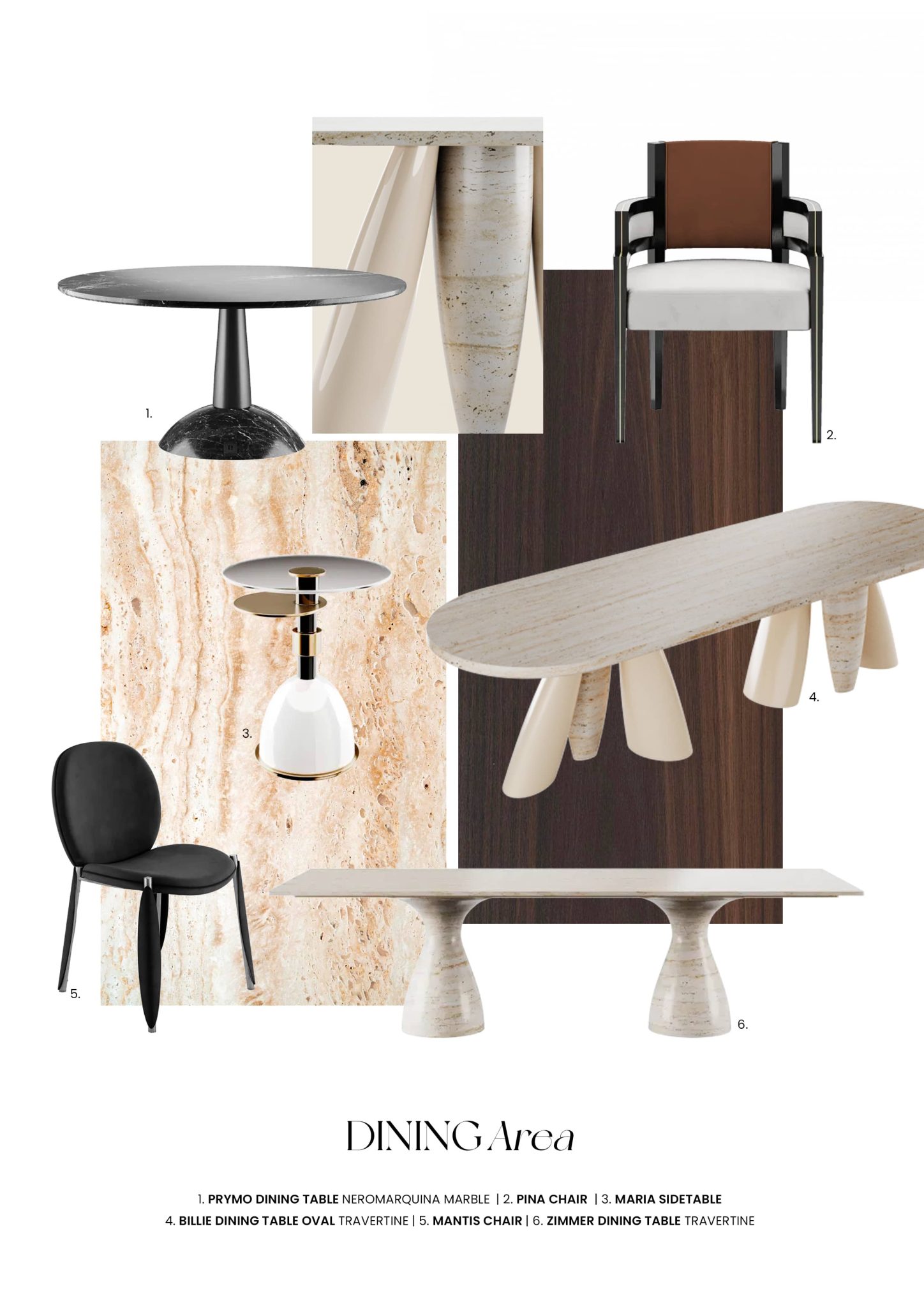 SHOP THE LOOK:
CHAPTER 3: LIVING AREA
Get inspired by the warm breeze and the colors of Nature to design a summer home living area that invites relaxing moments.
The third chapter of our summer home story is about bringing the best feeling of the summer season to the indoors; discover our expert tips to create that spot and get inspired by a stunning mood board with some of our best furniture options to create the perfect living area.
BRING THE SUMMER FLAIR IN- How to Create a Summer Living Area?
Create a sanctuary living area for peaceful moments with the best of the summer feelings by following these tips:
Let Natural Light Dance: Harness the power of natural light to brighten up your summer living room design. Remove heavy drapes and opt for sheer, airy curtains or blinds that allow sunlight to filter through, creating a soft, dreamy ambiance. Invest in mirrors to reflect light and make the space appear more open and inviting.
Bring in the Colors of Summer: Infuse your living room summer home design with summer shades to evoke feelings of joy and warmth. Opt for a palette inspired by the seaside, such as shades of blues, greens, and sandy colors. Add pops of color with pillows, rugs, or artwork that capture the essence of the season.
Incorporate Coastal-Inspired Elements: Bring the beach feeling of serenity and tranquility to your design. Choose furniture pieces with light-colored wood or wicker accents that emulate the relaxed beach-house aesthetic and choose a color palette inspired by the coastal.
Opt for Lightweight and Breathable Fabrics: Summer calls for a change, swipe out heavy fabrics like velvet and wool for lighter and breathable materials to create a cool and comfortable summer living room.
Create Cozy Nooks for Relaxation: While during the day the summer asks for movement, it's important to create cozy nooks indoors for those lazy afternoons or peaceful evenings. Incorporate plush cushions, soft blankets, and a comfortable reading chair in the corner of your living room design, providing a sanctuary for relaxation and reflection.
When you bring the summer flair to the interiors – the result is a stunning living area where peaceful vibes and serene feelings fulfill the space. We have a beautiful inspiration for your summer home living room design, scroll down to discover more.
SOFTER FORMS – Summer Living Area Mood Board Inspiration
Sand hues, golden accents, and natural textures set the inspiration for this summer home living area mood board. Paradisiac beach vibes, luxury references, and a glam touch create an idyllic paradise where the summer flair irradiates the indoors.
SHOP THE LOOK:
CHAPTER 4: OUTDOOR LIVING AREA
Summer stories are never completed without a stunning outdoor area! Make the most of your summer home design by creating a beautiful and inviting outdoor living area that will be the perfect background for unforgettable memories.
In this chapter of our summer home story -we will continue the journey through the summer home – but now with the best tips and inspirations to create an outdoor area where breathtaking sunsets and warm breezes will be like never before.
SUMMER LIKE NEVER BEFORE – How to Create the Perfect Outdoor Living?
Make your outdoor living area project ready to enjoy the summer like never before by following these expert tips:
Define Your Outdoor Space: Before embarking on your outdoor living area project, consider how you want to use the space. Do your clients need a spot for cozy evenings with friends and family or a serene personal retreat? Determining the purpose of the area will guide your design choices and ensure that the space caters to your specific needs.
Incorporate Comfortable Seating: Comfort is key to enjoying the summer like never before. Invest in high-quality outdoor furniture that not only complements the style but also provides comfort.
Provide Shade and Cooling Elements: Summer and sun walk together, but when thinking about designing the perfect spot to enjoy this season it's essential to provide elements that can protect from the hot summer days and make the moments outdoors more pleasant. Invest in parasols and cooling elements to create a paradise in your outdoor living design.
Enhance with Greenery and Flowers: Adding lush greenery and vibrant flowers can instantly breathe life into your outdoor living area – making the background of your summer stories even more beautiful. Incorporate potted plants, hanging baskets, and flower beds to create a refreshing oasis that spreads the best of the season.
Create Ambient Lighting: A paradise to enjoy all day long, extend the enjoyment of your outdoor living area project into the evening hours by incorporating ambient lighting – from floor lamps to firepits, the right lighting can transform your outdoor living area project into a magical retreat, perfect for intimate gatherings or cozy nights spent under the stars.
Add Entertainment Options: Last but not least, make your outdoor living area the ultimate summer destination to enjoy summer like never before by incorporating entertainment options. From television to outdoor speakers, incorporate elements that will make your project more than just an ordinary outdoor living area but an extraordinary one where everything will be unforgettable, like the best summer memories.
A summer like never before, it's what the perfect outdoor living area will provide! Don't forget to follow these expert tips to create a design that will be the perfect background for unforgettable summer moments. Now, you can explore a beautiful inspiration to elevate your summer home outdoor living project. Read on.
WHERE INDOOR/OUTDOOR DESIGN MEETS – Outdoor Living Mood Board
Geometric shapes, stripes patterns, sunset hues, and a bold character defines this outdoor living mood board inspiration, where indoor and outdoor design meets to create a paradise with no limit for beauty. Textures, shapes, and lush touches – everything carefully selected to create an outdoor living area where summer can be enjoyed like never before.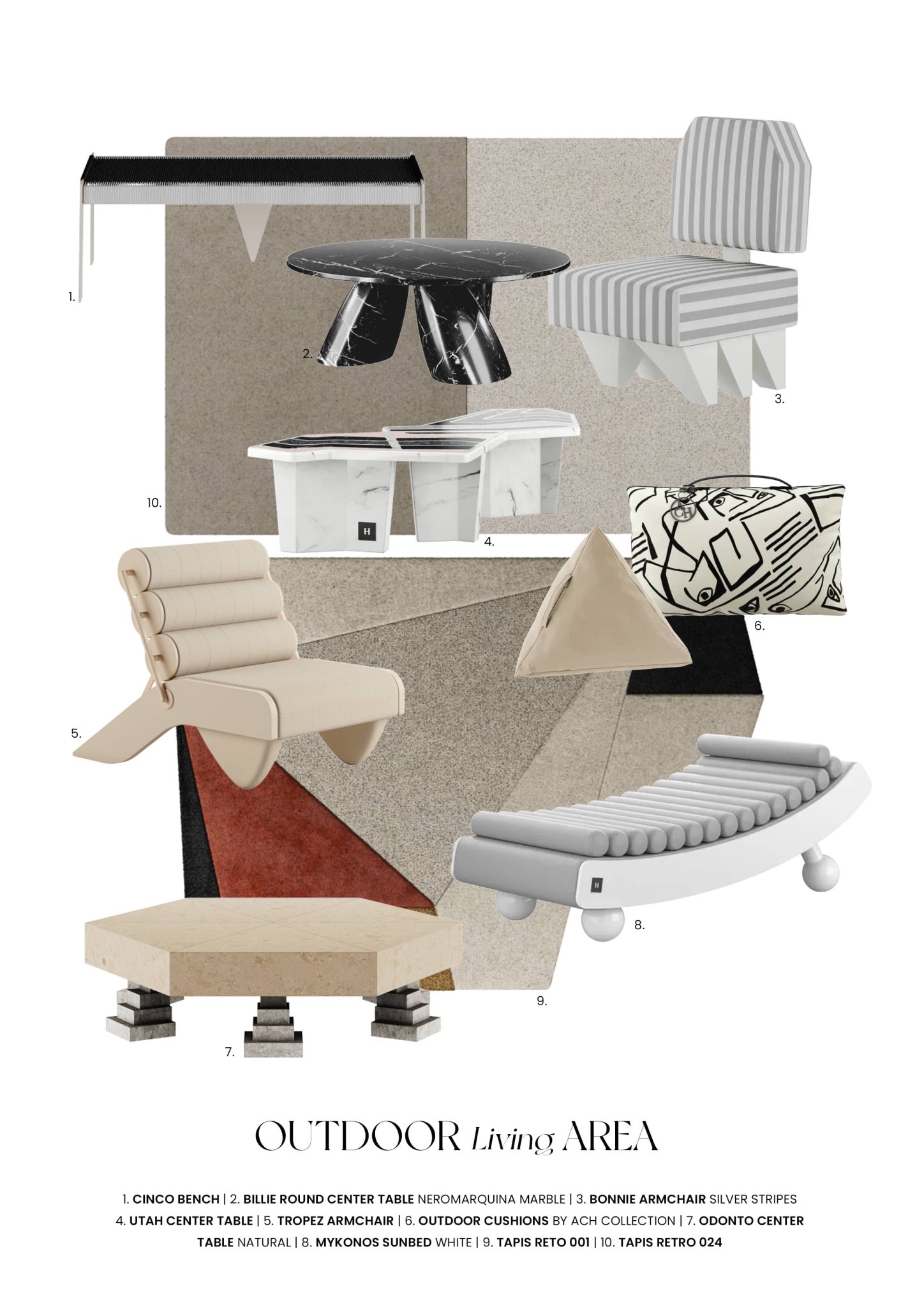 SHOP THE LOOK:
Chapter 5: Outdoor Pool Area
Summer season is synonymous with sunshine, laughter, and good moments spent by the pool. Designing the perfect summer home, also means creating a pool area that not only enhances the aesthetic appeal of the outdoor space but also sets the stage for unforgettable summer memories.
In this chapter of our summer home story, we will share expert tips and inspirations to transform your pool area design into a haven of relaxation, joy, and summer bliss. Keep exploring this narrative that will turn your summer home project into the perfect one.
POOLSIDE PARADISE – How To Create The Perfect Pool Area?
Create a pool paradise and turn your summer home design into your clients' favorite destination with these tips:
Set the Mood with Summer-Inspired Decor: Infuse your pool area with the sand colors and textures of summer to create a paradise that will make your summer home pool area seems and feels incredible. Invest in decor that helps to bring these feelings, such as a firepit or cushions that bring the summer feelings to your design. These touches will transport your clients to the sun-kissed beaches and warm summer nights.
Create Comfortable Lounge Spaces: Ensure that your pool area design is furnished with comfortable loungers, chairs, and outdoor sofas to create the perfect place to rest and soak in the sun. The cushions that you used to set the summer-inspired decor are also a great addition to make the spot more comfortable while setting the summer vibes. You can also add a touch of luxury with oversized umbrellas to create cozy nooks that will be the perfect background for everlasting summer memories.
Embrace the Scent of Summer: Scents have a remarkable ability to evoke emotions and transport us to different times and places. That is why you should invest in scents to elevate your summer home project; fill the pool area with the aroma of summer by strategically placing scented candles, citronella torches, or aromatic plants such as lavender or jasmine.
Make a Splash with Refreshing Water Features: Enhance the charm of your summer home pool area project with water features. Consider adding a cascading waterfall, a soothing fountain, or even a playful splash pad for the little ones. The sound of trickling water combined with the coolness of the pool will create an oasis of relaxation.
The perfect pool area is more than a beautiful space. Still, it is also the spot of the summer home where people can relax, unwind and enjoy the best feelings of the season – and that is why it´s essential to focus on embracing this experience and all its details – from the summer scents to cozy and inspirational corners. Now, we have another topic in this chapter, inspiration! Scroll down to find a beautiful selection to inspire your design.
TAKING CRAFTSMANSHIP OUTDOORS – Outdoor Pool Area Mood Board
Relaxation meets Nature in this stunning pool area mood board, where sandy hues, luxurious materials, and rich textures invite you to sink into the ultimate comfort, making every moment a blissful escape. From sunrise to night, this careful selection of pieces promises to create a spot to soak up in the sun or to enjoy the starry nights in the amenity of a fireplace.
SHOP THE LOOK:
CHAPTER 6: Complements
Every summer story needs something special to make it shine – and in the last caption of our summer home narrative, we will focus on the complements that will complete your summer project with the glam touch that it needs.
This last chapter is about complements, but it highlights some of the main topics that we discovered above, and that can be incorporated in almost all home divisions – from the indoors to the outdoors. Keep reading to discover more.
SHINE IN – How to Choose the Best Complements
Bring the shine of summer to your summer home design with these tips on how to choose the best complements for your design.
Remember the Power of Color: When selecting the complements for your summer home design, remember that the right colors is essential to creating a summer-inspired atmosphere. Opt for light and airy shades such as pastels, soft blues, and sunny yellows to evoke a sense of serenity and freshness. Use pops of vibrant colors like coral, turquoise, or citrus hues to add energy and playfulness to your space.
Incorporate Natural Elements: During this summer home story, we have talked a lot about incorporating natural elements, which is essential to bring the beauty of Nature indoors. Display seashells, driftwood, or a collection of smooth stones to evoke memories of long walks on the beach. Introduce botanical elements like potted plants, fresh flowers, or leafy garlands to create a sense of outdoor serenity. These natural accents will infuse your space with the scents and textures of summer.
Play with Patterns and Textures: Experimenting with patterns and textures adds depth and visual interest to your summer decor. Consider incorporating lively prints like tropical leaves, playful stripes, or whimsical florals in your throw pillows, curtains, or rugs. Mix and match different textures such as wicker, rattan, or linen for a touch of natural and tactile beauty.
Utilize Seasonal Artwork and Photography: Hang artwork and display photographs that encapsulate the spirit of summer. Choose pieces that showcase sunsets, sandy beaches, or vibrant blooms. Incorporate vintage summer posters or prints that evoke nostalgic memories of old coastal towns or bustling boardwalks. These artistic touches will transport your design to idyllic summer destinations.
By carefully selecting summer home decor complements that incorporate vibrant colors, natural elements, playful patterns, and sentimental touches, you can transform your space into a seasonal oasis that shines with summer memories, feelings, and sentiments.
LUXURIOUS STATEMENT PIECES – Complements for a Summer Home
Luxurious and bold statement pieces – from vibrant colors, playful patterns, and sophisticated materials – this selection of statement pieces for a summer home story creates a seasonal oasis that shines with summer memories, feelings, and sentiments. It brings joy and warmth and makes every day a celebration of this cherished time of year.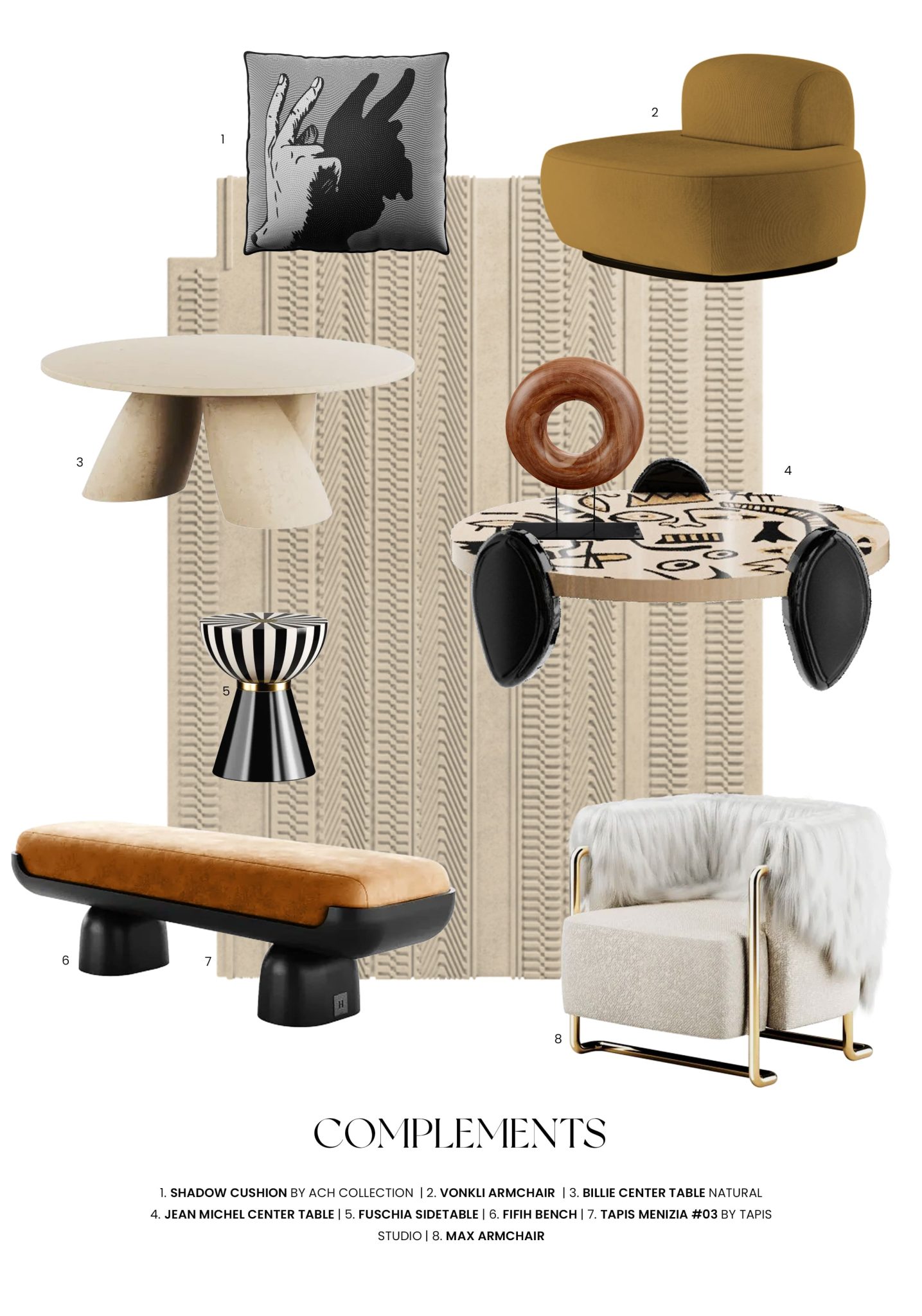 SHOP THE LOOK:
The end of our summer story is here – but this is just the beginning of your interior design project. What other rooms will be covered in the summer home guide? What other design tips will be given for the dining area? Where can the reader purchase the furniture pieces from the mood board inspiration?
Chapter by chapter of this captivating narrative we have shared valuable tips and inspiration to create the perfect summer home from the indoors to the outdoors. We hope that you have enjoyed our fairytale and have found what you need to boost your project. Continue your journey to create a summer home that inspires the best narrative by exploring our most wanted pieces.

.