You can decorate a hall like a celebrity; you just need to follow the right entryway decor tips; discover more in this article.
Celebrity homes are always an excellent inspiration for any interior design project. Hollywood stars usually have a daring style beyond the red carpet, reflecting in their amazing homes with bold and unique designs. But to have an authentic and glamorous home, fame is not a requirement. Creativity, personality, and the right choices make it possible to create a celebrity layout.
There is something about celebrity homes that make them stand out; they are always tastefully furnished and bursting with character – it's like entering into an incredible story with a stunning scenario. There are a few easy ways to transform your luxurious interior design project into a movie star's home if you want to give it a little Hollywood flair.
The first step to having a celebrity home is to make an incredible first impression – like in the movie premieres where actors want to give an impeccable first impression on the red carpet and get the spotlight to them – you can say that the home entrance has a similar function. The entryway is responsible for the first impression of any home – it's where you can provide a preview of the whole interior.
In this article, we gathered some entryway decor tips to help you to create an incredible entrance that will make an excellent first impression and inspires visitors to explore all the home layout details – transforming your interior design layout into the real star.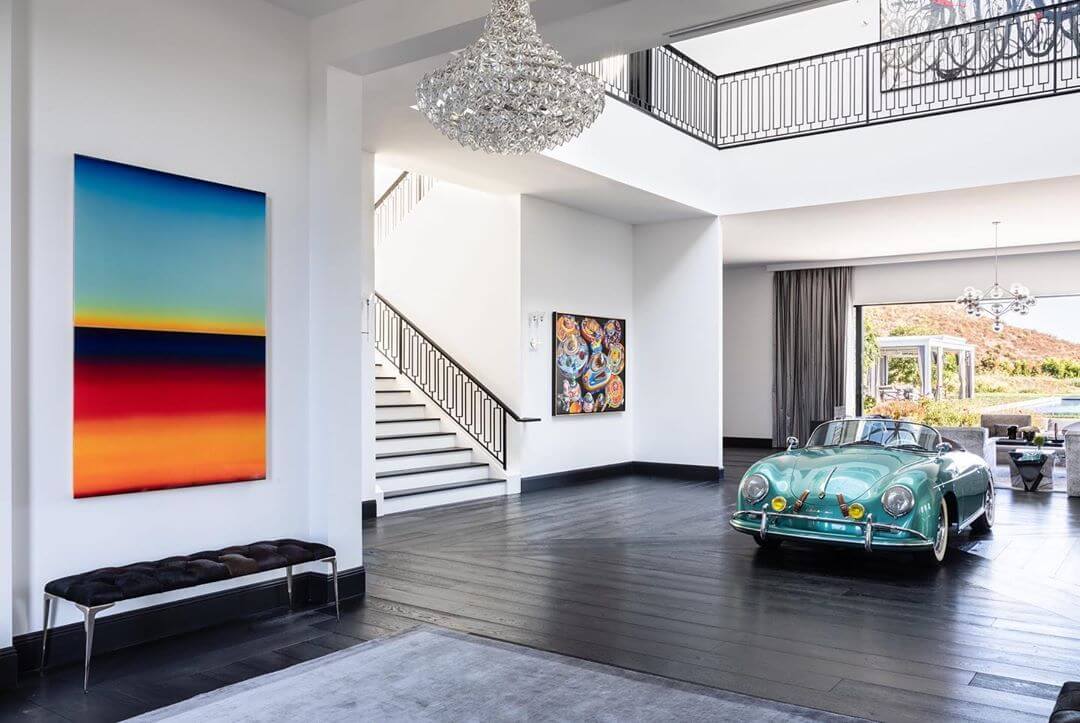 GET INSPIRED BY THE CELEBRITY HOMES
Celebrity homes are full of inspiration; we selected some beautiful entryway decor from the top stars to help you get the inspiration you need to create your project.
Travis Backer's mansion in Casablanca has a serene and calm vibe. The rock star opted to have furnishings that transmits a sophisticated but sensible vibe to complete its interiors and give a slight personal touch. The art that adorns the walls is aligned with Barker's hard-rocking, tattoo-lover public persona. The mansion's entryway gives a perfect preview of the home design, featuring the diamond-dust Dracula installed above a 19th-century Chinese console paired with charming ornaments.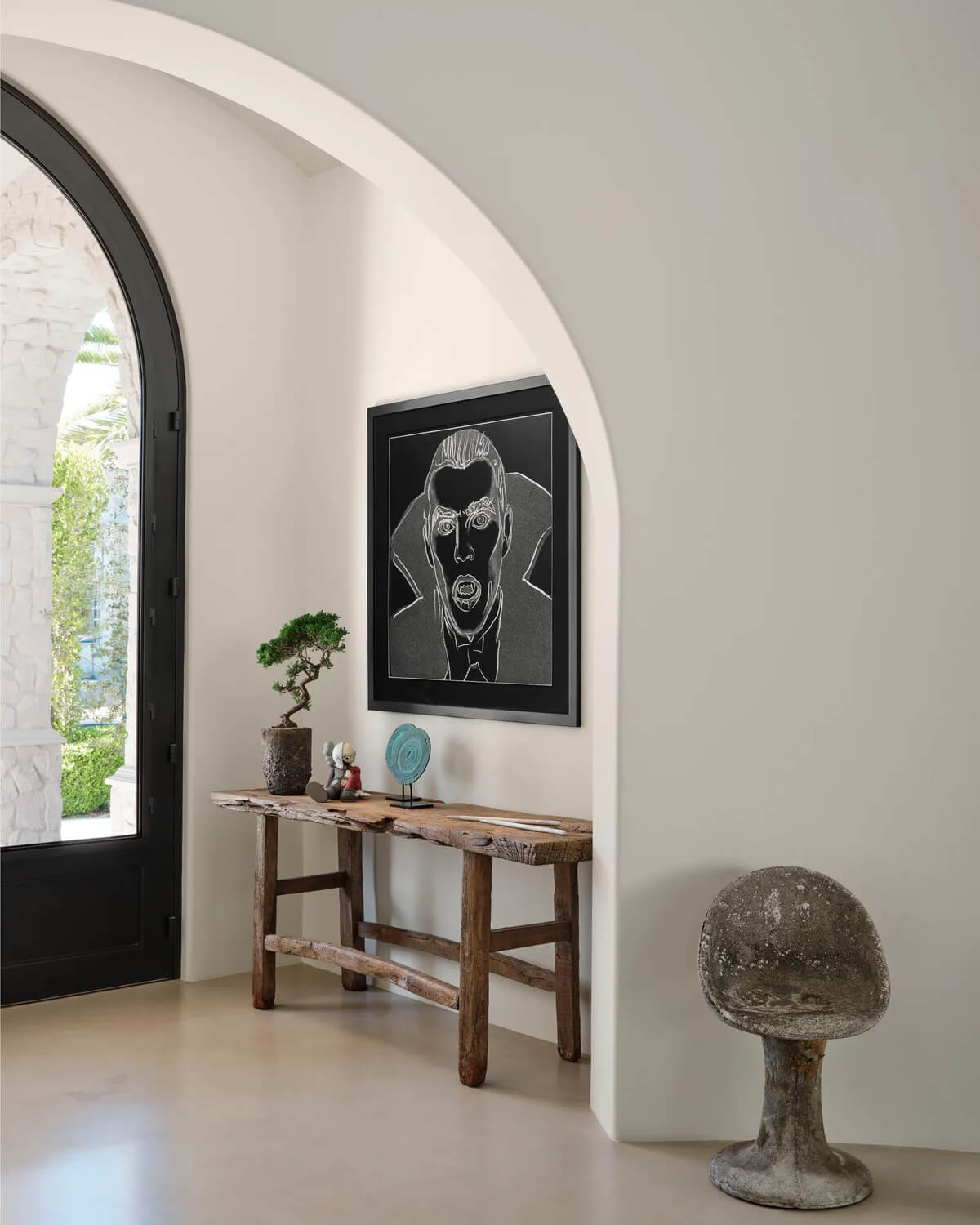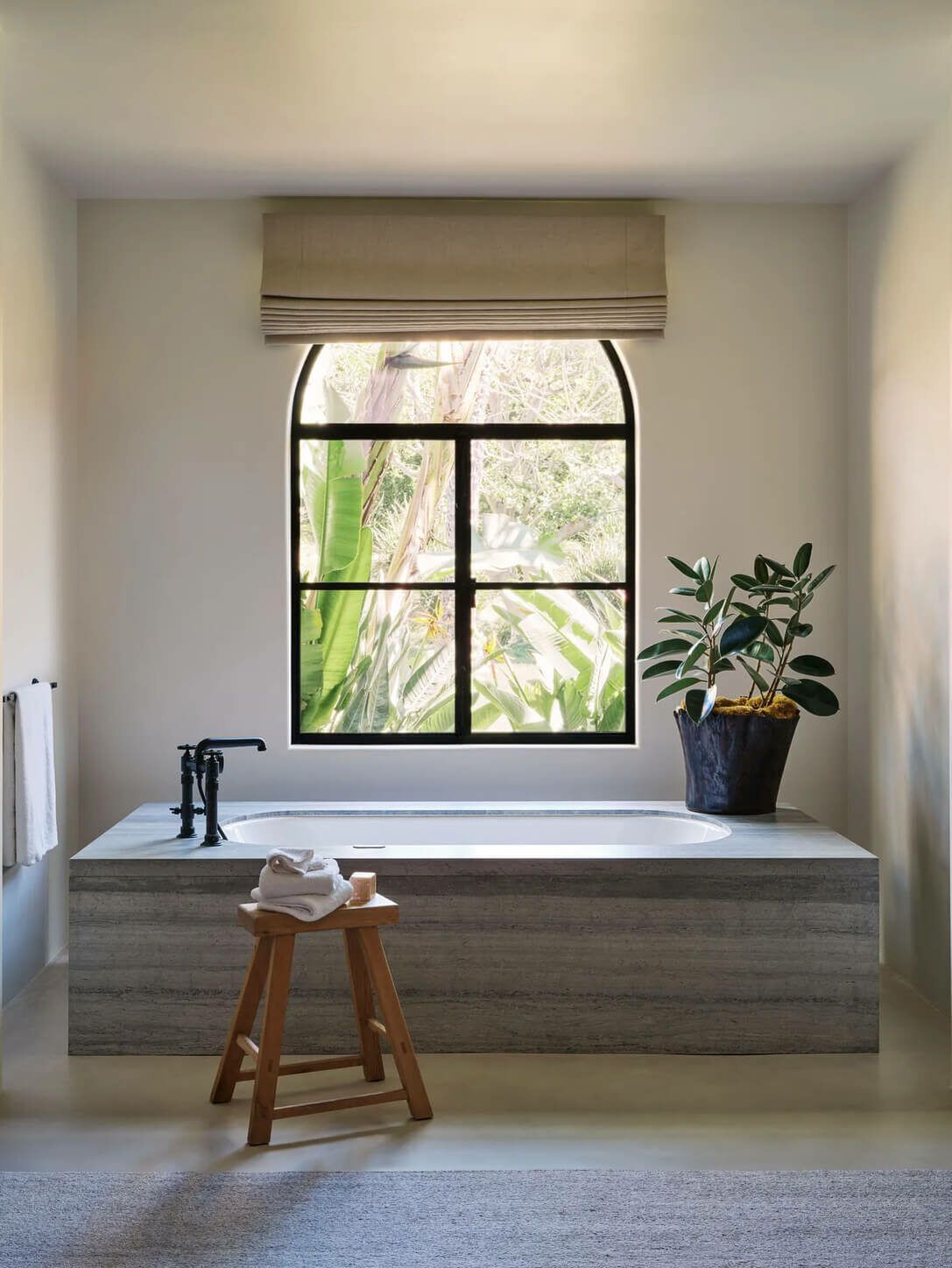 Alicia Keys and her husband, the music producer Swizz Beat, are the owners of one of the most impressive architectural designs of all time, The Razor House, a modernist residential project designed by the architect Wallace E. Cunningham; the property sits on the edges of a cliff on Torrey Pines State Reserve. The incredible modernist exterior contrasts with a simple and timeless interior, where neutral tones, soft textures, and an incredible collection of art stand. The entryway decor of the house perfectly highlights the home narrative, featuring a statement side table piece and artsy touches.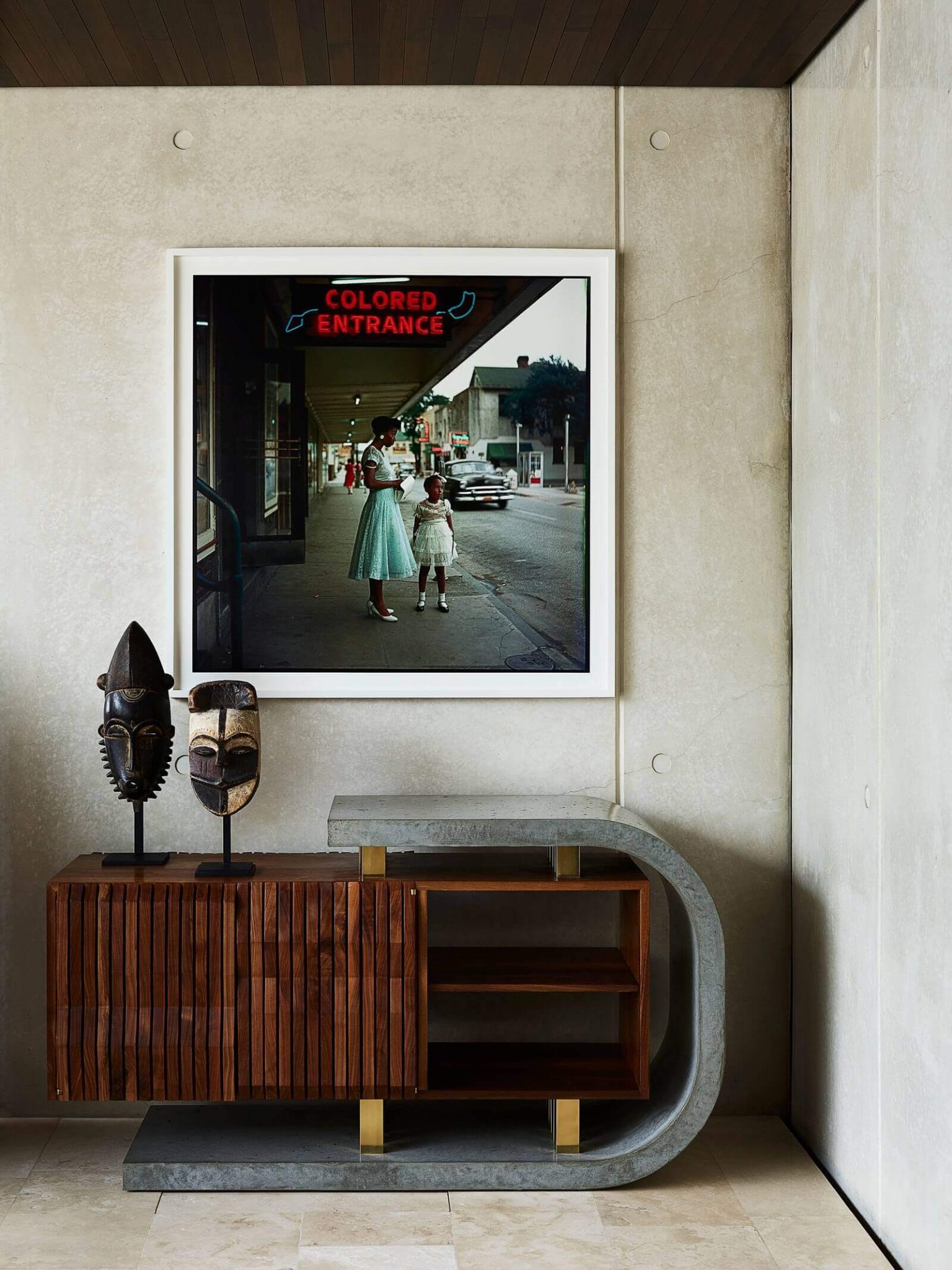 The midcentury modern interior design of Dakota Johnson's house in Los Angeles has a concise color palette – the hypnotic brown from the wood pairs with a boho hue of green and the sensual energy red and orange objects and home accessories, such as eclectic carpets and rugs. The star´s entryway is full of charm and personal touches, showing perfectly what to expect from the incredible interior.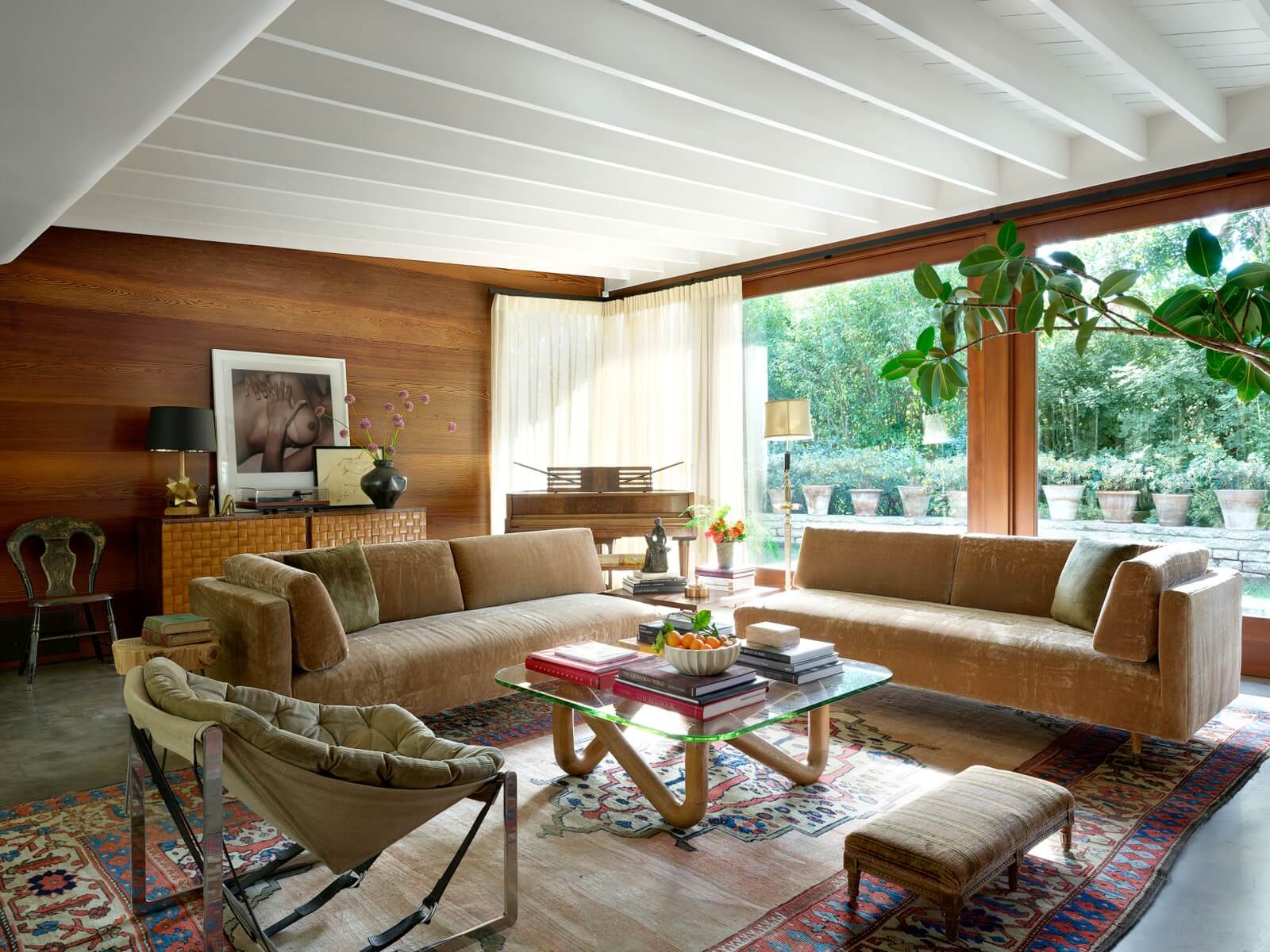 HOW TO DECORATE AN ENTRYWAY LIKE A CELEBRITY?
After the beautiful inspiration of celebrity homes, you are ready to discover more about how to decorate an entryway like a star. We gathered some tips from the inspiration and reunited them for you.
Glamour, luxury, and creativity are some touches that can be missing when decorating an entryway like a star. Are you ready to learn how to decorate an entryway like a celebrity and give a glamorous first impression for your entrance projects? We select some entryway decor steps that will help you with this task.
Be sure to have a statement piece
A stunning statement piece can create drama, be a focal point and give an incredible first impact on your entryway project. Celebrity homes are bold, so you should invest in a statement piece to have an extraordinary entryway like the movie stars. The statement piece will increase your entryway function while giving it a glamorous look – you can choose from console tables, benches, side tables, or whatever your project needs. The important thing is to have this anchor piece to improve your entrance look and function.
Add a rug for a red carpet look
Adding a rug to your hall will provide a red carpet feeling for your entryway decor and make everyone feels like they are entering a stunning space. To select the perfect piece for your project, you need to consider the space you have, the feeling you want to provide, the home style, and color schemes that better suit the overall look.
Make it bright with the right light
The right light is one of the secrets to having amazing entryway decor; it can provide a bright welcome and emphasize the overall look. Make sure to have a light point above the front door to make the space look brighter. The lighting choices also can set the tone for the entryway decor for a luxurious and glamorous look you can add a statement suspension lamp that will give a Hollywood flair to your layout.
Increase your entryway decor project with an artsy touch to make it feels like a celebrity home. Most celebrity homes feature art pieces to bring an artsy and creative feeling to their space; learn with the stars and improve this feeling to your project by adding an artsy touch. You can create a gallery in your entryway decor to bring color to your project. Or, if you are going for a simple and minimalist design, you can add some portraits to bring a contemporary touch.
Lastly, make sure to give an incredible first impression with your entryway decor by adding a wow factor, something unexpected that will surprise everyone who steps in a good way. Most celebrity homes feature surprising items, from a large wall art piece to a bold mirror. The entryway decor is where you must make bold decisions to give a remarkable first look.
A celebrity home is in the details and in its bold and unexpected decisions that make the design remarkable. Designing an entryway like a celebrity is more than adding luxury touches, but creating an unforgettable first impression.
Now that you know how to decorate an entryway like a celebrity, keep your inspiration journey by discovering unique furniture to complete your entryway project.