An Interior Design Mood Board is a great way for professionals to explore their ideas, collect references and inspirations for an interior design project in one place. Whether in physical or digital form, this tool is very important for organizing thoughts, aligning expectations, and… avoiding mistakes.
Have you gathered all the inspiration you need to create your project but don't know where to start? Check out our step-by-step guide on how to create a mood board interior design to help you turn your ideas into reality!
What Is an Interior Design Mood Board
An interior design mood board is an indispensable tool for all professionals starting a new project. Widely used in the initial phase, it is a way to represent, in a visual mode, the main ideas that will be part of the result as a whole.
Simply, as the name suggests, it is a board covered with images, textures, and materials that, more than just brainstorming ideas, is also a way to demonstrate your creative abilities.
The interior design mood board also aims to show your client the direction the final project will take before work actually begins. So being aware of all the phases involved in building one is very important.
How To Create A Mood Board Interior Design
With so many decisions around colors, fabrics, and furniture, it can be hard to know where to start. That's why we've created a step-by-step guide with some of the most important topics to consider when creating your Interior design mood board
1 – Understand The Purpose Of Your New Project
For those starting an interior design project, having an idea of the expected before actually beginning the work can make all the difference! Consider holding a meeting with those involved in the project to get a sense of the main ideas, if there are any suggestions for or specific guidelines, as a first draft.
Will it be a modern-style project or a maximalist-style project? Your goal here is to connect the ideas collected in a short briefing from your client, with your expertise and design elements. This way, as a professional, you will be safer to start!
2- Choose a method for creating your mood board
Whether in physical or digital format, there are many ways to turn your ideas into visual pieces. If you're more of a physical person, set aside a space to collect samples of paints, fabrics, or magazine clippings.
For the more practical and technology-loving, a digital mood board, besides being easily transported, allows you to explore everything the internet has to offer. There are several online platforms available that do the "hard work" of organizing everything into an interior design mood board afterward.
3 – Gather design inspiration
Time to think outside the box! Start exploring all aspects of the world around you, such as fashion, art, or even nature. Is there a specific fabric from some trip that left a positive impression on you? Or is there a color that stimulates your brain to transport you somewhere? Think about what makes you happy, and the feelings that your project wants to convey to those who will use that space when it is finished.
To do this, include as many references as you can about the style, production materials, combination of objects, colors, and everything that makes sense to be in that atmosphere.
4 – Clarify and save your ideas
It's time to put your thinking cap on. This is the step you will organize and rearrange your interior design mood board. In the fourth step, you should refine your selections such that you're left with a condensed version of what has motivated you. Take your time to analyze what you've acquired carefully, make tests between the different combinations, and be realistic about what design will suit your project the best. Remember that the goal of a mood board is to provide maximum clarity to direct professionals.
5 – Put it all together and present your interior design mood board
Once you have finished collecting and reorganizing all the ideas and inspirations for your project, step away briefly and make sure you are happy with your final selections. Is everything ok? Then it's time to save your project and present your interior design mood board to the team!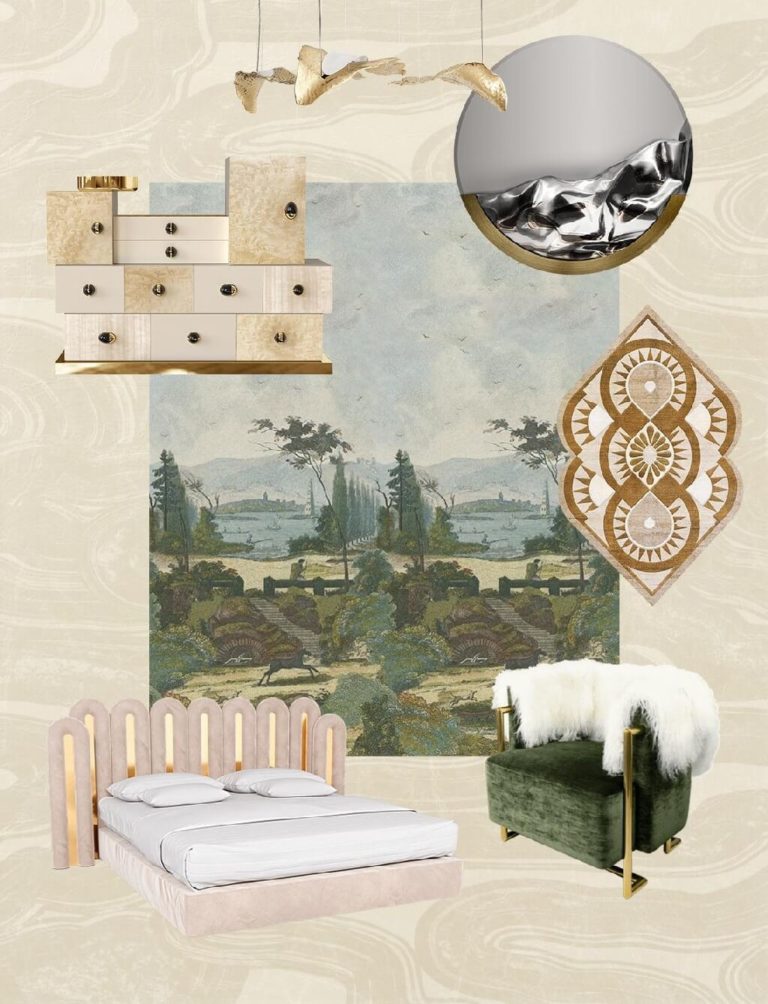 Now that you understand what it is and how to create a mood board interior design, if you are an interior design professional looking for fresh ideas, check out our exclusive content about interior design mood board ideas to create your project.