Discover how to create the perfect outdoor lounge area and explore a selection of the best furniture to elevate your project.
If you are about to start a new outdoor lounge area project, this article is for you! Welcome to the world of outdoor design, where the beauty of nature welcomes the comforts of home. In this ultimate guide, you will discover the transformative power of outdoor furniture – whether your project is a backyard, a cozy balcony, or a rooftop terrace, we will help you to create an inviting and stylish outdoor lounge area.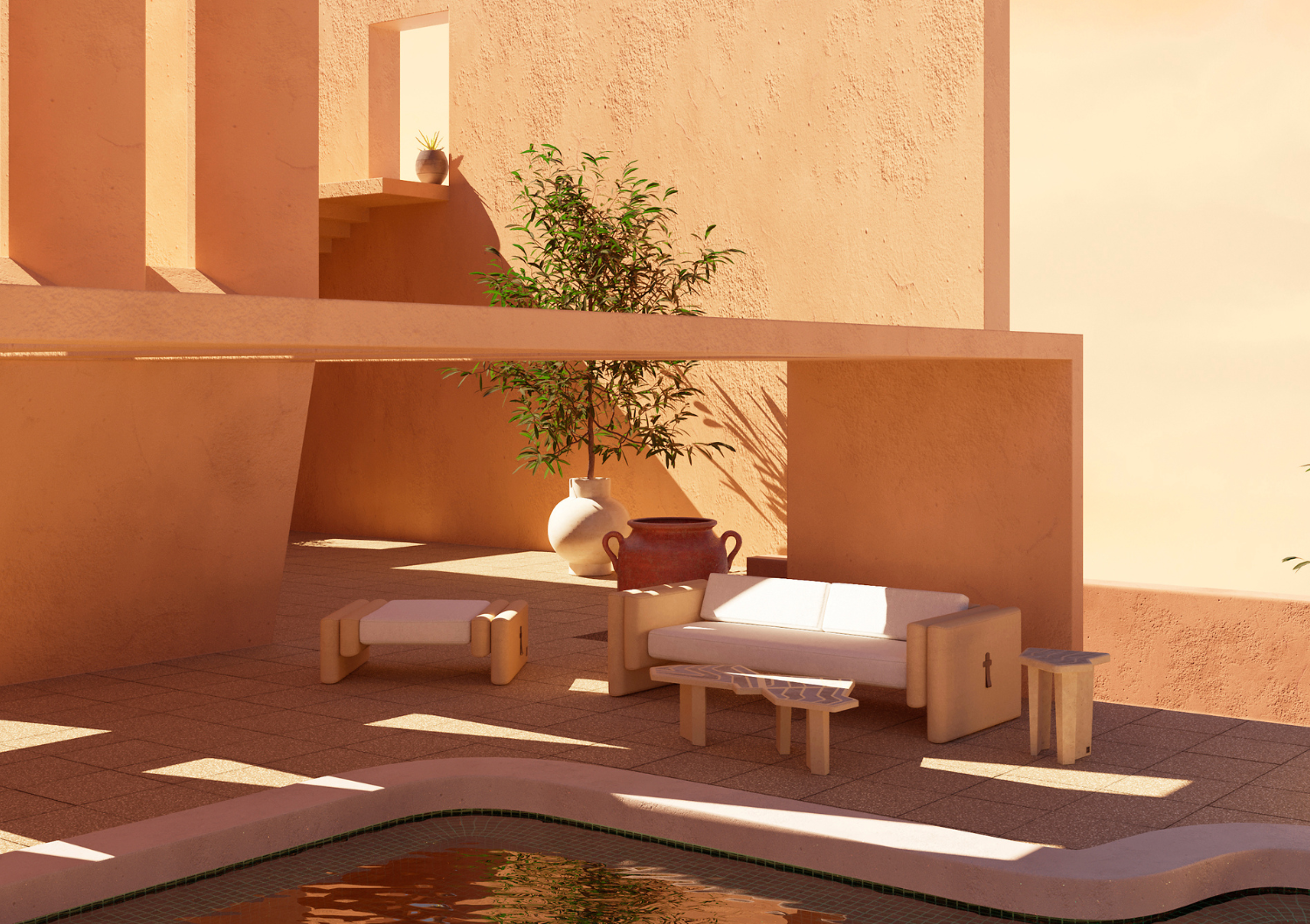 How to Create the Perfect Outdoor Lounge Area?
A well-balanced outdoor lounge area provides the perfect setting for relaxation, entertainment, and connection with nature. It's a place to escape the confines of indoor spaces and embrace the fresh air and open skies. But to create the perfect spot to enjoy the best of summer days, there are some essential points to pay attention to. Ready to discover them? Read on and learn how to create the perfect lounge area that your clients will love.
1 Understand the Client's Vision and Needs:
Before diving into the design process, have a thorough discussion with your clients to understand their vision, lifestyle, and specific requirements for the outdoor lounge area. Consider their preferred style, desired functionality, and any unique features they may want to incorporate. This initial step will be the foundation for your design and ensure that the final result aligns perfectly with your client's expectations.
2- Select High-Quality and Weather-Resistant Materials:
When it comes to outdoor furniture, prioritize quality and durability. Give preference for materials that can resist different weather conditions while retaining their aesthetic appeal. Choose high-end quality materials such as aluminum, marble, limestone, stainless steel, or travertine. These materials offer excellent resistance to UV rays, moisture, and fading, ensuring long-lasting beauty and functionality.
3- Embrace Comfort and Ergonomics:
Creating a comfortable and inviting outdoor lounge area is essential for your client's enjoyment. Focus on selecting furniture that provides both comfort and ergonomics. Opt for generously cushioned seating options with high-quality outdoor fabrics that offer durability and water resistance. Incorporate adjustable features, such as reclining backs or adjustable footrests, to enhance the lounging experience and cater to individual preferences.
4- Create Cohesion with Indoor Design:
To create a harmonious transition between indoor and outdoor spaces, consider integrating elements of your clients' indoor design into the lounge area. Pay attention to color schemes, patterns, and materials that can be carried over to create a cohesive aesthetic. This seamless blend will make sense of continuity and enhance the overall design look.
5- Pay attention to Details and Accessories:
Elevate the outdoor lounge area's design by focusing on the details and accessories. Incorporate stylish outdoor rugs, throw pillows, and cushions that complement the overall design aesthetic. Introduce artwork, decorative lighting fixtures, and outdoor curtains to add personality and create an inviting feeling. Consider including practical accessories like a modern parasol, firepits, or integrated sound systems for an enhanced outdoor experience.
6- Ensure Proper Maintenance and Protection:
Educate your clients on the importance of regular maintenance and protection for their outdoor furniture. It´s essential to provide a guide on cleaning procedures, including appropriate products and techniques for different materials. Advise them on investing in protective covers or storage solutions to shield the furniture during inclement weather or extended periods of non-use. By emphasizing maintenance, you will help your clients preserve the beauty and longevity of their outdoor lounge area.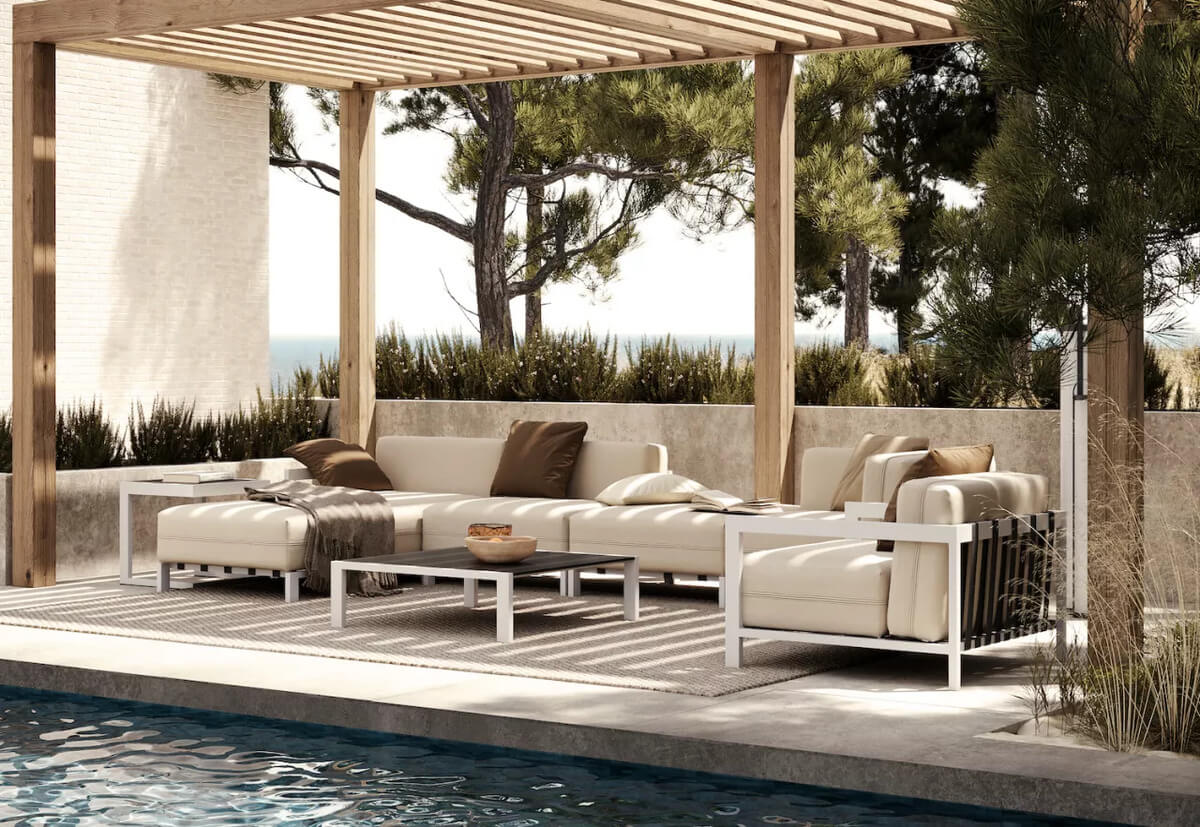 The Perfect Outdoor Lounge Area Furniture
There are many steps to create the perfect outdoor lounge area – and the furniture has a vital role in this space. To finish our outdoor lounge area guide, we have selected three essential items that can´t be missing to create the perfect outdoor. Check it out and enjoy our furniture pieces suggestions!
1- SEATING
Seating is the centerpiece of any outdoor lounge area. Depending on the available space and your client's personal preferences, opt for a combination of seating options its needs. Consider sofas, armchairs, and daybeds that offer ample seating. To create a cozy atmosphere and give a stylish vibe, you can incorporate outdoor pillows and cush ons that compliment your chosen color palette and add a touch of comfort and style.
2- TABLES
Tables and surfaces play an essential role in any outdoor lounge area, providing a place to rest drinks, snacks, books, and decor. Choose weather-resistant coffee tables, side tables, and dining tables made from materials like t ak or aluminum. Look for options with easy-to-clean surfaces and consider features such as built-in storage compartments or extendable tabletops to maximize functionality.
3- COMPLEMENTS
Parasols and side tables are great complements for any outdoor lounge area – providing an extra layer of sophistication to the overall look and turning the details into beautiful elements of your design. Consider selecting pieces with great materials and luxury shapes, that can play a role in the functionality and aesthetic of your lounge area.
Pollock Fior di Bosco

Side Table 9.800,00

€

Elektra Parasol

Parasol 9.190,00

€

Elektra Parasol Natural

Parasol 8.900,00

€
Designing the perfect outdoor lounge area requires careful planning, attention to detail, and a focus on high-quality outdoor furniture. By following the steps in this guide, you can create a space that your clients will love and won't leave. To continue your travel into the world of outdoor furniture, enjoy to discovering our IBIZA outdoor collection.