RuPaul's Glamorous Hollywood Regency Style Mansion is everything and more! Peek inside and get inspired by its fantastic interior, signed by Martyn Lawrence Bullard.
When two legends work together, the result is always stunning – and RuPaul's Glamorous Hollywood, Regency Style mansion, is a perfect example.
The unique personality of the famous drag queen and the expertise of the interior designer Martyn Lawrence Bullard resulted in a fabulous interior with no limit to beauty and sophistication. Ready to peek inside? Dive with us in this beautiful dream home.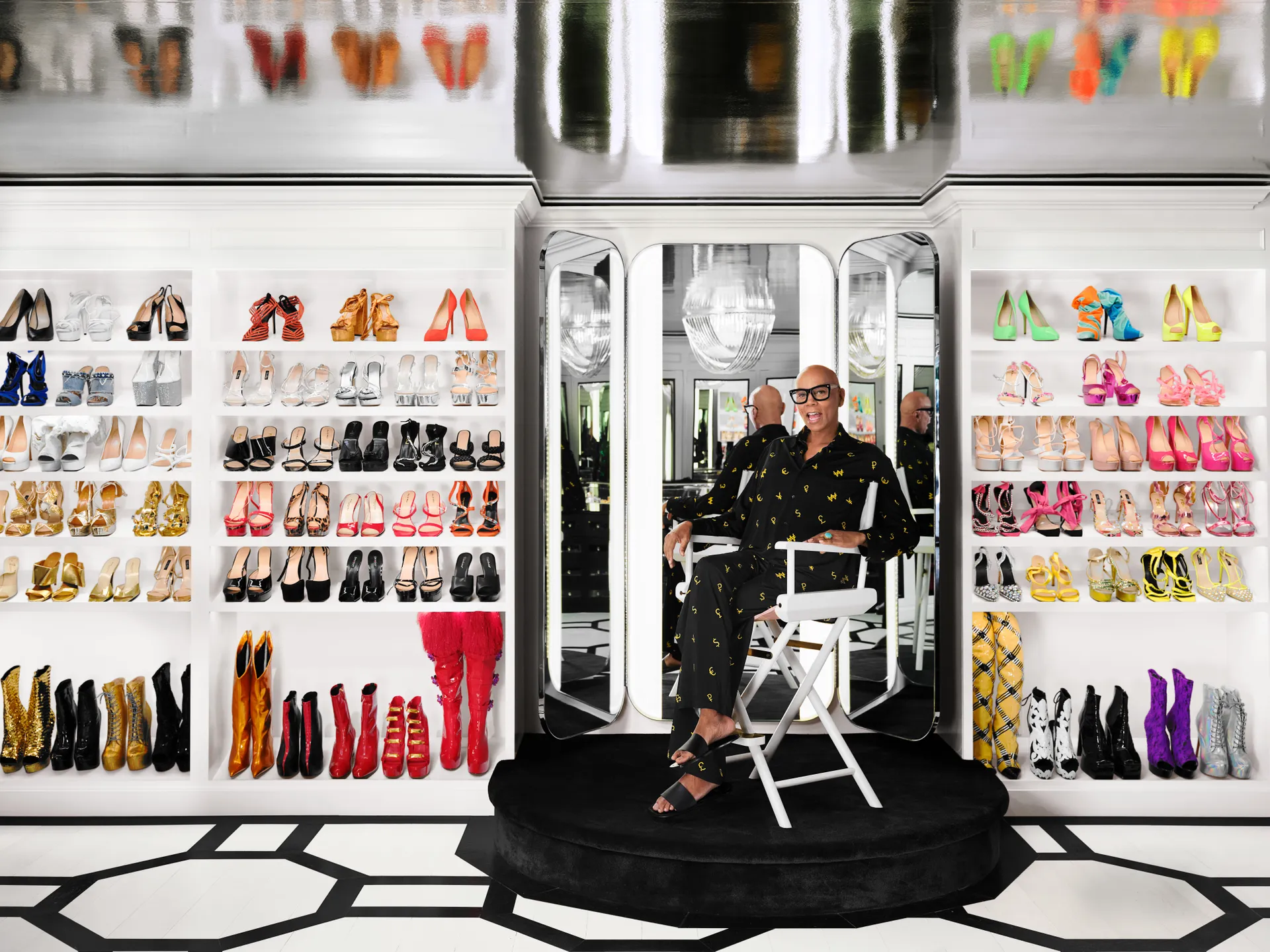 Nothing less than Stunning for a Legend
We can't start this Glamorous Hollywood Regency Style Mansion tour without a brief allusion to its homeowner – RuPaul, a legend whose name doesn't need presentations but deserves it.
RuPaul is a famous drag queen, television personality, actor, musician, and model. He is the host and creator of the groundbreaking reality competition show "RuPaul's Drag Race." He has become an essential icon of empowerment and acceptance, inspiring a global community of drag performers and LGBTQ+ individuals.
RuPaul is a true visionary and cultural icon and has captivated audiences worldwide with his immense talent, charisma, and unwavering authenticity; he has broken barriers and paved the way for countless individuals to embrace their true selves fearlessly.
And, of course, RuPaul's home embraces originality and self-expression and is everything we could imagine for an absolute legend. Keep reading to explore RuPaul's Glamorous Hollywood Regency Style mansion.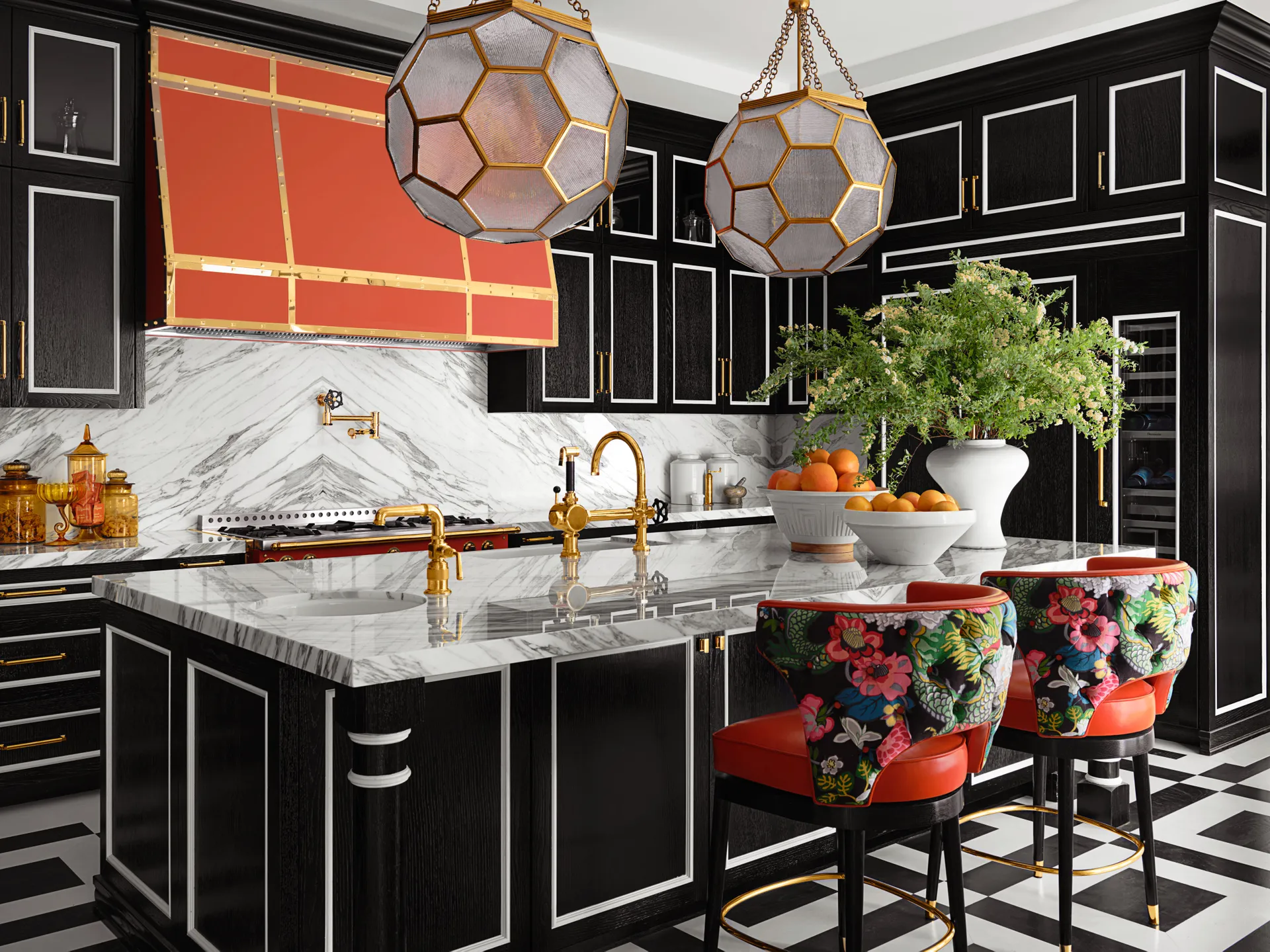 The Perfect Match for a Legend: Glamorous Hollywood Regency Style
RuPaul's Hollywood Regency Style mansion is the perfect match for a legend – it has a lot of glamour, character, and stunning details. It's a beautiful clash between lush and colorful, and it draws inspiration from the Hollywood Regency, an American interior design style born within the cinema industry in the 1930s.
As the legend deserves, the Hollywood Regency Style adorns the interior with beautiful and glamorous details that help to resonate RuPaul's personality in each corner of the house. But before we dive into the stunning interior, let's get to know the characteristics of the style that help to give life to the magnificent RuPaul's mansion:
Glamour and Luxury: The Hollywood Regency style exudes opulence. It embraces lavishness and high-end materials, creating an atmosphere of luxury and elegance.
Bold Colors: Vibrant and bold colors are commonly used in this style, from emerald green to royal blue, which is often incorporated to create a dramatic effect.
Metallic Accents: Metallic finishes such as gold, silver, and brass are usually seen in Hollywood Regency design; these materials add a touch of luxury and glamour that styles require.
Bold Patterns: From animal prints to bold graphics, these patterns are often seen in the Glamorous Hollywood Regency Style – especially in wallpaper and rugs to add an extra layer of drama.
Mix & Match: The style combines elements of Art Deco, Mid-Century Modern, and traditional techniques to create a unique and visually striking look.
These are just a few characteristics of the Glamorous Hollywood Regency Style, but as you can see, it is the perfect match for a clever and full-of-character person such as RuPaul. Now, we are finally ready to dive into the stunning RuPaul mansion and explore all its beautiful elements.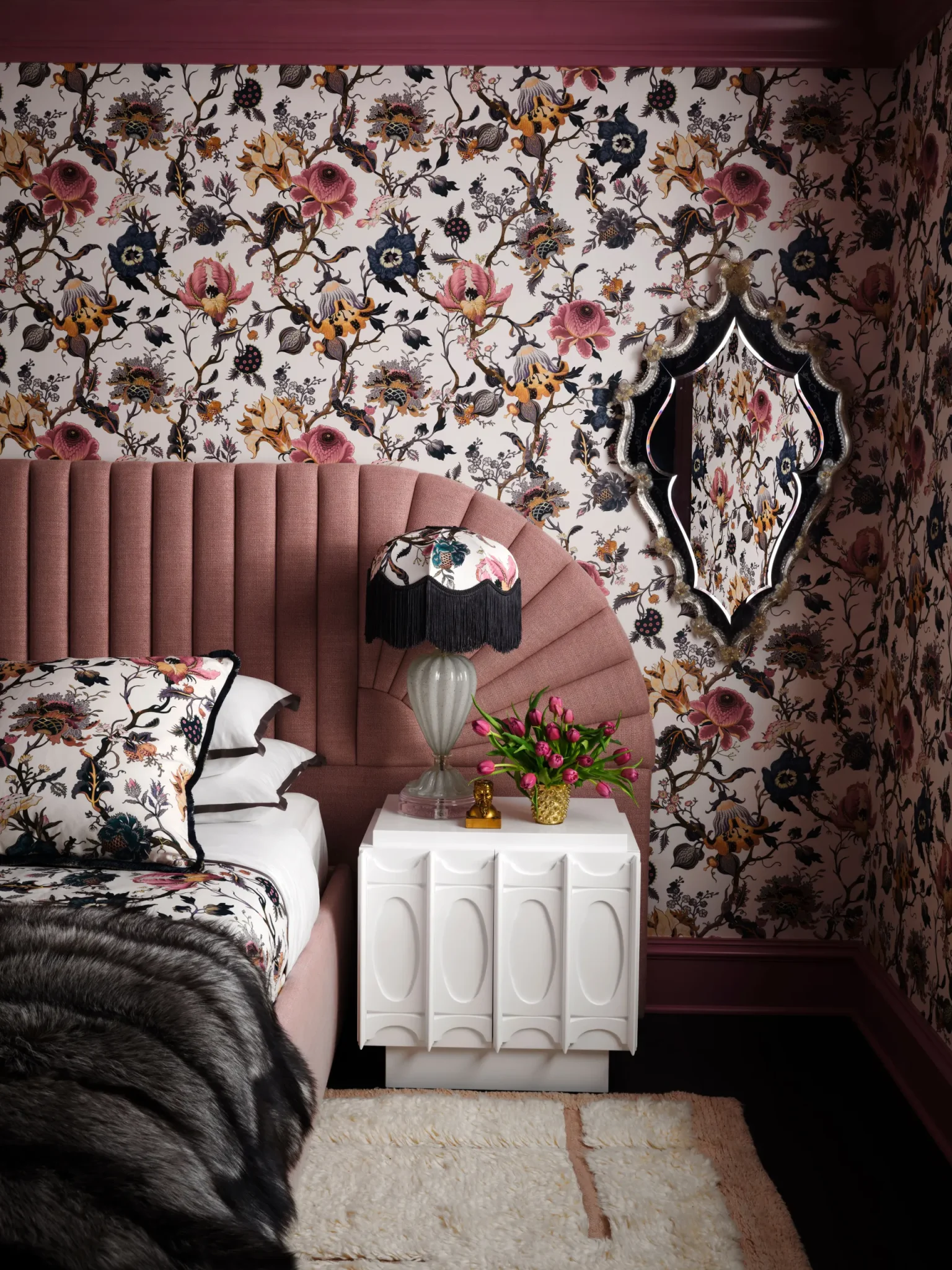 Welcome to RuPaul's World: Inside the Glamorous Mansion
Revamp by the AD100 interior designer Martyn Lawrence Bullard and architect Christopher Hatch McLean, RuPaul´s Glamorous Hollywood Regency Style mansion is a work of art – located in Beverly Hills; the 80s building was transformed into a dreamland where there is no limit to glamour and luxury.
Featuring the iconic Glamorous Hollywood Regency Style, RuPaul´s Mansion is the translation of a successful reinterpretation of the style with colorful accents, geometric patterns, Art Deco references, and a lot of luxury. Through the stylish mansion, every corner has stunning elements that pop to the eyes – but some rooms deserve special attention, and we will explore each of them in detail:
ENTRYWAY
People say that the first impression matters – RuPaul's Glamorous Hollywood Regency Style entrance is nothing less than stunning – a clash of lush and refinement design choices that welcomes and gives a preview of a design that aims to be full of character as its homeowner. It's an entrance that says, "Welcome to RuPaul's World." A world that at first sight seems to be painted in peachy hues but is a magical place where dreams and glamour meet.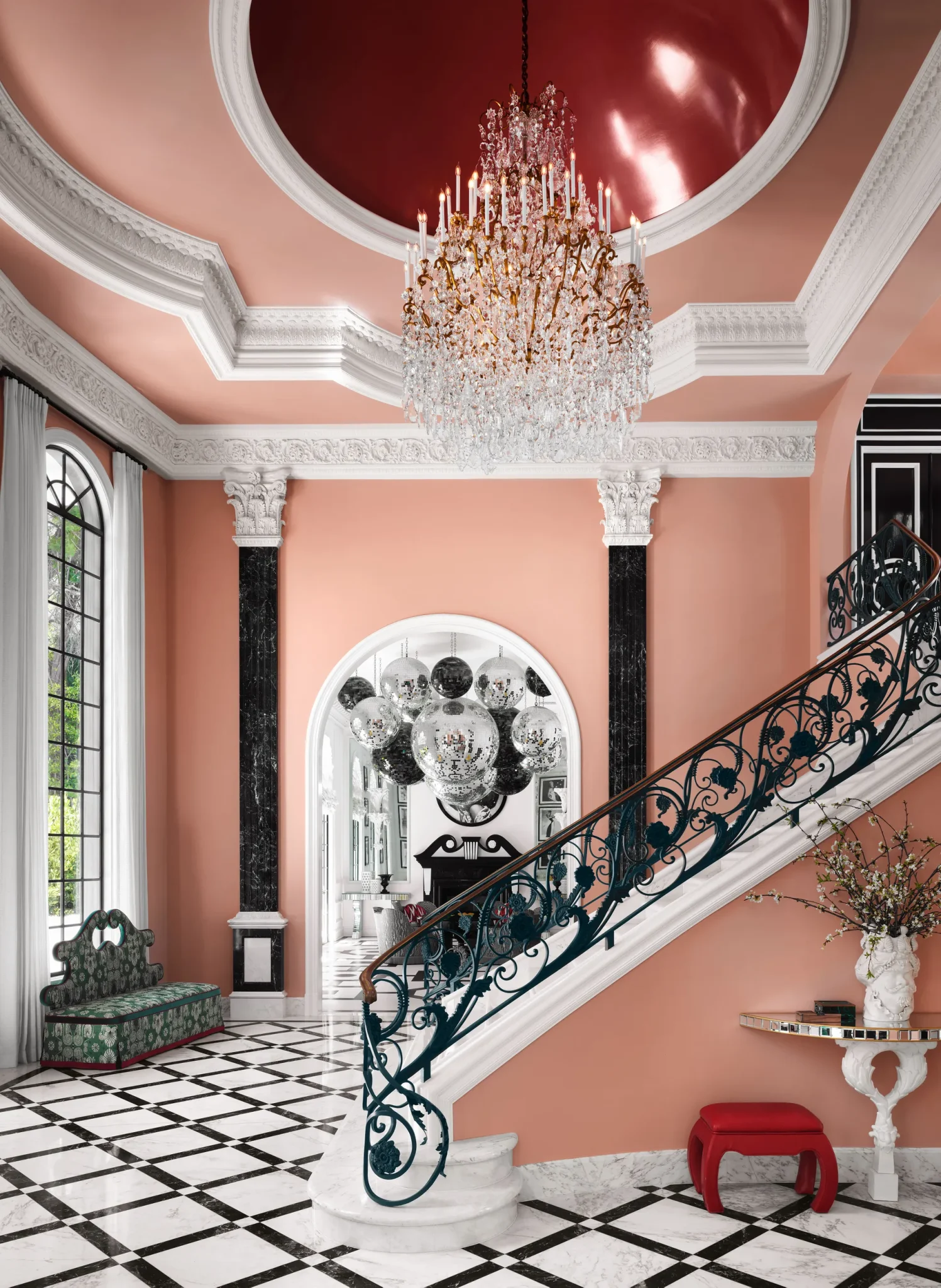 BALLROOM
From the charming entrance we had to the Ballroom, where black and white are the backdrop of this stunning room division – different from its minimalist color palette, it has nothing of minimal. Pop divas portraits on the walls, disco balls on the ceilings, and geometric patterns on the floor dictate the design choices here. The Ballroom is more than a stunning home division but is also part of RuPaul's magnificent world.
LIVING ROOM
Following the same background as the Ballroom, the living room pops up with a unique approach that gives life and colors – showing the magic of incredible room decor. Here, the highlights are the astonishing chandelier that helps to give life to the Glamorous Hollywood Regency Style combined with comfortable yet stylish sofas in velvet.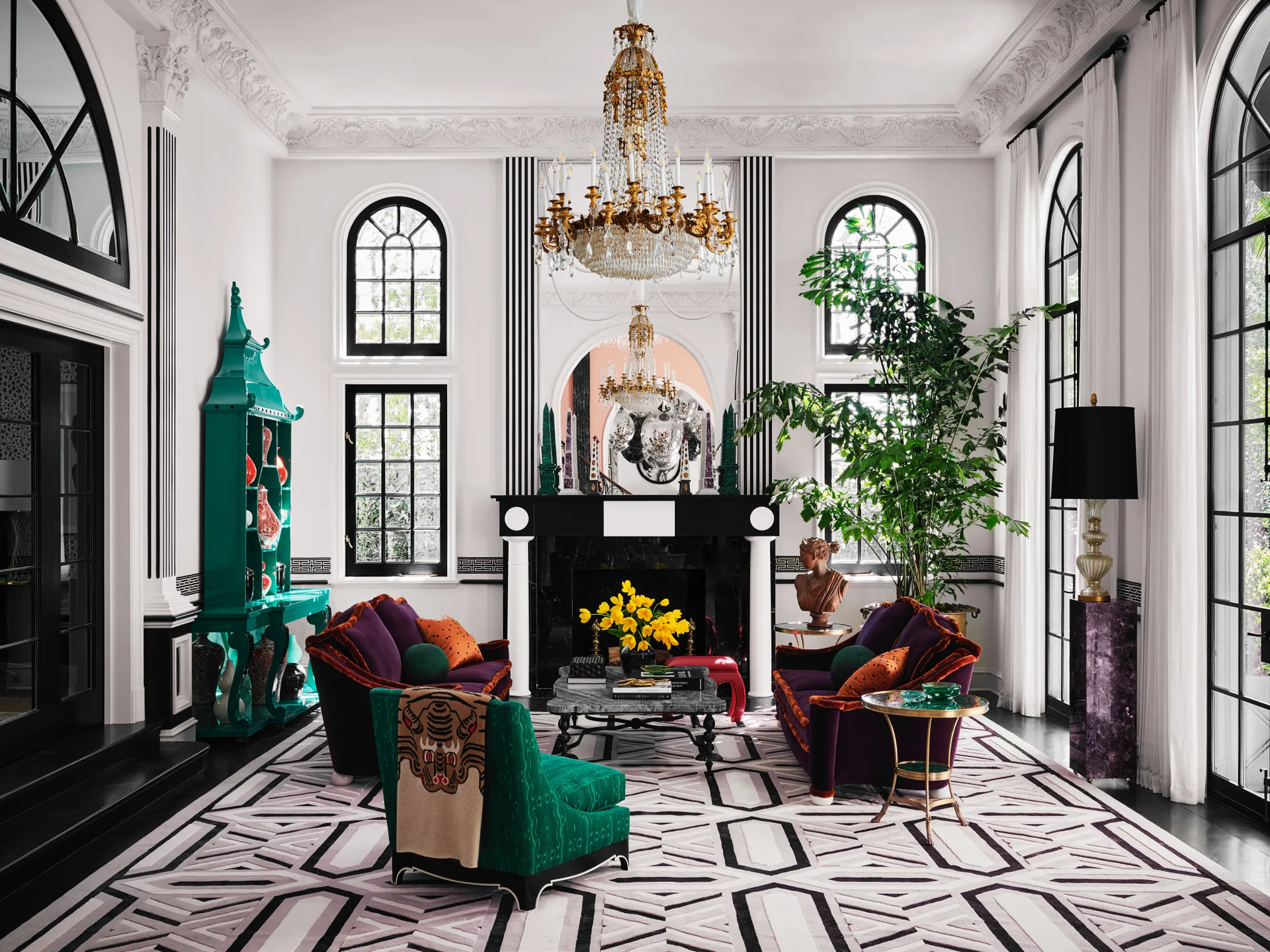 MAIN BEDROOM
Magic exists, and RuPaul´s main bedroom is a magical spot that invites restful and peaceful moments, but of course – with a lot of glam and luxury touches as he deserves. Covered in beautiful black wallpaper – the room has orange (RuPaul´s favorite color) and golden accents, giving character without overwhelming the space. It's a bedroom that beautifully translates the Glamorous Hollywood Regency Style.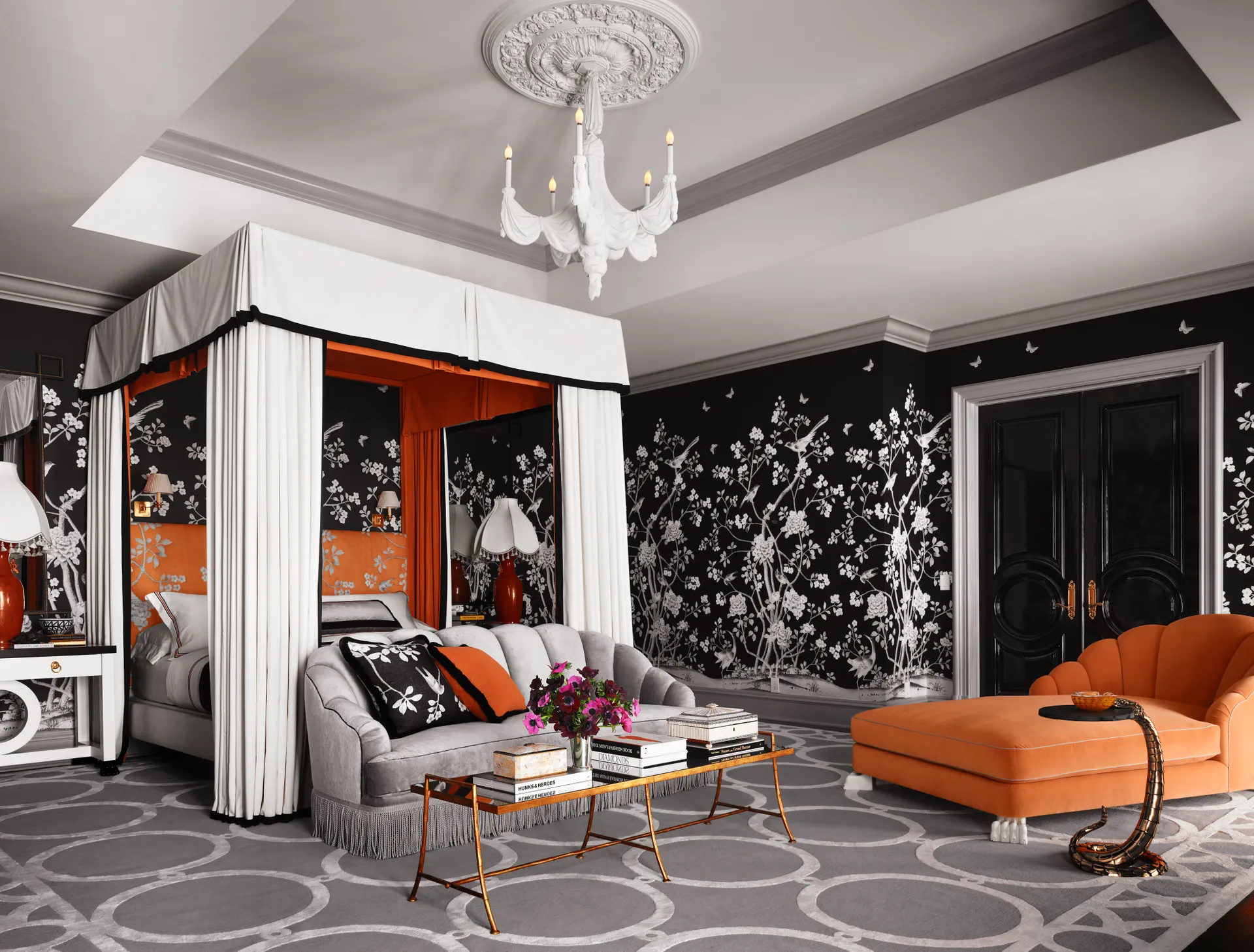 OUTDOOR
It´s not just the interior of RuPaul´s Glamorous Hollywood Regency Style Mansion that is full of character – the outdoor area is also full of lush and stunning details- a real paradise where personality and boldness work together to provide peaceful and delightful moments. Different spots arrive outside the mansion – from a beautiful dining area to a pool terrace. Stripes, black and white, and bold patterns help to unify the spaces and create harmony between the different zones.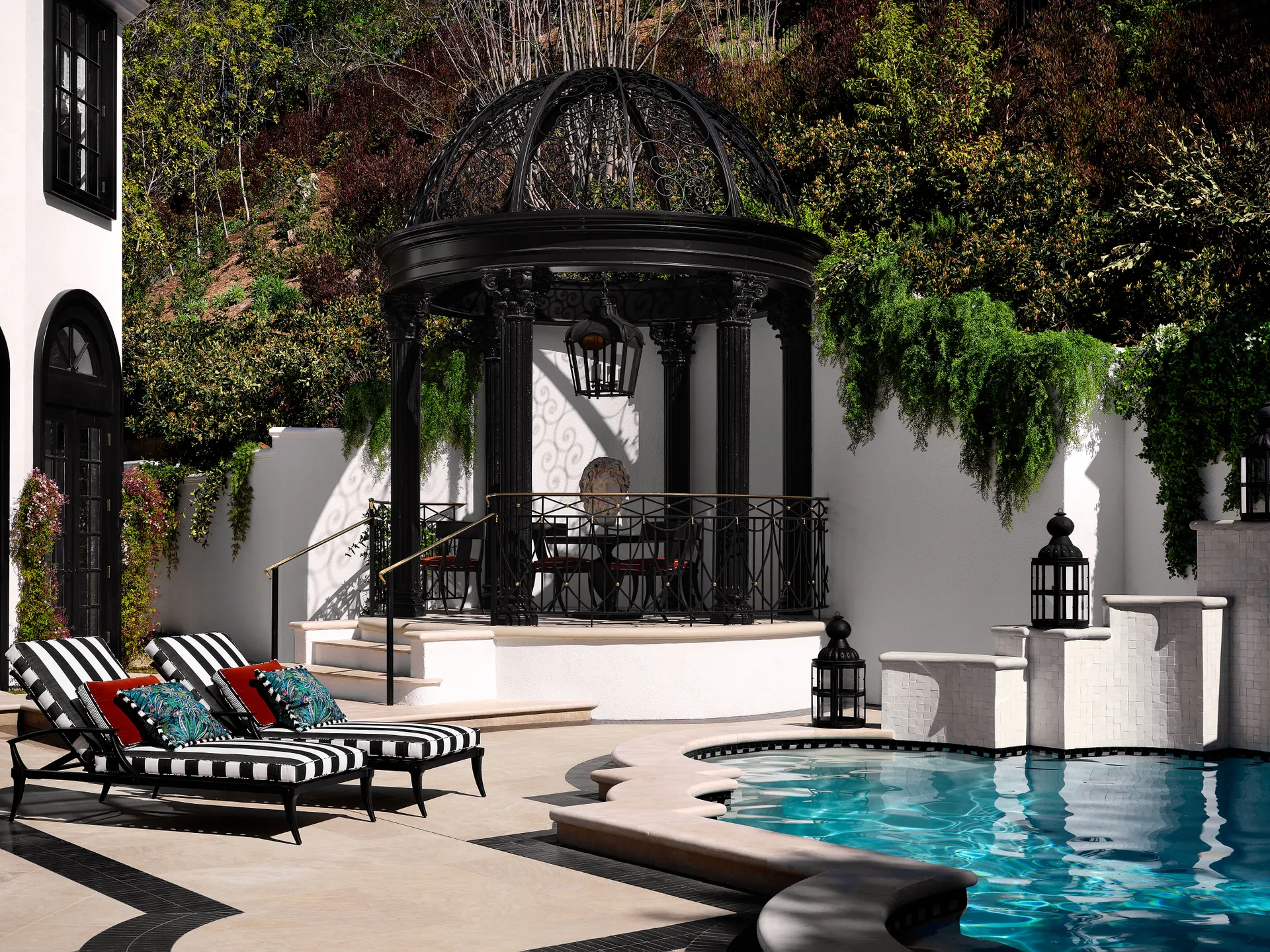 Shop Inspired by RuPaul´s World
Inspired by RuPaul´s Glamorous Hollywood Regency Style mansion and its stunning interior, we have made a list of some iconic furniture from HOMMÉS Studio that can help you to create a magical spot such as this one. Enjoy:
RuPaul´s Glamorous Hollywood Regency Style mansion is more than a stunning interior decor – it is an example that a home must tell a story and share the personality and dreams of its homeowner. This luxury interior is more than just a gorgeous one – but part of a beautiful world, RuPaul´s World.
We hope you have enjoyed this home tour, which has come to an end. Still, you can continue traveling into the beautiful world of interior design by checking out our Project Page and diving into stunning interiors designed by top professionals.

Source: AD | Photos: Douglas Friedman