Interior designer Jessica Gersten bets on neutral home decor to create a modern paradise in the clouds of Manhattan, that is both dreamy and sophisticated.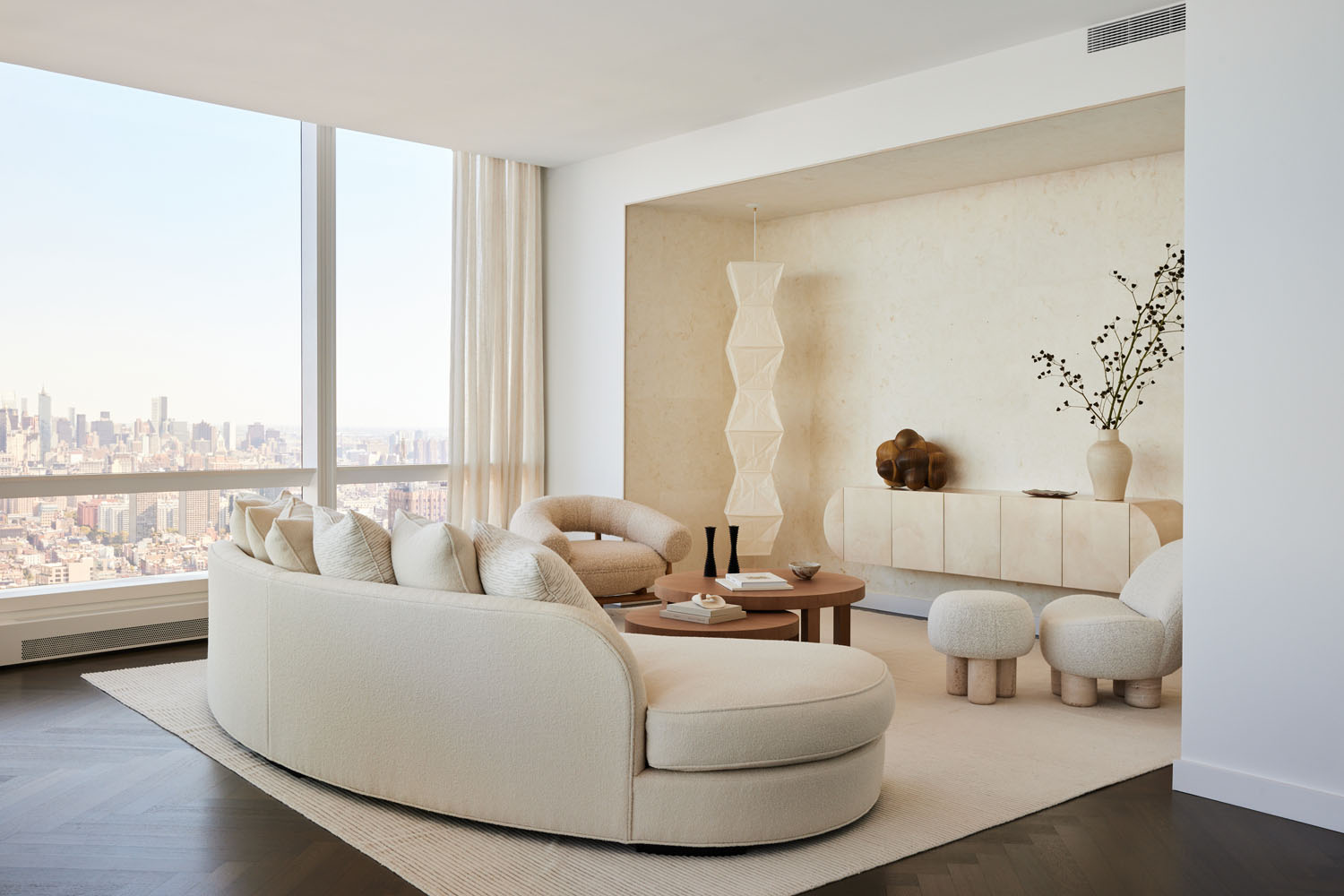 Located in Tribeca, the trendy district of Manhattan, this apartment is a true paradise in the middle of the clouds, being part of a 64-story skyscraper with 360-degree views of Manhattan and gently curving glass walls that embrace city views. These characteristics are precisely what inspired the design of this interior, with the owners of this apartment (long-time clients of the interior designer Jessica Gersten) precisely requesting for light and airy furniture, simple sophistication, and soft elegance.
In this sense, designer Jessica Gersten visioned the space as a calming and neutral atmosphere while incorporating modern design elements that provide both style and functionality, all of this by grounding the design on modern neutral home decor. So allow yourself to be transported into this calm atmosphere as we take you on a tour through this paradise in the clouds.
A Strict Color Palette
As previously mentioned, this home design follows a very strict color palette with its neutral home decor, betting mainly on beiges and browns as key colors for the design. There are even areas of the apartment (like the living room) where a single color is used to fill most of the space, with only some details being added in other tones. But, overall, the approach here taken by designer Jessica Gersten is solidified in neutral shades.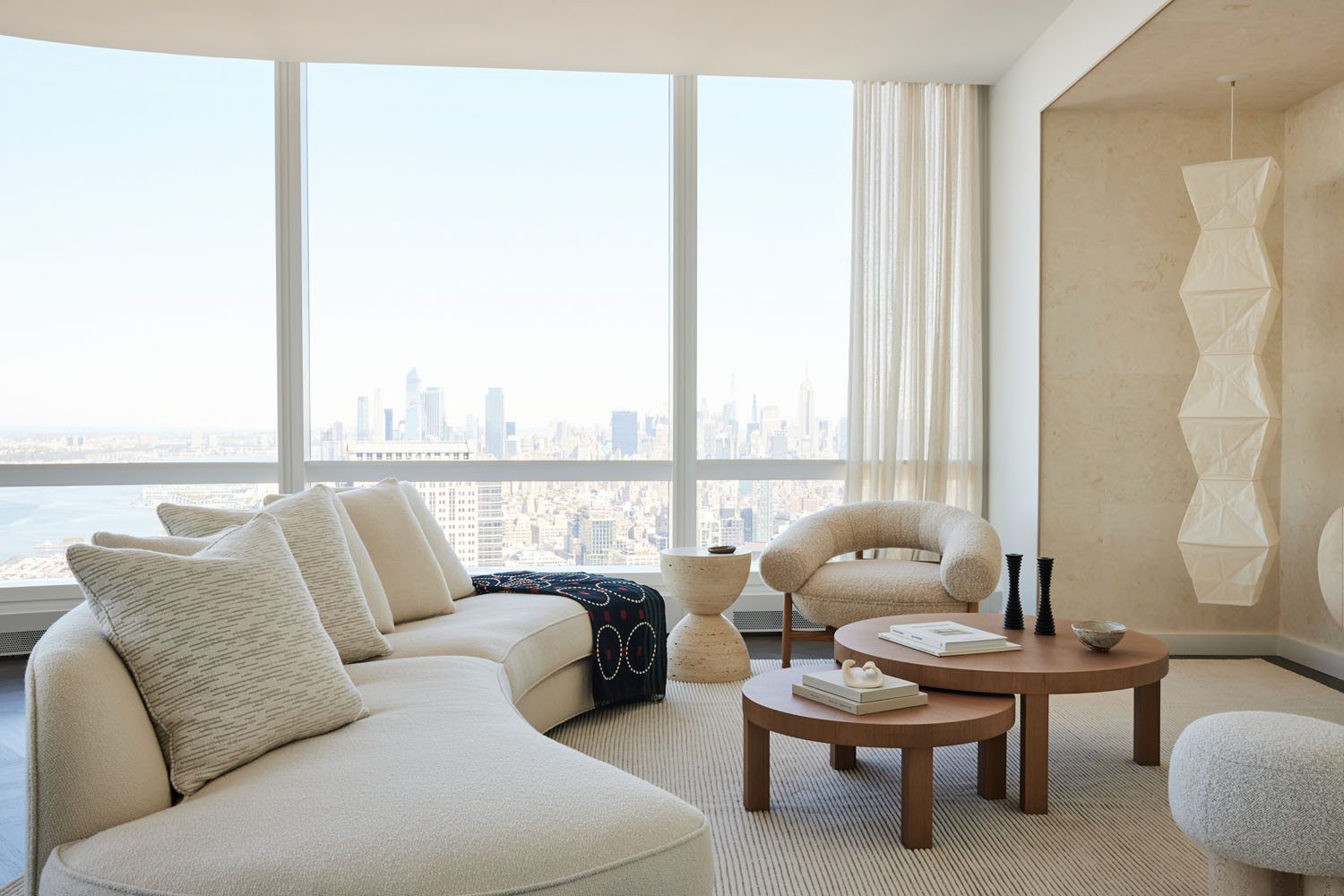 That being said, the designer Jessica Gersten also recognizes the importance of details and the impact that color can have on these, so scattered throughout the apartment one can find pops of color that are invited in through paintings, wallpaper, or vases (although be it, these colors are also carefully curated to soft blues and muted greens).
Shop The Look
Before we move on, what about a selection of HOMMÉS Studio's neutral home decor that follows this strict color palette to inspire you even more?
Soft Textures
The neutral home decor that fills this apartment is also selected minding texture as a very important factor. In this sense, there is a clear preference for soft textures, that contribute to the light and fluffy aesthetic of this design (with fabric being a key component in this, from the furniture to the walls or even just the carpets). Furthermore, designer Jessica Gersten also gravitates to materials like oak and some natural stones to bring a more natural feel to the design, but always betting on clean and smooth surfaces in order to maintain the lightness and calmness required by the clients.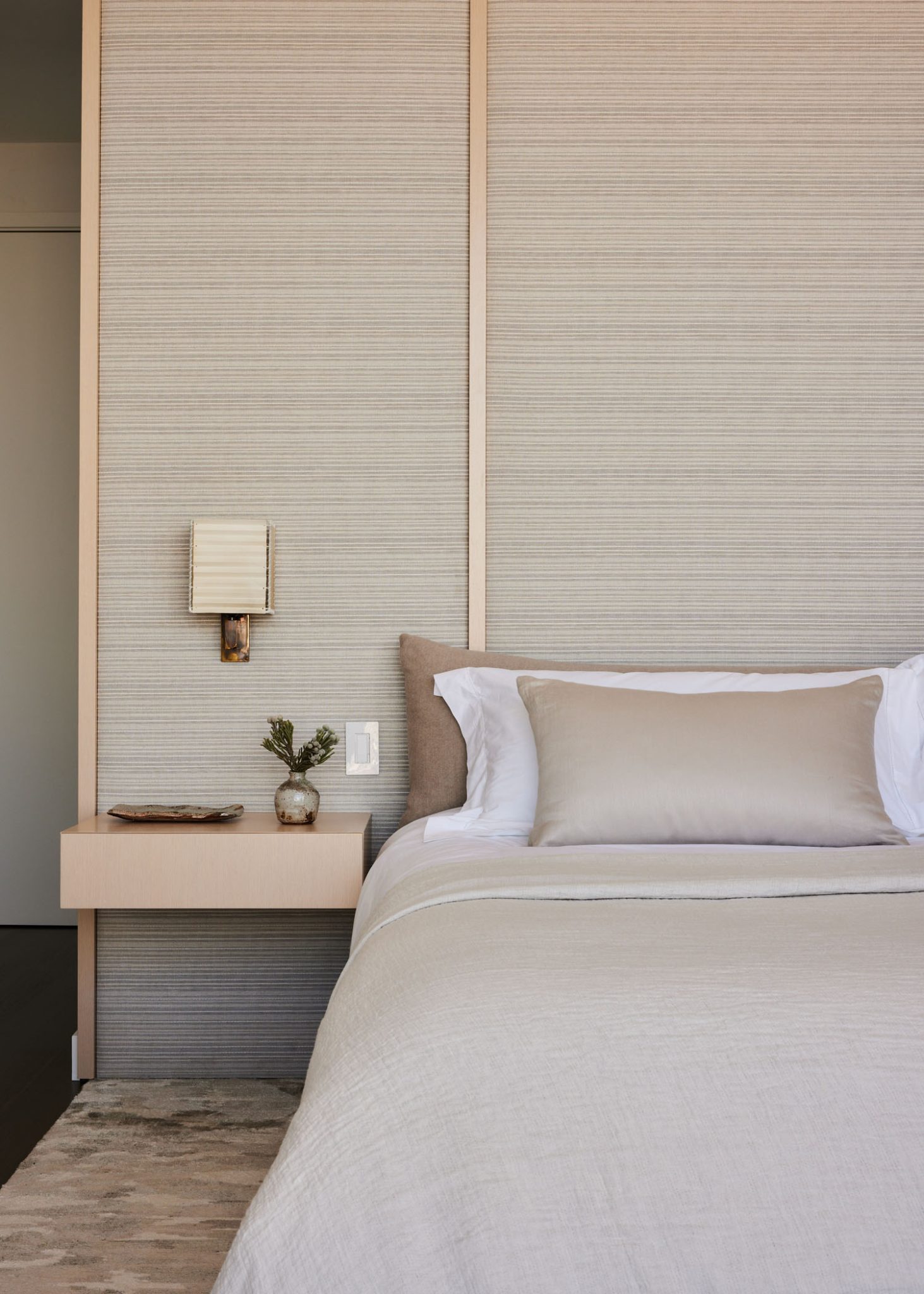 Shop The Look
Following these same characteristics, here's a selection of HOMMÉS Studio furniture in soft texture to make you feel cozy even from just that side of the screen.
Fifih Bench

Bench

$

4.344

Lunarys Center Table Natural

Center Table

$

6.250

Moa Cabinet

Cabinet

$

13.666
Curves Everywhere
Focusing now on shapes, one of the main stylistic choices that bring tranquility to this apartment is the use of curves in the neutral home decor of this project. Here, interior designer Jessica Gersten opts for curvy furniture (such as the sofa and armchairs in the living room and bedroom) or furniture with curved features (like the chairs in the dining room or the sideboard in the hall) in order to both build on the light and airy premise and to bring sophistication and elegance to the design (since these are in fact very elegant lines).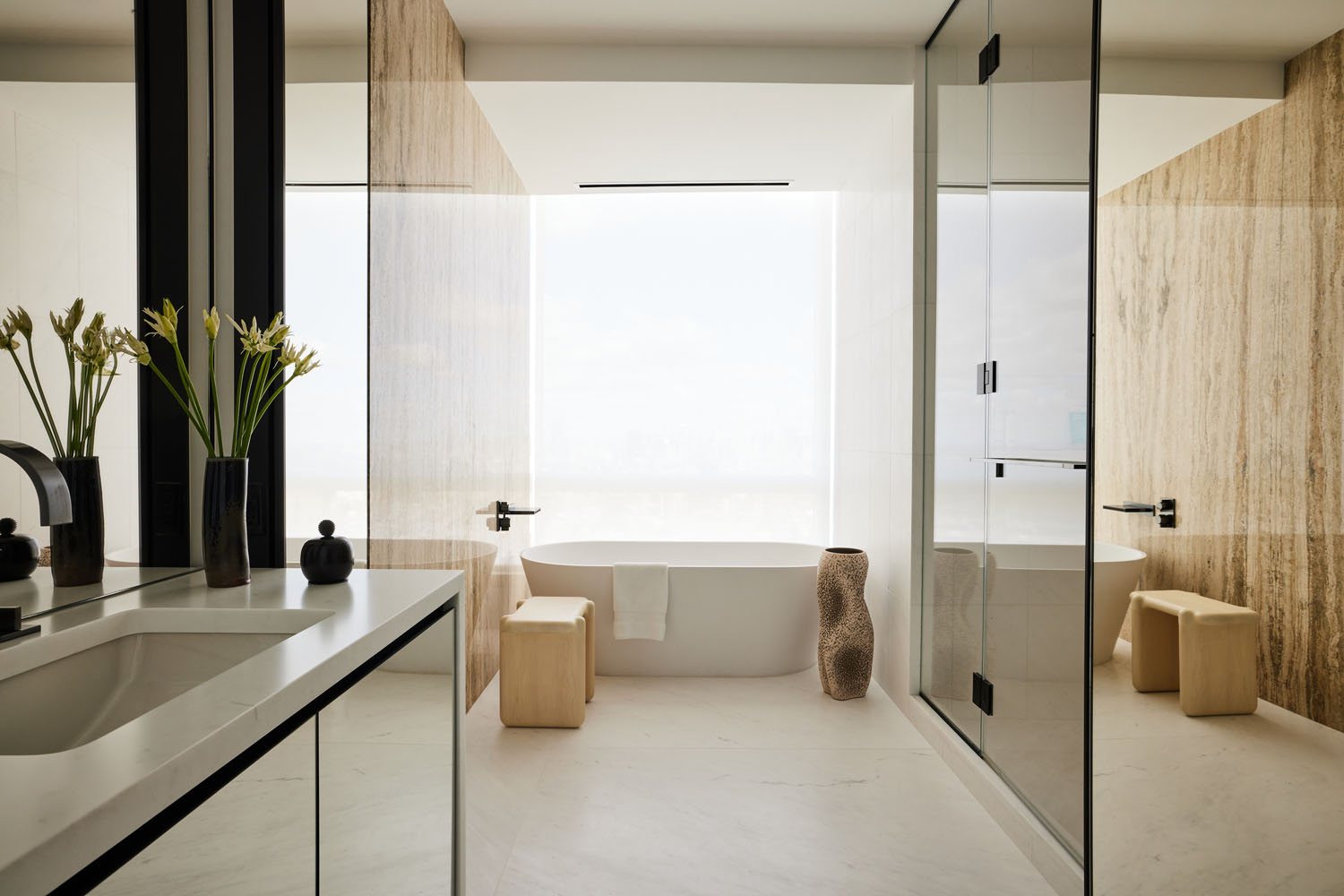 Shop The Look
If you're also looking for curvy furniture for your own interior design project, there's no need to look any further. Check out our selection of unique curvy neutral home decor to build on these elegant and smooth lines.
Lunarys Medium side table

Side Table

$

5.191

Giulia Sofa Nude

Sofa

$

7.628

Billie Oval Dining Table Travertine

Dining Table

$

24.260

Cadiz Bench Nude

Bench

$

3.973
An Urban Oasis
With modern design elements and luxurious finishes, this apartment in the skies is like an urban oasis that makes you feel calm, at ease, and absolutely welcomed from the moment you step inside, all of this thanks to the interior designer Jessica Gersten and the neutral home decor chosen by her. We are sure that these clients were very happy with the result they got and that their dreams have been fulfilled with this dream house.
So if you too want to create a home design just as dreamy, elegant, and sophisticated as this one (either be it for yourself or your clients) then it's time for you to look through some more fantastic neutral home decor, something you can do so right here on our products page.

Source: Jessica Gersten