The mid-century modern style is everywhere. The design movement born in the United States around the 1950s is found in architecture, interior, product, and graphic design. But what is mid-century modern furniture?
If you're eager to know what is mid-century modern furniture and everything about mid-century modern interiors, you need to start by discovering what mid-century modern design is and why it is beloved and cherished by designers and creatives nowadays.
Mid-Century Modern style is an American design aesthetic that rose to popularity in the middle of the twentieth century, during the Post-World War II cultural, social, economic, and real boom. Clean lines, neutral colors, a blend of natural and industrial materials, graphic shapes, and pops of color are characteristics of mid-century modern style featured in architecture, design, and interiors.
Mid-century modern design and mid-century modern furniture are inspired by functional and minimalist designs of the Bauhaus school and the architects Le Corbusier, Ludwig Mies van der Rohe, and Walter Gropius. Following World War II, the United States was the destination for many designers fleeing Europe taking with them retro-futuristic aesthetics.
From the 1950s to the 1980s, mid-century modern style predominated urban planning, architecture, and home decor. In the mid-1980s, Memphis Design overtook mid-century modern style in its popularity in interior design, furniture, and home accessories. Nevertheless, during mid-century modern style's golden years, architects and designers like Charles and Ray Eames, Herman Miller, George Nelson, Arne Jacobsen, Isamu Noguchi, Cara Greenberg, and Eero Saarinen shaped what is mid-century modern furniture with iconic and timeless mid-century modern furniture pieces.
What Is Mid-Century Modern Furniture?
Bauhaus, a handful of iconic architects such as Le Corbusier and Mies van der Rohe and designers like Charles and Ray Eames or George Nelson shaped what is mid-century modern furniture.
Mid-century modern furniture reveals clean and streamlined lines, a harmonious combination of natural and manufactured materials, and a retro-futuristic look. Mid-century modern homes with mid-century modern furniture and home decor often pair wood with metal, glass, vinyl, and marble. These materials are wrapped up in a soothing color composition that respects each material's natural pigmentation and leaves enough room for a moment full of colorful home accessories.
There are some main features that might help better understanding what is mid-century modern furniture:
Minimalism: Mid-century modern furniture is minimalist. The colors are often natural, as well as the materials. Furthermore, mid-century modern furniture usually consists of a simple architectonic structure in wood or metal.
Mixed Materials: Mid-century modern furniture juxtaposes manufactured materials (such as vinyl, plastic, lucite, and fiberglass) with natural materials (like metal, marble, travertine, and wood).
Earthy Hues With Pops Of Color: Most mid-century modern furniture has a primary color palette of neutral hues of off-whites, black, and shades of wood. Mid-century modern interiors combine muted natural tones with vibrant pops of colors, such as green, orange, yellow, brown, and blue.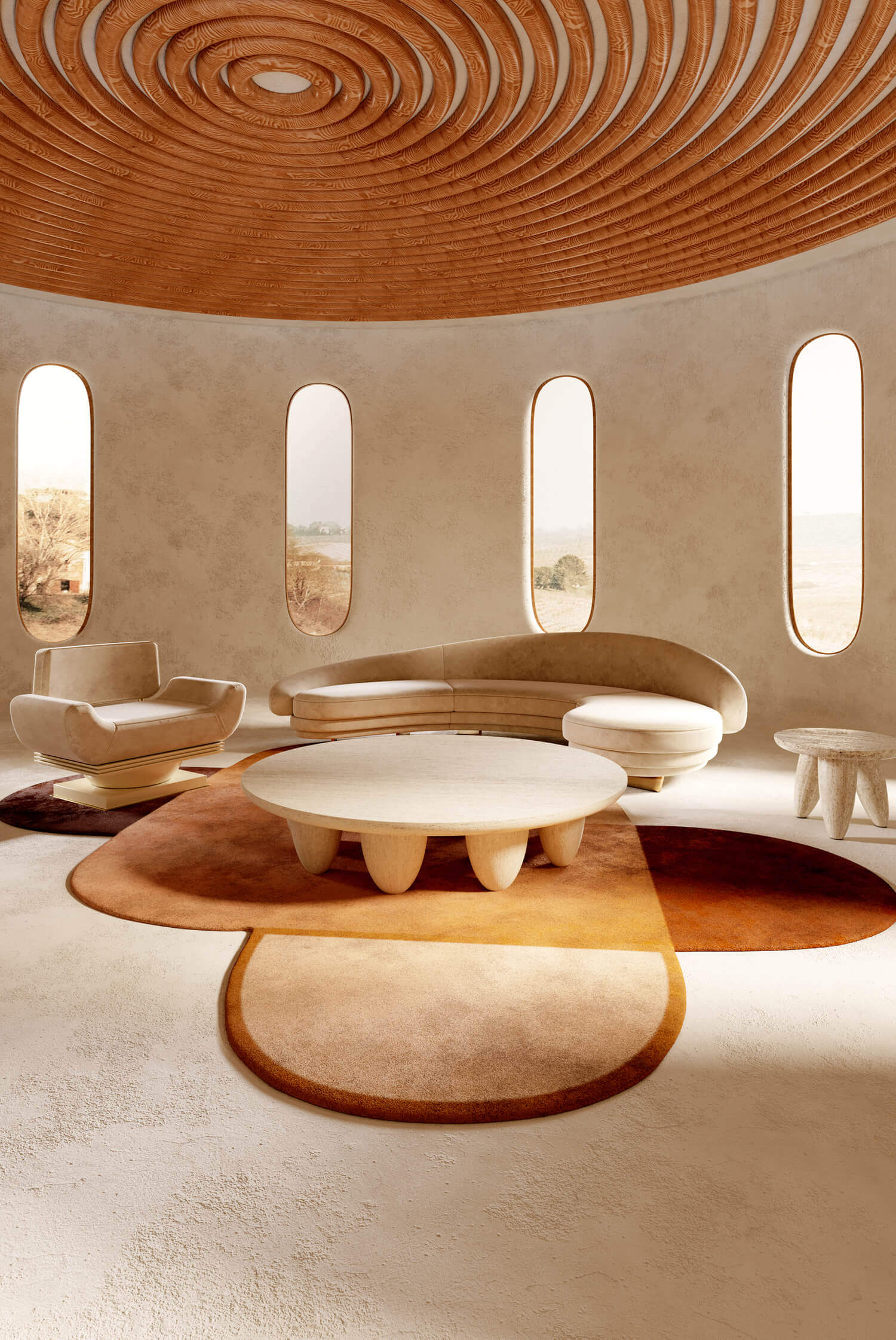 Mid-Century Modern Furniture Decor
Once you know what is mid-century modern furniture, it's time to let your imagination flow. Think of creative ways of combining and displaying mid-century modern furniture around the house. Here are some tips to inspire you:
Make A Statement: Mid-century modern pieces of furniture are usually iconic and timeless. When decorating a dining room, living room, or bedroom, choose one or two items in mid-century modern style and build the room around those pièces de résistance.
Add Color: While minimalism and mid-century modern share some territory, what distinguishes these two design styles of clean lines and neutral tones is the pops of color that mid-century modern interiors have. Therefore, complement your mid-century modern home decor with a colorful marble table, a sideboard with a vibrant lacquered finish, or a sophisticated rug.
Connect With Outdoors: A home decorated in mid-century modern style has sophisticated mid-century furniture pieces and a strong connection with the outdoors. Big windows that let natural light in or versatile indoor-outdoor areas are common features of mid-century modern home decor too. Potted plants and green upholstery are creative ways of connecting home with the healthful world outdoors.
Now that you know what mid-century modern furniture is, discover 5 Mid-Century Modern Interior Design Projects To Inspire You on your next interior design project.