Let's embark on a charming Modern luxury Penthouse in the heart of New York, which embraces the city's majesty, mixing refinement with a sense of relaxed living.
A stunning blend of contemporary elegance and old-world charm awaits you in the center of New York City.
An Art Deco apartment above the city's recognizable skyline redefines modern luxury, designed and developed by American real estate company Joe McMillan's DDG.
Enter a world where contemporary design and time-honored elegance coexist, and this penthouse's every space reveals a tale of sophistication and style. Get mesmerized by the fusion of modern allure and classic grandeur.
Elegance in Simplicity: Get inspired by the selected furnishings that define the penthouse's style
Starting with the living room, we find a masterpiece of minimalist sophistication. Bathed in soft, ambient lighting, this space combines contemporary luxury and classic aesthetics.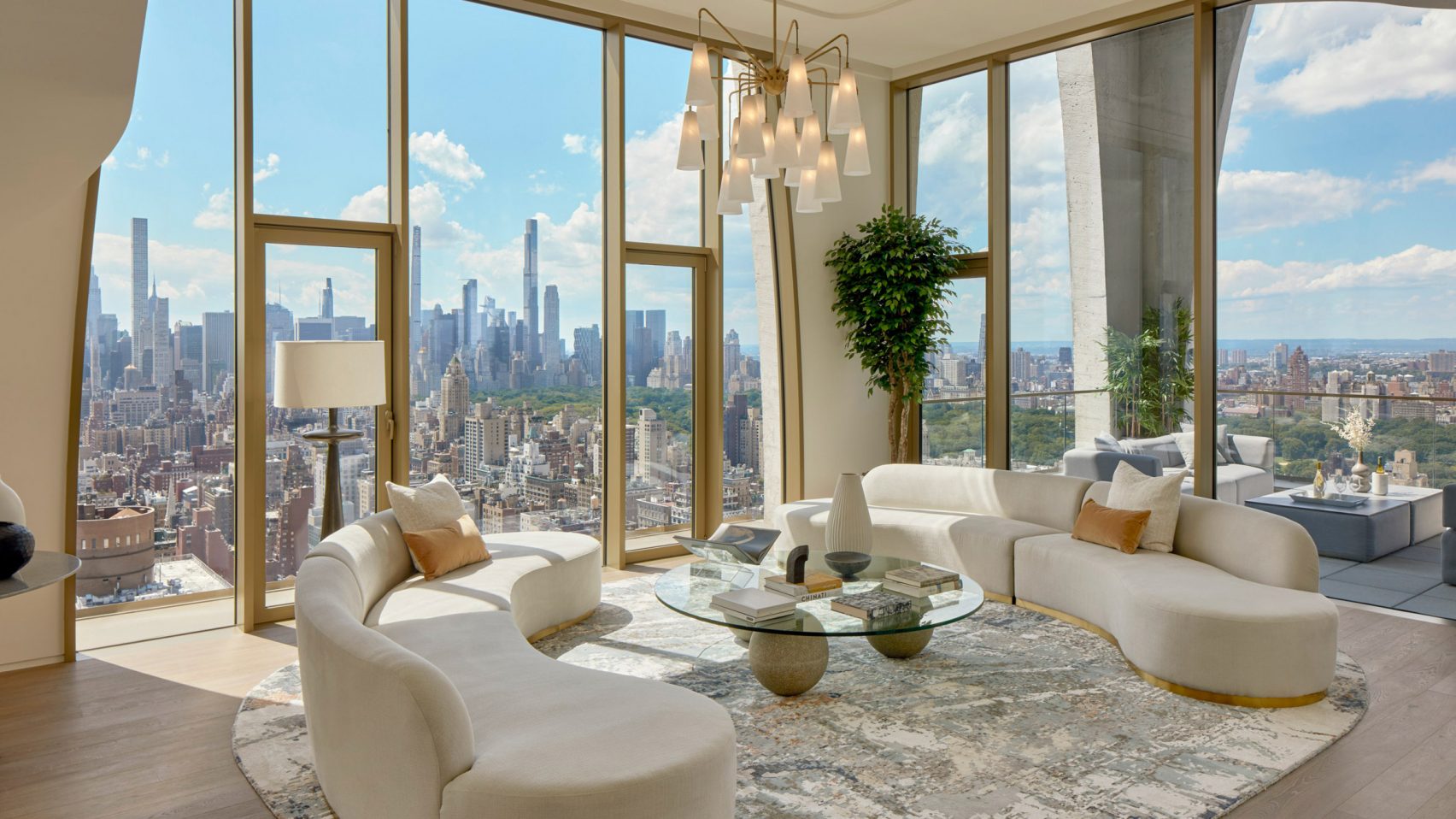 Diving into details, the heart of the living room is filled with a beige crème sofa with a simple center table and a pastel rug. Its softness invites you to sink in, providing the perfect spot for relaxation and reflection, with the large, strategically placed windows allowing abundant natural light to flood the room, framing inspiring views of New York City.
This neutral color palette creates an atmosphere of serenity and comfort: The perfect definition of Modern Luxury.
Simplicity and Comfort in a Luxurious Living Space
These living areas express a modern luxury lifestyle with its palette of serene neutrals that go above and beyond the standard and its exquisite design.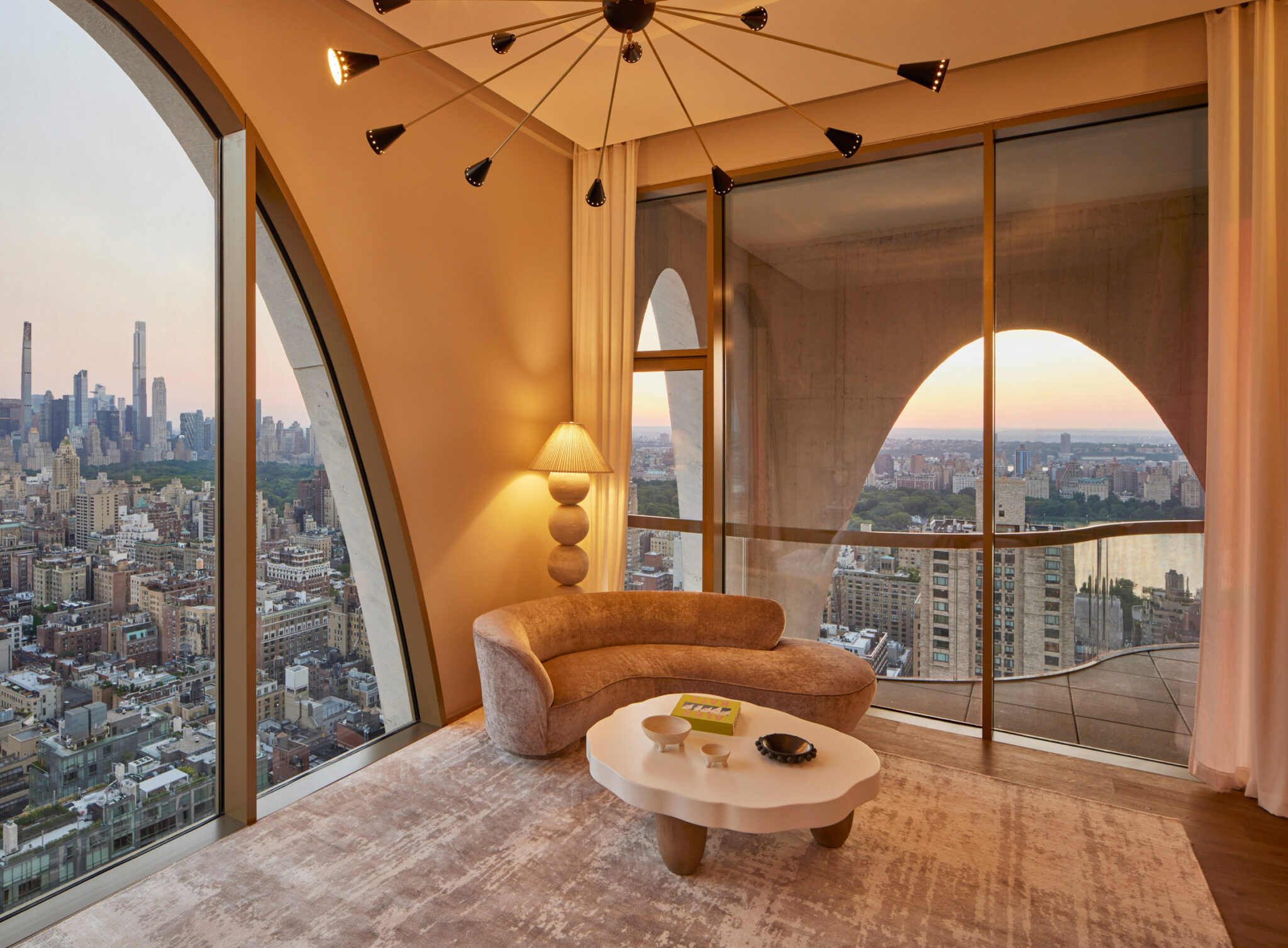 Art and architecture create a calming atmosphere from the sofa to the two armchairs. Modern lighting fixtures have been selected thoughtfully to highlight and illuminate the space's design features.
Open Spaces and Stunning View: The Art Deco Kitchen and Dining Room
This Manhatten's Penthouse has two different spaces, a large dining area, and a separate eat-in kitchen, but common in one thing: a Modern Luxury space.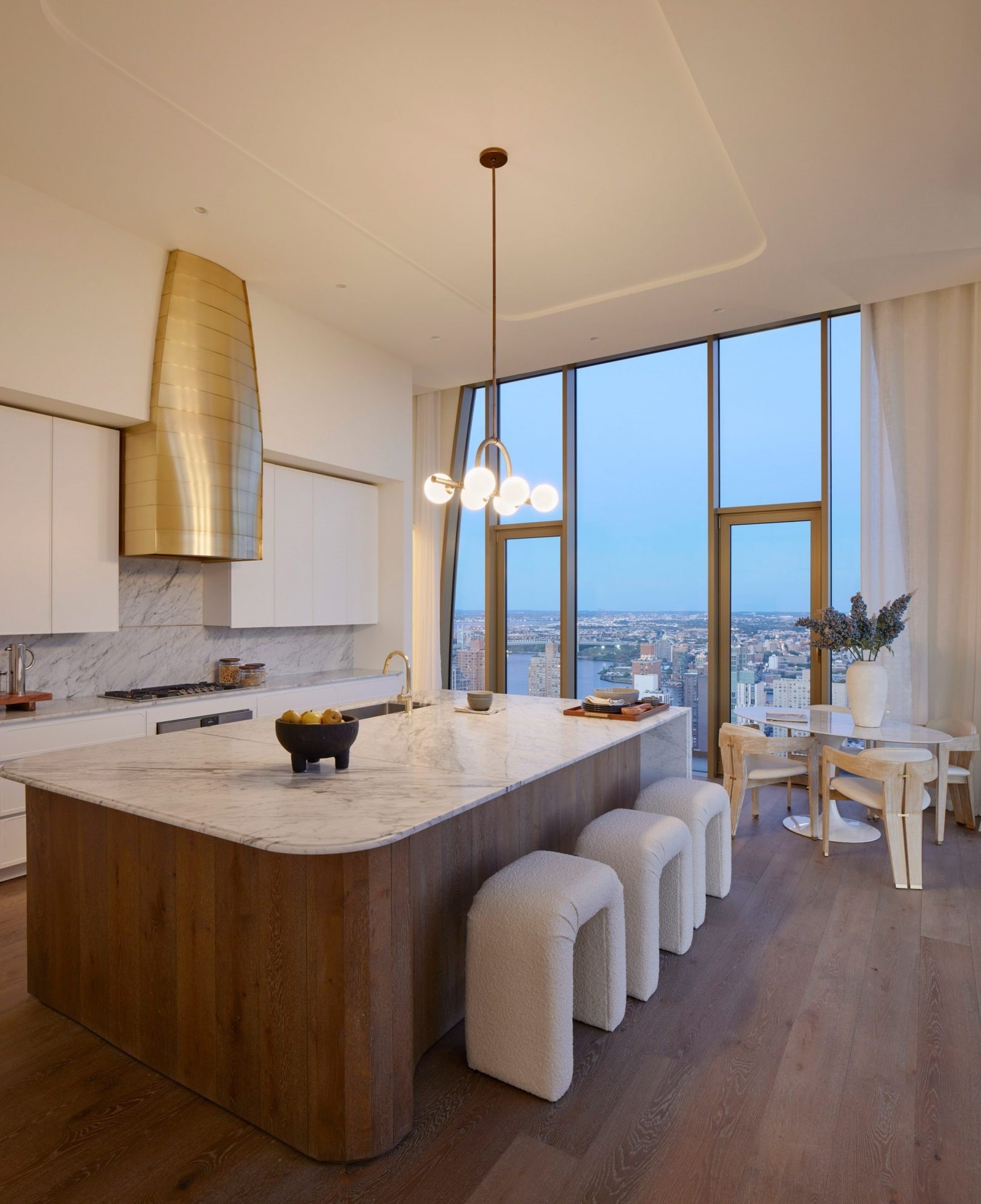 This minimalist kitchen and living room radiate a sophisticated neutrality that acts as an artwork with the interaction of light and creativity. A captivating glow plays from the carefully picked pieces while architectural light fixtures dangle elegantly.
The kitchen makes an eye-catching statement with a golden cooker top that seamlessly reflects the color and architectural form of the building above.
This delicate design choice unites the living and dining areas in a seamless synthesis of elegance and architectural inspiration, adding a touch of sophisticated luxury with bordeaux wine color while paying attention to the grace of the surroundings.
Modern Luxury Bedroom: The Ultimate Retreat
The New York Art Deco Penthouse's contemporary luxury bedroom is a haven of comfort. Its basic design and calm, neutral color scheme between grey, white, and beige emanates serenity and elegance.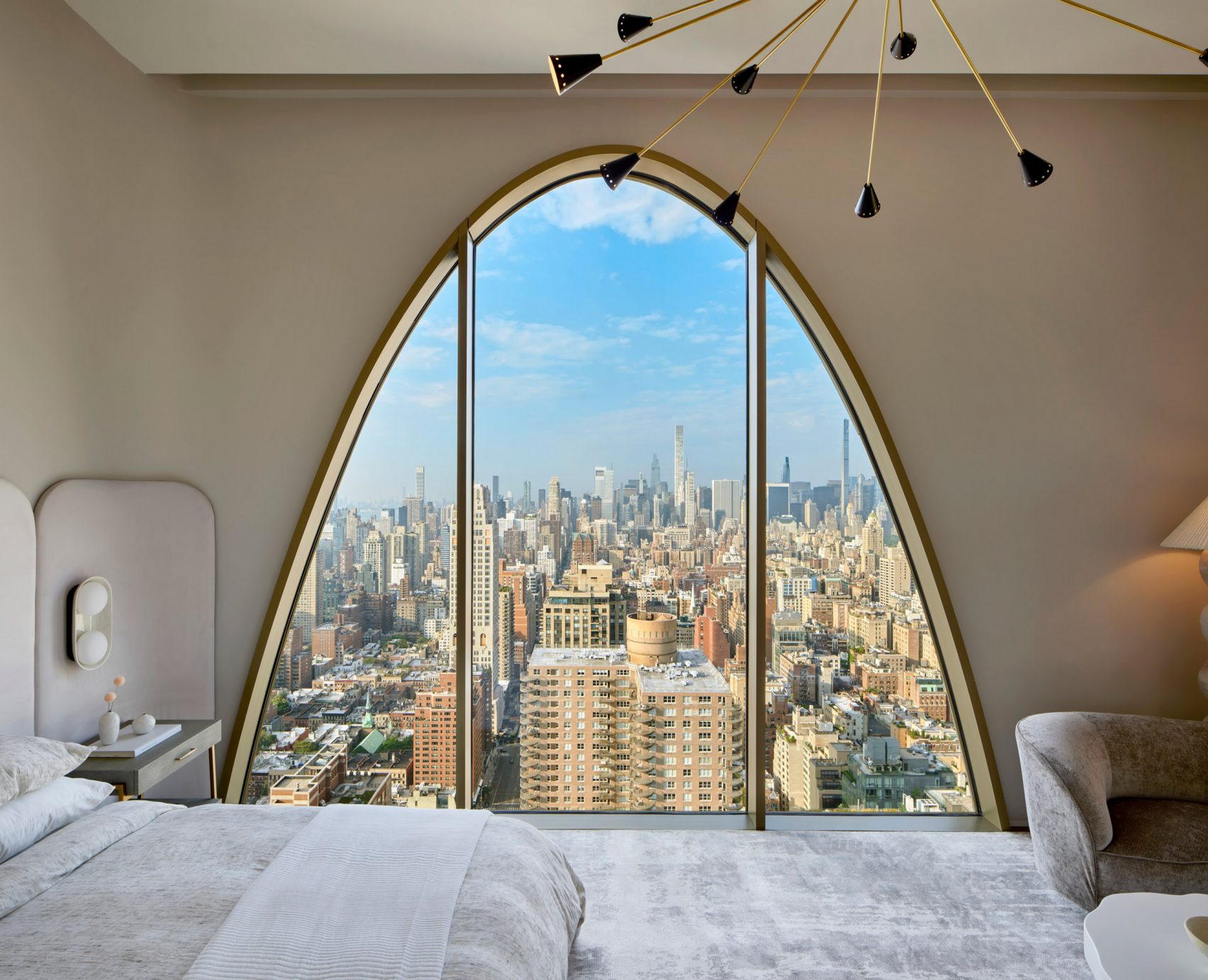 The appealing bed is the room's focal point, offering peaceful nights in an area that expertly juggles style and relaxation. This bedroom is a true urban retreat, thanks to the large windows and breathtaking views.
Timeless Luxury: The Art Deco-Inspired Rooftop
Passing from the inside, we now dive into this luxurious terrace, where we observe the combination of soft colors and beautiful sunsets to continue our trip of modern luxury outside this charming penthouse.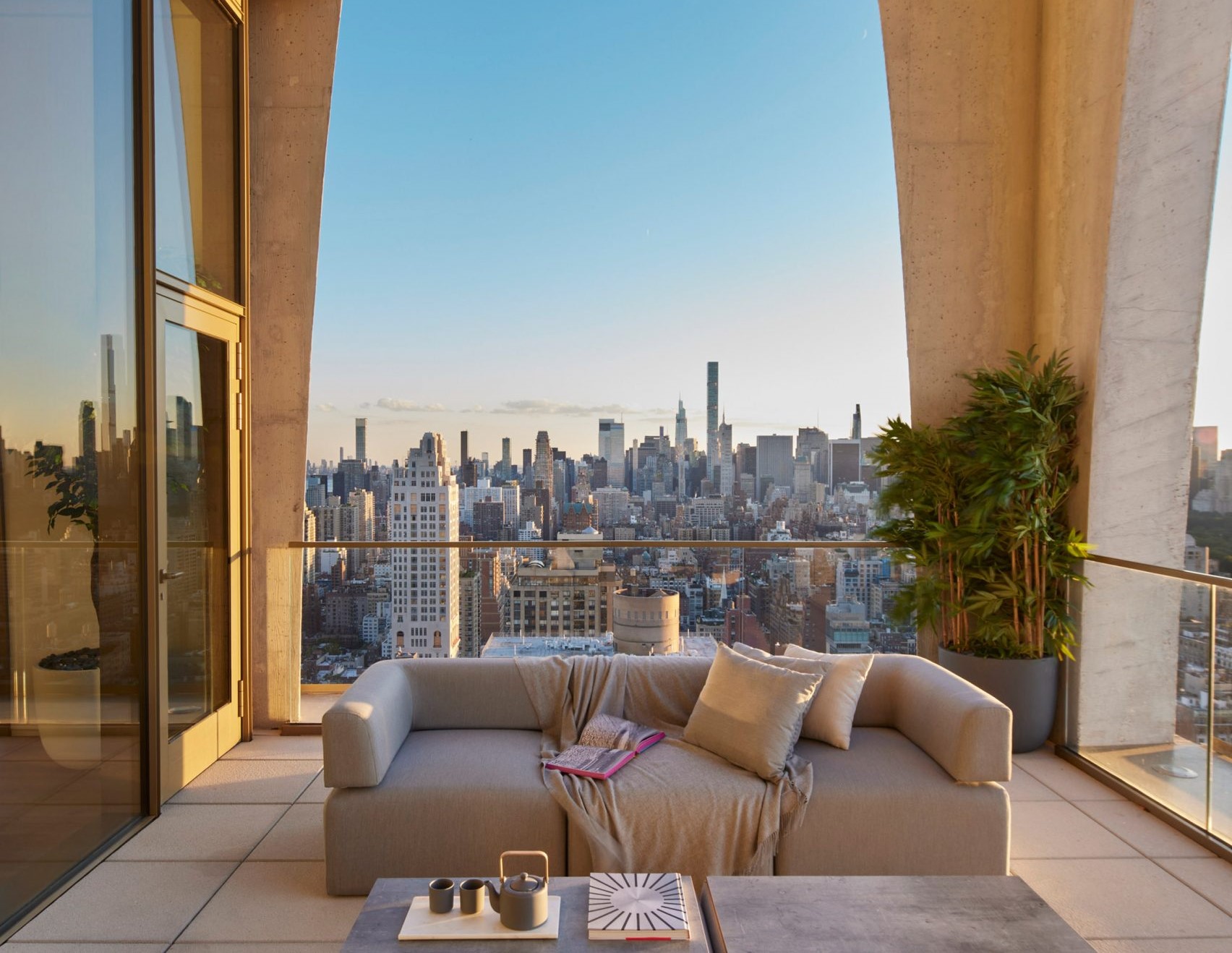 This New York Penthouse's Art Deco rooftop, perched above the bustling cityscape, is a stunning haven. This outdoor living equipped with stylish outdoor furniture was influenced by "the boom in high-rise masonry construction in New York in the early 20th century", where we enter a world of tranquility and charm.
Outdoor Tranquility: The Triplex Penthouse Terrace
Day or night, the terrace offers panoramic inspiration. Whether sipping your morning coffee, enjoying an evening cocktail, or stargazing under the city lights, this outdoor retreat invites you to find peace, draw inspiration, and celebrate the art of modern luxury living.
The living space of the penthouse is extended by this outdoor retreat, blurring the lines between inside and outside. The thoughtfully selected furniture and decor create an environment of contemporary comfort and relaxation.
This terrace is a warm extension of the penthouse's interior thanks to the comfortable seating designs deliberately placed to create quiet spaces.
Closing the Chapter: Manhattan's Penthouse Tale
We hope you enjoyed and got inspired by this beautiful journey through New York's unique penthouse, where the charm of modern luxury style was discovered throughout this article with all its simplicity and sophistication. If you want to explore more modern seating, check out our ultimate interior design guide, where you will find everything you need about modern style.