Proving that Minimalism and Maximalism styles can go together, the interior designer Ritzy Christensen created a modern interior design with a minimal approach and many glam touches. Check out more!
Designing the dream home can be challenging even for professionals – and Ritzy Christensen can tell it for herself. When the Miami-based interior designer started to create her dream home, she discovered that she and her husband shared different visions for the project.
While Ritzy loves maximalist interiors, her husband is all about minimalism – two complete opposites. But thanks to years of experience in high-end and modern interior design projects at her design firm, The Bo Casa, Christensen's home blends these styles and goes to the encounter of the ideal house that the two homeowners envisioned.
The modern interior design residence conceived by Christensen is a beautiful example that any style can go together with the right approach. Read on to explore the charming details of this stunning layout!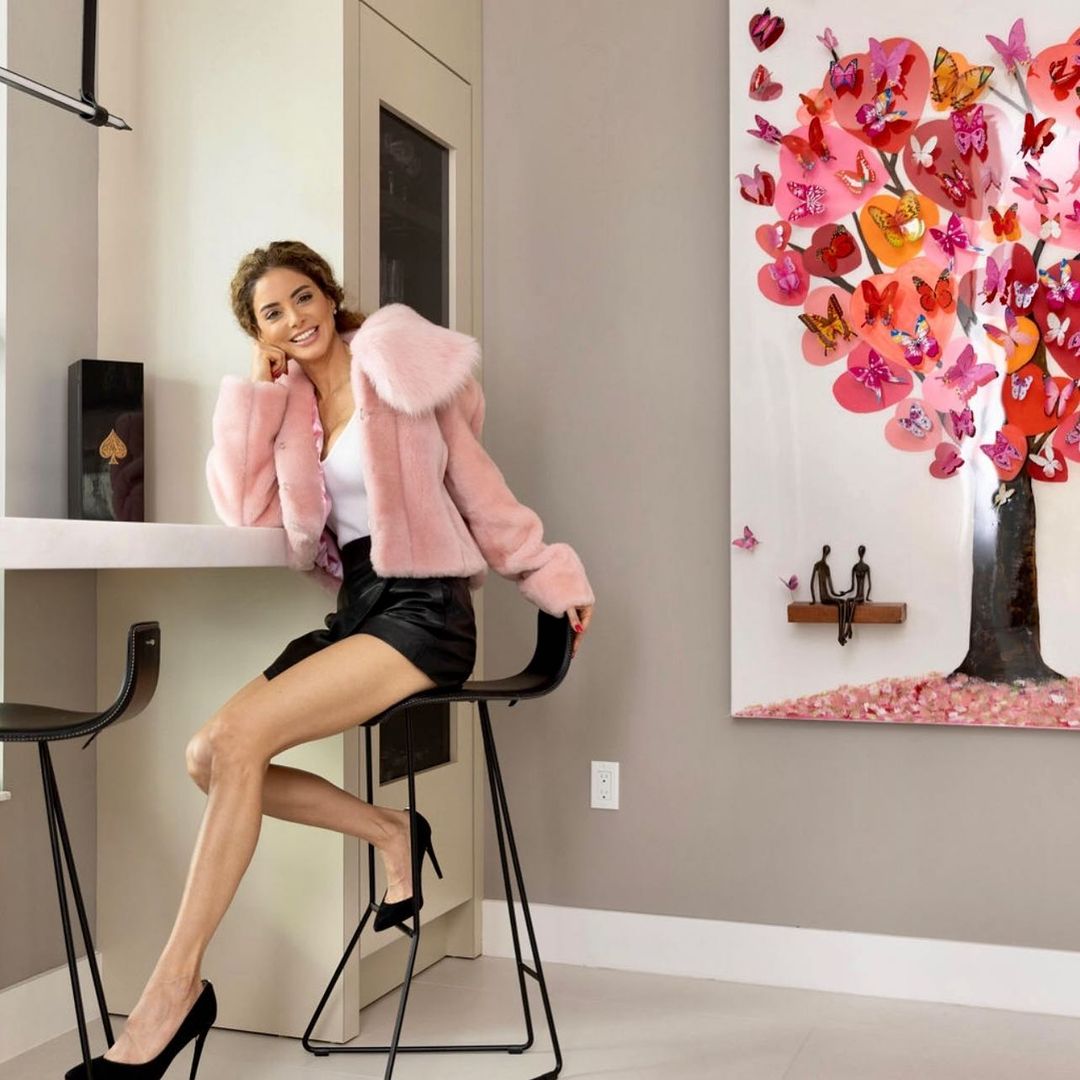 Everything started with… different style visions.
Regarding interior design, Ritzy and her husband are complete opposites; while the designer has an approach that more is better, for her husband, less is better. And you know, there is a widespread belief that opposites attract each other, and in this modern interior design home, we can say that it helped create a unique space full of charm and glam.
Ritzy managed to create a home that could go to the encounter for both – and played with the two styles to create a cohesive and beautiful home where a minimal approach meets touches of glam, layers of textures, and patterns. In the end, the designer conceived the couple's dream home and showed that it is possible to manage different styles, visions, and inspirations to find the perfect home.
The challenging task of creating a home for a couple that has two opposite visions worked so well that Ritzy's home was showcased for the TV Show Soflo Home Project, where the designer explained the process of conceiving a design that could match a couple's dream.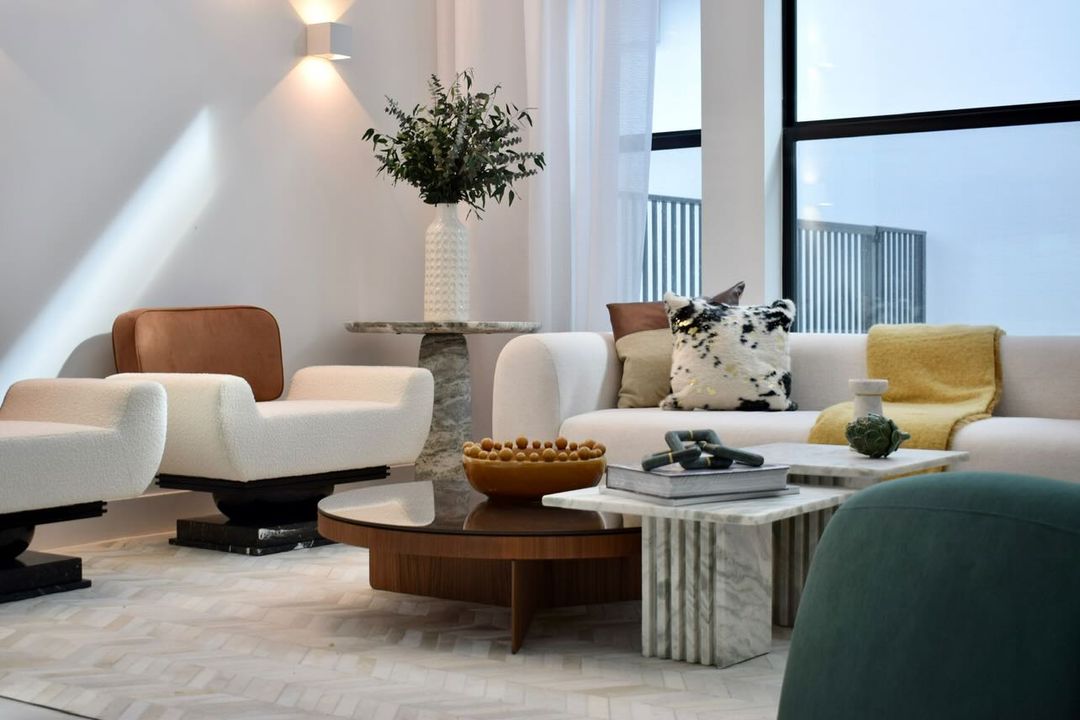 Inside this Modern Interior Design Dream Home
If you are curious about how Ritzy Christensen managed to work with two opposite styles, you are in the right place because now it's time to explore this modern interior design dream home and all its details! Step into this unique home and get inspired by all its beautiful design choices.
LIVING ROOM
The living room of this modern interior design home is full of character and, at the same time, with a peaceful and tranquil vibe – here, Ritzy work with minimalist and maximalist references to create a spot that is lighting, airing, and full of glam.
While the primary color palette is based on neutral hues, which recall the minimalist style, the designer added some color accents in the details. Another stunning addition to the room is the wall light installation, which hints at the maximalist style and its approach for more.
For the furniture, the designer opted to create more interest by playing with different textures – from marble and wood to velvet; each element allows more interest while keeping the minimalist approach.
In this room, one of the beautiful pieces that help to balance the styles is the Alice Armchair, an exquisite piece of furniture from our collection that was customized with caramel tones to complete this beautiful scenario.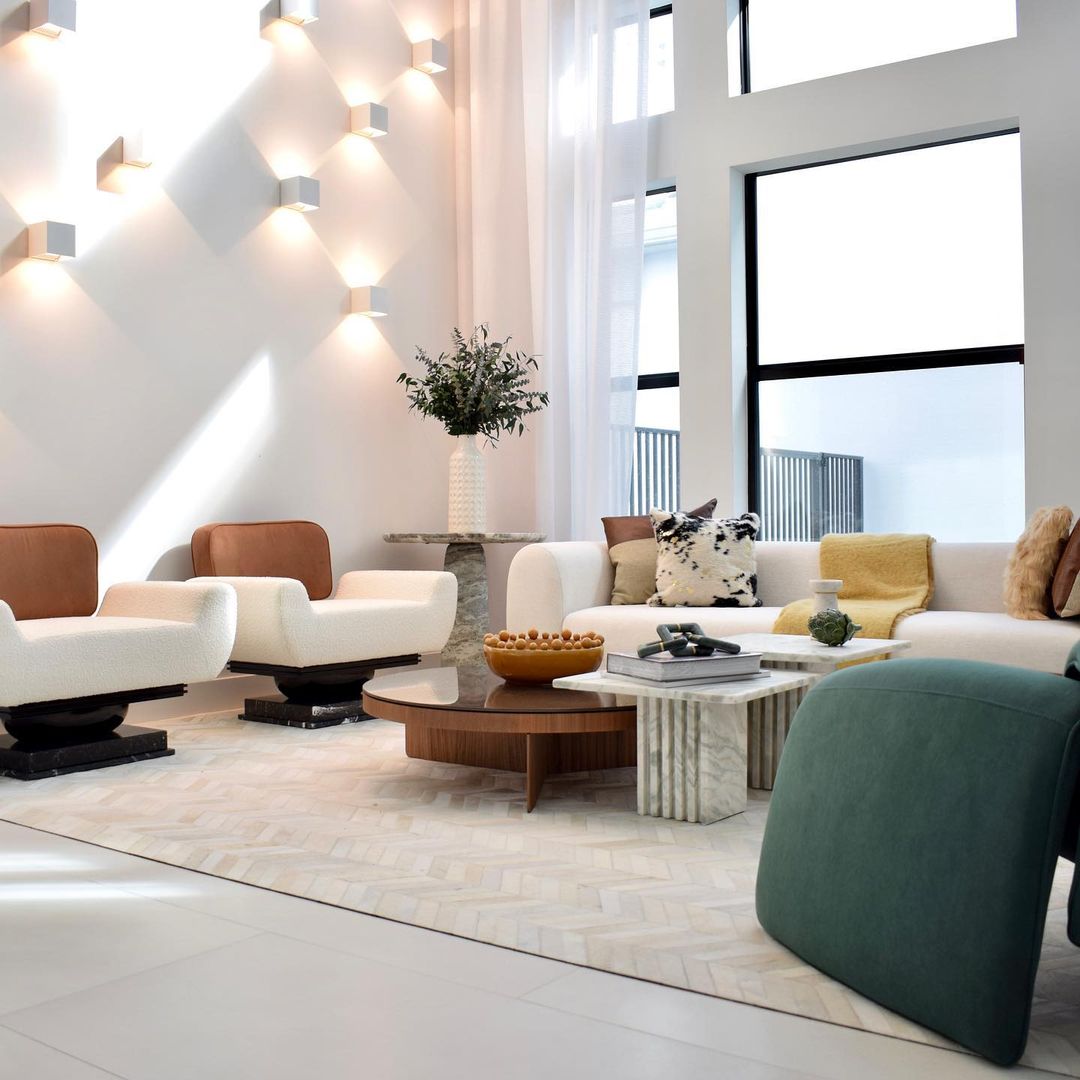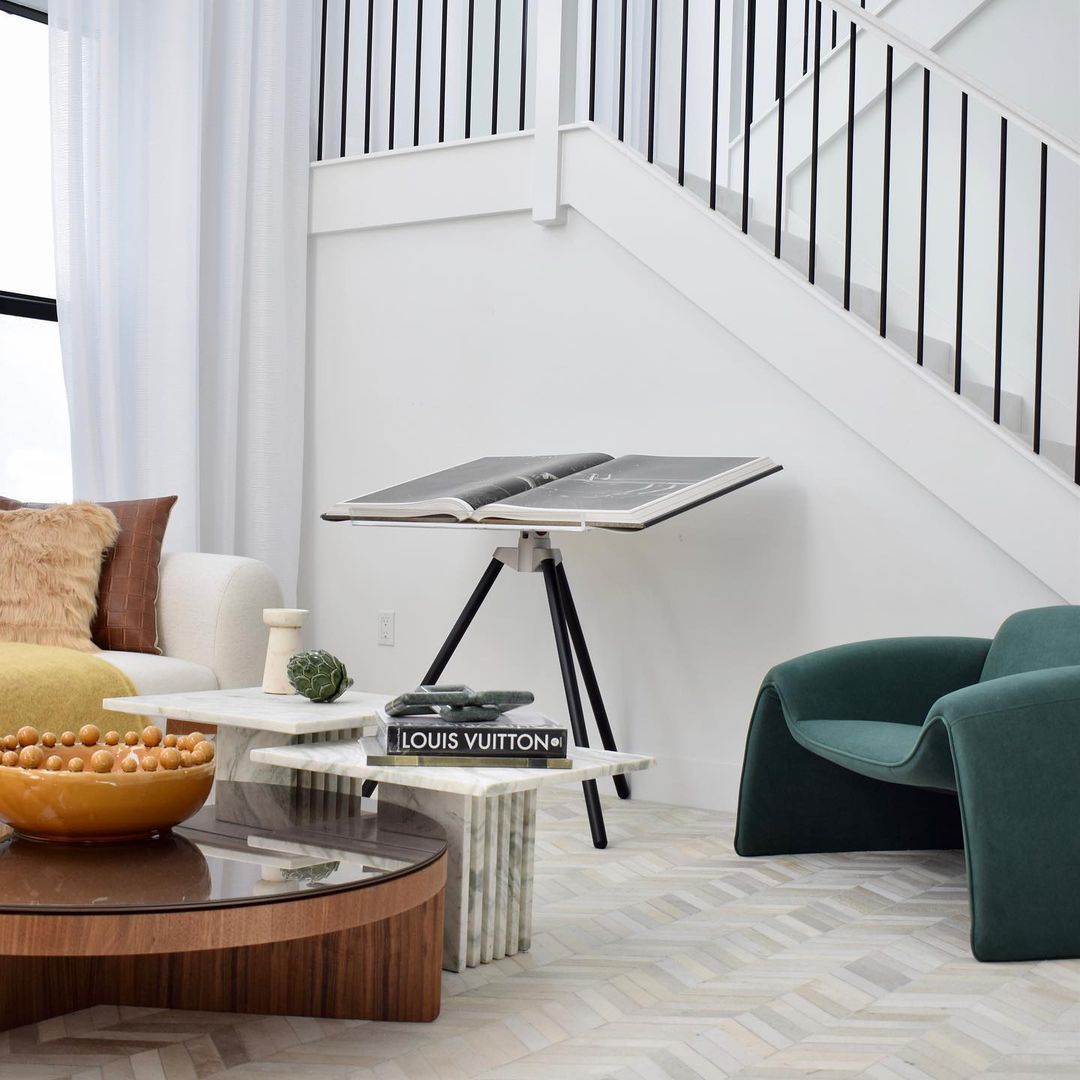 KITCHEN & FAMILY ROOM
If Ritzy and her husband have different visions about home style, it does not happen when deciding on their favorite spots. For both, the kitchen is the heart of the home – it's where they entertain friends, cook meals and even work! In this important room, the designer chose a minimal palette and invested in a white stone surface to create a fusion between the couple's styles and preferences.
The room is at the back of the home, integrated with the family area following the minimal pallet color; Ritzy Christensen chooses to invest in textures, accessories, and ornaments to create a home that feels like home – warm and cozy. The contrast between the white kitchen and the warm family room creates a unique space.
In that area, Ritzy also manages to create a bar – utilizing the same marble stone she used on the stairs; the spot also helps create a cohesive sensation between the overall look of this modern interior design home. And as expected from a maximalist style lover, the space also welcomes an interesting painting on the wall that gives a splash of color and character.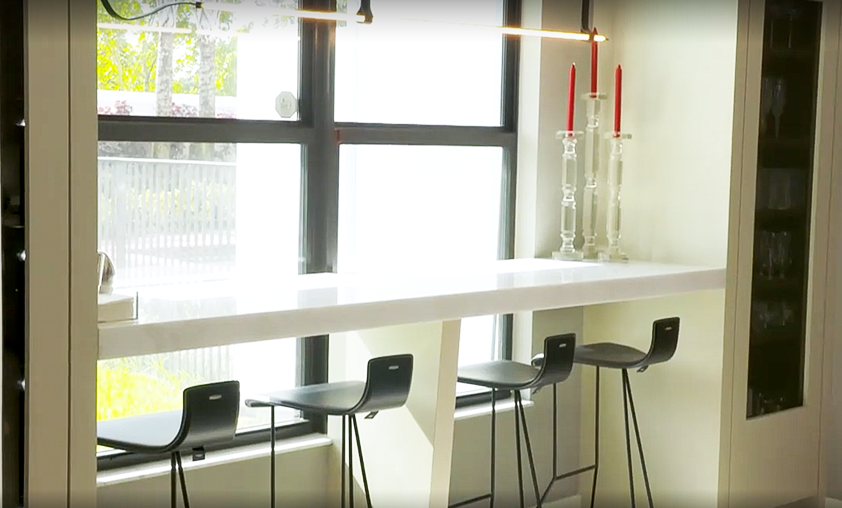 DINING ROOM
From the kitchen area, we head to the dining room! For this space, Ritzy had an excellent starting point to design- a colorful painting by Paul Sibuet, the entire design of this room was made to enhance and showcase this piece. The modern interior design has clean lines and elegant choices – as seen in the other areas of the house; the designer invests in rich materials and a lot of textures to create a room full of visual interest – from travertine, velvet, and metalized accessories – the room blends the timelessness of minimalism with the glamours of the maximalist style.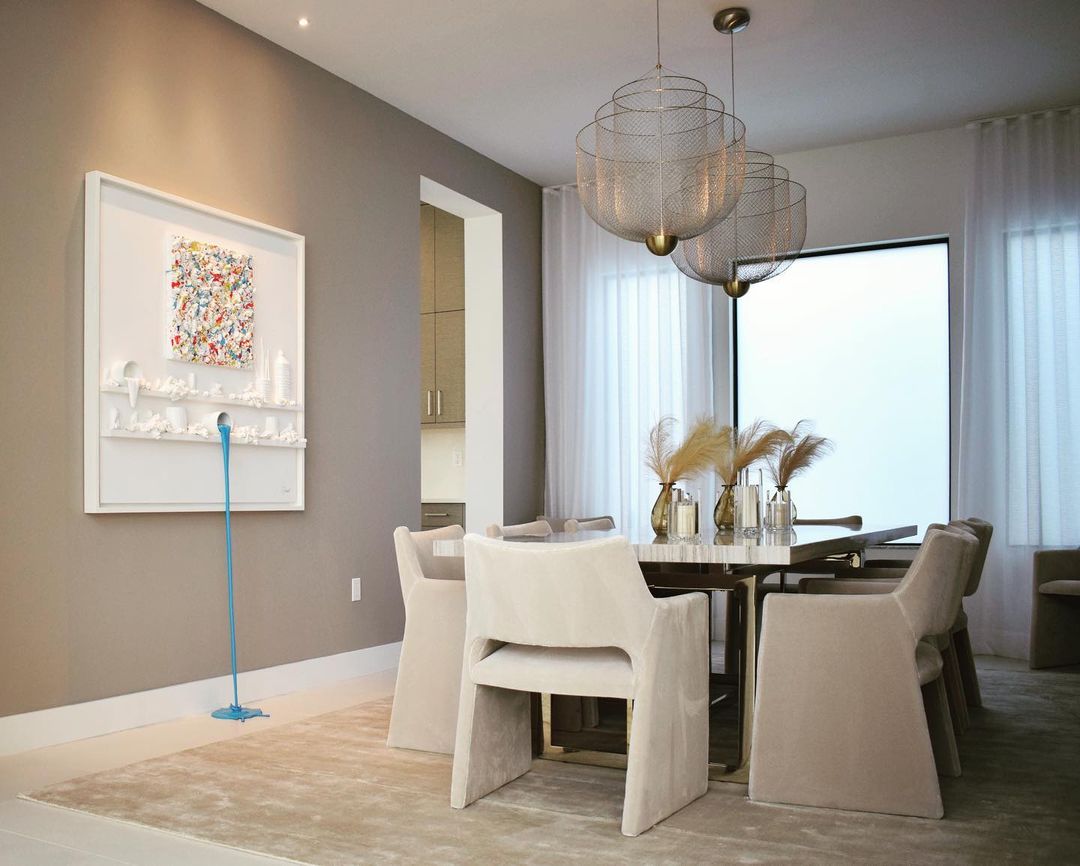 MAIN BEDROOM
In the main bedroom, Ritzy's aimed to create a space that would be peaceful and warm, and the result is a room that seems out of a dream. Covered in neutral hues, the room is cozy, charming, and extremely elegant.
In this modern interior design, Ritzy Christensen focuses on comfort – with a shaggy rug under the bed and a lot of velvet and soft textiles, the room is inviting and emanates tranquil vibes. Here, the eye-catching suspension lamp and the custom headboard designed by Ritzy add the "more" that a maximalist lover would not miss.
Following the home atmosphere, the designer also played with different materials to create an extra layer of visual interest, highlighting that minimal and maximal styles can be combined to create stunning interiors.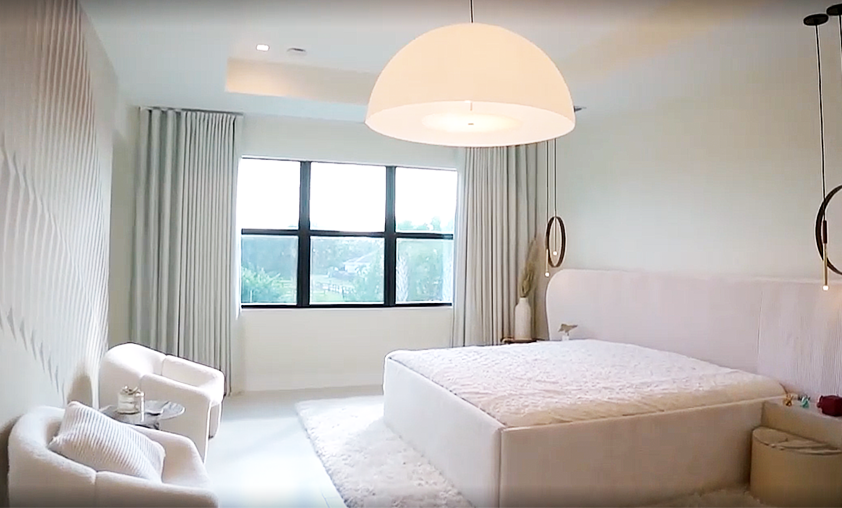 Get Inspired by the Look
In this modern interior design home, Ritzy Christensen brought an extra layer of visual interest by playing with textures, materials, and shapes to create a project that would go to the encounter of the couple´s dream house – a mix of minimalist vibes and maximalist style. We selected some stunning pieces inspired by the look to complete your interior design project; check them out:
Peek inside this stunning design!
Ritzy's house was featured on the TV program Soflo Home Project, where the designer talked about how to come up with a plan that can fulfill a couple's dream home. 
Even being opposites interior design styles, Ritzy found a way to bring the best of Minimalism and Maximalism to create the dream home that would meet her and her husband's goals. The way the interior designer manages it; resulted in this stunning interior that is full of inspiration.
We hope you enjoyed this home tour and got inspired by mixing and matching different styles. Find more great references for your upcoming works on our project page and discover stunning layouts by top interior designers.

Photos: Ritzy Christensen | Soflo Home Project (TV show)