Wabi Sabi style shares the beauty of imperfection and is now a sensation in interiors worldwide. Explore these nine furniture pieces to follow this trend.
In a world where perfection often takes the spotlight, the Wabi Sabi Style emerges as a way to see beauty differently – from thoughtful details to imperfections. This approach, which has an ancient Japanese philosophy in its roots, offers a view of the lifecycle and everything that is part of it – embracing that beauty is in the natural imperfection and all that goes over it.
With a strong passion for nature and meaningful choices, the Wabi Sabi Style has become a sensation in interiors worldwide. Encouraging raw materials, thoughtful pieces, and neutral colors, this approach creates aesthetically satisfactory designs where comfort and simplicity meet, reflecting beauty in each detail.
More than a new trend to follow, the Wabi Sabi style offers a refreshing departure from perfection, inviting designer lovers to discover the charm of the imperfect. Dive with us into this passionate approach to create timeless and meaningful interiors by exploring the nine essential furniture pieces from HOMMÉS Studio to create a narrative where beauty takes a new definition.
Beauty of Imperfection: The Wabi Sabi Style
Even though Wabi Sabi is trending in interiors, this approach is not new. The style translates an ancient Japanese philosophy to interiors, sharing a beautiful way to see through imperfections, celebrating the beauty in asymmetry, cozy textures, and the passage of time. Simply put, the Wabi Sabi style appreciates time and simplicity to create a sense of connection with nature and authenticity to the spaces.
Essential Guide: How to Choose Furniture for a Wabi Sabi Project?
And how about the furniture to create this sense of perfect imperfection? As seen, Wabi Sabi in interior design is all about embracing beauty in meaningful things – from the asymmetry and weathered textures to the natural materials. The furniture choices help set the tone for a Wabi Sabi style and play an essential role in its interiors.
In a Wabi Sabi interior Style project, opt for pieces that carry a story, materials associated with nature, and organic forms that remind the beauty of imperfection and life. It is also important to highlight that quality is essential; for that, invest in high-end and craftsmanship furniture pieces to reflect the essence of the style in your project. Check out this essential guide before selecting the piece that will complete your Wabi Sabi interior:
1. Welcome Natural Materials: Opt for natural wood, stone, and metal furniture. Look for pieces that showcase these materials' raw, unprocessed textures and grains, which will help embrace imperfection's beauty in your design and elevate your Wabi Sabi aesthetic;
2. Prioritize Authenticity: Remember that the story is also beautiful; select furniture with signs of wear, patina, or even slight damage; imperfections that tell a story and will contribute to the overall Wabi Sabi narrative;
3. Focus on Minimalism: Keep the design simple and clean. Select furniture with clean lines and straightforward designs, and avoid overly ornate or elaborate pieces;
4. Embrace Asymmetry: Celebrate the beauty of asymmetry and irregularity as the Wabi Sabi. Look for furniture with curvy forms or designs that break the traditional symmetry to create a sense of organic harmony.
5. Seek Handcrafted Pieces: Handmade furniture pieces showcase the artisan's touch and embody human imperfection. Opt for handcrafted pieces that share an artistic touch while embracing quality and history.
6. Prefer Earthy and Muted Tones: Embrace earthy and neutral tones in your furniture selection; this will help create a harmonious space with a sense of comfort and natural connection.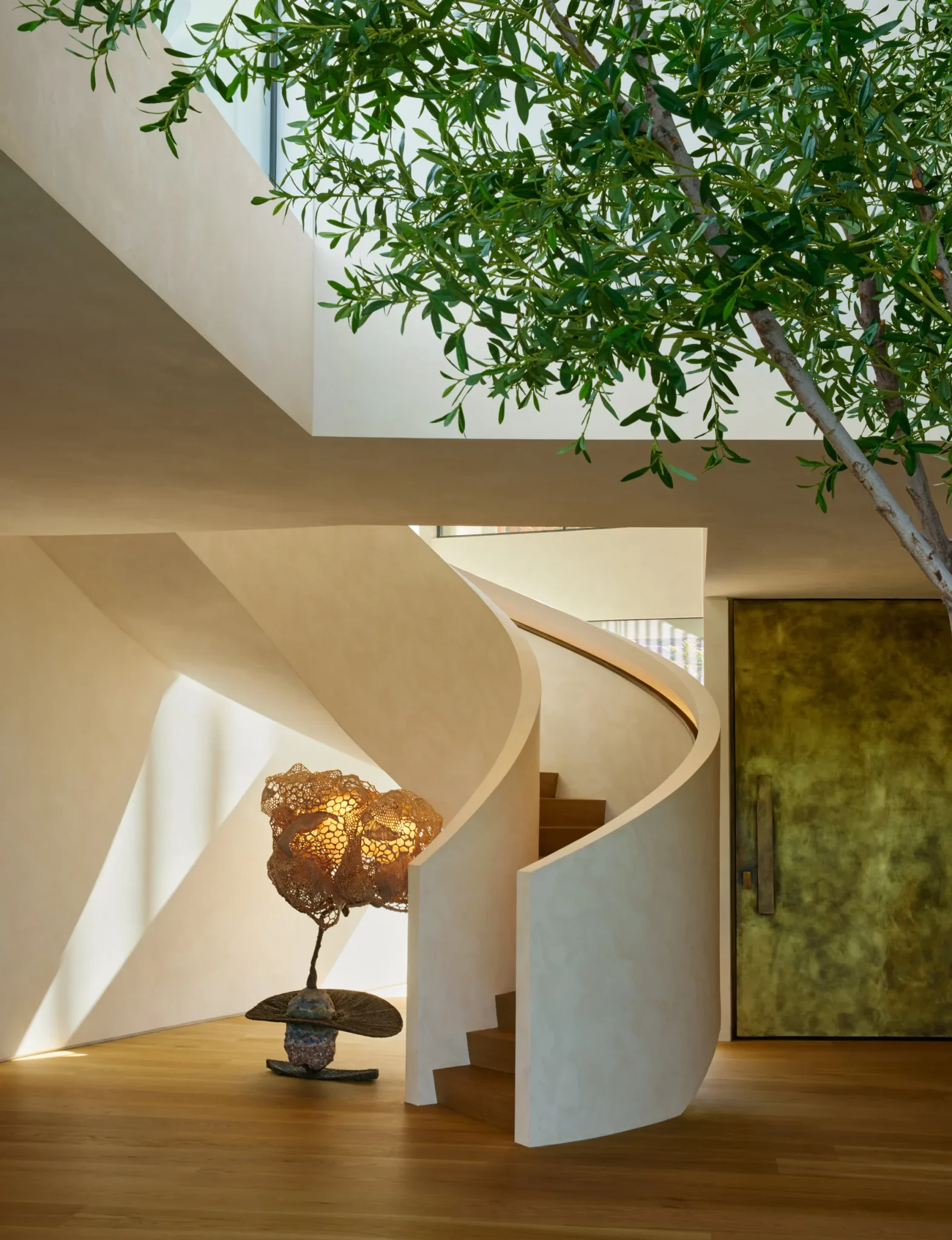 The must-have furniture for your Wabi Sabi Interior:
Wabi Sabi style shares the essence of beauty – and these nine must-have furniture as well! Explore our stunning furniture selection to complete your design narrative and make your Wabi Sabi interior even more special and unique. Enjoy the selection:
RAW MATERIALS – TO BRING NATURE IN
Raw materials such as stones and wood help to create a sense of natural connection to the interiors. The must-have furniture list for a Wabi Design must include these materials; for that, we have selected three stunning furniture pieces from the HOMMÉS Studio collection:
The Lunarys center table brings the beauty of travertine in its imperfection textured.
The Austria side table highlights the beautiful artistic marquetry technique.
The Palm mirror draws inspiration from the timeless textures of tribes' decorations.
ASYMMETRICAL DESIGN PIECES – TO EMBRACE THE IMPERFECTION
Asymmetrical pieces with curvy silhouettes and unconventional designs help embrace imperfection's beauty and bring an organic feeling. In the heart of the Wabi Sabi style, the affection for asymmetry lays, and for that, we have an eye-catching furniture selection to evoke this feel to your project:
The Muller Dining Table White brings the design's simplicity of materials and lines while embracing modernity.
The Cadiz Bench Nude adds flow to the interiors with its undulating shape without losing extreme attention to comfort.
The Octo Console Table celebrates the beauty of unconventional forms with its bold design and impeccable attention to detail.
Muller Dining Table White

Dining Table 18.150,00

€

Cadiz Bench Nude

Bench 3.750,00

€
MINIMALIST PIECES – TO EMBRACE SIMPLICITY
Minimalist design pieces with straightforward lines and neutral colors help embrace the simplicity of Wabi Sabi Style interiors; this piece not only follows the aim of simple and practical spaces but also resonates with a sense of calmness, allowing each element to shine in its purest form. Here is a selection of pieces from the HOMMÉS Studio collection to complete your Wabi Sabi Interior following the minimalist movement:
Prymo Dining Table is the ideal design for an effortless elegant dining room area; made with limestone, it also celebrates the charm of nature.
Moa Bench expresses a solemn geometry accentuating a modern identity that elevates any Wabi Sabi interior.
Lisola Sofa brings the beauty of simplicity in its design and unparalleled comfort, which make this sofa a great addition to any Wabi Sabi living room.
Prymo Dining Table Natural

Dining Table 14.200,00

€

Moa Bench

Bench 4.990,00

€

Lisola Sofa

Sofa 8.790,00

€
Wabi Sabi style is about embracing the beauty of imperfection to create space that resonates with simplicity and comfort while celebrating life. Remember that this style is about bringing the essence of life to the interiors – so there are no restrictive rules when selecting the better furniture piece for a Wabi Sabi interior – just some guidelines to make the interiors flow.
In this article, we discovered charm in the imperfection and all the expressions of life. We hope you have enjoyed this beautiful journey through the Wabi Sabi style and found the furniture piece to complete your interiors; if you still need to find other furniture, check out the HOMMÉS Studio collection.