John Legend and Chrissy Teigen worked with Jake Arnold to create a stunning and serene Family Home in Beverly Hills.
John Legend and Chrissy Teigen have become accustomed to moving homes, and each move represents a new chapter in their lives. The couple's homes have always reflected their current circumstances. They were drawn to this house because of its abundant natural light and fresh air.
John Legend and Chrissy Teigen desire a peaceful and loving abode for their family of four children. Jake Arnold has been enrolled to assist in designing an extraordinary family home that exudes a magical atmosphere.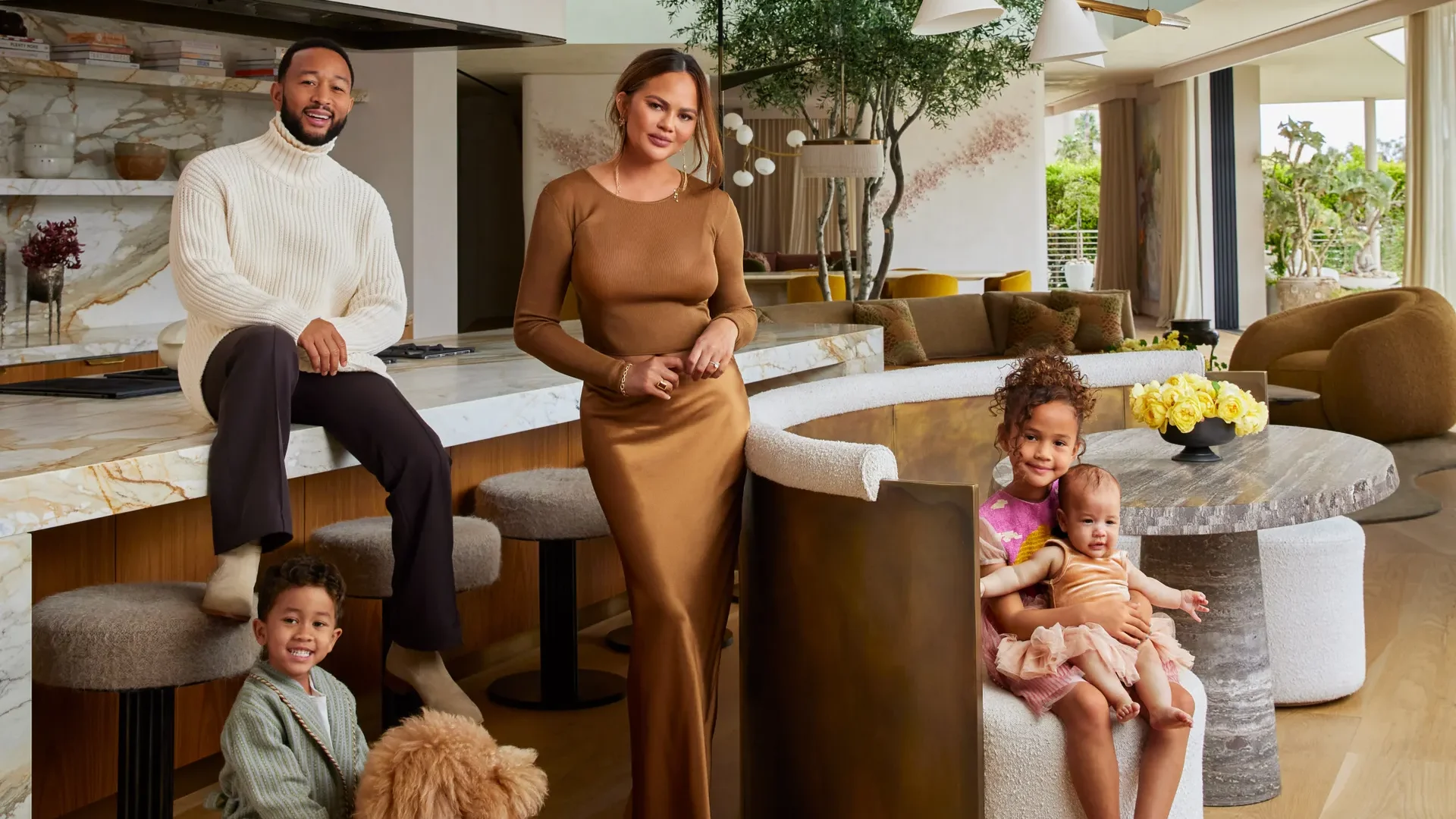 John Legend and Chrissy Teigen's home features warm, neutral palettes animated by solid, sculptural forms and luxurious textures. The interior designer mix that style with bright pops of color and a little funk design, creating a cozy and playful home.
John and Chrissy want an inviting, livable home combining contemporary pieces with glam and fun. All the materials and elements used in this home are stunning. The light sculpture flanks the curved staircase, and the beautiful pendant above the dining table with custom chairs in Maharam velvet creates a lovely and elegant dining area.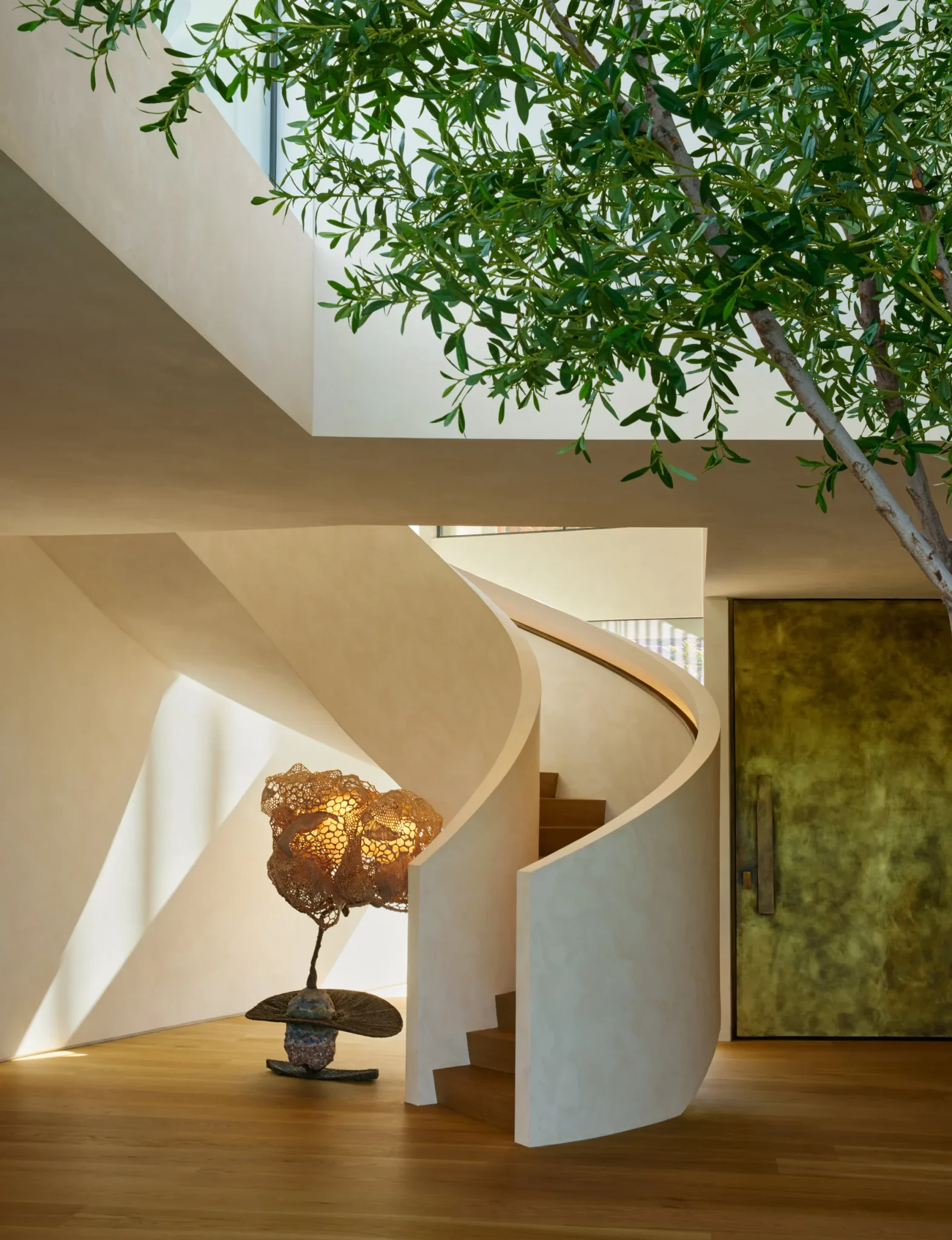 Arnold has designed a living space accessible to children and provides a casual and comfortable atmosphere. The rooms feature various furnishings and built-ins within the conjoined living, dining, and kitchen area. A crescent-shaped oak sofa rests in a plus, biomorphic mohair rug in the living room.
Arnold adds a stunning cocktail table, a floor lamp, a custom cabinet, and a chair beside a side table to complete the overall aesthetics. The newly renovated kitchen has a curved marble island and plaster hood as the centerpiece. The kitchen is open and furnished with stools, Vola fixtures, and Apparatus lights.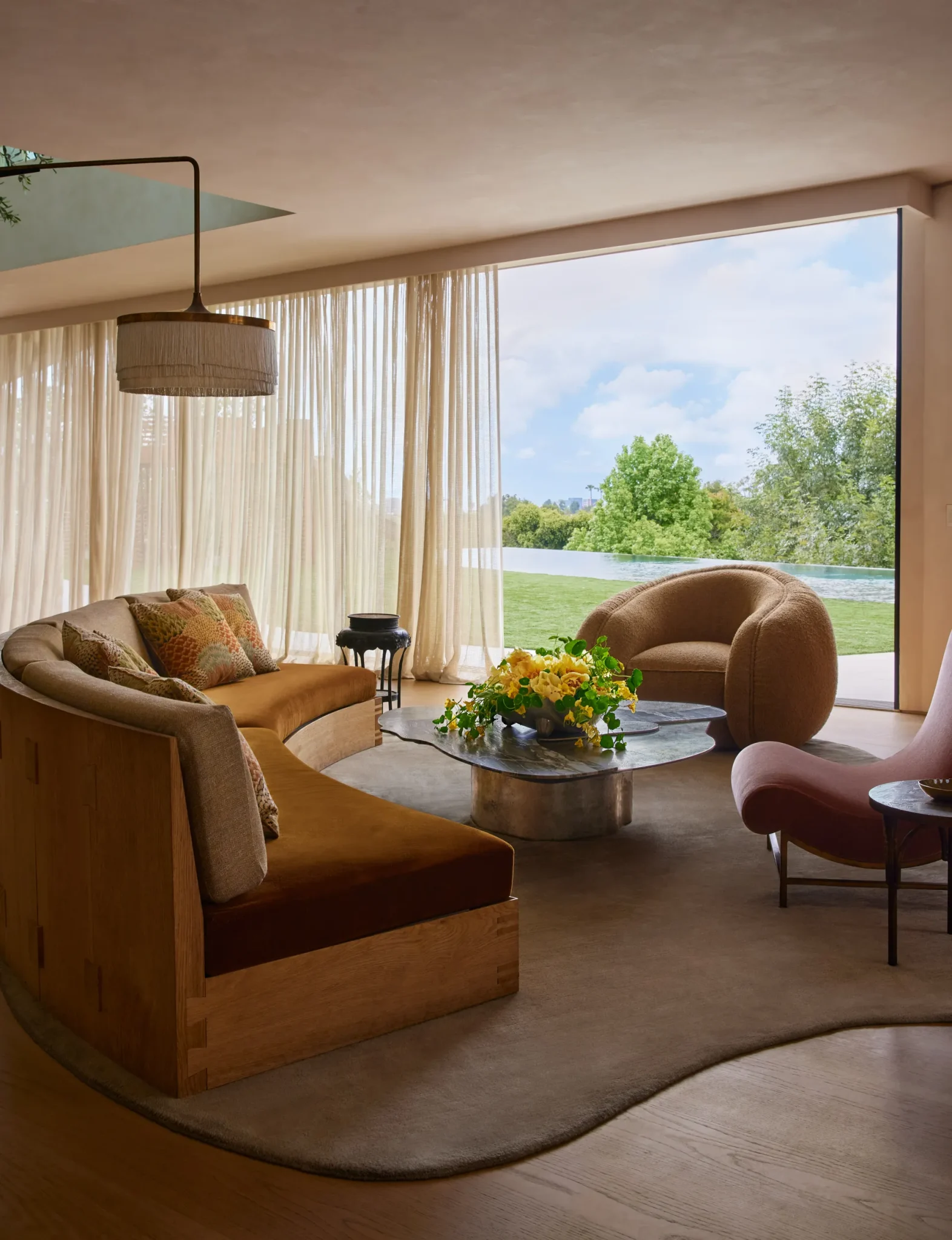 The room adjacent to the living room is wrapped in earth tones, rounded forms, and natural materials. The custom bar is multitiered with serpentine lines and made of marble, plaster, and brass. The space is also covered in gilded de Gournay wallpaper, complemented by stunning pendant lights and an incredible banquette fabric by Schumacher. The room displays John Legend's awards and grand piano in a prominent position.
Next to this amazing room is a powder room mostly covered in pink marble. It's decorated with Murano sconces that have shiny glass pieces resembling a forest and a pendant light that's curvy and feminine in shape.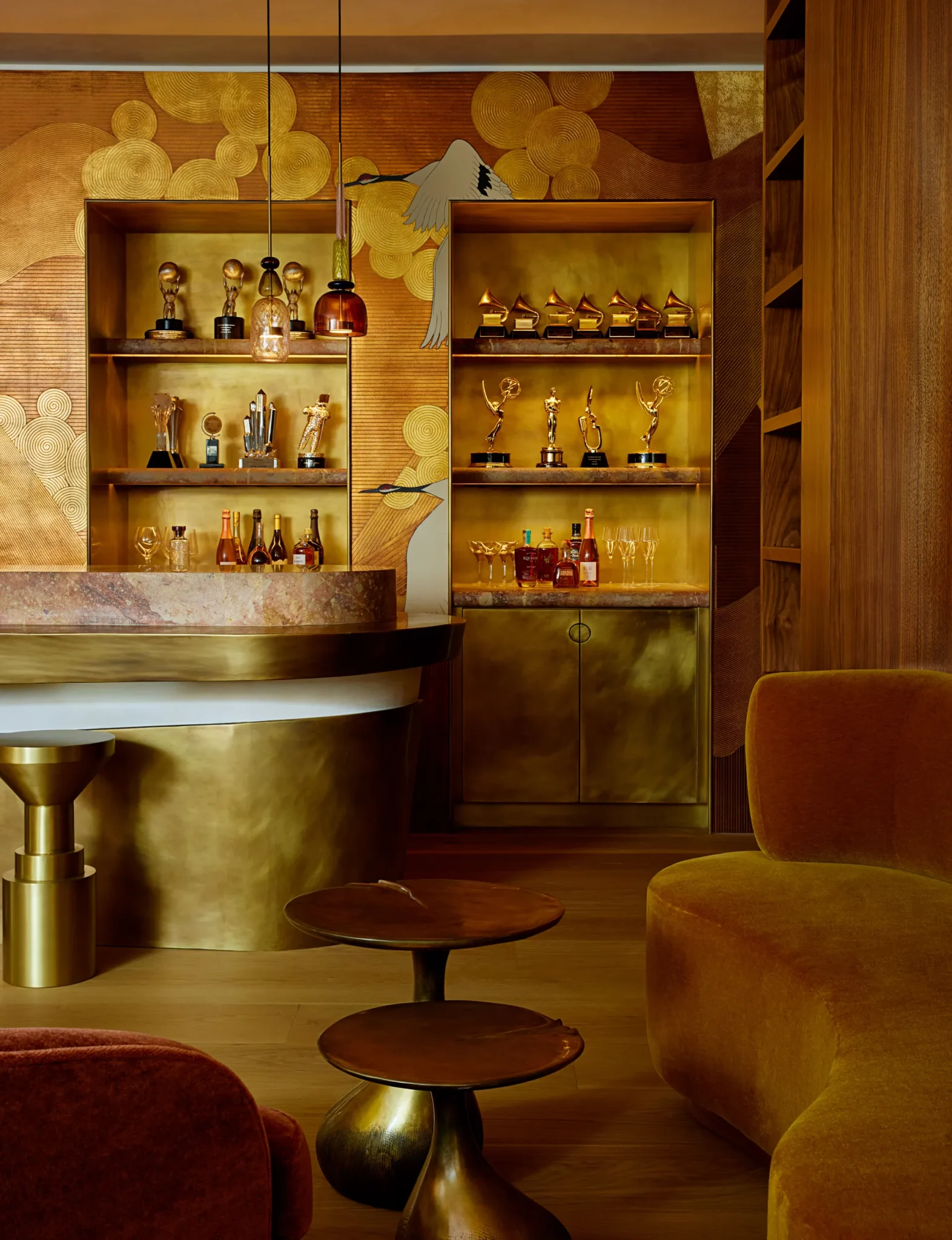 John Legend and Chrissy Teigen desire a peaceful and atmospheric bedroom with deep plaster walls and a walnut-framed seagrass behind the bed. They would like a patinated-brass hood over the fireplace to add to the ambiance. The primary bedroom is adorned with a beautiful bed in Zak+Fox velvet, a chaise lounge, nightstands with vintage glass orbs, and artwork by Flora Hauser. The main bedroom also includes a comfortable sitting area with a sofa, armchairs, and a side table.
John Legend and Chrissy Teigen have opted not to have separate bathrooms or closets in their home. As a result, the main bathroom boasts a bespoke marble-and-walnut vanity and is adorned with large Calacatta Monet marble. The main closet is also truly impressive, featuring a Dimorestudio pendant in Teigen's section.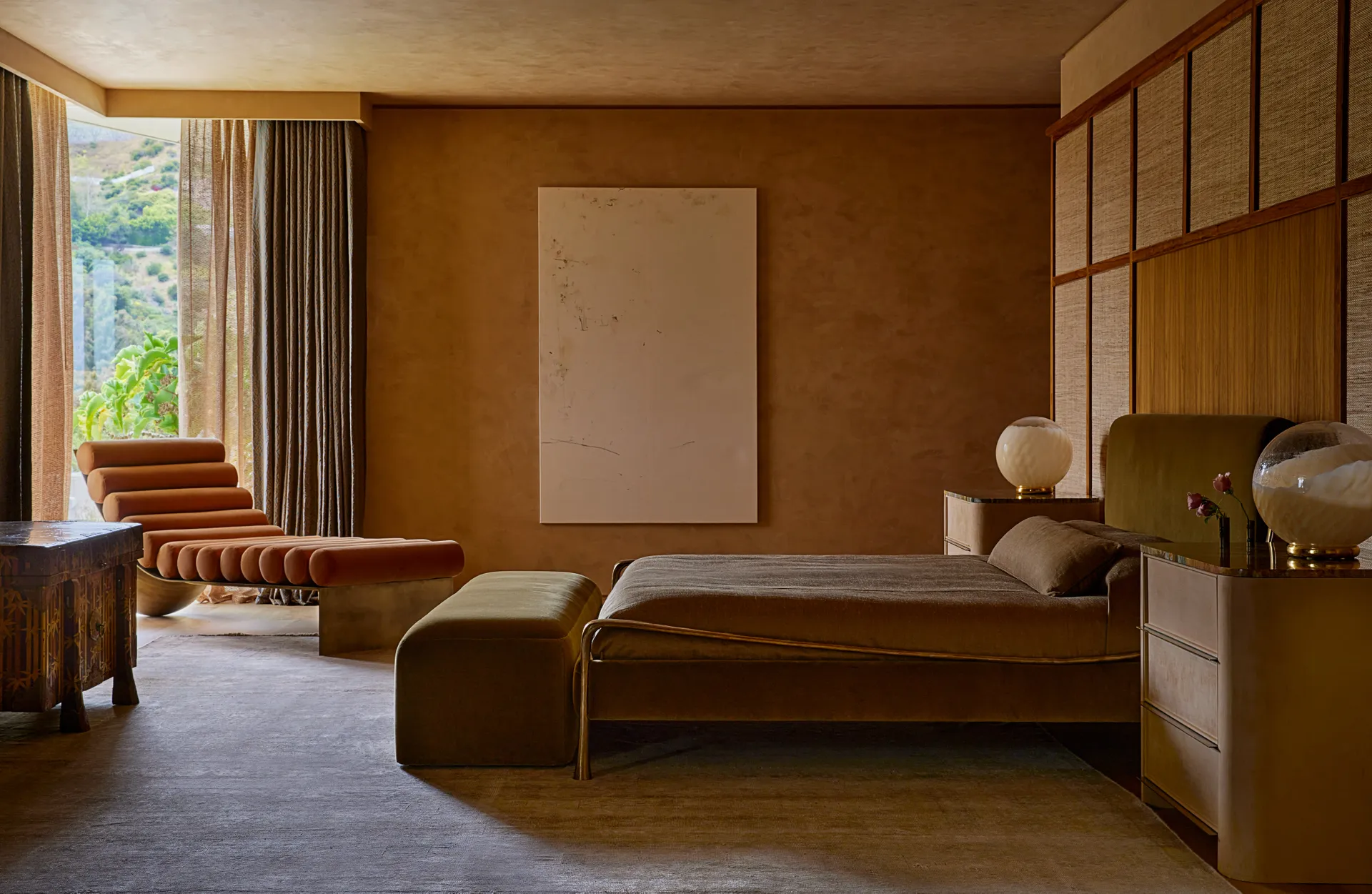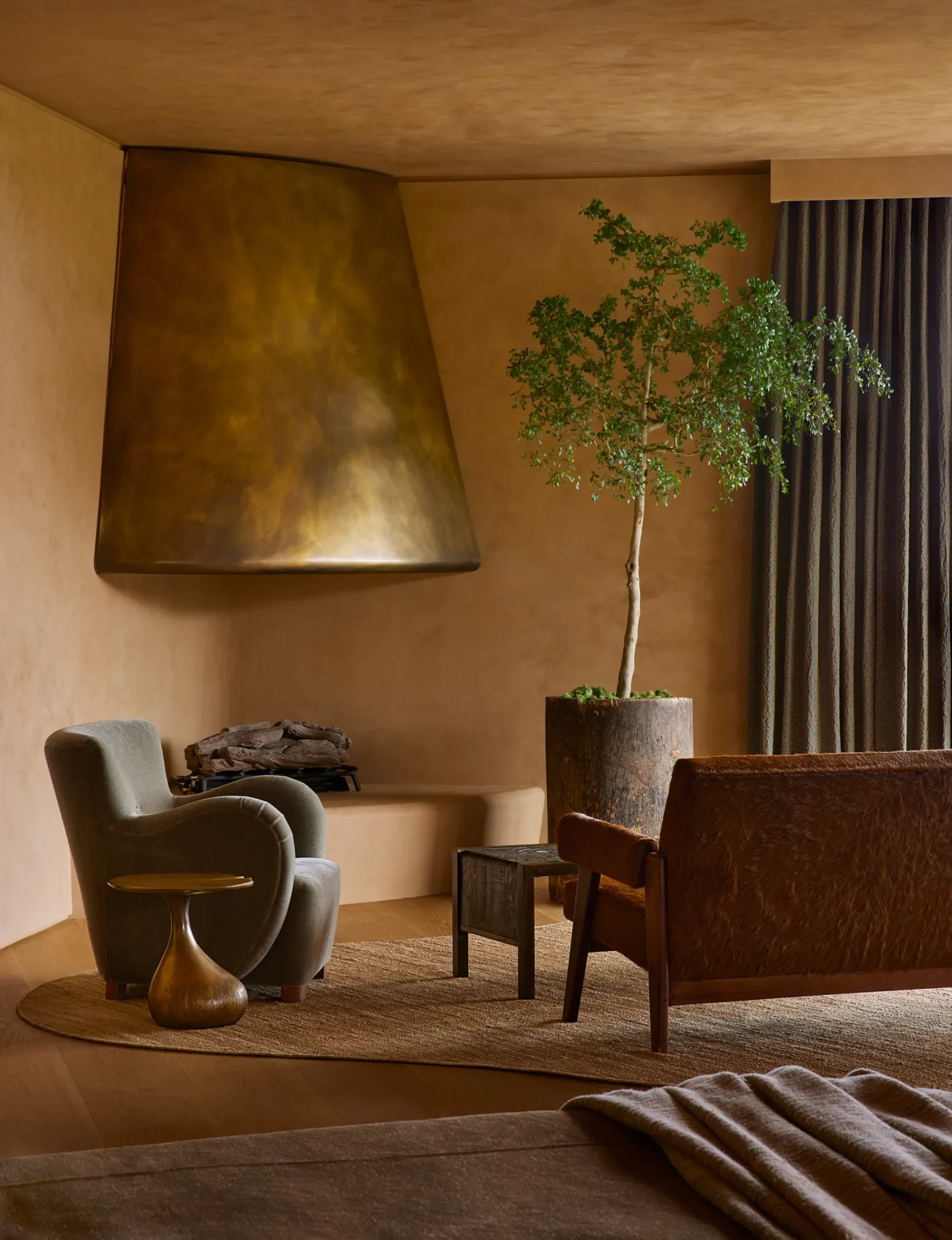 The bedrooms for the children of John Legend and Chrissy Teigen are enchanting and playful. The interior designer has created two unique bedrooms with different themes. Luna, who is seven years old, has a bedroom like a sanctuary with a lavender fantasy theme, a tented ceiling, a custom bed, and a slide.
Arnold wants to design imaginative and playful rooms that inspire creativity and fun for children. One of his impressive creations is Miles' bedroom cave, which features a climbing wall, a custom bed resembling a Jeep parked on artificial turf, and curtains made of camouflage netting.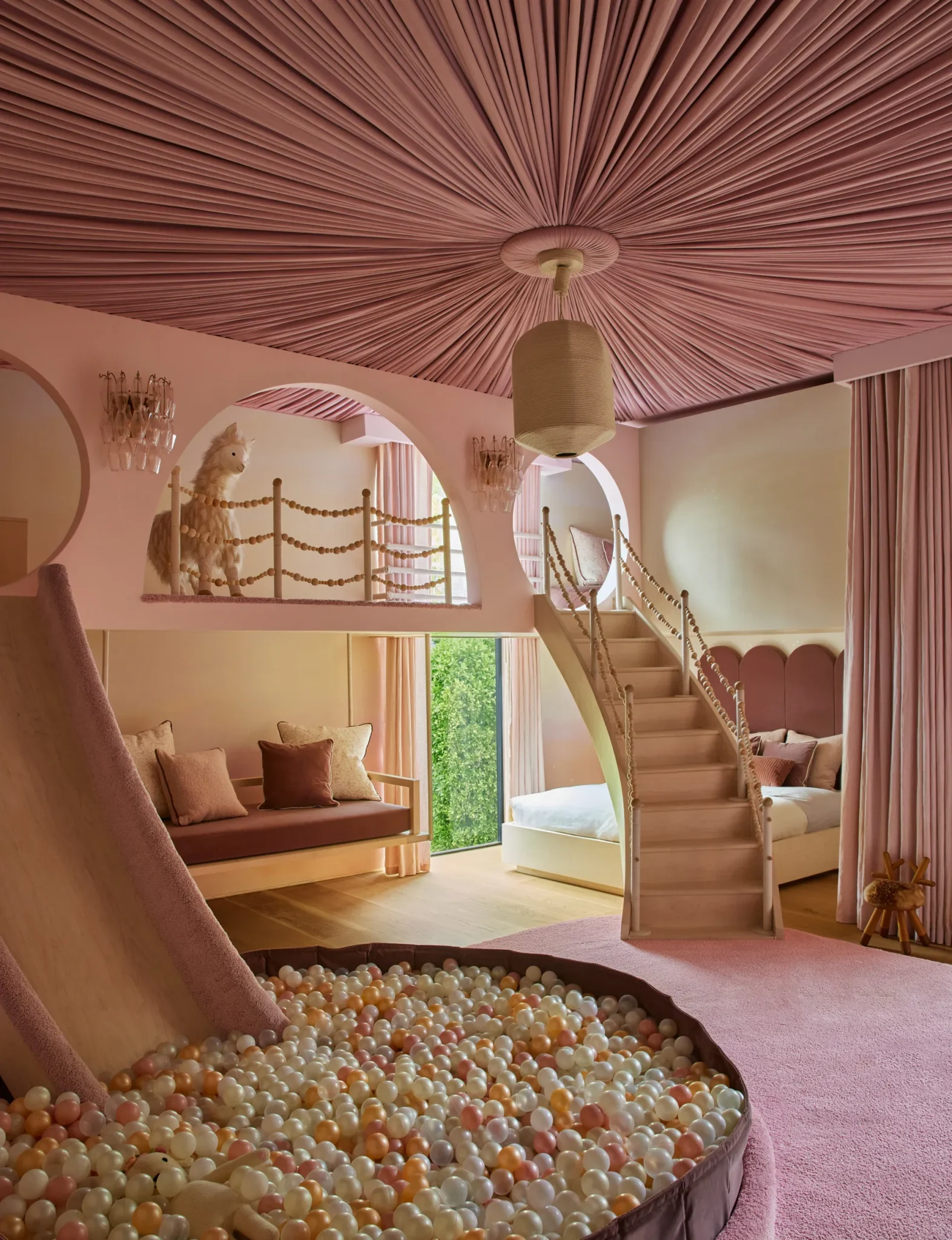 The interior of John Legend and Chrissy Teigen's home is stunning and aesthetically pleasing, complementing the serene outdoor design. The couple enjoys spending quality time with loved ones, and their Terrace is ideal for engaging in conversations and enjoying the breathtaking scenery.
A terrace adorned with wicker chairs, planters, and platings offers a seamless blend of nature and stunning views of Beverly Hills. The residence of John Legend and Chrissy Teigen boasts an excellent poolside area that serves as an idyllic paradise for moments of relaxation.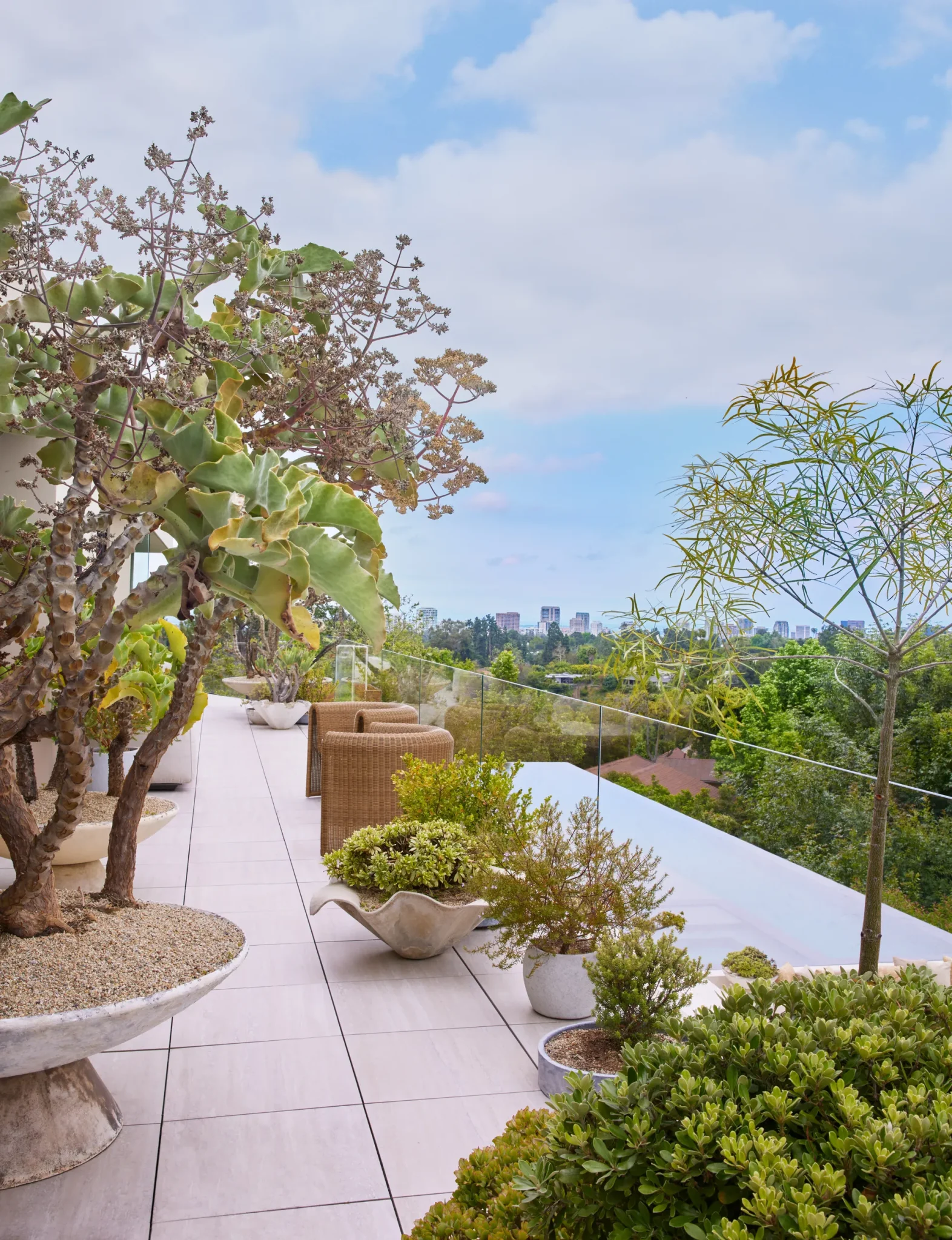 Steal the Look
John Legend and Chrissy Teigen, with Jake Arnold, design this stunning family home. The interior and exterior of this home are breathtaking, with contemporary furniture and a serene and comfortable atmosphere. We hope this great project has inspired you just as it has inspired us. We selected some pieces from the HOMMÉS Studio collection to help elevate your design living spaces. Check it out:
Giulia Sofa

Sofa

$

7.538
This John Legend and Chrissy Teigen is a perfect example of combining earth palettes with modern furnishings resulting in a serene and lovely interior design project. If you're seeking more inspiration, we invite you to explore our Furniture and Lighting catalog to help you create the perfect paradise for your living space projects.