New Color Combos, Art Deco Revival, Curvy Furniture, and Modern Maximalism are some of the tendencies shaping this year; discover more about the 2023 interior design trends on this recap.
We made it – we reached the year's midpoint – and what a year! In interior design, it started with a lot of tendencies and predictions – from bold maximalist designs to a focus on wellness; a lot of elements promised to shape this year and make it unique.
As we reached the milestone of the year's half, we can now reflect on the remarkable array of tendencies that went beyond and are shaping 2023 so far. Read on to be captivated as we reveal the 2023 Interior Design Trends that make it through the interiors worldwide. Remember: it's still time to apply these tendencies to your projects.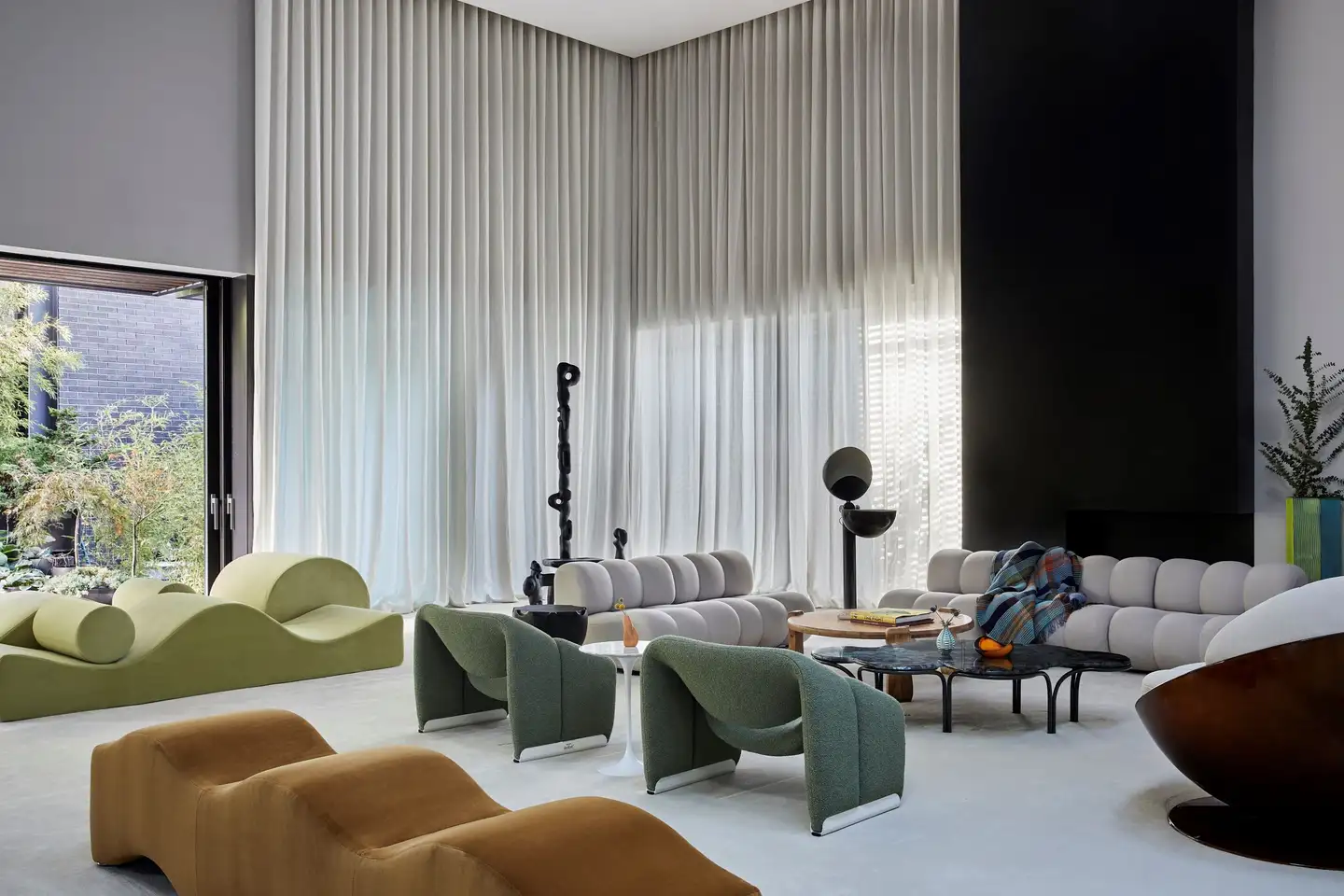 THESE TENDENCIES ARE SHAPING THE YEAR – 2023 INTERIOR DESIGN TRENDS RECAP
Every year starts with predictions – and it's no exception in the interior design world. At the beginning of the year, we saw a lot of forecasts about what vows to highlight interiors worldwide. But as we have seen half of the year, we can go through the predictions and show you the trends shaping this year. Following, you will meet nine 2023 interior design trends that are shaping the year.
1 – Art Deco Revival: Where Nostalgia Meets Modernity
Art Deco is back – the style that brings the glamour of the 20s and 21s is once more in vogue. Reflecting the desire for more decorative ornaments and the wish to move away from minimalist, this great movement is making a coming back to add an extra layer of interest to the interiors. Blending modern elements with glamorous metallics, luxurious velvets, and sumptuous materials, this revival brings a timeless sense of elegance to any interior. In 2023, we see bright colors, geometric patterns, and symmetry all over the interiors.
2 – Focus On Wellness: Designing for Mind, Body & Soul
Home is evolving and highlights the need to be more than a place to stay but also a space where people can rest and find a genuine connection to their inner beings; these needs are reflected in the interiors, with designs focusing on creating environments that prioritize well-being. Health-conscious designs now emphasize natural light, improved air quality, and sustainable materials, promoting a harmonious connection between humans and their spaces. The 2023 interior trends are incorporating wellness-focused and natural design elements into projects to impact the lives of the inhabitants positively.
3 – Convivial Seating: Embracing Comfort & Togetherness
With the return of social gatherings in 2023, the importance of convivial seating has grown substantially. Embracing warm, comfortable seating arrangements that encourage face-to-face interaction became a key trend this year. Sectionals and modular seating solutions provide versatility, allowing for easy rearrangement while maintaining an inviting atmosphere. At the same time that it promotes socialization, this trend also complements the rising demand for inclusive and adaptable spaces in residential and commercial layouts.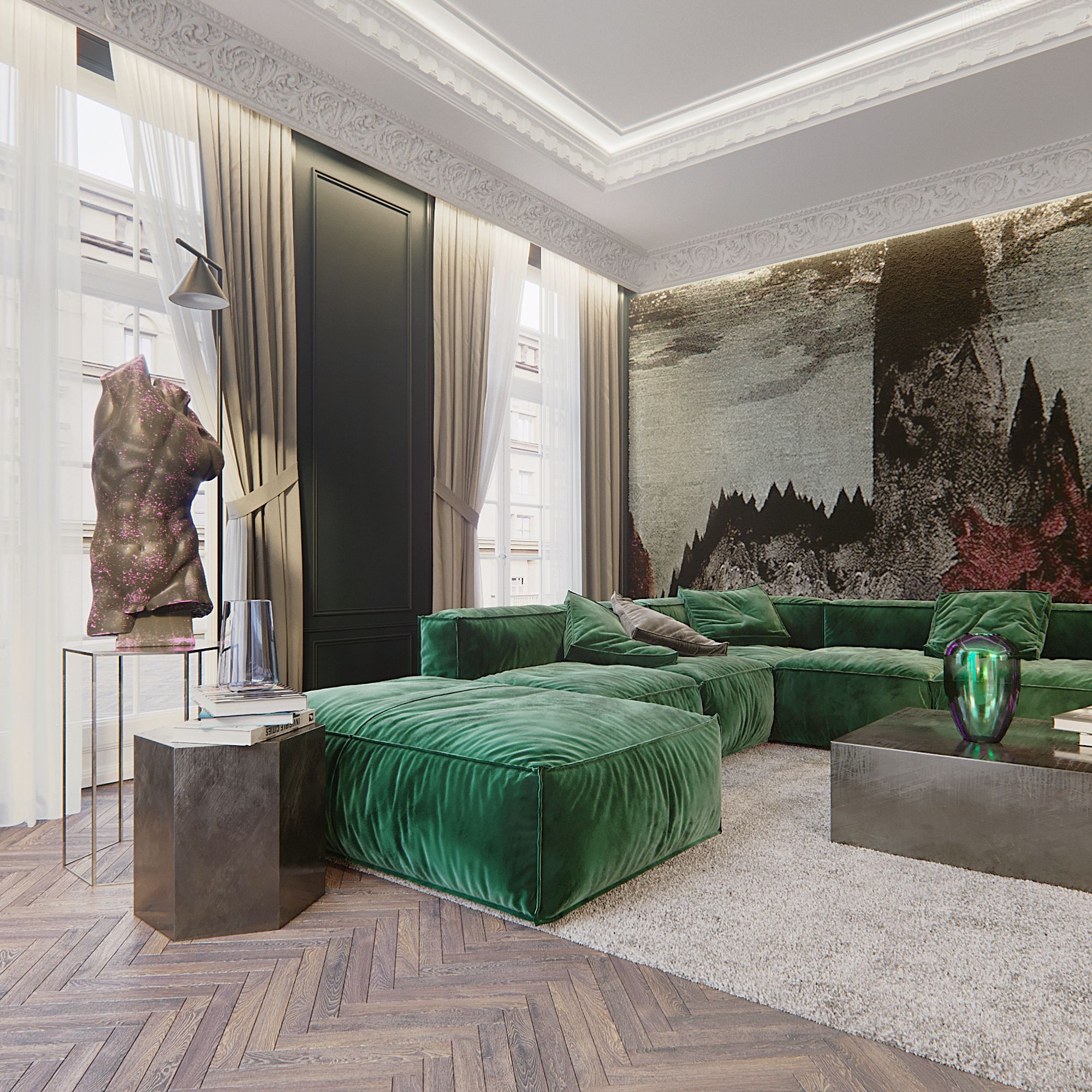 4 – Maximize Natural Light: Making Interiors Shine
Natural light is one of the stars of this year! This 2023 interior design trend is directly related to wellness – since it has many benefits for human well-being. Interior designers are embracing natural light solutions and creating designs that improve it – with more open spaces, windows, and reflective surfaces to amplify daylight. This 2023 interior design trend is contemplating not only the use of natural light but the design solutions that emphasize it – such as bare windows, white colors, glass walls, mirrors, and floor plans that connect indoor and outdoor spaces. This year is the year of bright interiors, and the natural light will be helping to shape it.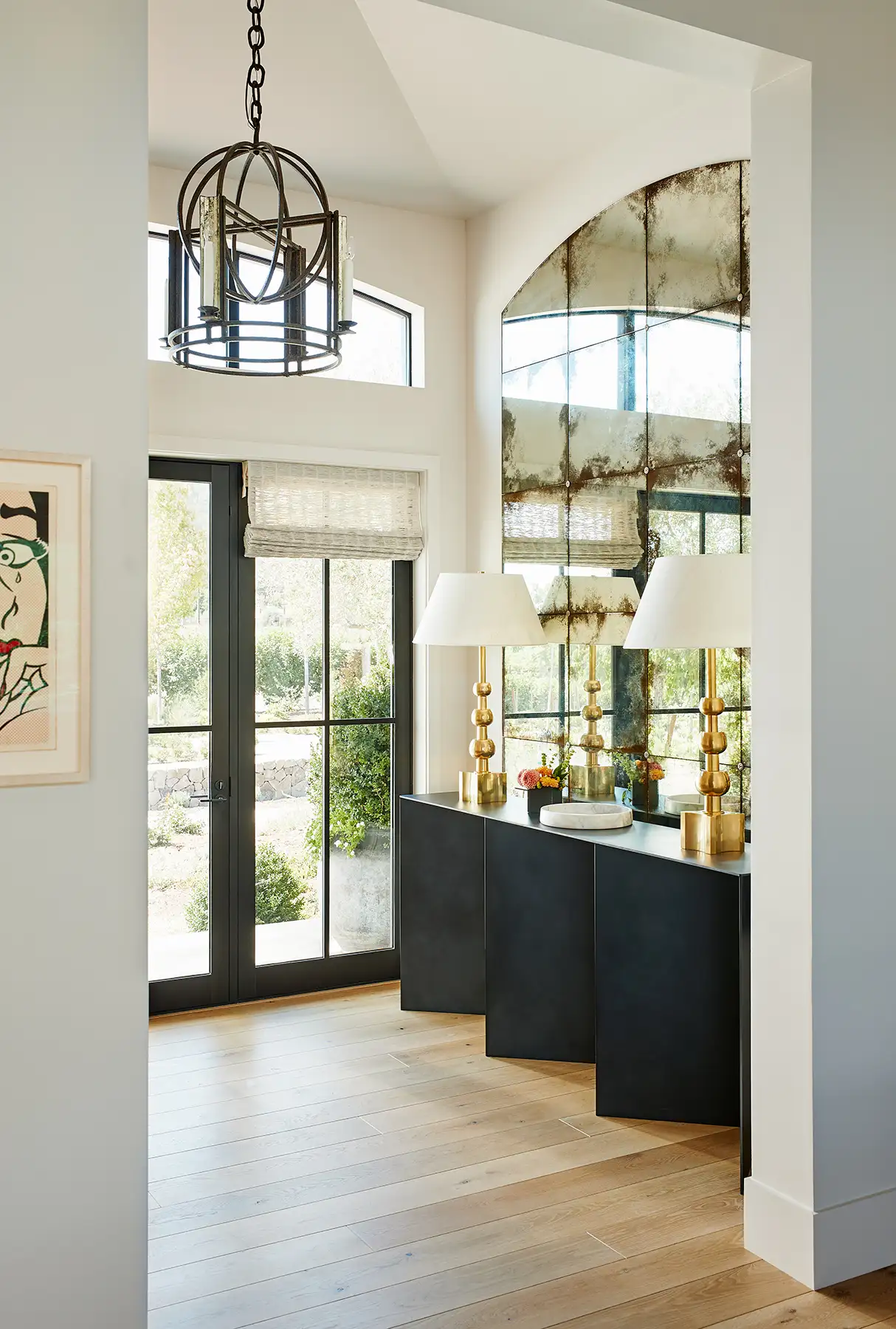 5 – New Color Combos: Welcoming the Unexpected
2023 interior design trends reflect emotions and moods and encourage new color combinations. This year, we are seeing earthy neutrals paired with bold pops of color to add more boldness to interiors. Rich jewel tones, such as emerald green and deep sapphire blue, as luxurious accents, while the juxtaposition of warm and cool tones are highlighting dynamic spaces. The new color combo tendency aims to encourage designers to use colors to embrace feelings and try new combinations for unexpected twists. In 2023, professionals are assuming the world of colors and meanings to transform spaces into extraordinary experiences.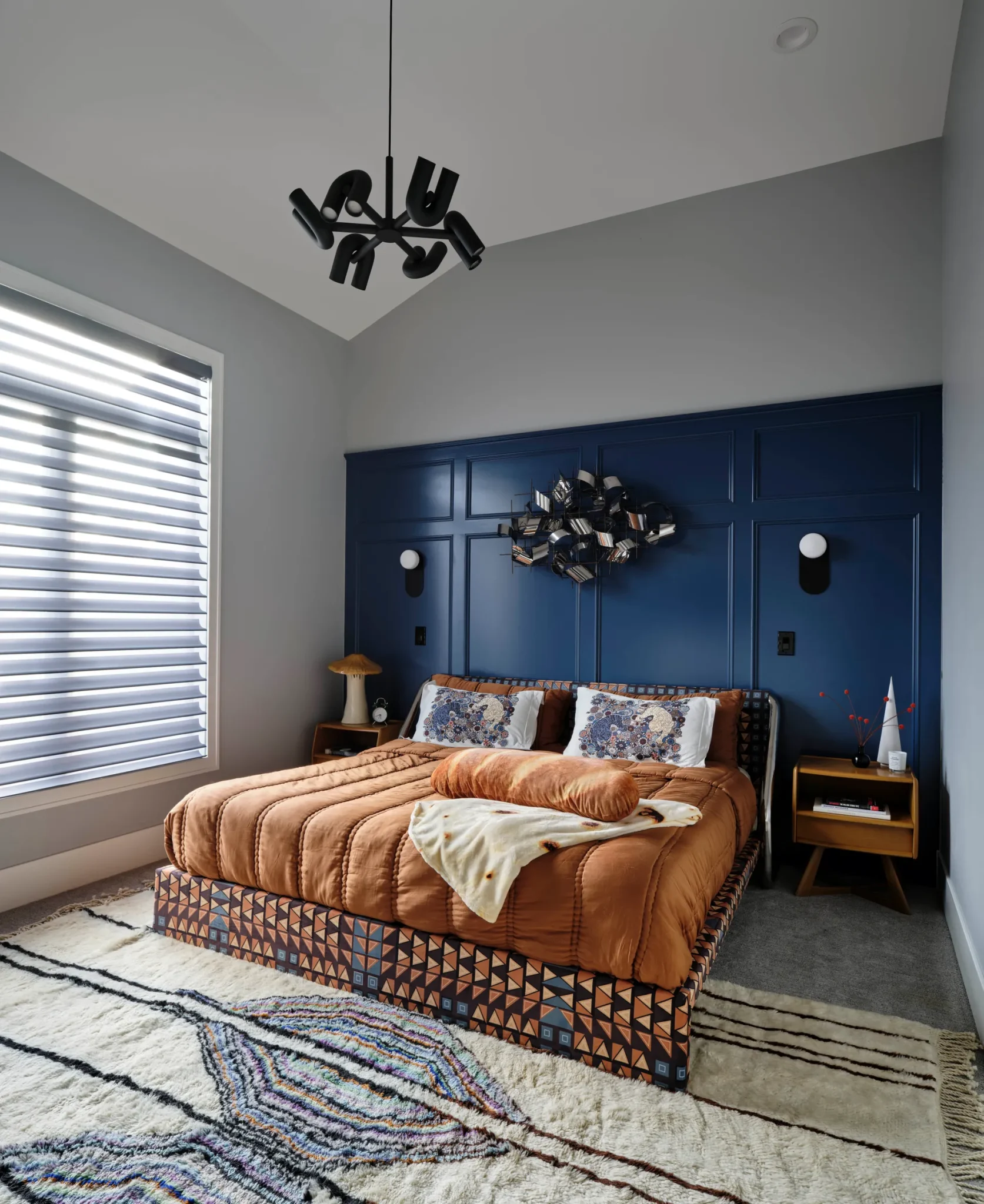 6 – Curvy Furniture & Decor: Adding Flow to Interiors
This year started like a quiet sea after a storm, and everybody was looking for a way to go slow. Of course, we felt it in many ways in the interiors, including furniture and decor items. As a way to add more flow, the 2023 interior design trends revealed that curvy furniture and decor items would take the spotlight. And as its predictions, this year, the interiors presented fluid shapes and gentle curves that provided a sense of movement and relaxation, adding a touch of playfulness to interiors. This trend celebrates the harmony between aesthetics and comfort, from curvaceous sofas to undulating light fixtures.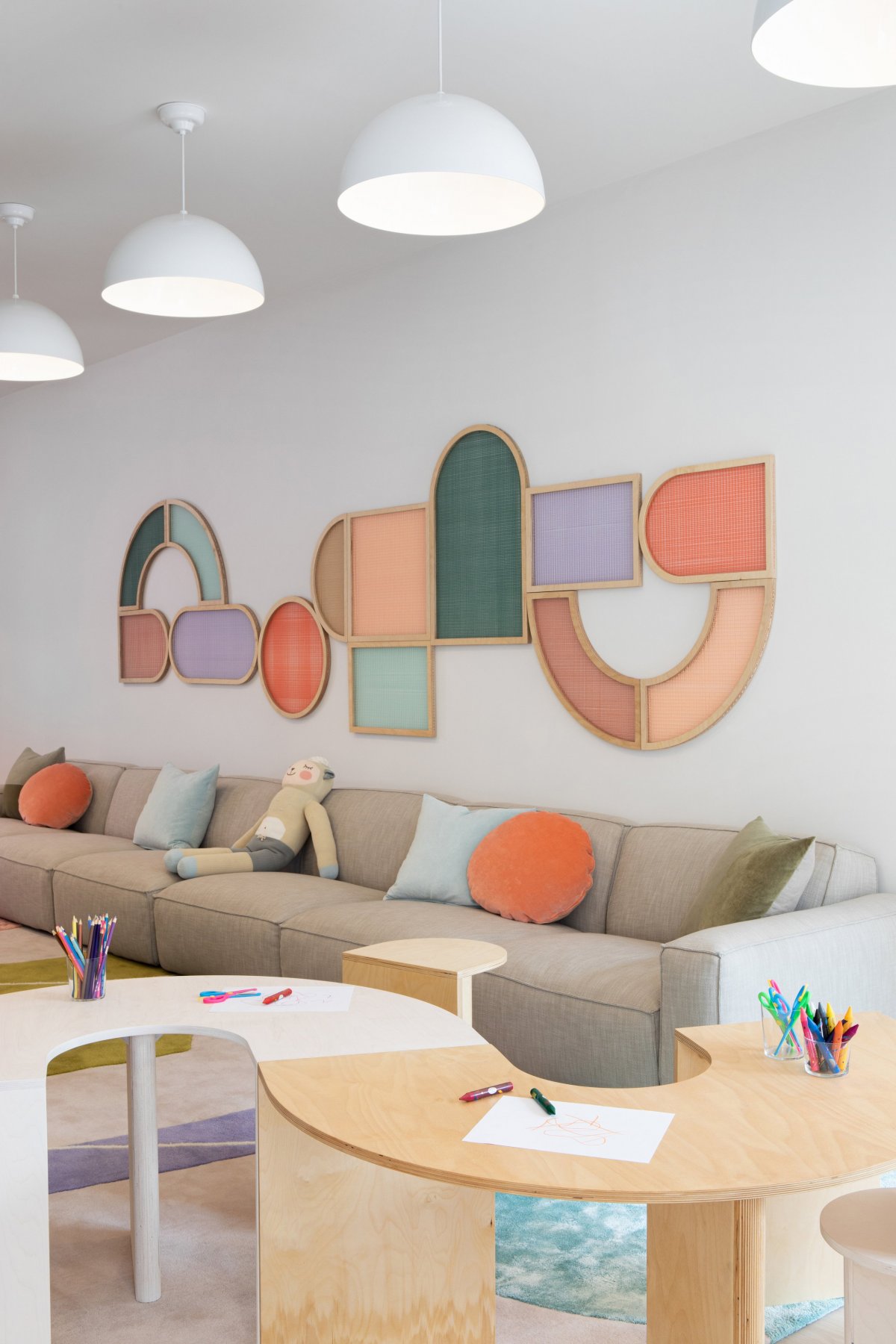 7 – Rugs as Functional Artwork: Revealing the Power of Rugs
Many of the 2023 interior design trends are related to bold and unexpected design decisions – and one of these is the use of rugs as functional artwork. These pieces are now more than just floor coverings and are revealing what they are: art pieces. Interior design projects worldwide embrace intricate patterns and vibrant colors on the floors to create focal points that tie the entire room together while making a statement. From the floor, the rugs also find the spotlight on the walls, where they are hung as art pieces.
The 2023 interior design trends reveal that rugs are more than just floor coverings but an excellent way to improve the aesthetic while also helping to delimit spaces, providing sound-absorbing and comfort.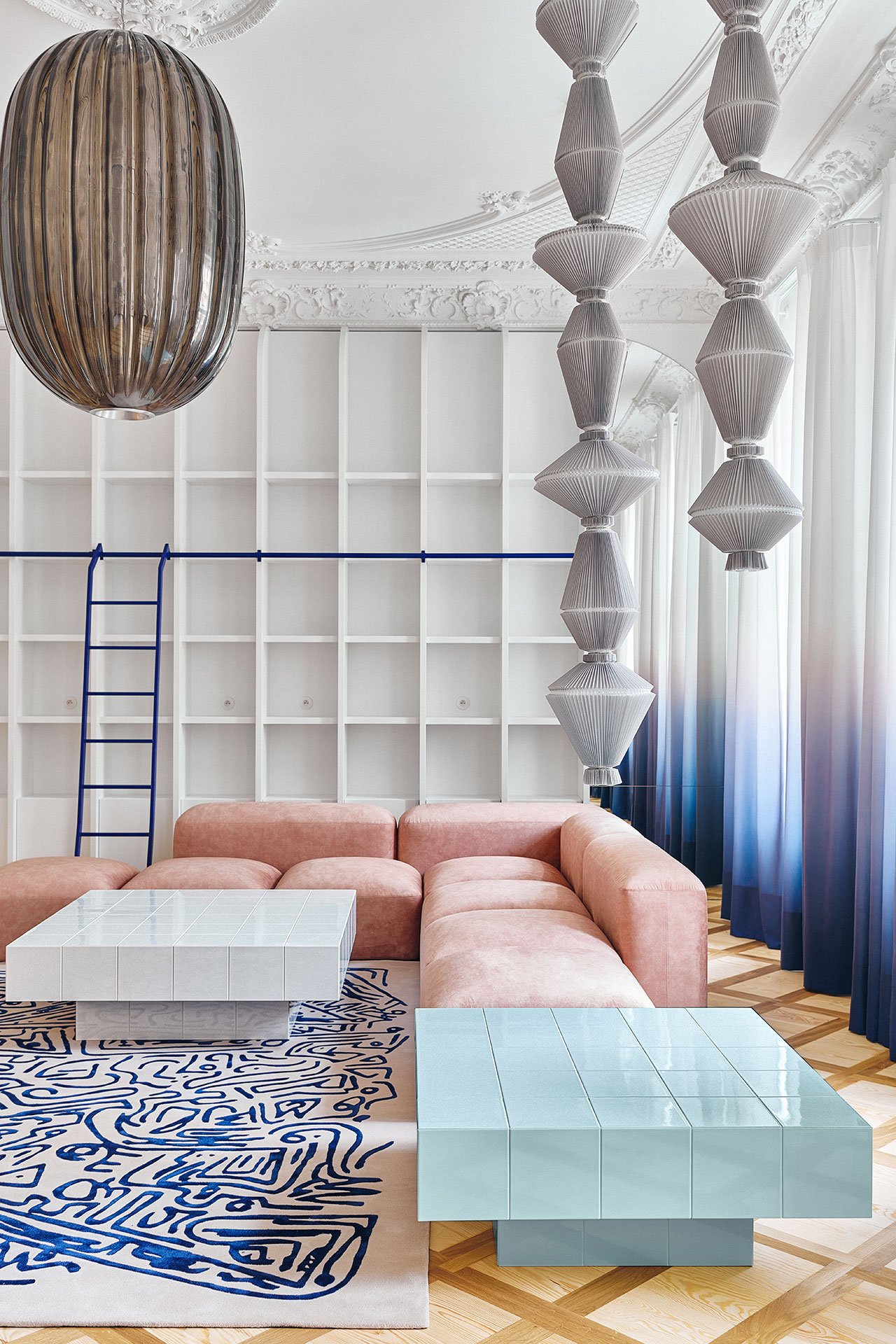 8 – Modern Maximalist: Balancing Extravagance & Simplicity
Maximalist Interiors was one of the most anticipated 2023 interior design trends – and as the forecasts point out, it comes with a fierce but modern twist. Designers artfully balanced bold patterns, rich textures, and decorative elements to create cohesive and elegant spaces. Finding the perfect harmony between extravagance and simplicity, this trend shows creativity and opportunity for interior designers to experiment and create genuinely personalized interiors. Layered textures, patterns, materials, and objects in a sense to make a modern maximalist design is taking over interiors and revealing a sense o character and boldness essential for the 2023 interior design trends.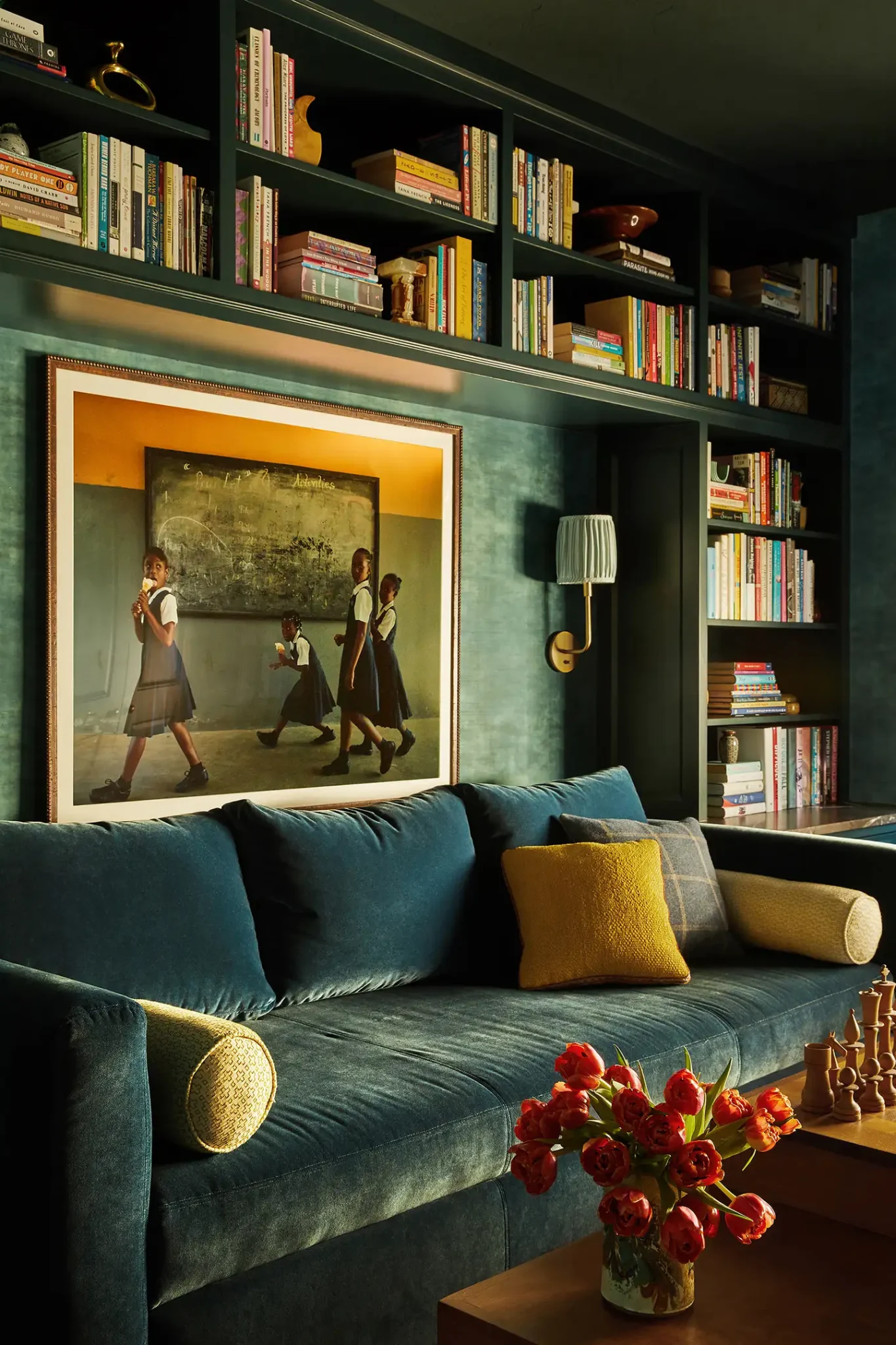 9 – Irregular Rugs: Embracing boldness
Boldness is here again! Proving that boldness takes center stage in the 2023 interior design trends, it´s time to welcome irregular rugs to interiors and get a surprise with its stunning layouts. For this trend, we can expect to see asymmetry and unique designs that add an extra layer of visual appeal to the interiors. This 2023 interior design trend is also often associated with new color combos, bringing colors, textures, and shapes that add character to any interior and make it a unique visual and experimental journey.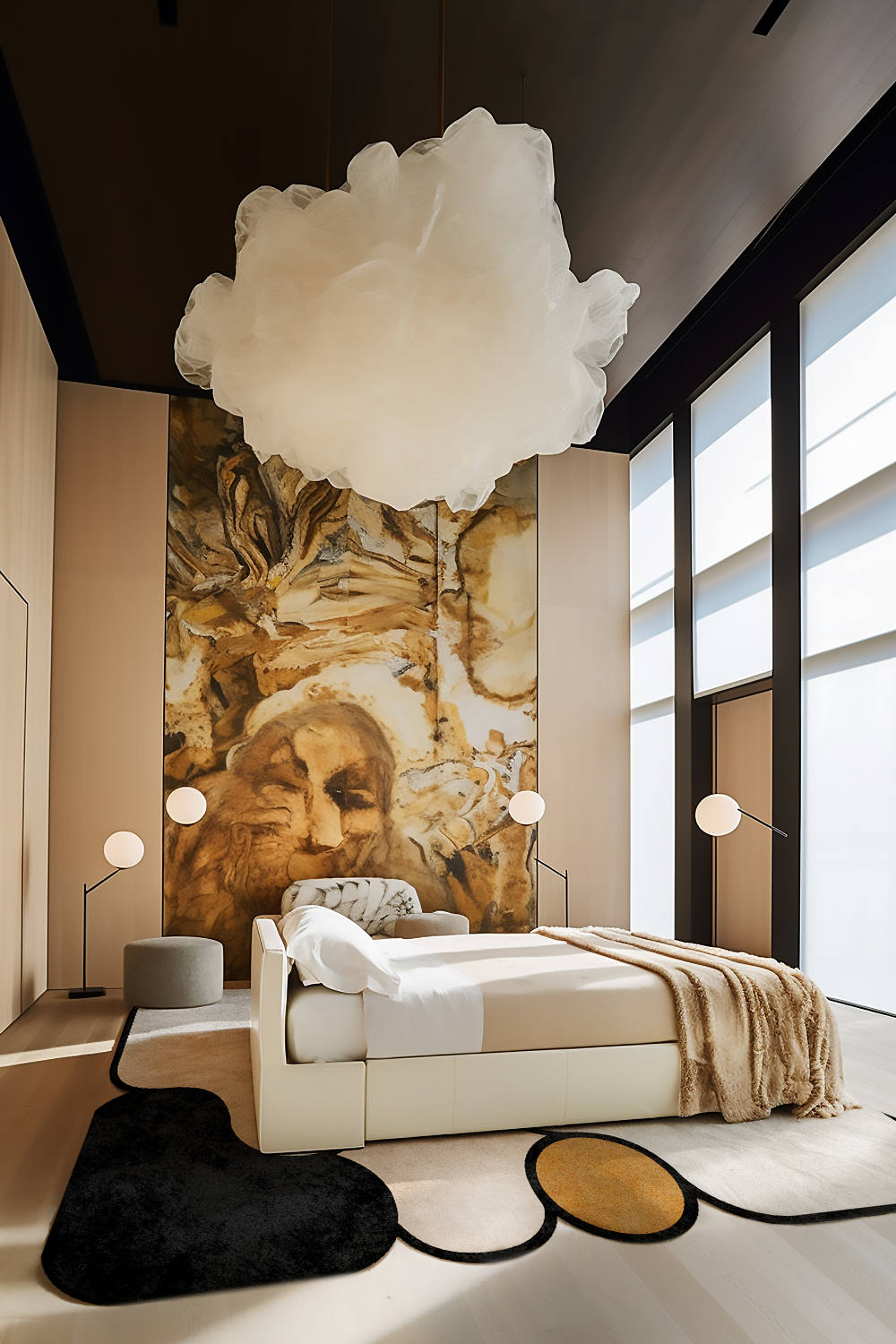 10 – Pretty in Pink: Barbiecore Invasion
Pink is back to bring more boldness and playful vibes! Following the buzz around the Barbie Film, the 2023 interior design trends embrace pink tones to create dream interiors. From candy hues to Fuschia, the return of pink brings the 90´s aesthetic and charm to homes worldwide. We can expect this trend all around the interiors, from color combinations to iconic furniture pieces.
In this article, we discovered the nine tendencies that have taken the spotlight and are currently shaping interior design with their bold and meaningful approaches. Even though we dive into many 2023 interior design trends, it all merged to two points: enhancing well-being through thoughtful design and crafting homes that authentically reflect individual personality and character.
These 2023 interior design trends show an extraordinary journey of creativity and exploration, embracing the past while fearlessly stepping into the future, and are a wonderful way to create interior design projects that resonate with personality and also promote well-being.
Now that you know the 2023 interior design trends shaping this year, enjoy following the tendencies in your next designs by checking out 12 Pieces of Furniture Trends 2023 To Decorate Like a Pro.