This is the story of a homey and marvelous villa in Kuwait, owned by Fatemah, mother of three, PhD. in Law, and self-made interior designer.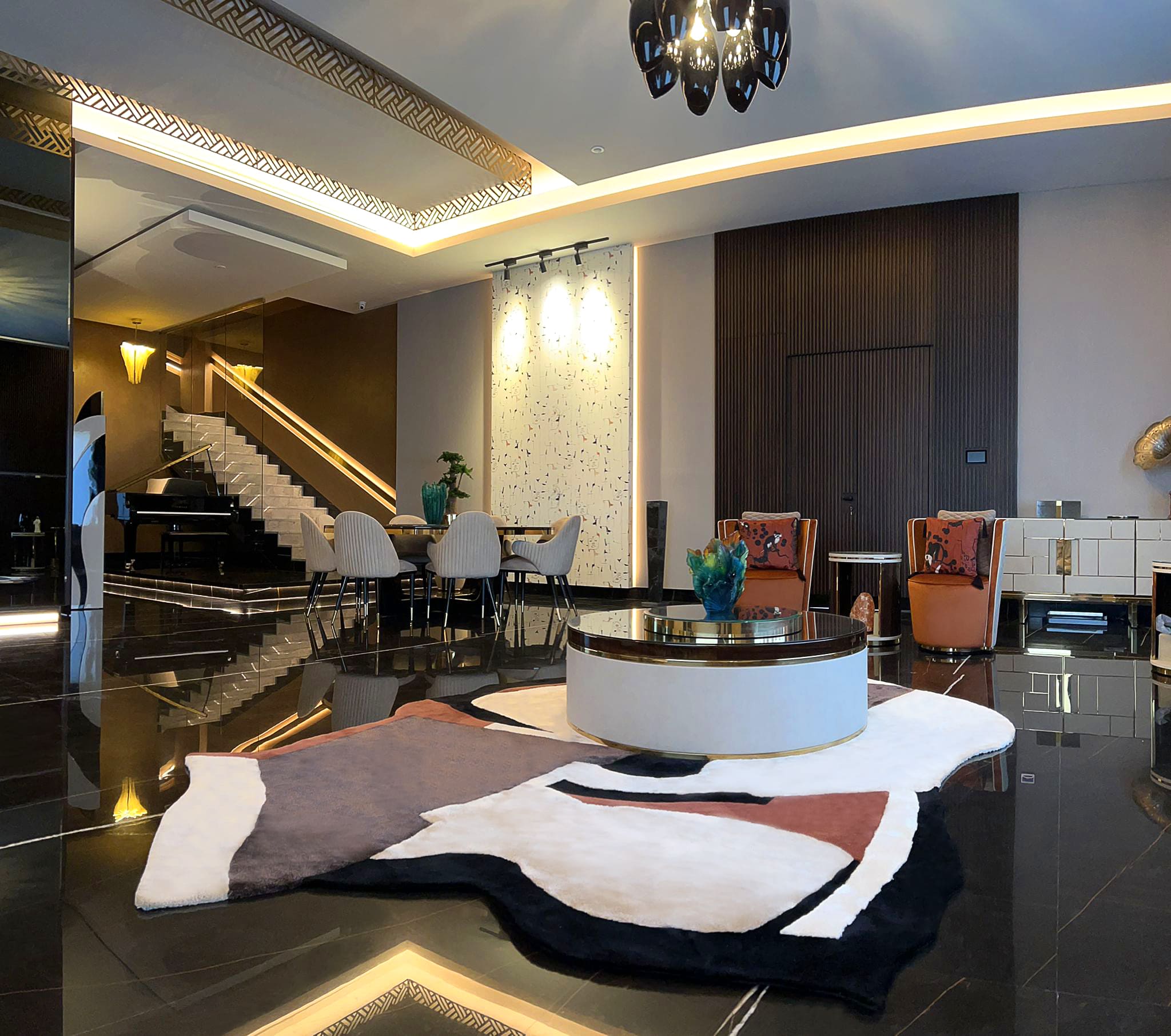 Take a moment to read and take in this story, the story of a homey and marvelous villa in Kuwait, owned by a woman who is a mother of three, a PhD. in Law, and a self-made interior designer.
Her name is Fatemah Alshuraian. She works at Kuwait University, is a mother to one girl and two boys, and is the designer of the home of her dreams, a home where black, beige and amber serve as the backdrop for a world of refined stones, soft fabrics, and a loving juxtaposition of pre-owned and modern decorative objects.
The story of this homey and marvelous villa in Kuwait dates back to 2021. HOMMÉS Studio's creative director went live on Instagram painting a mural. Fatemah Alshruaian, the protagonist of this fairytale, fell in love with the free-hand illustration and decided she wanted it on a wall. The Law PhD. got in touch with our team, and her wish was an order.
Even though we don't commercialize wallpapers, we can do them under request (we do many custom and bespoke furniture and decorative objects), as we did for Fatemah.
The wallpaper is a bright cream color, with wild black lines and some glimpses of murky orange – the elegant color triad of Fatemah's homey and marvelous villa. The interior designer on duty decided to install the custom-made wallpaper next to the dining area on her open floor plan. The sober color palette with warm pops of color denotes Fatemah's refined taste and an eye for discreet luxury.
Black is the backdrop for this homemade interior design project that conveys the best materials and a selection of wholehearted decorative objects. This can be seen in the entryway's black mirrors chosen to make the living space airier and in the polished black marble flooring that Fatemah decided to install, despite being advised against it. In her own words, that marble is art, and she needed it in her home and life.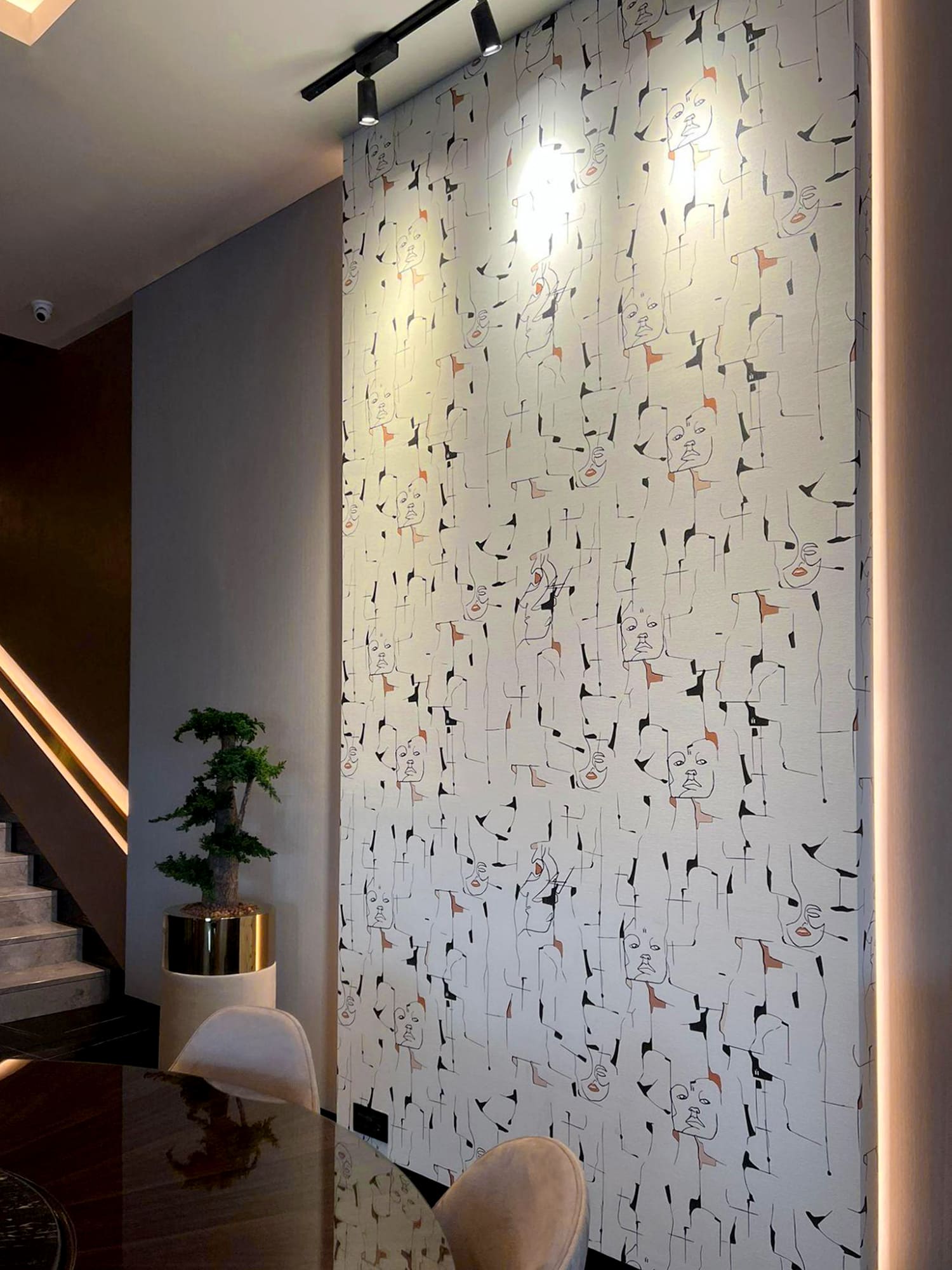 In addition to the tasteful living room, the open floor plan of this homey and marvelous villa in Kuwait also nests a spacious living room and a grand piano. Fatemah's home is welcoming, just perfect for a soirée.
Since she was a little girl, Fatemah wanted to have a piano. When bringing together her new family home, her parents gifted her the piano she placed next to the round dining table. Above it, HOMMÉS Studio's Mineli Suspension sheds some light on the music instrument and illuminates the staircase connecting the social and private floors too.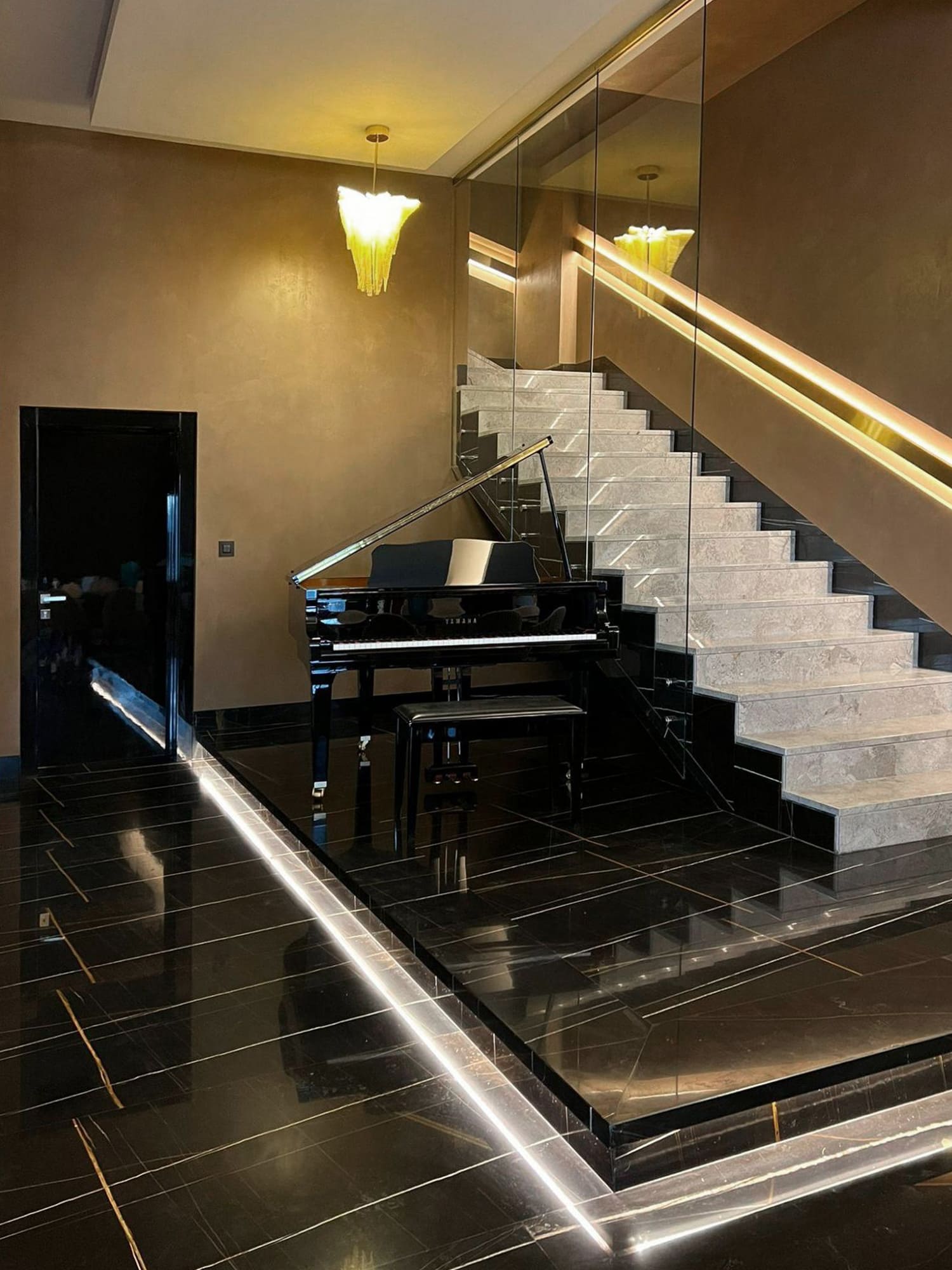 In the living room, TAPIS Studio's Shaped #043 (also known as 'Piano Rug') is the core of a design that aglomerates a multitude of soft and compelling textures and colors. A round coffee table tops the modern rug in botanical silk, the HOMMÉS Studio's Cocoon Suspension Lamp with custom black light bulbs adds a 30s flair to the family room with sofas and armchairs adorned with ACH Collection's Monkey Pillow.
Atop the coffee table, side tables and sideboard, Fatemah placed ceramic ornaments. Some of them are modern, bought by her specifically to combine with the many ceramic objects she inherited from her parents. From her dad, Fatemah owns objects made in Italy in the 1960s. From her mom, she has an array of accessories belonging to limited editions.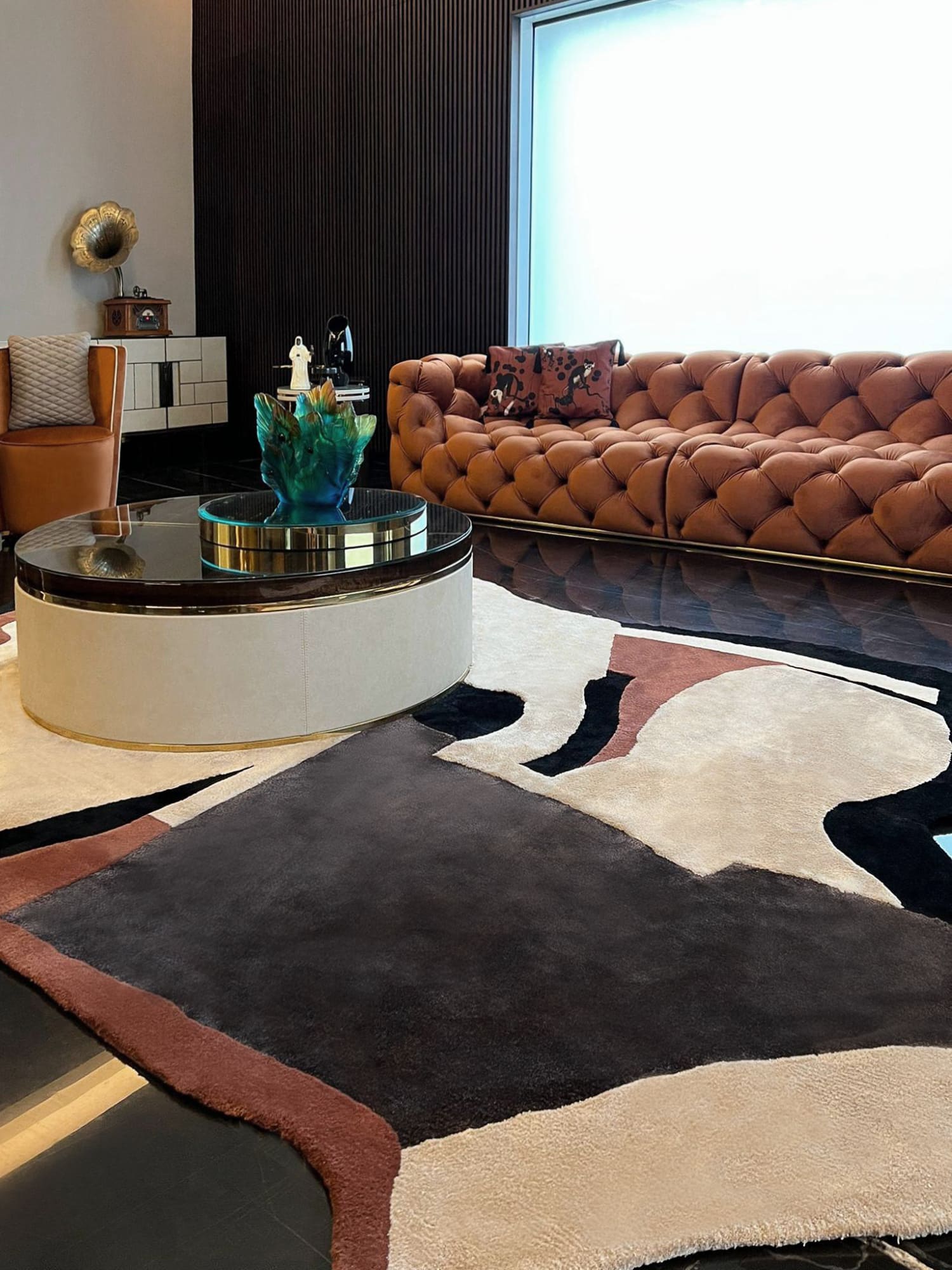 Fatemah's homey and marvelous villa in Kuwait with an amazing garden is this copious blend of vintage and modern, which can be put as pre-owned and made-to-order, with timeless elegance and a welcoming atmosphere.
Recreate Fatemah's living space with HOMMÉS Studio's modern furniture pieces.