The Desert House is a stunning minimal project by interior designer Nicole Hollis. Let's explore this magnificent and breathtaking creation.
Indian Wells is a city known for its stunning views. The city's views draw inspiration from desert modernism, a mid-century modern style characterized by its minimalist contours and sliding glass doors. A project in Indian Wells was designed by Nicole Hollis, which involved the construction of a desert house from the ground up by Kroeger Janev Architects from Napa Valley.
The desert house project showcases a large-scale combination of modernism and minimalism. The desert retreat boasts 14-foot ceilings and extensive glass walls that perfectly frame the breathtaking views of Eisenhower Mountain.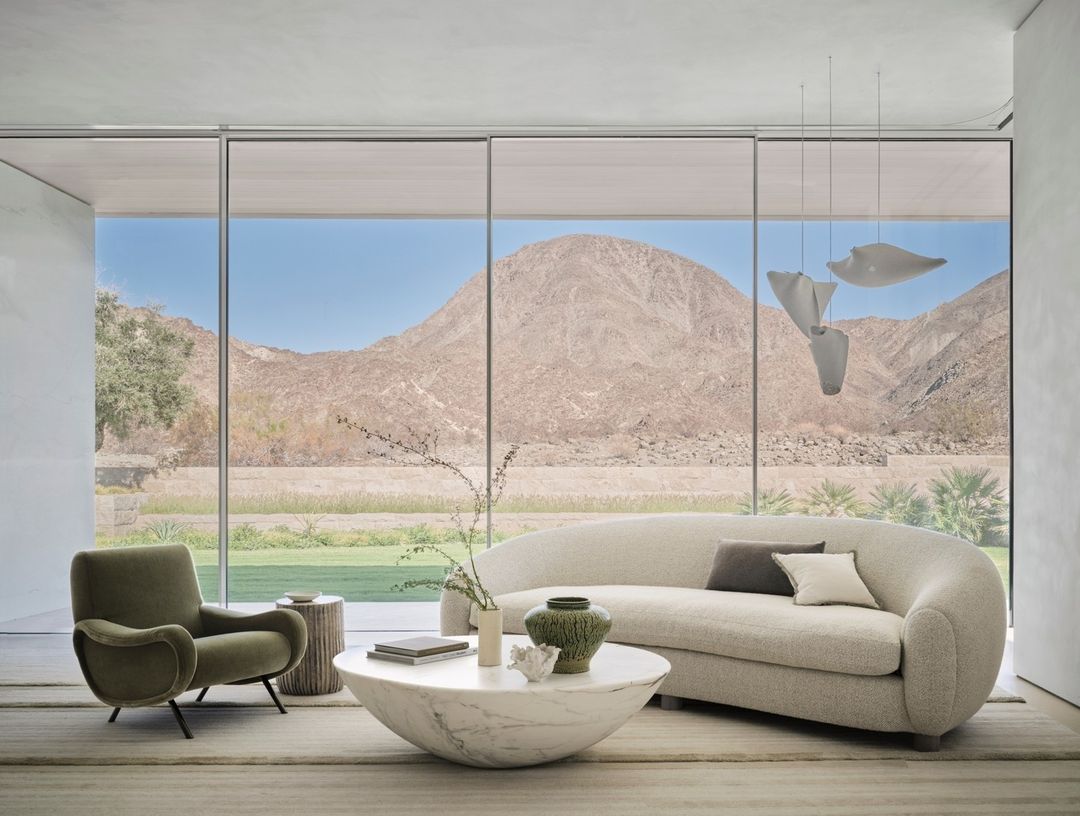 Discover the Minimal Desert House Project
This impressive 14,450-square-foot residence was designed with a focus on the stunning surroundings, providing clients with an unparalleled connection to the natural beauty surrounding the property. The designer opted for an absolute minimalist decor to highlight the sweeping views. Bright colors were used instead of patterns, and different textures were added to emphasize proportion, balance, and light. Nicole Hollis paid attention to the more subtle design aspects to achieve this effect.
The feature wall in the entryway creates an open-plan living and dining area. The formal living room has a circular area rug made of wool and silk. The Vladimir Kagan sofas in velvet and mohair contrast the stunning fireplace, creating an elegant and peaceful atmosphere. The dining area is equally impressive, with a beautiful custom table by Joseph Dirand and leather chairs by Jean-Michel Frank, creating the perfect ambiance for any meal.
Hollis opted for a specific color palette consisting of lovely shades of blue and gray, complemented by touches of gold and brass. The sitting area showcases that unique selection of colors and features a cocktail table designed by Arthur Casas, swivel chairs by Vladimir Kagan, and a stunning floor lamp by Claudia Moreira Salles.
The desert house's interior design is stunning. It features a monochrome palette with bleached-oak ceilings, limestone floors, and unadorned travertine walls that create a unique and elegant balance. The family room showcases the brilliant work of Nicole Hollis, combining the surrounding views with the furniture pieces.
Despite transparent glass walls, the main bedroom feels more comfortable and inviting than the house's public spaces. Hollis utilized a palette of shades of gray, complemented by warm aubergine tones, to create a thoroughly relaxing and tranquil living space for the clients. The room's aesthetic is further enhanced by art pieces such as pendant lights, crafted into organic shapes from painted stainless steel mesh sheets.
The primary bathroom is next to the bedroom and features a custom vanity made of Calacatta Lincoln marble. The bathroom's interior design is elegant, including a custom chair from C. Mariani Antiques and a pendant from Allied Maker.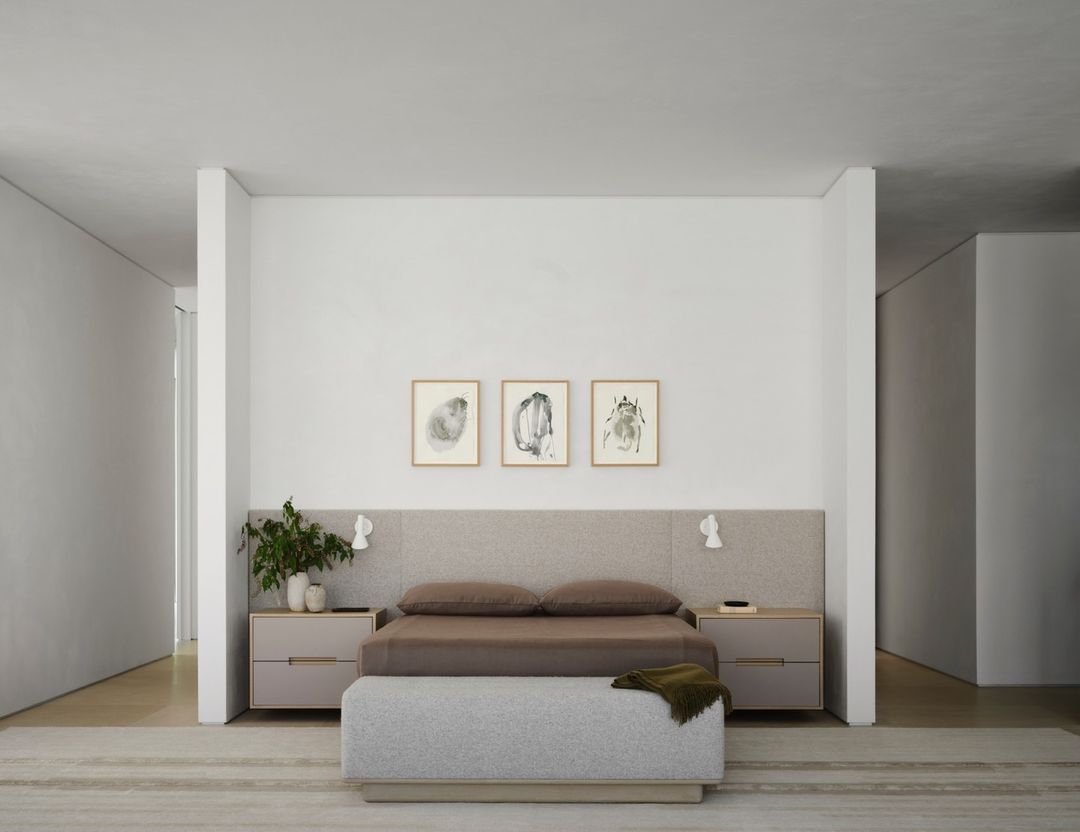 The guest rooms are as stunning as the primary bedroom, with their interiors blending with the desert views. In the first guest room, a combination of grey and green colors blends well with the glass wall that overlooks a tree outside. The beds in the guest bedroom have benches by Cuff Studio, covered in linen by Castel. A distinctive chair from J & R Guram and a breathtaking rug were added to achieve a serene aesthetic.
In another guest room, a bed has been customized to match a floating nightstand. To create a peaceful and calming atmosphere in the room, the interior designer includes a ceramic side table by John Wigmore, a wool rug, and artwork by Henri Matisse. The elegant Desert House features a unique guest bathroom. The walls of the guest bathroom are made of vein-cut travertine. Additionally, a ceramic vase and sconces by Lasvit contribute to creating a friendly atmosphere.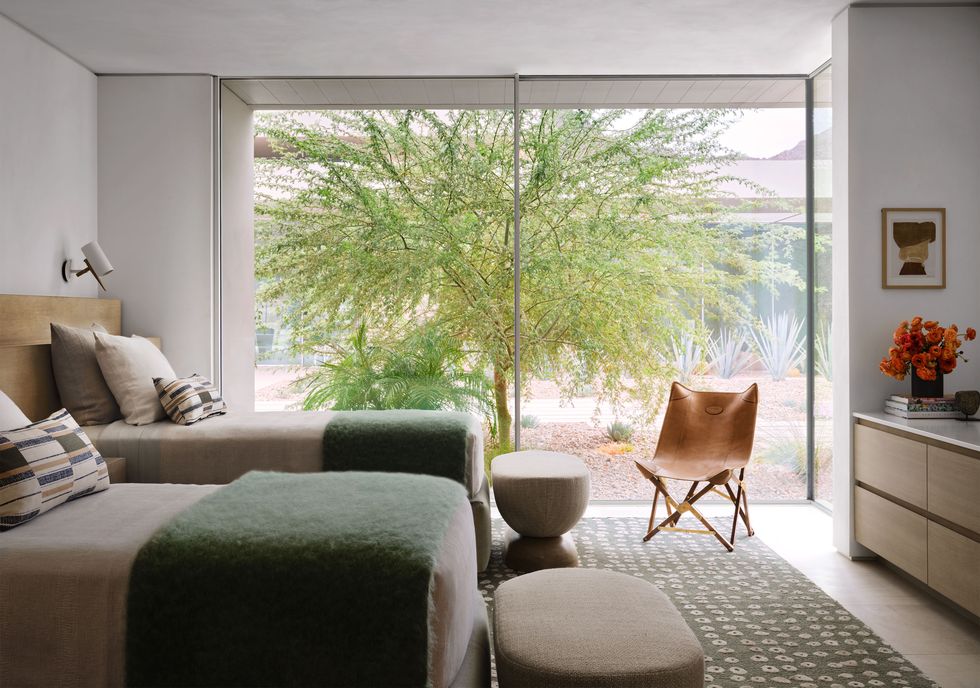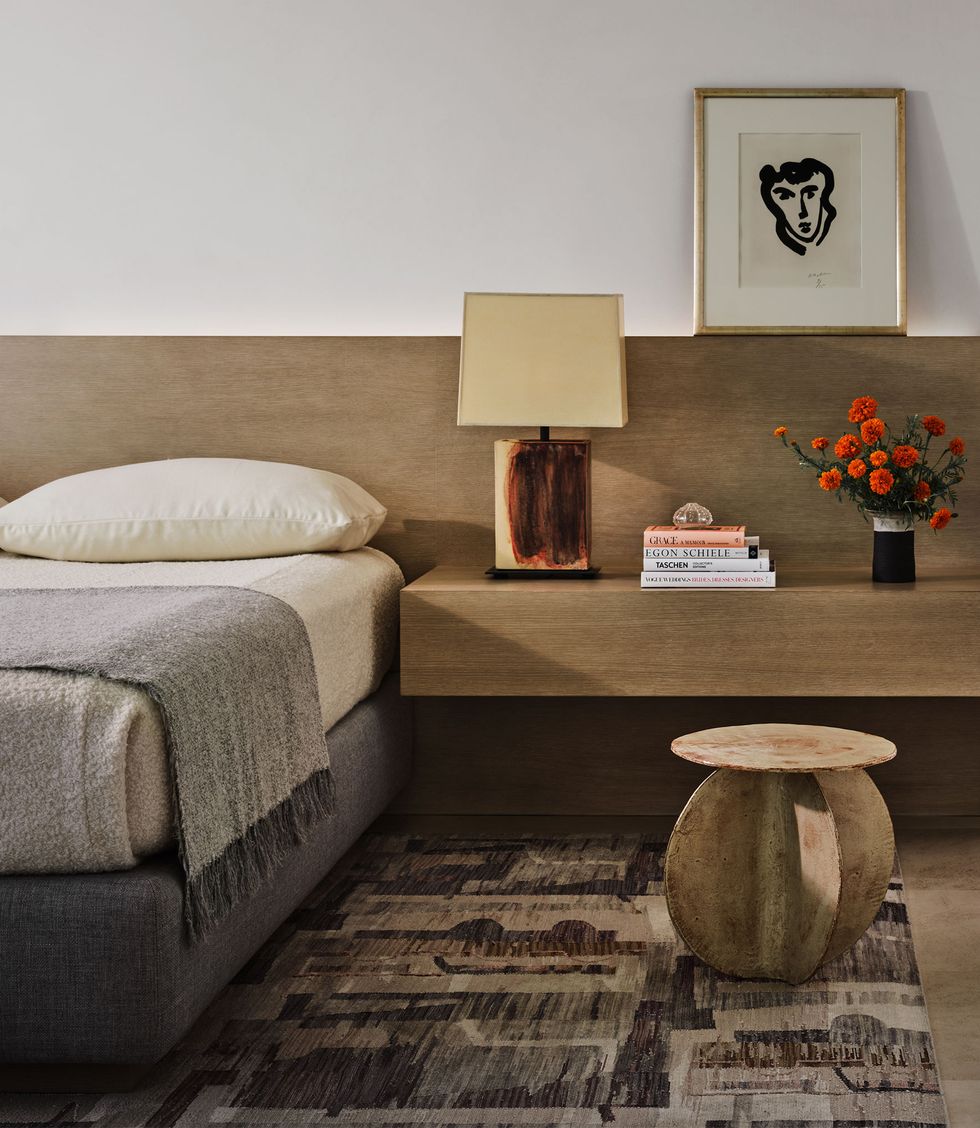 The interior of this Desert House is breathtaking, showcasing a beautiful mid-century modern style. The combination of the pieces with the views of the Indian Wells is simply marvelous. The house's exterior is equally impressive as the interior, featuring a breathtaking outdoor living area. It offers a magnificent view of Eisenhower Mountain as the backdrop. The outdoor space of the Desert House comprises an outdoor kitchen and a remarkable pool area with lounge chairs that Richard Schultz designed.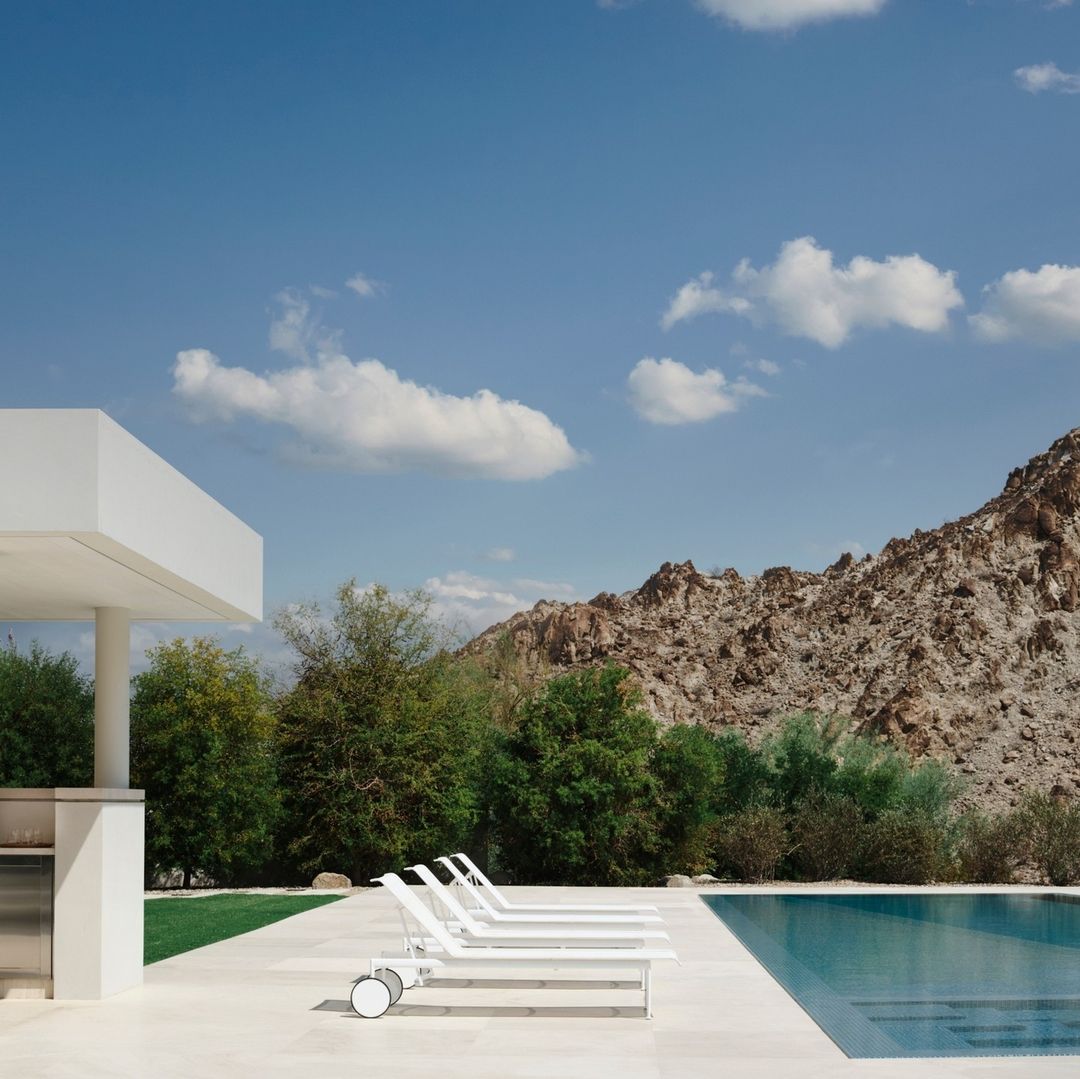 The Perfect Desert Getaway
Nicole Hollis' minimal project is breathtaking. The combination of minimal furniture and the stunning views of the desert makes it a perfect getaway for those seeking a retreat with a summer feel and connection to nature. This midcentury modern style boasts luxuries, beauty, and tranquility.
We hope Nicole Hollis' project has inspired you as much as it has inspired us to create a minimal living space with mid-century modern pieces. If you're searching for more inspiration, we invite you to explore our Summer Decor Ideas to help you create the perfect retreat for your living space projects.

Photos: Douglas Friedman