Step inside Beefbar Milano – a mouth-watering restaurant design in Milan, filth with mid-century glamour and decadent decor.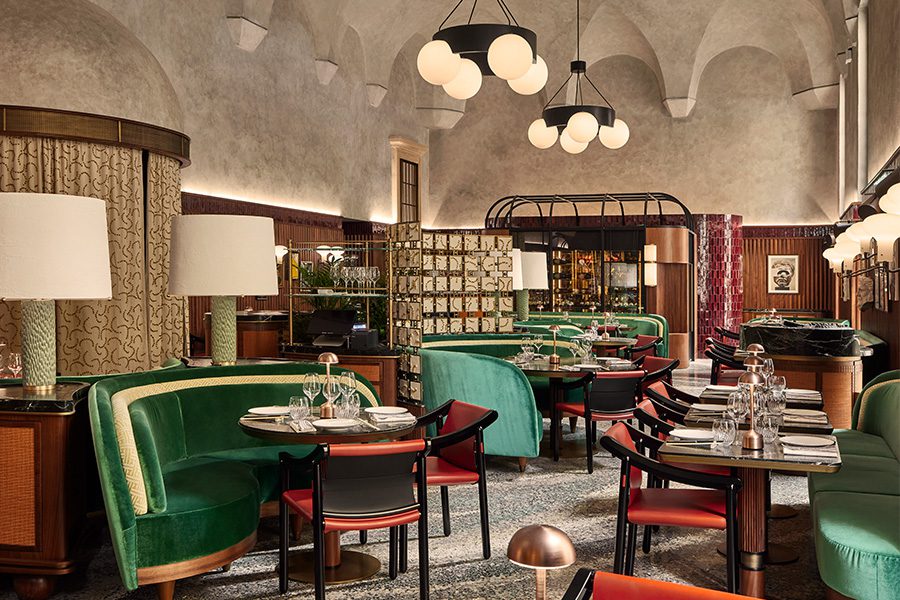 Are you looking for a place to eat while attending Milan Design Week? Or maybe you're just planning a trip to Milan and looking for the best restaurants? Well, either case, look no further than Beefbar Milano, a restaurant sure to satisfy both your appetite for design and cuisine.
This high-end restaurant (and the latest installment of its well-known restaurant chain), located in the heart of Milan, is a must-visit destination for design enthusiasts and foodies alike. Designed by the Monaco-based design studio Humbert & Poyet (who have been working with the Beefbar brand for over 15 years), this restaurant design is an excellent example of how classic and modern styles can be combined to create a unique and inviting dining experience, filth with understated luxury and "warm glamour."
The Architecture
Located in Piazza del Quadrilatero, Beefbar Milano is housed in the historic Archbishop Seminary, which has been restored by architect Michele De Lucchi and his studio AMDL CIRCLE, who preserved the structure's architectural history while introducing a contemporary look that elevates the restaurant design to the standards of the modern era.
The Beefbar Milano restaurant's architectural features also pay homage to modernist architect and designer Luigi Caccia Dominioni, a key character of the so-called Milan style, with its meticulously repaired, hand-plastered vaulted ceiling, dark walnut fluted wainscoting, and terrazzo flooring with stylized wave pattern., which bring this restaurant design to a whole new level.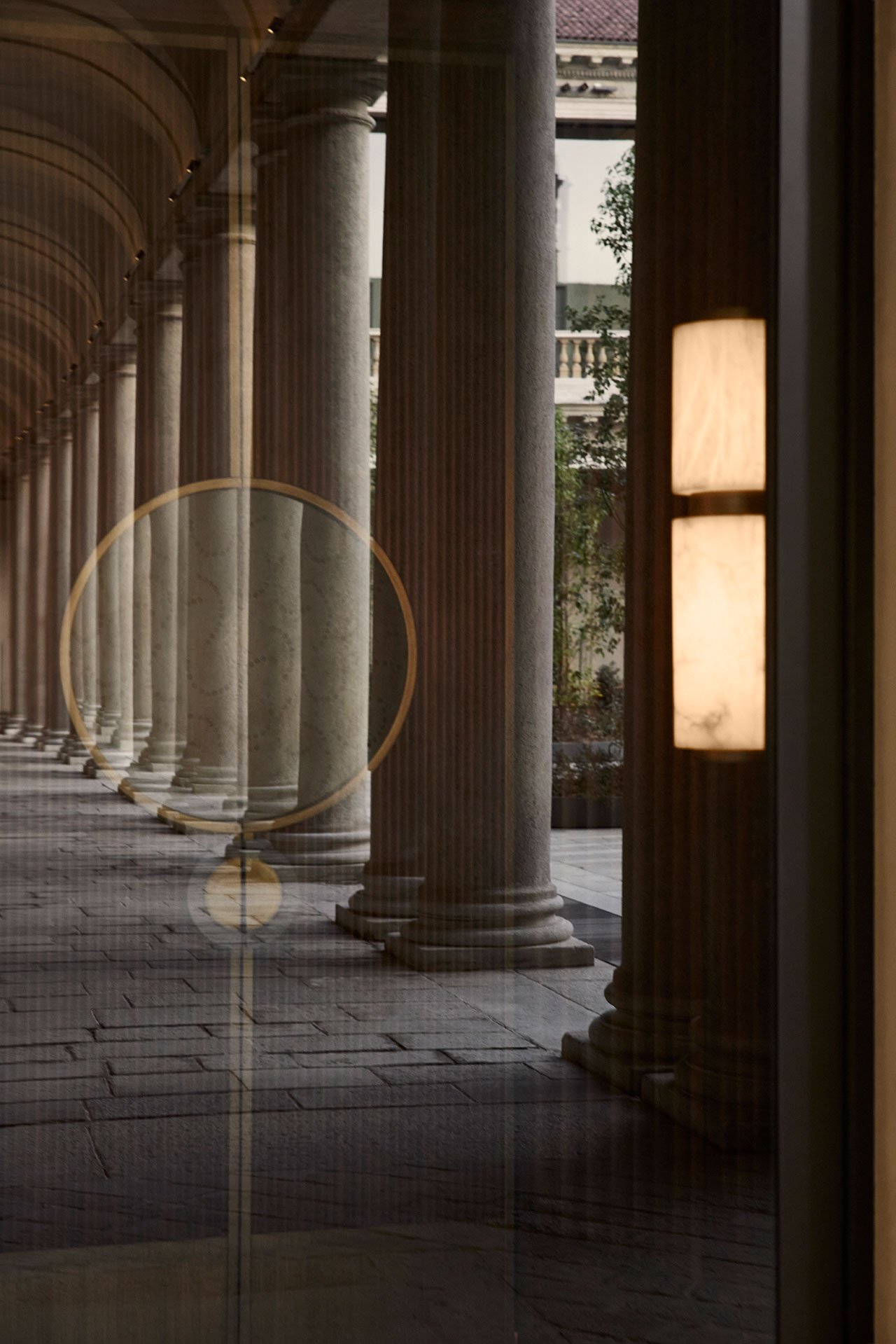 The Decor
Dominioni's trademark fusion of curves and straight lines, steel and velvet, and the traditional and the modern also inspires the Beefbar Milano restaurant design with simple yet opulent décor and a mix of vintage and contemporary furnishings.
In this sense, the designers bet on this mid-century Italian vibe through a mix of furniture that ranges from standout pieces like the plush green velvet sofas and the red leader dining chairs (which bring vibrant splashes of color to the room) to the detailed dining tables with black marble tops, which themselves vary from circular to rectangular shapes., creating a fun layout that makes this restaurant design so much more interesting.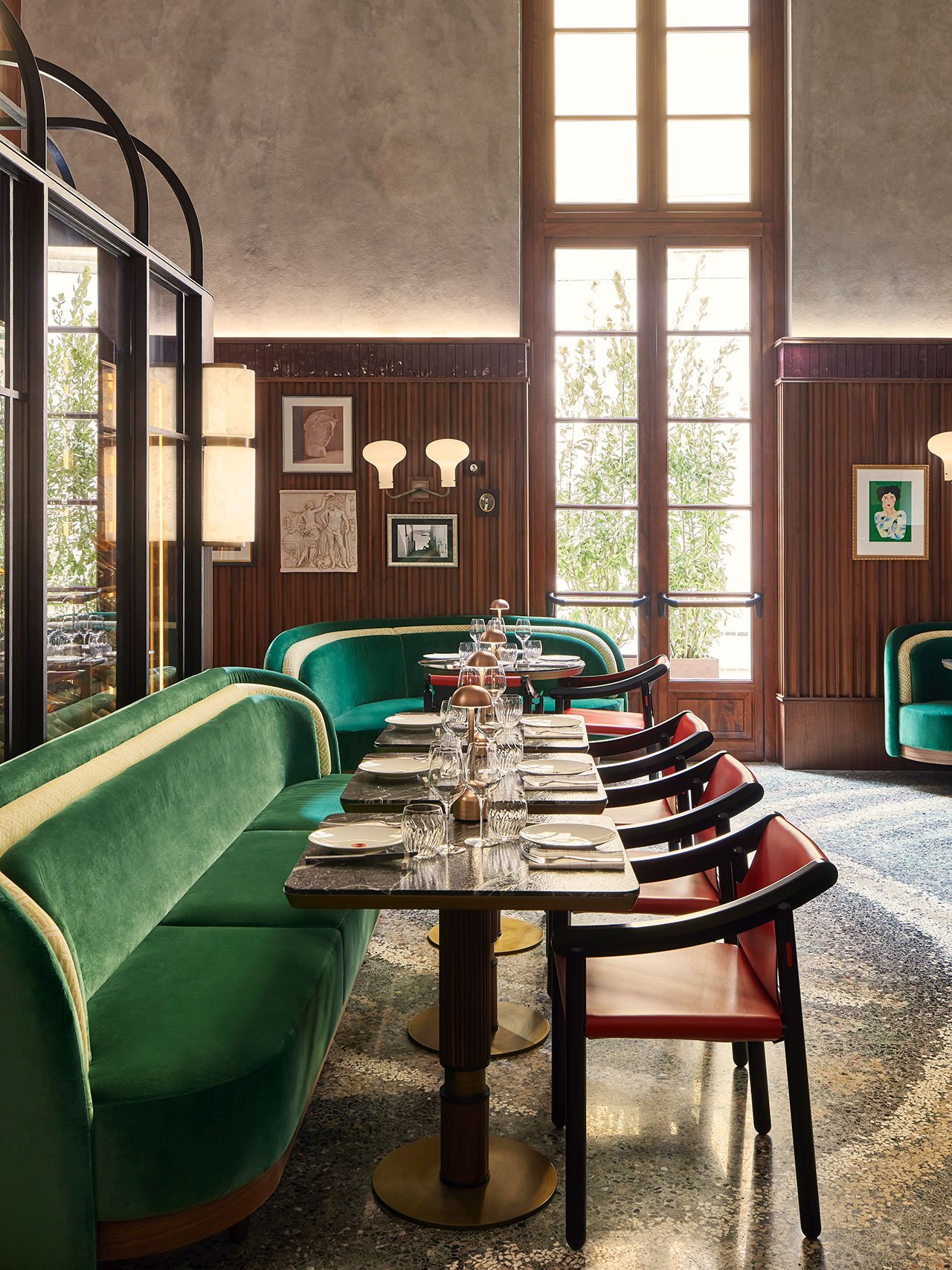 When it comes to lighting, there is also a mix of modern suspension lamps with vintage wall, floor, and table lamps, adding to the mid-century style of this restaurant design, while an eclectic collection of artworks (that focuses mainly on different types of portraits) completes the stylish yet relaxed ambiance of Beefbar Milano.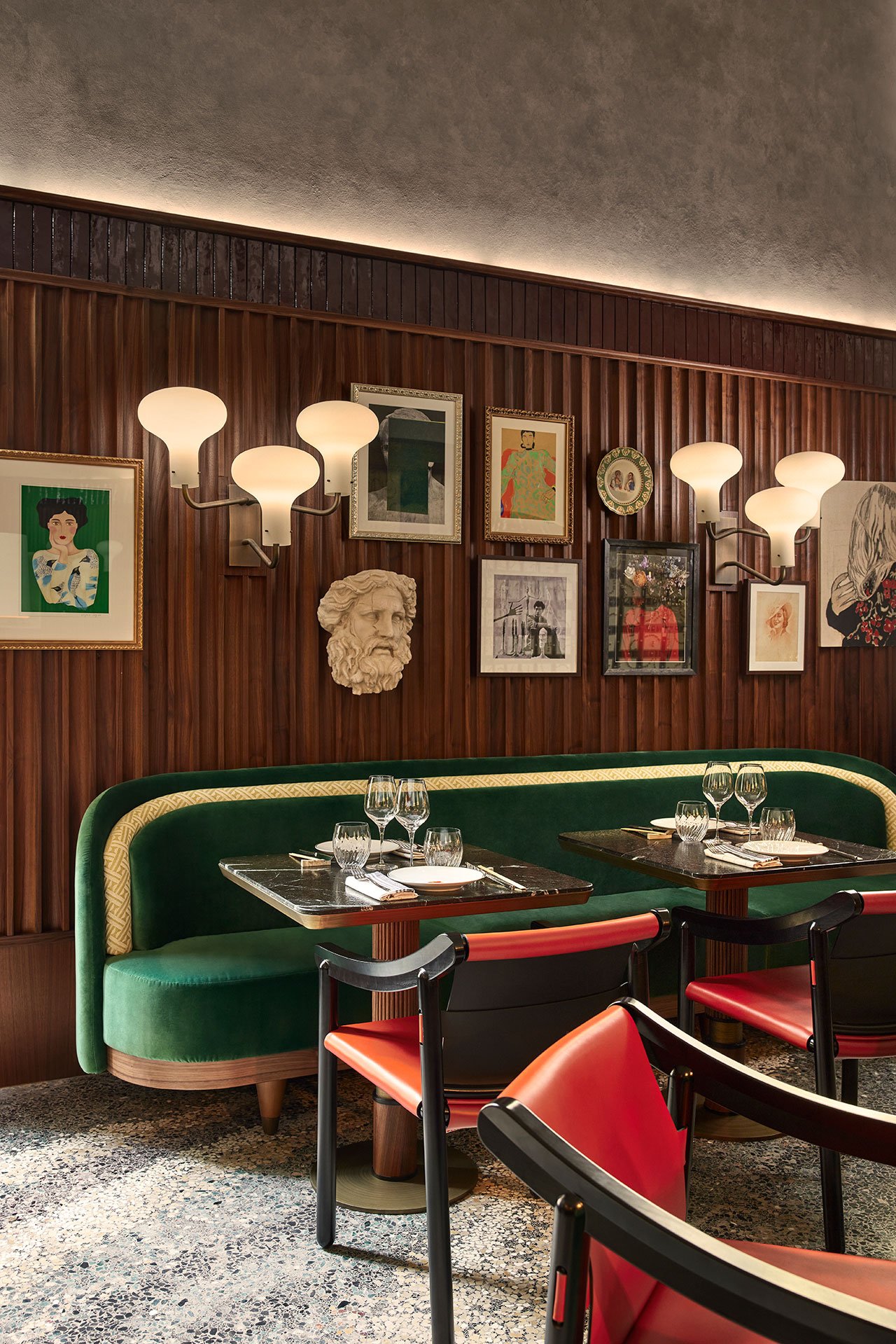 The Food
But let's talk about the key reason for you to visit Beefbar Milano: the food.
At Beefbar, the focus is on high-quality beef dishes, featuring a variety of cuts and preparations that are sure to satisfy even the most discerning palate. Whether you prefer a tender filet mignon or a flavorful ribeye, Beefbar's menu has something for everyone. And for those looking for something more exotic, there are options like wagyu and Kobe beef, which are sure to impress.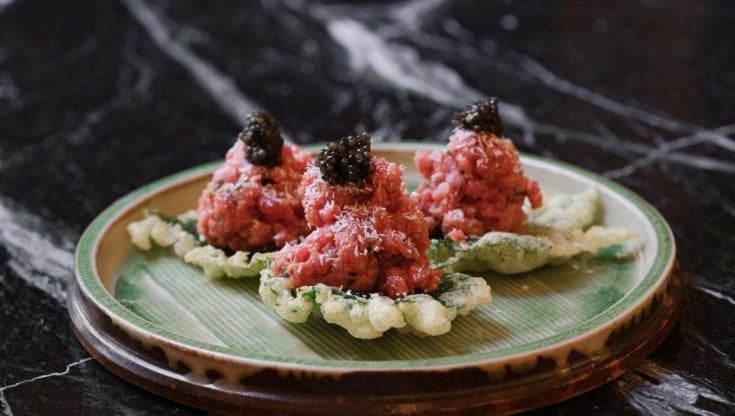 But at this Milan location (Beefbar Milano), there is also a big focus on signature dishes (like tartare) and traditional Italian cuisine (like the Kobe beef Carbonara or the pappardelle with bolognese ragu of wagyu and veal with 101-month parmesan), being that this restaurant's menu counts on a lot of pasta options (and we really do mean a lot).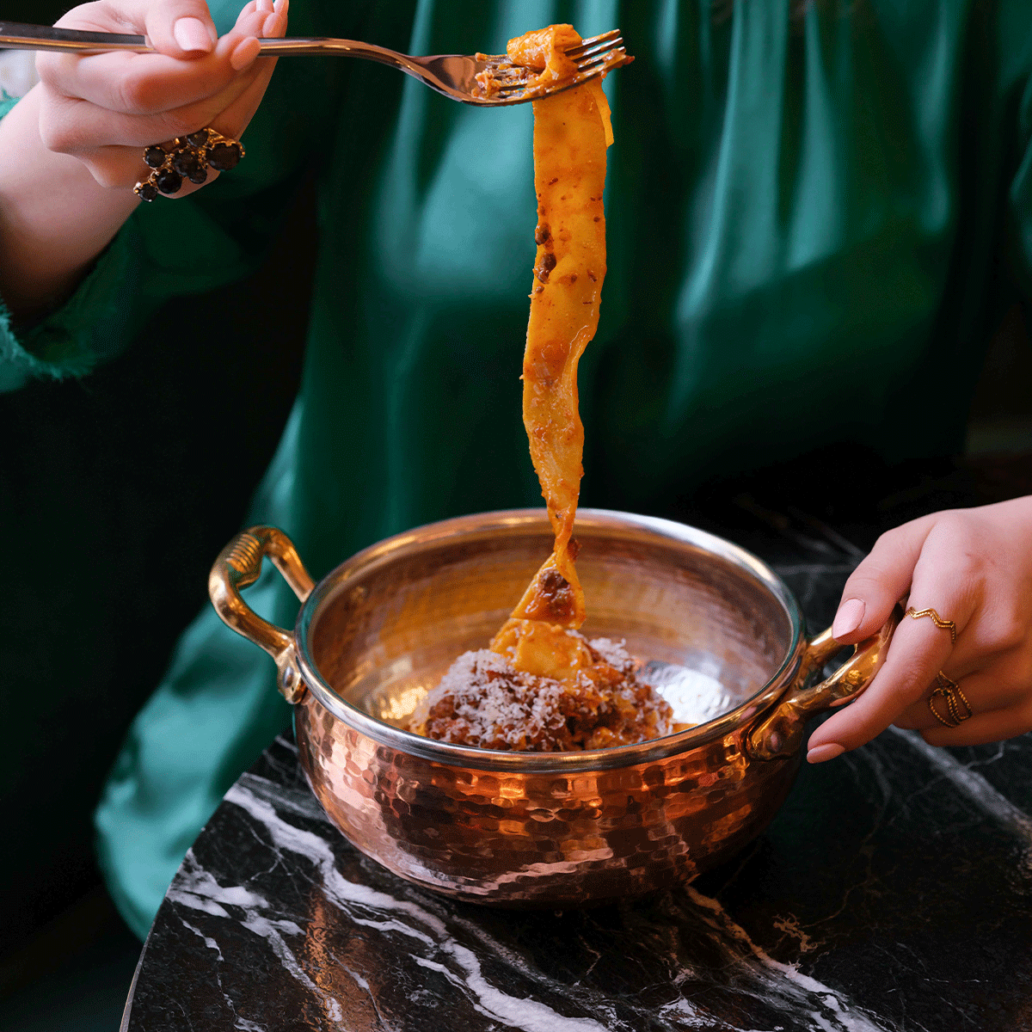 Here, there are no micro portions or tasting menus, but instead, dishes made to be shared, abundant, and a menu that in the evening is enriched with new courses. But what really sets Beefbar Milano apart is its commitment to quality ingredients and expert preparation. From the sourcing of the beef to the cooking technique, every step is taken to ensure that customers have a truly exceptional dining experience.
And the same can be said of the restaurant design, with Beefbar Milano reflecting this ethos, providing a space that is both timeless and contemporary, where guests can indulge in the finest cuisine in a stylish and relaxed setting that is a perfect reflection of the restaurant's menu: sophisticated, luxurious, and unforgettable.
If you're in Milan…
If by any chance you're in Milan this week, either be it purposely for Milan Design Week or not, then, after (or before) you enjoy a great meal at Beefbar Milano (and appreciate the amazing restaurant design) make sure to check out our cosmic exhibition NEOCOSMOS – A CONCEPTUAL EXHIBITION OF FUTURISTIC VISION OF INTERIORS occurring at Salone del Mobile (where we will reveal a portal to visitors' dreams conceived in a futuristic vision of Interiors Living) and Fuorisaloni (where we will celebrate existence with an on-site outdoor, multisensorial, and virtual experience).

Source: Beefbar Milano