Marquetry is an ancient art that is still beloved. Discover what marquetry is and modern marquetry furniture for contemporary interiors.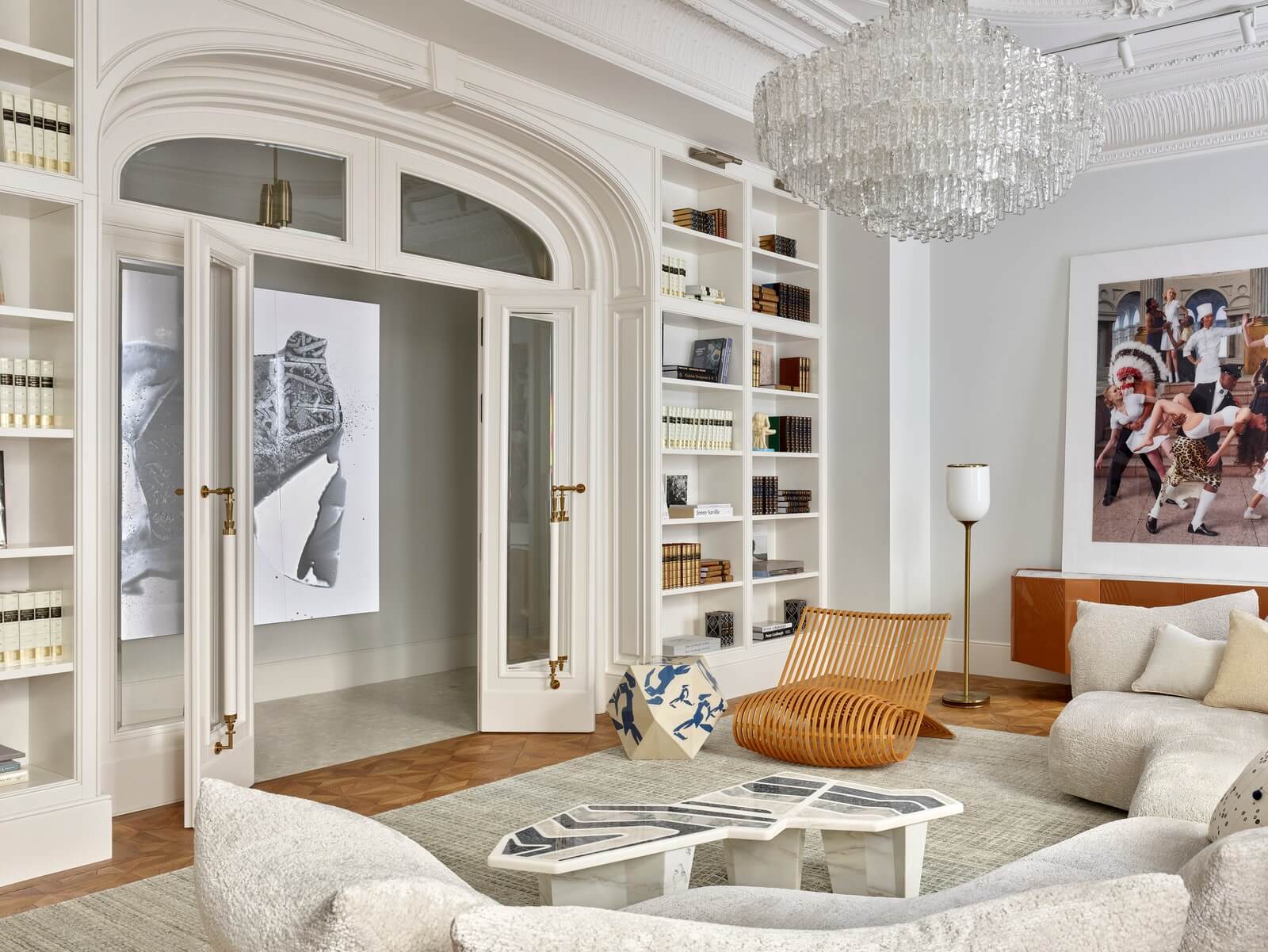 What Is Marquetry?
Marquetry is a traditional woodworking technique that creates beautiful patterns and designs using thin veneers or layers of wood. Nevertheless, marquetry can be the assembly of veneers of metal, concrete or stone, such as marble. Dating far back to the 16th century, this arts & crafts process creates objects and patterns on unexpected surfaces out of the stylish merge of different types of wood, each with unique cuts.
Modern marquetry furniture looks like embroidery on a serviette or a folk cut-out. It is impressive for its careful craftsmanship and beautiful patterns. The art of marquetry returns to favor with Louis XVI and decorations from beautiful palaces and halls.
Now this noble technique is returning with a modern and bold interpretation. Many furniture designers look with interest at marquetry and try to create modern furniture crafted in the spirit of this old and forgotten technique.
Types Of Wood Used In Marquetry
The most common types of wood used in marquetry are woods with straight grain, good resistance to expansion, contraction and warping. Wood for marquetry work is wood resistant to splitting and chipping when cutting. Therefore, maple, oak, mahogany, walnut, ash, wenge and merbau are the best types of wood marquetry work.
Marquetry Woodwork Technique
Marquetry woodwork implies the cutting, fitting and gluing wood veneers to arrange an exquisite pattern.
The craftsperson identifies the shapes that will bring together the modern woodwork composition and the types of wood that will be used to create a visually appealing pattern.
After cutting different pieces out of different types of wood, the artisans glue the dozens of veneers together, sand them to create a uniform relief and finish the marquetry work with a glazed coat that protects the handcrafted composition.
Modern Marquetry Furniture For Contemporary Interiors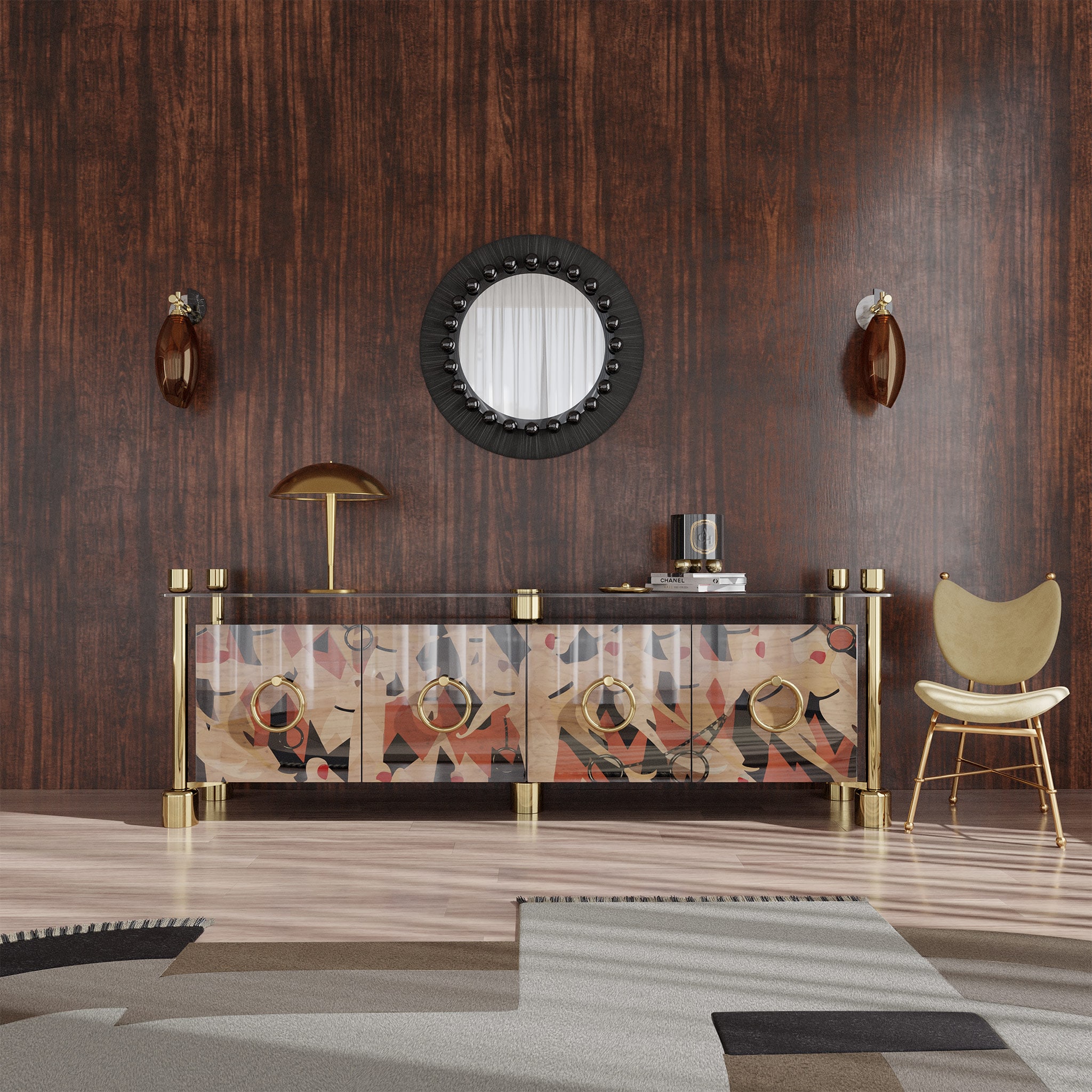 Modern Marquetry Coffee Tables
Our selection of coffee tables and center tables in modern marquetry work forgathers many design styles and materials. Klimt Center Table is perfect for a modern organic interior design or for an interior design project where neutral hues reign. Picasso Coffee Table is an artful marquetry center table that gives any interior a new life. In its turn, the Arcadia Center Table is perfect for embellishing art deco interiors.
To illustrate the versatility and exquisiteness of the marquetry technique, we include Utah Center Table in this selection of modern marquetry center tables for contemporary interiors. Its whimsical pattern made of different types of marble and granite illustrates the richness of the marquetry technique.
Modern Marquetry Side Tables
Klimt Side Table, Klimt Bedside Table and Utah Side Table are our contemporary marquetry occasional table selections. Klimt, both in the form of a side table and bedside table, is an elegant composition of dozens of natural-colored wood veneers. This family of woodwork furniture elevates any interior design project.
Even though Utah Side Table is a masterpiece of contemporary marquetry, it celebrates stone (namely marble and granite) instead of wood.
Modern Marquetry Dining Tables
Among our collection of modern dining tables, we pick out three mid-century modern dining tables with a marquetry woodwork top for complementing any contemporary interiors.
Zimmer Dining Table, Zahara Dining Table and Fuschia Dining Table are luxurious dining tables with amazing tabletops. The modern marquetry is the perfect backdrop for a refreshing tablescape and a sophisticated dining room design.
Modern Marquetry Console Tables
Whether in the entryway, hallway or living room, a marquetry console table will elevate the whole design project. Rapple Console Table, Rumba Console Table and Charlot Console Table are three accent tables that blend in art deco interiors and midcentury modern interior design projects. Furthermore, these three console tables have in common the surgical assembly of delicate woodcuts.
Modern Marquetry Furniture
Modern marquetry furniture pieces celebrate materials and craftsmanship and elevate any interior design project. The purity of materials makes marquetry furniture fit in minimalist interiors or modern organic interiors. The elegance of marquetry woodwork blends in with the opulence of art deco interior or Hollywood Regency style. The patterns formed by the artisans who glue the tiny wood veneers are harmonious graphic compositions that belong to contemporary interior design.