Derived from the Greek word 'ιστορία', ISTORIA means story. And just like the name, this luxury hotel promises to be the perfect place to make the best narratives in Santorini.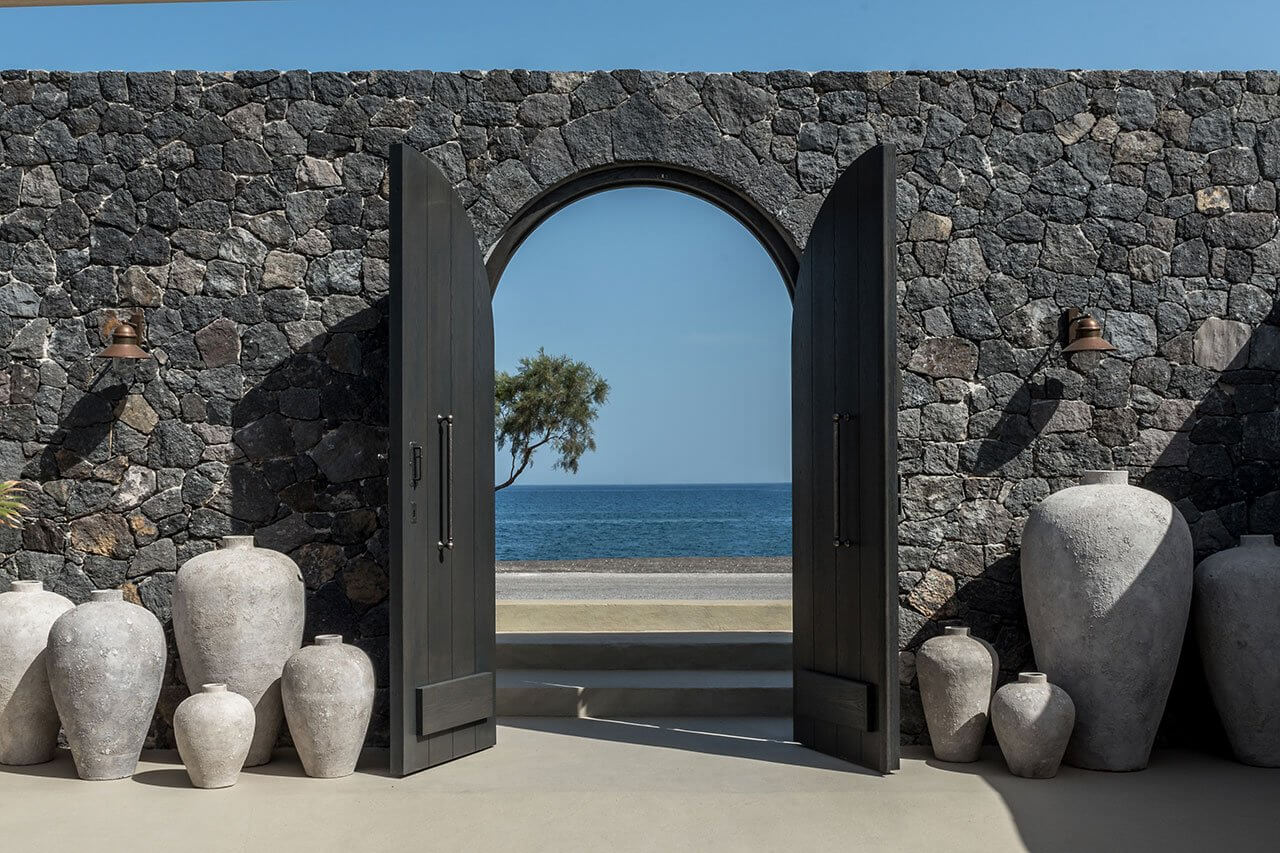 Blue sky, fresh breeze, calm water, and breathtaking views are problably the first thought when Santorini comes to mind. All these concepts are easy to find in the layout of this luxury hotel. ISTORIA is the perfect blend between the greek aesthetic and the contemporary style.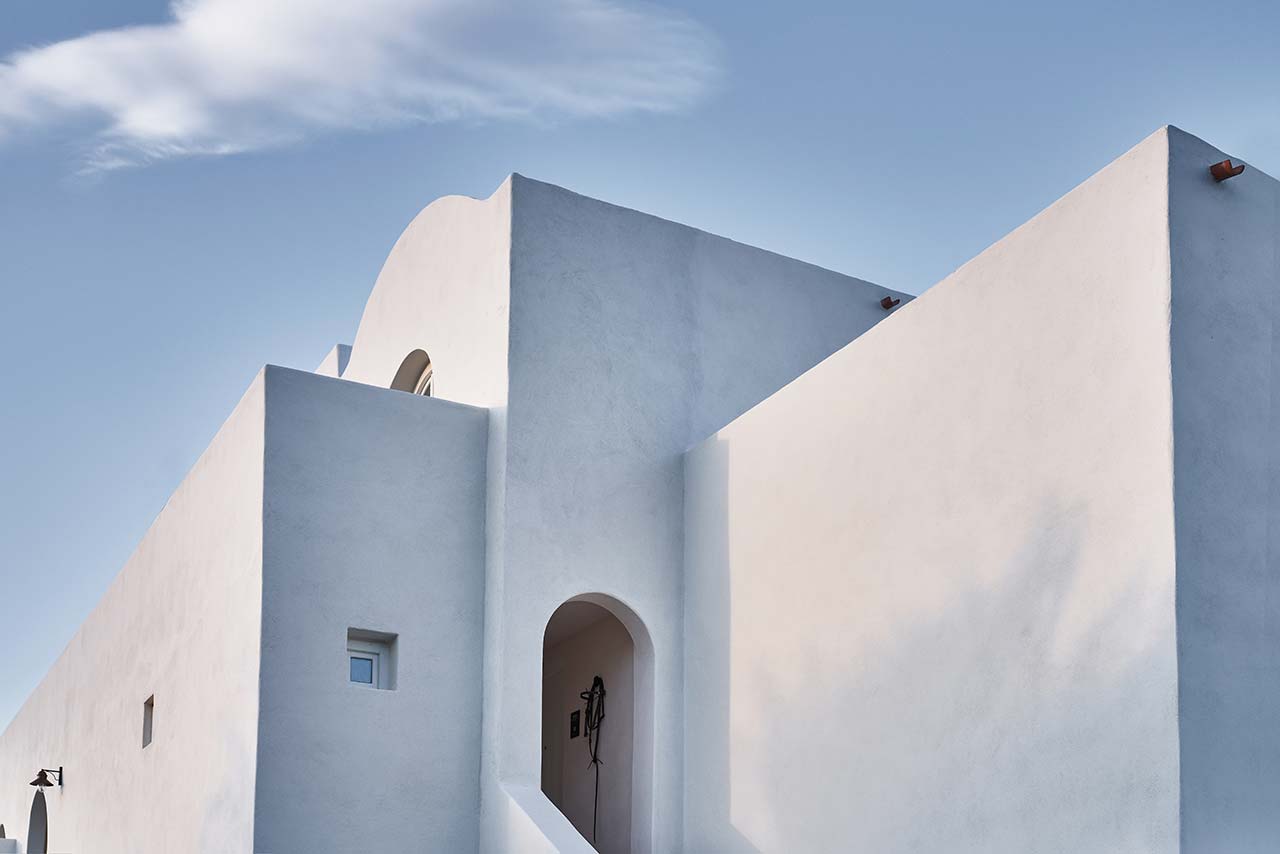 This luxury hotel, designed by the Athens-based firm Interior Design Laboratorium took over an abandoned residence next to the beach, including five stables that the former owner used to keep their dear horses.
Like in a good story where the past help to bring context to the new, at this luxury hotel, it was also important. The preview narrative from the house was an inspiration for the new project.
Some building elements from the original layout remain in the interior of the suits, completing this new narrative and showing an ideal match of the original and contemporary.
The project layout of this luxury hotel aims to be a home far from home. The interior design brings a sense of closeness, peace, and comfort. All elements – from the color pallet to the objects – help active this desire.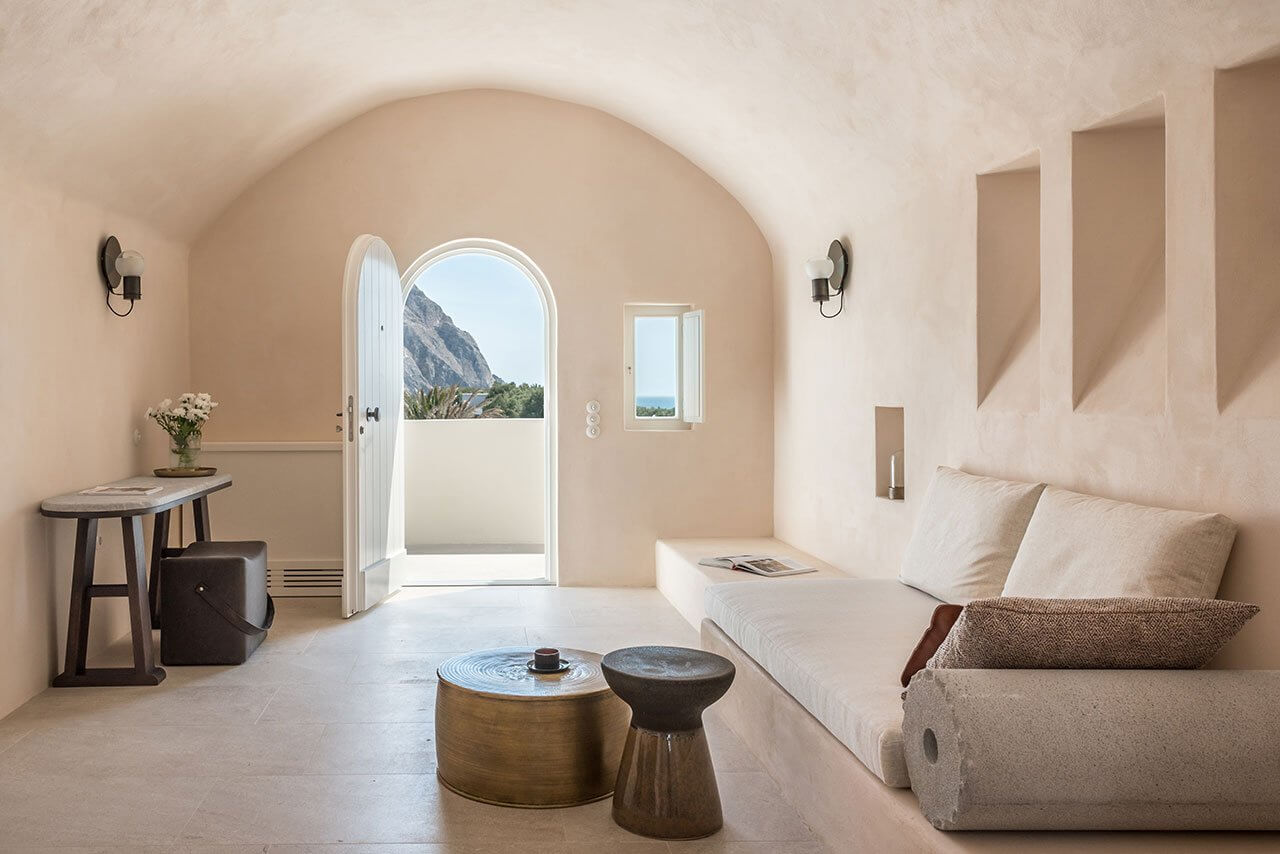 During the building renovation, the architects select materials that combine the island's traditional techniques and elements from the Mediterranean. The result is a luxury interior design that maintains the greek aesthetic.
The earthy textures and colors inspired this project. In contrast with the dark colors of the volcanic stones, rock, and sand on the beach, the architects choose to use polished screed floors. Wooden furniture and handcraft textiles highlighted this luxury hotel layout and gave a natural vibe to the interior design.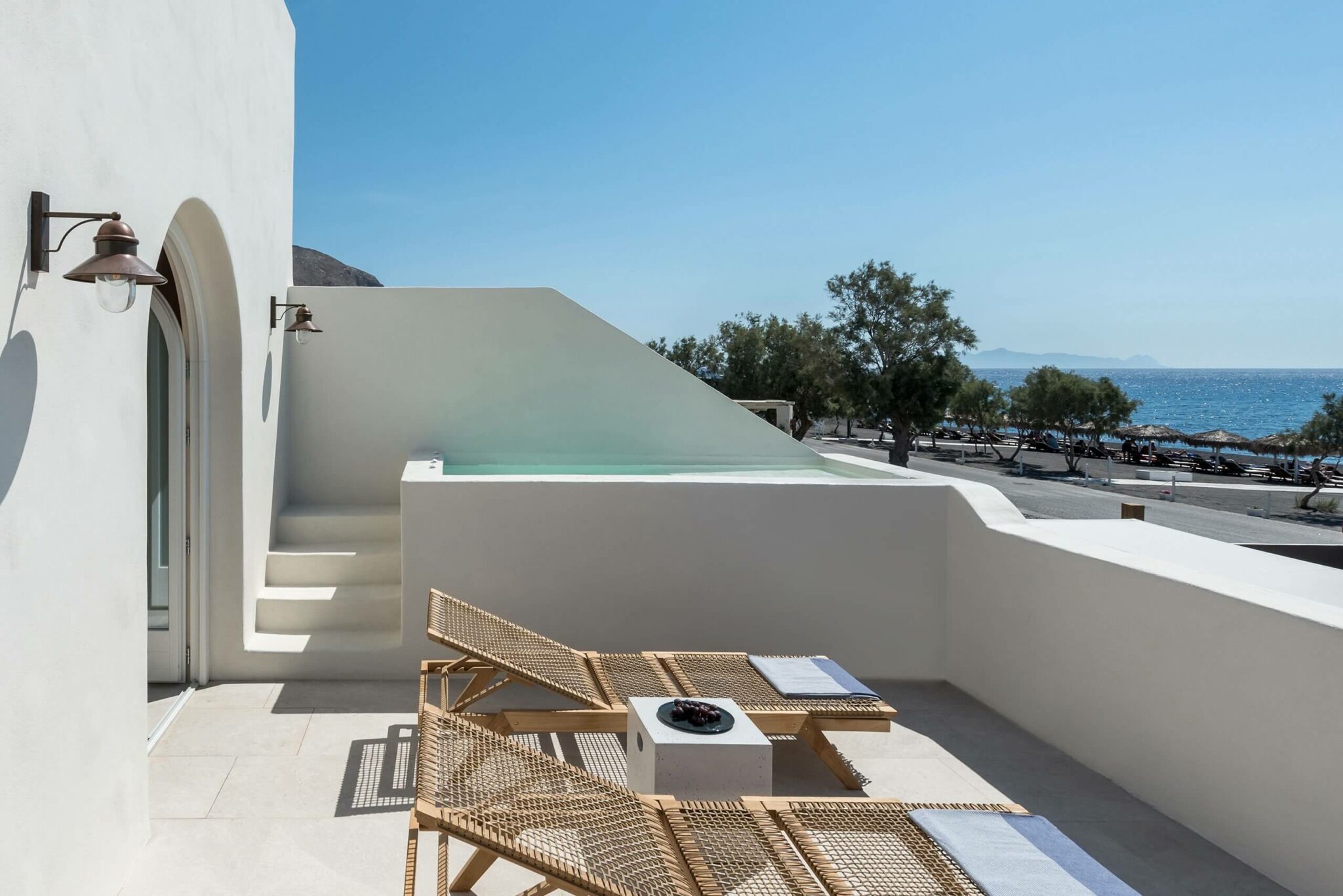 To complete the Greek inspiration, this luxury hotel also has a great outdoor area with a selection of Mediterranean flora that gives the perfect tone to this paradisiac place.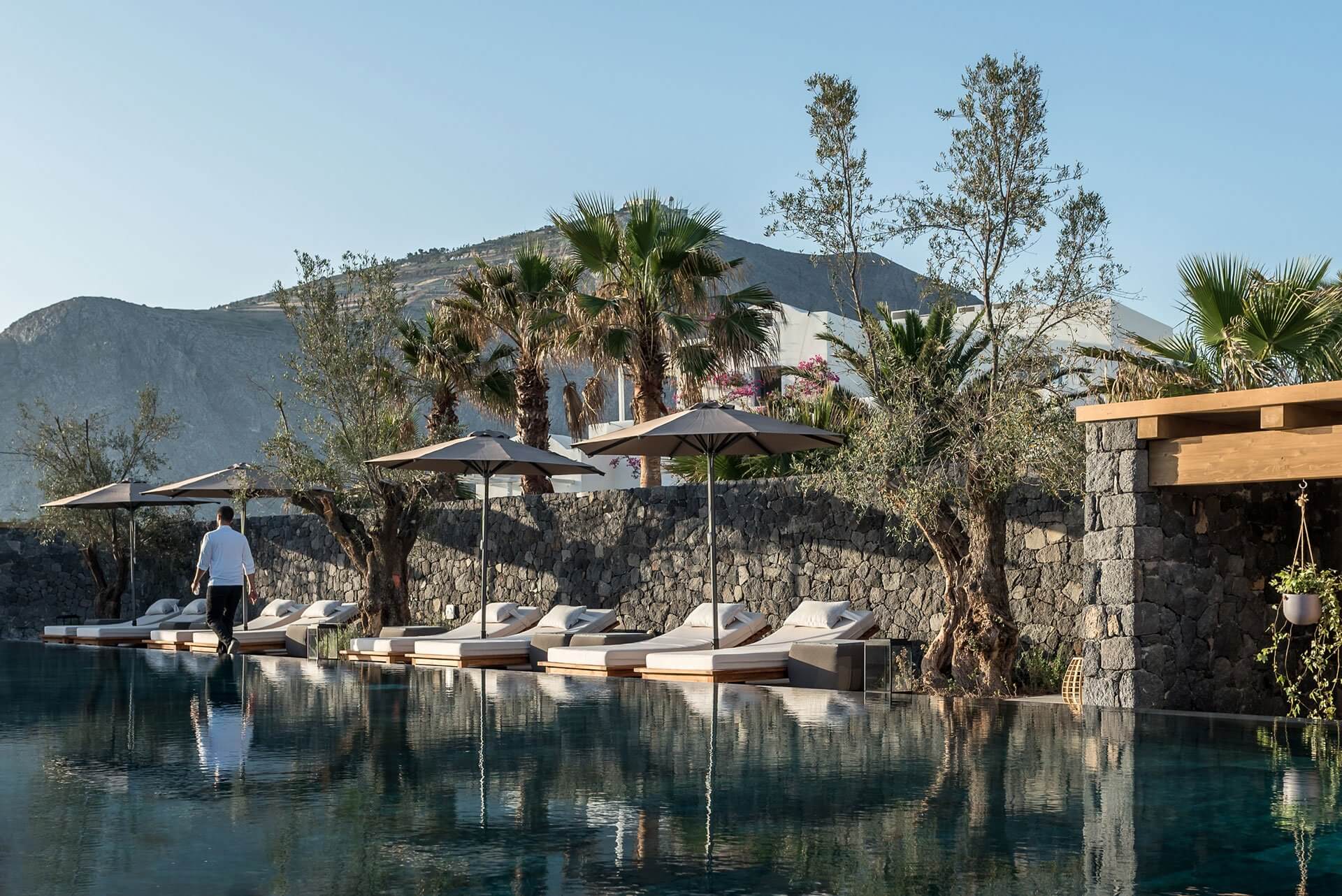 The beautiful work renovation presents this project with the Mediterranean style and invites guests to feel like this is their own luxury home. But to give this feeling, privacy was an essential point of this project.  Each suite has a personal terrace and a breathtaking view of the beach.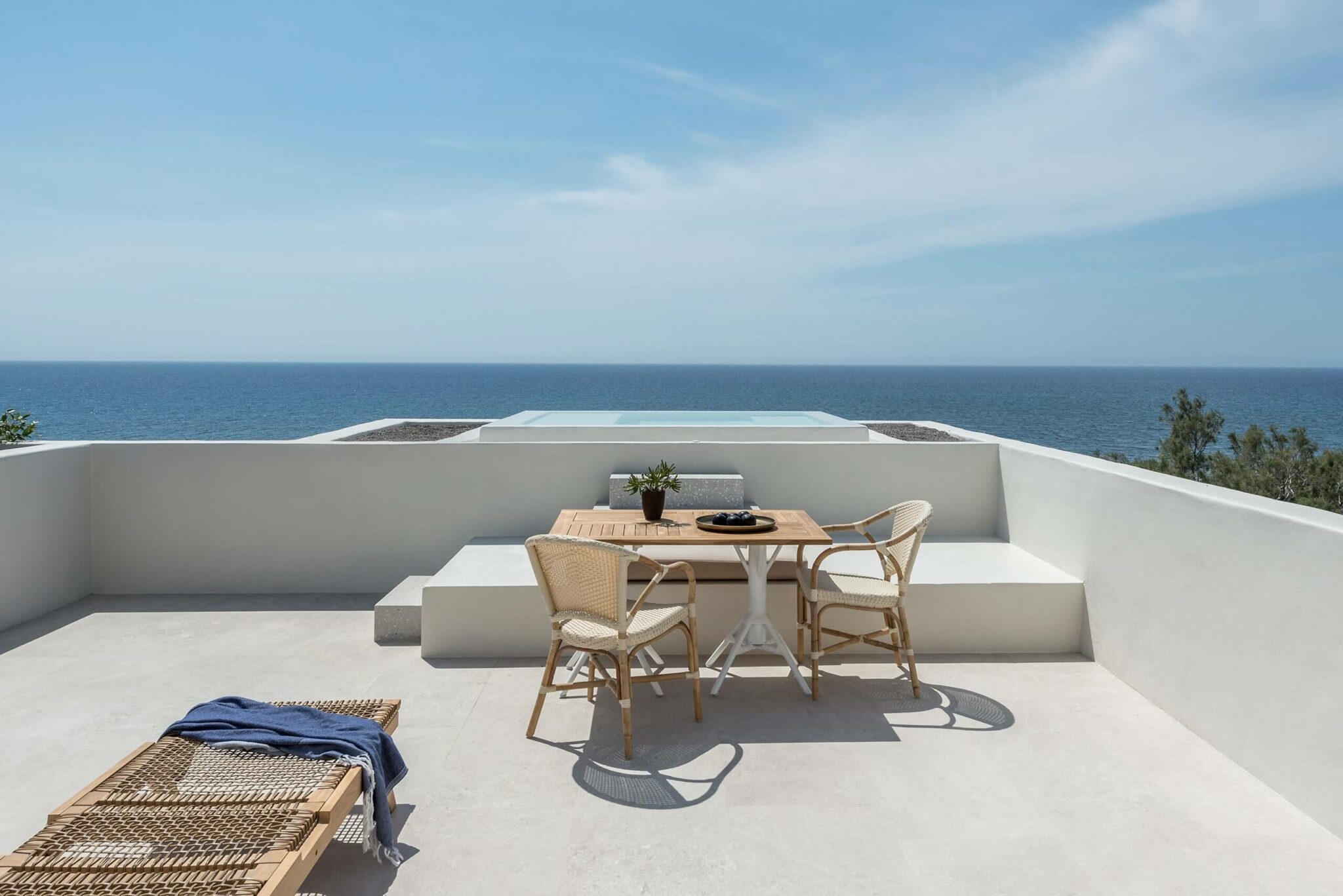 Besides the desire to make this luxury hotel a home far from home, ISTORIA features other facilities – a pool bar, a restaurant that serves modern Greek and Mediterranean cuisine, and a Spa- all these places follow the same greek and contemporary aesthetic as the rest of the hotel.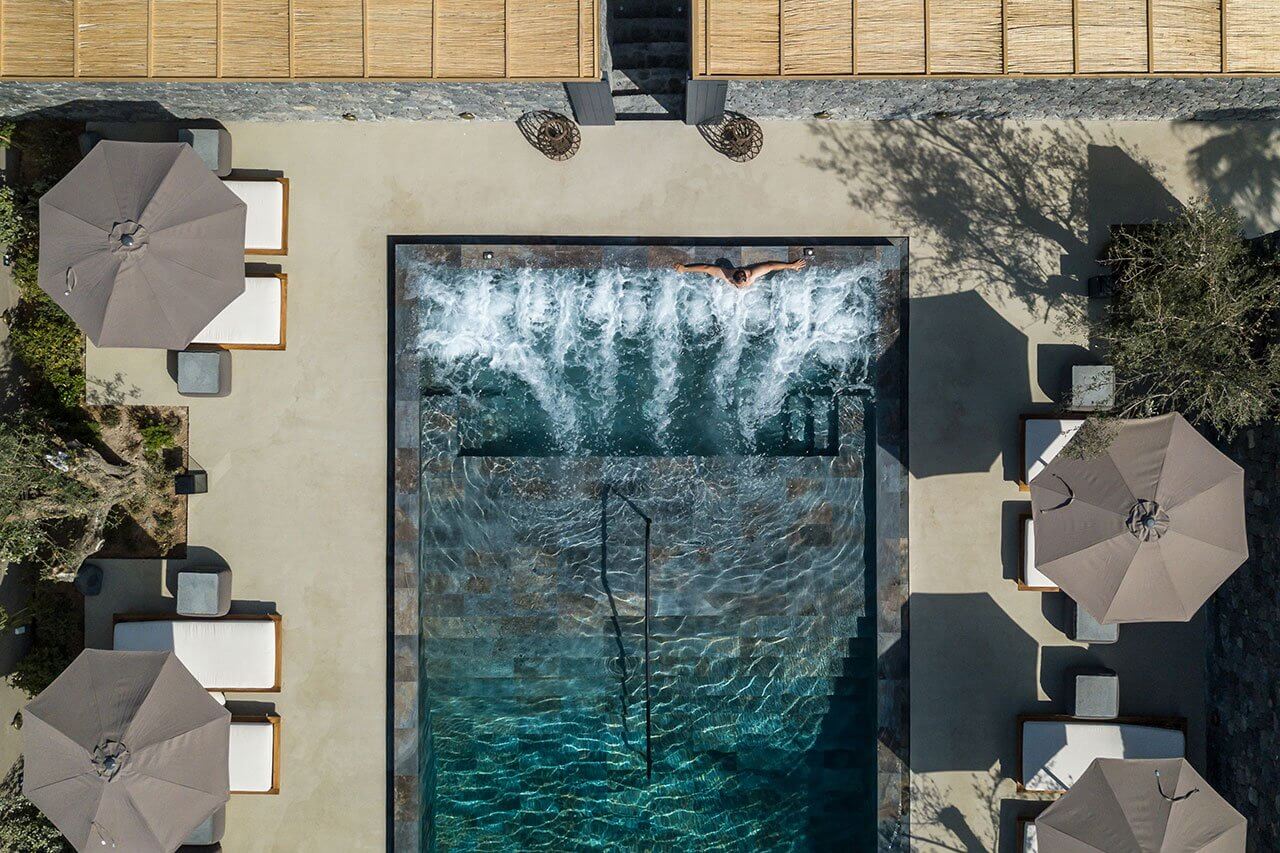 This luxury hotel promises to be the perfect scenario for your best memories in Santorini. This fantastic interior design should also be an ideal inspiration for any home decor.
ARE YOU INTO INTERIOR DESIGN?
If so, discover modern furniture and lighting designed by design lovers for design lovers. All you need is to download the Hommés Studio catalog. To complete your interior design project, choose the high-end homeware by ACH Collection.