Mediterran Resort is a collection of modern outdoor furniture that adds easy luxury and cool elegance to every modern outdoor living space.
Easy luxury and cool elegance – these are the words that describe the Mediterran Resort to perfection. This new collection is a limited edition of modern outdoor furniture for a luxury outdoor living space with all-season beauty.
The Mediterranean Resort collection is about all the good things, perhaps the best, for outdoor living – a classy selection of outdoor furniture resistant to wear with sophisticated design.
Praising the landscape, the smells, the colors, and the textures of the land around the sea, the Mediterran Resort collection delivers to your patio, garden or yacht outdoor furniture with thought-to-detail comfort and neat crafting.
ABOUT MEDITERRAN RESORT
The Mediterranean has long been a source of inspiration for artists, poets, and thinkers. In the Mediterranean, the good life took root and the slow living, il dolce far niente, flourished. During summertime, the Mediterranean is the sweetest escape, with its sapphire waters, emerald cliffs, and kaleidoscope fruits.
The Mediterranean is this marvelous place on earth full of natural resources, whose people have eager eyes and wise hands.
Mediterran Resort is tangible quietness and happiness to decorate your outdoor living area (and your home too), characterized by a strong minimalistic approach that exudes luxury and sophistication and celebrates all of the natural bounty and bohemian spirit of the Mediterranean.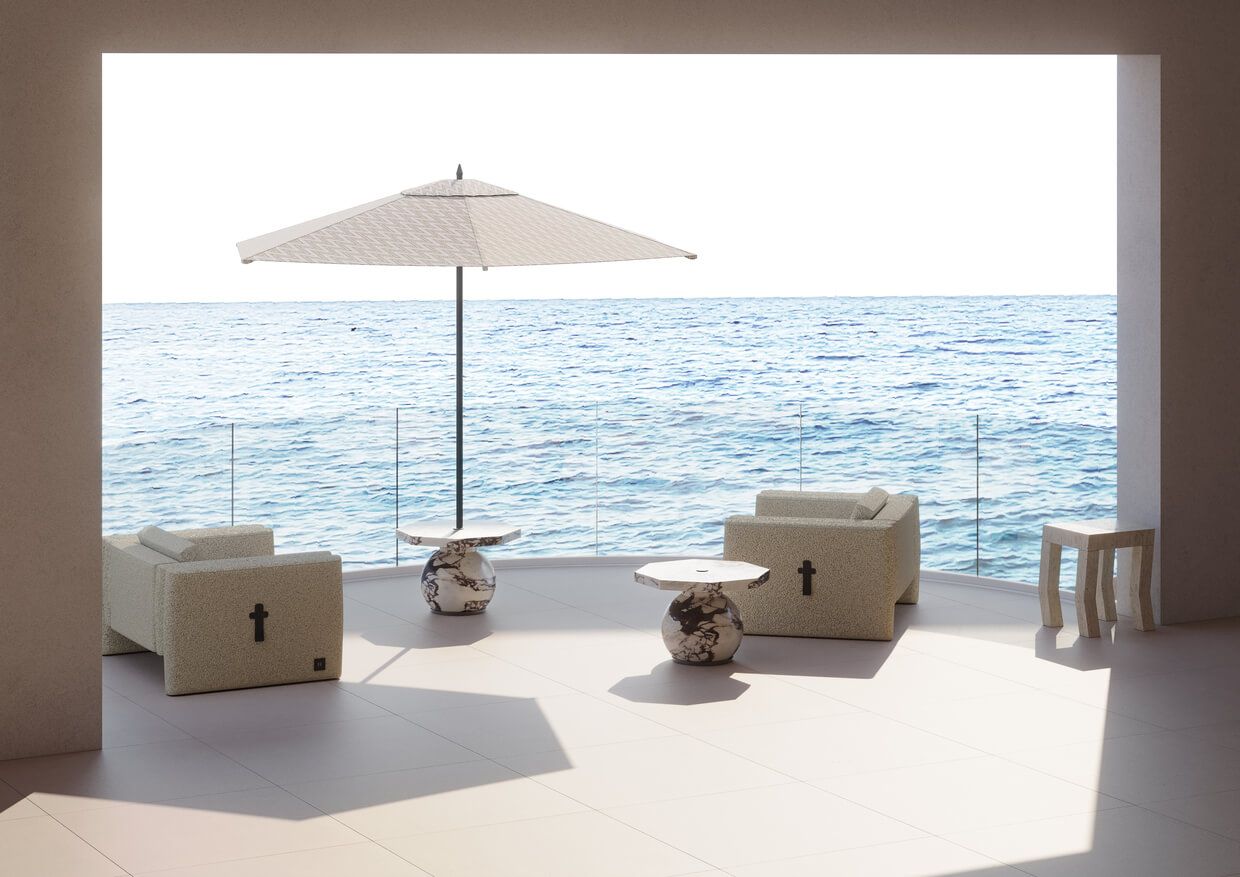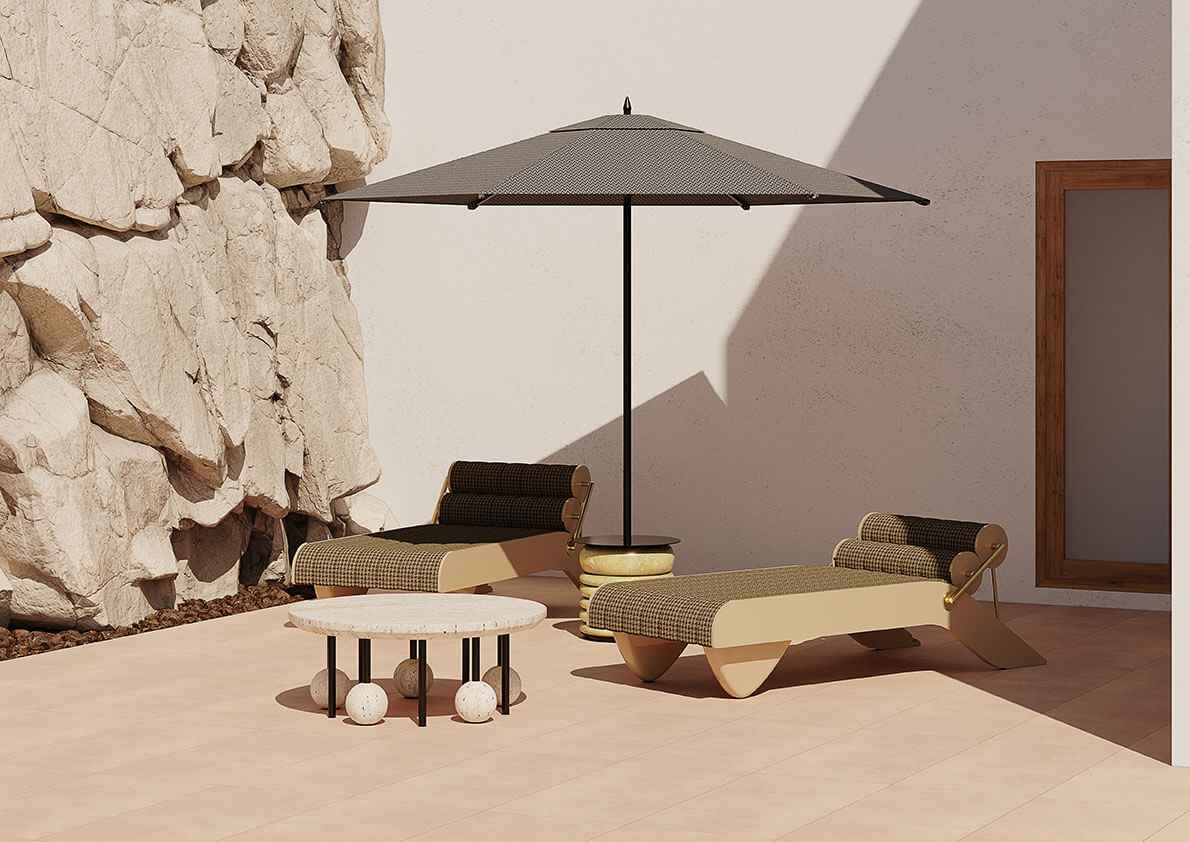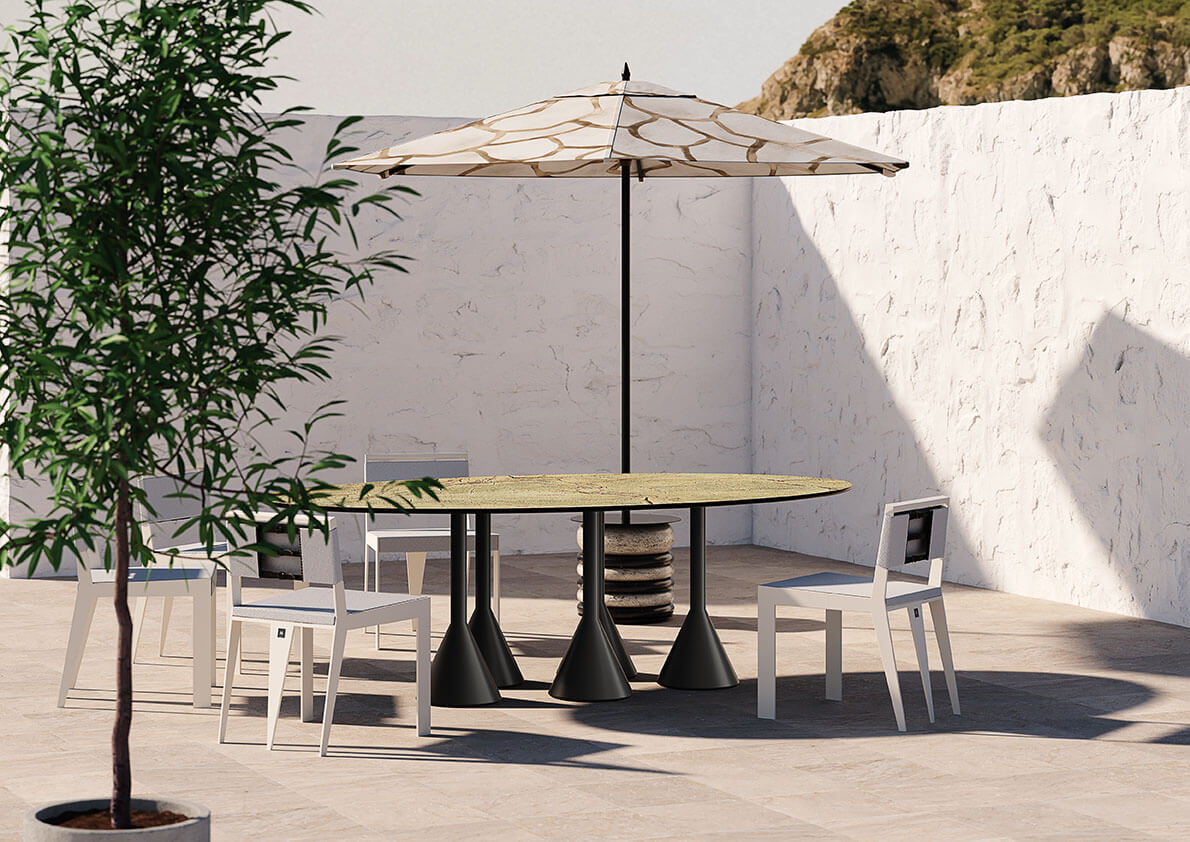 THE COLORS
Mediterran Resort collection has modern outdoor furniture for luxury outdoor living spaces that camouflage into the Mediterranean landscape. Green marbles as lush vegetation, hot reds as late spring cherries, creams with glimpses of pink as the sandy grounds, and crisp whites as the most harmonious hue to combine with the refreshing blue water of the sea.
The new collection has modern outdoor furniture sets mostly in a cream palette because neutrals outburst calm, relaxation, and well-being. Furthermore, white, beige, taupe, grey, and blue are light natural colors that create an airy atmosphere. Amongst a resort in the French Riviera, a balcony on a Greek island, or next to picturesque Italian cliffs, our best memories are painted in chalky colors mixed with vibrant earthy hues.
THE TEXTURES
Our ultra-modern outdoor furniture collection replicates the emotions around the Mediterranean sea so you can feel summer-drunk wherever (and wherever) you are. The lines, patterns and fabrics that were carefully selected for Mediterran Resort outdoor furniture collection mimic the visual and tactile textures of the Mediterranean design and landscape.
Our modern garden furniture is embodied by breezy and flowy architectonical lines, while our fabrics are smoothly textured, slightly bumpy but tender (just like the feel of floury sand on the skin), and the quintessential patterns of our weather-resistant fabrics make a statement – high-end design is a blend of tradition and innovation.
THE MATERIALS & TECHNIQUES
The materials of our cool & elegant outdoor furniture collection float around three essential features – durability, comfort, and style. The collection captivates the inner essence of each material – stainless steel, brass and corten steel, black, white, red, green, cream, and violet marble, travertine and concrete and stone leaf, wenge wood, glass, and outdoor leather and fabric. After a careful selection, these materials are transformed into functional outdoor furniture with unexpected beauty.
An artisan-industrial hybrid delivers modern furniture for patios and gardens that is the perfect balance between quality and aesthetics. The women and men who craft these products belong to a long history of talented people who transform natural resources into wearable and durable artistic pieces. The metals, stones, woods and fabrics of Mediterran Resort are sculptured, polished, and lacquered.
THE FABRICS & PATTERNS
The outdoor fabrics of Mediterran Resort are waterproof leather and outdoor fabric. With characteristics that make them ideal for outdoor loungers, sunbeds, and outdoor dining chairs. The style and feel of these outdoor fabrics wrap up modern seating options, classy and timeless, that complement modern lounge areas and living rooms – indoors and outdoors.
In addition to the modern sunbeds in pearl, cream, and black & white synthetic leather, our collection of cool & elegant outdoor furniture also has sunbeds, outdoor sofas, armchairs, and stools in outdoor bouclé fabric.
Tartans, awning stripes, pied coq (or houndstooth) are the classy and timeless patterns that will turn your modern garden furniture into pièces de résistance.
THE NEW DESIGNS & SPECIAL EDITIONS
Mediterran Resort collection elevates the outdoor living design with an unconventional communion of soothing colors, vintage patterns, innovative fabrics, and modern furniture and lighting to create outdoor spaces that are as beautiful and luxurious as indoors. This cruise collection introduces new products with contemporary and irreverent design, as well as new interpretations and finishes of our best-sellers.
MASSIMO FLOOR LAMP
Massimo Floor Lamp Set is an artistic floor lamp with a clean and functional design. The outdoor Lamp comes in two sizes to fill outdoor lighting design.
KALAM FIRE PIT
Kalam Fire Pit is a freestanding modern fire pit, that will fit perfectly in a modern outdoor design project.
LISOLA STOOL
Lisola Armchair Retro is a modern seating piece. This stool is a versatile outdoor seating for an outdoor living space with luxurious flair.
Lisola Stool Retro

Stool

$

3.018
TROPEZ SUNBED
Tropez Sunbed Fern will add luxury to any modern outdoor project design. A furniture piece will add luxury to any modern outdoor project design.
SOLEIL DINING TABLE
Soleil Round Dining Table is a modern outdoor dining table for an al fresco dining area. The contemporary design is perfect for an outdoor dining area.
MAGNUS CONSOLE TABLE
Magnus Console Table Concrete is a modern design table with a modern geometrical shape. An outdoor table adds a timeless value to any design project.
MEDITERRAN RESORT COLLECTION
Download our Mediterran Resort ebook and discover all new products, special editions, as well as available customization options of the cool & elegant modern outdoor furniture collection here.