Bold & Quiet introduces multifunctional modern outdoor furniture. Romantic swing chairs, mid-century modern daybeds, or versatile side tables. Meet our favorite pieces from our new collection which are here to challenge the outdoor living design.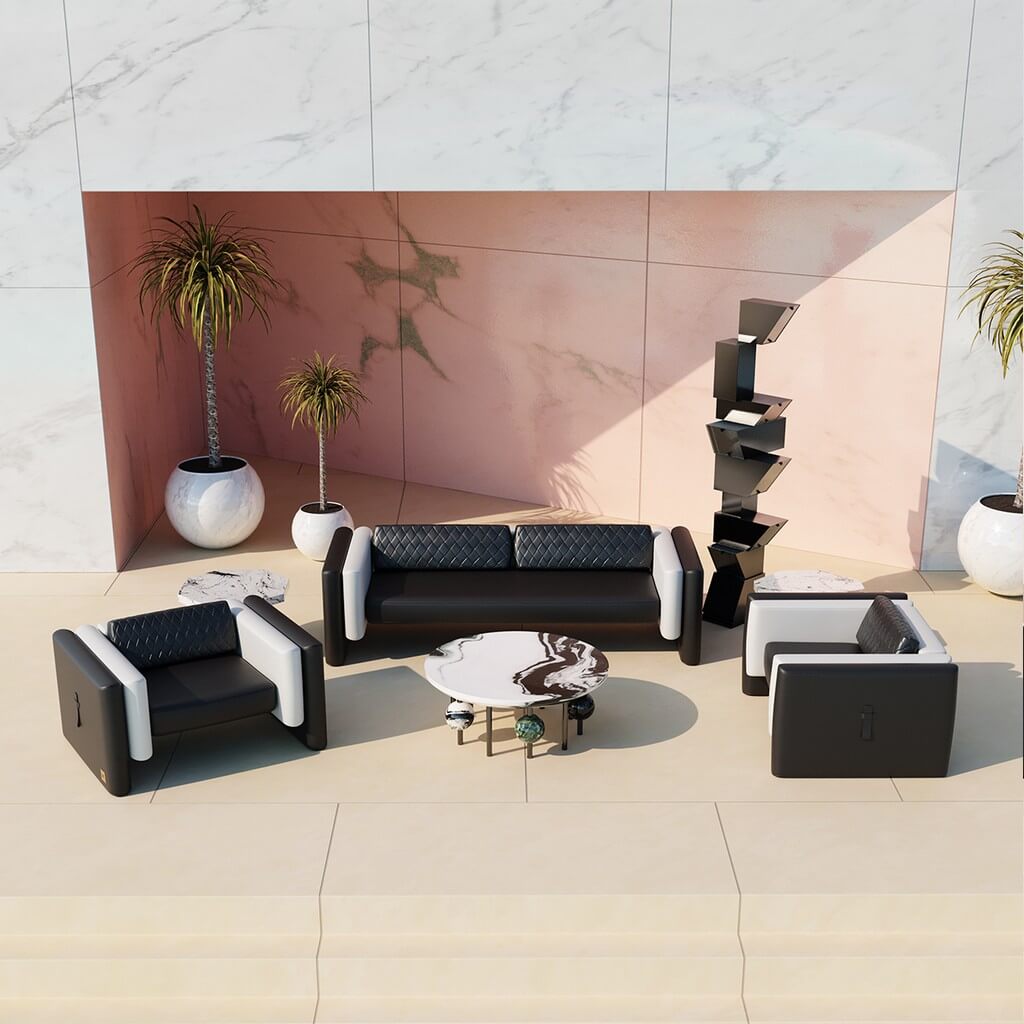 BONNIE CHAIR & CLYDE COFFEE TABLE
Ain't no Bonnie without a Clyde and a Clyde without a Bonnie, right? Both Bonnie Chair and Clyde Center Table are the ideal outdoor furniture pieces for passionate people. The outstanding design in addition to the luxury materials challenges the outdoor living design. Even though we present this furniture set for outdoor use, we are pretty sure you're already setting a contemporary living room with these lovable furniture pieces… indoors.
POLLOCK PARASOL BASE/SIDE TABLE
The world may never know what a Pollock artwork is (besides its geniality) but at least we know that Pollock is simultaneously a side table and a parasol base. And that is why we love it! A cocktail on Pollock's tabletop is all you need. And remember the ice won't melt that easily because you'll have a stunning umbrella above it.
You'll enjoy discovering Roxanna – a multifunctional modern outdoor furniture piece that is a parasol base that duals as a side or coffee table.
MARINA CHAIR
Marina is as stylish as practical. Marina is versatile and fits in any garden, poolside, or balcony. You'll have the ceiling shifted to blue skies, yet you'll feel at home. The armchair also dual as a stool, so you can carry it around the garden or the house, obviously. Made of leather and stainless steel, Marina is unapologetically a modern luxury furniture piece.
FOIL DAYBED
Foil daybed will play a leading role both outdoors and indoors. The mid-century modern furniture piece is made of leather and is extremely versatile. You can style it as a bench or bed, which is up to your mood and sensitivity. Its timeless design exhales a vintage furniture vibe. We picture it somewhere in an outdoor in the '70s but also a contemporary interior design project.
CHESS CENTER TABLE
Chess Center Table will make your summer a remarkable time. This stylish center table will provide unhealthy amounts of fun for family or friends gatherings. Its haute couture design makes it a must-have furniture piece for game rooms and high-end residential projects as well. We love this table because of its design, its shapes, and classic hues. Thus, it is a bold way of entertaining your guest, don't you agree?
LISOLA ARMCHAIR
What type of person are you? You better be the type of person who is wholehearted when buying outdoor furniture. Lisola Armchair has a vintage look. Therefore, it has a timeless appearance and will be part of your outdoor living forever. Its design and quality will make Lisola never go out of fashion… or your mind.
Are you mesmerized? So do we! Keep discovering our new modern outdoor furniture collection and the must-have sunbeds for your outdoor living design project.
Discover our entire luxury outdoor furniture collection to enjoy the best of the summer days.